We're halfway through 2017 and we've revised our best headphones list! There's a few complete newcomers here, a couple upgrades and a few classics that refuse to budge because they're just that darn good. From sub-$50 headphones right up to $1,500+ we've got an audio experience to match your budget. From ultra lightweight cans to open back monsters with impeccable audio, unbeatable noise cancellation, wired and wireless options and the best bang for your hard-earned dollar, we've got the best headphones for you. No matter where you stand in your personal audio journey, there's something here for everybody. enjoy!
---
Let's get this out of the way up front: the best headphones you can buy right now are the Sennheiser HD 800 S. While they require an amplifier—and must stay indoors—this set of audiophile headphones is the closest you'll come to listening to music in a perfect acoustic chamber. These cans supersede the legendary HD 800, and don't seem to fall short of their predecessors in any way; they even add the option to use a balanced 4-pin XLR connection (cable included). They're comfortable, easily maintained, and extremely good performers. They'll set you back $1,700—but if you want the king of personal audio, you've got to pay a king's ransom. Compared to the Orpheus, these are a steal, because they're actually in the realm of possibility. This is purely a performance pick, so you may find that other features are more important to you. If you need isolation, wireless connectivity, or a microphone: keep reading.
If you want wireless headphones, one of the best pairs you can get right now are the V-MODA Crossfade 2 Wireless. These are the newest offering from the company and they claim these are their best pair of headphones yet, they just happen to also be Bluetooth. If you enjoyed the M-100's you'll likely enjoy these. They have that same stylish and bold V-MODA design and don't sacrifice comfort thanks to plush memory foam ear-ads that keep your ears happy and also do a solid job at isolating outside noises. The ear cups can swivel up to 90 degrees and they also maintain their signature CLIQFOLD design which allows you to fold these up to a size that's way more convenient for travel.
You'll have no problems just throwing them in a bag, but if you don't feel like possibly damaging your investment they also come with a nice hardshell carrying case to keep them safe. V-MODA claims that you can expect around 14 hours out of these when connected via Bluetooth, but we got closer to 12 in our full review. Should you forget to charge them up you can also plug in the included 3.5mm cable and hardwire them to your source device for hi-res audio. Speaking of sound quality these do support aptX if you get the Rose Gold model, but if you get a different color you'll miss out on that feature. That said, the sound these pump out is still impressive with plenty of bass to make your music sound fun and crisp highs that don't skimp on detail. The Crossfade 2 Wireless headphones aren't cheap in any sense of the word, but if you decide to spend the money you won't be disappointed.
Sony makes plenty of great headphones and pop up on a few of our best lists, but this spot goes to the MDR-1A. They have large comfortable padding that make these perfect for longer than average listening sessions, and the sleek look won't be out of place whether you're around the house or in the office. Because this is Sony we're talking about, the MDR-1A's also come with a Hi-Res certification, and then some. In order to obtain the certification, a pair of headphones need to be able to reach 40kHz, but these go a step further and can reproduce sounds all the way up to 100kHz. Of course, you won't be physically able to hear the difference but it's good to know that Sony continues to push the limits. These have a nice and tight low end that will make bass-lovers happy without scaring away people who prefer less bass driven sound. Yes the lows are strong, but they're nicely controlled and don't overstep their boundaries. Even better, they have a high sensitivity and can be powered by your average smartphone with no problems. One downside to be aware of however is that even though you can rotate the ear cups to easily fit them in the included carrying case, these don't fold down to a more compact size. So if you're looking to use these for commuting or traveling make sure you have space for them. If you can afford a little more, you really can't beat the Oppo PM-3 closed back planar headphones at $399.
When Bose followed up the massively successful QC25 headphones with a wireless version, the QC35s, we all stood up and paid attention. If you love that signature Bose ANC but had always wished they were wireless, the QC35 are specially for you. When it comes to traveling, the QC35s are absolutely perfect. No wires means no tangles and compatibility with everything that has Bluetooth. Of course, if you're going on a plane you can always hardwire in an audio cable so you can watch the on-flight movie even if the battery dies. But you'll be good for around 20 hours of playback before that happens, with both ANC and Bluetooth turned on. These headphones are also super comfortable, ridiculously light, and can easily fold down to about half of their original size. The Bose QC25s were known for their great ANC, and that's still the case here. Besides the ANC these have all the basic playback controls you could want built into the ear cup. Control volume, change tracks, pause/play music, and access Siri or Google with a few buttons.
If $1,700 for the HD 800 S is a little steep for you, how about something a little more reasonably priced? The Sennheiser Momentum Wireless 2.0 (now known as the Sennheiser HD1 in the U.S.) is what you're looking for, coming in as our best all-round pick. Sure, there are audiophile headphones that sound better, or Bluetooth headphones with a better range, or less expensive headphones with better active noise cancelling, but if you want a pair of headphones that are top contenders in every one of these categories these are the way to go. They have active noise cancelling, great sound, are comfortable, and they're wireless. They have a solid 22 hour battery life and that's with ANC and Bluetooth turned on. They fold at the hinges for easy traveling and you can also make crystal clear calls.
See also: Best wireless bluetooth headphones
Grado has been more or less of a cult classic in the headphone world, and it's not hard to see why. The retro styling appeals to many, but it's just gravy that the sound of the SR225e is even prettier than the headphones themselves. They offer a bit of a "v-shaped" sound that appeals to audiophiles and rockers alike, meaning a bit of bass, a slight decrease in mids, and a short peak in the highs. But an amp isn't necessary for these headphones: their 32 ohm impedance and high sensitivity means you can listen to your tunes on just about any source and rock out. Just be aware that open backs mean next to no isolation, so these are best to keep at home and lounge around with. If you're new to the audiophile world, Grado's on-ears are probably the best bang for your buck in this category.
While our pick for the best bang for your buck headphones has finally changed, the ATH-M50x are still only a hair's breadth away from first place. Say what you want about the low end or the build quality, but the ATH-M50x are a solid entry-level pair of headphones to those who are just starting to really care about how their music sounds. They have a mostly balanced sound and don't require a ton of power to get them going. That means you can use them easily with the average smart phone or iPod. Whether you're looking for a good pair of headphones for the studio or just want a pair of over-ears for your commutes, these are a great choice. The ear cups can swivel up to 90 degrees, so you can rest them comfortably around your neck when you're not using them. Inside are 45 mm drivers that push a good amount of sound perfect for the budding audiophile. If you're looking to make your first investment into a good pair of headphones but don't want to break the bank give these a try.
If you're looking for something that doesn't cost over $300, take a look at the Hush headphones from CB3 Audio. These also feature active noise cancelling and though you won't get the same premium build quality (obviously), these are far from uncomfortable. The plush padding allows these to sit comfortably on your head for long periods of time. They don't clamp down on your head so tight that they become uncomfortable, but they do a good enough job that they can also passively block outside noise. With Bluetooth and ANC turned on, these should get you a solid 15 hours of playback time which is enough for the average flight or commute.
The two best features about these headphones are arguably the most important when it comes to a pair of wireless headphones: the ANC and the sound. A lot of times headphones with weak ANC just get a little louder to trick you into thinking that it's actually doing a good job. That isn't the case here. Voices and dog barks will still slice through, but the low hum of trains and the babble of large crowds fade away as soon as you put these on.
If you want a solid pair of wireless headphones without spending all of your cash, the CB3 Hush are a great option.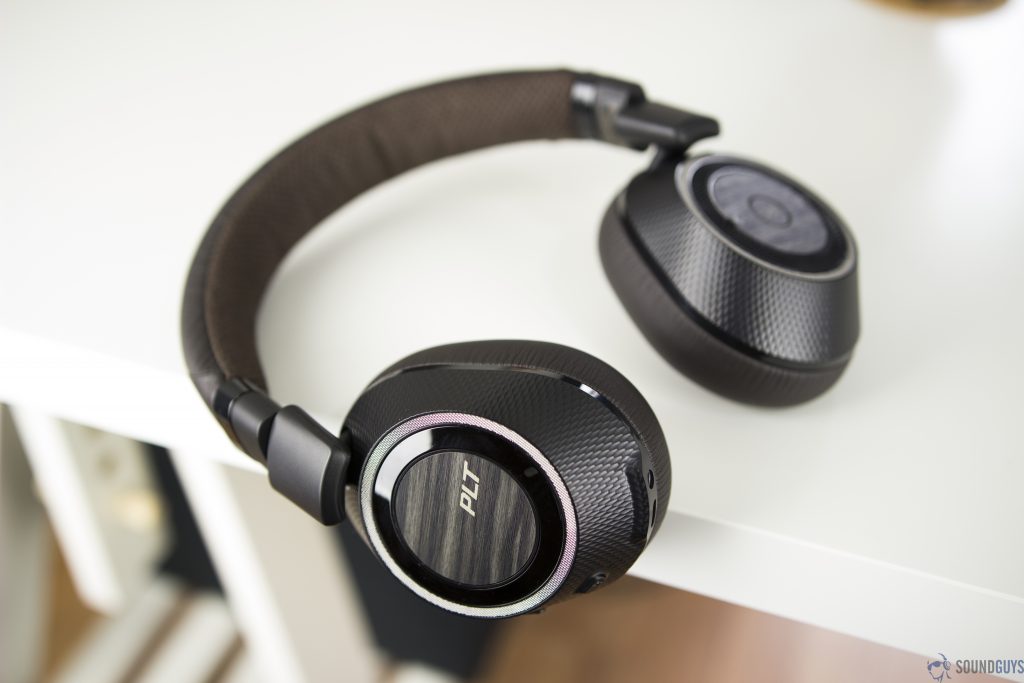 The Plantronics Backbeat Pro 2 may not be cheap by any means, but they're substantially less expensive than many of their competitors. The Backbeat Pro 2 take everything that was good about the originals and the Backbeat Pro + models, and put them into a slimmer more refined pair of headphones. They're completely wireless, have active noise cancelling, a 24 hour battery life, and a design that isn't half bad once you get used to it. The ANC is still not up to par with something like the Bose QC35s, but it does enough to make the listening experience more enjoyable. On top of that it also now has a Class 1 Bluetooth chip inside which, unlike any of their competitors (save for the Beats Solo3 Wireless) gives it a range of about 100 feet. Then of course, there's all the controls. If you don't like reaching for your source device every time you want to adjust the volume, these have you covered. You can skip between tracks, answer phone calls, access virtual assistants like Siri or Google, and even hear what's going on around you just like the Sony MDR-1000x. Here it's called "Open Mic" mode but it works basically the same. Flick a switch and the built-in mics will pick up everything going on outside the headphones and let them pass through. Helpful if you want to hear important announcements on the train or plane. Though $199 isn't exactly cheap, these can definitely considered bang for your buck unless you want to spend almost twice that on something like the Bose or Sony.
Another good pair of headphones that won't break your bank are the Samson Z25s. These are the entry level version of the Z55 we reviewed earlier this year and share a fairly similar design for a third of the price. Of course, that means that sound quality will also take a hit too, but not as much as you would expect. If anything the one thing that does take a drastic hit is soundstage but hey, beggars can't be choosers right? The Z25 ditch the premium lambskin leather for synthetic leather, but the plush padding is still there. These have a closed-back design so you can use them while on-the-go and can fold down to a compact travel size if you ever need to throw them in your bag. Design-wise they're not the flashiest but if you enjoy the design of something like the ATH-M40 headphones by Audio-Technica, you might like these are they're not too far off. The cable ends in a 3.5mm jack but they also come with a quarter inch adapter if you ever need to plug into something a little more professional. Of course, true studio headphones are way better for monitoring than these will be, but if you're not looking to make that kind of investment just yet or just want something to work with while you're on-the-go the Z25s are a great choice for their price. That might be why they have a 4.7 out of 5 star rating on Amazon.
---
If anything in this world is subjective, it's sound. These are some of the best headphones we found, but we're certain there are more. Drop a comment to let us know what headphones you think are the best.
Didn't find what you were looking for? Checkout these related best lists:
Disclosure: We may receive affiliate compensation in connection with your purchase of products via links on this page. Even though we may receive compensation, we always give our honest opinions, findings, beliefs, or experiences on each product. See our disclosure policy for more details.