All products featured are independently chosen by us. However, SoundGuys may receive a commission on orders placed through its retail links. See our ethics statement.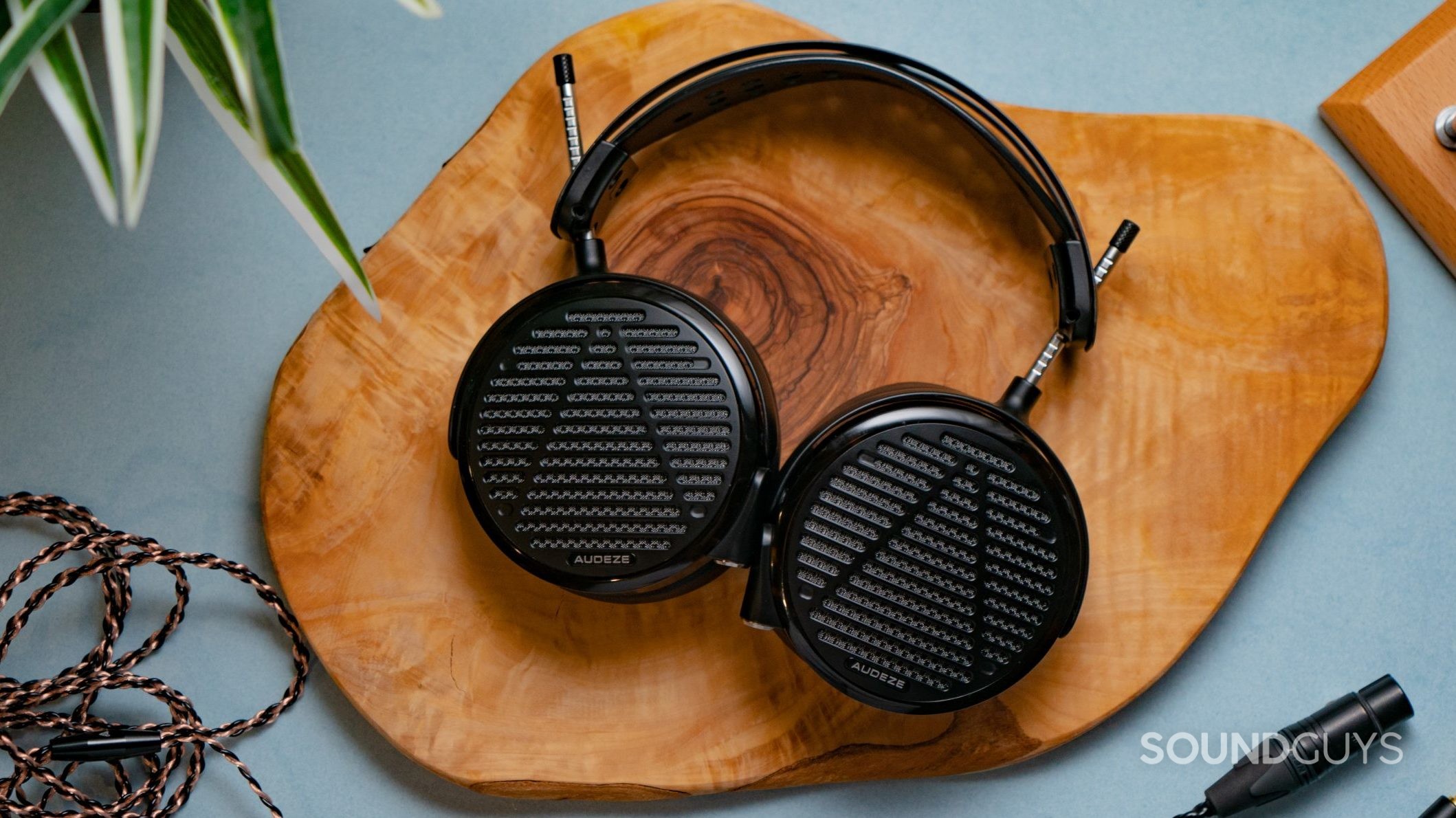 The bottom line
The Audeze LCD-5 has a striking design and a stellar build quality worthy of the title "flagship." Using Audeze's refinements to the planar magnetic concept it realizes impressive specifications, sounds amazing, and weighs considerably less that its predecessors. It's comfortable, and there's little to complain about besides the outrageous price.
Audeze LCD-5
The Audeze LCD-5 has a striking design and a stellar build quality worthy of the title "flagship." Using Audeze's refinements to the planar magnetic concept it realizes impressive specifications, sounds amazing, and weighs considerably less that its predecessors. It's comfortable, and there's little to complain about besides the outrageous price.
Dimensions
Headphones: 0.2 x 0.19 x 0.1m
Inside ear cup: 65 x 60mm
Cable: 2.5m, Adaptor: 0.25m
Case: 0.36 x 0.3 x 0.16m
What we like
Sound quality
Comfort
Replaceable cables
Connections provided for standard and balanced amps
What we don't like
Cost
Slight passive amplification of ambient noise
No 3.5mm jack adaptor
No vegan leather alternatives offered
Rating Metric
Sound Quality
9.6
Bass
9.8
Midrange
9.9
Highs
9.1
Isolation / Attenuation
0.1
Durability / Build Quality
8.5
Value
4.0
Design
7.0
Connectivity
2.0
Portability
2.0
Feature
1.0
Comfort
9.0
The LCD-5 is Audeze's flagship planar magnetic over-ear headphones, hand-assembled in California. It features an all-new design, including the driver and magnet structure, uses premium materials and comes in at less than two-thirds of the weight of the original LCD-4 model. Existing in the rarefied air of the high end of personal audio gear, the question is: how far does it venture into diminishing returns for audio quality? Let's see if there's any way it can justify its extravagant price.
Editor's note: this is the first version of the article. Updates will follow as the market changes.
About this Audeze LCD-5 review: We tested the Audeze LCD-5 over a period of one week. The company provided the unit for this review.
This one is for audiophiles with money to burn who appreciate fine craftsmanship. They will also need a very quiet place to listen to their music to enjoy these premium-grade open-back cans fully.
What's it like to use the Audeze LCD-5?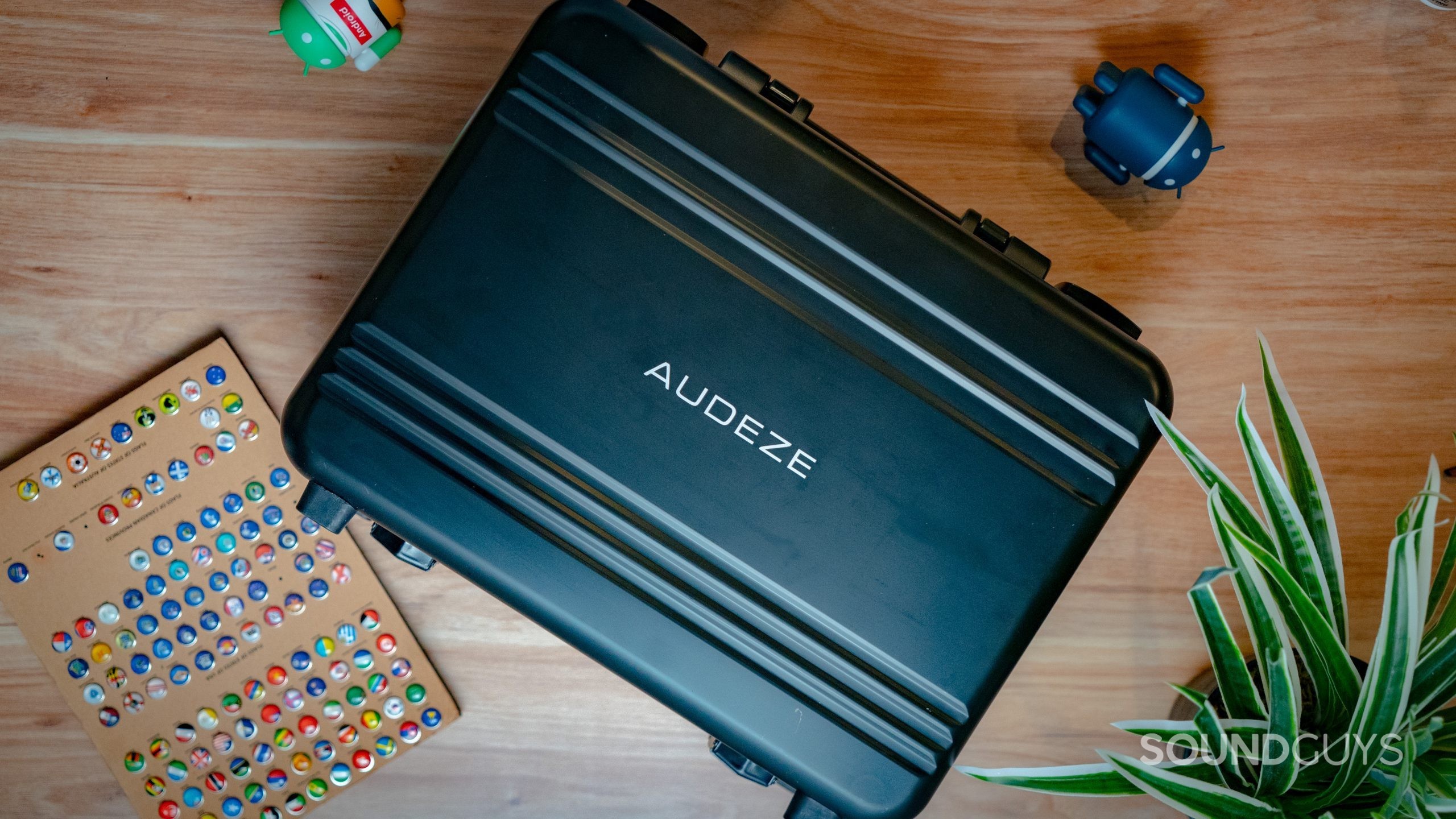 A lightweight black metal protective carry case is included to protect your investment.
It's hard to start a review of this product without mentioning the asking price. It's a lot. For most sane people, it's an irresponsible amount of money to spend on headphones. My life basically revolves around audio, and I don't think I could ever justify this kind of outlay on a set of headphones—speakers, maybe, but not headphones. Our LCD-5 review sample arrived in a smart black metal attache case with the Audeze logo silkscreened onto its side, and carrying it through the city on my way home, I felt like hand-cuffing it to my wrist wouldn't have been a bad idea.
Opening the case, it's clear these over-ear headphones mean business. The design incorporates magnesium grilles, acetate ear cups, and a carbon-fiber headband, united by a retro-futuristic aesthetic. The color scheme is primarily black, offset with notched headband adjustment rods resembling stainless steel and a tasteful tortoise shell marbled amber accenting the ear cups' perimeter.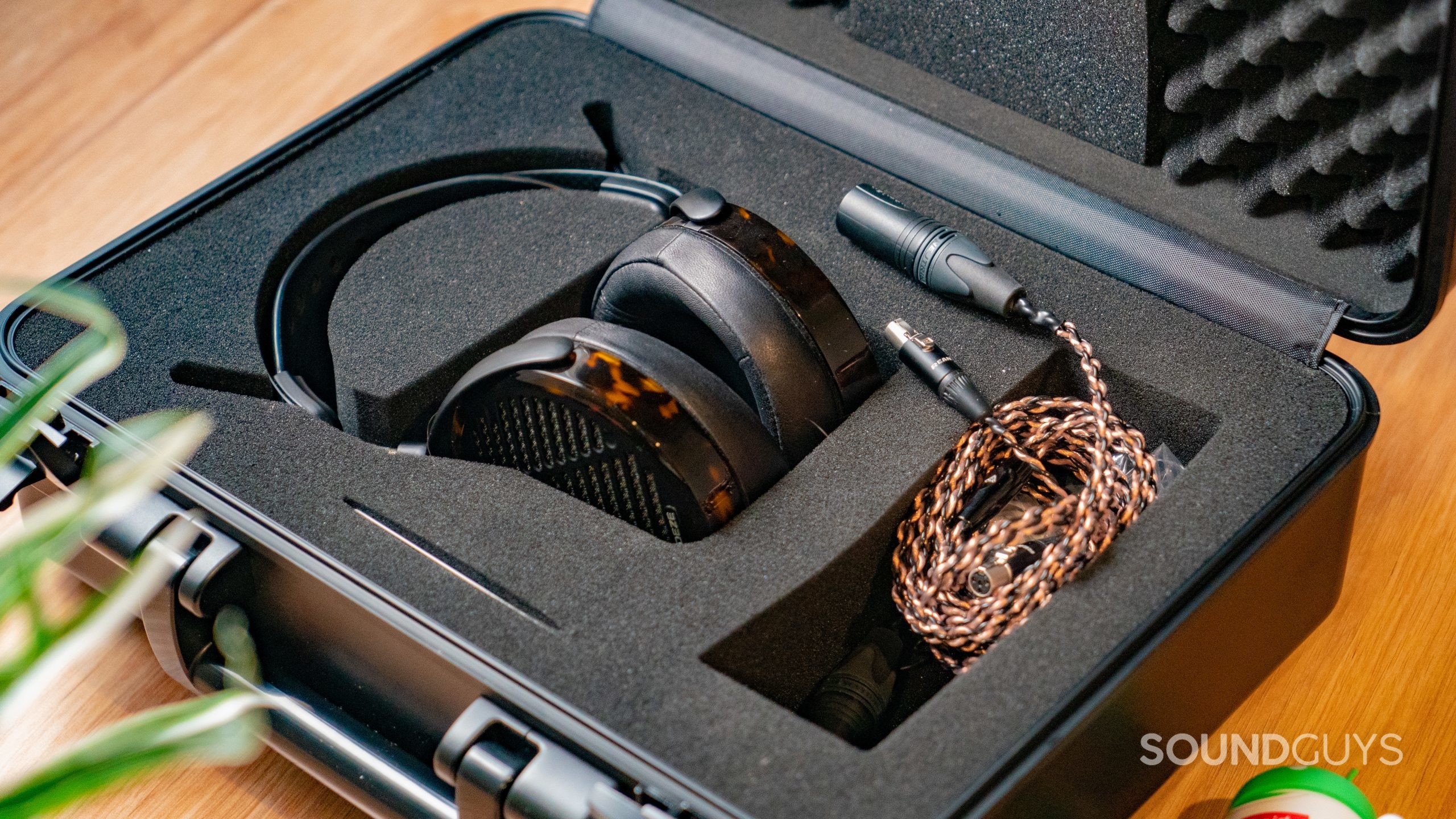 These beautiful headphones are well protected by the lockable, fitted protective case, which provides a separate area for the cable and adaptor.
The sculpted ear pads are covered in soft black leather, providing a comfortable seal around the ears. According to Audeze, these earpads are held in place using Pressure Sensitive Adhesive (PSA) to ensure everything stays sealed, providing a consistently smooth frequency response over time. However, this makes replacing the earpads inconvenient.  There doesn't appear to be a vegan alternative to these pads being offered, so if wearing dead animals on your head isn't your thing, you'll need to look elsewhere.
Besides the subtle white capitalized Audeze brand badges on the bottom of each ear cup's face, there are no markings on the headphones to identify the model, and the left and right channels markers are subtly embossed inside the headband frame above the yokes. It's pretty obvious which way to put them on in low light (connectors to the back), and the supplied braided gold and black cable has a red identifier for the right hand channel. Overall, the fit and finish are as good as we've seen at any price.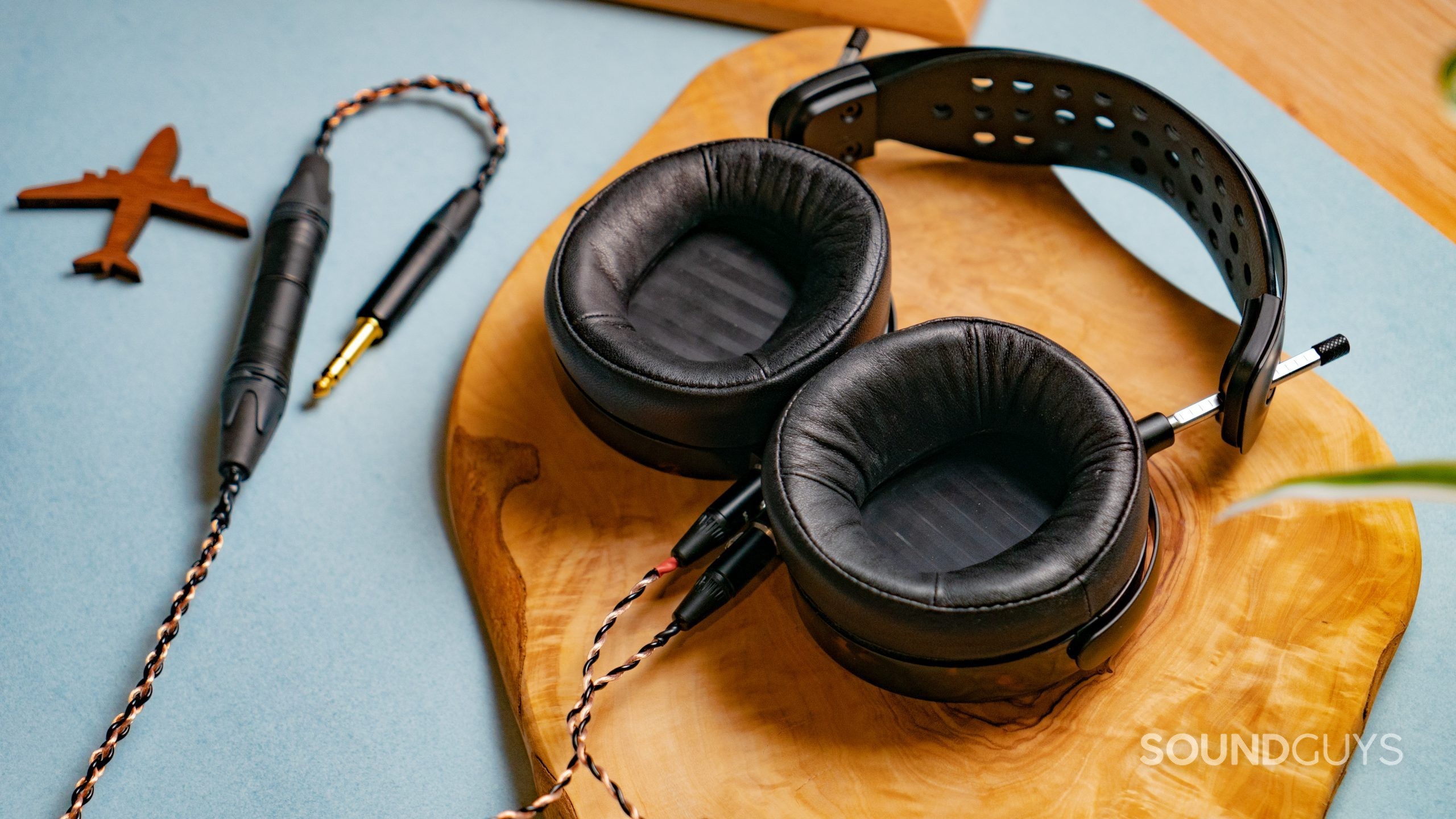 The LCD-5's planar drivers are visible inside the internally sloped earpads.
The 420g weight is an accomplishment, but this isn't a light pair of headphones. It's 9% heavier than the 385g Apple AirPods Max, and the weight's not quite as well distributed. It is very comfortable, but the weight might become an issue over extended sessions for some. Also, it isn't a good choice for those who wear glasses.
The cable supplied with the LCD-5 braids the four separate conducting wires together with no outer sleeve, which is visually interesting but doesn't help with the cable's ergonomics in any way.
How do you connect the Audeze LCD-5?
The cable's input termination is a 4-pin male XLR, with an adaptor included to get you to a standard 1/4-inch TRS jack plug.
The cable connects to both the left and right ear cups using locking mini XLR connectors and is terminated at its input end with a quality, locking, 4-pin male XLR connector with gold-plated pins. The implication is that you should connect this to an amplifier that provides "balanced" (aka differential) drive to the headphones. Thankfully, a matching short (0.25m) cable adapter is included to convert this into a more conventional 1/4-inch TRS jack for single-ended sources like you'll find on most high end and hi-fi equipment. If your source offers neither of these connector options and relies instead on a 3.5mm connection, you're out of luck and will need to source your own adapter for that.
Technically, you can drive these headphones from practically any source, as they have a very low impedance of 14 ohms, thanks to Audeze's Nano-Scale Parallel Uniforce technology, providing a reasonable sensitivity of 90 dB/1mW (at the ear Drum Reference Point). This should give you plenty of level with just a few milliwatts. However, Audeze recommends using an amplifier that provides 500mW or more, or greater than 100mW at a minimum, presumably to ensure lots of headroom. If you spend this much on headphones, you'll probably want to drive them with some dedicated hardware.
---
How well does the Audeze LCD-5 block out noise?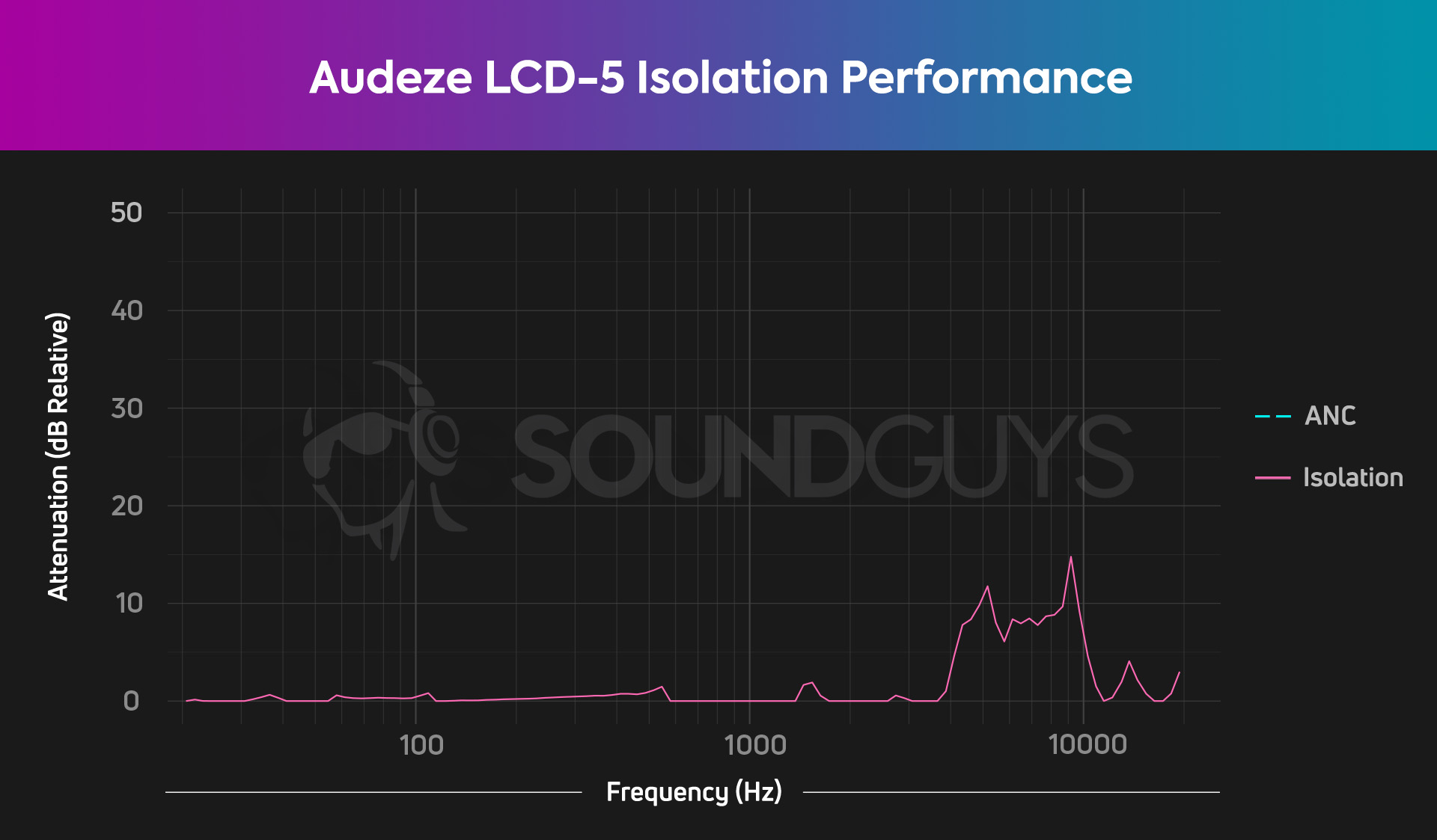 Minimal acoustic isolation is provided. But there's a more significant downside you can't see here.
Because of their unenclosed design, open-back headphones can't provide good acoustic isolation, which means, unsurprisingly, the LCD-5 hardly reduces any outside noise. Hence, the passive isolation we measured here is not good. As is typical, you will hear your environment, and anybody nearby will hear your audio too.
What's less typical (although we have seen it before with open-backs) and not shown by our standard chart format above (it only shows attenuation, not gain) is that these headphones passively amplify noise from your surroundings in a very narrow band (2-4kHz). You're unlikely to notice this in general use as long as you listen in a well-isolated, quiet environment. For example, if there's noise from heating or cooling systems nearby, you may pick up on it since the headphones can make it slightly louder in your hearing's most sensitive region.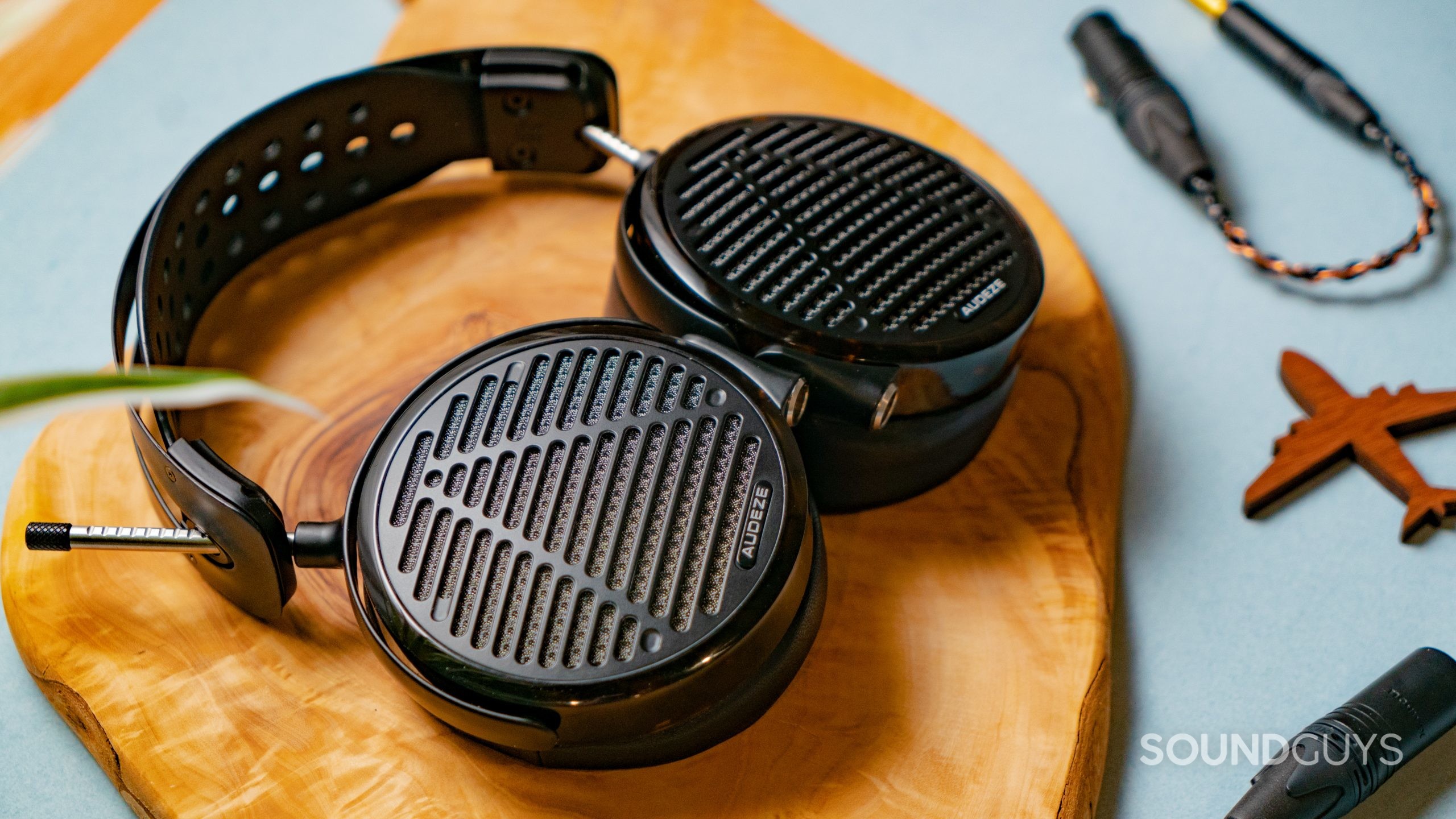 Lightweight magnesium grilles are used to protect the open backs of the planar drivers.
So if you do purchase the Audeze LCD-5, you'll undoubtedly also need headphones for less-friendly environments!
How does the Audeze LCD-5 sound?
Editor's note: this review makes use of a hover-enabled glossary, based on a consensus vocabulary. You can read about it here.
Audeze advises against aftermarket compensation being applied since that "can introduce distortions, skewed phase response, and filter anomalies" and "compensations can actually diminish what's special about the headphones, and that reduces their value as a tool." However, Audeze does actually offer a DAW plugin for producers and engineers called Reveal+ (Personalized Virtual Studio), which is fundamentally an equalizer, so you can take the previous statement with a grain of salt. There's really nothing stopping you from applying EQ to any headphones, but if you're spending the amount of money the LCD-5 costs, you may as well get something that sounds right to you out of the box.
---
Should you buy the Audeze LCD-5?
Generally, we recommend listening to any headphones before purchasing. In this case, if you're seriously considering dropping some substantial cash on headphones, you should take any on your shortlist for an extended test drive. As alluded to at the outset, there isn't any set of headphones that can justify the asking price for the LCD-5. For a lower price, you could pick from over 99% of the headphones on the market right now, and there are plenty that can get close to this level of performance for considerably less outlay; you'll just miss out on the prestige that goes with owning a high-end flagship product.
Audeze LCD 5
Audeze LCD 5
Exellent sound • Comfortable seal • Replaceable parts
Some of the best sound money can buy
It will absolutely break the bank, but Audeze's flagship planar magnetic headphones sound fantastic. If money is no object, this will sit comfortably in any hifi setup or quiet room.
What should you get instead of the Audeze LCD-5?
Frequently asked questions about the Audeze LCD-5
Audeze does not advise this, and our studies have shown burn-in is a myth. Performance may improve with use as the headphone stretches and molds to your anatomy over time.
---