All products featured are independently chosen by us. However, SoundGuys may receive a commission on orders placed through its retail links. See our ethics statement.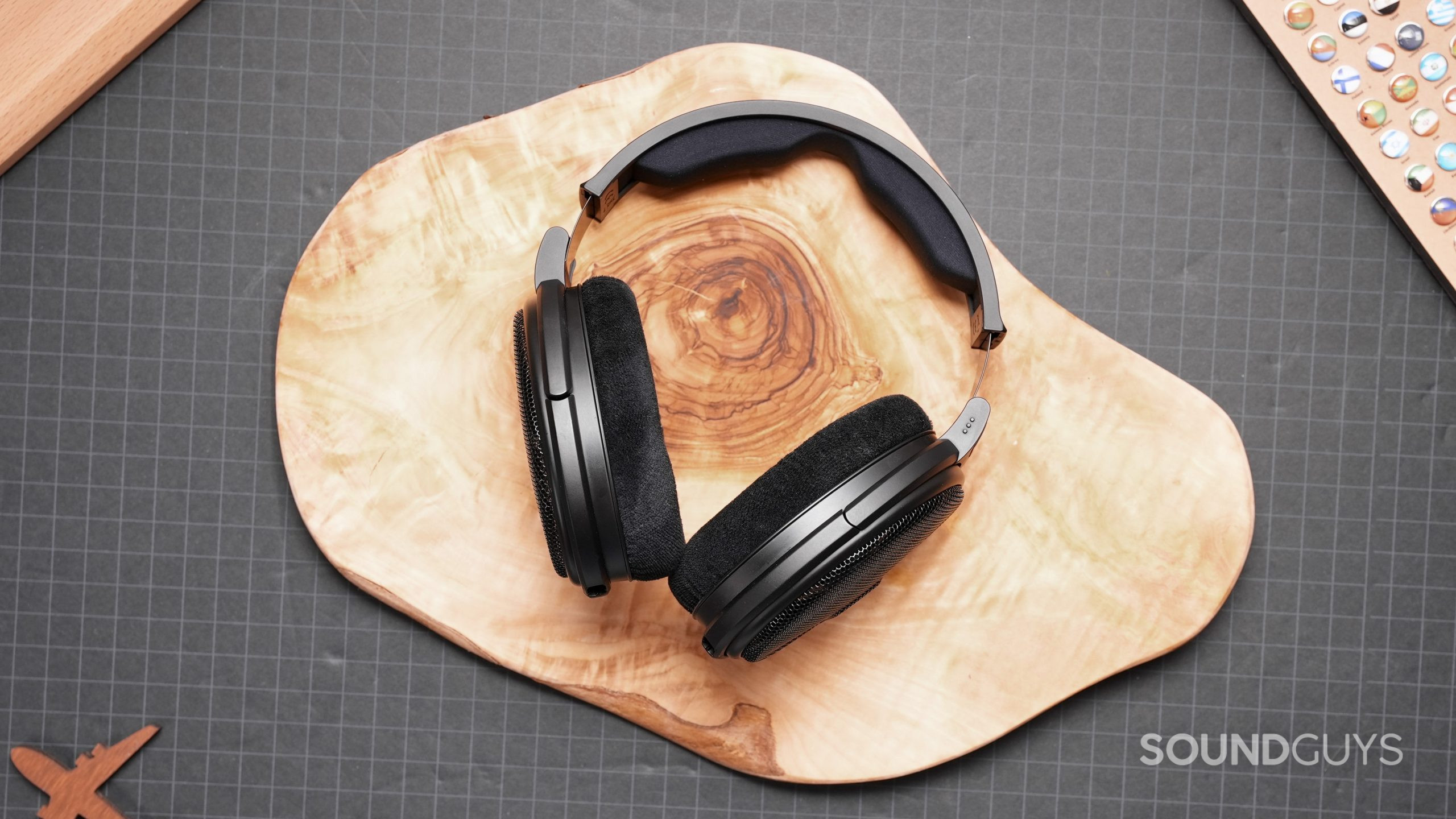 The bottom line
While it doesn't quite have the analytical sound signature of the highly regarded "reference" HD 600, it's close, and the Sennheiser HD 660S is well constructed, very comfortable, and gives a pleasant listen for hours at a time.
Sennheiser HD 660S
While it doesn't quite have the analytical sound signature of the highly regarded "reference" HD 600, it's close, and the Sennheiser HD 660S is well constructed, very comfortable, and gives a pleasant listen for hours at a time.
Price
Original: $499 USD
June 2022: $399 USD
Dimensions
70mm x 40mm (inside ear cup)
3m (cable)
What we like
Sound quality
Comfort
Replaceable cables
Connections provided for standard and balanced amps
What we don't like
Not a significant step up from less expensive Sennheiser models
Rating Metric
Sound Quality
9.5
Bass
9.2
Midrange
9.9
Highs
9.5
Durability / Build Quality
6.5
Value
5.0
Design
8.0
Connectivity
6.5
Portability
2.0
Feature
6.0
Comfort
9.0
Sennheiser has built a justified reputation for making no-nonsense headphones that let the sound speak for itself. I've been listening to its products since I was a child (HD 414 with yellow pads!) and have owned several models since, including my reference HD 600. Since the naming scheme suggests that the HD 660S model represents a step up from there, this review provided an excellent opportunity to determine if that holds true. I spent just over three weeks using the Sennheiser HD 660S for critical and casual listening and editing tasks to see if it deserves a place in your headphone collection.
Professional audio or video editors should get this headset since it's comfortable for long sessions and clearly represents the source material without premature ear fatigue.
People with a quiet place to listen to music can fully enjoy these open-back cans.
---
Editor's note: this Sennheiser HD 660S review was updated on June 30, 2023, to address how this compares to the Sennheiser HD 660S2.
What's it like to use the Sennheiser HD 660S?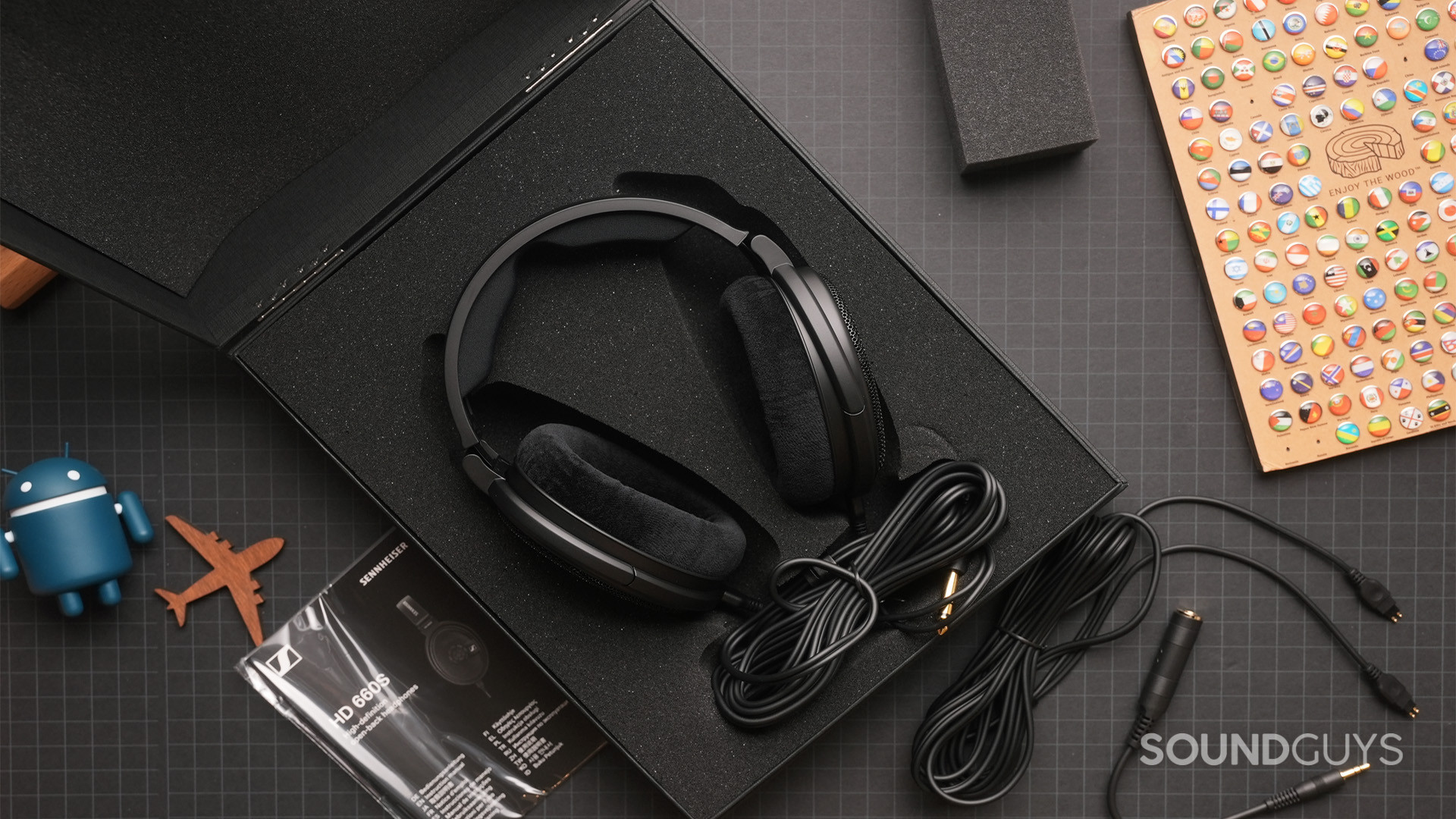 The HD 660S Comes with a case that's great for storage but too bulky for easy transportation.
The Sennheiser HD 660S comes in a large, foam-lined black box with a hinged lid and includes two 3-meter-long "Y" cables plus a short adapter cable. The case is not useful for carting the headphones around; it's just meant for storage. You'll need to look for a carrying case if you plan to take them anywhere regularly, especially considering the open-back design. Also, there are no folding hinges to compact the headphones further, underscoring that this is intended for home use only.
These over-ear headphones have generous padding inside the headband and luxuriously soft padding around the 70mm x 40mm ear cups, typical of Sennheiser's similarly priced offerings. The 260g weight feels relatively light on my head—it's very comfortable for long periods, and heat build-up isn't a problem. I find the clamping force appropriate, and the small amount of swivel in the ear cups means they follow the contours of my head perfectly. Notches on the headband make it possible to recall your size setting, but only by counting the clicks made by each adjustment of the relatively stiff metal mechanism.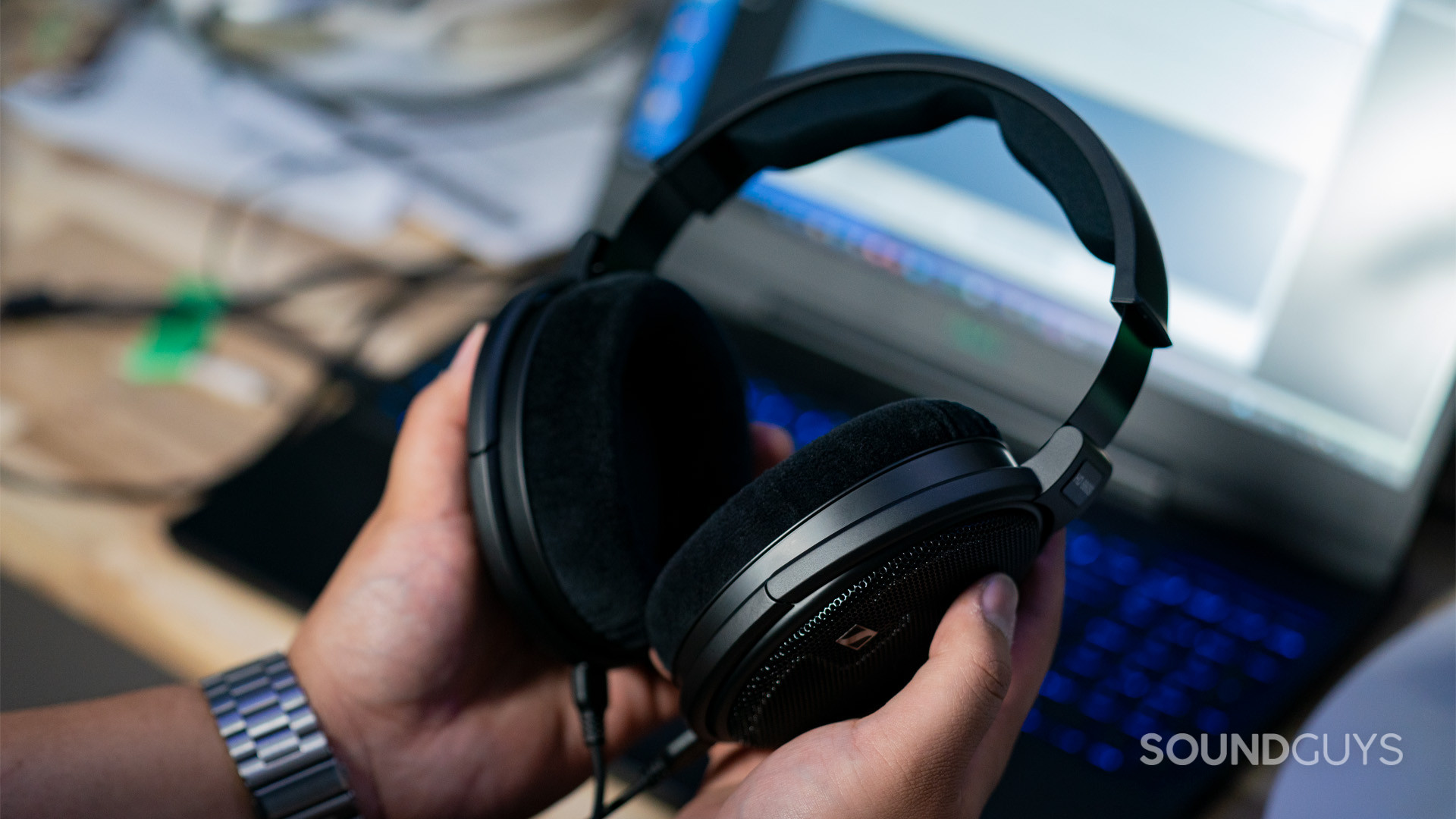 The HD 660S has extensive padding inside the headband, making it great for long sessions.
Overall, the fit and finish on these black-on-black headphones are top-notch, and the silver Sennheiser branding is minimal and tasteful. One minor detail that irks me slightly is that the cables have black plastic tips on the left and right ear cup connectors. Earlier incarnations of the HD series had a red connector on the right to make channel identification a breeze. The markings on the headphones are also extremely subtle, molded on the inside of the band directly above the pads. It turns out the simplest way to figure out which way to put them on when the lights are dimmed is to ensure that the silver "S" logo on each ear cup is oriented towards the back of your head.
As a set of open-back headphones, you'll only want to listen to the HD 660S in a quiet place. It's not office-appropriate because your coworkers will hear everything, and of course, you will hear them. Keep the HD 660S in your living room or den, plugged into an amplifier, audio interface, or whatever you use to listen with.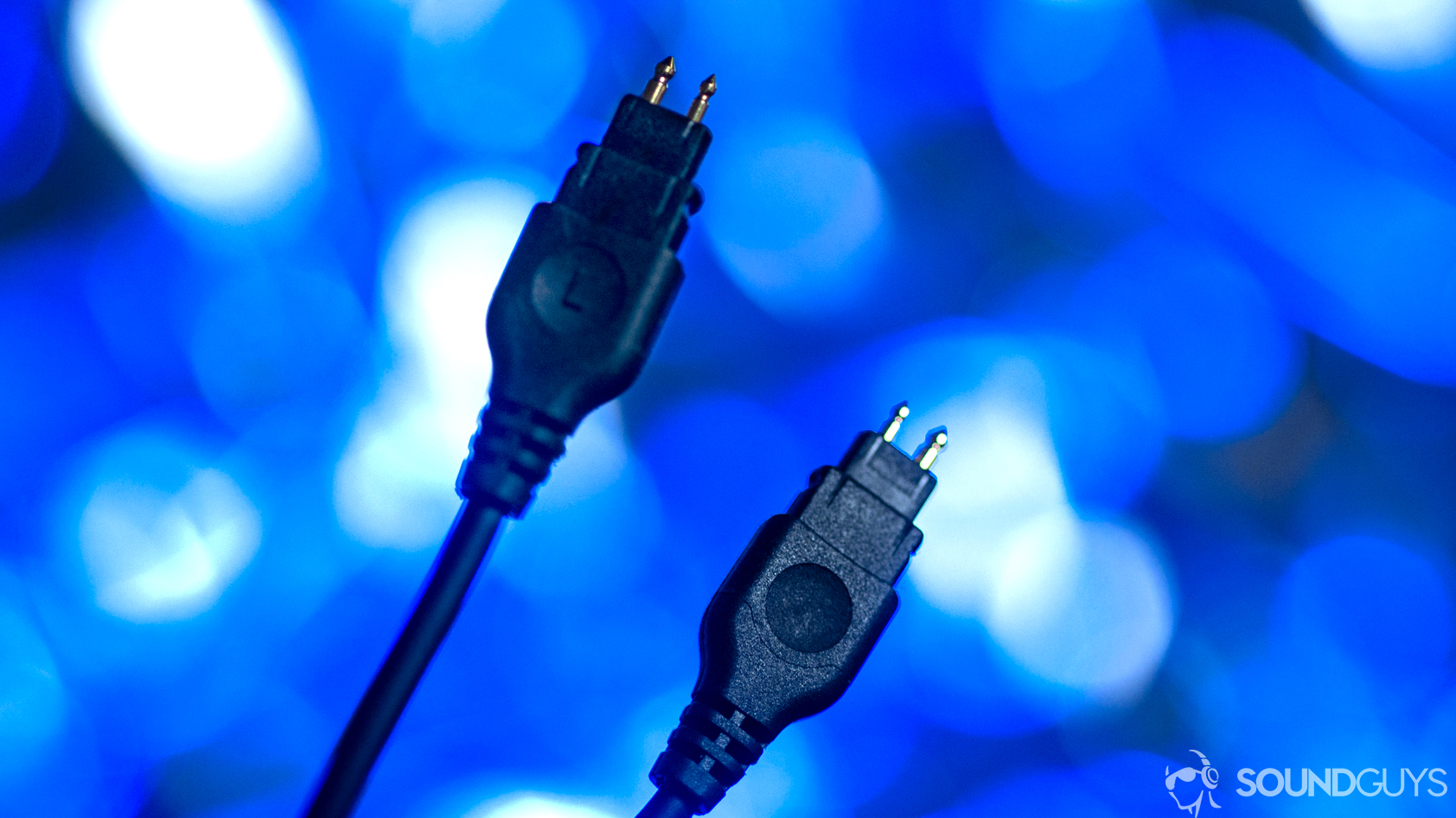 The removable cable connections mean you can replace the cable if something breaks.
The build quality is good, but these might not survive being sat on, so keep them somewhere safe when not in use.
The cable is easy to replace and uses the same two-pin connector Sennheiser has employed for decades, so spares should be easy to come by.
---
How do you connect the Sennheiser HD 660S?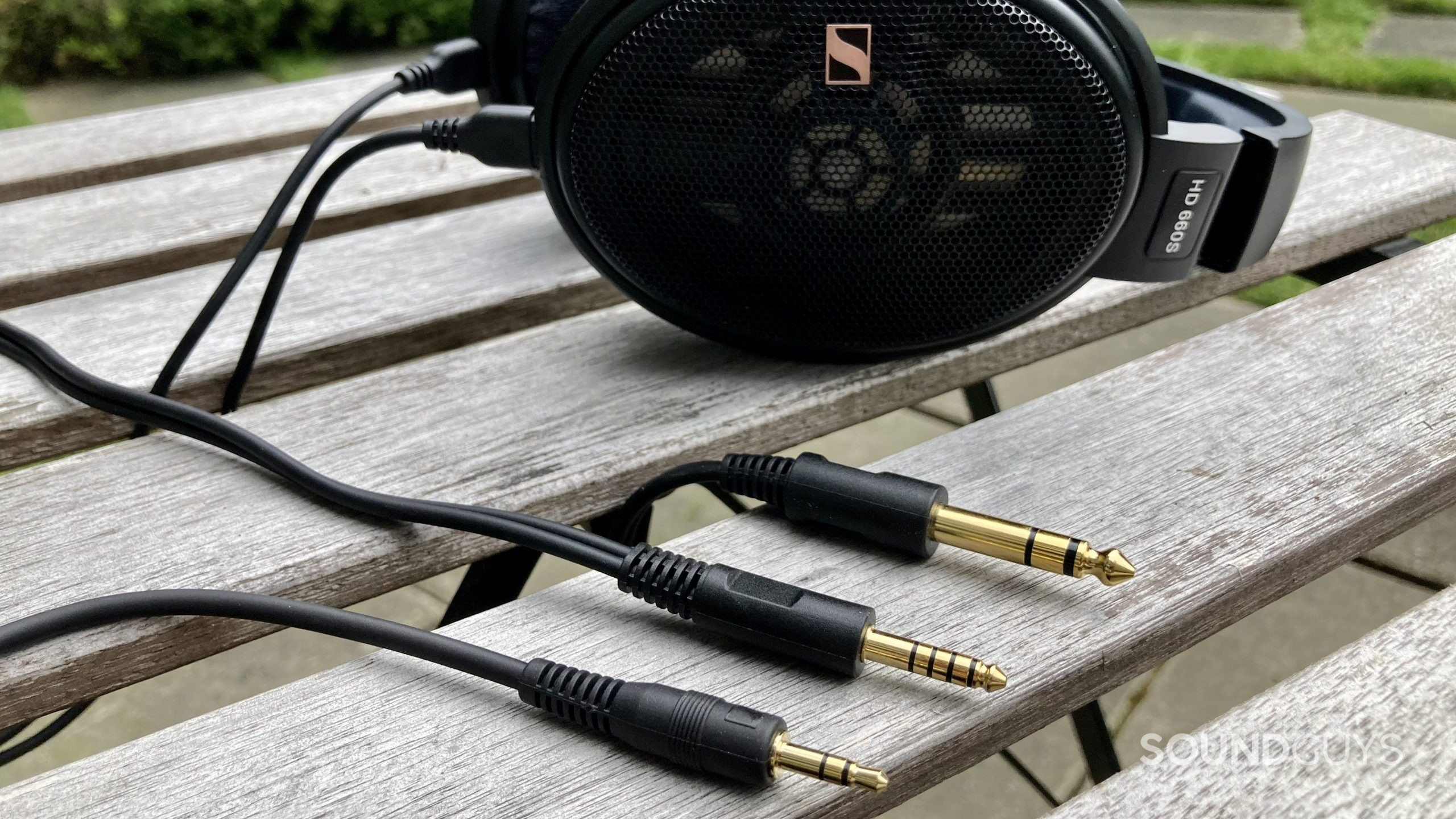 The Sennheiser HD 660S comes with two cables and an adaptor, providing three different connector options.
Sennheiser provides three different connection options out of the box: one cable terminates in a 1/4-inch TRS jack, which can be converted to the practically universal 3.5mm TRS jack with the short adaptor cable (which adds around 24cm to the already generous 3m cable length); the other cable ends in a 4.4mm, 5-pin TRRRS (Pentaconn plug), which will only be of use if you have an amplifier with a corresponding "balanced" (aka differential) output port, like the excellent hip-dac by ifi-audio. The 1/4-inch cable plus a standard 3.5mm jack cable would have been of more use to most people. An optional balanced cable (CH 650 S) is sold separately for simplified connection to 4-pin XLR connectors, as found on some "balanced" headphone amps.
No, the Sennheiser HD 660S doesn't necessarily require an amp. However, you may find it beneficial to have extra headroom to drive the 150Ω load, with its sensitivity of 104dB/V. Sennheiser does state that the magnets used here are more powerful than those in its predecessors, thus making the HD 660S easier to drive to sufficient levels.
---
How well does the Sennheiser HD 660S block out noise?
Because of their unenclosed design, open-back headphones can't isolate well, which means the HD 660S hardly impacts outside noise. Unsurprisingly, the passive isolation we measured for the Sennheiser HD 660S is not good. Not only will you hear your environment, but anybody nearby will hear your audio too. That's no problem in a private space, but if you purchase the HD 660S, you'll need a different set of headphones for less-friendly environments.
How does the Sennheiser HD 660S sound?
Editor's note: this is one of our first reviews to use a hover-enabled glossary based on a consensus vocabulary. You can read about it here.
Despite measuring slightly better, the Sennheiser HD 660S2 frequency response is similar to the Sennheiser HD 660S.
The newer HD 660S2 provides a noticeably increased bass output below 100Hz compared to the HD 660S, which is to say it doesn't roll off quite as steeply in the low end. In terms of treble reproduction, the HD 660S2 reproduces frequencies above 6kHz louder than the HD 660S. Essentially both the treble and bass extension are improved on the newer model.
---
Should you buy the Sennheiser HD 660S?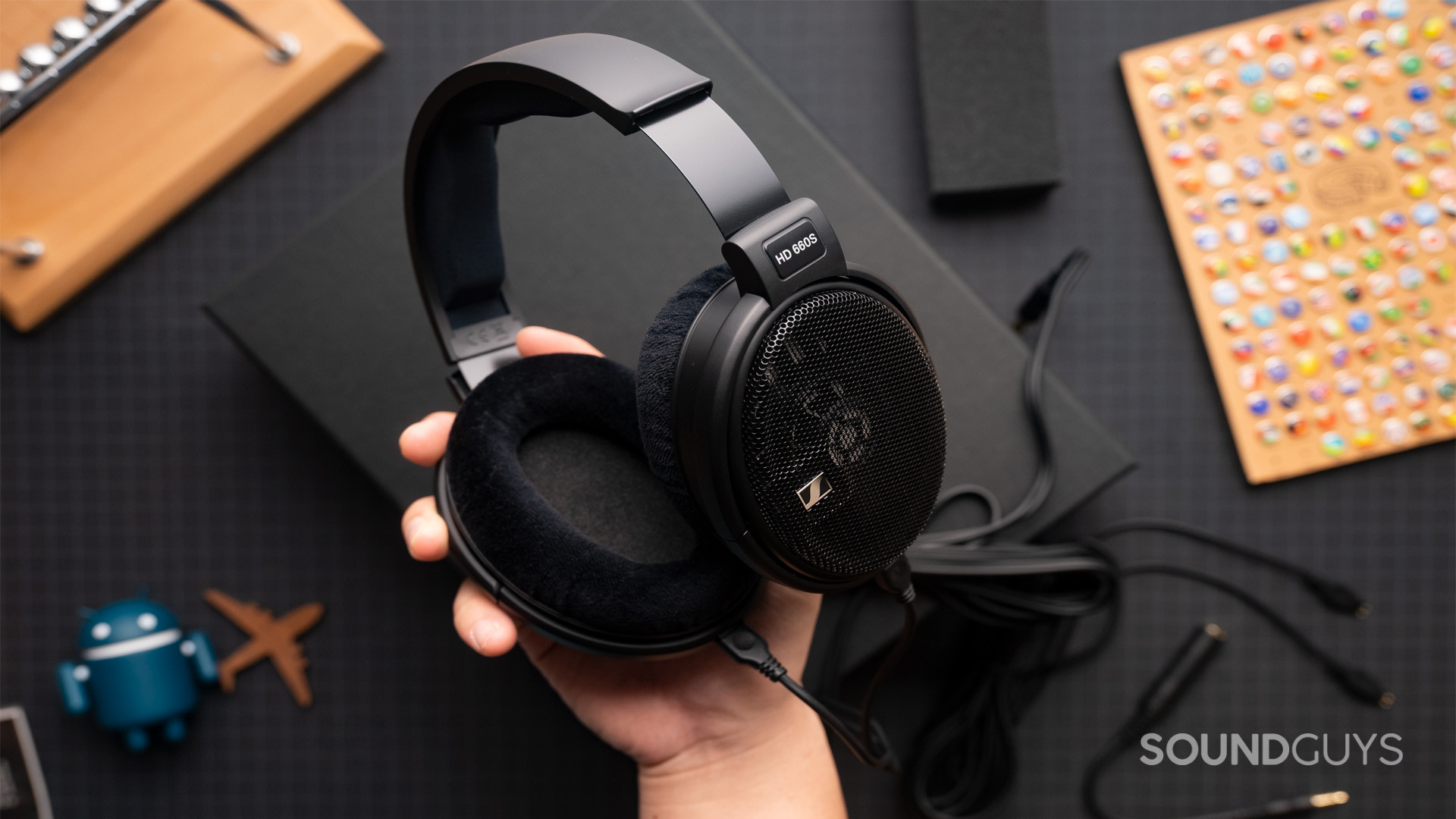 42mm transducers are visible through the HD 660S' steel mesh.
What's the difference between the Sennheiser HD 660S and the HD 600?
What should you get instead of the Sennheiser HD 660S?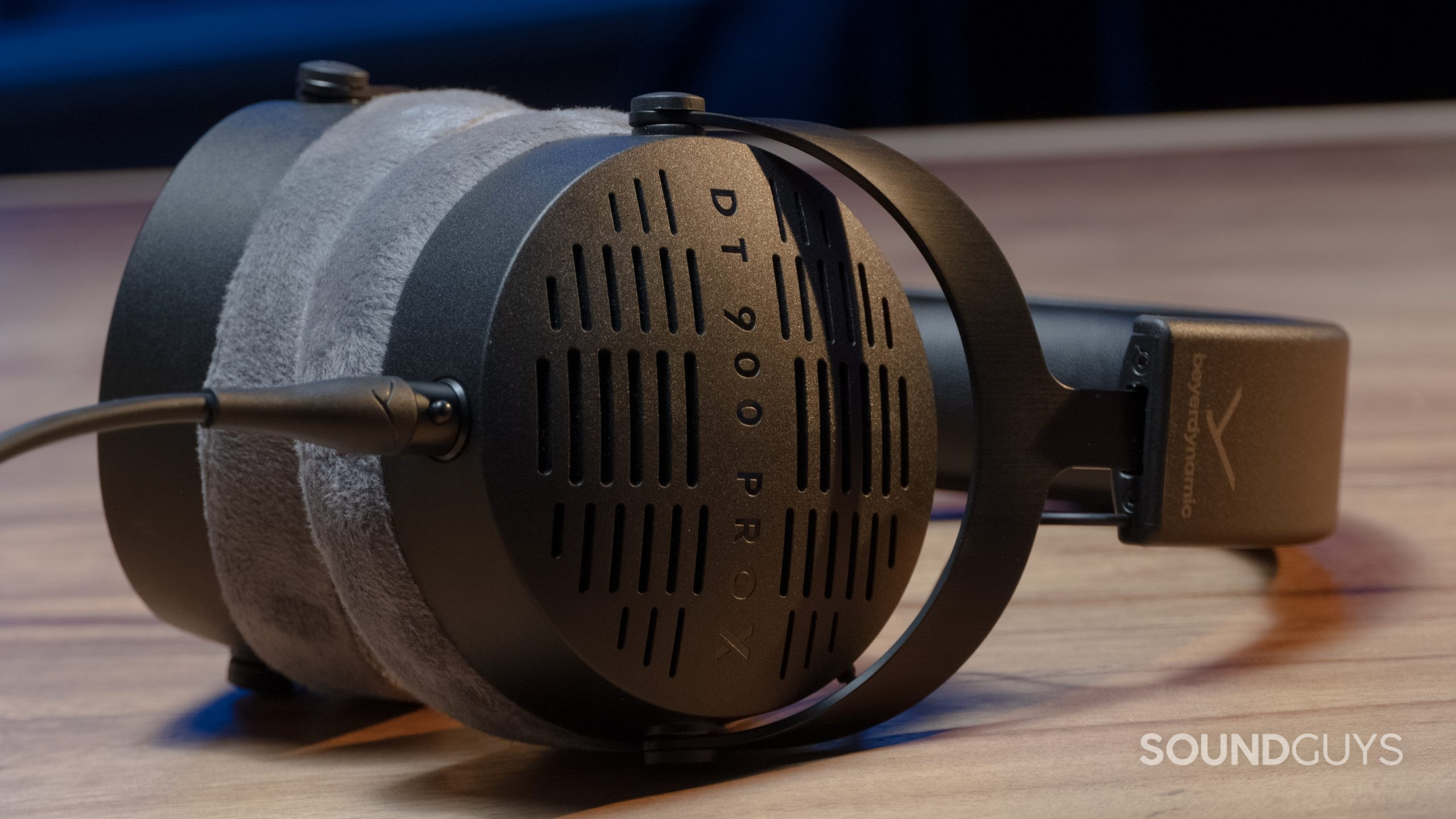 If you up the budget and the size, the DT 900 PRO X offers a metal build and a studio-tailored sound.
What are good closed-back headphone alternatives?
The DT 700 PRO X will make you smile if you want headphones suitable for audio production. It fits well and sounds good, and audiophiles will enjoy the neutral frequency response and low distortion.
Frequently asked questions about the Sennheiser HD 660S
No, because we know burn-in is a myth, we can only determine that any improved performance with use is due to the headband stretching and ear pads molding over time to fit your anatomy better.
---
Technically, you can mix with basically any headphones so long as you have a comprehensive understanding of the flaws or areas of emphasis or under-emphasis in the frequency response. Still, it makes it harder to mix well. It can be done. However, it's worth considering some purpose-built headphones.
---
The HD 599 has a more pronounced bass output than the HD 660S, and in terms of treble reproduction, the HD 599 reproduces frequencies 2kHz-7kHz a lot louder than the HD 660S. This is good for listeners who don't want to sacrifice bass output with their open-back cans, but it is a more "colored" sounding headphone.
If you want critical listening headphones, the HD 660S is the one to pick.
---