The headphone jack may be under attack, but earbuds are still one of those useful things you can carry in your pockets. Whether you're living the dongle life or not, it's hard to beat the sound quality of a good pair of 'buds you can just toss in your pocket and go about your day with. The best earbuds not only offer good sound quality but are also comfortable and durable enough to use every day. Now to be fair in-ears can cost thousands of dollars and sound amazing, but you don't have to spend that much to get good quality sound. Case in point: the 1MORE Quad Driver in-ears which are one of the bbest-sounding pairs of 'buds you can get to up your everyday listening experience.
The Best earbuds right now are the 1MORE Quad-Driver in-ears
If you couldn't tell by the name these offer four different drivers in each earbud, each tuned specifically to handle a different frequency range. This means there's less overlap between different sounds, as there isn't just a single driver trying to do everything at once. And sure, at roughly $199 these aren't cheap, but if you compare them to other quad-driver in-ears on the market: you're still saving a ton of money by opting for these.
And that cut in the price tag when compared to other headphones doesn't come with any drastic sacrifices either. You'll still get the same top-notch quality that was available in the previous Triple-Driver in-ears with an all-metal housing and kevlar cable. Speaking of which the Triple-Drivers make a great pair of 'buds too if you want to save some cash, but if you're looking for the best the Quad-Driver's are the way to go. They have a more ergonomic control module that lets you control your music whether you're on Android or iOS and also offer a slight bump in the bass when compared to the previous model.
Though the sound quality definitely favors the low end, it's not an overbearing experience. They keep the fun sound so many people like without overdoing it—or forgetting about the mids and the highs. The high end, in particular, has good detail but they do get kind of harsh at high volume. Luckily they also get pretty loud so you probably won't be cranking them up to max volume too often.
Looking for a sleek design with good sound?
It's rare that you find a product whose form perfectly matches its function, but that's exactly the category that the Master & Dynamic ME05 in-ears fall into. The brass earbuds result in a slightly heavier pair of 'buds but that doesn't really matter once you put them in. They feel super light in the ears and if you add your favorite pair of ear tips for an even more secure fit, you shouldn't have any problems.
The brass build doesn't only mean that you'll get a durable pair of headphones that can handle a beating, but the metal also has specific properties that help sound quality as well. There's a reason so many wind instruments are made of brass. These sound as good as they look, thanks to 8mm titanium-coated drivers in each earbud. You'll get a nicely defined bass response that won't overdo itself, and that chill relaxed vibe extends all the way up to the highs—providing nice detail without becoming harsh.
Other great options
If you're going to be monitoring or mixing (or doing any kind of professional work really) with audio, a pair of in-ears with a flat response might be a worthy investment to make. And if you want accuracy, look no further than the Etymotic ER4SR in-ears. These have a super thin smooth aluminum housing and triple flange ear tips so you can be confident they won't fall out when you're wearing them. They're very minimal and won't come with any playback controls here. These are specifically for professionals that work with audio, or anyone who doesn't like to have emphasis on certain aspects of the frequency range.
The cable is also high quality and braided for extra durability. Though because the earbuds connect via MMCX connectors to the cable you don't have to worry too much about breaking the cable, because you can just get another one. It's worth mentioning as well that even though these end in a 3.5mm plug (which your phone may or may not have now), they also have an impedance of 45 ohms, so while you don't need an amp for these if you already had one it couldn't hurt.
Sometimes the best bass isn't going to be the one that's loudest. Though the Thinksound ts03+mic earbuds don't have the strongest low end you'll find on the market it still manages to offer an emphasized low end, though it might sometimes get in the way of the vocals it's still good enough to recommend to bass lovers. Thinksound has a thing for using natural or recycled materials in their products, and that's on the display here as well. The 'buds that house the drivers are made entirely of wood, which the company uses to their advantage to help make the bass sound better than its 8mm driver would lead you to believe.
The build of these headphones is also worth mentioning because if you, like me, tend to just stuff your headphones in the first pocket you can find when you're done using them then you're going to want something that can survive that over and over again. Not only is it going to be hard to break those wooden earbuds, but the cable is also kevlar reinforced. So rolling these up shouldn't be a problem at all. Of course, the one downside is that you're going to be untangling these quite often because even though Thinksound claims it's a tangle-resistant cable we didn't find that to be the case in our review. The 3.5mm connector ends in a 45-degree plug which helps prevent fraying over time. To make things even better they're also sweat-resistant so if you're looking to hit the gym and don't want to go with any of the wireless options we recommend, these will get the job done.
They also come with a few silicone ear tips to help you get the best fit possible but pro tip, you might want to swap them out with a pair of comply memory foam tips in order to get some of the best isolation on the market (save for getting an actual pair of in-ears).
If you're not looking to spend too much but prioritize sound quality over all else, then these might do it for you. The Kz ATE Copper in-ears are not going to outperform your favorite pair of expensive 'buds, but for less than $20 they're good enough that you can leave your expensive headphones at home. Or better yet, just leave these in your bag for when you forget your main pair and know that you have something solid to fall back on. Not only are they comfortable, but they also look pretty damn cool with a see-through housing and golden accents on the cable.
That said: expect plenty of plastic here, so they're not the most durable. But for the price it's not going to hurt your wallet too much to just pick up another pair if they do break. These put more of an emphasis on mids and highs than the lows, so if you like a full-sounding low end you're out of luck here. Some might say these toe the line between good sound and tinny sound so again, it's not going to outperform your favorite 'buds. But for a bang for your buck pick these are easily worth three cups of coffee from Starbucks.
What you should know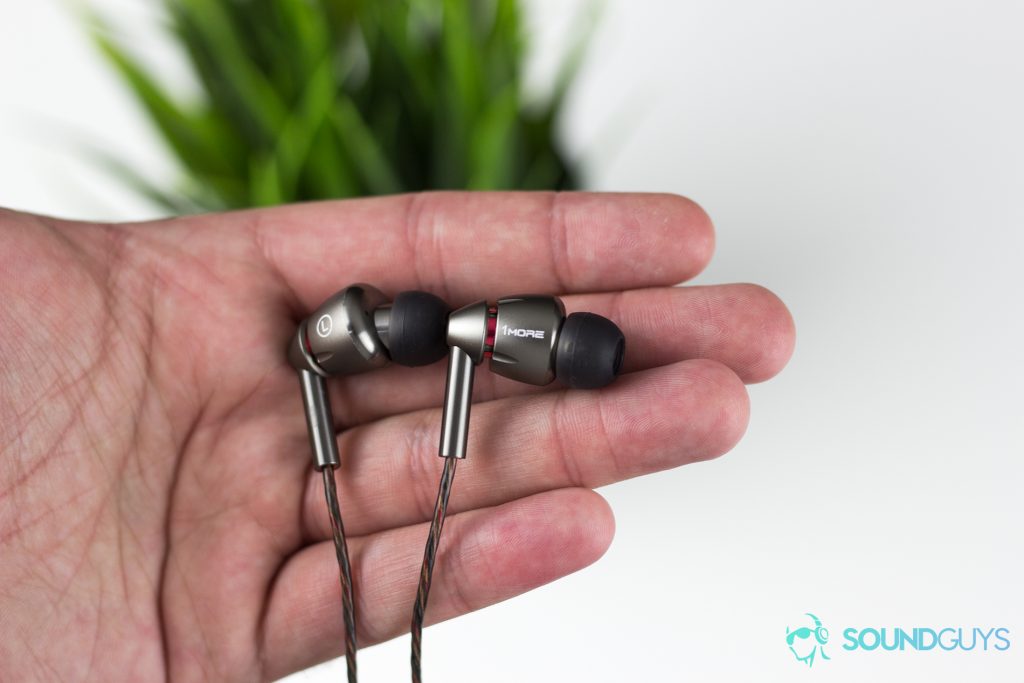 Chances are you've been using earbuds for years, but there are still things that you should be aware of when making a purchase decision. First and foremost: safety. Though we usually say you should try and get your hands on a pair of headphones to try for yourself before buying, it's a little harder with in-ears. You don't want to be going to local electronics and just sticking things in your ears. Who knows who's tried them out before you. It isn't only kind of gross if you think about it too much, but there are also infections that can be passed along that way. So while it's usually okay to go trying out over-ear headphones, you should take some precautions when it comes to in-ears like alcohol swabs or even your own pair of ear tips.
Which brings us to the next thing that you should know when buying a pair of 'buds: fit. Isolation is extremely important when it comes to enjoying your music and in-ears don't have the luxury of having large cups of plastic and leather to block out sound. If the earbud tip isn't a good fit you're not only going to have a hard time keeping them from falling out of your ear, but you're going to be letting in all kinds of outside and ruining your listening experience. Luckily earbuds usually come with a few different options so you can mix and match until you get the perfect fit, but one thing I've learned in my experience is just to invest in a good set of comply memory foam tips for yourself. Not only are they super comfortable and keep the 'buds in your ears, they also do a solid job at blocking outside noise. This is of course not possible with true in-ears like the Etymotic ER4SR, but those also don't have this problem because of how far into your ears they sit.
Isolation is extremely important when it comes to enjoying your music
Also one thing about wired earbuds that gets overlooked is just how damn good sound quality is. Sure, Bluetooth is more convenient and has plenty of benefits but dollar for dollar some of the best earbuds blow away their wireless competition. Bluetooth sound quality is okay, and there are plenty of options out there for sure—but wired headphones aren't limited by data transfer speeds in the same way that Bluetooth ones are. Plus if you happen to keep your source files on the device, it's actually not limited by data transfer speeds at all.
How we chose
Disclaimer: regardless of what we put on this list, we definitely missed some great options. That isn't because we decided to ignore them, but because there are hundreds of great 'buds out there. Picking 5 came down to a few main things. First was affordability. You can go deep down the rabbit hole when it comes to in-ear headphones.
Spending hundreds of dollars on a pair of 'buds isn't an easy decision and we don't take it lightly, but when the alternative is spending thousands on insanely high-end IEMs we consider these relatively affordable. At the same time, you'll eventually get to a point of diminishing return. It's true you'll find some amazing headphones if you spend upwards of $1000, but are they really $800 better than our top pick? We don't think so.
After price, the most important feature quickly becomes sound quality. Luckily, there are plenty of options here. Unlike Bluetooth headphones where manufacturers have to keep up with software advancements, in-ears are all about the hardware. And they've had decades to fine tune the sound to for the best experience, resulting in plenty of great sounding 'buds that won't cost you too much.
Comfort is important too, but there's a lot of variability there—not all of our observations are going to hold true for everyone there. Consequently, we didn't spend a ton of time waxing poetic about this feature, because your experiences will differ from ours; you have different ears, after all! Additionally, there remain some third party foam tip options for you to consider—offering even better isolation and fit than the standard silicone tips. Good ear tips will make even the best earbuds sound even better.
Why you should trust us
I've been working for Sound Guys for almost three years, and in that time I've been lucky enough to listen to more headphones and speakers than I ever thought I would. Comparing sound is a great way to learn what your preferences are. There's nothing like a good 'ol A/B test to figure out what sounds better. Of course, everyone has different taste in sound so take my opinions on it with a grain of salt (as you should any reviewer), but you can at least be certain that my taste in sound is consistent. Similarly, Chris Thomas has years of experience in not only listening to and reviewing headphones but also in figuring out insanely clever ways to test them and standardize his methodology. So it's safe to say he knows what he's doing as well.
Before Sound Guys I also worked at Best Buy, nerding out on everything from home theater equipment to headphones and Bluetooth speakers when they were first becoming popular. Even before that, I spent hours upon hours in studio sessions learning the ins and outs of production programs like Reason, Logic, and Pro Tools as well as the equipment and instruments that are necessary to make the most out of them. If you want to dig even further back into my past you'll find pictures a 14-year-old kid who never took his headphones—yeah, I was that guy. But since then I've had plenty of experience with all things audio, and the best way I can currently put that knowledge to use is to make sure that anyone spending money on audio gear gets the best experience possible because that's what it's all about. Experiencing music.
Disclosure: We may receive affiliate compensation in connection with your purchase of products via links on this page. Even though we may receive compensation, we always give our honest opinions, findings, beliefs, or experiences on each product. See our ethics policy for more details.