Thanks to a shift in trends and a handful of companies pushing headphones as fashion accessories, in the past few years, headphones became cool to wear again. Fans of good-sounding audio rejoiced. But with this newfound freedom came a problem: with so many types of headphones out there, how do you go about picking the best?
Simply put, you don't. But that didn't stop us from trying to at least give you some good starting points and share some of our favorites. We're going to look at wired and wireless, noise cancelling and, well, not. Hopefully you'll find something you like.
You might also like: Best bluetooth headphones | Best noise cancelling headphones
Audio-Technica ATH-M70x
by Audio-Technica – ($230.90) Amazon.com
Considering the Audio-Technica ATH-M50x are some of the most popular over-ear wired headphones out there, you may wonder what we're doing adding a different pair of AT headphones to the list. It's true that there are similarities, but as similar as these are to the ATH-M50x, there is a whole lot to tell them apart at the same time, and these come out on top.
In terms of general appearance, both headphones are so similar that you might have trouble telling them apart. It's all there: Audio-Technica's signature locking cable, the different varieties of cable, and even the driver size is the same. What isn't the same are the sonics.
Unlike the ATH-M50x, the Audio-Technica ATH-M70x are only available in black. At least, for now.
The frequency range is greatly expanded in the ATH-M70xs. Unlike the ATH-M50x, which reach down to 15 Hz, these go even further down to 5 Hz. The top end is similar, with the M70x hitting 40 kHz to the M50x's 28 kHz. The frequency curve is generally flatter as well. This may not mean much to you if you're listening to music on the go, but it's very important for professionals and anyone who needs accurate playback.
At $299, the Audio-Technica ATH-M70x are pricier than the ATH-M50x, and that might be enough to make the decision for you. If you're still on the fence, take a look at our review of the ATH-M70x and see which pair of headphones is better suited for you.
Buy from Amazon ($230)
---
Bose QC25
by Bose – ($299.00) Amazon.com
Until September of last year, it had been an unusually long time since Bose had released an update to its extremely well-regarded QuietComfort line. The line consists of a few models with both in-ear and over-ear variants, both of which feature active noise cancellation. When the Bose QuietComfort 25 came out, it was quickly apparent that these improved on their predecessors in nearly every way.
Active noise cancellation is a tricky thing: if it's too heavy handed you end up with an annoying hiss, and if it is too subtle, it just plain doesn't work. Bose hits their mark perfectly here, and the ability to block out the world around you at will is a big part of why we're recommending these headphones. Other noise cancellation we've heard is good, but not this good.
They're not cheap, but the QuietComfort 25 headphones are definitely worth the money.
In terms of sound quality and comfort, the QuietComfort 25s are on par with other Bose headphones, which is to say their fairly well balanced, but they don't go overboard on bass. Like other Bose products (including another pair of headphones you'll see on this list), the QC25s are comfortable and stay that way, making them a great companion for a long flight.
One common complaint about Bose products is that they're too expensive, and at $299, we're sure some will that that about the QuietComfort 25s. While of course we'd like to see them sell for less, you're definitely getting what you pay for here. For an in-depth look, make sure to read our review.
Buy from Amazon ($299)
---
Bose SoundLink Around-Ear Wireless Headphone II
by Bose – ($279.95) Amazon.com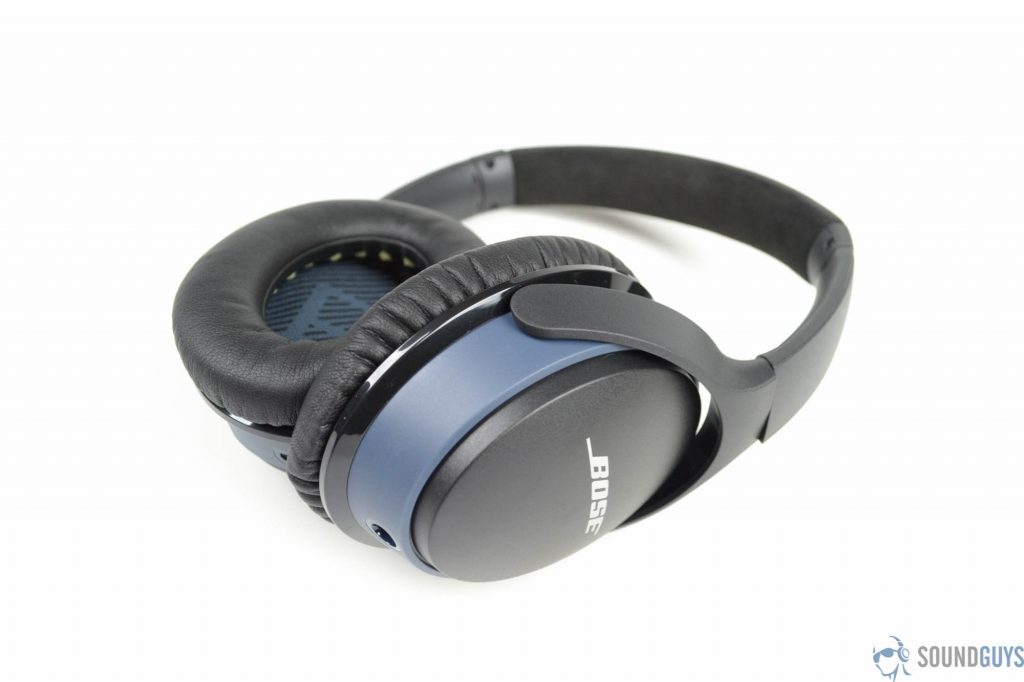 Bose has already appeared once on this list once, and while the QC25s are great if you don't mind wired, they can limit mobility. The first Bluetooth entry on this list, the Bose SoundLink Around-Ear Wireless Headphone II is the successor to the well-loved AE2W.
There are plenty of new and improved aspects here when compared to the AE2W, but there is one key difference that may see those who ignored that pair interested in Bose's newest wireless outing: no dongle is necessary. The external Bluetooth adapter required by the older headphones was cumbersome and ugly, so prospective buyers will be glad to know that these work just like any other pair of wireless headphones.
These headphones can be paired to two devices at the same time, allowing you to switch between them with ease.
Unlike the QC25s, these don't offer noise cancellation, but the passive noise isolation works well enough to block out office chatter and other background noise. Sound quality is very similar to the QC25s to the point that it shouldn't be taken into consideration when deciding between the two. Instead, it's all about which is more important: noise cancellation or Bluetooth.
We've already addressed complaints about price when it comes to Bose products, but that's actually different here. Surprisingly, these headphones are priced right in line with other Bluetooth headphones offering similar functionality. For the full rundown, don't forget to take a look at our review.
Buy from Amazon ($279)
---
Sennheiser Momentum Wireless 2.0
by Sennheiser – ($499.95) Amazon.com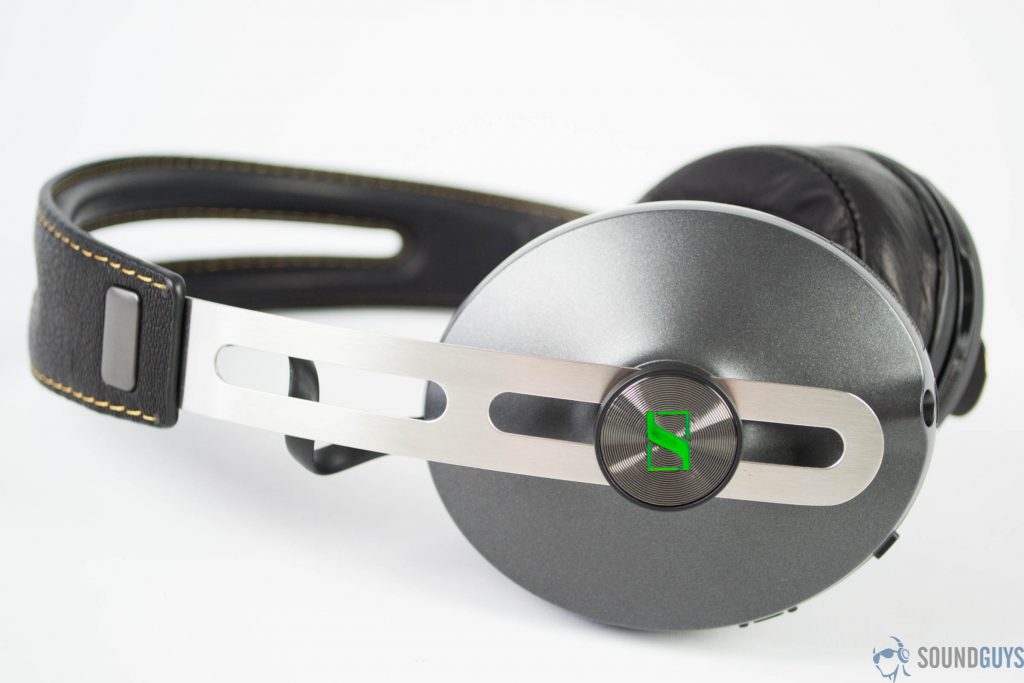 We have an entire article dedicated to the best Bluetooth headphones out there, but considering that they're so important to some people, it would be wrong to not put at least one pair of wireless headphones on the master list.
The Sennheiser Momentum Wireless make a strong argument for being simply the best pair of wireless headphones you can buy, at least unless you're going to spend over $1000. That said, these aren't cheap — a pair will cost you $499. That money does buy a lot, however.
These are some of the best wireless noise canceling headphones we've seen, period.
Not only are the Momentum Wireless, well, wireless, but they also have built-in adaptive noise cancellation. This isn't the best noise cancellation we've heard (that would probably go to the Bose QC25s we mentioned earlier) but it's awfully close.
Where Sennheiser takes the lead is the marriage of excellent sound quality, wireless connectivity, and ANC. Other headphones like the Parrot Zik series come close for less money, but you're getting a better pair of headphones in the Momentums. For all the details on the Sennheiser Momentum Wireless, check out our review.
Buy from Amazon ($499)
---
Creative Sound Blaster Jam
by Creative – ($38.49) Amazon.com
When we updated our list for the best Bluetooth headphones earlier this year, we featured the Motorola Pulse as the budget pick. That is still a fine pair of headphones, but as time goes on, we're more and more impressed with what the Creative Sound Blaster Jam can do at such a low price point.
While every other wireless option on this list will cost you well over $100, the Sound Blaster Jams can be found online for $39. That's not even a sale price either: when these first launched they only listed for a little more at $49. There are some trade-offs — namely the stuck in the '90s look and on-ear design — but the quality for the price is impressive.
One again, Creative has managed to produce a product that seems like it should cost more than it does.
The Jams might not feature aptX, but they do offer NFC pairing, a feature we often see left out of even high-end Bluetooth headphones. Battery life is around 12 hours, and while we've seen better, this is more than enough for many people and somewhat surprising given the small size and light weight. Bass is somewhat lacking, and there can be a bit of harshness in the high end, but listening to music on the Jams was still a pleasant experience.
As we said in our review, you're not going to be blown away by the sound quality or features here, but you just might be by the fact that these do so much for less than $50. If you're anti-wire and don't want to spend a lot of money, these are deserving of a look. See our review for more info.
Buy from Amazon ($38)
---
Monoprice DJ Style Pro Headphone
by Monoprice – ($30.47) Amazon.com
For most people, if you've heard about Monoprice at all, it was probably as a source of cheap but good AV cables or similar components. When word first started spreading that they had a few pairs of good-sounding headphones it was surprising, but not as surprising as the price.
With a design focus more in line with pro headphones than consumer focused cheapies, the Monoprice 8323s don't offer much in the way of features. What they lack in fancy looks or included remotes, they make up for in sound quality. I've had the chance to review some excellent headphones by now, and every time I come back to the 8323s I'm stunned by how well they hold up in comparison.
What they lack in fancy looks or included remotes, they make up for in sound quality.
Obviously, to keep the price low some sacrifices had to be made. For example, the build quality isn't exactly rock solid. That said, I've had my personal pair for more than two years now, and not only have they not fallen apart, but they look as good as the day they arrived.
At the time of this writing, the Monoprice 8323 headphones go for exactly $15.99, direct from Monoprice. Not only is that a great deal for the sound quality, but a great price if you want a pair of headphones to throw in you backpack while you leave your more expensive headphones at home. See the company's website for more information.
Buy from Amazon ($30)
---
There are a ton of great headphones out there, and which are the right ones for you depends on a lot of factors. Whether you're looking for on-ear or over-ear, what kind of music you like, and how much style matters are all things that are going to affect your choices. That said, we think the options we've provided here are good starting points.
Didn't find what you were looking for? Checkout these related best lists: