This post was updated on May 15th, 2016 with new information. It was originally posted on May 2nd, 2015.
Music motivates, and there's nothing quite as unmotivating as snagging the wire and ripping the headphones out of your ears while you're out running. With technology doing more and more, people seem to be doing less and less. Most people spend the majority of their day at a desk and because of this the world seems to be going through a fitness revolution, and headphones are not immune to this trend.
Besides the fact that it's simply awesome to be wireless, one of the most practical uses for Bluetooth headphones is for exercise. We figured we'd help out all the runners of the world and make a list of the best wireless headphones you can get for running.
You might also like: Best Workout Earbuds of 2017 / Best Bluetooth Earbuds of 2017
The Best All-Around: Jaybird X2's
by Jaybird – ($112.97) Amazon.com
One big issue with all earbuds is getting a good fit. If they are loose they will most likely fall out at some point, especially if you're running. The Jaybirds try to fix that by including a couple of different sized ear tips and wing tips for you to mess around with until you get a good fit. After that, you're all set. One pair of 'buds that do this slightly better than the rest are the Jaybird X2's. The previous model, the Jaybird Bluebud X, were a fan favorite and still one of the best headphones you can get for exercise. Still, it's clear that the new and improved X2's have usurped the throne previously occupied by the original Jaybirds.
The Jaybirds can handle anything you throw at them with ease.
Since everyone gets inspired and pumped up by different tunes, the company made sure that the new headphones can accommodate any genre of music you throw at them. To learn more about the details of the sound quality be sure to check out our full review. If you're one of those people that forget to charge your devices, you'll be happy to know that the X2's actually hit the 8 hour battery life mark that Jaybird claims. That wasn't the case with the originals as they struggled to reach 8 hours, so it's good to see the company making adjustments for the better of the customer even though they were already a huge success.
One of the things that Jaybird thankfully kept the same is the helpful Jenna voice prompts that help you through the pairing process and other things. They also have a mic and remote built into the wire that provide a plethora of playback control options. The three buttons give you the ability to pause and play music by clicking the middle button as well as the option to answer or reject phone calls. You can also skip or reverse tracks and the middle button also doubles as the power button and the redial button. Seriously, they do a lot so if you decide to pick up a pair be sure to familiarize yourself with all of the shortcuts first so you don't accidentally end up redialing someone you don't want to.
Of course, what kind of workout headphones would they be if they couldn't withstand a little sweat? You won't have to worry about that here, though they're aren't completely waterproof so we still wouldn't recommend submerging them in water.
The Jaybird X2's come in 5 different flavors: Alpha (dark green), Fire (red), Ice (blue), Midnight (black), and Storm (white). They also come with a hardshell carrying case that's either all black or has a white stripe depending on the color you get. They have a solid 3.5 rating on Amazon and can be yours by clicking the link below. All of them have different prices, with the most popular black ones being the most expensive.
Buy from Amazon
---
Best Sound: Jabra Sport Pace Wireless
by Jabra – ($90.00) Amazon.com
Jabra has made a name for itself by setting their sights on the fitness market with products like the ROX and Sport Pulse. Those are both still great headphones for running, but seeing as this is a best list we figured it was time to update them with the newest Jabra headphones: the Sport Pace. We recently reviewed these and were impressed with a bunch of stuff.
These clip on behind the ear in the same way that the Powerbeats do so for those of you who aren't a fan of straight up in-ears, here's one that's right up your alley. On the reflective wire connecting to the two ear pieces is a small mic and remote that has volume controls and a multi-function button. The multifunction button gives lets you initiate a number of different actions depending on how rapidly and how long you press the button.
As is the case with most exercise Bluetooth headphones, the battery life on the Sport Pace isn't amazing.
At only 5 hours it might leave you needing a charge after every use. That said, they did implement a new feature called Rapid Charge which gives you an hour playback in only a 15-minute charge. We used this feature multiple times in testing and it works great. Every pair of headphones should have a Rapid Charge feature of some sort the same way every workout pair of headphones should be sweat resistant. Speaking of which these are IP54 certified so not even rain can do damage.
The sound quality in the Sport Pace was another perk, having scored a 9/10 in our full review. The lows are strong enough to keep you moving during a workout without being too destructive to the rest of the frequencies. They're also fairly good at blocking outside noise so if you wear these during a workout you won't have to listen to the grunts of that guy on the other side of the gym. Jabra does offer a free companion app that helps you track workouts by telling you things like pace, calories burned, and distance.
The Jabra Sport Pace come in three colors: red, blue, and yellow. They've scored a 3.2 out of 5 star rating on Amazon and for a sub-$100 pair of headphones, you can't go wrong.
Buy from Amazon
---
Best Fit: Bose SoundSport Wireless
by Bose – ($145.95) Amazon.com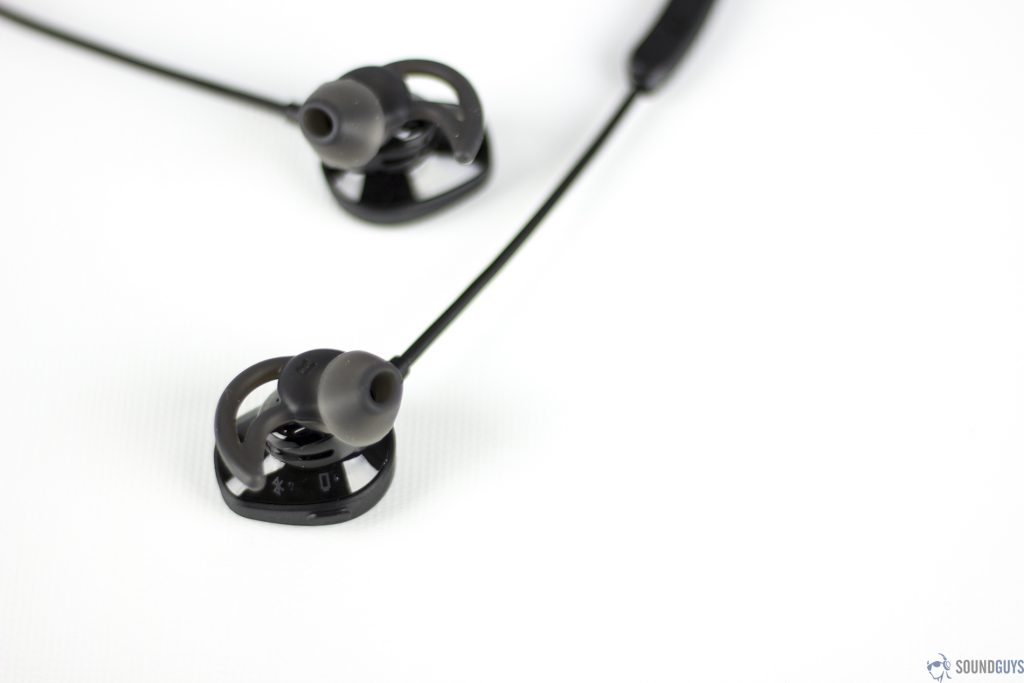 When it comes to wireless 'buds, it's hard to beat the SoundSport Wireless. Complete with the StayHear+ tips that so many people seem to love, the SoundSports are designed to stay in your ear as you exercise.
The headphones are solid in every sense of the word.
The headphones are solid in every sense of the word, from the sound quality to the build materials. These are made from a hard durable plastic that is water and sweat resistant. There have been some initial complaints about some units becoming damaged from intense sweat, but Bose says they've fixed the issues in a new model coming out in August. The wire itself is sturdy and thankfully lies flat against the back of your neck while wearing them.
If you intend to use them for running you should make use the included shirt clip, but you probably won't need it for everyday use. On that wire is a small module with the mic and playback controls on it which let you do everything from answer a phone call to skip tracks. One of the only negatives to these headphones is the battery life. That's not to say that it's bad, but it's just average at only about 6 or 7 hours. These can easily last you the day under normal conditions, but if you're going to be taking a long flight that might not cut it.
That said if you're going to be using them mainly for exercise, these should easily last you a full work week of 1-hour workouts. The Bose SoundSport Wireless have a 3.6 out of 5 star rating on Amazon and can be found for $149. You can pick up a pair in either black or aqua blue color.
Buy from Amazon
---
Best Bass: Powerbeats 2
by Beats by Dre: ($139.95) Amazon.com
Next on the list are the Powerbeats 2. Now before everyone grabs their pitchforks, definitely check out the full review to see all that they have to offer. Overpriced? Maybe, but they're still a solid pair of Bluetooth headphones with great connectivity.
Beats products have a reputation for having overpowering bass, and though the strong bass is definitely still present in the Powerbeats 2 it doesn't seem to get in the way of the other frequencies. These are great if you're the type of person who likes to listen to songs with a little bit of "umpf" in the low end to keep you motivated. Also if you're not too fond of in-ears no matter how many wing tips they send you, the Powerbeats 2 clip over the ear for a much stronger fit. They're pretty much guaranteed to not come off unless you want them to. Always a good feature in a pair of workout headphones.
A little more bass to keep you motivated is what the Powerbeats are known for.
One good thing about getting a Beats product is simply the many color options that are available which is something that you don't see with many other headphones. They come in red, blue, white, black, or pink so you can match them with your sneakers and feel like you're in the commercial. They're also IPX4 certified so dust, rain, and sweat won't be the reason these break. Another plus to these is the non-tangle cable that connects the two ear pieces. On that cable is the small remote and mic that let you answer phone calls as well as provide some basic playback controls like skipping tracks and changing the volume.
Battery life is lacking slightly at only 6 hours, so you might want to charge these more often than the others just so you don't end up stuck running somewhere with no music. Still, a small battery life isn't too uncommon when it comes to wireless earbuds so 6 hours is actually average. Make no mistake, the Powerbeats 2 are great headphones for running.
The Powerbeats2 have over 4,000 reviews on Amazon with a total score of 3.6 out of 5 so before you write them off, you might want to give them a shot. Most of the colors can be purchased for around $140, but there are some that cost as little as $89.
Buy from Amazon
---
Best Bang for your Buck: CB3 Stealth
by CB3 Audio – ($49.99) Amazon.com
Everything on this list is definitely worth the money, but if you don't wanna spend so much for a pair of wireless buds then check out the CB3 Stealth wireless earbuds. They look like your average pair of wireless earbuds. Hence the stealthy name.
For fitness headphones that won't break the bank, these are a great option
They have an all-black design with a few different sized wing tips and ear tip to help you get the perfect fit. They're also completely sweat proof which makes them great for exercise, so if you're looking for fitness headphones that won't break the bank these are a great option. The ear tips do get moved out of position somewhat while in your pockets, but as long as you snap them back into place before your run you shouldn't have a problem with fit. In terms of battery these have a 120mAh battery that will last you 7 hours of play back time packed into the earbuds. Of course this isn't amazing battery life, but its on par with some of the more premium pair of earbuds including the Bose SoundSports.
Pretty impressive considering that these aren't big at all and are actually very similar in size to the Jaybird X2s that everyone loves. The control module has a built-in mic and playback controls so if you're looking for hands free interaction with your music or phone calls you're covered. You're gonna be hard pressed to find another pair of quality wireless earbuds at this price point. They have a solid 4.5 out of 5 star rating on Amazon.
Buy from Amazon
---
As always if you have a pair that you feel deserve to be on this list let us know, we're always on the lookout for better products. If you're not the most active person in the world these are all still solid headphones for everyday use, but it doesn't hurt to try them out while going for a run. Actually it might, but it'll be a good hurt. Trust me.
This post may contain affiliate links. See our disclosure policy for more details.