All products featured are independently chosen by us. However, SoundGuys may receive a commission on orders placed through its retail links. See our ethics statement.
How your in-ears fit matters a lot
You could have it so much better.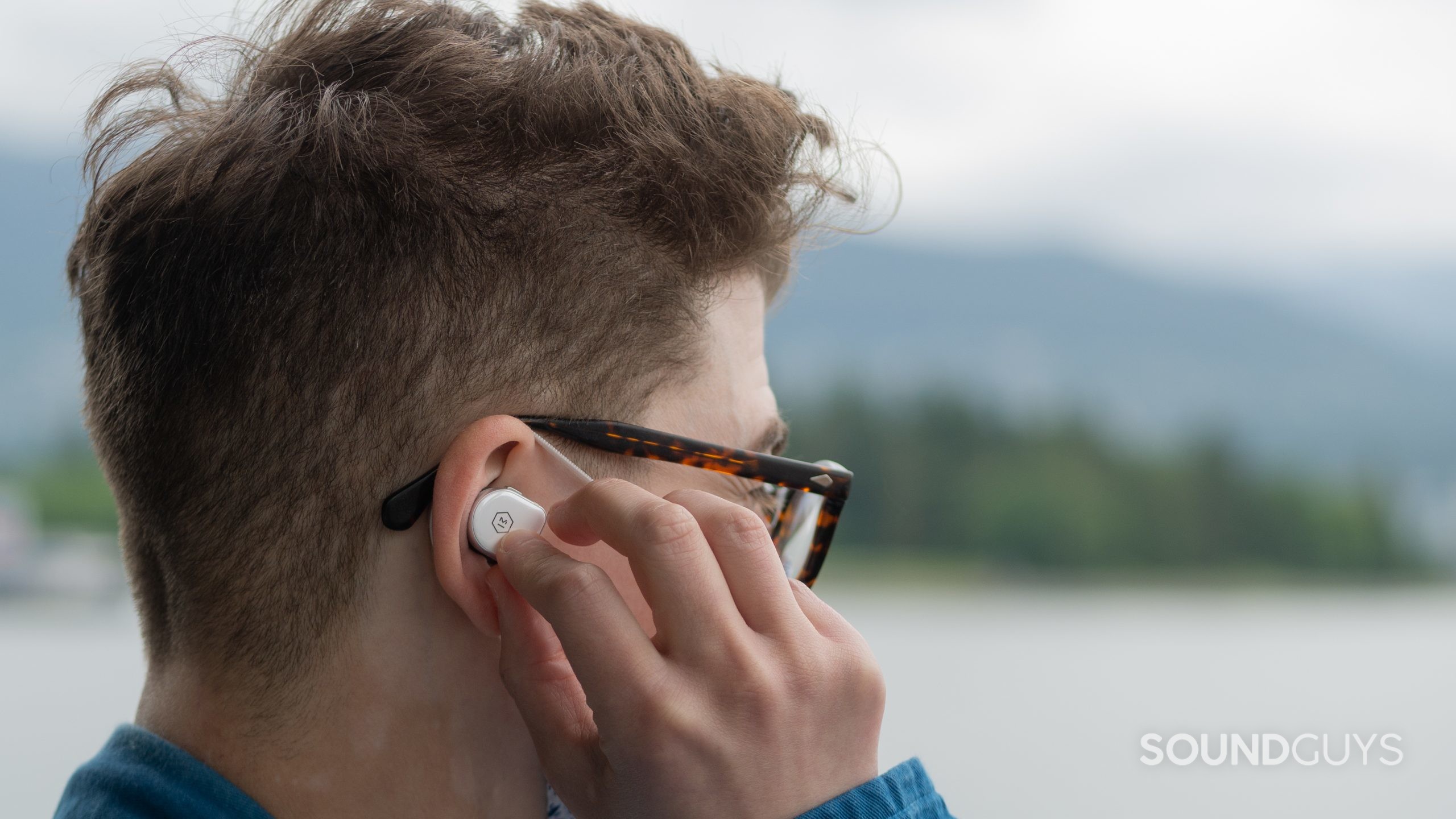 If you're a user of in-ear headphones, you may be interested to know that you could be getting more out of your purchase. It's very possible that you're not getting the right fit, and that can have consequences like poorer sound quality, worse isolation, and discomfort.
While we can't give you scientific measurements of how uncomfortable in-ears may be, we can show you how a bad fit can affect your listening—and why you should put the time in to get the best fit possible.
Editor's note: this article was updated on January 6, 2023, to clarify language and add a disclaimer about our changing test setups. 
Why do you need a good seal?
If you're new to high-end in-ears or even just want to get more out of your existing ones, a good seal is the single most important thing you can do to make your music sound better. Not only will the earbuds perform the way they're meant to, but a good seal will block out more outside noise, meaning you don't have to turn up your tunes as much. That, in turn, means you can avoid noise-induced hearing loss in situations where that may have been a risk without it.
Additionally, a good fit means that when you work out, walk around, or otherwise move the earphones will stay in place. It seems like common sense, but the advantages of a proper fit are huge—especially if you want to use true wireless earbuds.
How do we test the isolation performance?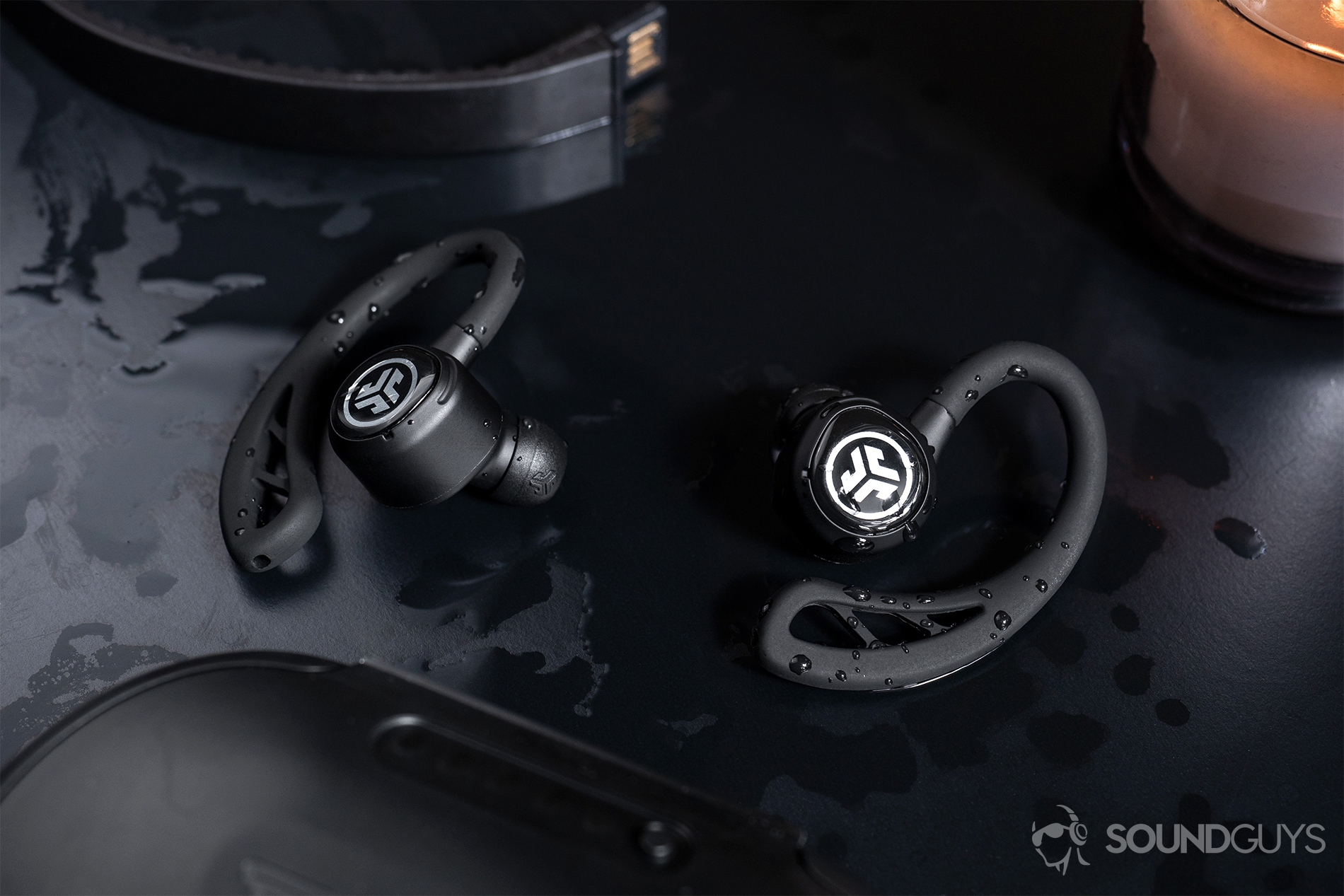 Chris' test subject.
The JLab Epic Air Elite includes eight pairs of ear tips, and we use this same headset to test how the different sized ear tips affect the product's sound and isolation. We use our normal testing protocols for each set of sleeves, and note how you'd experience the results in concrete terms, like how it'd affect your music.
To perform each test, we use the same test fixture so that all our results are directly comparable. Our fixture uses human-like ears, but your experience will probably be different in minor ways because everybody's ear canals are differently-shaped. Our headphone "burn-in" article addresses something similar, but in-ears don't have viscoelastic foam that degrades over time to change how you hear the sound.
Which ear tips are the best?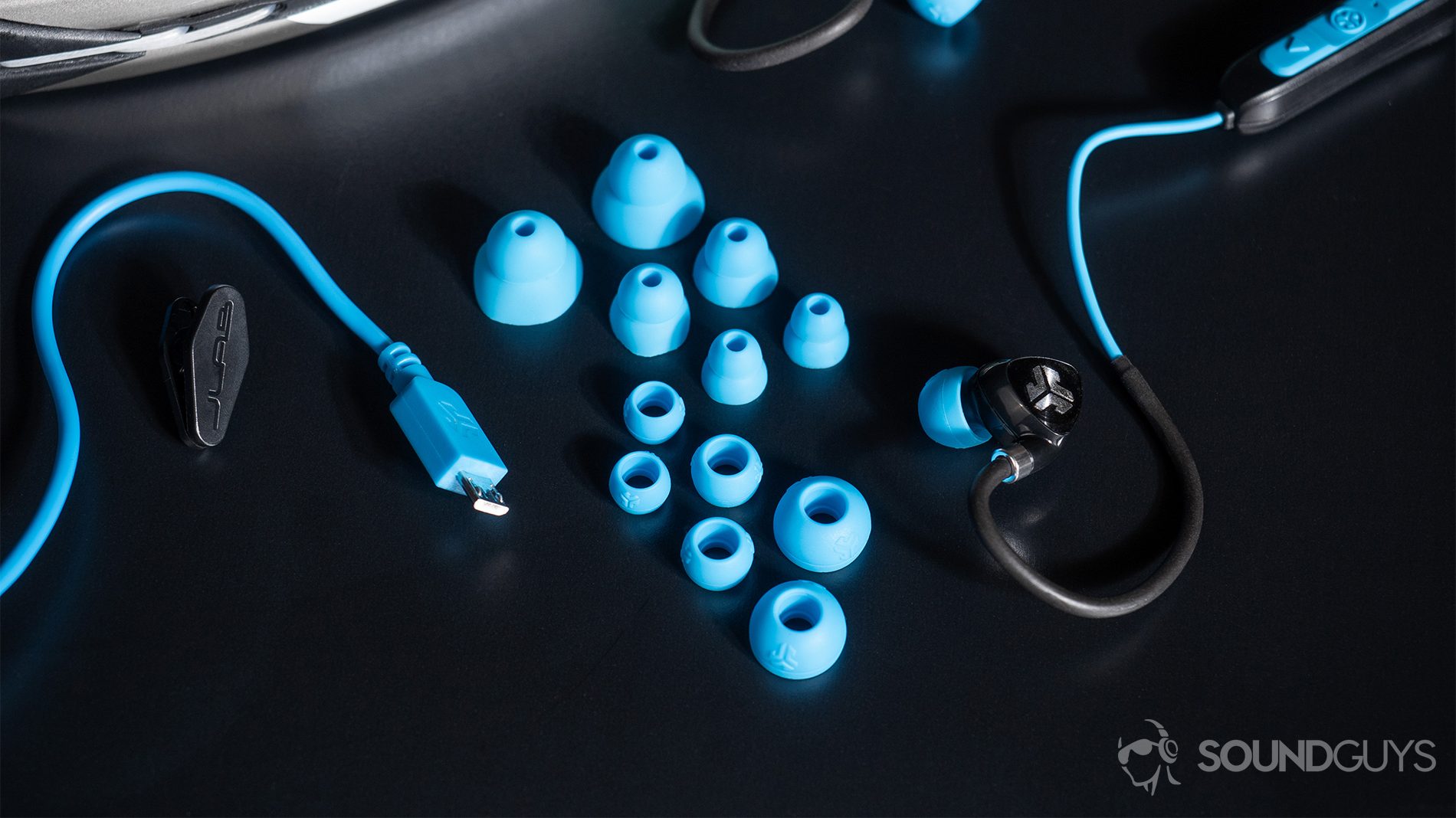 JLab offers a lot of ear tips with its models, so it made for a good guinea pig.
Our findings reveal that the ear canals on our test fixtures are quite shallow, which is a common issue with some in-ear users. The fact of the matter is that all of our ears are vastly different from person to person, and ear canal depth is just one of the factors that can make ear tips uncomfortable or ineffective. Though we normally assume that double or triple-flanged tips isolate better, for the wrong ear canal that's not always true.
We also note that the testing results vary wildly, and which tips you use can have a huge impact on your listening experience.
Hold up! Something's wrong: These measurements were performed on a nonstandard test apparatus several years ago, and not on the Bruel&Kjaer 5128 we have now. We're currently exploring when we can add a re-test to our production schedule, but it may take a while. The comparisons still hold up, even if they're not performed on the latest and greatest equipment out there, but you may see different charts here in the future if you come back to read this article again.
How do silicone tips affect sound quality?
Large tips (blue), medium tips (red), and small tips (green) shown here.
In general, you can tell if you have a decent fit in a number of ways, but again, we're just looking at isolation and frequency response. The better the fit, the more isolation you'll see, and the more regular the frequency response.
Right off the bat, it looks like all of our ear tips fit the test fixture fairly well. Great! Here we see a lot of treble isolation (below) like you'd expect from a good seal, and the frequency responses are roughly similar. However, as similar as they look, the sound will be quite different based on the ear tip.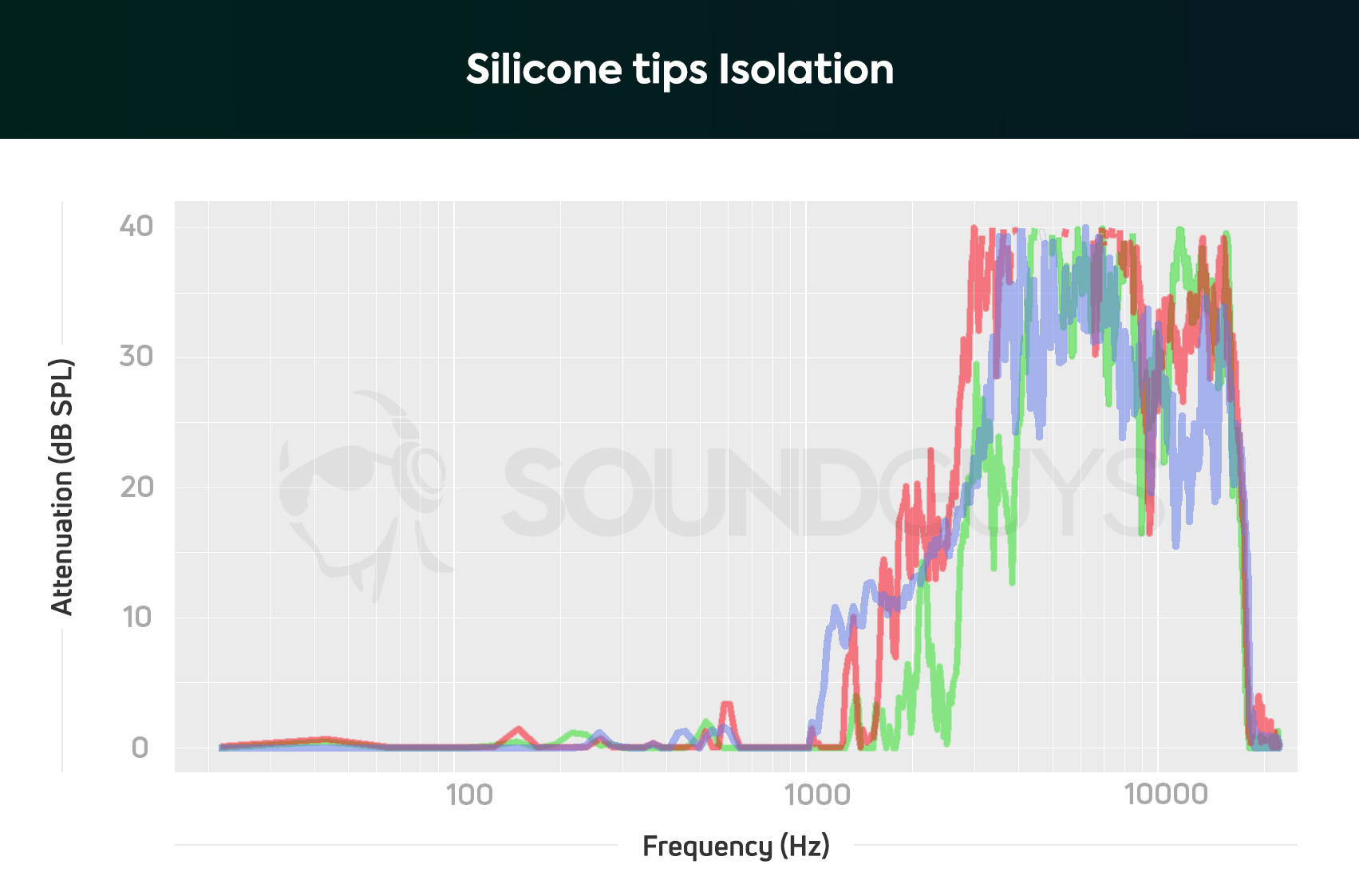 A good seal will provide more consistent isolation.
The large ear tips are the best fit for our text fixture, because they most consistently block out noise at lower frequencies than the others. Consequently, we can rule out the small tips (green) as "fitting well" here, because they don't block out at much outside noise.
However, there are more ear tip types here, and those get a little hairier.
How do double-flange ear tips affect sound quality?
Remember when I said that our test fixture has shallow ear canals? Well here's where that starts to show up. The double and triple-flanged tips are longer than the regular silicone ones, and don't fit our test fixture very well. However, that gives us the opportunity to see the consequences of a poor fit.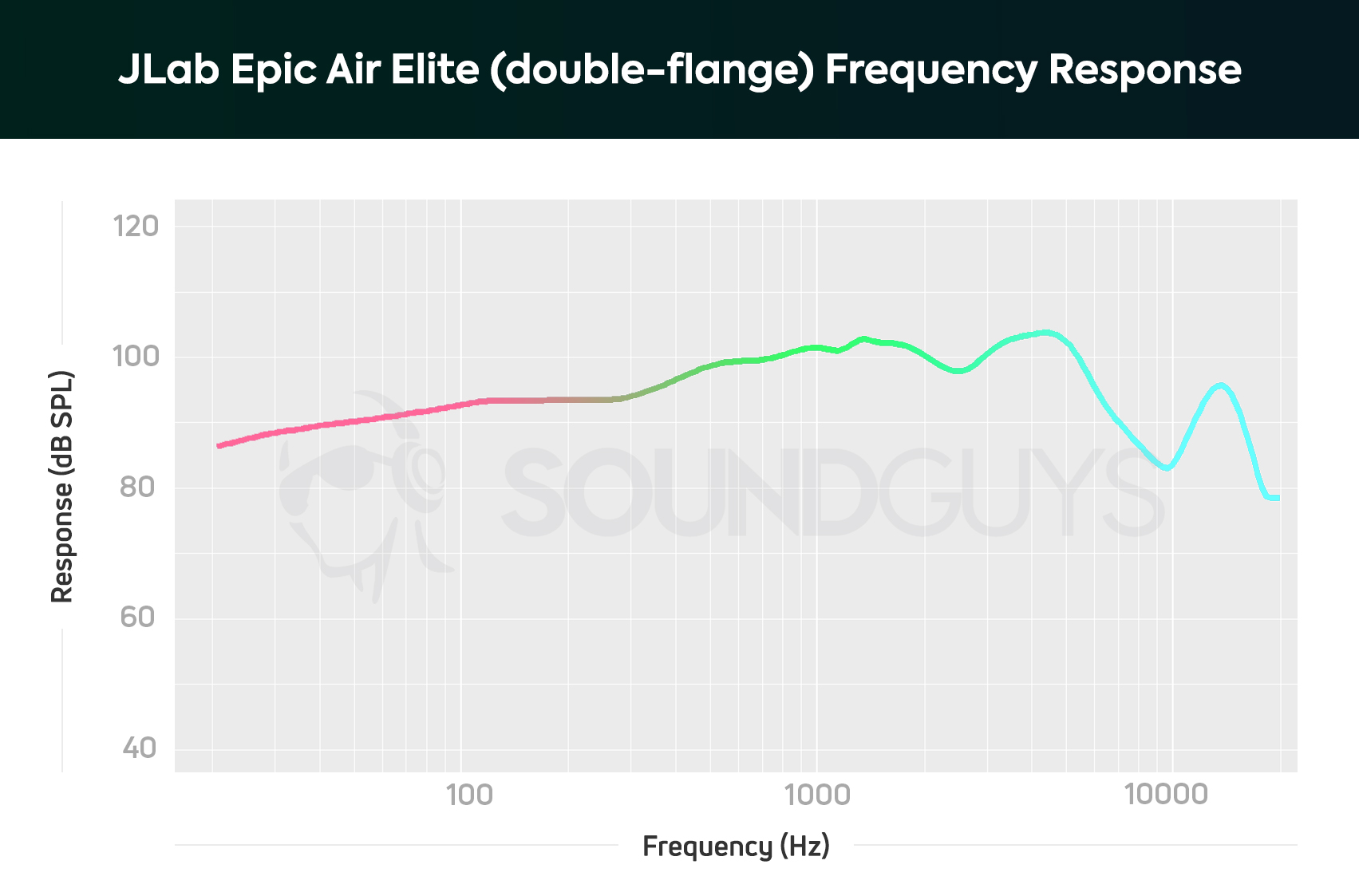 Yikes. Though this looks bad (and is, for the most part), it's not the JLab Epic Air Elite's fault that this test used the incorrect ear tips. It's just what happens when you get a bad seal. A good fit can make or break your entire listening experience.
On the above chart, you can see the bass (pink) drops significantly, and the higher notes and sounds in your music (green, blue) will sound roughly twice as loud as anything else. Your music will sound very different from the first tips we tried, and you may not like it. Music with a response like that will probably sound unclear, and a little "harsh" when the cymbals, snare drums, and synths hit. You won't be able to hear basslines as well as you should either, with lower notes and male vocals getting drowned out by higher notes.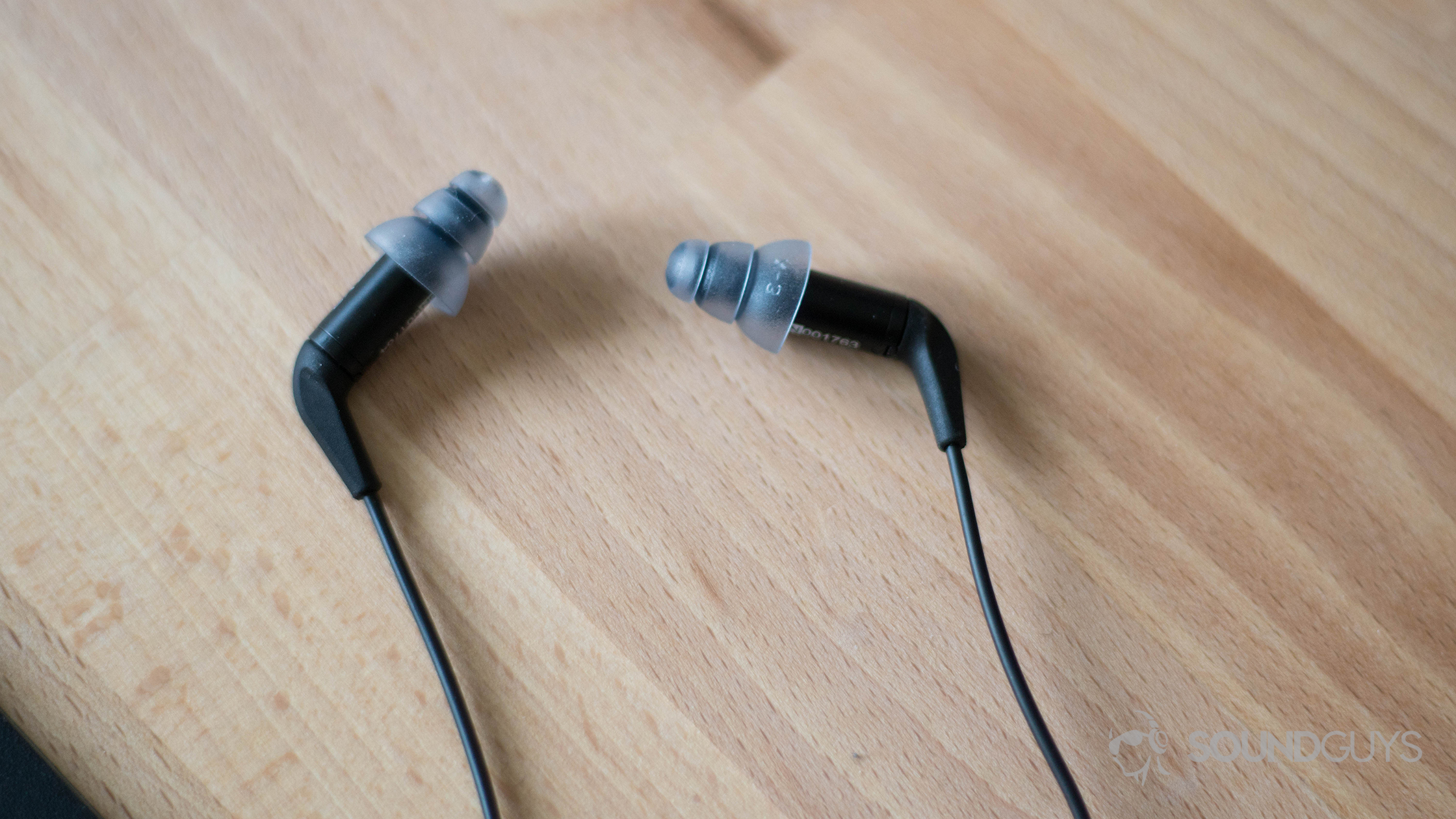 The double-flanged tips on this pair of Etymotic ER3XR earbuds attempt to seal your ear canal twice.
Take Olivia Noelle's song High for Me: the bassline and marimba combine to set the stage for the whole song, as the vocals and background samples are in a higher key. However, with a frequency response like the one above, you'll have a lot of trouble hearing anything but the singer, some drums, and some of the samples. With the single-flange tips we tested above, you'll hear everything, and enjoy the song quite a bit more.
Double-flange tips make two seals in your ear to provide extra isolation. Even if the fit isn't perfect, they typically isolate better than normal silicone sleeves. However, the improvement here isn't as big as it should be because of the poor fit in our test ears.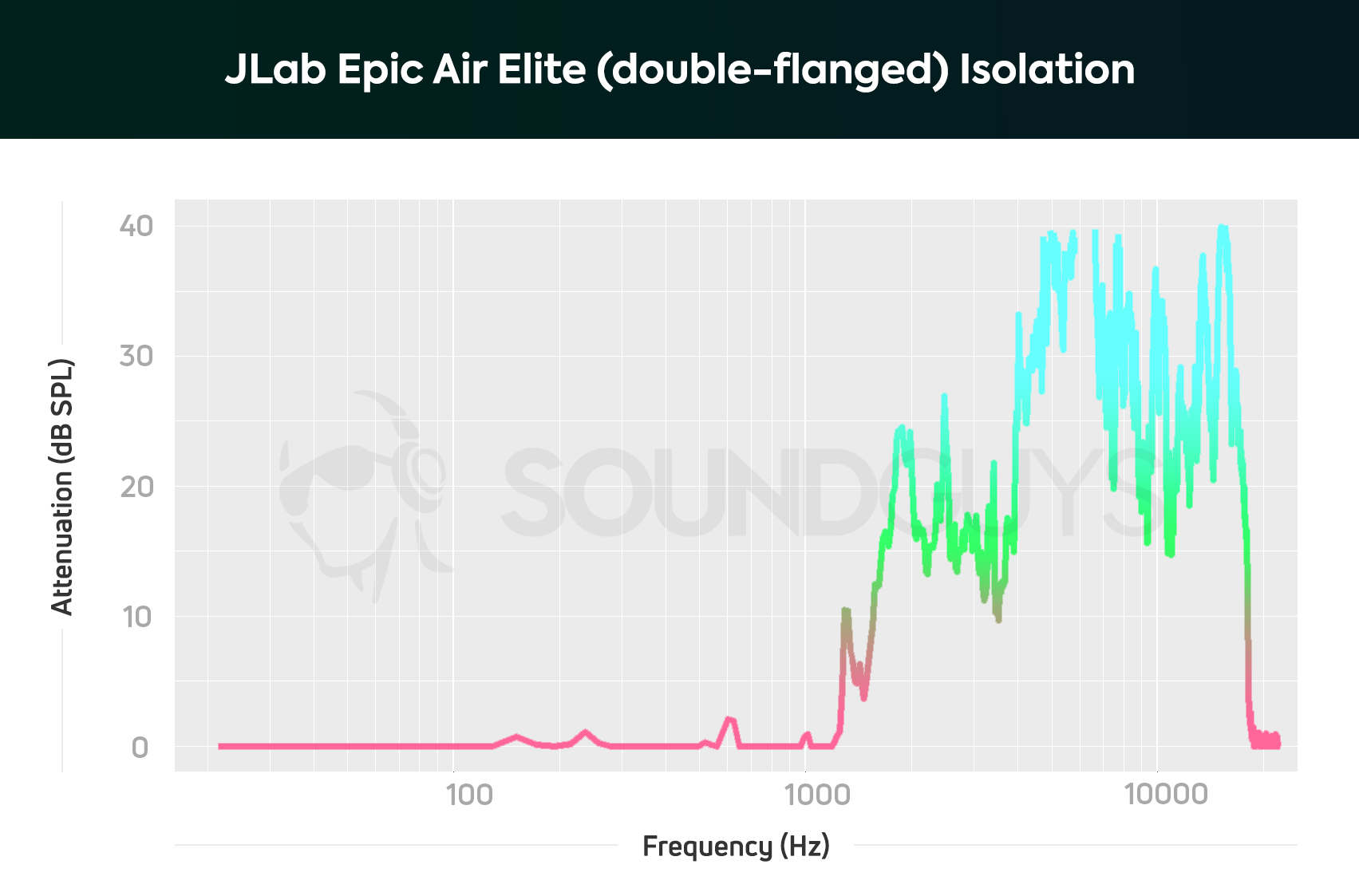 It seems that the tips are unable to make the correct seal because the ear canal is so short. For these ears, the double-flange tips aren't a good option. We see similar results with the triple-flanged tips, so we didn't see the need to rehash that here when the headline is: those tips don't fit our fixture.
Which is the right size for you?
I know trial and error isn't exactly the most fun thing to do in the world, but thankfully with in-ears you only need to do it once.
Try out your in-ears with the stock ear tips
Replace the stock ear tips with another size, listen to the same song you just listened to
If it sounded worse, try another size—if it sounded better, stop here
Repeat steps 1-3 until you find the best-sounding, most comfortable ear tips
Seems a little too straightforward, right? It's not a complicated issue, but it really does make a difference. So take the time to experiment with your new in-ears. I promise you it's worth it.
If you're not satisfied with your fit, you may also be able to use third-party options to get an even better seal. However, we always like to see consumer products with many options to meet the needs of their intended users.