Exercising is tough, but finding earbuds that keep up with you shouldn't be. That's why we've compiled a list of the five best workout earbuds money can buy. We hope that these push you through even the most strenuous workout regimen. Whether you're looking for a pair of affordable 'buds or the best money can get we hope to have you covered with these picks.
This list was updated on August 16, 2019, to include the Jabra Elite Active 45e.
The best workout earbuds are the Jaybird Tarah
Jaybird has gone through a few versions of its product, and the X4 was the best yet—until it released the Jaybird Tarah just a few weeks later. While the X4 is technically the better pair of 'buds, the differences are slight and if you go with the Tarah earbuds instead you'll be saving yourself about $30 which we think is a fair trade for only two hours less of battery life. Plus, the Tarah has the best feature of the X4 which was the IPX7 waterproof rating.
Worth noting, like the previous iteration, the charging module must be connected to the proprietary charging dock. You can't just connect a directly to the Tarah. Unfortunately, the process can be a bit finicky when compared to the typical micro-USB charging port, but it looks futuristic and works. Just don't lose the dongle.
Battery life is ok. During our objective testing, which subjected the Tarah's to constant playback at 75dB(SPL), we squeezed out just under 7 hours of juice. Admittedly, this could have been improved upon, but it should cover a week's worth of workouts for most of us. And after polling Android Authority readers, we found that most of you only listen to music for one or two hours anyway.
What the Jaybird Tarah lacks in stamina it makes up for in sound customization via EQ settings in the Jaybird MySound app. You can save your preferred profile to the headphones and apply it to any device that the Tarah connects to.  Sure, you can go with the Jaybird X4 if you really want those extra two hours of battery life and some more customizable ear tips options, but we'd say just save yourself the money.
Who should buy these?
Gym rats. Sure, you may already have Bluetooth earbuds, but if they're not sweat-resistant, I'd caution against using them during vigorous training sessions. The listed earbuds have all been tested firsthand by various members of the SoundGuys team, and we can attest to each product's durability.
What's more, if you're just the average consumer looking for your next pair of wireless earbuds, any of these are a great option. It's important to make sure that your earphones are water-resistant—accidents happen. At the very least, an oleophobic coating can go a long way.
See: How listening to music improves your workout
The JLab JBuds Air are the best workout earbuds for true wireless fans
If you're an exercise enthusiast who has tried out a few pairs of true wireless 'buds, then you may be familiar with how poor fit and battery life make them hard to choose over traditional Bluetooth earbuds. That said, the JLab JBuds Air are the true wireless earbuds to take for a spin. With IP55 certification, the JBuds Air is dust- and water-resistant. This means that no matter how hard you sweat or if you drop them in the sand during a run on the beach, they'll hold up without a problem.
In addition to the IP55 rating, you get one-touch access to your respective virtual assistant. And the package includes proprietary Cush Fin ear tips, which allow for a stable fit that can endure the most vigorous of workouts. The bulk is a downside, but it's easy to ignore because the fit is so good and the earbuds so light.
Need something tough? Get the Jabra Elite Active 45e
Jabra has some of the best true wireless earbuds on the market and isn't slacking in the traditional wireless department either. These feature Bluetooth 5.0, an IPX67 dust- and water-resistant rating, and quick charging capabilities.
While they're not as versatile as some of the other earbuds listed, the ear tips are designed with safety in mind. You'll never miss what's going on around you as the ear tips allow for external noise to be heard at all times. If you like to run outside, these are a smart choice.
These Bluetooth 5.0 earbuds include other features too: you can access your virtual assistant, control playback, and take calls all from the earbud housings. While said housings are undeniably bulky, they remain in place due to the stabilizing hooks protruding from the ear tips.
Battery life is on-par for wireless in-ears, clocking in at 9 hours, 1 minute of playback. They also support quick charging: 15 minutes connected to the included microUSB cable grants one hour of playback. A full charge cycle requires two hours, though.
Again, sound quality is lacking, but that's the sacrifice athletes make for safety. Plus, they still sound better than bone conduction headphones, which have their own niche purpose. If you spend most of your time exercising outside, these are a great deal.
What you should know about the best workout earbuds
Fit matters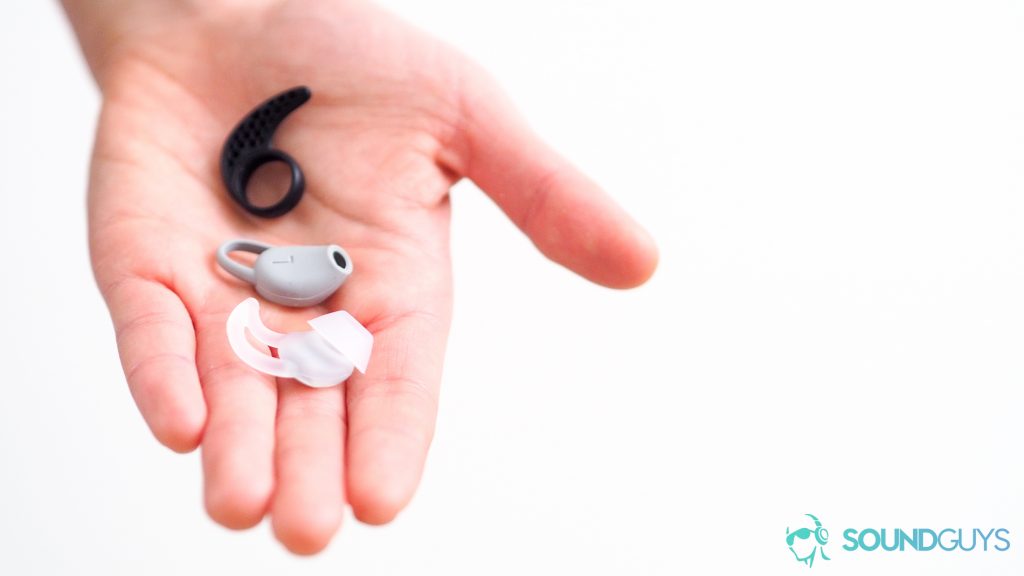 Different wing tip shapes and textures make a world of difference when it comes to comfort and stability.
A proper fit is key to excellent workout earbuds. Thankfully, most companies provide you with multiple sizes of ear and wingtips for extra security. For some, ear tips like this can be unwieldy and actually undermine a solid seal. This was an issue for me when I used the original Jaybird X, so I chose to forgo the wing tips and continue to love the earbuds. If your earbuds are falling out too often or hurting your ears, try altering the sizing or ear tip style.
Bluetooth codecs
There's also Bluetooth codec support. If you have no idea what that is, don't worry we have an entire podcast explaining it. Basically what you need to know is that two devices need to have the same codec in order to transfer information between them. Think of it kind of like a language. If two people speak the same language, information gets passed between them quicker than two people gesturing at each other.  The same is true with codecs, and if two devices have the same codec information is passed quicker than two that don't.
Unfortunately, not all codecs are equal and some are better than others. While this isn't a huge deal for workout earbuds since you probably aren't going to be doing any critical listening while doing your squats, it's still something to take note of.
What are IP ratings?
Additionally, a key aspect of the listed best workout earbuds is that they're, at the very least, sweat-resistant. So here's a quick rundown of Ingress Protection (IP) ratings and fit.
Water-resistant
Waterproof
Can withstand
IPX0
Not water-resistant
IPX1
✓
Dripping water (1 mm/min)
Limit: vertical drips only
IPX2
✓
Dripping water (3 mm/min)
Limit: Device max tilt of 15° from drips
IPX3
✓
Sprays
Limit: Device max tilt of 60° from sprays
IPX4
✓
Splashes, omnidirectional
IPX5
✓
Water jets (12.5 L/min)
Example: Squirt guns
IPX6
✓
Strong water jets (100 L/min)
Example: Powerful water guns
IPX7
✓
Complete submersion
Limit: 1 m. for 30 min
IPX8
✓
Complete submersion
Limit: 3 m. for 30 min
The Beats Powerbeats Pro are the true wireless earbuds
IPX4-rated, these earbuds get a lot of things right. Not to mention they're entirely wireless. If you took the Powerbeats3 and ripped the wires off, you'd get the Powerbeats Pro. Though to be fair, the design on these is definitely sleeker than their wired counterpart. Inside is the new H1 chip from Apple that makes pairing your iOS device with them just as easy as the Airpods, with a small card popping up prompting you to connect. If you're on Android you won't get the cool animation, but pairing is similarly easy thanks to a small button on the inside of the case.
The problem with most true wireless earbuds is, of course, battery life. But that isn't the case here. Whether you're rocking an iOS device or an Android device we managed to squeeze out around 10.5 hours of constant playback before these need to be put back in the case which is no small accomplishment.
Still, it comes at a price. The charging case that you'll eventually need to put back into is huge. Plus, it charges via a Lightning cable which isn't great for anyone buying devices in 2019 that doesn't already have an iPhone. Still, when you take into account the sweatproof certification, the hook design that keeps these from falling, and the 10+ hour battery life, we have no problem recommending these. They're that good.
The Bose SoundSport Free are some of the best workout earbuds with excellent sound
Bose hopped onto the true wireless train with the SoundSport Free, an update to the SoundSport Wireless. With Bose's patented StayHear+ ear tips, the bulbous 'buds remain in your ears during the most vigorous of workouts. I was able to squeeze out five and a half at 50 percent volume, and the matte black case provides an extra 10 hours. During our objective testing at a louder 75dB(SPL), however, constant playback time came out at 4.58 hours.
Just like their predecessor, the SoundSport Free earbuds sound great; though, the low end is under emphasized for sport-oriented earbuds. What's more, athletes retain full control of the music with traditional playback controls and a multi-function button. Plus, if an earbud is lost, the Bose Connect app attempts to locate it. All of these features in addition to the great overall sound make the SoundSport Free a pair of the best workout earbuds on the market.
Related: Best AirPods alternatives
Notable mentions
How we chose
We've reviewed our share of products at SoundGuys, which makes it easier to determine what the best workout earbuds available are. However, we aren't superhuman and admittedly haven't reviewed every product out there, but we have done our research and all top five products and notable mentions.
For this list, I was able to test our curated selection of models. I also used these casually around the house, in the office, and generally while out and about. When testing earbuds for workout purposes, I do a bit of cardio, mainly biking and running paired with weight-lifting and calisthenics. All the products listed were able to withstand my workouts.
How we test
We subjected the nominees to our objective testing which includes isolation, battery life, and frequency response. You can read all about it here, but the truncated version is as follows.
Each product was subjected to multiple sine sweeps through the headphones, and we recorded the frequency response once we were able to repeat a result that demonstrates the hallmarks of a good seal.
For battery testing, we used a real-time analyzer to calibrate the necessary setting for a 75dB(SPL). We then played infinitely looped music until the battery ran out. This lets us compare each product's readout to the others.
With the isolation tests, we used pink noise at 90dB(SPL) and set the speaker one meter away from the headphones. We first recorded with the headphones off and then with the headphones on. From there, we just subtract one from the other to get the isolation.
Why you should trust us
We're all fully committed to SoundGuys and working here is each of our nine-to-five jobs. Collectively, we have multiple years of reviewing audio products under our belts and are able to keep pace with the ever-changing world of audio. That way, we can easily separate the diamonds in the rough from, well, the rough.
At the end of the day, we want you to enjoy what you listen to, which means we want you to enjoy what you're listening through. None of us see a dime from partnership deals or referral purchases, and we absolutely don't benefit from swaying to one product or another. If you're interested in learning more about our ethics policy, click here.
Next: How listening to music improves your workout
---
Didn't find what you were looking for? Check out these related best lists: