All products featured are independently chosen by us. However, SoundGuys may receive a commission on orders placed through its retail links. See our ethics statement.
7
Turtle Beach Recon Spark
The bottom line
The Turtle Beach Recon Spark is a cheap and well-made option for gamers on a budget, but its slight price bump and and single color option might be enough to dissuade people from buying.
Turtle Beach Recon Spark
The Turtle Beach Recon Spark is a cheap and well-made option for gamers on a budget, but its slight price bump and and single color option might be enough to dissuade people from buying.
What we like
Price
Eyewear channels in the headphones
Comfortable
Good sound
Cross-platform compatability
What we don't like
More expensive than basically identical Turtle Beach gaming headsets
Quiet microphone
Rating Metric
Sound Quality
9.0
Isolation / Attenuation
3.7
Durability / Build Quality
8.0
Value
8.0
Design
7.0
Microphone
6.5
Portability
6.0
Comfort
8.0
Turtle Beach makes a ton of gaming products, and its gaming headsets are pretty numerous. Quantity doesn't necessarily beget quality though, as other Turtle Beach products that have come are way leave a lot to be desired—especially as feature sets grow more complicated and robust. Ultimately, keeping it simple is what Turtle Beach has done best, with products like the Recon 70 and Elite Atlas. The Turtle Beach Recon Spark follows that philosophy closely—so closely, in fact, that this headset seems almost identical to other cheaper options from the company.
Does the Recon Spark have enough to differentiate itself?
Editor's note: This review was updated on March 1, 2022 to include more alternative recommendations, an answer to an FAQ submission, and a new microphone score based on our reader feedback poll. Thanks for voting!
Who is the Turtle Beach Recon Spark for?
Gamers looking for something cheap that works on multiple platforms.
At-home workers looking for something straightforward who don't mind the gaudier color scheme in Zoom calls.
What's it like to use the Turtle Beach Recon Spark?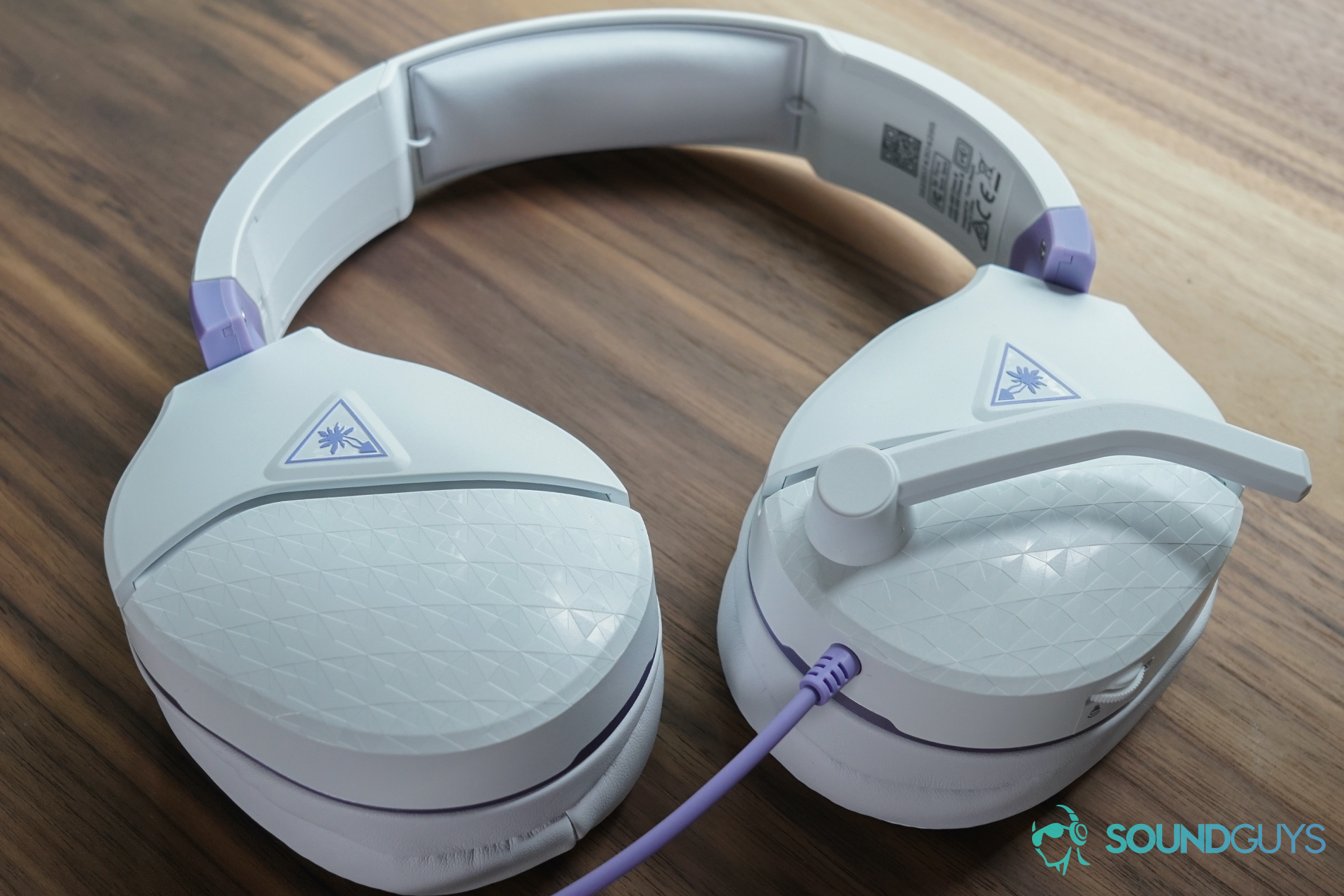 The hinges let this headset lay flat when you need it to.
At first glance, the Turtle Beach Recon Spark seems very familiar. You could easily mistake it as the Recon 70 or Recon 200. Now, most gaming headsets in a series like those will look similar, but offer various features to differentiate themselves. Where the Recon 70 touts surround sound compatibility, and the Recon 200 boasts amplified audio and a rechargeable battery (though, why that's something to boast about is beyond me), the Recon Spark offers… a different color scheme.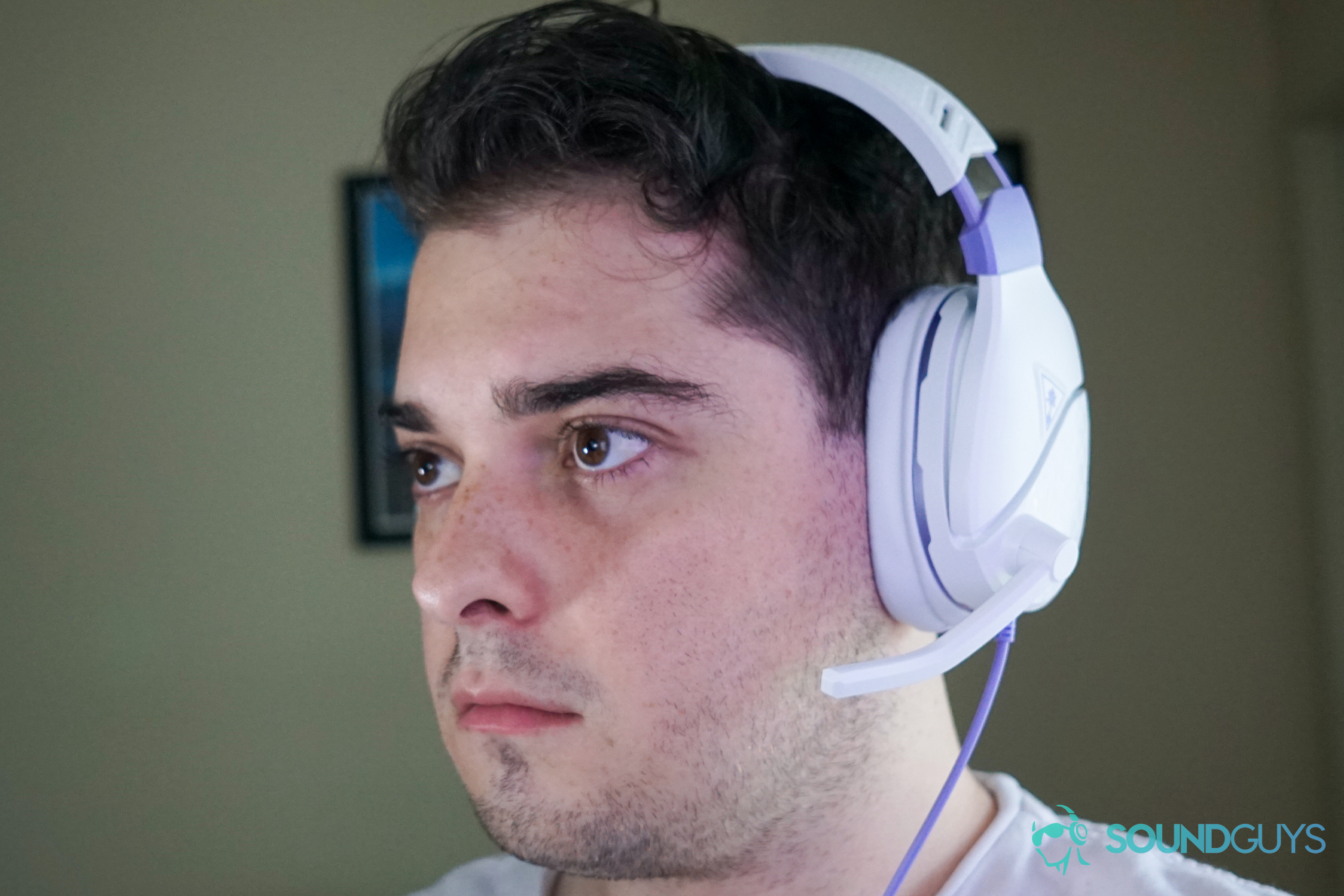 The headset is pretty comfortable.
While there's nothing much to make the Turtle Beach Recon Spark stand out from other Recon headsets, there's still plenty to like. This is a comfortable and straightforward gaming headset. The headband features a memory foam pad covered in leatherette, and it's reinforced by a steel band. The memory foam ear pads feature carved grooves to make them more comfortable for people with glasses.
On a fundamental level, this is a solidly constructed and comfortable gaming headset. It's lightweight, easy to adjust, and achieving a decent seal takes virtually no work. That straightforwardness carries through to the experience of actually using the headset, too.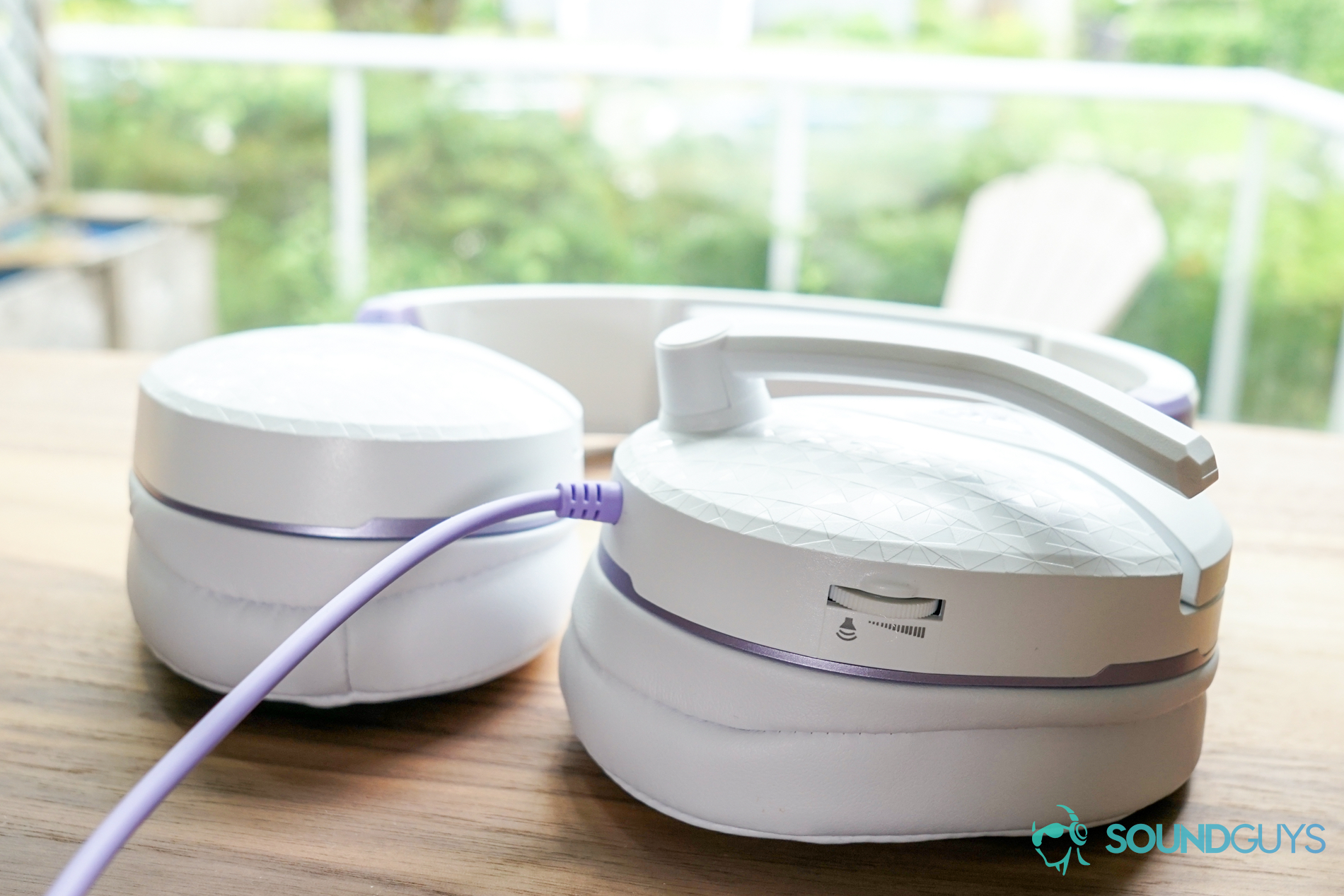 From the colors to the textured patterns on the headphones and headband, it's clear the bulk of Recon Spark's changes from other Recon headsets are cosmetic.
The Turtle Beach Recon Spark is a 3.5mm stereo gaming headset and connects using a single TRRS plug. The company provides an extension cord that splits the mic and headphone connections for PCs that need it, but otherwise: getting it set up is as simple as plugging it in. There's a volume dial on the left ear cup, and the attached microphone mutes when you flip it up. Essentially, it works just like the Turtle Beach Recon 70, which makes sense, given how the two headsets look and feel virtually identical.
The only real difference between this headset and others in the Recon line is the color. The headset is only available in a white and lavender color scheme, instead of myriad other colors headsets like the Recon 70 affords.
Gaming with the Turtle Beach Recon Spark
This headset works basically everywhere.
The Turtle Beach Recon Spark offers about as simple an experience as you could expect from a gaming headset. This is a stereo gaming headset, and there really aren't any extras or added perks—it's really just a pair of headphones and a microphone. Like the Recon 70, the Recon Spark supports Windows Sonic surround sound through Windows 10 and the Xbox One—but so do a lot of stereo headsets. This virtual surround sound standard works well enough, but definitely offers a lighter touch than many other standards.
Regardless, games like League of Legends and Sunset Overdrive on PC, and Dauntless on PlayStation 4 all sounded great with the Turtle Beach Recon Spark, which handled the mix of more musical scores and games sounds very well. The headset was comfortable to wear even over lengthy, multi-hour sessions.
There's not much more to say about this headset's gaming experience. It works well, and offers basically no bells and whistles—and there's absolutely nothing wrong with that.
How does the Turtle Beach Recon Spark sound?
This article's frequency response and isolation charts were measured with our old testing system. We have since purchased a Bruel & Kjaer 5128 test fixture (and the appropriate support equipment) to update our testing and data collection. It will take a while to update our backlog of old test results, but we will update this review (and many others!) once we're able with improved sound quality measurements, isolation performance plots, and standardized microphone demos. These will be made obvious with our new chart aesthetic (black background instead of white). Each new mic sample begins with the phrase, "This is a SoundGuys standardized microphone demonstration …"
Thank you for bearing with us, and we hope to see you again once we've sorted everything out.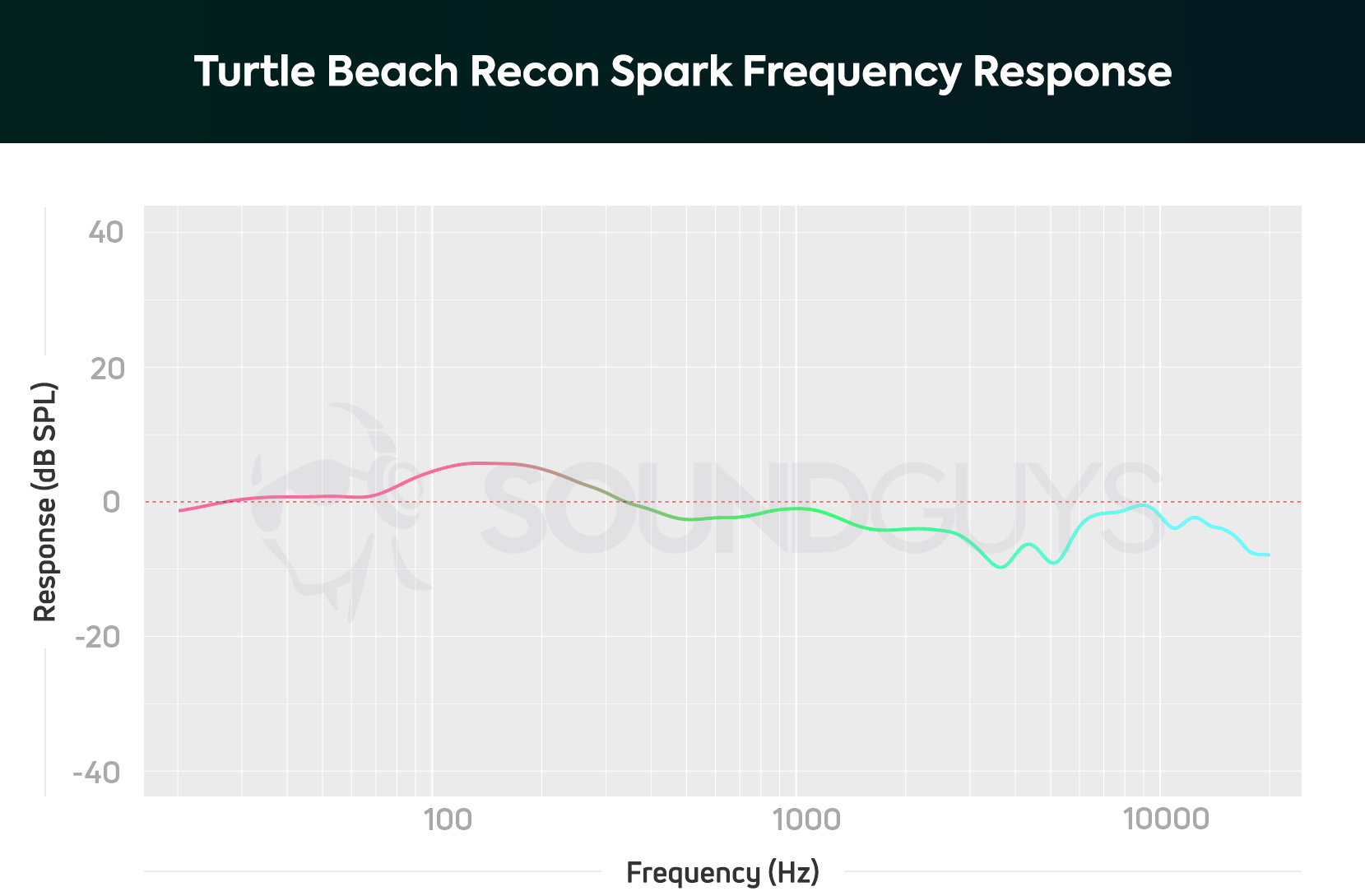 Despite the various dips, there's nothing especially amiss here.
The Turtle Beach Recon Spark offers pretty accurate sound, though it stumbles on some of the same things as many gaming headsets. There's a notable emphasis in the bass range around 150Hz, an pervasive de-emphasis 1000Hz onward. However these peaks and valleys are within a pretty limited range, so you probably won't notice very much distortion, if any.
In music, a frequency response like this is great for bassy electronic music and music that doesn't rely on a lot of subtler string elements. In I'll Just Dance by Su Lee, the bass guitar and drum tracks that drive the beginning of the song and the harmonies of Su Lee's vocals really come through clearly. However, the flip side of that is the quieter string parts and muttered vocal parts in the background are genuinely harder to hear than they should be sometimes; this is a consequence of auditory masking—when a loud sound makes it hard for the human ear and brain to perceive and process a relatively quiet sound.
In game, you shouldn't have any issues with a sound profile like this. Boosted bass is something a lot of gaming headsets suffer from—usually it's marketed as something that makes everything more immersive, but really it just makes the loud parts louder—but here it's slight enough that it won't distort boom and crash sounds dramatically. The rumbles of explosions and gunfire will come through a little louder, but you won't have to worry about missing any subtler game sounds.
The memory foam ear pads made getting a good seal easy, which no doubt helped here.
The Turtle Beach Recon Spark offers pretty much bog-standard isolation for a gaming headset. There's nothing approaching active noise canceling here, but you shouldn't have any trouble blocking out the sounds of the home, like a whirring fridge, bathroom fan, or TV in another room. It won't do so well outside, but the headset's attached microphone and gaudy color scheme don't exactly make it the most public-friendly looking thing.
How is the microphone?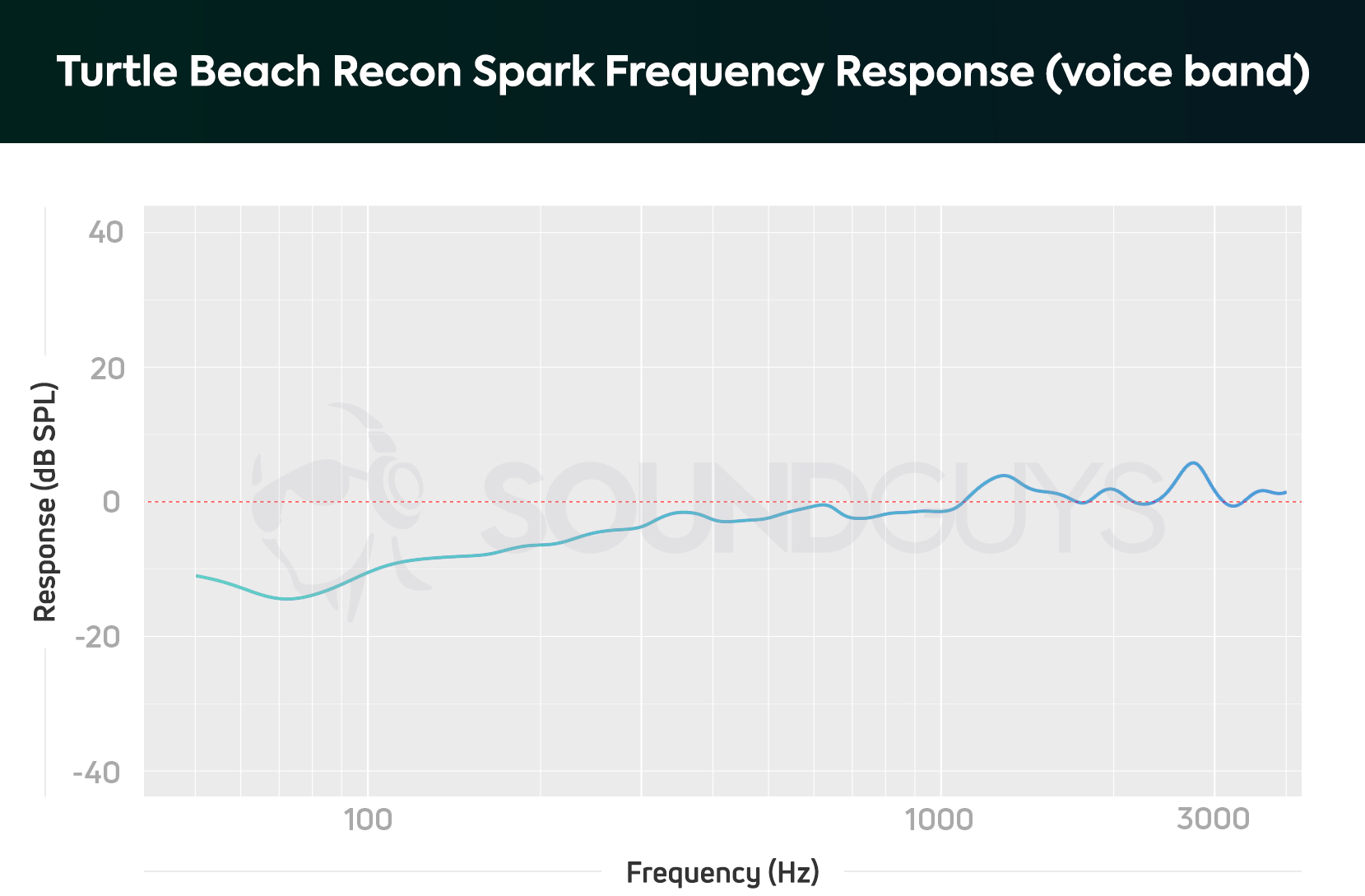 The most notable issue with the microphone is its volume, which doesn't generally show up on the relative scale of frequency response chart.
The Turtle Beach Recon Spark has a pretty accurate microphone for a gaming headset, though it struggles with some of the same issues as many other competing products. There's a notable de-emphasis in the bass and mid range, up until around 400Hz, which can make deeper voices sound a little distorted. Apart from that, there's nothing exceptional or exceptionally wrong here—though the mic is a little quiet. Listen for yourself:
How does the microphone sound to you?
314 votes
Should you buy the Turtle Beach Recon Spark?
If you like the color, sure, the Turtle Beach Recon Spark is worth buying. Those who aren't enamored with the paint job should just go for the Recon 70.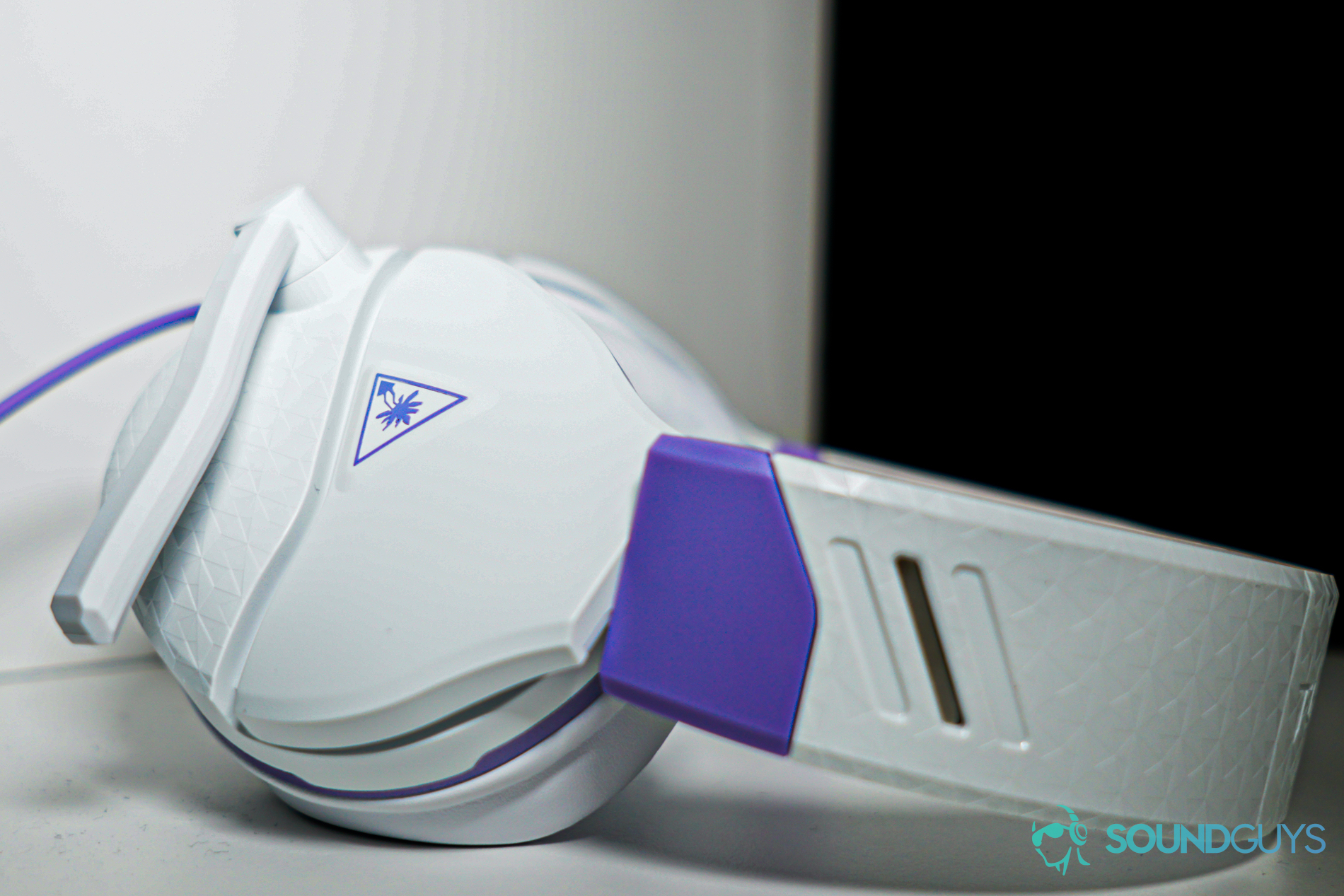 As well-made as the headset is, it still conjures an image of someone in a boardroom telling a designer "make it girly."
The Turtle Beach Recon Spark is a good, inexpensive gaming headset—however it very much feels the same as the  Turtle Beach Recon 70, just with a slight price bump and a coat of paint. It's still a decent option for under $50, but there are lots of those—and the Recon 70 is just a better option, given that its mic is significantly more accurate in the bass range.
There's not much more to say, really. The Turtle Beach Recon Spark is cheap, simple, and pretty well made, but so are a lot of other gaming headsets.
What should I get instead?
If you're not tied to Turtle Beach, headsets like the Razer Kraken X or the more expensive (but still reasonably price) HyperX Cloud Alpha will cover all the same bases, and arguably sound a little better. However, there are also cheaper options worth considering in the world of gaming earbuds. The microphones don't match up as well, but both the JBL Quantum 50 and the Roccat Syn Buds Core bring solid audio output and comfortable ear tips for those who want to wear a gaming headset without getting it caught in their hair or putting pressure on their glasses.
Frequently asked questions about the Turtle Beach Recon Spark