All products featured are independently chosen by us. However, SoundGuys may receive a commission on orders placed through its retail links. See our ethics statement.
A guide to video chat apps
Working and playing at home doesn't mean you can't still get some facetime.
With the growth of remote work, free-to-play video games, and a pandemic looming, a lot of people are looking for something to make being stuck at home a little more bearable. If you're on the less introverted side, all that time cooped up can be pretty awful. But don't worry: there are all sorts of ways to keep in touch with your friends, family, and coworkers—just get on a video chat or audio conferencing service.
Video chat apps have been around for a long time, but it's not just Skype anymore—depending on your needs, the old standby might not be the right fit for you.
Editor's note: this article was updated on May 19, 2022 to include Microsoft Teams.
Consider a video chat or audio conferencing app for these uses:
Being away from the office or your family can be tough, but these programs have a litany of uses that will allow you to get more done, and faster. Already, these are used for:
Telemedicine: doctors and nurses can triage a potential visit so as not to expose people to contagious disease, or put your mind at ease when your symptoms don't merit an office visit
Webinars: Need to present something, but your attendees span the globe? You can gather them in one place with a conferencing app
Virtual classroom: Teachers who must educate while their students are quarantined or stuck at home will use these apps to reach their pupils
Meetings: Of course, a conferencing app allows you to join meetings from the comfort of your own home. This is the most common use of these apps.
Video chat checklist
Before we go any further, you need to follow this process before hosting a meeting:
Get a mic and webcam. Most laptops and Chromebooks now have these already installed. But a good USB mic will go a long way here.
Find a spot with decent lighting, or buy a light.
Pick the video chat app that works best for your needs.
Etiquette matters
While you may not share a strong relationship with your coworkers, students, or family members, etiquette matters a lot on a video chat. If this is your first time using an app like this, there are a few rules you absolutely must abide by in order to make the group chat work. Breaking any one of these guidelines can impact your career or social life by proving to your callmates that you're a disrespectful oaf.
Use headphones. By using speakers, you run the risk of creating a lot of feedback which will be loud—and painful to everyone in the call. If you're the only one using speakers on the call, you will also create an echo over the chat. Don't use speakers. Headphones will ensure the best experience possible.
Mute your mic when you're not talking. We're all at home, and home can be noisy if you share your space with other people or animals. In a conference call, nobody wants to hear your kids banging around, your dog barking at the mailman, or you sloppily eating your lunch over a hot mic. Mute it.
If your camera is on: Don't leave the frame. There is no quicker way to communicate that your call compatriots aren't worth your time than leaving the shot, as they'll simply be greeted with an empty room, or worse: you doing other things and not paying attention.
Do not eat while on a call. Believe me, your mouth sounds will be a lot louder over the call than you think. Don't be disgusting.
Wear a presentable top. Pajama pants are fine to wear, but these calls are meetings with people who matter to your professional or social lives. At least keep up appearances, even if you're living the stay-at-home life with your fleecy pajama pants.
What you should know about audio conferencing and video calling apps
Video chat and conference calling services exist for a lot of different reasons, but ultimately it all boils down to the fact that sometimes emails and text messages just don't cut it. Whether you're trying to keep in touch with friends and family across the world, or you've found yourself working from home while the worlds in the grips of pandemic, there are all sorts of reasons to get a video calling service set up, and all sorts different ones to meet your needs.
When you're setting up for a call, you should take into account the same things you would when setting up for a podcast or Twitch stream. Obviously, the stakes of bad lighting or a mediocre mic are far lower during a team meeting—but it's still worth considering. Do you have access to a better mic than the one built into your laptop? Is the lighting in your room bright enough (and coming from the right direction)?
If you're going to be relying on these services for awhile, it's probably worth investing a little time and money into making sure conditions are as good as they can be. Getting a decent USB microphone like the Blue Yeti, even a gaming headset like the HyperX Cloud Alpha can improve your call experience remarkably for not that much money.
Skype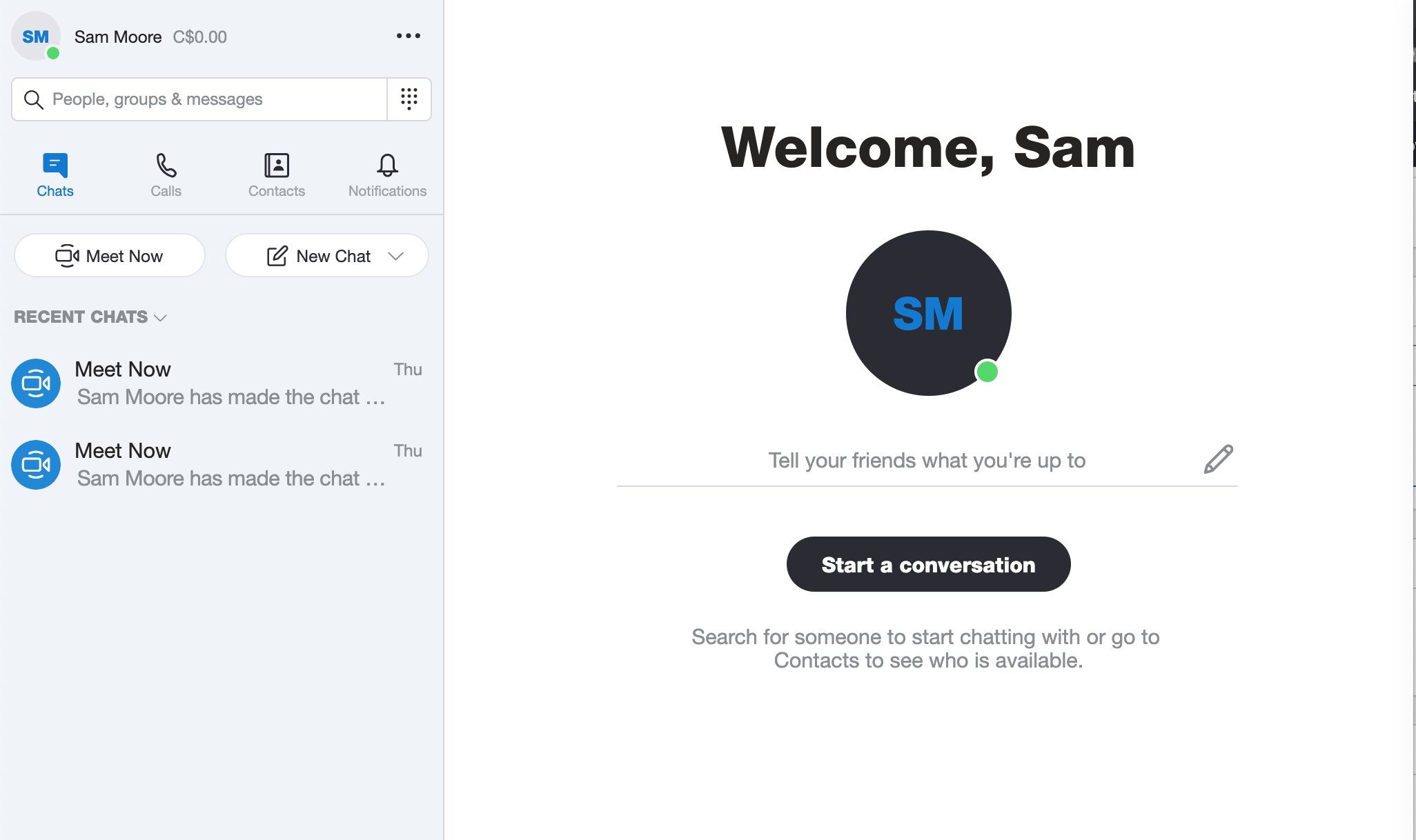 Ever the old standby, Skype still offers a solid array of features for free.
For many, Skype is the original video chat service. Options existed before it, but no application brought free voice and video chatting to the masses quite like it. These days, it's far from the only game in town, but if you're looking for something easy to set up and install, Skype is definitely a great option.
Who is Skype for?
Windows users.
People who just want something everyone has.
Skype generally offers what most people would consider the archetypal video calling features, with a few more unique options. Like almost every app out there, Skype lets you directly video call people you've added to your contacts list from computer to computer, as well as send messages back and forth over text chat. On top of that, you can create video meetings, where people can join group calls using a shareable link.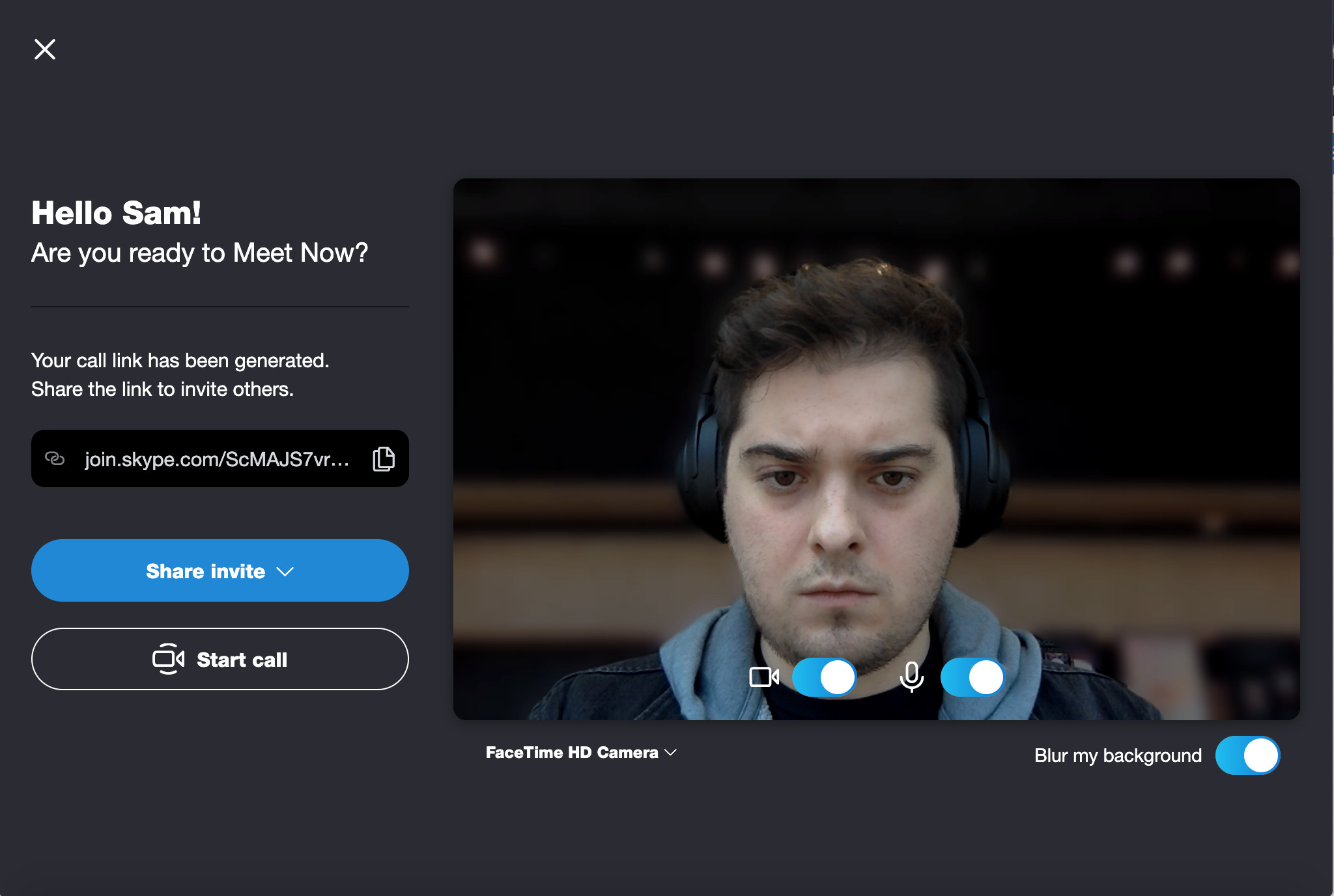 Unfortunately, Skype has a rather poor bokeh mode turned on by default.
Skype also offers premium features, letting you use it as a virtual telephone for a fee. Rates depend on what you do, but you can call phone numbers, send text messages, and even get your own virtual number. For $6.99 USD a month, you can get unlimited domestic calling in the continental United States, as well as calling to American Samoa,Canada, Guam, Mexico, The Northern Mariana Islands, Puerto Rico, and the U.S. Virgin Islands.
Installation is easy, just go to the website and install the right version for your device. If you're Windows 10 user, you don't even need to do that—Microsoft bought the service years ago and has since integrated into the operating system, so you probably already have it installed.
Discord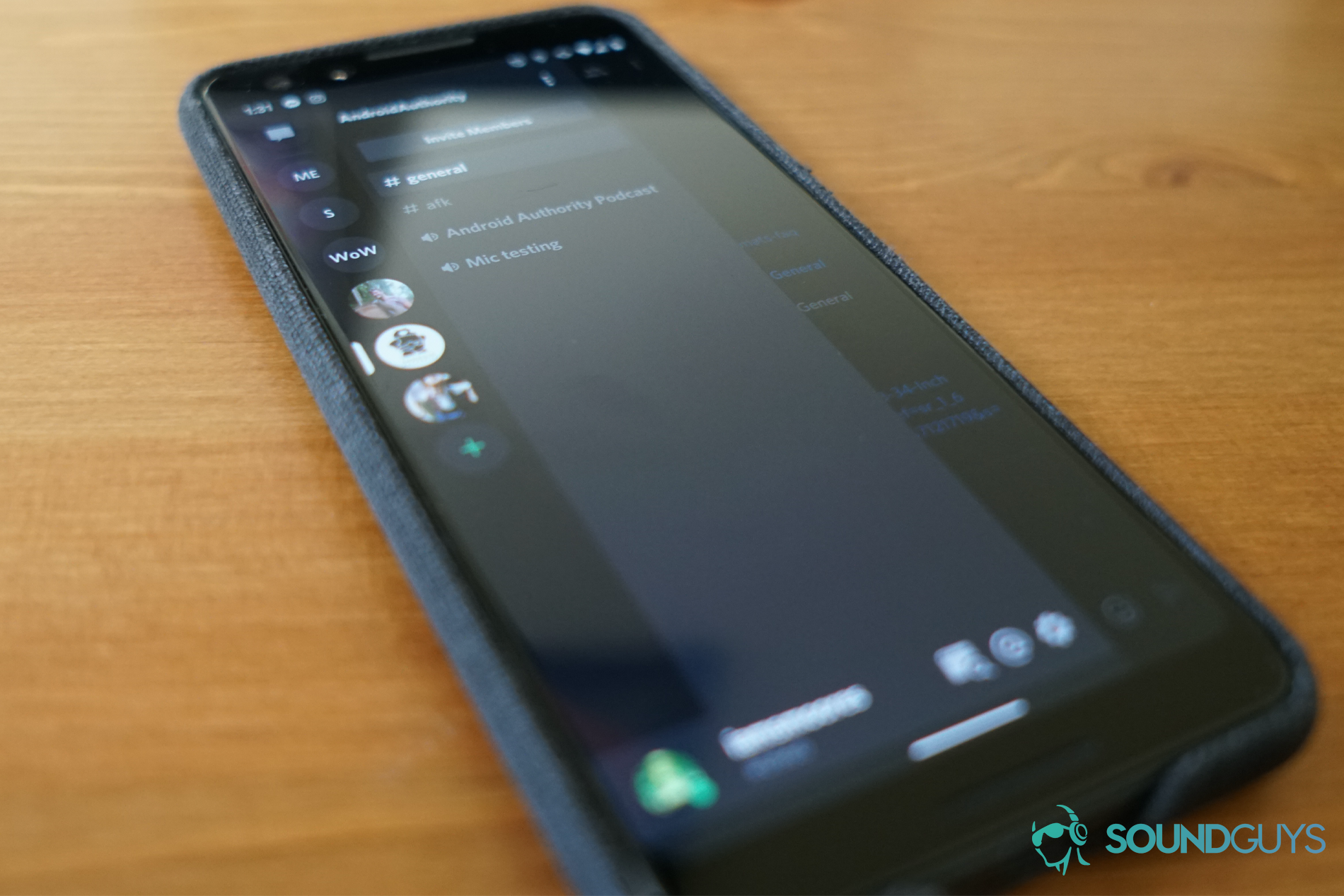 Discord's available on just about every platform.
Originally targeted solely at PC gamers, Discord has blossomed into one of the most versatile and popular video chat apps around. It offers direct voice and video calling to contacts, but the really notable feature of Discord is its server system. You can create your own server, a virtual space with a shared text chat and room for multiple separate calls, called channels, allowing people you've invited to join to drop in and out of voice calls at will.
Who is Discord for?
PC gamers
People who want more audio options
Anyone looking to join an online community—Discord servers are everywhere these days.
Discord was designed to run in the background while you play video games, so it tends to require a little less processing power than Skype—great for less powerful computers. It also has pretty extensive voice and video settings, letting you toggle features like echo cancellation, noise reduction, and gain control, as well as adjust input and output volume, as well as the volume of the individual people you chat with.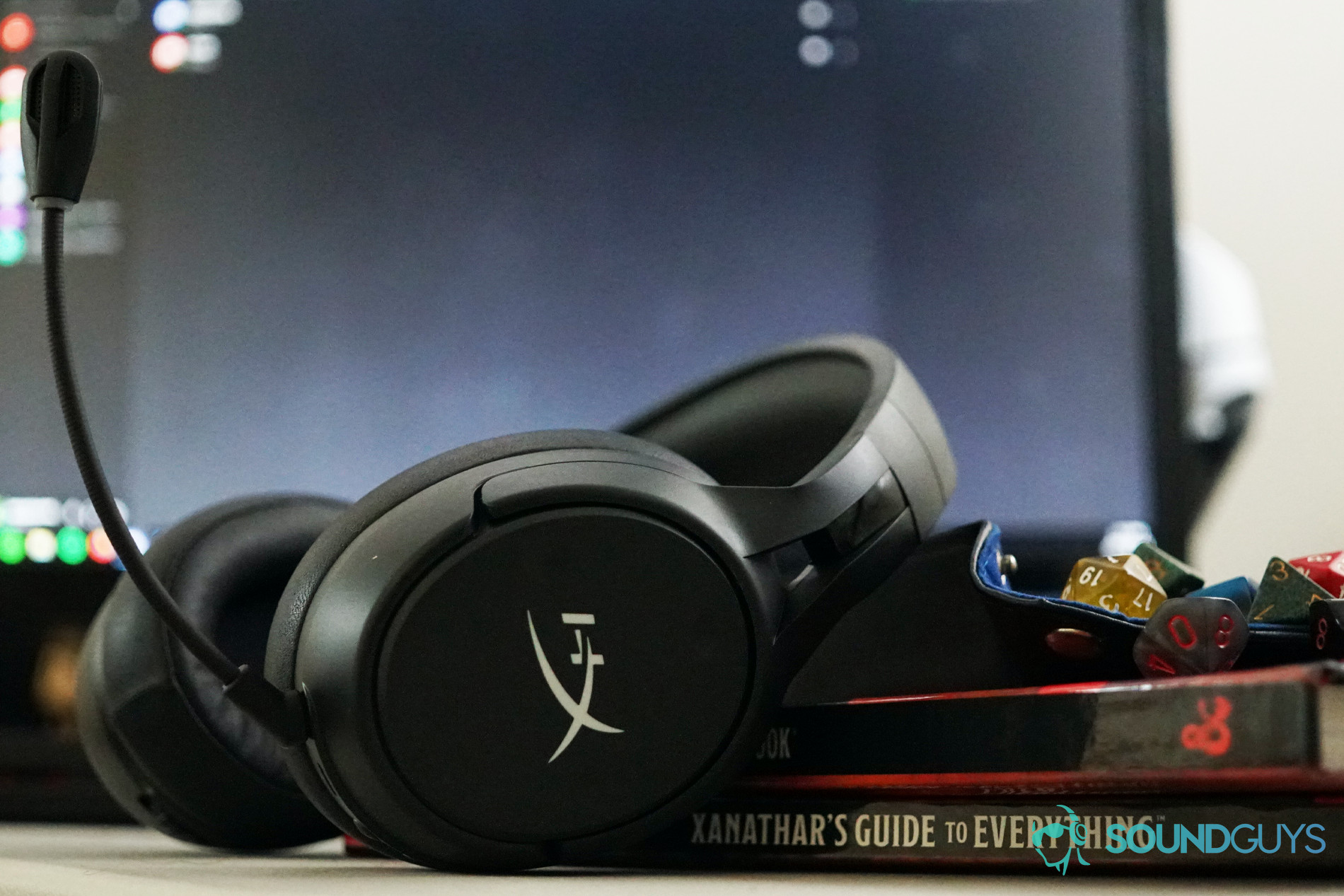 Discord is great for all manner of online gaming, but it's more versatile than just that.
All the core features of Discord are available for free, but the service also offers a number of enhancements for a subscription. Discord Nitro costs either $99.99 per year or $9.99 a month and gets you access to custom emojis, an increased size limit for file sharing, and higher resolution video calling, as well as discounts on server boosts. Server boosts usually cost $4.99 per month and bring a lot of the Nitro features to specific servers, including custom emojis, higher resolution video calling, and bigger upload size limits.
Getting Discord is just as easy as Skype. Just go to the website (or appropriate app store) and install it.
Zoom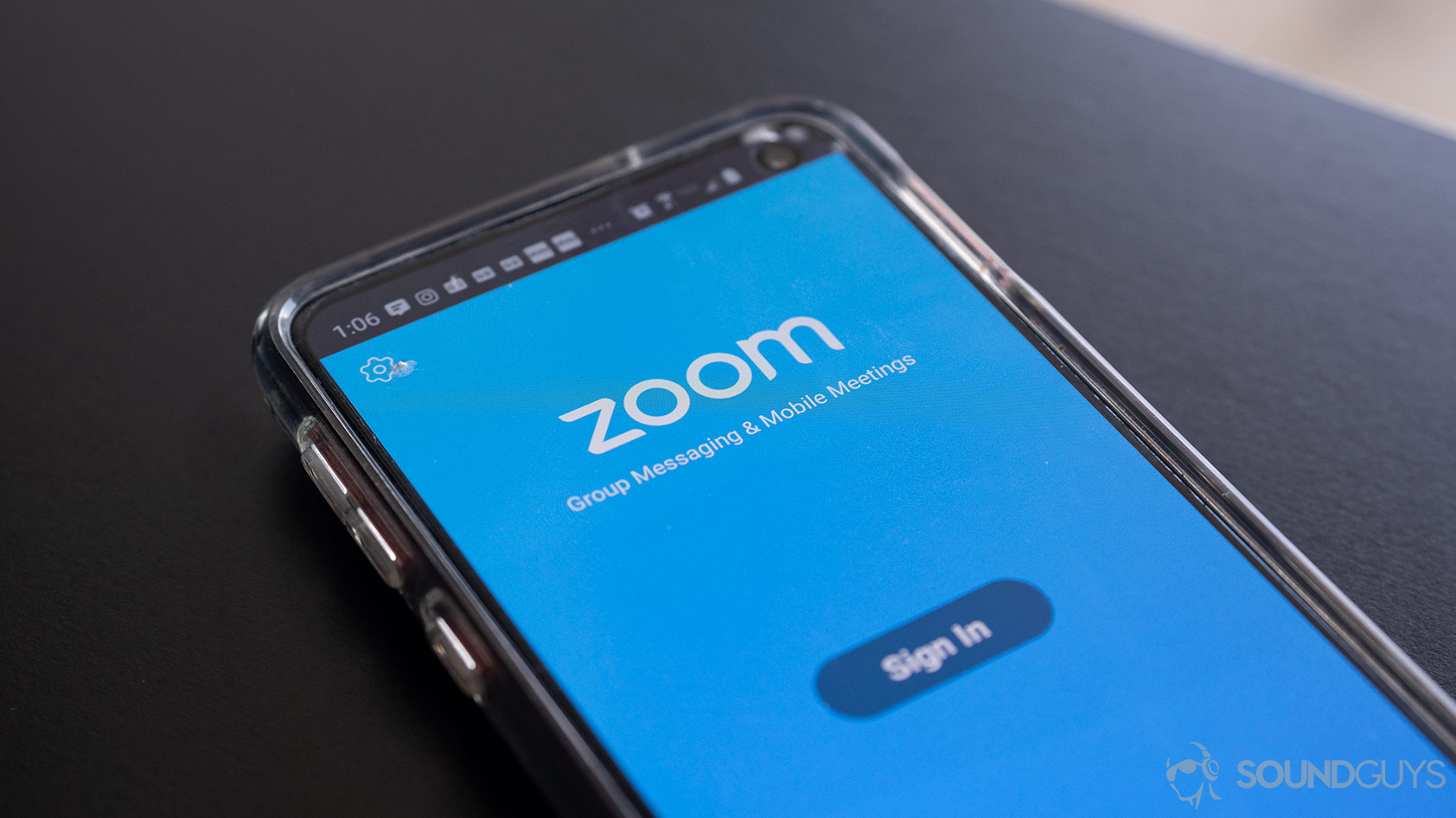 Zoom lets multiple users call in, and it supports video calls.
The premier video chat app for business meetings and conference calls, Zoom is more expensive than other calling apps, but it's meant for different things. Here, all calls are called meetings, so it's pretty easy to tell what the deal is.
Who is Zoom for?
Zoom has a very easy to use layout.
Team leaders trying to keep everyone organized while they're working from home.
Coworkers trying to run a lot of people through a Powerpoint presentation.
Work environments where not everyone has a stable internet connection.
How much does Zoom cost?
The free version of Zoom allows you to host open or closed conference calls for up to 100 participants, with unlimited one-on-one meetings, and 40 minute limits to group calls—premium versions will eliminate call time limits and increase the attendee cap to up to 250 people. While you're in a call, there are easy options for screen sharing, call recording, and a side bar text chat. Zoom also offers a number of pricing tiers, based on whether you're a small team, medium size business, or large enterprise. These start at $14.99 per host and increase to $19.99, with requirements for multiple hosts as you move up the scale (one for Pro, 10 for Business, and 50 for Enterprise). The service also offers additional add-ons for smaller fees, so you can further customize your experience.
Apart from the huge number of people you can fit into a single call, Zoom makes it really easy to get people with different setups into the same group.  It's just as easy to call in to a meeting using a telephone as a computer, as the service will generate a phone number along with a joinable link—provided you've bought the add-on.
Google Hangouts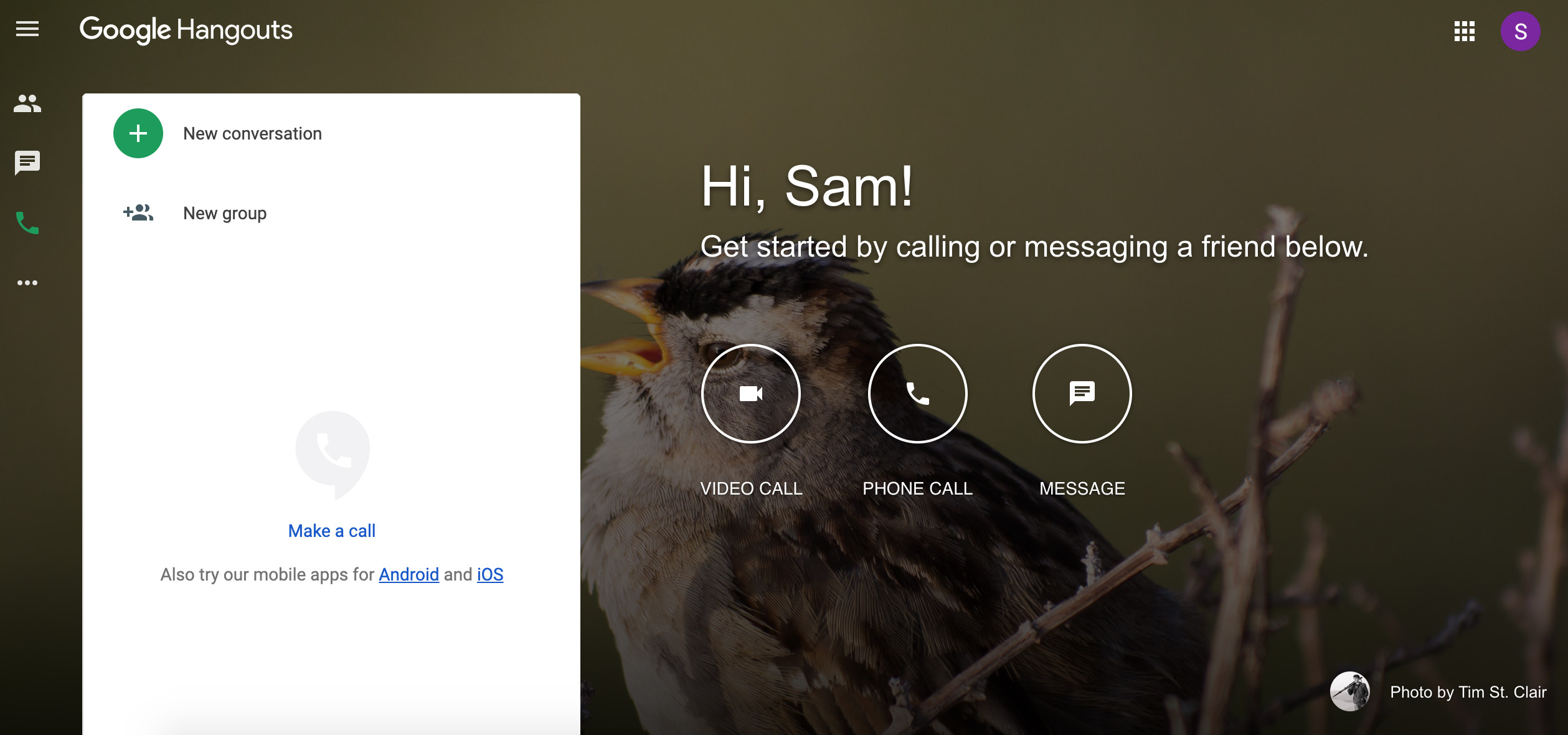 Google Hangouts is the only service that allows free calling to phone numbers in the United States.
Google Hangouts kind of straddles a line between a social and professional video chat service. The only feature to survive the death of Google +, you can use Hangouts as an easy way to send messages, make video calls, and even call phones. On top of that, a version of Hangouts has been rolled into Google's G Suite business offering.
Who is Hangouts for?
People looking for something that works on mobile and desktop.
Workers whose job includes G-Suite access.
In its basic form, Google Hangouts syncs up with your Google Account, and lets you message and video chat with people on your contacts list with ease. In addition, it lets you call phones for free in most of the United States and Canada. Outside of those countries, calling will cost a per-minute rate, which varies by country. People who work at a job with G Suite will find a version of Hangouts that supports voice and video conferencing for up to between 100 and 250 people (depending on the level of subscription).
Microsoft Teams
There's also a mobile app.
Microsoft Teams has become a constant in the remote work world, and for good reason. It's a reliable, easy-to-use service for video calls and employed by tons of work places. There is a home version meant to use with family and friends, but this is definitely more professional-oriented than most video chat apps.
Who is Teams for?
Remote workers will appreciate how shareable and easy to use this is, even for large groups.
People who already have Microsoft 365 may like not having to search for yet another app.
Microsoft Teams is available as part of a Microsoft 365 subscription, but it also has a number of standalone plans too. There's a free plan, which will let you host an unlimited number of calls up to an hour long, with up to 100 participants. The free plan also gets you 5GB of online storage, and access to encryption, polling, and file sharing features.
The premium plans all build on what the free plans offer. The Essentials plan increasing video limits to 30 hours, participant limits to 300 people, and storage limits to 10GB. The other two plans roll into Microsoft 365 Business subscriptions, with the Basic option bringing 1TB of storage, support for mobile apps, integrations with other Microsoft apps, access to meeting recording and transcriptions, and a business-class email, and the Standard plan offering all that, plus a suite of webinar features. The Essentials plan costs $4.00 USD per month per user, the Business Basic Plan runs for $6.00 USD, and the Business Standard plan will cost $12.50 USD per month.
The Mobile options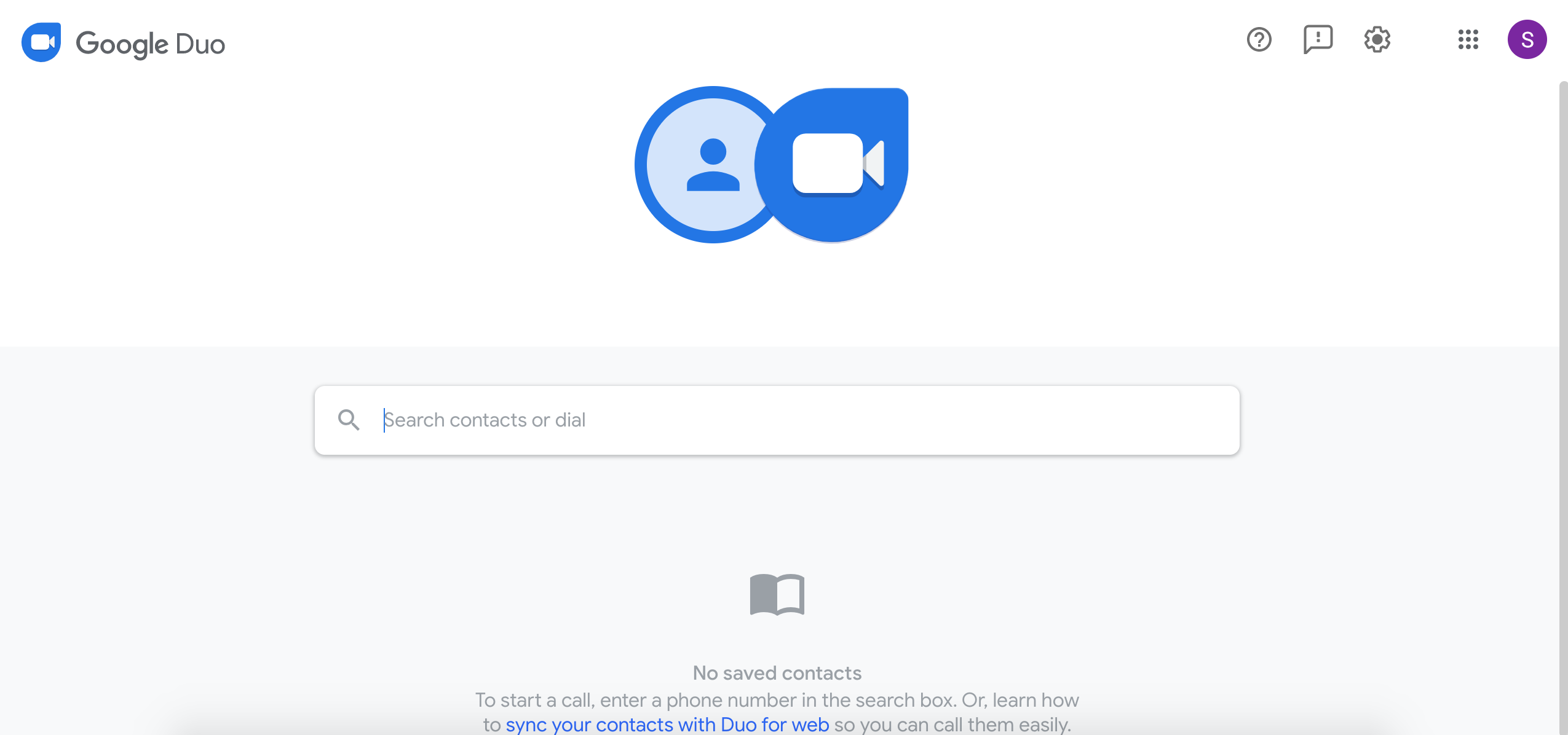 All the major mobile video calling services work on desktop, too.
If you're not looking for something to use on a desktop, there are a number of more mobile-centric services to facilitate keeping in touch with people. Most of these aren't terribly useful for those working from home, but if you're looking for something more social, they're great options.
Messenger
Facebook's ubiquitous Messenger app offers easy voice and video chat on top of the standard text chat. Just tap the camera or telephone icon in the top left of a chat you're off to the races. These features are also supported on Facebook via the website—so you can call anyone's computer from the mobile app, provided they're online to get the call.
FaceTime
Apple's iOS-centric video calling app is about as well known as Skype—it's not the only option for making video calls from iPhone to iPhone, it's just the best one. FaceTime is seamlessly baked into iOS, and after a recent software update, it comes installed on MacOS computers too.
Google Duo
Google Duo is in large part Android's answer to FaceTime, and it offers pretty much exactly the same features. It's not always preinstalled, so you'll have get it from the Play Store, or its website if you're on a computer.
Houseparty
Houseparty is a video chat-based social network designed for mobile devices and Google Chrome. Originally made by the team behind short-lived live streaming app Meerkat, this app is now owned and operated by Fortnite developer Epic Games. Despite launching with a veritable boatload of security issues, Houseparty has grown into one of the biggest video chatting services on the internet as Covid-19 has continued to alter all our daily lives.
The social video app lets you add friends and create an infinite number of "rooms" that hold up to eight people at a time. You can make them for specific purposes or just to float back and forth between multiple groups (just like wandering a house party, back when we had those). The app also supports party mini games room participants can play together, and a Fortnite mode lets you cast your call into the game, so you don't have to hang when you want to battle it out at Stealthy Stronghold.
And those are the most popular video chat apps! It's not complicated to get set up on any of these services, but just make sure you've got what equipment you need and you're on the best app for what you need. Working from home can be tough if you're extroverted, but that doesn't mean you can't stay in touch with your friends, family, and co-workers.