Gaming headsets bring a lot of value to the table. They're simple solutions a problem often more complicated than it should be: the need to talk and hear clearly in a video game. Many of them come with all sorts of doodads and perks, like surround sound, customizable LEDs, and multiple input options. However, oddly enough, something many of them often just can't quite nail is the microphone. Truly great gaming headset microphones are genuinely pretty hard to find, and there aren't really any good indicators of quality for them—outside of, you know, using them, at least.
Don't worry, we've got you covered! We've reviewed a lot of great gaming headsets, and more than a few of them have excellent microphones. Read on for our picks of the best gaming headsets with good microphones.
Editor's note: This post was updated on September 21, 2020, to replace the Razer Thresher Ultimate with the Corsair Virtuoso Wireless SE, and to add the Razer Thresher Ultimate to the notable mentions section.
What you should know about gaming headset microphones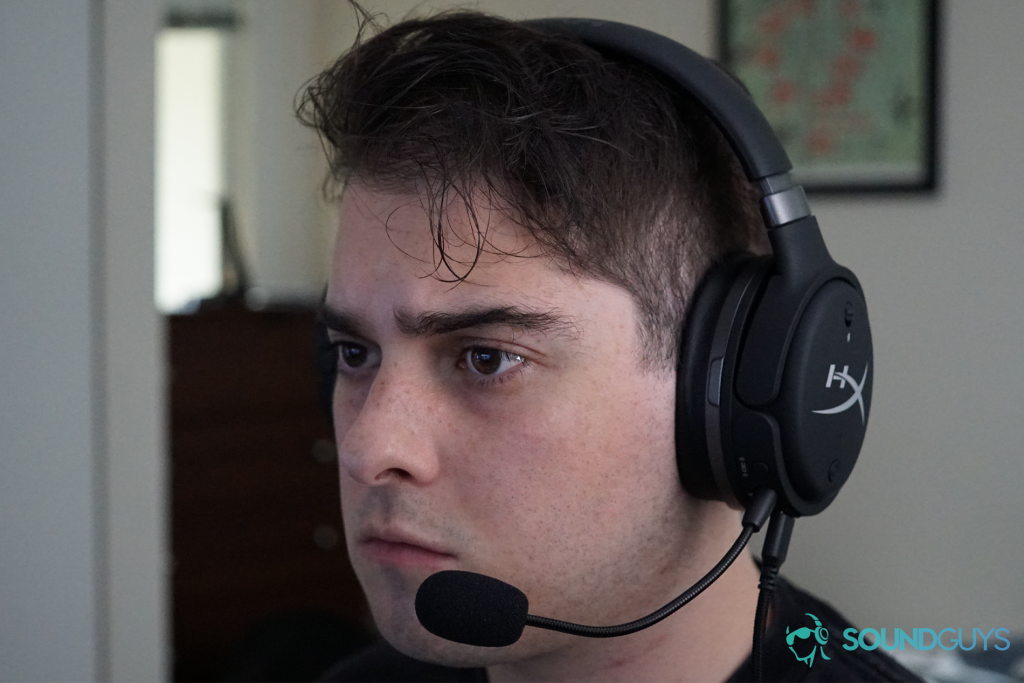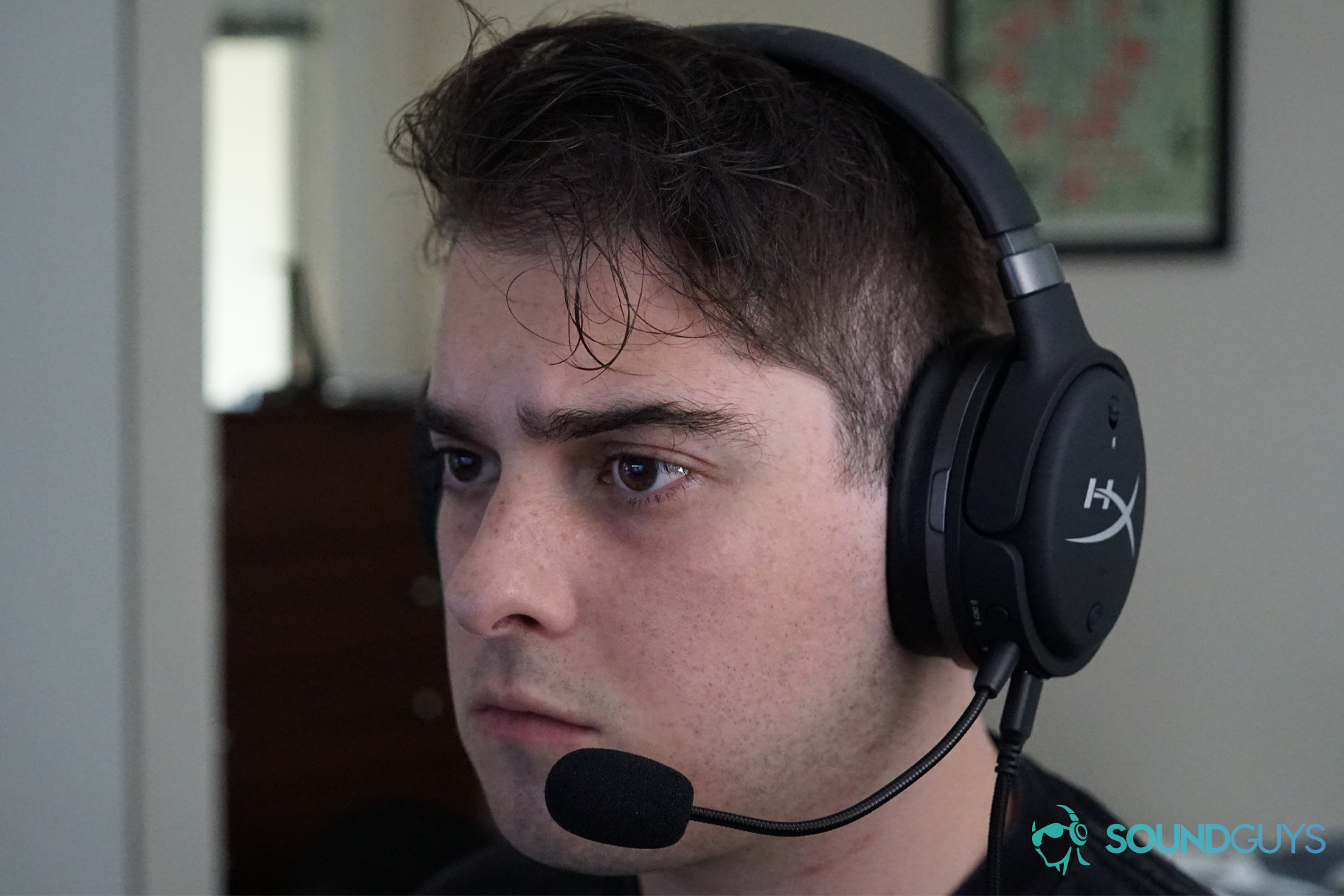 There are some things to bear in mind when you're shopping for a gaming headset with good microphone. The first is mic type. Different kinds of mics have different recording patterns and, especially important with gaming headsets, different power needs. The important thing to remember about microphones is that typically power equals volume—if a microphone gets less power than it's designed to need, it's going to sound quieter overall than it should.
Most gaming headsets use cardioid and hyper-cardioid microphones, which primarily pick up sound coming from in front of the microphone. Gaming headset microphones are pretty much all meant to pick up one source of audio (you) from about three inches away, so this makes sense—picking up sound from the room you're sitting in can negatively impact call quality.
Some headsets come with an omni-directional microphone, which probably isn't ideal if you're just looking for something to wear sitting on your couch or at your computer. No gaming headset has a particularly powerful microphone, so you don't want to worry about additional background noise coming through over a call.
Additionally, most gaming headsets use a 3.5mm connection, which doesn't draw as much power. That can be an issue for ones that sport a condenser microphone, which are typically on the quieter side. There are ways to boost your mic audio on every platform, and they're all pretty easy, but know you'll probably need some kind of additional gain if you pick up a condenser.
For the best mic audio on a gaming headset, look to the Fnatic React Headset
The Fnatic React Headset is a relatively new offering on the market—it's the first gaming headset released by esports organization Fnatic. There aren't any bells and whistles on this one, but for the price it's a very solid stereo gaming headset. It's comfortable, isolates well, outputs very accurate audio, and yes, the mic is great.
This headset features a detachable boom mic that's arguably the most accurate available in the gaming headset market. It's easy to position, and it sounds great—though it is a little on the quiet side. The Fnatic React also features inline controls for muting the microphone and adjusting volume.
There's not much more to say about this headset, really. It's comfortable, it sounds great, and it's easy to use. We added it to the list because the Beyerdynamic Custom Game is currently pretty hard to find, given what's going on in the world, and that headset will probably occupy the top spot again once it's available again. However, don't expect the Fnatic React to get bumped off the list if and when the Custom Game comes back—it comfortably competes with the best gaming headsets with good microphones on the market.
If you want a great mic without stretching a cord across the room, look to the Corsair Virtuoso Wireless SE
The Virtuoso Wireless SE is the most premium gaming headset Corsair has ever released. Featuring an aluminum construction, comfortable ear pads, RGB lighting, and a generous selection of included accessories, the product aims to deliver a high-end gaming experience for people willing to spend nearly $200 on a headset.
As its name implies, this gaming headset supports wireless connections via its included 2.4GHz USB dongle, which is compatible with the PlayStation 4, Xbox One, and PCs. Plus, it has a 20-hour battery life which means that you'll never have to worry about this headset dying out on you mid-game.
While its sound profile may not be ideal for casual content consumption, the Corsair Virtuoso Wireless SE handles sound effects, dialogue, and musical scores with ease, delivering a listening experience that is ideal for gaming. Of course, the main attraction of this headset is its microphone. Our tests showed that the microphone has a relatively neutral frequency response, meaning that all voices—high or low pitched—are reproduced loud and clear. While higher frequencies sound slightly under-emphasized, there's no denying that the Corsair Virtuoso Wireless SE has one of the best microphones in a gaming headset. If you don't believe us, listen for yourself:
Looking for something you can just plug in and play with? Consider the Audio Technica ATH G1
The Audio Technica ATH G1 gaming headset brings the straightforward build and stellar sound this company's become known for to the gaming space. It lacks the bells and whistles of a lot of the other headsets on this lists, but that's a small price to pay for raw audio quality.
This 3.5mm gaming headset works well with anything that supports TRRS plugs, which is basically everything in the gaming space. You'll need use its included splitter if you want to use the microphone for games other than Fortnite and Warframe on Nintendo Switch, though. The headset's 45mm dynamic drivers output very good sound, though they're definitely tuned to match an Olive-Welti curve, rather the  neutral frequency response you'd find with Audio Technica's studio headphones.
The Audio Technica ATH G1's microphone puts out very accurate sound, with only a slight de-emphasis in sound around 2,500Hz. However, this is definitely a headset where it's worth increasing the gain, as the mic can be awfully quiet. It's an easy fix, and it shouldn't detract from the appeal of the headset, but it's something  you'll need to deal with. Listen for yourself:
If you don't mind software doing most of the heavy lifting, check out the Logitech G Pro X
The Logitech G Pro X sits in a kind of a funny spot on this list. From a hardware perspective, this headset's microphone is really nothing to write home about—in fact it's probably a little below average. It's got an extreme de-emphasis in the bass and mid range, which can make a lot of peoples voices sound pretty distorted. However, in perhaps a first for a gaming headset, the Logitech G Pro X has software that actually improves the experience dramatically, especially in the mic experience.
The Logitech G Hub app unlocks Blue Vo!ce for the Logitech G Pro X, a suite of microphone customization options and presets that dramatically change how the headset's microphone sounds. The results are pretty significant, and it doesn't take much work to get things sound much better. Listen for yourself:
Outside of the mic experience, the G Pro X is a very solid wired gaming headset. It's got a comfortable, secure fit, thick ear pads, and solid surround sound audio. Plus it comes with extra velour earpads and a couple different cord options, depending on what you're connecting to.
For bridging the voice chat-podcast divide, check out Beyerdynamic's Team Tygr
If you want a gaming headset microphone with good enough audio to record a podcast, rather than just chat over Discord, well, fat chance. But don't worry, you're not totally out of luck: Beyerdynamic's Team Tygr bundle might be just the thing. The Beyerdynamic Tygr 300 R is a comfortable, straightforward pair of gaming headphones. They've got rock solid audio output, a comfortable open back design, an even velour ear pads. However, there's a catch: the headset doesn't have an attached microphone.
Luckilly, this isn't much of an issue, as only way to get the Tygr 300 R in in the Team Tygr bundle, which also comes with the Beyerdynamic Fox USB microphone. The Fox is a sturdy, stellar USB microphone, and it works great with the Tygr 300 R. Heck you can even plug the headphones into the microphone, so you won't be taking up additional ports on your computer.
The Fox USB microphone is sturdily built, with a straightforward interface, and excellent audio. It's a little on the pricey side on its own, and the Team Tygr bundle is definitely more expensive than most gaming headsets on the market, but if you really need something a little more versatile than a typical gaming headset's microphone, this could be just the ticket.
Alternatives
Astro A10: This headset supports the draconian Nintendo Switch voice chat system. Plus it's reasonably priced, has a decent sounding mic, and comes with velour ear pads—bespectacled gamers, rejoice.
Corsair Void RGB Elite: If something wireless is what you're after, but the Thresher Ultimate is just too steep, have a look at the Corsair Void RGB Elite. It's a little bit looser than I'd like and it over-emphasizes the bass like nobody's business, but this headset is a very solid choice for anyone aiming for under $100.
Razer Thresher Ultimate: This headset has it all: great sound quality, lag-free wireless connectivity, good battery life, and an amazing microphone that will ensure your teammates will hear you loud and clear, even in-game.
Sennheiser Game One: If you need an open back headset, and the pricey detached mic of the Team Tygr bundle just isn't doing it for you, consider the Sennheiser Game One. It's microphone has a pretty steep de-emphasis in the bass range and it's a little on the quiet side, but it'll get the job done for anyone with a medium or high-pitched voice. It also just happens to be a great PC gaming headset in every other way.
Why you should trust Sam
When it comes down to it, I don't just review gaming headsets because I'm passionate about good audio. Pretty much everything I do here at SoundGuys focuses on gaming content, and that's because I've been a gamer my whole life. You name it, I've probably played it. I know what kind of audio features are important for different kinds of games, and maybe more importantly: which ones aren't.
The gaming headset space, much like many other parts of the audio industry, is rife with exaggerated language and gimmicky features that often don't add much of anything to your experience. It's easy to get caught up in the flashy lights and promises of immersive audio and bass so intense it'll rupture your eardrums (in a good way, somehow), but most of that stuff flat out doesn't matter. When we're talking about gaming headset mics in particular, there's a lot of fluff out there. Too many gaming headsets run into the same problems and pitfalls, all while boasting clear, undistorted audio. That's why we review headsets, and why we have lists like this.
Frequently Asked Questions
I am looking for a great headset for work from home. Is there one with a mic that wont pick up the sounds of my keyboard and mouse?
If your keyboard is anywhere near as loud as the average desktop keyboard, there's only so much gaming headset mic hardware can do to filter it out. However, this is the kind of thing you can help with software by adjusting your mic sensitivity in programs like Discord. The Logitech G Pro X has enough software options to kill some additional noise, but getting a quieter keyboard is always going to be the best solution. Keep in mind that if you want to use a gaming headset for your conference calls, you should get one with a 3.5mm wired connection because wireless gaming headsets typically require a USB connection to operate over the 2.4GHz radio frequency band rather than use Bluetooth.
Will gaming headsets work with smartphones?
If you choose a wired gaming headset with a 3.5mm cable, it will be compatible with your smartphone, given your smartphone has a 3.5mm headphone jack. However, a wireless gaming headset will not be compatible with a smartphone because smartphones connect wirelessly to headphones through Bluetooth, whereas gaming headsets typically use 2.4GHz radio frequency connections.
Should I buy an external microphone?
If you're looking to produce a gaming voiceover, or just really want your voice to come out crystal clear when talking to your teammates, you might want to consider one of our best gaming microphones, or even one of our best podcasting mics. An external mic will almost always give you a better sound simply because they're designed to produce high quality audio and reproduce a natural frequency response. Depending on the type of microphone you buy, you may need to purchase additional equipment in order to power it. If you just need the mic to do the job for administering communication between you and your teammates and don't want to spend too much, a headset with a mic will do the trick. Additionally, because a headset mic is often physically closer to your mouth than an external mic, it can be better for cancelling out keyboard clicking sounds.
My 9 year old wants to be the next DanTDM, what headset should I get for him?
The Puro Sound Labs PuroGamer headset is probably your best bet. This gaming headset is designed to prevent hearing loss in children by limiting volume to 85dB, and it also happens to have a very accurate microphone—though a detached mic will always sound better for recording. YouTube's terms of service don't allow content creators younger than 13 without parental permission, so nine is quite young to start putting videos on the internet, but this is a solid and affordable option for starting out.