All products featured are independently chosen by us. However, SoundGuys may receive a commission on orders placed through its retail links. See our ethics statement.
The bottom line
This is a great, though relatively bare option for parents who want something to avoid the sounds video games with, without damaging their children's ears.
PuroGamer
This is a great, though relatively bare option for parents who want something to avoid the sounds video games with, without damaging their children's ears.
What we like
Limited volume is great for protecting kids' hearing
Price
Multi-platform compatibility
What we don't like
Volume limit makes it hard to hear outside of the home
Cord is a little short
Rating Metric
Sound Quality
9.6
Bass
9.5
Midrange
9.7
Highs
9.6
Isolation / Attenuation
2.5
Durability / Build Quality
7.0
Value
8.0
Design
7.5
Connectivity
6.5
Microphone
5.1
Portability
6.5
Comfort
7.0
Puro Sound Labs has been focusing on protecting children's hearing for a while now, with a range of headphones that limit volume to levels and won't cause any damage. But kids don't just listen to music, they play video games too. That's where the Puro Sound Labs PuroGamer headset comes in. But is this kid-focused gaming headset good at more than just keeping things quiet?
Editor's note: this article was updated on September 23, 2022 to include FAQ answers.
Who is the Puro Sound Labs PuroGamer for?
Gamers looking for something affordable that works with most platforms.
Parents who want something they can use to avoid the sounds of gunfire without the guilt of damaging their kids' ears.
What is the Puro Sound Labs PuroGamer like?
The headset comes with a carrying bag, which is a nice touch, but it's a little odd, given how unportable the headset it.
If there's one defining trait of the PuroGamer, it's simplicity. There's just not that much to this headset. You don't need any dongles or software—just plug it in and play. It's still got the requisite light-up bits, but everything else about it is pretty straightforward.
The PuroGamer is a pretty comfortable gaming headset. With a metal frame and cushioned foam around the headband, it feels pretty sturdy too. The headphones feature thick leatherette pads, which are soft, though gamers with glasses won't get as comfortable a seal as with a material like velour.The headset's headband offers decent cushion and clamps down pretty strongly, so it should stay on even the most hyperactive child.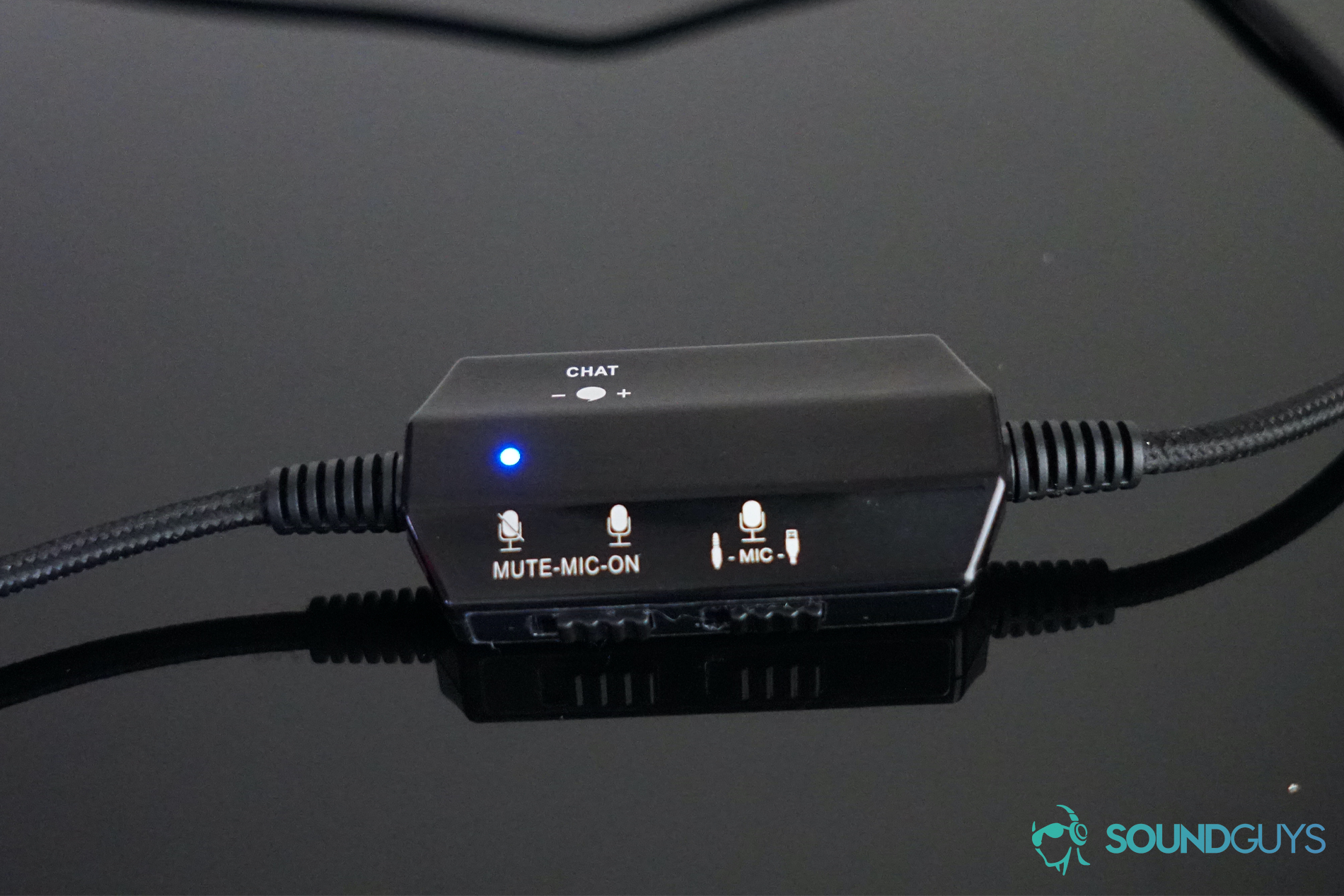 The control unit for the PuroGamer is pretty bulky, but it works well.
In terms of actually using the PuroGamer, I never ran into any issues. It's got a handy little in-line control unit for adjusting volume and switching between 3.5mm and USB inputs. Everything is simply laid out and easy to use.
The detachable 3.5mm microphone is flexible, so it shouldn't take much effort to find a position that works for you. I needed to tinker with it a little, as it picked up breath rather easily. However for some reason, Puro Sound Labs decided to put arguably the brightest light on the headset at the tip of the mic. It wasn't an issue all the time, but every so often it was pretty distracting.
Gaming with the Puro Sound Labs PuroGamer
The lack of stereo means this headset is well suited to games like League of Legends, but maybe not Fortnite.
Gaming with the PuroGamer is just as straightforward as you'd probably expect, given how this review has gone. In the early phase of using this headset, the band would start feeling a little tight a few hours into particularly long gaming sessions. However it really just takes a little time to break everything in.
This is a stereo gaming headset, so you won't find any surround sound functionality whatsoever. In most cases this frankly isn't a big deal at all. I played through the newly re-released Halo Reach using this headset, and even two-channel audio felt like enough to give me a decent sense of my surroundings.
The dual connection method makes this an easy headset to use on a variety of platforms.
However, this headset, as with most of Puro Sound Labs headphones, is aimed at kids, a demographic where Fortnite is far and away the most popular game. Fortnite also happens to be one of the few games where surround sound is actually pretty important. Omitting the feature isn't that big a deal, but it feels like a bit of an oversight, given the target audience.
Outside of that, the volume limit never caused me any issues, but then, I've never been one to seek a brown note in my explosions. 85dB isn't all that quiet, so you really shouldn't have any issues hearing everything, at least while you're at home.
How does the Puro Sound Labs PuroGamer sound?
The Puro Sound Labs PuroGamer offers decent sound output. It avoids the trap of boosting bass, something many gaming headsets fall into. In game, this means the loudest sounds, like explosions and gunfire—which often mix both high and low frequency elements—won't run over everything else. They'll still probably be far and away the loudest parts of a given moment, as a lot of that comes down to how developers choose to balance the sounds of different scenes, but you also might not miss subtler audio cues in a hail of gunfire as often—stuff like the different voice lines in Overwatch that indicate special moves being used.
There's a little less of a bright side when listening to music. The de-emphasized bass can make basslines harder to pick out, throwing off the balance of a song.
This is particularly apparent in a lot of modern rock songs, where bass lines often follow guitar parts. In Jesus of Suburbia by Green Day, the bassline gets almost completely lost in the lead guitar for much of the song.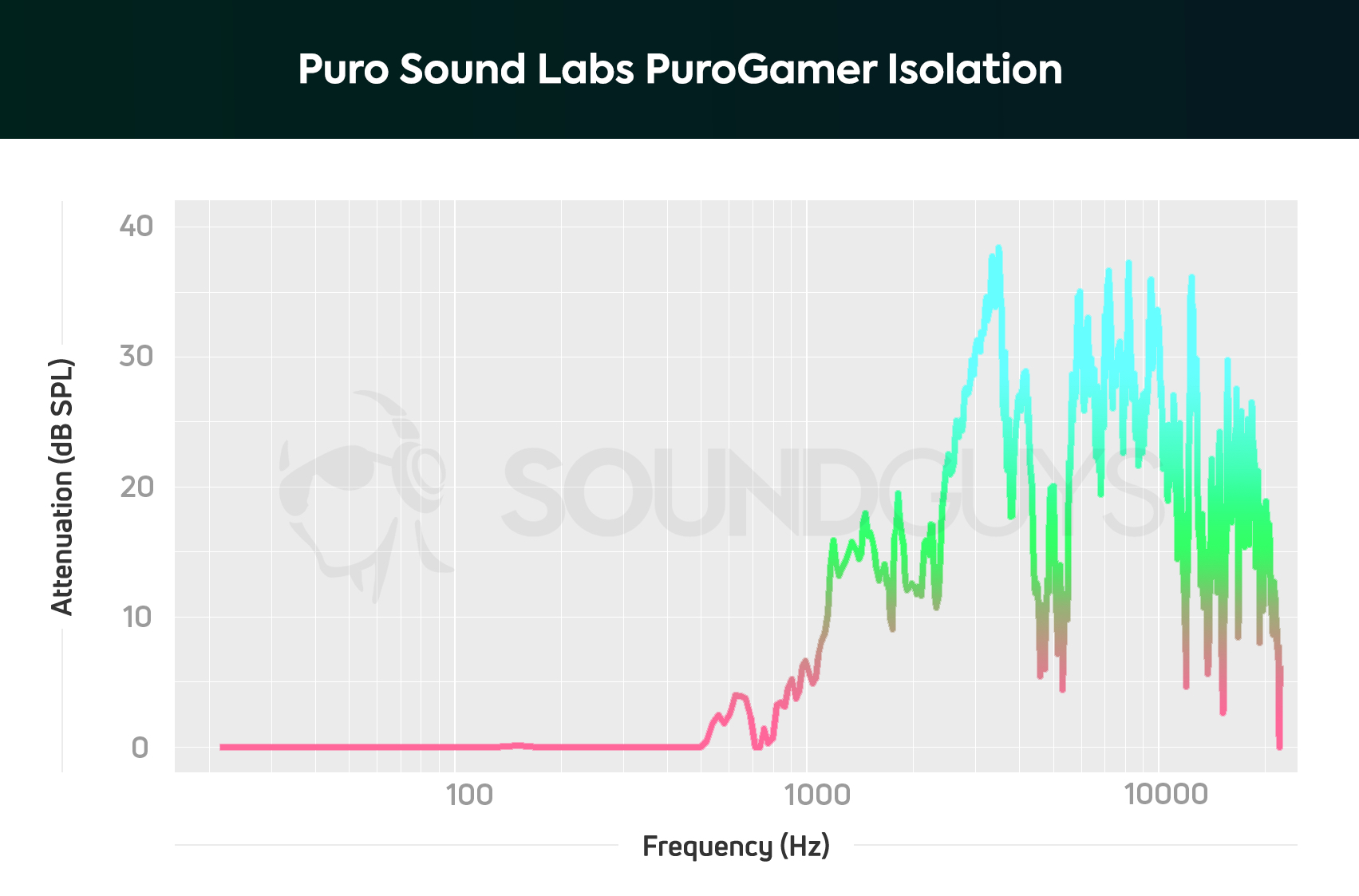 The isolation is helped by the headset's thick earpads, but it's not otherwise all that out of the ordinary.
The PuroGamer handles isolation better than most gaming headsets, but only by a little. There's nothing like active noise canceling here, but you shouldn't run into any issues with the typical sounds of the home, like TV blaring in another room or roommates talking down the hall.
However, though this boasts a 3.5mm connection and a detachable mic, I still probably wouldn't take outside. The isolation is fine, but the volume limit might mean you struggle to hear everything in a loud cafe setting.
How good is the microphone?
The microphone of the PuroGamer generally offers very accurate sound output. The slight under-emphasis in the bass range means some very deep voices might not sound quite right, but otherwise, you shouldn't sound too distorted. Apart from that, the mic features the volume issues typical of gaming headset—it's nothing slightly boosting the gain won't fix.
How does the microphone sound to you?
61 votes
As of June 17, 2021, 15 readers have rated the above mic sample as somewhere between "okay" and "good." This is a pretty typical result for gaming headsets of this price.
Should you buy the Puro Sound Labs PuroGamer?
If you're a parent looking for a headset for your kid, almost certainly.
The ring around headphone lights up, regardless of what's connected, though the microphone tip will only light up when using USB.
Whether you game on a PC or a console, the PuroGamer nails the central need of a gaming headset: it's a simple audio solution. This headset is comfortable for gaming sessions that stretch well past bedtime (but no one would do that) and sturdy enough to survive the trials and tribulations of a young gamer's tantrums. The lack of surround sound is a bit of a shame, but it's not that big of a deal, and the volume limit is a great addition for kids.
On top of all that, the headset's sub-$50 price means replacing it won't hurt too much, either. There are plenty of completely fine options around this price range, but none tailored to children's hearing needs. Noise-induced hearing loss is something everyone should probably worry about, but children are far more susceptible to it than adults. Plenty of children's headphones account for this. Even years after release, this is still the only gaming headset caters to this need. Parents, pay attention, this is the one you're looking for.
Frequently asked questions about the Puro Sound Labs PuroGamer
The PuroGamer is a pretty comfortable gaming headset, but it doesn't offer much in the way of glasses-friendly design. It's got thick and rather stiff leatherette headphone pads, and a fairly tight band. Basically, if you're someone who often finds headphones uncomfortable with glasses, this won't fare much better.
You can use the PuroGamer with these consoles by plugging it into the 3.5mm headphone jack on the bottom of their respective controllers. However, because the headset has a split mic/headphone jack, you'll only really be able to use it as a pair of headphones—there's no separate mic jack option.
The PuroGamer's dual inputs should both work with the Switch—3.5mm when the console is undocked, and USB when it's docked. However, using a wired headset with a docked Switch can get tricky if you're running a cord across a living.
The closest thing is the Logitech G435 Lightspeed, which purports to limit audio output to safe levels, but doesn't actually. It's still a cheap, and more sustainably made gaming headset, at least.