If you spend an inordinate amount of time on the computer, chances are good that you play at least one multiplayer game. Whether it's a MOBA, first-person shooter, or indie game, you'll definitely want a decent mic to be able to coordinate with your teammates—but you don't need professional equipment to do that. Here are the best gaming microphones on the market for Discord, VOIP, in-game chat, or even Hangouts.
You may notice that this entire list contains some pretty cheap mics, and that's no accident: unless you're recording professionally, there's no need to overspend here. You just need a mic that'll work relatively okay, right? Why not save some cash for the next Steam sale?
Editor's Note: This article was updated on July 15, 2020, to include a notable mentions section and to replace the V-Moda BoomPro mic with the Antlion Audio Mod Mic.
What you should know about gaming microphones
If you're looking for a detached gaming microphone, here are a few things to look out for.
Know what you need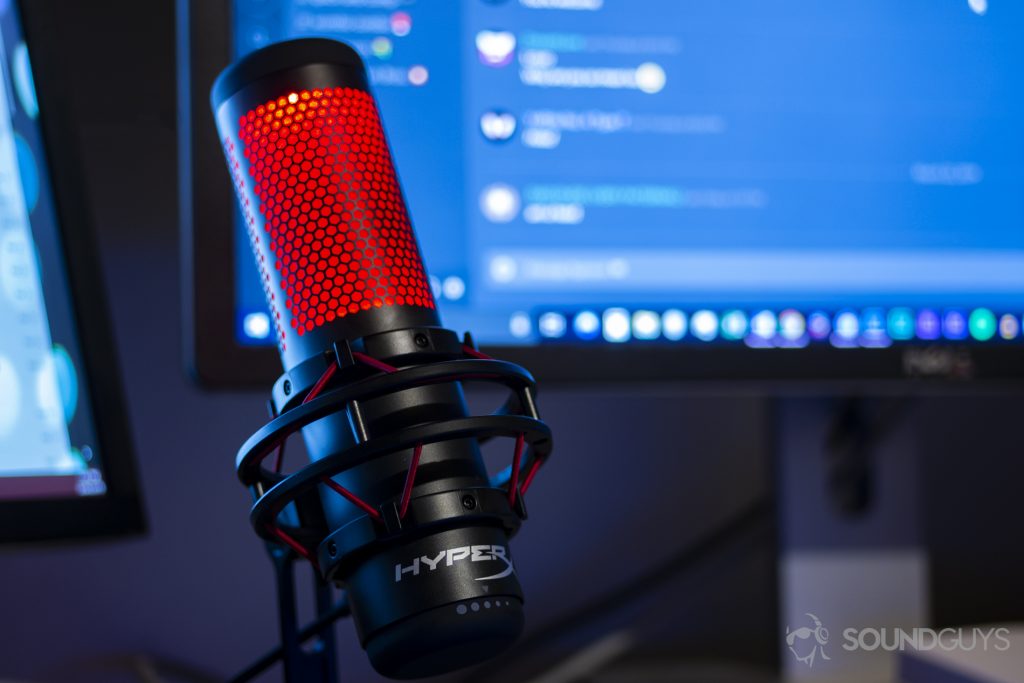 Knowing what you need in a gaming microphone is important for setting expectations. Quality is important, but if you're not building a recording studio or a streaming setup, the main goal is clear communication. A lot of gaming microphones prioritize the mids and highs in ways that sometimes aren't accurate, but are meant to make voices sound clear.
If you're setting up a streaming station, springing for something with more studio-quality sound might be worth it. There are all sorts of things to consider on that front too, like what kind of microphone you'd like to have and what kind of environment you'll need for recording.
Depending on what your needs are, you'll need to figure out what kind of mic you want, as well. If you're sitting at a desk playing games, a mic with a cardioid or hypercardioid pickup pattern is probably best. Those varieties do well when what they're recording is positioned directly in front of the mic.
Pay attention to the platform you're using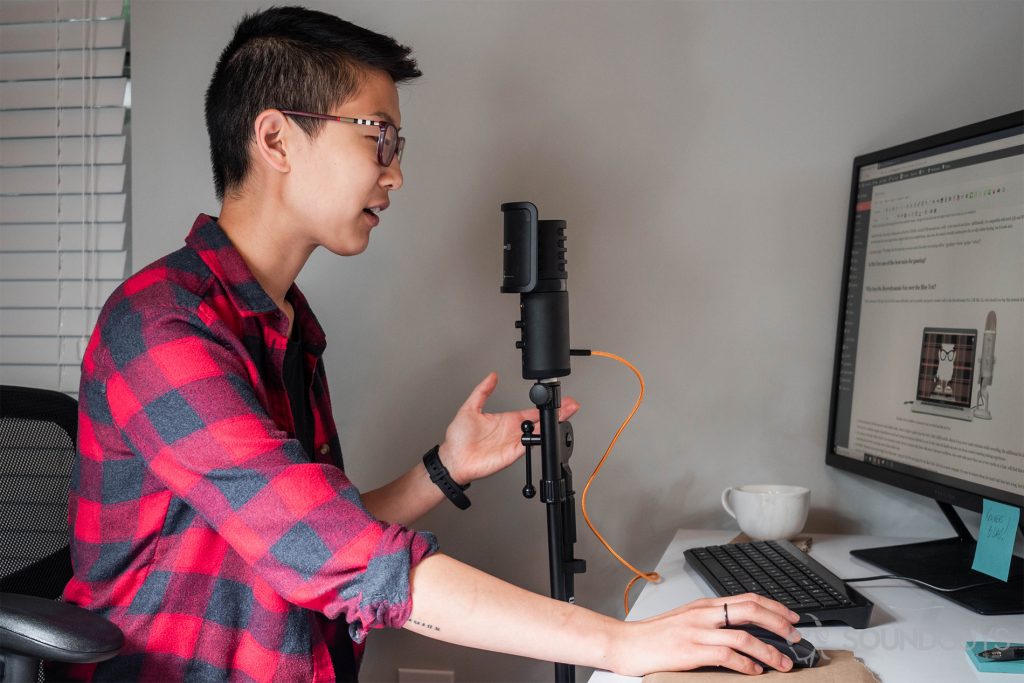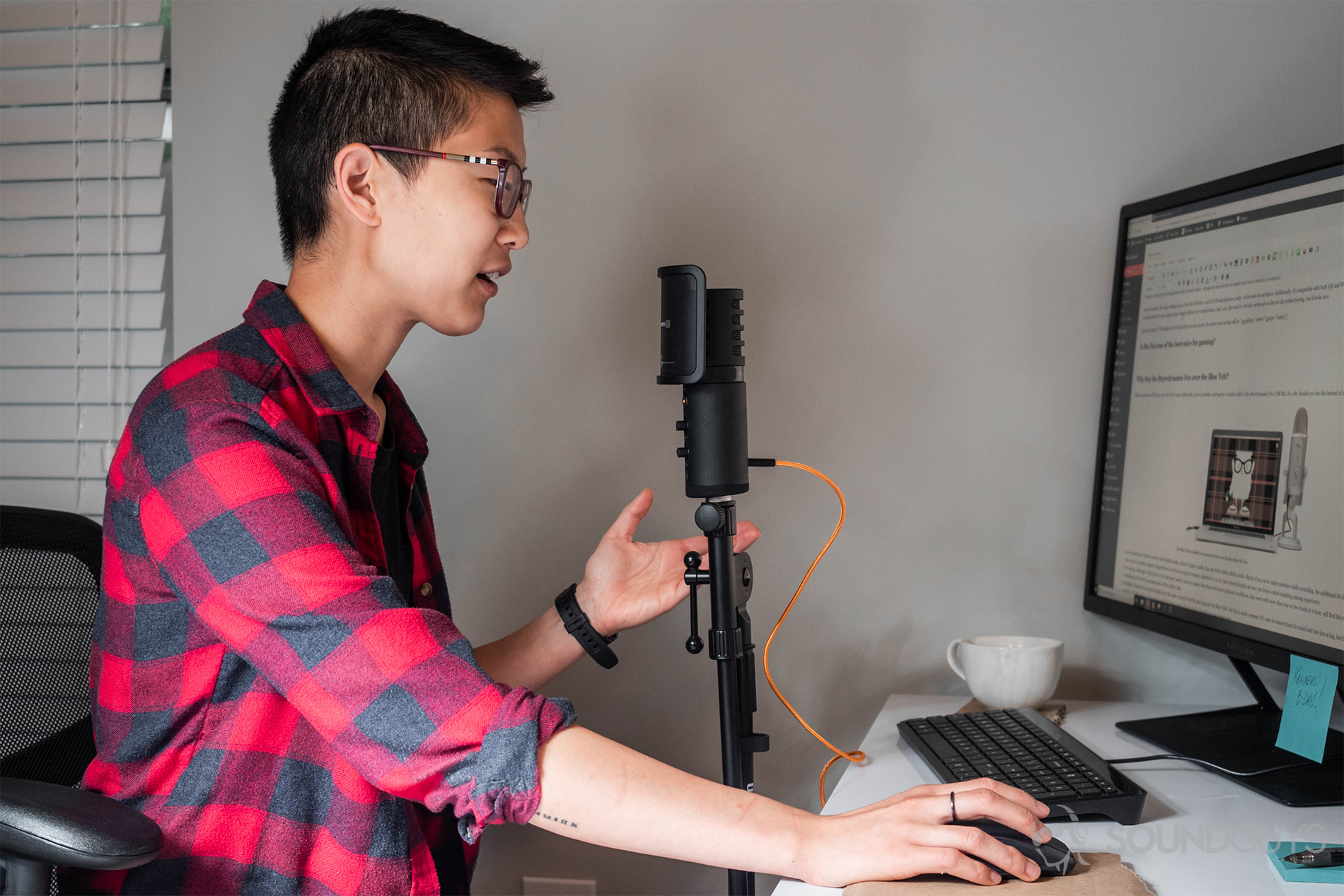 Depending on what kind of setup you have, your needs will probably change quite a bit. If you're gaming on a PC, a USB mic is probably your best bet. You don't need to spring for an expensive XLR mic and audio interface. Ultimately, simpler is better.
If you're gaming on a console, things are a little more complicated. The Playstation 4 can handle either 3.5mm or USB solutions. The Nintendo Switch can handle them too, but USB mics will only work while in docked mode. Of course there's also the particulars of your setup to remember—a detached wired USB mic might not be the most convenient pick if your console of choice is across a den or living room.
Physical switches are pretty useful
Pay attention to what kinds of buttons and switches mics have. Almost all of that stuff can be controlled on your computer or console, but it's always faster to reach over and flick a mute switch than alt-tab and find the menu option.
The best gaming microphone: Blue Snowball iCE
If you're looking for quality at a low price, including the ability to dampen signals to avoid broadcasting your bad music tastes over teamchat, the Blue Snowball iCE is the best bang for buck standalone gaming microphone on the market. Sure, it's not the greatest quality mic out there, and sure: it's not built for professional voiceover work. But it's capable, and even Discord certified.
The Snowball iCE is about as basic a microphone as you can buy, and those looking for more features may look to Blue's famous Yeti mic, or the more expensive Snowball model. However, on the inside they're all almost identical—why pay more for the same stuff?
The Snowball iCE features a single microphone capsule, unidirectional cardioid pickup pattern, and a cheaper plastic stand. It loses a little of the versatility of the more expensive Snowball, but if you're just looking for something to talk on Discord with while gaming, this has got you covered.
The Blue Yeti X brings high quality to a stream-friendly setup
Blue's mission is to make your recording experience as efficient and streamlined as possible with its USB microphones. The new Blue Yeti X brings a "four capsule" condenser array, which allows for high-quality recordings in a variety of pickup patterns. It also updates the Yeti's physical interface, with a single knob that can adjust gain, metering, and blending, and offers live metering via LEDs—perfect when you're streaming and need a quick indicator of how you sound.
The Yeti X offers four recording pattern modes, allowing you to choose which one best suits your given situation. Cardioid is ideal for podcasts, as it allows you to record sound which is immediately in front of the mic. Stereo mode acts as one would expect: recording sound from the left and right channels simultaneously to provide a better illusion the listener is in the room with you. Omnidirectional mode will record 360-degree sound, and bidirectional will record sound from the front and rear regions of the microphone. Basically, the Yeti X straddles the line between being a recording or gaming microphone, and can cover you for either. Turns out being a Twitch streamer makes you need to have something for both—how convenient.
Also new to the Yeti X is support for Blue Vo!ce audio software, which brings all sorts of customization options. It features effects like de-popper, noise reduction, expander, gate, de-esser, EQ, compression, and limiter, and you can even change the color of the mic's LEDs. After all, if you're marketing a device at gamers and Twitch streamers, and you can't change the LED color, why bother, right?
Regardless, the Blue Yeti X offers almost as much versatility as the Yeti Pro, for $80 less.
The Antlion Audio Mod Mic can turn headphones into a gaming headset
Another boom mic, Antlion Audio Mod Mic uses your headphones' 3.5mm port to make your regular-ol' headphones a gaming headset for $50. Not bad, all things considered, and there are no messy adhesives. If you want to convert your headphones back, all you have to do is simply yank out the Mod Mic and put in the old cable. Easy peasy.
This mic has a uni-directional pickup pattern, so its great for rejecting off-axis sound, but you might need to be a bit more careful with its placement to ensure it picks up your voice. But you won't get any complaints from your teammates about the clicking noises of your keyboard. Lastly, if you don't have a set of headphones with a removable cable, you're outta luck. You'd have to grab something else off this list!
The HyperX Quadcast offers the best sound with a built-in pop filter
HyperX is known for putting out high-quality gaming peripherals, and the Quadcast is no different. It's pricier than a lot of this list, but this mic offers really great sound in an easy-to-use package that can cover a lot of bases.
If you're in the market for a gaming microphone, this is a great option, but the Quadcast will cover your podcasting or recording needs too. Its gain knob makes adjusting sensitivity intuitive and easy, and you can even set its polar pattern, switching between cardioid, hypercardioid, and bi-directional. Plus it's built-in pop filter will help you avoid rogue plosive sounds spiking the mic.
The Zalman ZM-MIC1 might not sound incredible, but $7 is $7
Rounding out this list is the cheapest possible mic you can get that isn't total… you get the idea. Zalman's clip mic has long been the go-to for the budget-minded gamer for longer than it probably should have. Still, it's tough to argue with $7.
If you pick this up, prepare for some static (depending on your computer's internal preamp). As it's not a USB model, the Zalman plugs into your mic port, while the mic itself clips onto your headphones' cable. Sure, it's a hacky solution, but it's a solution nonetheless! I've seen people use velcro ties, zip ties, and gaffer's tape to keep the wires from getting out of control, but personally I'd just get a standalone mic.
Related: What to look for in a microphone
Notable Mentions:
Beyerdynamic Fox USB: This mic has helpful on-board controls, 24bit/96kHz audio, and a forgiving polar pattern, making it easy to record audio that can be easily edited later on. The main drawback is its price.
Why you should trust us
Working at SoundGuys is each of our day jobs, so you can bet we've clocked in countless hours testing a wide array of audio products. This hands-on experience has allowed us to quickly discriminate between the good and not-so-good products out there.
All of us talk into various microphones for work, whether to record content or for the purposes of a review. We've all had the misfortune of plugging a mic in and having a raspy, robotic voice we barely recognize come out the other end. Lists like this one are way of bringing that experience to bear, so you don't have to suffer through it.
Frequently Asked Questions
I'm looking for a mic for Zoom calls when I'm working and Skype with family, what do you recommend?
If you're going to be sharing the microphone, and only need it for calls, rather than streaming or recording, the Blue Snowball iCE (or the older Blue Snowball) is probably your best bet. It sounds great, and it's simple to use—perfect for calls over Skype, Zoom, and Discord.