All products featured are independently chosen by us. However, SoundGuys may receive a commission on orders placed through its retail links. See our ethics statement.
ROCCAT Torch review
A hot mic with cool features.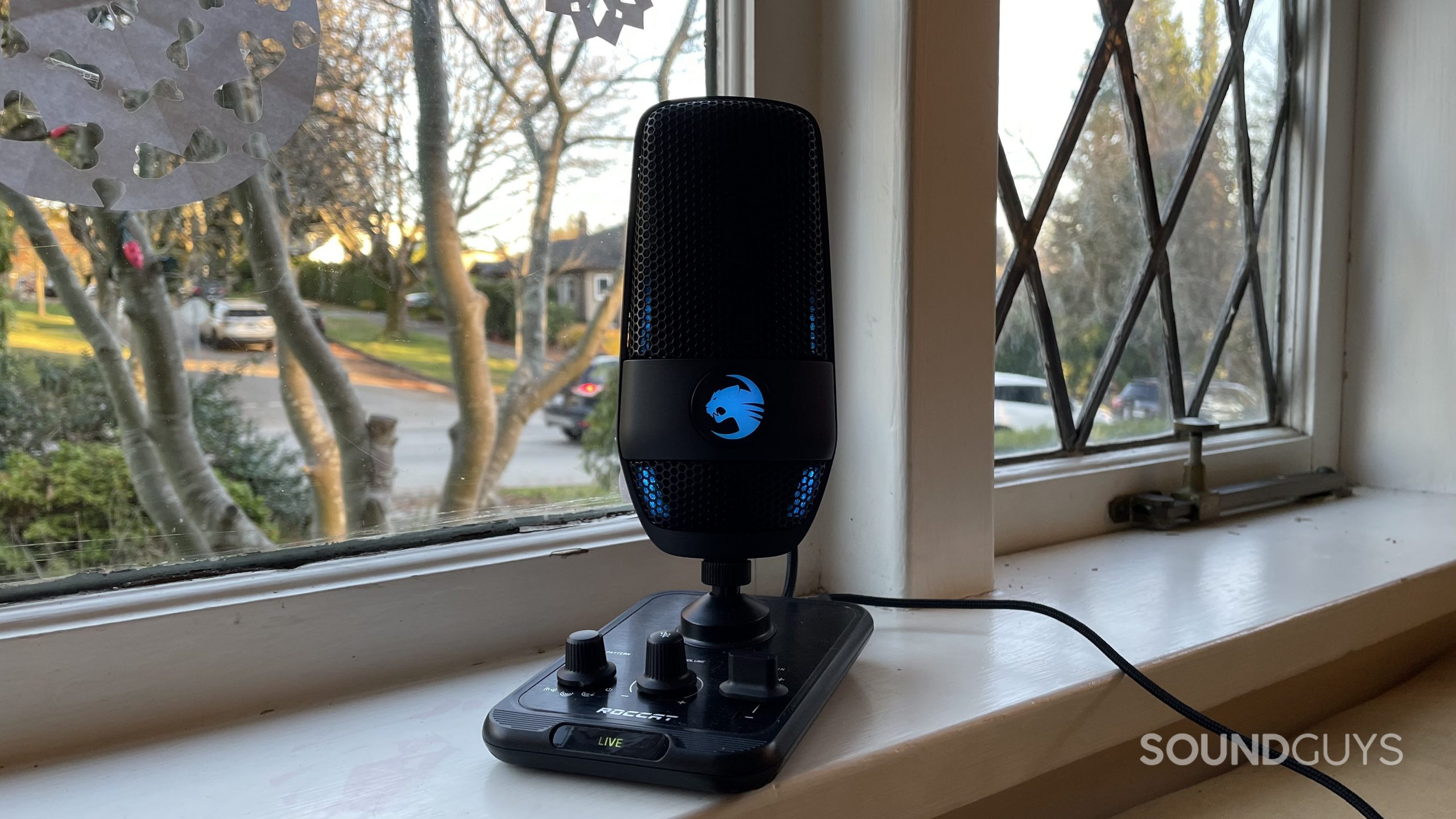 Have you ever wanted a microphone that looks like the paddle of a rowboat? Me neither. The ROCCAT Torch USB gaming microphone, however, is so much more than a rowboat paddle and its unique design extends beyond its peculiar shape. Its inclusion of a mixer base and RGB LEDs are enough to entice all kinds of folks. Let's see how this funky gaming microphone performs.
Who is the ROCCAT Torch USB microphone for?
Gamers with ROCCAT products that have AIMO RGB (the brand's "intelligent lighting" system) can sync their devices' color shows. Regardless of if a gamer has other AIMO products or not, they can use the LED lights to quickly check their gain level and mute status.
Anyone who needs to keep quiet while recording or live streaming will appreciate the microphone's Whisper mode.
Jacks of all trades who need a mic that can do it all can use the ROCCAT Torch to record podcasts and music demos as well as broadcast their voice to their gaming teammates.
What's it like to use the ROCCAT Torch?
Whisper mode is best for when you need to speak quietly, like when gaming at night.
ROCCAT's USB microphone has a very unusual look with its flat, paddle-like housing and large metal grille. The ROCCAT Torch is first and foremost a gaming microphone, and it includes AIMO reactive RGB lighting to fit in with other gaming peripherals. A ROCCAT symbol sits on the front of the mic's grille and vertical strips line the mic's sides. These all glow in various colors depending on which polar pattern you select. The strip lights slide up and down according to the gain level, and all LEDs glow red when you're muted. What's more, if you have other ROCCAT products with AIMO lighting, the lighting effects of each product will combine.
Start here: Microphone buying guide
The top of the microphone has a contactless mute sensor. Rather than detecting touch, the sensor detects motion as you wave your hand over it. You can use a button on the back of the base to control how close your hand needs to be for it to detect movement. This feature comes in handy when you want to mute your mic without introducing handling noise to your recording.
The ROCCAT Torch is a plug-and-play microphone, compatible with Windows 7, 8.1, 10, and Mac. It's also compatible with the desktop software Turtle Beach Audio Hub which is a tool for keeping your product's firmware up to date.
The Torch is compatible with boom arms—just unscrew the mic from the attached swivel mount attach it to your mount. The swivel mount comes attached to a sturdy anti-vibration base with silicone feet to prevent sliding. The base has three mixer-style controls: a knob to select a polar pattern and toggle the mic on and off, a volume control knob/mute button, and a gain control slider.
What accessories do you get with the ROCCAT Torch?
ROCCAT provides two USB-C to USB-C cables for connecting the microphone to the mixer base. One of the cables is 15cm and the other is 180cm, so whether you decide to keep your mic on the mixer base or mount it to a boom arm, you can still access all the controls. There's also a USB-A to USB-C cable for plugging the mic into your computer.
Does the ROCCAT Torch have direct monitoring?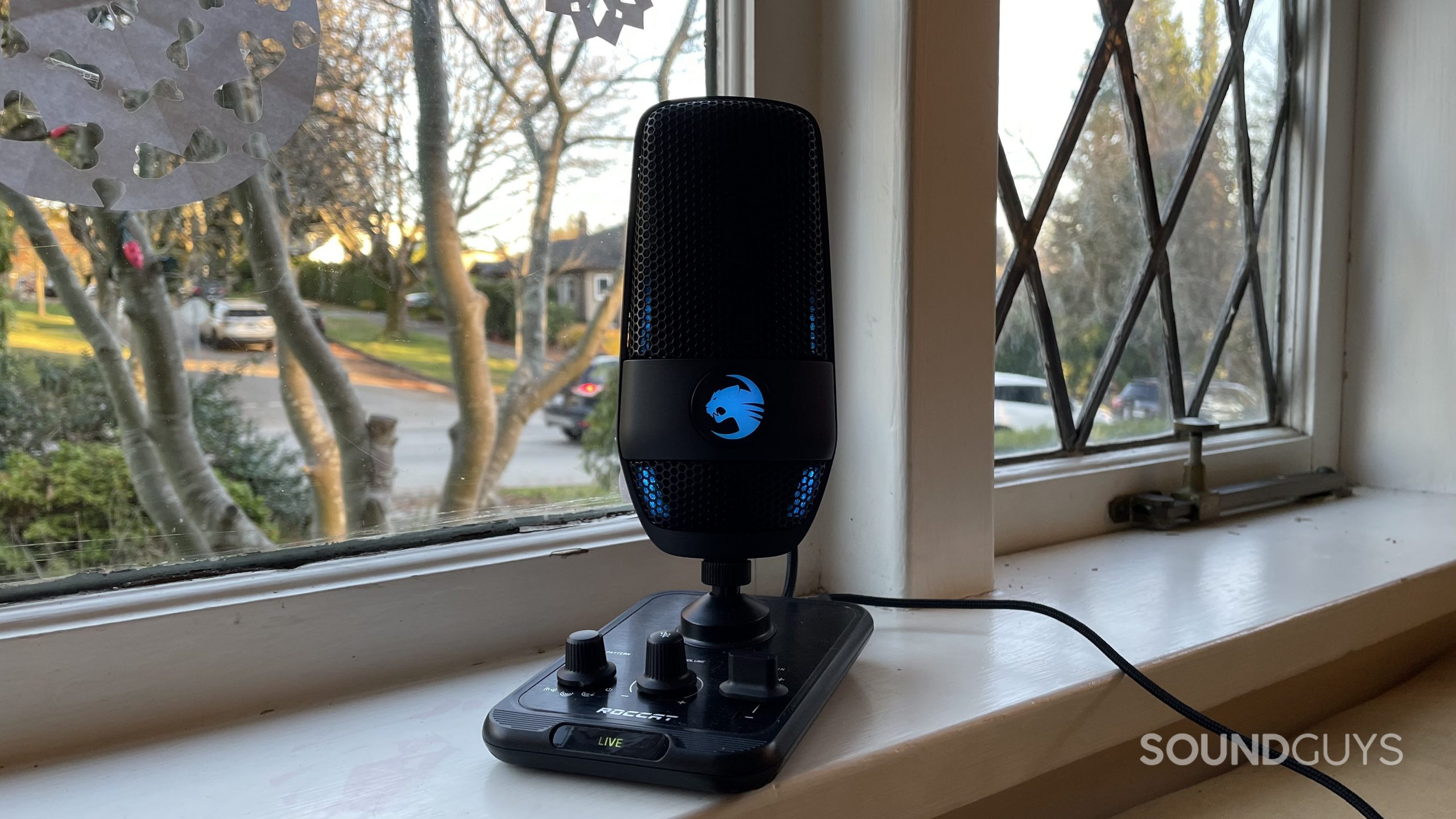 You can detach the mic from the base if you want.
The back of the Torch's mixer base houses a 3.5mm jack for latency-free direct monitoring. When you plug headphones into the port, your computer's audio will route through the headphones but it won't provide direct monitoring by default. To enable direct monitoring, go into your PC's sound settings. Click on "Additional Device Settings" and under "Speakers Properties" click on the "Levels" tab. Uncheck the microphone sound tab and the Torch's direct monitoring should be enabled.
See also: ROCCAT Syn Pro Air review
The paperwork with the ROCCAT Torch support note states that the headphone monitoring is exclusive to Windows, but we reached out to ROCCAT and the engineers successfully enabled headphone monitoring from a Mac when both the output and input settings were for the Torch. Under these same conditions, I am unable to get the microphone's headphone monitoring to work, but we are in the middle of testing this with a new unit and will update the review accordingly.
How does the ROCCAT Torch sound?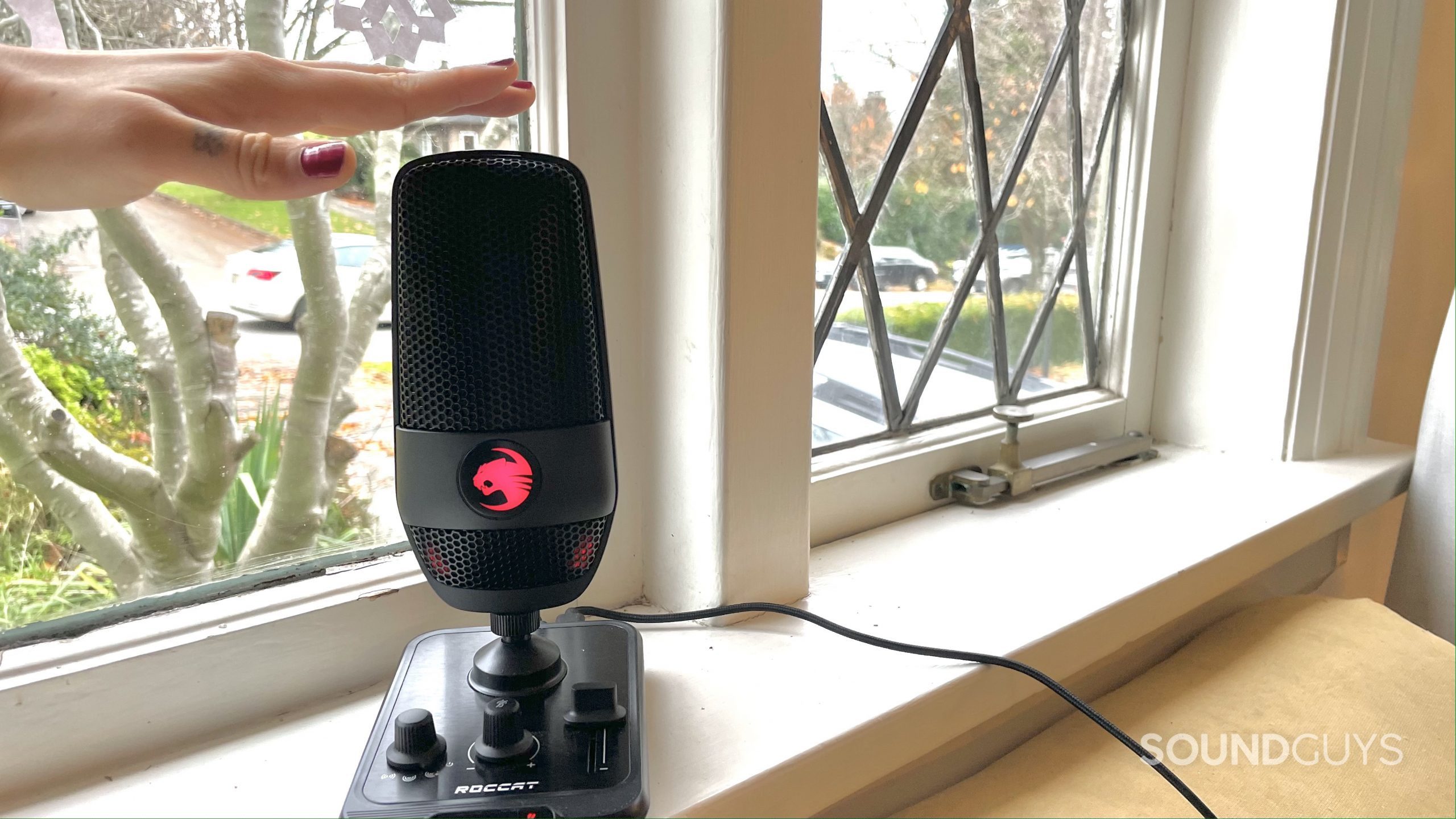 The Contactless Quick Mute sensor is great for when you want to mute yourself without the mic picking up any handling noise.
The ROCCAT Torch has an integrated pop filter and dual condenser capsules. It records 24-bit/48kHz audio and sounds pretty crisp. It has three pickup patterns: cardioid, stereo, and ROCCAT's proprietary Whisper pickup pattern.
ROCCAT Torch cardioid pattern
The cardioid polar pattern picks up sound from the direct front of the microphone, rather than picking up off-axis sound. Because of this, it is best used for most streaming applications. The cardioid pattern is also good for any gaming scenarios where you're typing on your keyboard because it doesn't pick up as much typing noise as an omnidirectional pattern might. The cardioid recording samples below are some plosives (harsh "p" sounds) that the integrated pop filter is doesn't quite eliminate.
ROCCAT Torch cardioid speaking sample:
ROCCAT Torch cardioid singing sample:
The singing sample is under the same conditions, and the quality is fine for casual demo recordings. As is the case with most microphones, I often decrease the gain to avoid distortion when singing. Most singing voices are louder than speaking voices.
ROCCAT Torch stereo pattern
The stereo polar pattern records audio from the left and right sides, and is best when you want to accurately create a sense of space and sound. Stereo polar patterns are often used when recording acoustic guitars because the sound of the instrument relies on the way sound travels through the room. The Torch works in a pinch for the acoustic guitar as you can hear below. In the recording below, the mic is in front of the guitar's soundhole and angled towards the 12th fret.
ROCCAT Torch stereo speaking sample:
ROCCAT Torch stereo acoustic guitar sample:
When recording with the stereo polar pattern, you'll need to make sure you set your DAW to record in stereo. Also, when listening to the following two mic samples, make sure you're either using headphones or stereo speakers to ensure the best results.
ROCCAT Torch whisper pattern
The ROCCAT Torch comes with an exclusive Whisper polar pattern. This pattern is best for when you want to speak quietly but still want your voice to come through clearly. Realistically you could achieve the same effects of Whisper mode through gain toggling in your computer's sound settings, but it's very convenient to have this setting built into the mic.
ROCCAT Torch whisper speaking sample:
How does the microphone sound to you?
172 votes
Hold up! Something's missing:
This section is typically where we display a frequency response chart to show you exactly where the audio output shines and where its deficiencies lie. Unfortunately, we've hit a technical snag in our testing. To combat this, we have an SCM-3 mic and we'll be adding a speaker with standardized output samples to update our testing and data collection. It will take a while to reach our office in Canada, but we will update this review (and many others!) once we're able with improved sound quality measurements and performance plots. These will be made obvious by an announcement explaining the change, and a new chart aesthetic.
Thank you for bearing with us, and we hope to see you again once we've sorted everything out.
Should you buy the ROCCAT Torch USB microphone?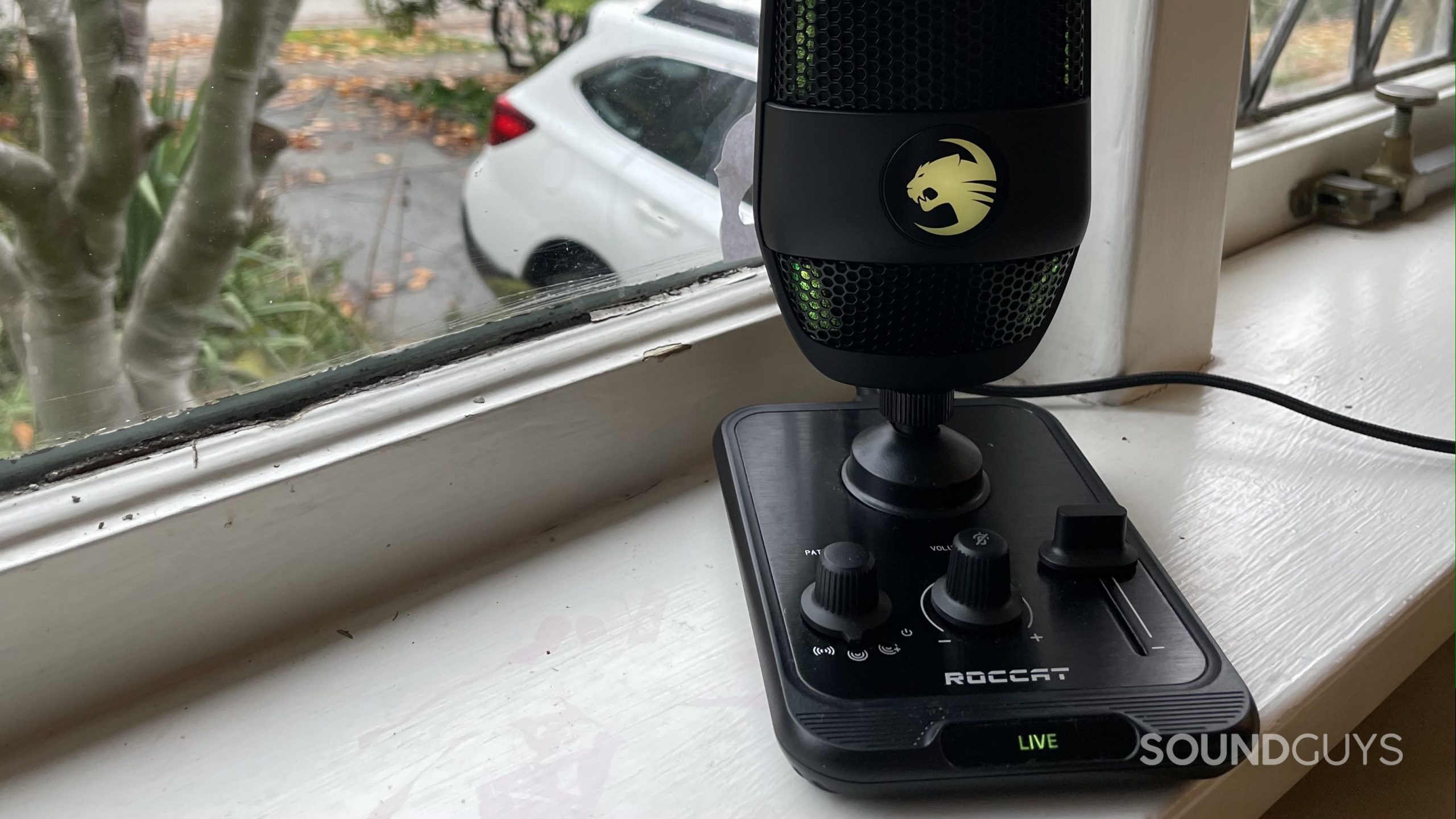 You can use the mixer to select a polar pattern, adjust gain, adjust volume, and mute the mic.
The ROCCAT Torch stands out among the field of gaming mics due to its unique design and mixer base. It's really nice that you can use the mixer base whether the mic is attached or mounted to a boom arm. The Whisper polar pattern is handy and the contactless mute sensor is a nice touch. I also appreciate the way the LED strips that line the mic's capsule correspond to the gain level. Overall, the Torch is a good product and its sound quality is more than adequate.
ROCCAT Torch
All prices listed in USD unless otherwise specified. Prices may change over time, and vary by region. Unfortunately, we cannot list Amazon prices on the site, as they vary greatly by currency.
That being said, bright RBG lights aren't everyone's cup of tea and the ROCCAT Torch won't satisfy everyone's desires. If you're looking for something inconspicuous or portable, this isn't the mic for you.
What should you get instead of the ROCCAT Torch?
Those who don't care much for the rainbow light show or just want a more normal-looking USB microphone may want to check out the Movo UM700. It costs the same as the ROCCAT Torch and has a convenient array of onboard controls including a volume knob, gain knob, mute button, and polar pattern knob. That's right, the Movo UM700 also provides multiple options for polar patterns, but it doesn't include a Whisper polar pattern. This mic offers cardioid, stereo, bidirectional, and omnidirectional patterns and the sound quality on each is very good. If you want an in-between pick, look at the JLAB Talk GO.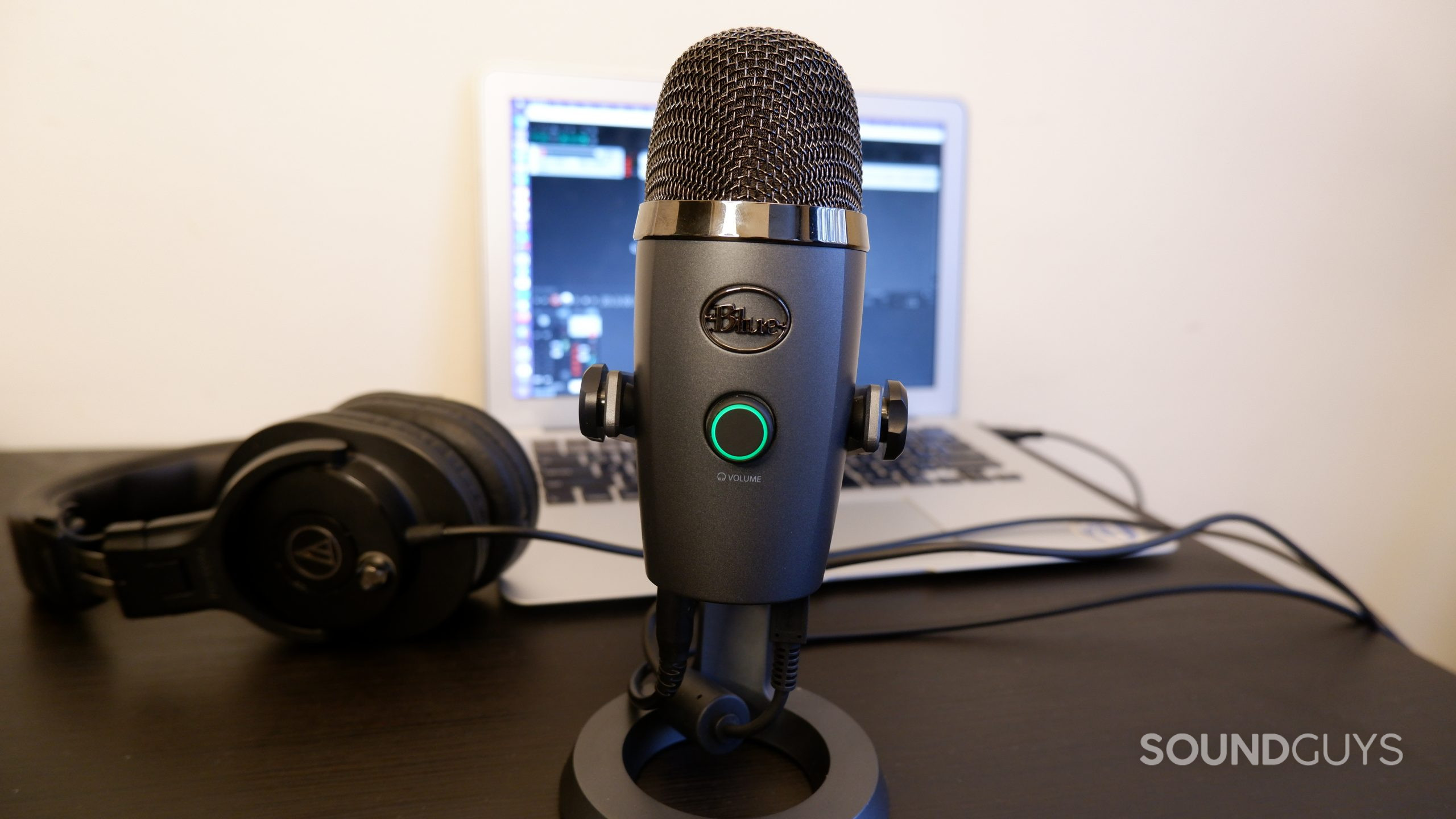 The Blue Yeti Nano is a great all-around microphone for recording or streaming.
Gamers who want to save some cash or want something more portable, we recommend looking into the Razer Seiren Mini. Though it doesn't have the best sound quality or include fun features, it only costs $49 USD and will get the job done as a gaming mic. Alternatively, if you want something a bit more versatile, the Blue Yeti Nano is a great option because you can customize the sound via Blue Sherpa software and alternate between the cardioid and omnidirectional recording patterns with the press of a button.
Frequently asked questions about the ROCCAT Torch
No, the Torch doesn't include batteries, because it draws power from the USB connection. So long as you have a computer or a compatible USB device, you can power the ROCCAT Torch.
You only need to download the Neon software suite (Windows only) if you want to control the lighting. This software does not enable or disable the Torch's recording capabilities.