All products featured are independently chosen by us. However, SoundGuys may receive a commission on orders placed through its retail links. See our ethics statement.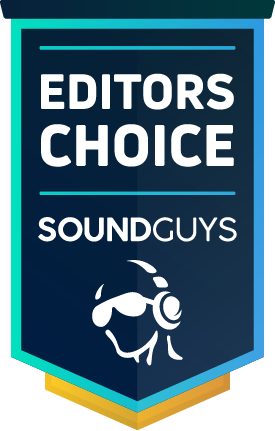 The bottom line
No matter what you need a desktop USB microphone for, the Movo UM700 has your back. With its four adjustable polar patterns, removable windscreen, volume and gain knobs, and mute button, there's hardly a feature you're missing. The mic also has a crystal clear sound and, what's more, it's only $100.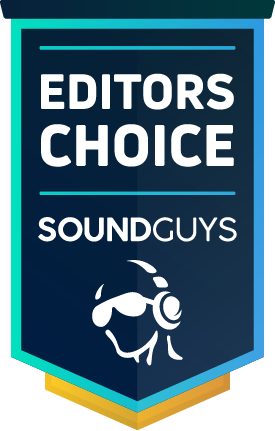 Movo UM700
No matter what you need a desktop USB microphone for, the Movo UM700 has your back. With its four adjustable polar patterns, removable windscreen, volume and gain knobs, and mute button, there's hardly a feature you're missing. The mic also has a crystal clear sound and, what's more, it's only $100.
What we like
Sound quality
Build quality
Multiple polar patterns
Volume and gain control
Mute button
Windscreen
Price
What we don't like
Not portable
No software features
Some people are jacks-of-all-trades: they create podcasts in their free time, lead video meetings all day at work, and record music to share with the world. These busy bees need a microphone that assists them at every turn, and the Movo UM700 is a very strong contender. Though Movo isn't quite as big a brand name as some of the alternatives out there, this desktop USB mic is worth your consideration.
Editor's note: this Movo UM700 review was updated on January 10, 2022, to include the Blue Yeti Nano in the Alternatives section.
Who is the Movo UM700 USB microphone for?
How is the Movo UM700 built?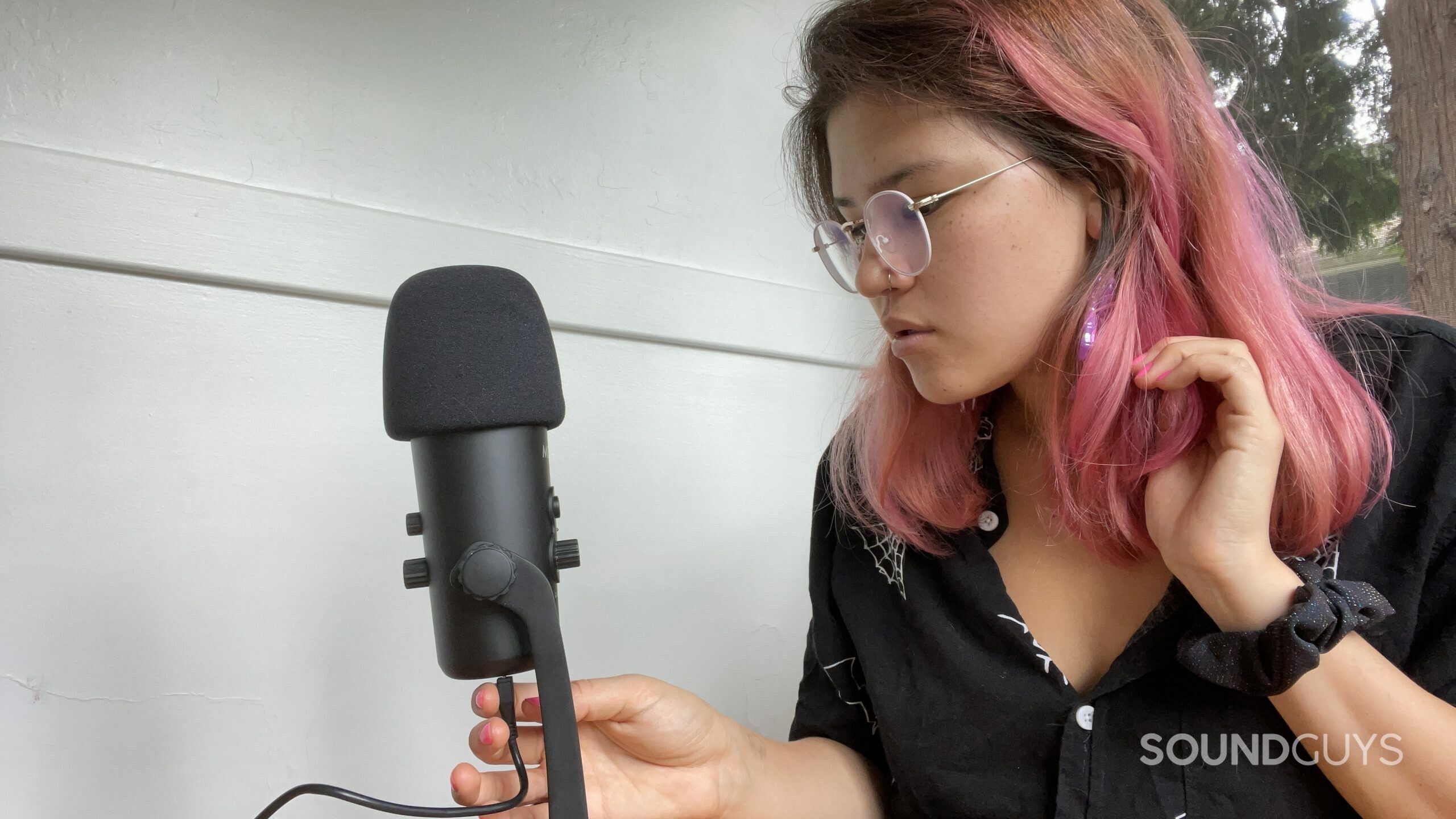 Most situations will require the use of the cardioid polar pattern, but it's nice to have options.
If ever there was a USB microphone sturdy enough to replace the Blue Yeti X it's the Movo UM700, and considering it only costs $100, that's quite impressive. Its hefty metal build feels great and it has a lot of small but satisfying design elements. The desk stand has an anti-slip foot that keeps the mic stable on your desk. Knobs on the side of the stand let you tilt the mic towards your sound source. The UM700 isn't portable, but it's not intended to be.
Start here: What to look for in a microphone
By default, the UM700 is attached to the desk stand. All you have to do is unscrew the knobs to adjust the mic position. In addition to the mic and the stand, Movo includes a removable foam windscreen, a three-meter-long microUSB to USB-A cable, some documentation, and a Movo sticker. The instruction manual includes screenshots alongside a written explanation on setting up the mic in Windows and Mac. The manual unfortunately mislabels the cardioid polar pattern as the omnidirectional one and vice versa, but is otherwise quite a helpful tool.
What's it like to use the Movo UM700?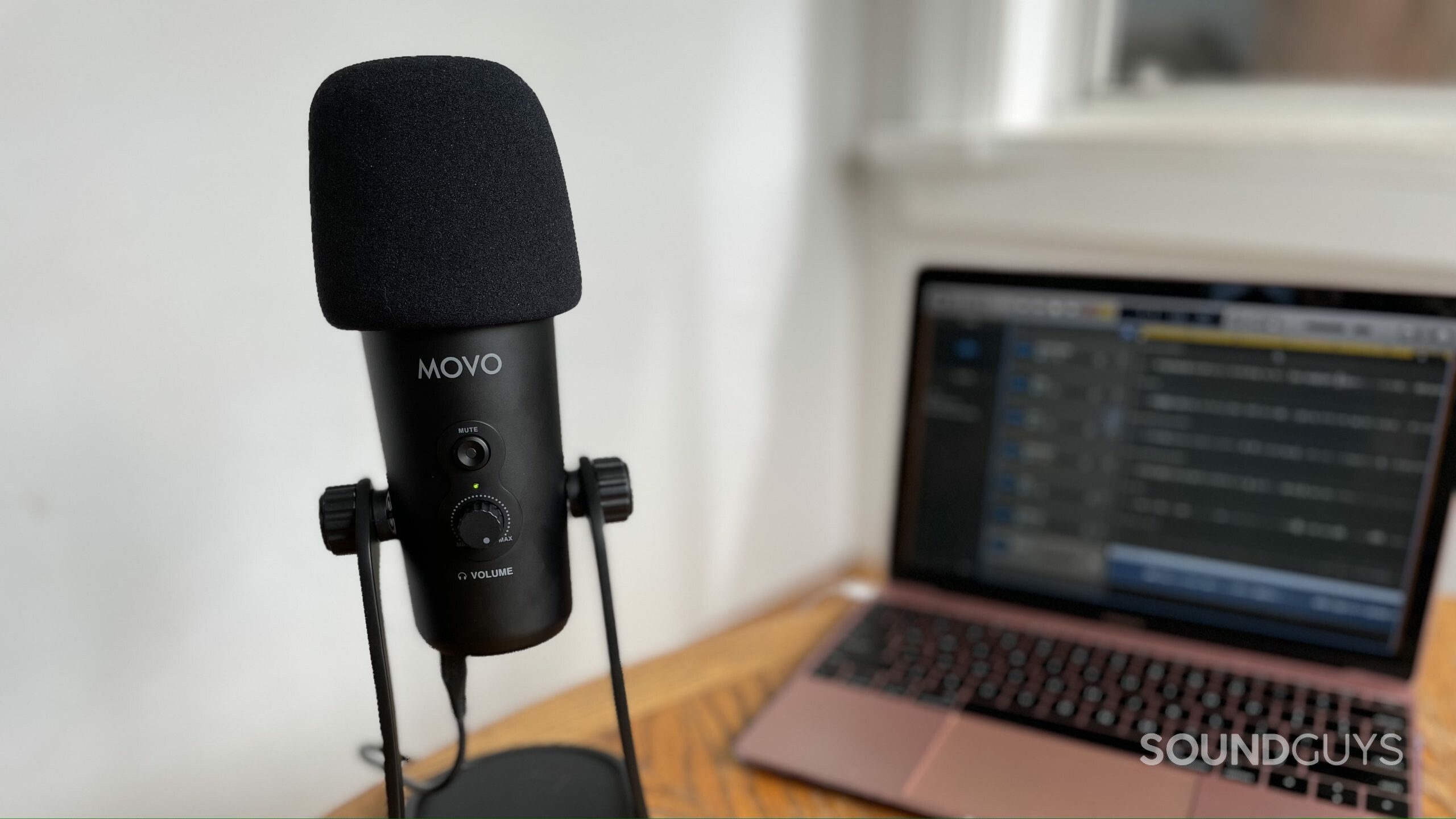 The Movo UM700 can be used for live meetings and live streaming or for recording audio.
The front of the mic houses a mute button, an indicator light, and a volume knob. When the mic is plugged in and active, the indicator light shines green. The mute button's light shines red when the mic is muted.
With your favorite pair of studio headphones connected to the mic's 3.5mm aux input, you can take control of direct monitoring or playback sound via the volume knob. If you're actively using the mic you'll hear yourself speaking, and if you want to listen back to a recording, the audio will come through the same channel. Be aware: if the mic is hooked up to your laptop with the direct monitoring feature engaged, and you open Spotify to play a song, the audio will then output through your laptop's speaker.
Near the aux port, the bottom of the mic houses a 5/8-inch threaded mount for attaching the mic to a stand, and the microUSB port. The back of the mic has two knobs, one for gain and the other for cycling through polar patterns. The UM700 has four polar patterns: stereo, omnidirectional, cardioid, and bidirectional.
How does the Movo UM700 USB mic sound?
The bidirectional polar pattern records audio from the front and back of the mic.
The Movo UM700 mic sounds quite good, especially for the price. While USB mics seldom have the same quality as XLR microphones, Movo's comes pretty close. It contains a triple mic capsule array which makes the multiple recording patterns possible, and records at 16-bit/48kHz. This resolution means that it will leave you with plenty of room for editing your recordings.
Movo UM700 cardioid pattern sample:
Movo UM700 stereo pattern sample:
Movo UM700 omnidirectional pattern sample:
Movo UM700 bidirectional pattern sample:
The mic records my speaking and singing voice accurately, and while it's not exactly intended for studio use, it's decent for guitar recordings too. I had to decrease the gain quite a bit when singing, which is normal since most of us sing louder than we speak. Overall, the audio sounds clear and I have no major complaints with its sound.
All the polar patterns perform as expected. However, when recording with the stereo polar pattern, remember to adjust your DAW so it records a stereo track rather than a mono track. This isn't an experience exclusive to the Movo UM700, but if you don't change your settings the stereo polar pattern may not record audio from the left and right sides of the mic.
Movo UM700 singing sample:
Movo UM700 acoustic guitar sample:
Movo UM700 electric guitar sample:
How does the microphone sound to you?
509 votes
Hold up! Something's missing:
This section is typically where we display a frequency response chart to show you exactly where the audio output shines and where its deficiencies lie. Unfortunately, we've hit a technical snag in our testing. To combat this, we have an SCM-3 mic and we'll be adding a speaker with standardized output samples to update our testing and data collection. It will take a while but we will update this review (and many others!) once we're able with improved sound quality measurements and performance plots. These will be made obvious by an announcement explaining the change, and a new chart aesthetic.
Thank you for bearing with us, and we hope to see you again once we've sorted everything out.
Does the Movo UM700 have any additional features?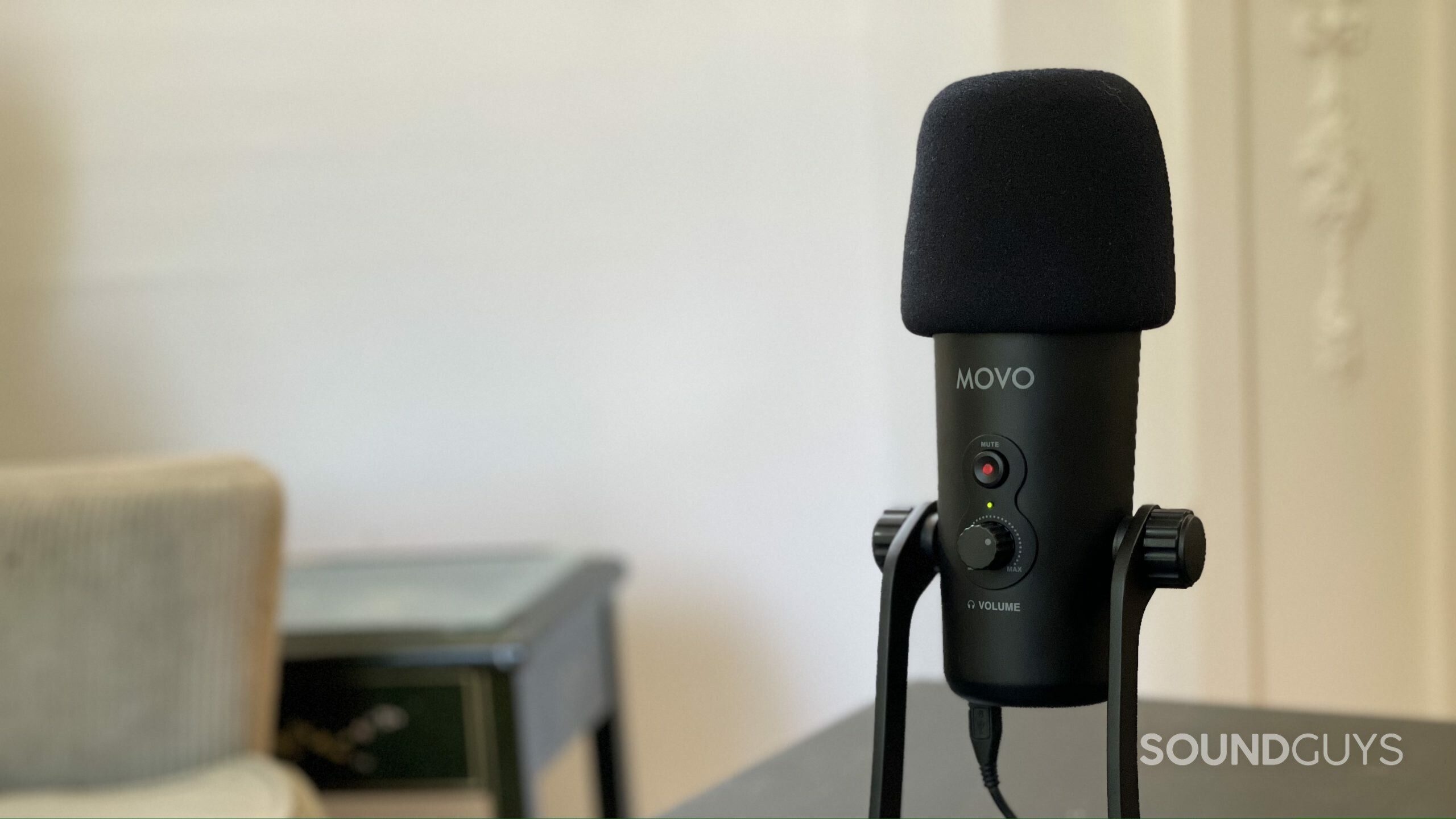 When the red light shines it means the mic is muted.
The Movo UM700 comes with a one-year limited warranty. When you register the product within 30 days of purchase, Movo extends the warranty another year. Movo advertises its customer support and encourages you to contact the company if you have any questions or concerns about your product.
Become an expert: How to read a polar pattern chart
Otherwise, the UM700 doesn't come with add-ons, but the instruction manual includes a few helpful tips and tricks about how to keep your microphone in good condition. For example, it advises you not to touch the mic while recording to avoid unwanted noise, and not to bring it near high voltage equipment, leave it in hot places, or operate it with wet hands.
Should you buy the Movo UM700?
The Movo UM700 is a great deal as it costs just $100 USD, has solid sound quality, and works for many applications thanks to its various polar patterns and versatile hardware.
The mute button will come in handy for anyone who gets anxious about whether or not their mic is on during Zoom meetings. If you're just looking for a mic for video calls, the Movo UM700 isn't all that pricey and has an inoffensive design that won't distract your coworkers. It is also a fine tool for musicians who need to record high-quality demos of their music or for podcasters. However, if you're looking for a portable USB microphone this isn't going to be the one for you.
Movo UM700 USB microphone
Movo UM700 USB microphone
Sound quality • Build quality • Multiple polar patterns
Movo adds an excellent budget pick.
No matter what you need a desktop USB microphone for, the Movo UM700 has your back. With its four adjustable polar patterns, removable windscreen, volume and gain knobs, and mute button, there's hardly a feature you're missing. The mic also has a crystal clear sound and, what's more, it's only $100.
What should you get instead of the Movo UM700?
The Razer Seiren Mini is a more portable USB microphone that we recommend for its compact, durable build and affordable price. This microphone costs just $49 USD, pitting it more directly with the cheaper Movo UM300. You don't get any fancy features here, and it only has one polar pattern but it does the trick and still sounds better than your laptop's integrated mic.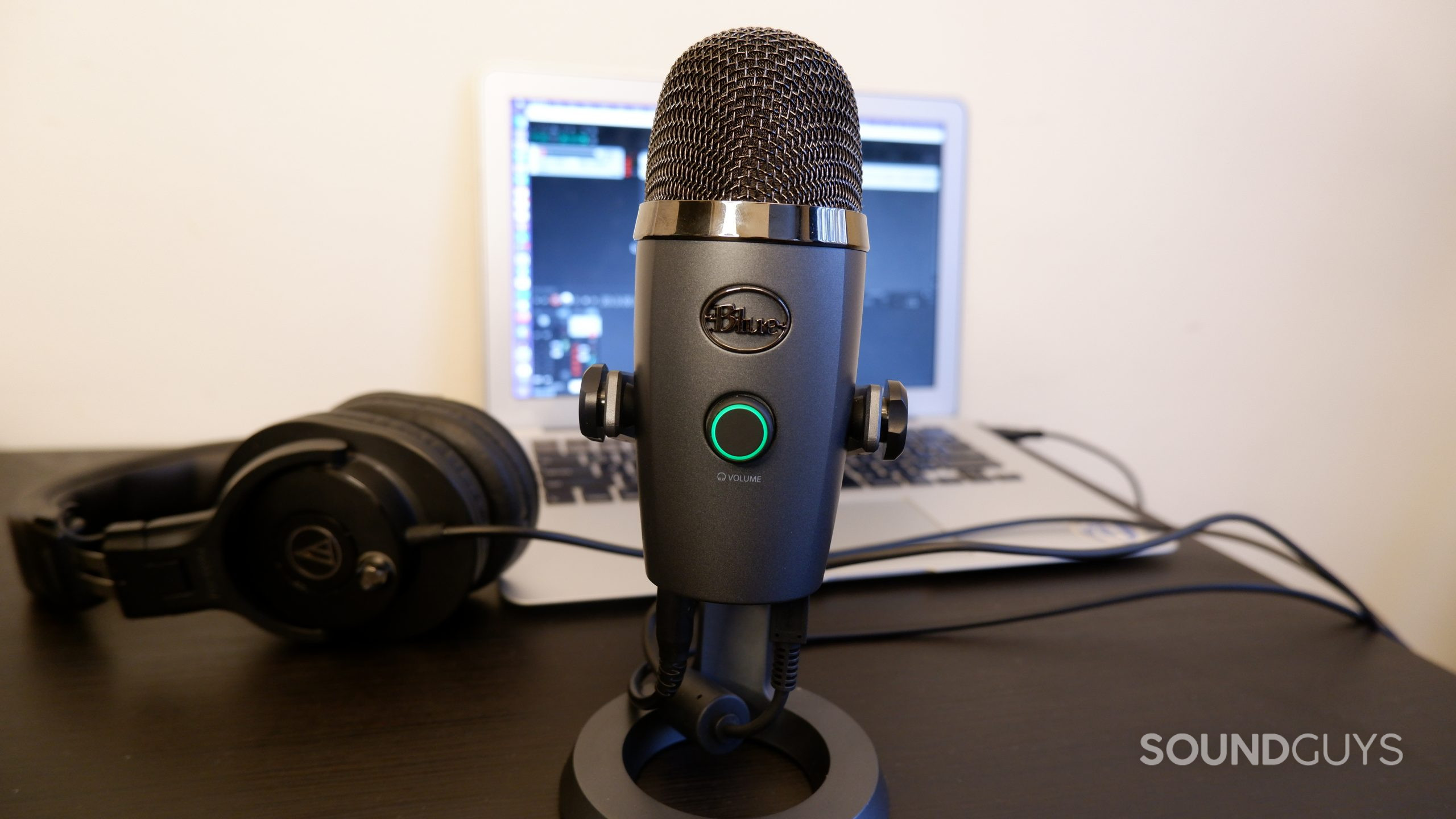 The Blue Yeti Nano is a great all-around microphone for recording or streaming.
Perhaps you want a more robust microphone with a premium build; in that case, the Blue Yeti Nano may be more your speed. You get two pickup patterns and a portable build that vaguely resembles that of the UM700. Unlike Movo's mic, the Yeti Nano features optional software where you can adjust the gain, monitor the live recording, and change the pickup pattern. Most importantly, you can EQ the sound and apply a handful of presets to the mic.
Another fine option is the JLab Talk PRO USB microphone. Like the UM700, this includes four polar patterns, and is very easy to use. JLab provides a mini tripod mount to accommodate any desktop. If you want a more affordable version and are willing to put up with a few quirks, check out the JLab Talk GO USB mic.