All products featured are independently chosen by us. However, SoundGuys may receive a commission on orders placed through its retail links. See our ethics statement.
JLab Talk GO USB Microphone review
A nice-sounding mic with some drawbacks.
Picture this: you're at a local house show and a band has just played the final notes of their set. The crowd cheers as they unplug their instruments. You approach the lead singer and invite the band to be interviewed on your podcast, but she tells you they are only in town until tomorrow morning. You may not have a studio nearby, but not all hope is lost. You keep your JLab Talk GO USB Microphone on you at all times because it's so lightweight and portable. The interview is on.
Editor's note: this JLab Talk GO USB Microphone review was updated on September 28, 2021, to address the Movo UM300 as an alternative and compare the Talk GO to the Talk PRO.
Who is the JLab Talk GO USB Microphone for?
Amateur podcasters will appreciate the affordability of the mic.
Anyone who needs to take a mic on the go should have no problem throwing it in a bag and taking it on the road.
Gamers will be able to take advantage of the one-touch mute button that won't distract them from their game.
How is the JLab Talk GO USB mic built?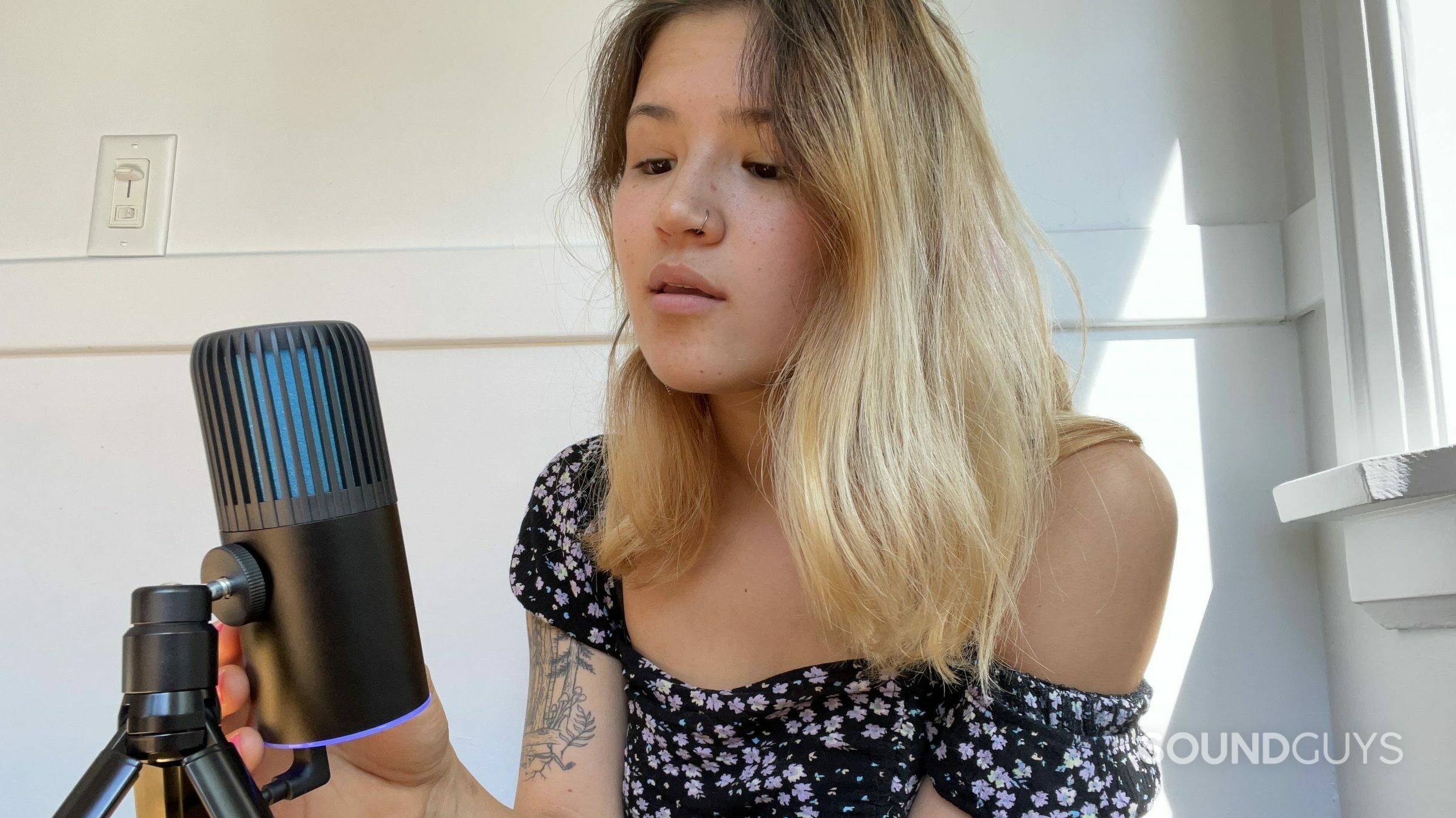 For its price the JLab Talk GO USB mic sounds decent.
The JLab Talk GO USB Microphone comes in a pretty blue box along with a foldable desk tripod, a 1.5-meter USB-A to USB-C cable, and a quick start guide. The desk stand has silicone feet which make it easy to adjust the height and angle of the microphone without it slipping. The mic can also be attached to any other stands you may have with a 5/8-inch mount. JLab's quick start guide includes diagrams on how to position the microphone properly, something that beginner podcasters or musicians often overlooked. The guide also tells you what all the buttons do and how to set up the Talk GO USB with Windows and Mac computers.
The microphone is rather small and lightweight. It has a metal chassis and a plastic grille covering the mic capsules and an internal foam pop filter. The exterior design is simple enough that it won't distract co-workers during a video meeting. The mic feels a little cheap, especially the plastic volume dial on the bottom, but for $49 USD, it's hard to expect much else. And despite this, the mic doesn't feel too fragile; I threw it in my purse without concern for its safety. The bottom of the mic also houses a button for muting and toggling polar patterns, a USB-C port, and a 3.5mm aux port for direct monitoring.
What's it like to use the JLab Talk GO USB mic?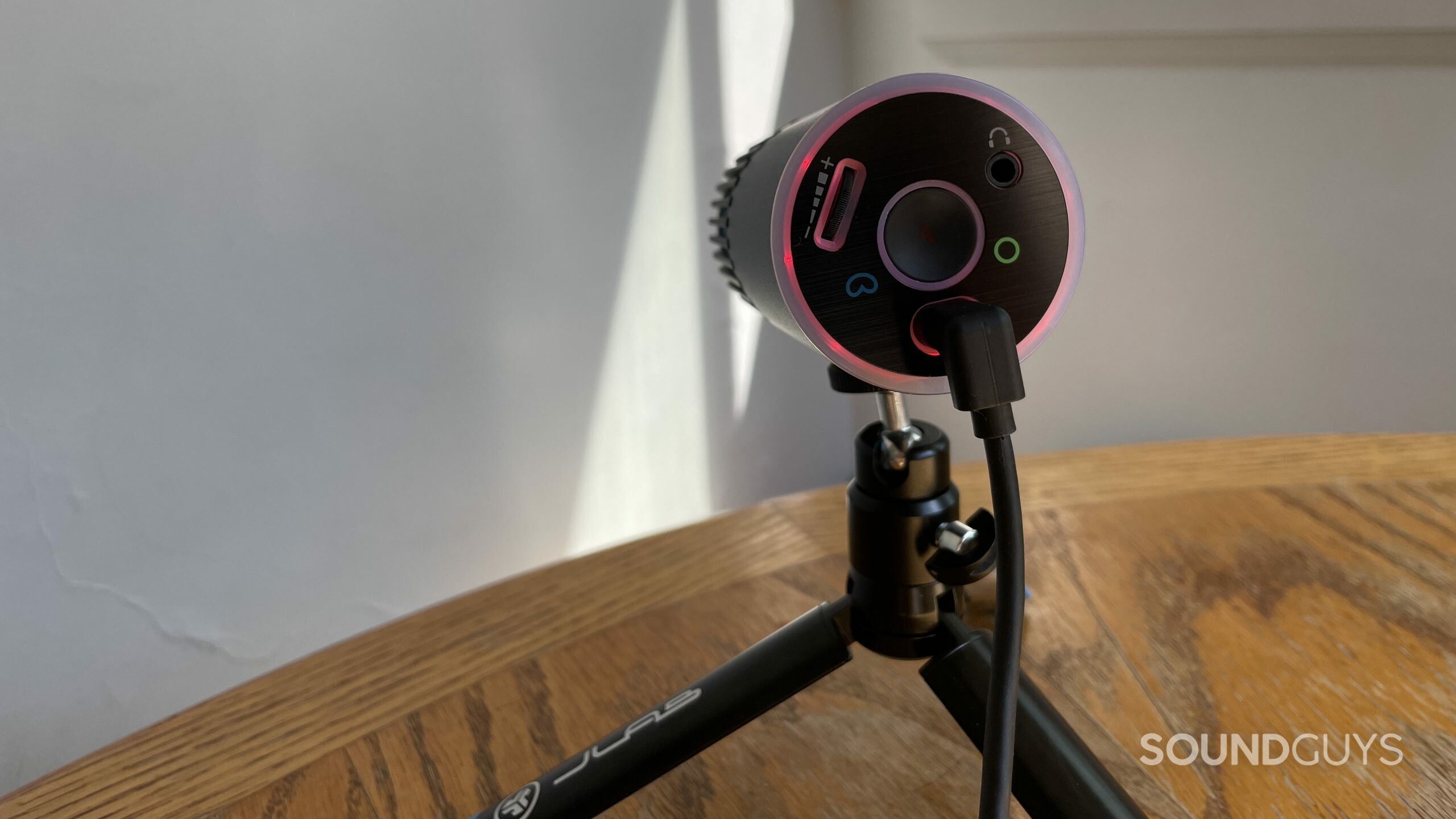 Press the bottom button once to mute or unmute the mic.
It's very easy to start using the JLab Talk GO immediately after you plug it into your computer. You can hook up the mic to a program like Skype for live use or to a digital audio workstation (DAW) to record audio.
Pressing the bottom button once will mute or unmute the Talk GO. Pressing and holding it will switch between the two recording patterns: cardioid and omnidirectional. The cardioid polar pattern primarily records sound from directly in front of the mic capsules, where the JLab logo is placed. This type of polar pattern is ideal for most recording situations, whether you are making a podcast or recording vocals for a song. The omnidirectional polar pattern picks up sound from a 360° radius, so you could talk into the mic from any side, which is convenient if you're recording something like a conference room meeting.
The bottom of the microphone is outlined with an LED light that shines blue when the mic is in cardioid mode, green when in omnidirectional mode, and red when muted.
Is the direct monitoring feature useful?
I tried the direct monitoring feature with Garageband as my DAW, and this feature leaves room for improvement. The volume control dial is supposed to adjust the output to headphones. However, adjusting the volume dial doesn't affect the monitoring volume or the DAW playback volume—it only adjusts the master volume output from your computer into your headphones.
The only way I could adjust the monitoring volume was by changing the actual levels in my DAW. This is not ideal because setting levels is very important in audio mixing, so I wouldn't recommend this mic for music-making. The one pro of the direct monitoring feature is that it has zero latency, so you hear yourself speaking in real-time.
Another issue we ran into was how an audio source outputs audio through the Talk GO USB for live monitoring. Initially, when I plugged headphones into the Talk GO USB mic and played an MP3 back, the audio output came through my laptop speakers. To fix this, I opened the computer's sound settings and manually set the audio output to the Talk GO USB. Only then was the locally stored MP3 played through the headset.
Using this microphone is a manual experience with little automatic functionality. We experienced this headphone monitoring issue with two different JLab Talk GO USB units on various computers.
How does the JLab Talk GO USB Microphone sound?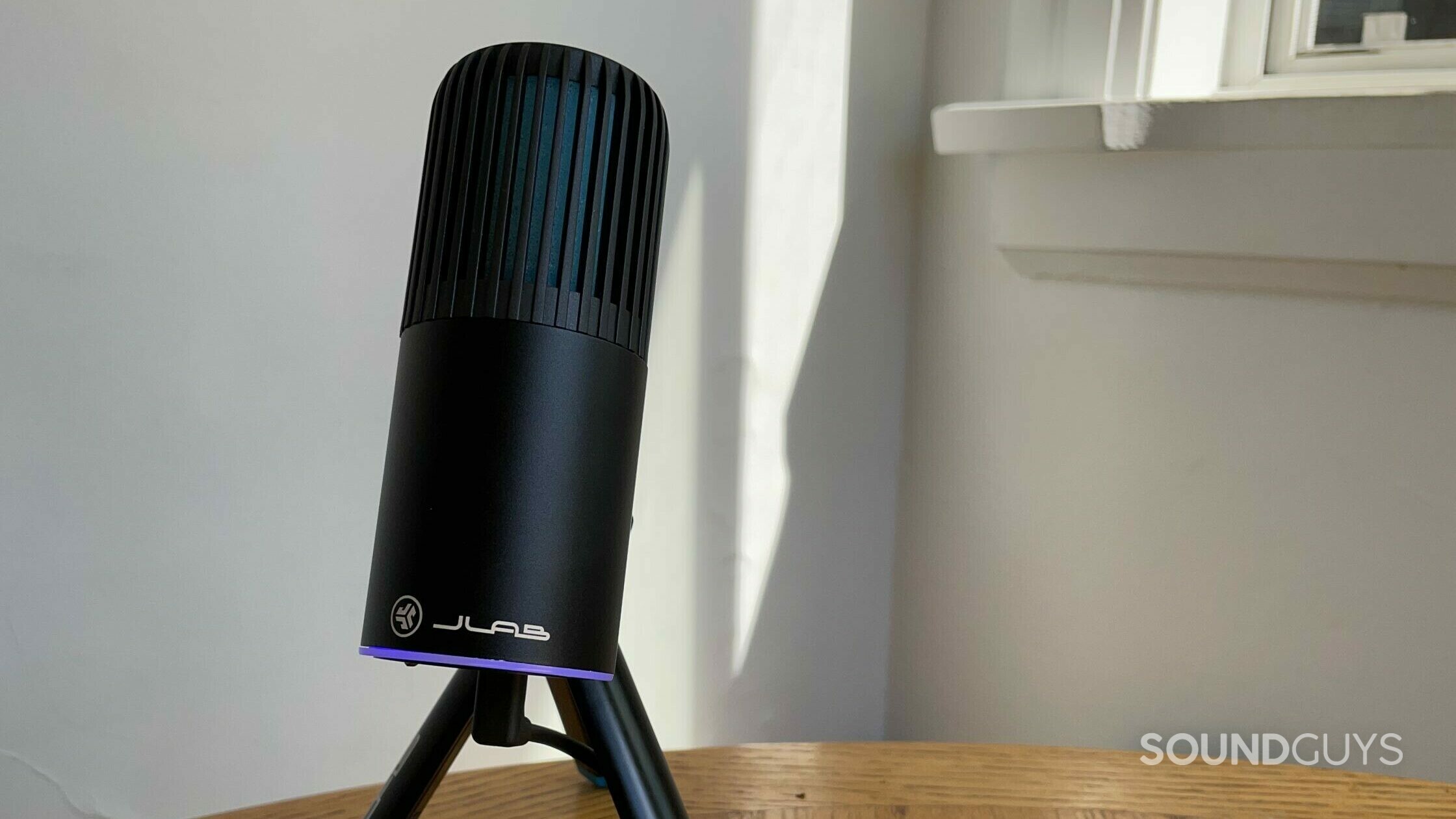 The direct monitoring experience is not a smooth one.
Despite the manual experience of the JLab Talk GO USB Microphone, it has pretty good sound quality when set to the cardioid polar pattern. The little mic contains two condensers and records audio at a 24-bit/96kHz. It records my speaking voice very accurately. While it's not particularly good at rejecting off-axis sound, when I blast my fan in the cardioid polar pattern sample below, you can still clearly understand what I'm saying.
JLab Talk GO USB Microphone cardioid polar pattern:
JLab Talk GO USB Microphone omnidirectional polar pattern:
The omnidirectional polar pattern's sound is good for recording background noise if you want to use it as ambiance for a narrative segment. Bear in mind that your recording may sound "hollow" but that's just because the pickup is uniform around the mic.
Though this USB mic is not intended for musical use, I tested it out with some singing and guitar to see how it came across. If all you're doing musically is recording a scratch track, it's passable but the mic is best used for recording speech. It's no surprise that JLab's $49 USD mic doesn't have the quality of a studio mic. This can be partially attributed to the fact that the Talk GO is a USB microphone, and these are typically lower in quality than microphones with an XLR connection. Check out these mic demos to listen for yourself:
JLab Talk GO USB Microphone singing sample:
JLab Talk GO USB Microphone acoustic guitar sample:
JLab Talk GO USB Microphone electric guitar sample:
How does the microphone sound to you?
601 votes
Hold up! Something's missing:
This section is typically where we display a frequency response chart to show you exactly where the audio output shines and where its deficiencies lie. Unfortunately, we've hit a technical snag in our testing. To combat this, we have an SCM-3 mic and we'll be adding a speaker with standardized output samples to update our testing and data collection. It will take a while to reach our office in Canada, but we will update this review (and many others!) once we're able with improved sound quality measurements and performance plots. These will be made obvious by an announcement explaining the change, and a new chart aesthetic.
Thank you for bearing with us, and we hope to see you again once we've sorted everything out.
Does the JLab Talk GO USB Microphone include extra features?
The green light indicates that the mic is in omnidirectional mode.
When you register the mic on the JLab website you will be able to select from three available free gifts to have JLab send to your house. The options include JLab's Cloud Foam ear tips in size medium, a pack of six JLab-branded stickers, and a headphone display. With the purchase of your JLab Talk GO USB mic you can also get three free months of Tidal Premium, a high-quality music streaming service that is usually quite pricey.
Beyond these fun add-ons, the mic comes with a limited two-year warranty and a 30-day satisfaction guarantee so if you don't enjoy the mic as much as you expected, you can make an easy exchange or return.
JLab Talk GO vs JLab Talk PRO: What's the difference?
Adjusting the gain knob causes the level indicator to shine green and adjusting the volume knob causes it to shine blue.
The JLab Talk PRO has four polar patterns to choose from, doubling its utility compared to the Talk GO. The PRO variant sounds much better than the GO model, making it easier to recommend for semi-professional usage. Build quality is superior on the JLab Talk PRO, even down to the included microphone stand.
Neither microphone has any software features but it is easier to operate the Talk PRO. Still, if you don't intend to use your USB microphone to record a podcast or do much more than game or take conference calls, the Talk GO is a better deal.
Should you buy the JLab Talk GO USB Microphone?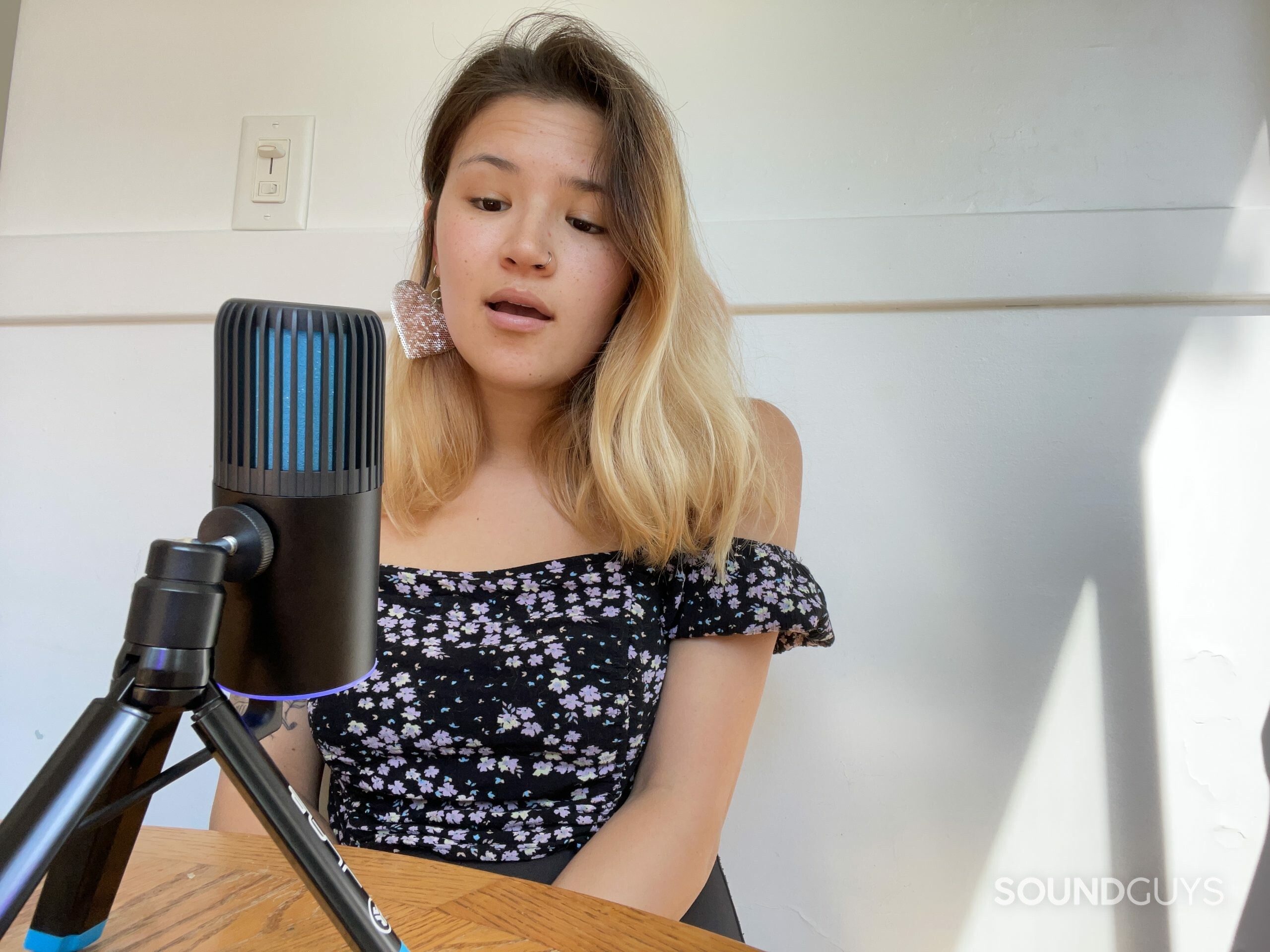 The JLab Talk GO USB Microphone is alright for its price if you can excuse the fact that the direct monitoring feature and volume control dial leave a lot to be desired. It can be used almost anywhere with ease thanks to its portability and the silicone feet on the desk stand. The mic sounds pretty good for being a cheap USB microphone as well, and it's convenient to have two polar patterns at your disposal. The LED indicator lights are also great if you anxiously check whether or not you're muted every five minutes of a video meeting. Also, they're helpful if you need to know what mic setting you're on in a fast-paced environment like a video game without getting distracted.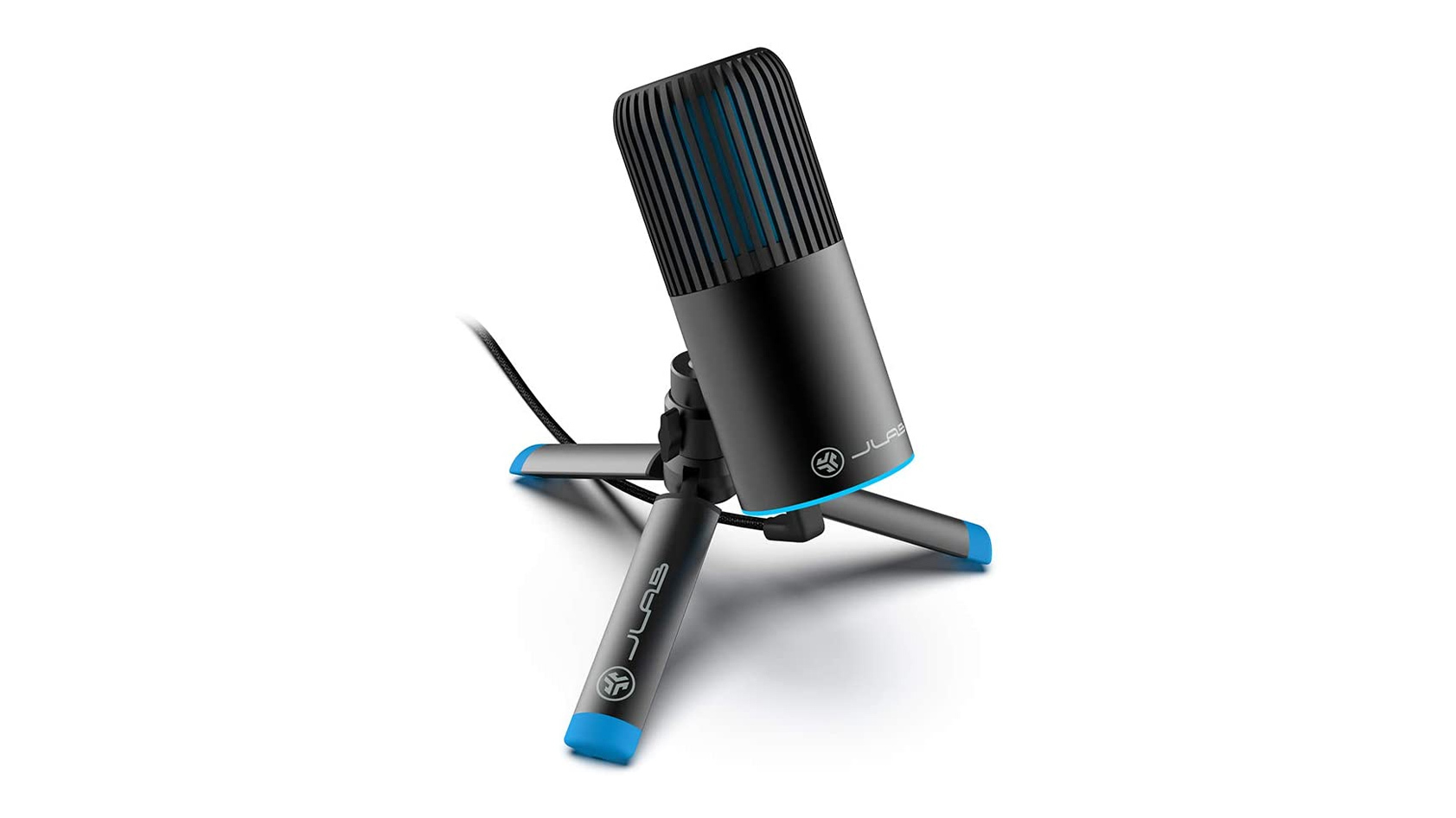 JLab Talk GO USB microphone
All prices listed in USD unless otherwise specified. Prices may change over time, and vary by region. Unfortunately, we cannot list Amazon prices on the site, as they vary greatly by currency.
What should you get insstead of the JLab Talk GO?
An alternative to the Talk GO is the Razer Seiren Mini which retails for the same price but misses some of the features such as LED indicator lights and the adjustable stand. Its sound quality is on par with the Talk GO though and it feels a little more durable. Another affordable contender is the Movo UM300, which costs just $59 USD. While the UM300 sound quality isn't the best, it's still serviceable for applications like a quick conference call or a reference recording. You might even like the more premium Movo UM700, which features four polar patterns and nice hardware for the price.