All products featured are independently chosen by us. However, SoundGuys may receive a commission on orders placed through its retail links. See our ethics statement.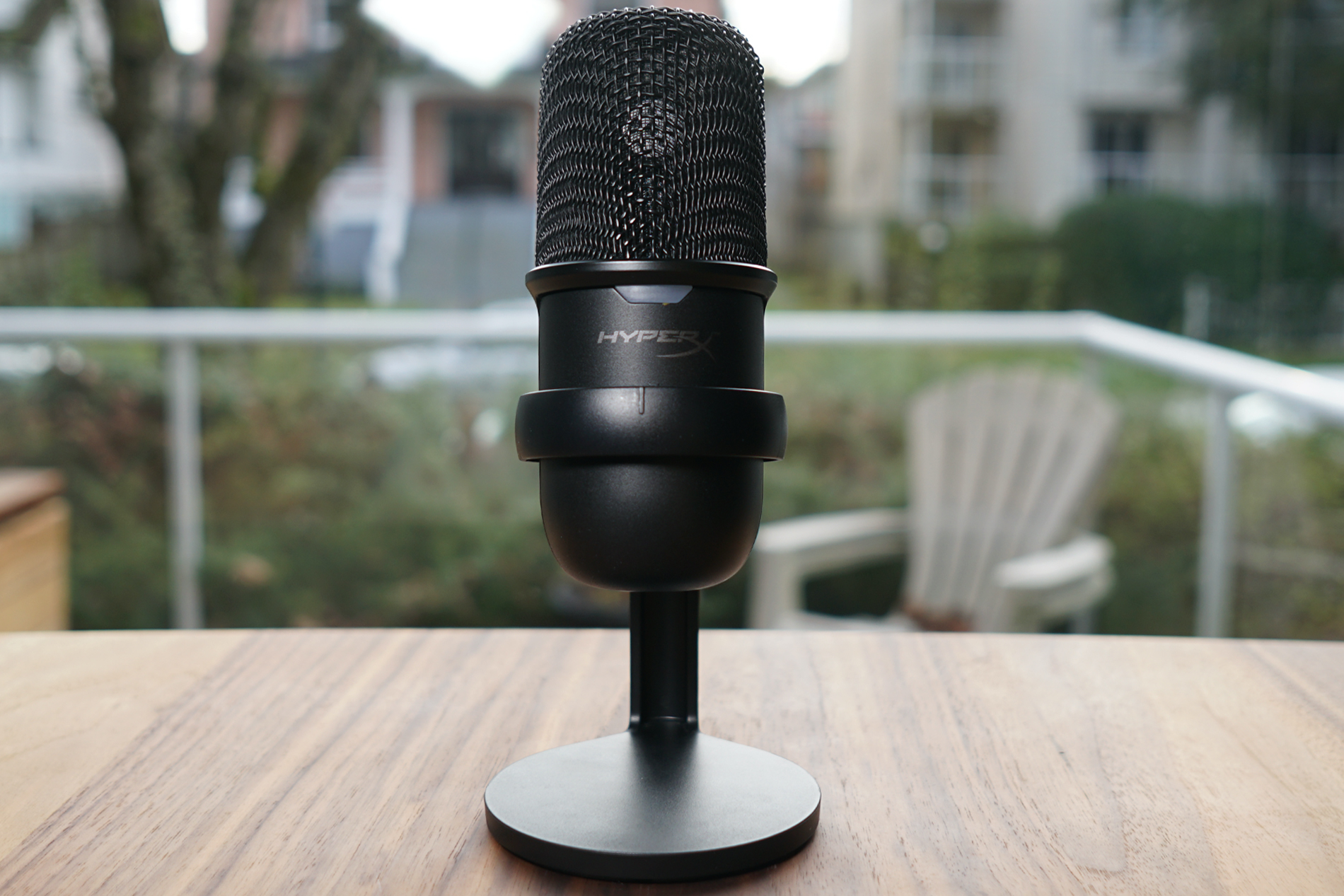 The bottom line
The HyperX SoloCast is a very well made, if a little barebones recording microphone. It's perfect for Zoom-bound workers, though recording artist might want to spring for something a little more substantial.
HyperX SoloCast
The HyperX SoloCast is a very well made, if a little barebones recording microphone. It's perfect for Zoom-bound workers, though recording artist might want to spring for something a little more substantial.
What we like
Sound quality
Compact
Mute switch
Price
What we don't like
Few features
Flimsy, short stand
Rating Metric
Sound Quality
9.8
Durability / Build Quality
8.0
Value
8.0
Design
8.5
Microphone
7.3
Portability
8.5
Feature
7.0
HyperX has been putting out ways to let people talk on the internet for a while now, from the company's many gaming headsets to it's Quadcast microphones. However, those products are geared toward pretty specific groups—not everyone wants a gaming headset, or a microphone that requires a little tinkering. These days, everyone and their aunt needs a microphone, so having something you can just plug in and shout through is important. Enter the HyperX SoloCast, a compact cardioid microphone aimed at the user who doesn't want extra features or distractions.
Are the bare necessities enough to make this worth picking up?
Editor's note: this HyperX QuadCast microphone review was updated July 21, 2023 to adjust formatting, wording, and to add the results of the microphone poll; thank you to everyone that voted!
The HyperX SoloCast is ideal for gamers who already have a pair of headphones they like and just need something to sound better over Discord. It's also a good choice for travelers who need something compact and easy to pack. Teachers, office workers, and anyone who just wants something decent and simple to use will also likely find something to like here.
What is the HyperX SoloCast like?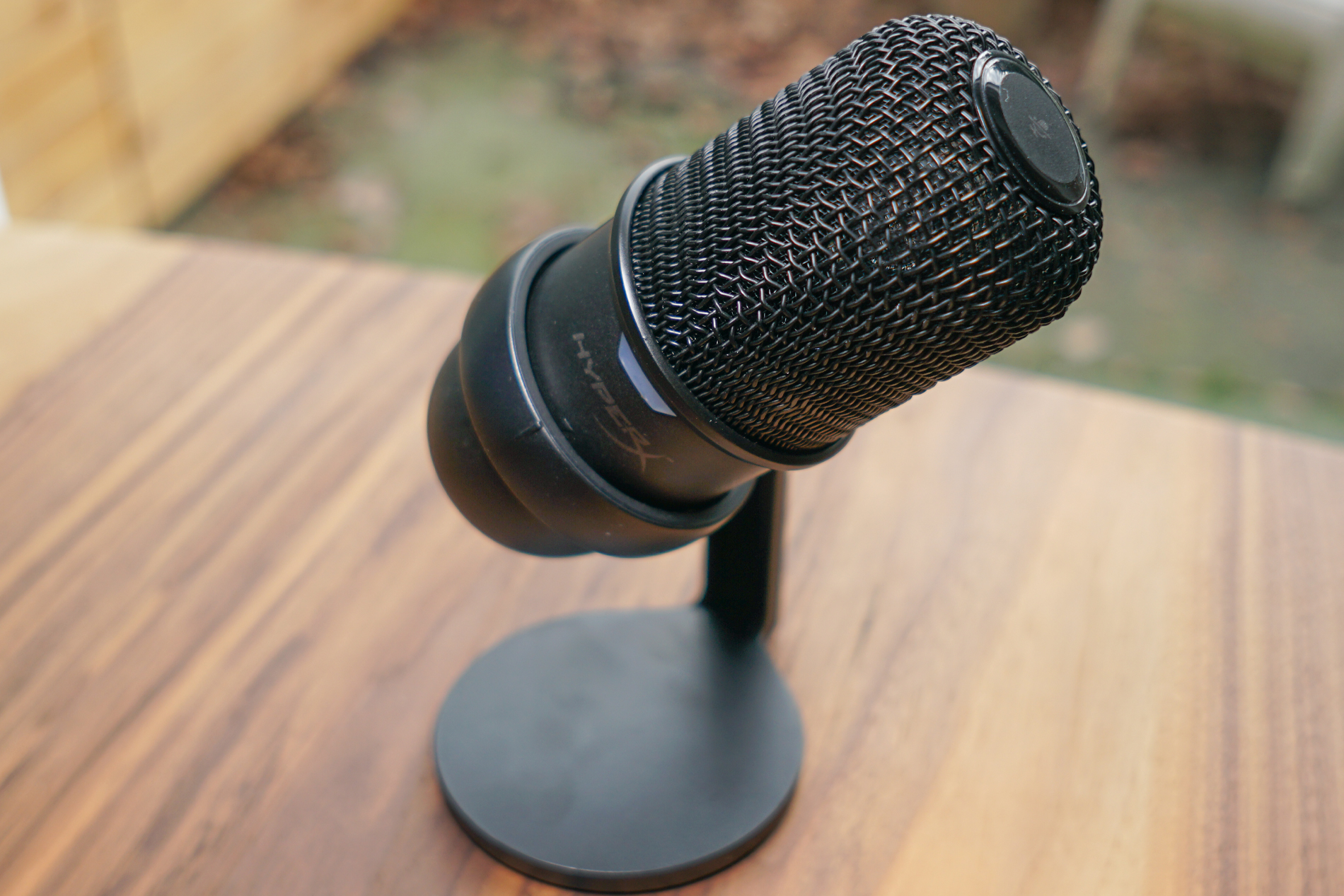 Don't be fooled by the way this tilts—the mic picks noise in front of it.
If one thing characterizes the HyperX SoloCast, it's simplicity. This microphone is designed from the ground up to get out of your way as much as possible—something millions of recently Zoom-bound workers no doubt very much want. This is a USB microphone with a mute sensor, and… that's it. There's no volume dial or built-in monitoring option, or even support for the HyperX NGenuity companion app.
The HyperX SoloCast is designed to just work—plug it it, put it in front of you, and you're ready to go—and in that respect, it works very well. The mic itself feels very sturdy. It's compact, barely 13 cm(~5 inches) long and about 5 cm thick (~2 inches), but there's a real heft to it, at 260 g. The mic is housed in a black metal pop filter, with a lower half made of hard plastic and metal. Nothing creaks or feels loose. This isn't something you'll feel concerned about packed in a suitcase or tossed (gently) in a backpack.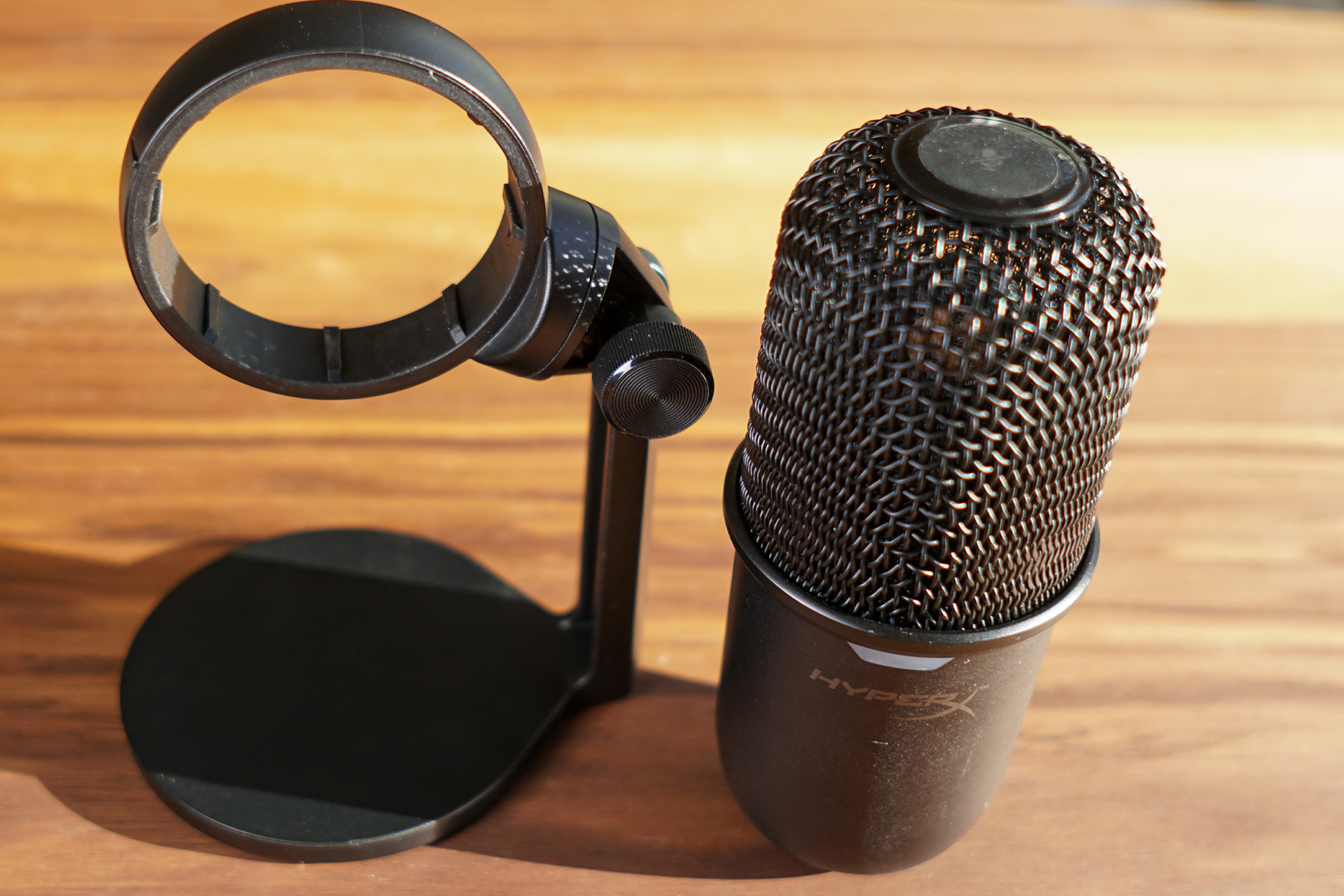 The mic also has a threaded bottom to support both 3/8″ and 5/8″ mic mounts.
However, while the microphone feels solid, the same can't be said about its stand. The HyperX SoloCast comes with a rather flimsy plastic stand, with a ring mount that encircles the mic just below the logo. The base of the stand is weighted and sports a rubberized bottom, which is nice, but the stem and the hinge both bend and flex a little more than I like to see whenever I adjust the microphone's position. If you're just going to set it on a desk and leave it, it's probably fine, but you may want switch to something more substantial in a more demanding environment.
I found getting decent sound from the HyperX SoloCast at my desk was pretty easy, though it definitely takes a little more work than a gaming headset or the microphone built into you computer. This is just a more sensitive microphone, with a more specific effective range. If you're looking for something you can just set on a desk and forget, it's important to find the right position to forget this in.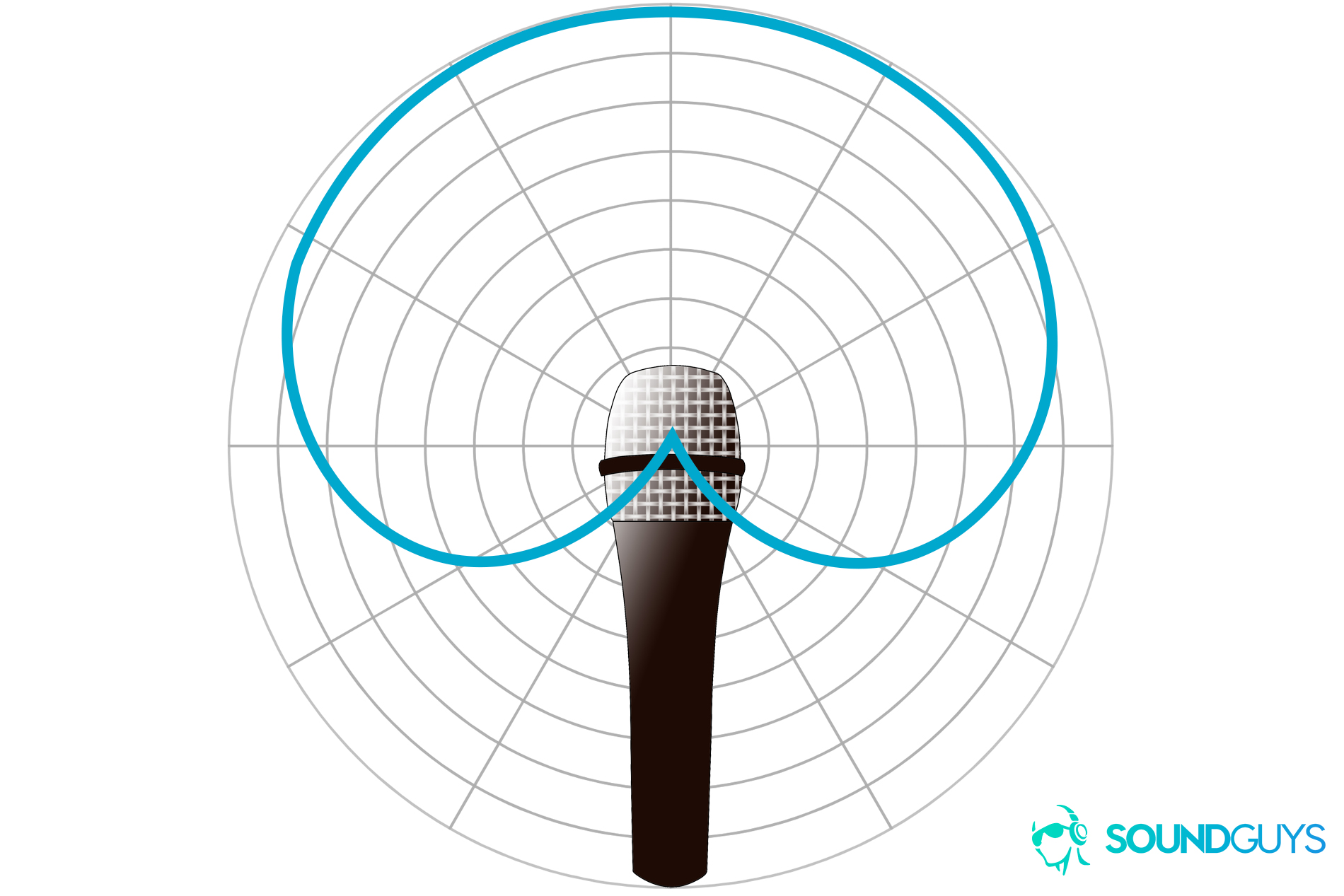 A cardioid pickup pattern can record sound from the front and sides of the unit.
This mic has a cardioid polar pattern, which means it most effectively captures sound coming from in front and beside it. On a basic level you should try to find a position where the front of the SoloCast is pointing directly at your mouth.  I found that 1 foot is pretty much the limit on how far away from the mic you can get before sound quality really starts to degrade, characterized by a big drop in volume, and a distinct loss of bass. The closer you can get, the better—ideally around 4 inches away.
This mic is intended to sit on a desk, but the stand is definitely a little short for that.
Also, this microphone is pretty quick to pick up typing noises. Position didn't matter much, the clickity clack of my mechanical keyboard still came through very clearly—same goes for the sound of the force transmitted through the desk when you type. If you're buying this for Zoom meetings, expect to tap that mute sensor very often so your typing doesn't interrupt things.
How do you connect the HyperX SoloCast?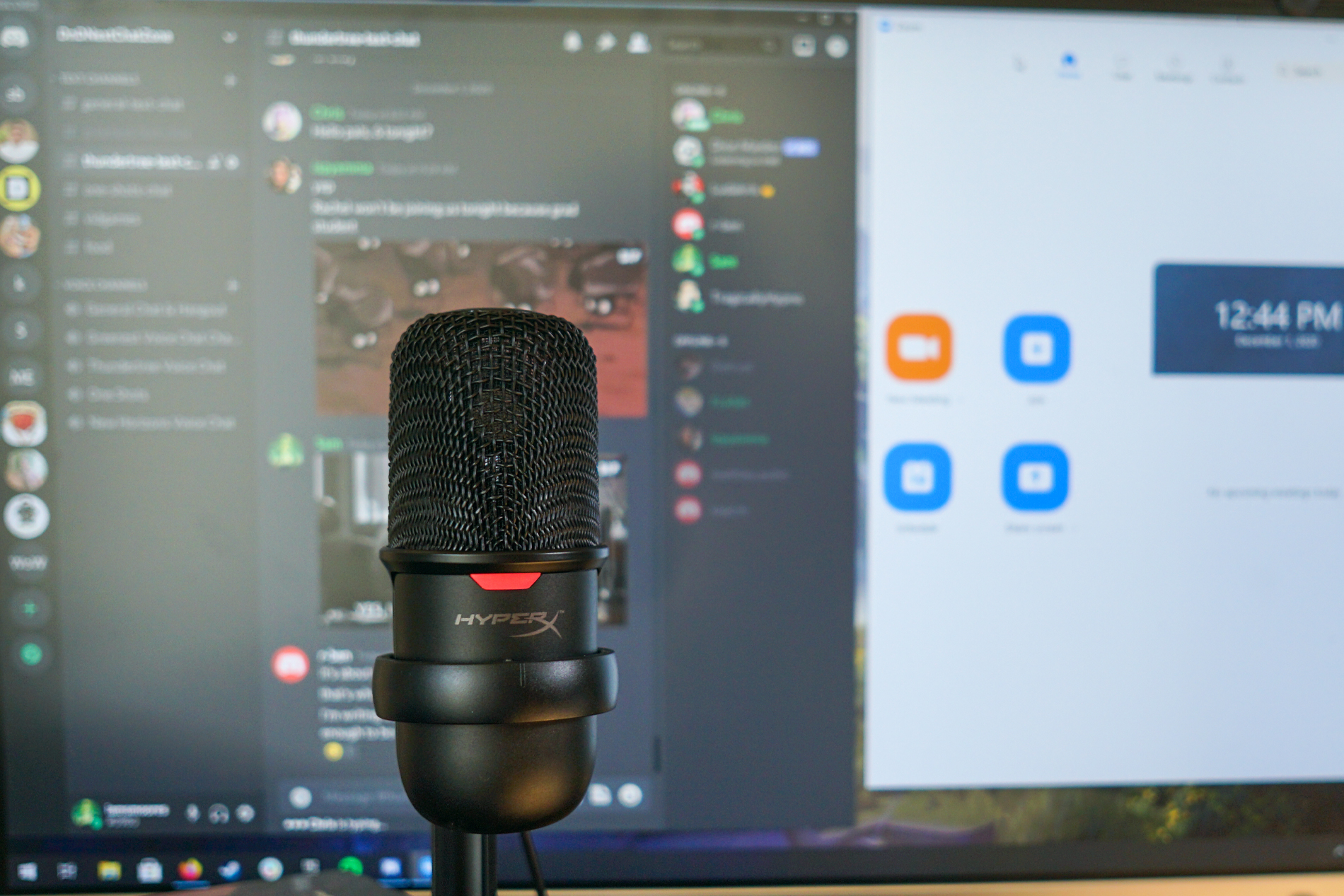 The red light turns on when you plug the mic, and it will flash when you mute it.
They HyperX SoloCast sports a USB-C port, and comes with a USB-C to USB-A cord, so it can connect to just about any Mac, PC, or PlayStation console with ease. There aren't any other ports, so you won't be able to plug a pair of headphones into this, unfortunately.
How does the HyperX SoloCast sound?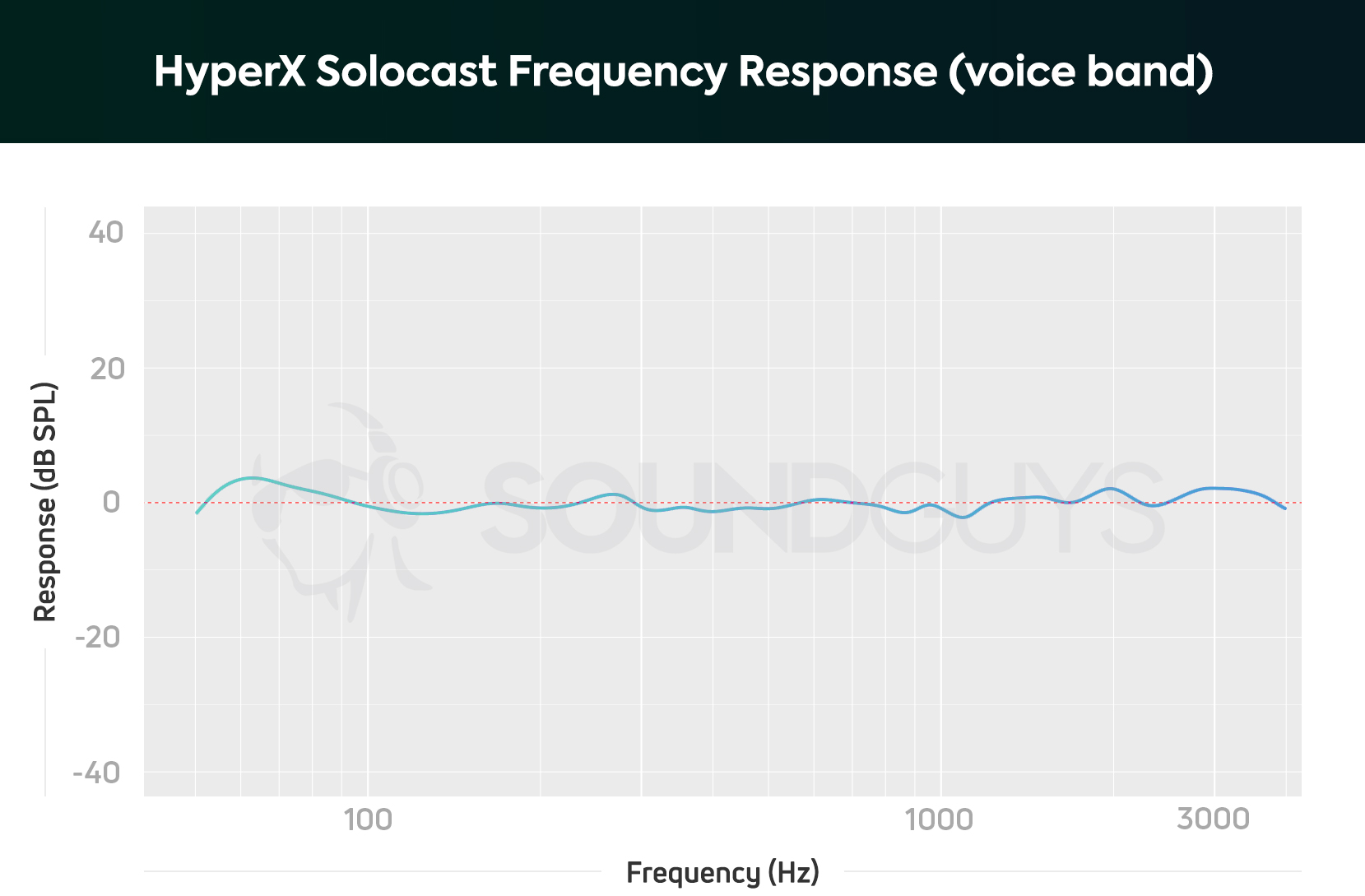 This shouldn't have any issue outputting voices of all tenors accurately.
The HyperX SoloCast features a condenser capsule capable of recording 16-bit audio at a sample rate of 48kHz. It offers largely accurate mic audio across the vocal spectrum. This means that whether you've got a very deep voice or a very high one, you won't have any issue coming through clearly while speaking into this microphone.
If you can stay close enough—between a foot and about 4 inches—you'll be able to get very clean audio. The microphone is pretty sensitive, so avoiding echo may take a little work, depending on your environment. Listen for yourself:
HyperX SoloCast sample (12 inches away):
HyperX SoloCast sample (off angles):
HyperX SoloCast sample (4 inches away):
how does the microphone sound to you?
3207 votes
Should you buy the HyperX SoloCast?
If you're looking for something relatively cheap to up your audio game on a Zoom call, you should consider the HyperX SoloCast.
This is an easy solution if you're looking for something to help you sound better while doing things like playing Dungeons and Dragons on the internet.
This microphone joins products like the Razer Seiren Mini and the Blue Snowball in the now-burgeoning market for cheap, decent USB microphones. At $59.99 USD, it sits roughly between those two products, and comfortably gives either a run for their money. On top of sounding every bit as good, the built-in mute sensor is a nice convenience—whether you're in a work call or in-game, being able to just reach up and tap the mic is nice.
What should I get instead of the HyperX SoloCast?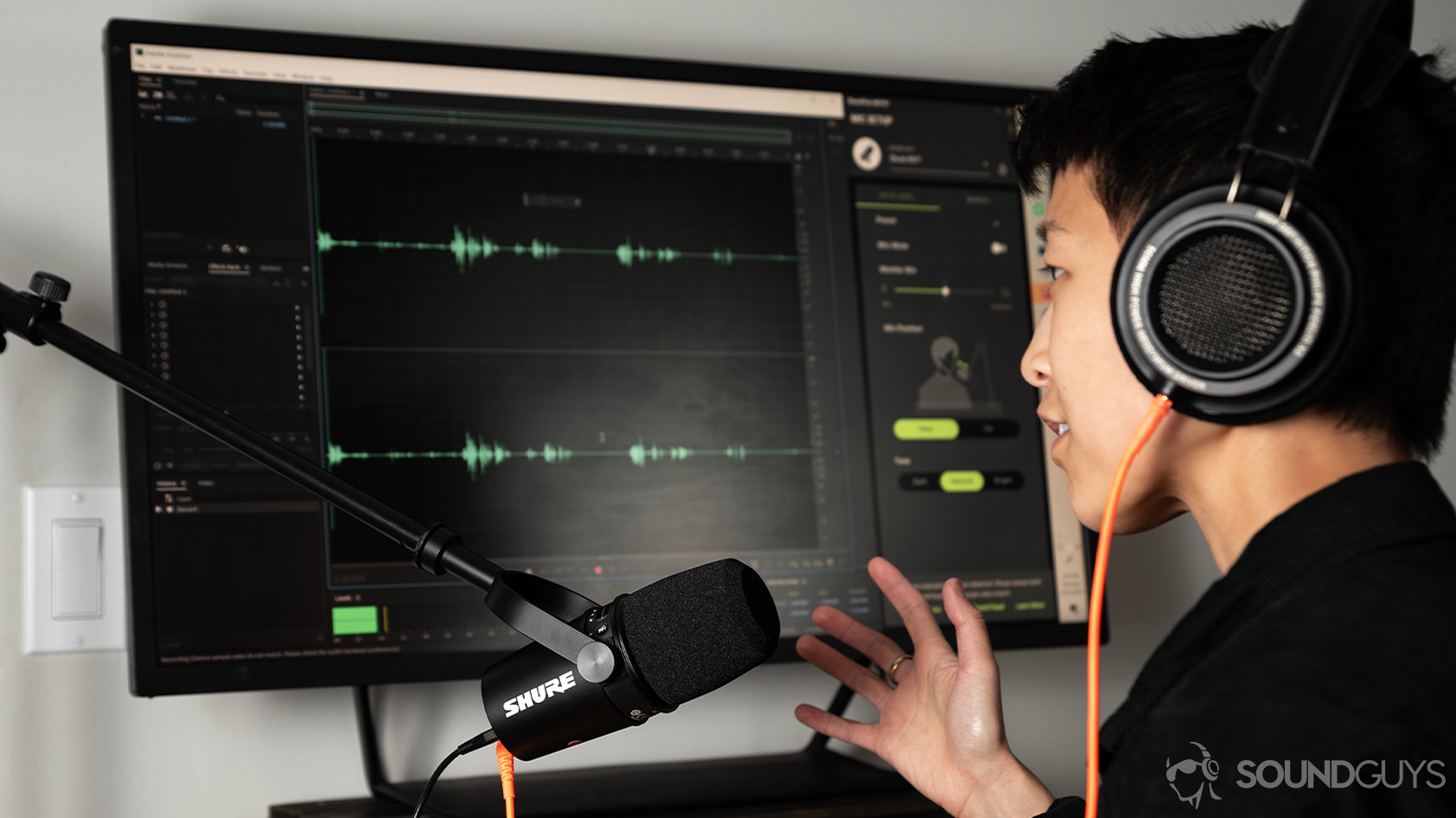 The Shure MV7 performs admirably in most all situations.
The HyperX SoloCast is a good microphone, but it's a little bare-bones. Whether you're a recording artist, streamer, or you just want more options: there are plenty of other microphones to pick from.
The Shure MV7 brings a more refined recording experience, with simultaneous XLR and USB output, great companion software, an excellent build, and fantastic audio. It's considerably more expensive, but if you're looking for really high quality, it might be worth saving up for.
Similarly, USB podcasting microphones like HyperX Quadcast S and Blue Yeti X offer multiple recording patterns, companion software adjusting different aspects of their respective sound profile, and better sound. Again, they're considerably more expensive than the HyperX SoloCast, but not as much as the Shure MV7.
If price is already a barrier, something like the Razer Seiren Mini might be more your speed. It's $10 USD cheaper than the SoloCast, and offers almost the same experience. You just have to go without built-in mute controls and slightly boosted sibilant sounds.
HyperX Solocast
HyperX Solocast
Decent sound • Compact design • Affordable
High quality sound at an affordable price.
HyperX Solocast is an affordable USB microphone with decent sound and a convenient built-in mute sensor.