All products featured are independently chosen by us. However, SoundGuys may receive a commission on orders placed through its retail links. See our ethics statement.
V-MODA BoomPro X review
It's good, just don't expect top-tier audio quality from this little mic.
If you regularly make conference calls, you may have noticed that your computer's microphone doesn't sound great. In that case, it may be time to upgrade your conference call setup, but not everyone wants a dedicated desktop microphone. The V-MODA BoomPro X offers a simple way to upgrade your call quality, all you need is a headset with a 3.5mm input.
Is the BoomPro X a good mic solution, or are you better off with something else?
Who should get the V-MODA BoomPro X?
Does the V-MODA BoomPro X have a good design?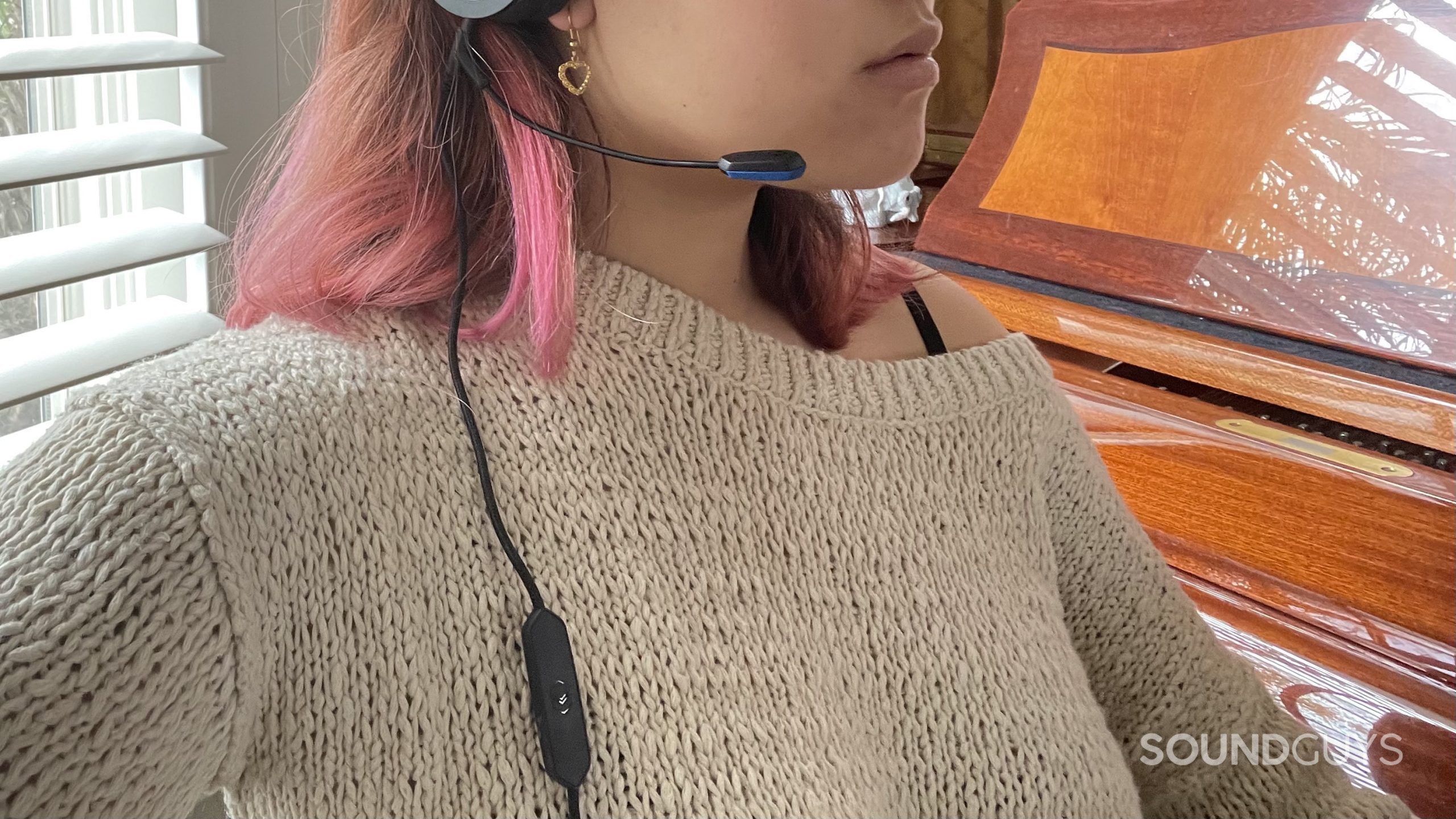 You can use the in-line remote on the V-MODA BoomPro X to adjust the listening volume and toggle the mute function.
The V-MODA BoomPro X mic capsule is the size of a beetle or a particularly large pill. V-MODA includes five different colored plastic microphone covers that look like HexBug toys. The covers are fun but feel breakable. Since this is more intended for workers who might share an office space, the covers could serve as a way to color-code each employee's mic so as to avoid confusion. If you work from home, however, it's purely for decoration. A flexible metal boom arm connects the microphone to a 3.5mm plug that you can connect with most headsets. Bending the boom arm is easy and it mostly stays put. Down the cable, you'll find an in-line remote with volume and mute sliders that seem cheap.
When you buy the BoomPro X, you get a 3.5mm Y-splitter with two male ends and one female end. The splitter is necessary if your desktop has separate inputs for a mic and headphones. It also comes with a 3.5mm extension cable which doubles the cord's length from 100cm to 200cm. Except for those on the Y-adapter, all of the plugs are threaded to protect them from damage. Everything included with the V-MODA BoomPro X is highly portable and can easily fit in your pocket or bag for transportation.
What's it like to use the V-MODA BoomPro X?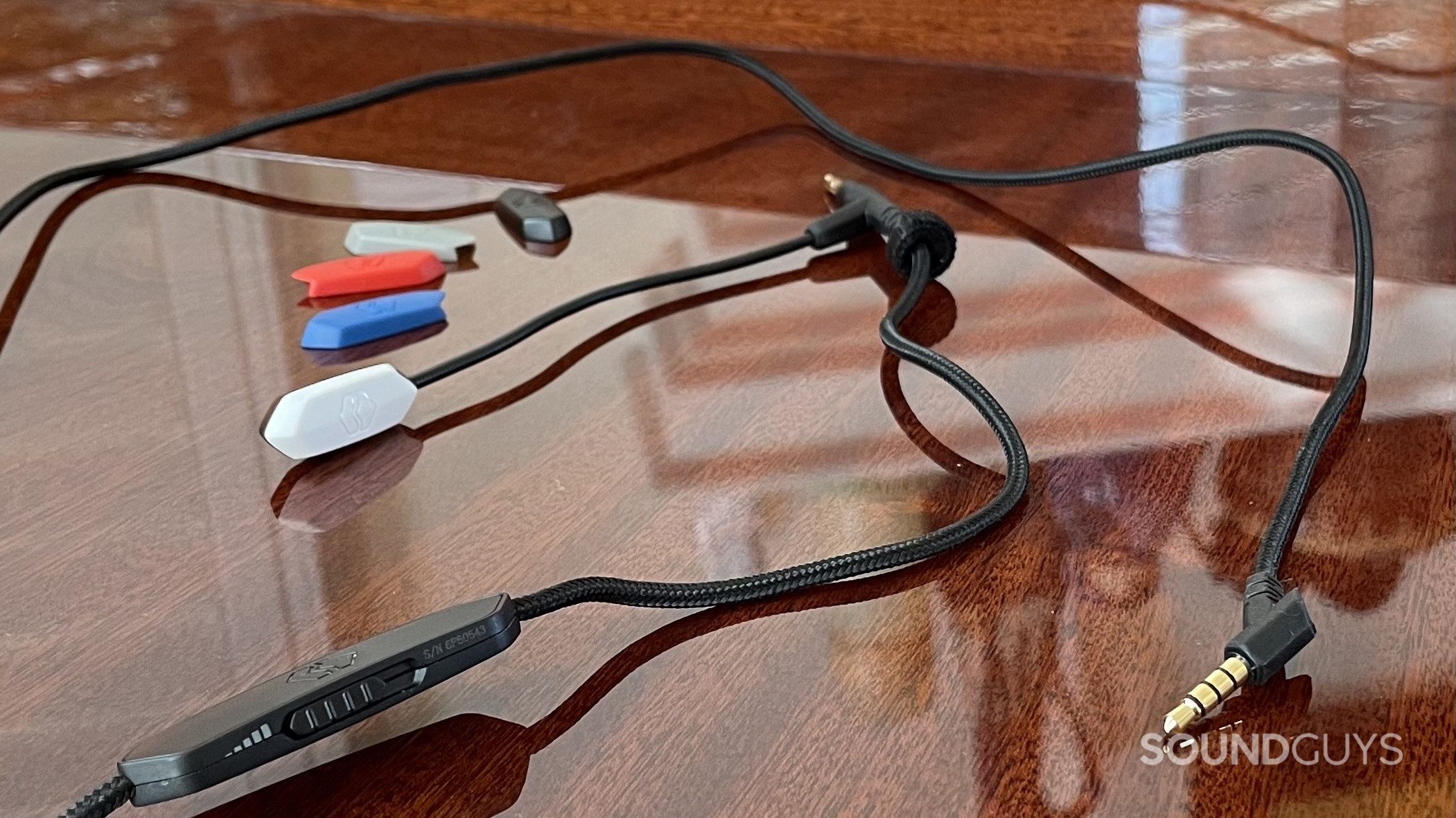 The wires are wrapped in fabric to protect them from damage.
Using the V-MODA BoomPro X is easy enough. You need headphones with a 3.5mm input for wired listening and a computer or smartphone with a 3.5mm input. Unfortunately, Apple fans will have to use a 3.5mm-to-Lightning dongle to use the V-MODA BoomPro X with a modern iPhone. As soon as you plug the mic into your headphones and device, it should route audio input from the mic and output to the headphones. If it doesn't do so automatically, go into your device's sound settings and select "external microphone from the microphone port."
The volume slider on the remote controls the volume in your headphones, not the gain volume of your mic. The V-MODA BoomPro X does not have direct monitoring built in. If you want to monitor your mic, you need to enable it through your virtual call or recording software. The mute button works but when I mute myself while the mic is active, it picks up loud clicking sounds. You can hear the clicks in this sample. (Turn your volume down to protect your ears.)
How does the V-MODA BoomPro X sound?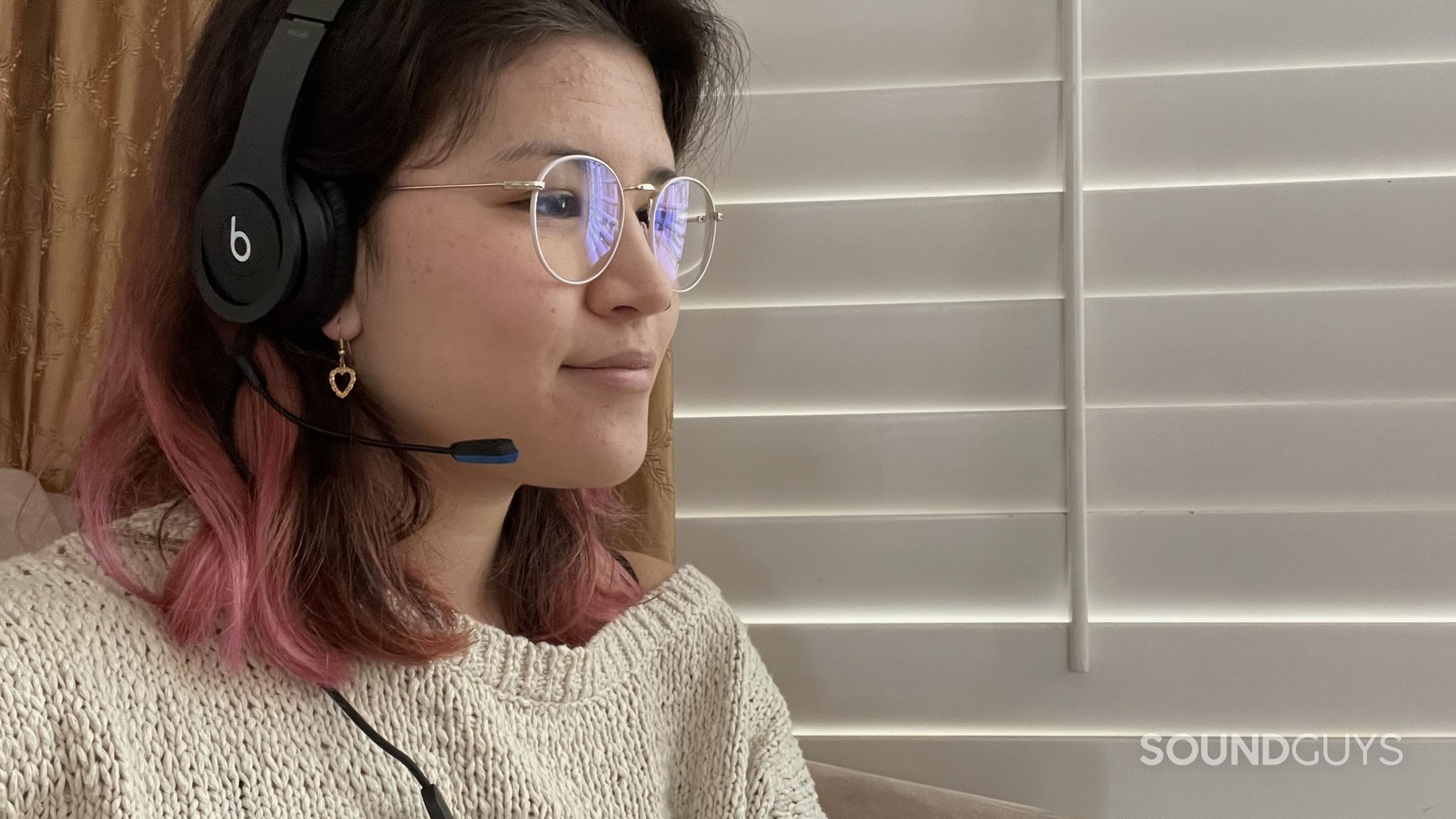 The BoomPro X's sound quality is not a significant improvement to many headphones included microphones' quality.
The V-MODA BoomPro X does not sound very good. It provides roughly the same audio quality you'd expect from a decent headset's internal microphone, defeating its purpose. The audio that comes through sounds muffled, and it amplifies wind noises making me sound as if I speak with a lisp. Then again, most people won't take this outside so that shouldn't be a common issue.
One thing the V-MODA BoomPro X has going for it is that it does a pretty good job of rejecting off-axis sound thanks to its cardioid polar pattern. This is helpful because if you are simultaneously talking and typing, the keyboard sounds won't significantly mask or distract from your voice. It should also reduce the amount of background conversation that's transmitted to the person on the other end of the call. All in all, however, the V-MODA BoomPro X audio quality isn't as good as it should be.
There's no need to take my word for it, though; check it out yourself:
V-MODA BoomPro X microphone sample:
How does the microphone sound to you?
1131 votes
Hold up! Something's missing:
This section is typically where we display a frequency response chart to show you exactly where the audio output shines and where its deficiencies lie. Unfortunately, we've hit a technical snag in our testing. To combat this, we have an SCM-3 mic and we'll be adding a speaker with standardized output samples to update our testing and data collection. It will take a while to reach our office in Canada, but we will update this review (and many others!) once we're able with improved sound quality measurements and performance plots. These will be made obvious by an announcement explaining the change, and a new chart aesthetic.
Thank you for bearing with us, and we hope to see you again once we've sorted everything out.
What is the V-MODA Immortal Life Program and warranty?
The V-MODA BoomPro X comes with a 60-day test period, a one-year warranty, and an Immortal Life Program. With this program, V-MODA will give you a discount on a replacement or upgraded product if the original one malfunctions or breaks after the warranty period.
Should you buy the V-MODA BoomPro X?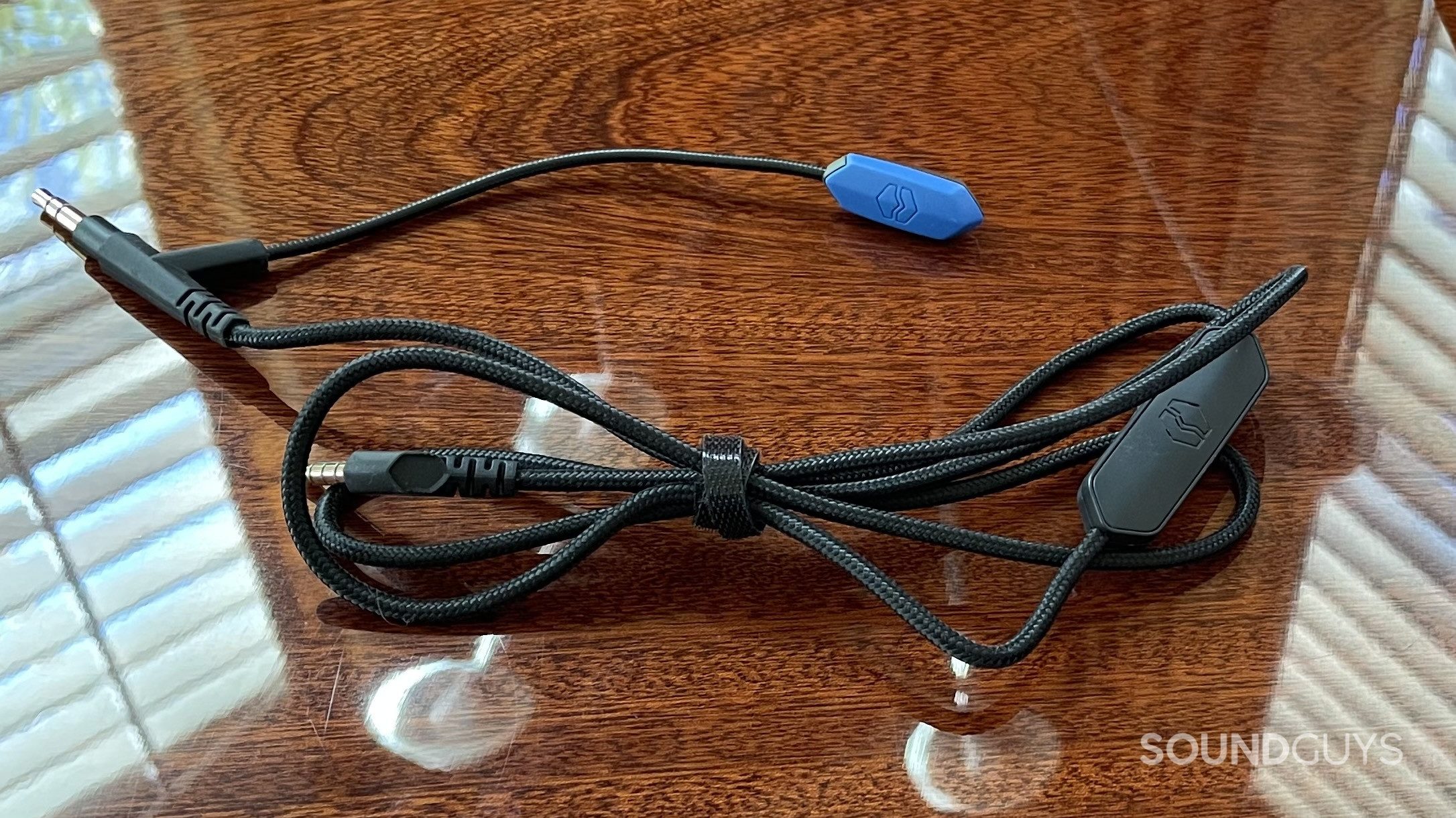 You can wrap up the cables to prevent them from getting tangled.
The V-MODA BoomPro X doesn't make a noticeable improvement to sound quality when compared with many headphones' built-in mics, such as that of the Sony WH-CH700N. It also doesn't have a spectacular build to make up for its dubious audio quality, though the protected cables are a nice touch. That said, it is only $45 USD and could be a great, semi-affordable option if you need to outfit your entire staff with headset mics.
Another reason you might want to consider the V-MODA BoomPro X is if you have a cheap pair of headphones without a microphone. The BoomPro X has better audio quality than the microphone built into most laptops, and it definitely picks up fewer typing noises due to its directional polar pattern. It's also convenient that the BoomPro X comes with an extension cable and a Y-adapter as it makes its usage even simpler. So if you're not looking to buy a new pair of cans with an integrated microphone, the V-MODA BoomPro X will get the job done.
V-MODA BoomPro X
V-MODA BoomPro X
What should you get instead of the V-MODA BoomPro X?
V-MODA has an older iteration of this product, called the BoomPro. It serves the same function as the BoomPro X but has an omnidirectional polar pattern, which means it isn't quite as good at rejecting off-axis sound. The reason you might want to opt for the older mic is that it has a lower price tag, retailing at $35 USD but often found on sale for $25 USD. V-MODA's customer support team even recommends that those who work alone (e.g., from home) use the original BoomPro over the BoomPro X.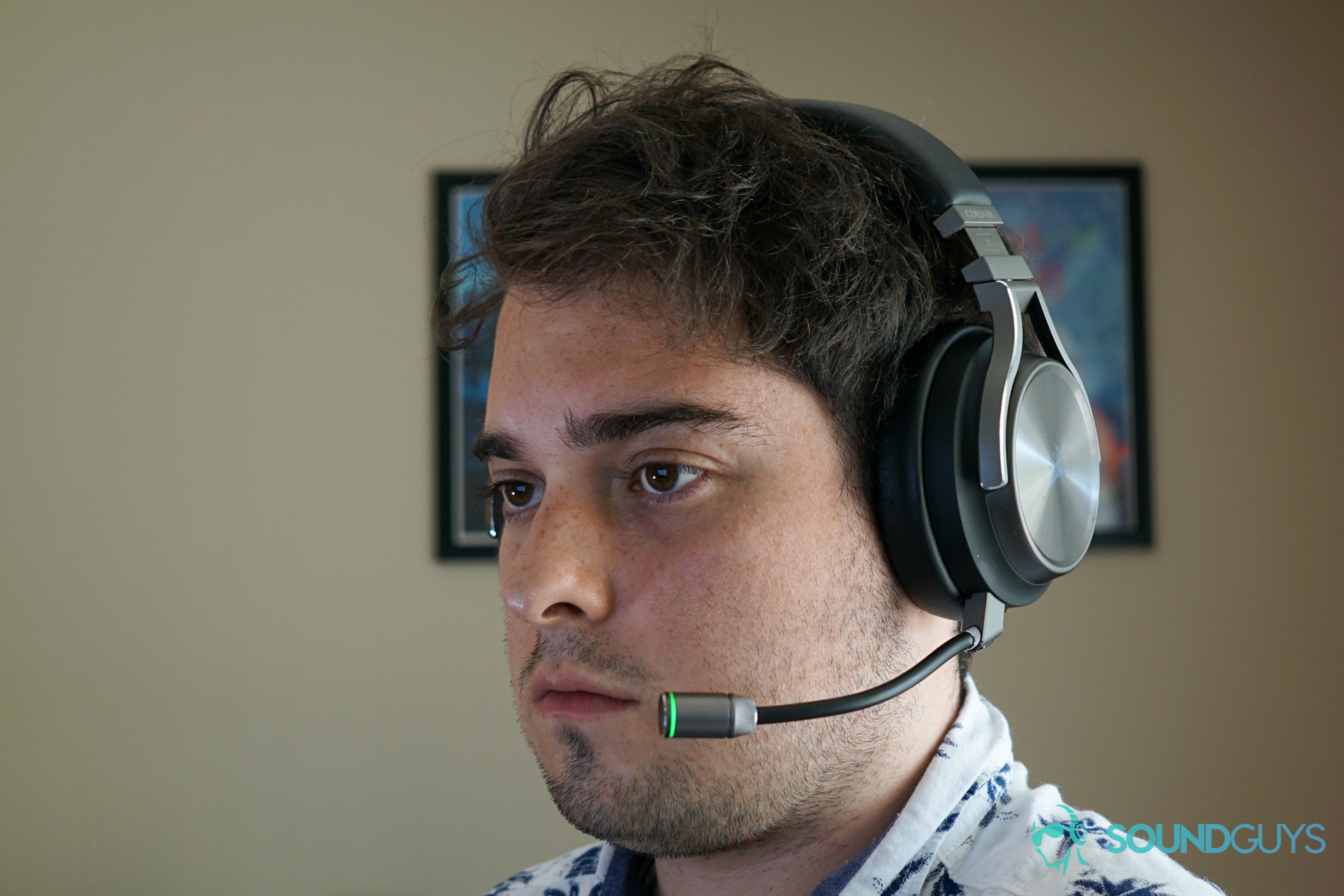 The light on the tip of the microphone can get a little distracting out of the corner of your eye.
If you want a boom microphone with great sound quality, you may want to look into gaming headsets. Something like the Corsair Virtuoso Wireless SE is pricey, sure, but its microphone sounds really good and it's a decent pair of headphones too. It might be worth upgrading your gas station headphones to something like this.