All products featured are independently chosen by us. However, SoundGuys may receive a commission on orders placed through its retail links. See our ethics statement.
How gaming headsets give you the edge
Gaming headsets aren't perfect but they can improve your in-game performance.
eSports are a permanent fixture in global entertainment, and whether you consider yourself a casual or professional gamer, there are plenty of reasons to buy a dedicated gaming headset. Companies work hard to make headsets that reproduce some degree of realistic auditory space, with varying success, and this can mean the difference between digital life and death. Other benefits include integrated microphones and just plain convenience.
Time to break down each perk, so you can determine if a separate gaming headset is worth your money.
Editor's note: this article was updated on April 2, 2021, to include information about 3D audio.
Gaming headsets use software for 3D audio
I know it blends in, but rest assured—there's a gaming headset in this picture.
While not all gaming applications are intuitive, or even useful, many of them include some kind of 3D audio support. Sometimes this means the headset processes audio as a multi-channel system and other times, it means that the headset uses audio objects (rather than static channels) to emulate how we naturally perceive sound. This is how Dolby Atmos and the PlayStation 5 3D audio work.
Sure, a pair of wired headphones may so sound objectively better than your standard gaming headset, but even the best open-back headphones can't take verticality and head-tracking into account when relaying audio. These features make it that much easier for you to identify nearby enemies and beat them to the punch.
Start here: Ultimate headphone buying guide
Alternatively, you could just plug in your favorite pair of wired earbuds into your Xbox controller, but in-ears (and on-ears) don't use your ear anatomy the same way that circumaural, or over-ear, headphones do. Neither on-ear headphones nor earbuds use the entire outer ear the same way as over-ear headphones. When headphones wrap around your ear, they use your pinnas to funnel sound to your ears, improving spatial awareness in-game.
Proper isolation improves gameplay, too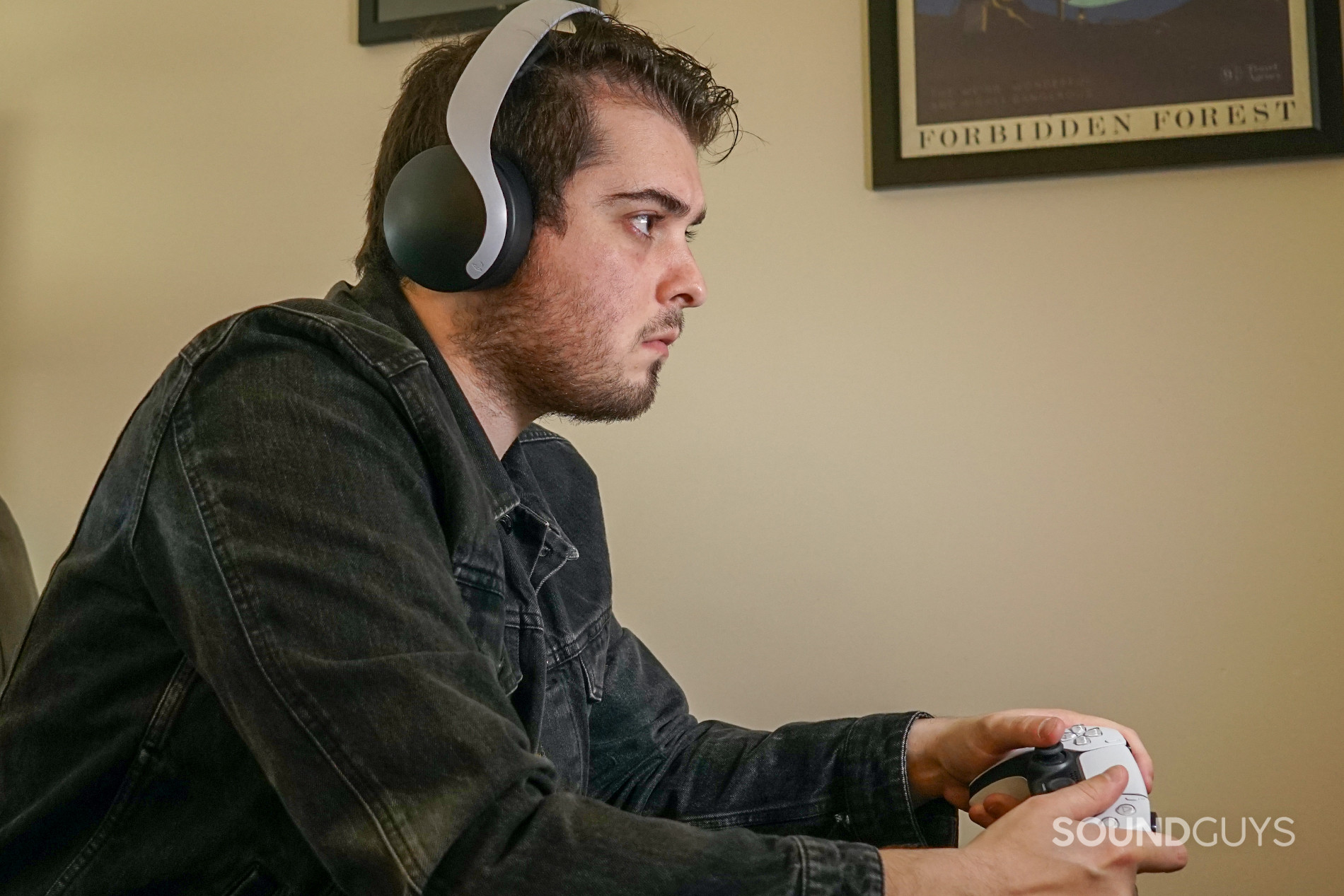 A headset that completely covers your ears without leaving gaps is a headset that fits well.
If you're an honorary SoundGuy, you're well-acquainted with how we stress the importance of isolation, and it remains applicable to eSports. High-quality gaming headsets use dense ear cushion materials to reduce background noise, and headsets like Beyerdynamic Custom Game even let gamers control the EQ and ingress of surrounding noise.
Although a standard pair of headphones may very well serve as an operable gaming headset, it doesn't have a mic. This means you have to purchase a third-party mic, which brings us to our next point.
Team gameplay—much like relationship maintenance—is all about communication
Razer has made a name for itself in the gaming community and its headsets are exclusive to over-ear designs. The Nari Ultimate features a retractable, malleable microphone.
Unless you prefer single-player games, you'll need a microphone—and a good one at that. After all, no one wants to be on the receiving end of a shoddy mic; the cheap ones register distracting background noise, and the awful ones seem to amplify it.
Related: HyperX gaming headset buying guide
Investing in a proper setup typically affords a fine cardioid or unidirectional microphone, which forgives imprecise mic placement and reduces background noise. What's more, you'll be able to clearly communicate with your team and avoid feeling like you're in a Verizon commercial: "Can you hear me now?"
Gaming headsets provide an all-in-one solution
While you're paying a premium for convenience, the benefits of buying a complete package mean you avoid wasting time looking for accessories like a good mic or possibly an amplifier. Additionally, if a component breaks or something erodes: it's easier to reach out to a single company for troubleshooting rather than a handful of companies.
The Beyerdynamic Fox USB Mic is a versatile piece of hardware that can be used for gaming, podcasting, and musical recordings, but it'll set you back $100-plus.
Ultimately, deciding whether it's worth it to construct your headset piecemeal is a personal decision: maybe you enjoy the challenge and are confident that you can find equal or greater quality parts for less. If that's the case, fabulous. For many, though, a complete setup will suffice and facilitate more gameplay and less time researching headset components.