All products featured are independently chosen by us. However, SoundGuys may receive a commission on orders placed through its retail links. See our ethics statement.
What is Dolby Atmos and how can you get it?
Make the most out of your movie and music-listening experiences with Dolby's 3D surround sound.
Dolby Atmos debuted in 2012 with the release of Pixar's movie Brave and has ushered in a new era of 3D sound. Whether you're enjoying media from your phone, TV, or local movie theater, the audio is likely supported by Dolby. But what is it, exactly? Let's dig in.
Editor's note: this article was updated on March 16, 2023, to update formatting.
What is Dolby Atmos?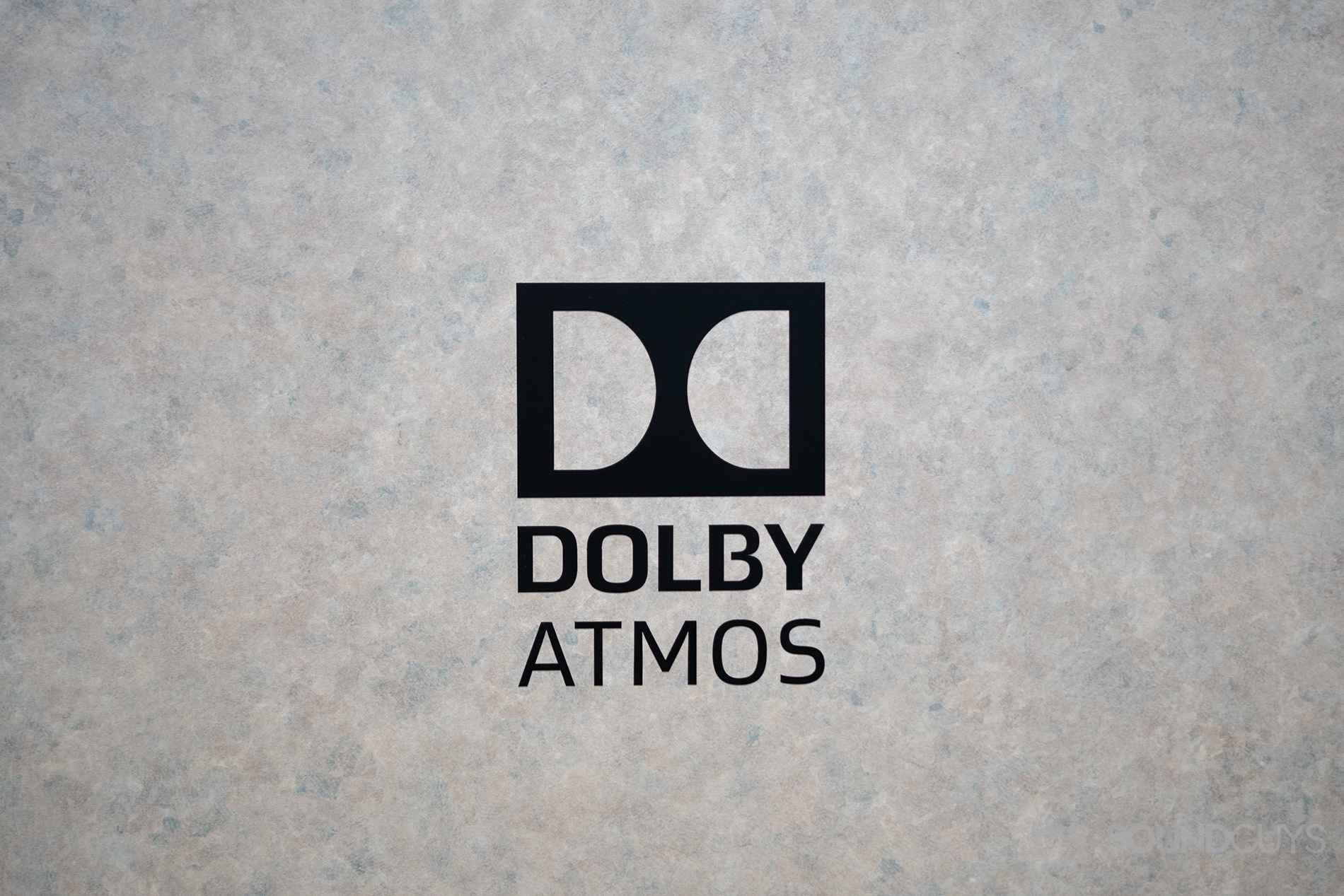 Dolby Atmos debuted in 2012 and is now supported in over 4,400 theaters globally.
Dolby Atmos takes Dolby's traditional 5.1 and 7.1 surround sound setups a step further by adding a third, overhead dimension. You're no longer constrained to a stereo system or standard six- or seven-channel arrangement. With Dolby Atmos, you experience an auditory atmosphere, as the name implies, and are encompassed by scenic sounds by your equipment bouncing sounds off your ceiling. The end result: an environment that more accurately represents how we experience sound.
The defining feature of Dolby Atmos is its configuration of audio objects. Sounds are no longer limited to their respective channels. Since Atmos' introduction, audio is interpreted and recreated as objects. Think of each sound as a floating orb in space: it's not limited to vertical or horizontal movement. That sound orb can float along any plane. Audio engineers can take advantage of the 128 available tracks, 10 of which are dedicated to ambient stems or center dialogue. This means 118 tracks are available for audio objects at any given point.
The Ambeo soundbar supports Dolby Atmos and is a convenient, albeit pricy, home theater setup.
Each object has its own metadata. If you're familiar with photography, you've probably heard the term metadata before. When it comes to Dolby Atmos audio, metadata informs your television or A/V receiver of how to process audio data. You'll get the most out of the technology by maxing out the number of usable speakers (64). However, the cool thing about Atmos is how it makes audio sound great on a simple setup, too, so long as the relevant metadata is available for all in-use audio objects.
Rather than using static channels, Dolby Atmos uses audio objects which can be placed anywhere in a 3-D space.
An example Dolby uses across its site is that of a fly-by helicopter. Think of your favorite action movie: the hero sees a helicopter approach, his tough-guy getaway chopper. It flies overhead to the rendezvous point. A standard stereo system will pan the sound from left to right as it passes the character, but can't emulate aerial sounds. Dolby Atmos, on the other hand, can do so. In fact, you don't even need multiple speaker outputs, many capable soundbars can recreate this overhead sound so long as its properly setup.
Where does Dolby Atmos sound the best?
As of April 2019, over 4,400 theaters service Dolby Atmos audio which means they use all 64 speakers for your entertainment. You can even use a Dolby Cinema locator to see if your local theater provides the whole Dolby Cinema experience. This goes beyond just audio and includes Dolby Vision HDR, ergonomic seating, and more. Although 4,400-plus locations is a lot, there are plenty of regional theaters without access to Dolby Atmos. If that's the case, you may be better off investing in an at-home setup.
Home theater listening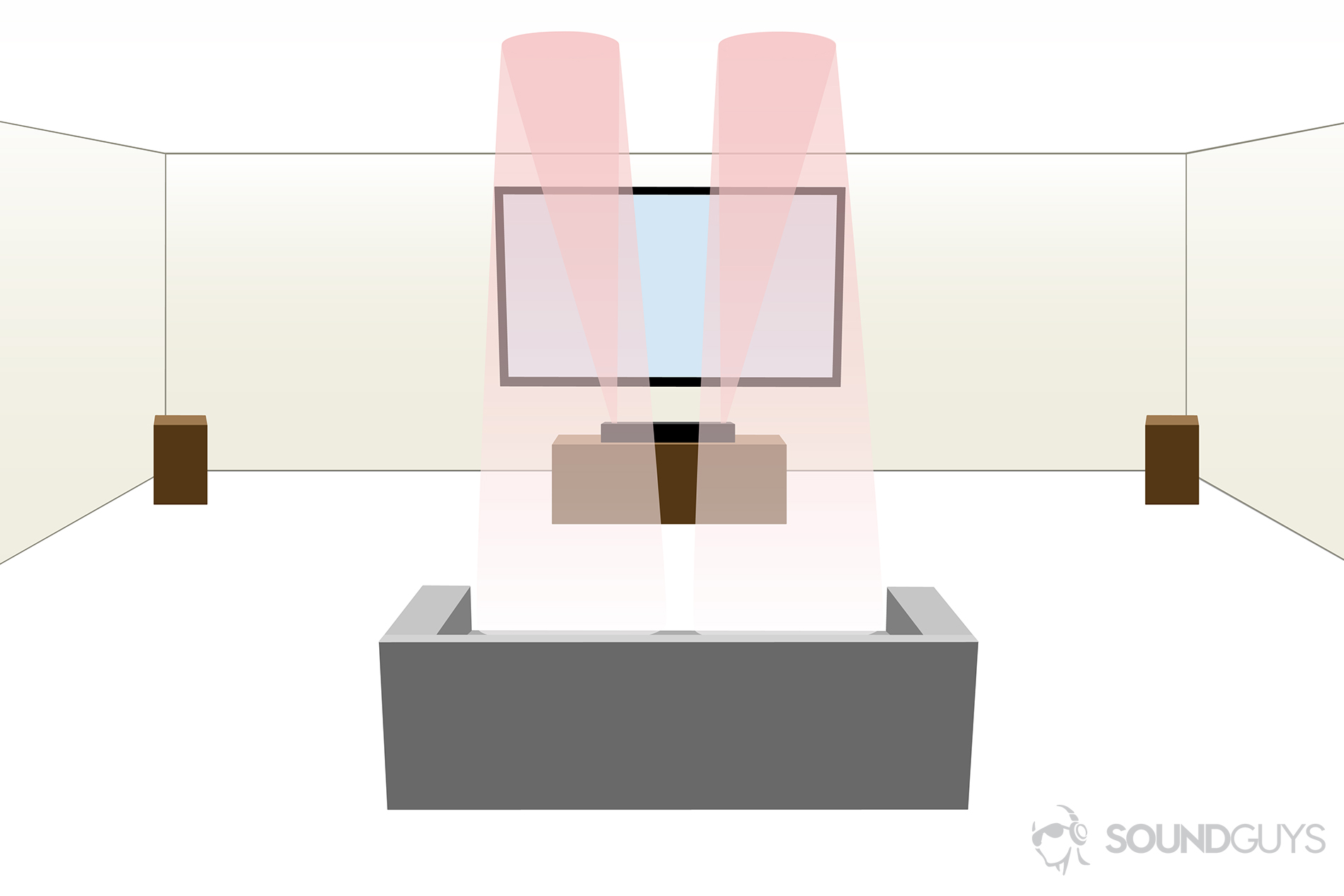 Make sure to place your Dolby Atmos soundbar below and in front of the TV. If your configuration uses upward-firing hardware elements, clear the sound's path from the drivers to the ceiling.
Dolby Atmos for the home still relies on audio objects and requires a Dolby Atmos-enabled audio-visual receiver (AVR). The receiver will automatically know how many speakers are being used, what type they are, and where they're positioned. From there, the object audio renderer (OAR) unpacks any metadata to scale each audio object appropriately and relay it through the designated speaker. This is all done and tracks instantaneously.
The benefit of Dolby Atmos in a home theater is its versatility. Dolby Atmos can be played back on virtually any speaker configuration—it maxes out at 34 speakers though. Again, the more speakers you have, the more precise each audio object's placement. If you don't have the space or money to afford a 34-speaker arrangement, you can always upgrade your system down the road. That said, having 34 speakers in your house is pretty excessive unless they're paying rent, which is unlikely.
Dolby Atmos for the home theater works with a maximum of 34 speakers, which is overkill for most situations.
Dolby did its homework regarding psychoacoustics when engineering its Dolby Atmos-enabled speakers. These are deliberately designed to recreate aerial sounds, despite being positioned just a few feet from the floor. It does this by using upward-firing speakers, something we've seen on the LG SK10Y and Sennheiser Ambeo soundbars. Such speakers reflect soundwaves from the ceiling and redirect them back toward the listener. This doesn't exclude the use of ceiling speakers. However, Dolby does recommend using no fewer than four, two in the front and two in the back, for an optimal experience.
What's more, if you already have a fine speaker setup that isn't Dolby Atmos-enabled. You can invest in specific speaker modules which include upward-firing elements. By placing these atop your traditional speakers, your theater is now Atmos-enabled.
Dolby Atmos for mobile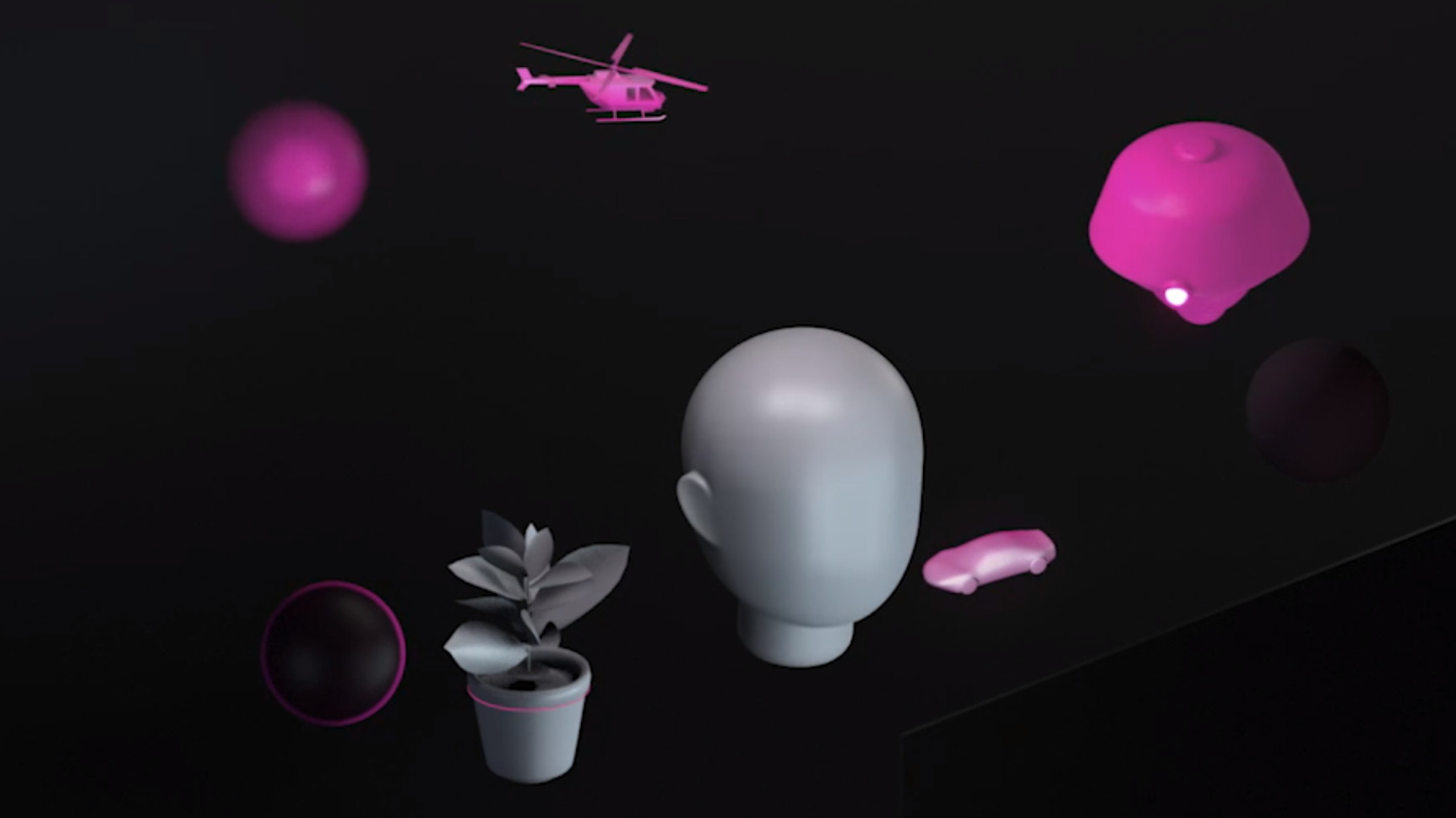 Dolby Dolby Atmos places audio objects within a three-dimensional space and tracks them as they move within a scene.
Remember how we said Atmos is versatile? Well, that isn't just for in-home speaker configurations, it it can support mobile audio too: including tablets, smartphones, or headphones. You get to experience much of the benefit from multi-speaker systems from your mobile device, including the live-tracking of audio objects.
Dolby Atmos is able to render this by converting the channels into a virtual binaural 360° output from a headphones' speakers. This process builds upon Dolby Headphone technology, which is used in popular headsets like the Razer Thresher Ultimate. Another common example of mobile Dolby Atmos is the Samsung Galaxy S10.
Is Dolby Atmos good for VR?
VR gaming and movies require realistic audio for an immersive experience, which Dolby Atmos attempts to address.
Absolutely. We process plenty of auditory information. Thus, in order for VR games and cinema to be effective, the audio too must be immersive. Enter: Dolby Atmos. In 2016, Dolby Atmos was used in the VR film Perspective Chapter 2: The Misdemeanor. It's filmed from the first-person perspective, so accurate audio reproduction is imperative to keep the viewer engaged and their belief suspended. Ceri Thomas of Dolby stated, "we enable the viewer to empathize with those characters, to hear their voice in a unique way."
While Dolby Atmos may not be the sexiest of technologies out there, it's certainly permeated the world of entertainment. Whether you're seeing a movie at your favorite spot or staying in to stream your favorite movie, there are many ways to experience Atmos audio. With the release of the Sennheiser Ambeo soundbar and more akin sound systems to come, we'll likely continue to hear about Dolby Atmos and its evolution especially as VR content becomes more accessible.
Frequently Asked Questions
Dolby Atmos and Sony 360 Reality Audio operate similarly in that both use audio objects, rather than standard audio channels. This means that each audio object has the liberty to move anywhere within a three-dimensional space instead of coming from the standard left and right channels. Processing such as this creates a more immersive listening experience. Initially Dolby Atmos was only for movie soundtracks, but now Tidal tracks use the Dolby Atmos format. Sony 360 Reality Audio's initial use-case was for music played through headphones. Listeners with a compatible Sony headset, like the Sony WH-1000XM4, may experience optimal audio reproduction by allowing Sony's Headphones Connect app to analyze ear anatomy.
Yes, Netflix supporst streaming with Dolby Atmos audio on certain titles. You need a Dolby Atmos-capable system, like the Sennheiser Ambeo, and the Premium Netflix plan; this supports Ultra HD streaming for $15.99/month.