All products featured are independently chosen by us. However, SoundGuys may receive a commission on orders placed through its retail links. See our ethics statement.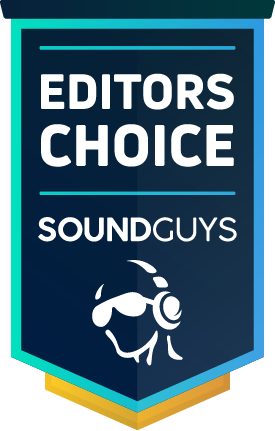 9.6
Sennheiser Ambeo Soundbar
The bottom line
If you want a surround sound system, but don't want to futz with wires, extra channels, or the possibility of having an outdated receiver: the Sennheiser Ambeo Soundbar is for you.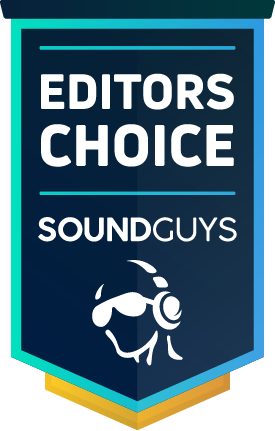 Sennheiser Ambeo Soundbar
If you want a surround sound system, but don't want to futz with wires, extra channels, or the possibility of having an outdated receiver: the Sennheiser Ambeo Soundbar is for you.
What we like
3D sound
Excellent audio quality
Execellent connectivity
Chromecast, Bluetooth support
Slew of ports
Rating Metric
Sound Quality
9.7
Bass
9.3
Midrange
8.9
Highs
8.9
Durability / Build Quality
9.6
Value
7.5
Design
9.2
Home audio might be an old product category, but Sennheiser brought the home theater into the 21st century with its Ambeo Soundbar in 2020 (rebranded in 2022 as the Sennheiser Ambeo Soundbar Max). While there's been many Atmos-enabled soundbars to date, this is one of the few that works really well.
Editor's note: this review was updated on January 12, 2023 to update the conclusion, address the new entry into the Ambeo line, and to update the product name change.
Anyone with $2500 USD lying around who wants a home theater setup without a ton of channels and cables lying around should pay attention to this. Home theater buffs looking to de-clutter their living room may find it compelling too.
How do you set up the Sennheiser Ambeo Soundbar Max?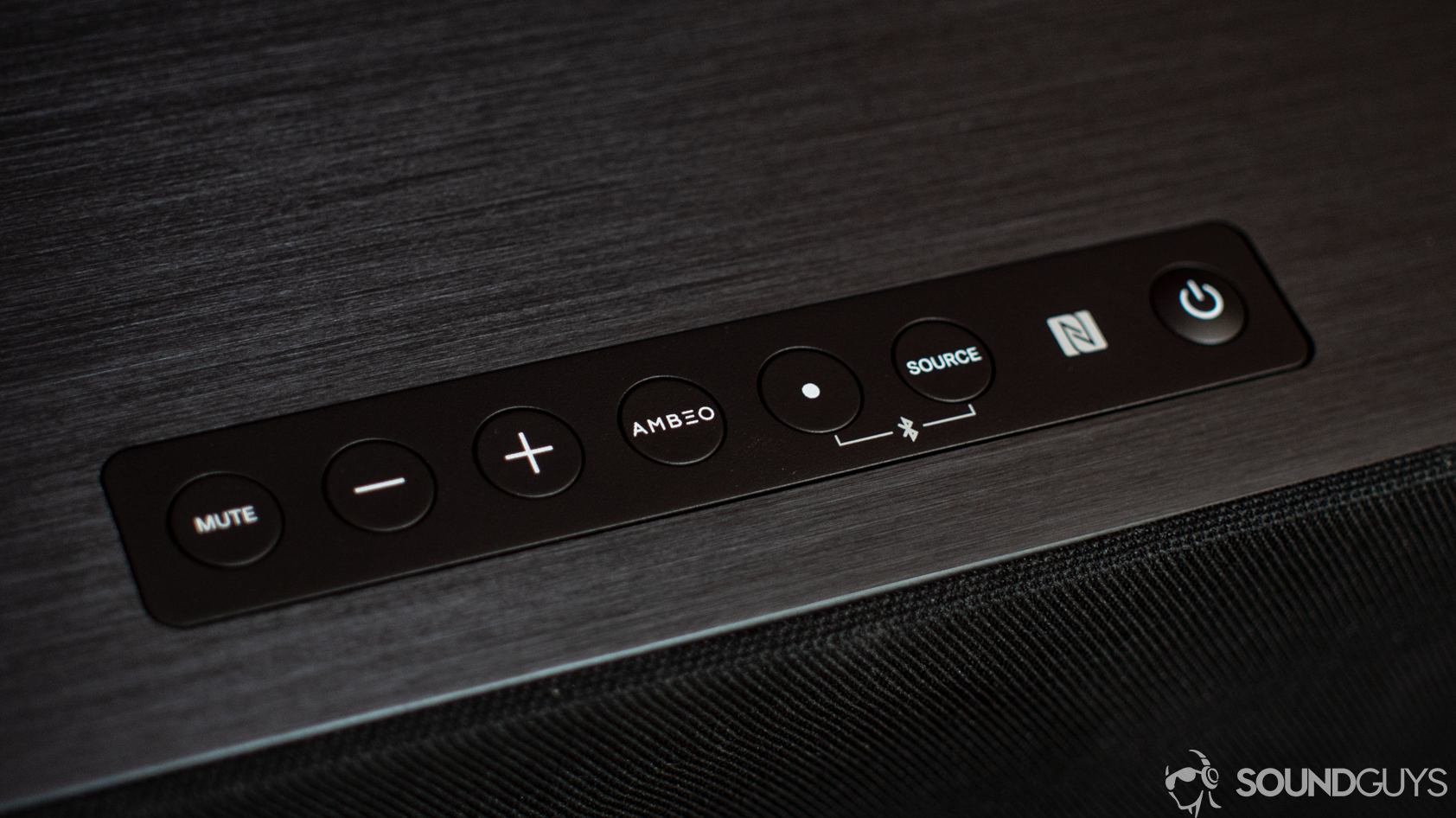 All of these controls are on the remote, with the exception of the NFC target.
If you've never set up a soundbar, the Sennheiser Ambeo Soundbar Max will kinda throw you for a loop, but it's not terribly complicated. The process goes like this:
Place the soundbar in a spot where the upward-firing speakers can fire sound to the ceiling without obstruction
Plug in the power cord to the back of the soundbar, and then to the wall
Connect your source (cable box, TV, etc.) to the soundbar. If your TV is "dumb," be sure to connect the HDMI out cable to the proper ports
Download the Sennheiser Smart Control app on Android or iOS.
Use the included cable tie to manage the cords coming out of the back
Calibrate the soundbar

Locate where you'll be sitting, and place the tip of the included measurement microphone where your head would be
Connect the microphone to the port in the front of the soundbar
Turn on the soundbar, and connect to it via the app
Start the room calibration process with the app, preferably when you're nowhere near the soundbar

Add the soundbar to your Google Home account to add Chromecast functionality
The Sennheiser Ambeo Soundbar Max has three HDMI in ports, and one each of: HDMI output, optical input, USB, auxiliary in, ethernet, and subwoofer pre-in.
When the soundbar is calibrating, it will play a series of sweeps to help it map out the room. This helps the Sennheiser Ambeo Soundbar Max to not only determine how best to adjust its own performance, but also figure out how to use the room around it to create a 3D effect for surround sound content. To make sure that it works properly, the more square the room is, the better the effect will be. Also try to keep the walls between one and five meters away from the soundbar if at all possible for best results.
Smart devices will always have that extra layer of setup, but they payoff is being able to control your soundbar from your phone. Equalize, edit the 3D sound effect, or swap sources on the fly. While the Ambeo Soundbar Max comes with a remote, it's much more satisfying to use the phone app.
What's it like to use the Sennheiser Ambeo Soundbar Max?
As the Sennheiser Ambeo Soundbar Max is a very unique product, it's tough to do justice to the experience. That's because it goes beyond what most people know and understand when you tell them "this product is a soundbar"—because it's really not.
The closest thing I can relate it to is that it's a fully functioning surround sound system, but without all the cables and extra channels lying about your room. Though we've seen plenty of Dolby Atmos soundbars that can kinda-sorta approximate the experience, Sennheiser's Ambeo futureproofs itself by building in support for the next leap in broadcast standards: MPEG-H. We'll get to that in a minute, but for now: just know that it's the next generation of digital audio that enables much of the Ambeo 3D sound magic to work.
A microphone placed right where your head would be normally helps the soundbar create the 3D sound effect.
By plugging your TV, Blu-ray player, or cable box to the Ambeo Soundbar Max via HDMI, you're performing the only connection you need between your media and audio hardware, though you can connect via WiFi or Bluetooth. Once everything's connected and set up, the soundbar will attempt to "map" the room around you using the 13 speakers and a microphone that plugs into the front of the unit. Once it's done this, it can then time out when and how to bounce sound off of your walls and back to you—creating the surround sound effect.
Much like it is with a surround-sound system, your audio content really is coming from all around you. It's just that it's getting to your ears by way of the room you're in, and not a dedicated speaker physically seated behind you. The result is a convincing virtual 5.1.4 system (two left channels, two right channels, a center channel, four channels behind you, and one subwoofer) that can use Atmos, MPEG-H, and DTS:X content. As of publish, this is the only soundbar that I've felt truly convinced by in a practical setting, but I believe this is about to change as broadcast standards evolve.
The remote isn't strictly necessary if you have the app, but it does add a nice touch.
When you're listening to the Sennheiser Ambeo Soundbar Max, you might initially feel a little disoriented if you aren't prepared for the surround sound effect.
What is MPEG-H?
Back in 1988, a group of companies got together and formed the Moving Picture Experts Group to help standardize how broadcast signals and media files would be transmitted. Over the years, this consortium has made the leap to digital broadcast standards, and whether you realize it or not: it's governed the way you consume video and audio content online for as long as you can remember. MPEG-H is a continuation of their efforts, that covers standardizing 4K/UHD content. However, the real Easter egg there is MPEG-H also contains standards for 3D audio that goes beyond what was previously available.
Instead of taking your music and mashing all the tracks together into two channels (stereo), MPEG-H takes each track (instrument, vocals, synths, etc.) and adds it to the signal as individual objects. This way, each element of the recording can be altered to fit the user's desires. Additionally, because there's such a high limit of audio objects, a broadcast stream can handle a lot more data than it could before. For example, if you wanted to watch a soccer match, you could filter the active audio objects to make it sound like you were in the stands, right next to the pitch, or even mute the crowd altogether. Because MPEG-H is a broadcast standard, you can do all this through your TV.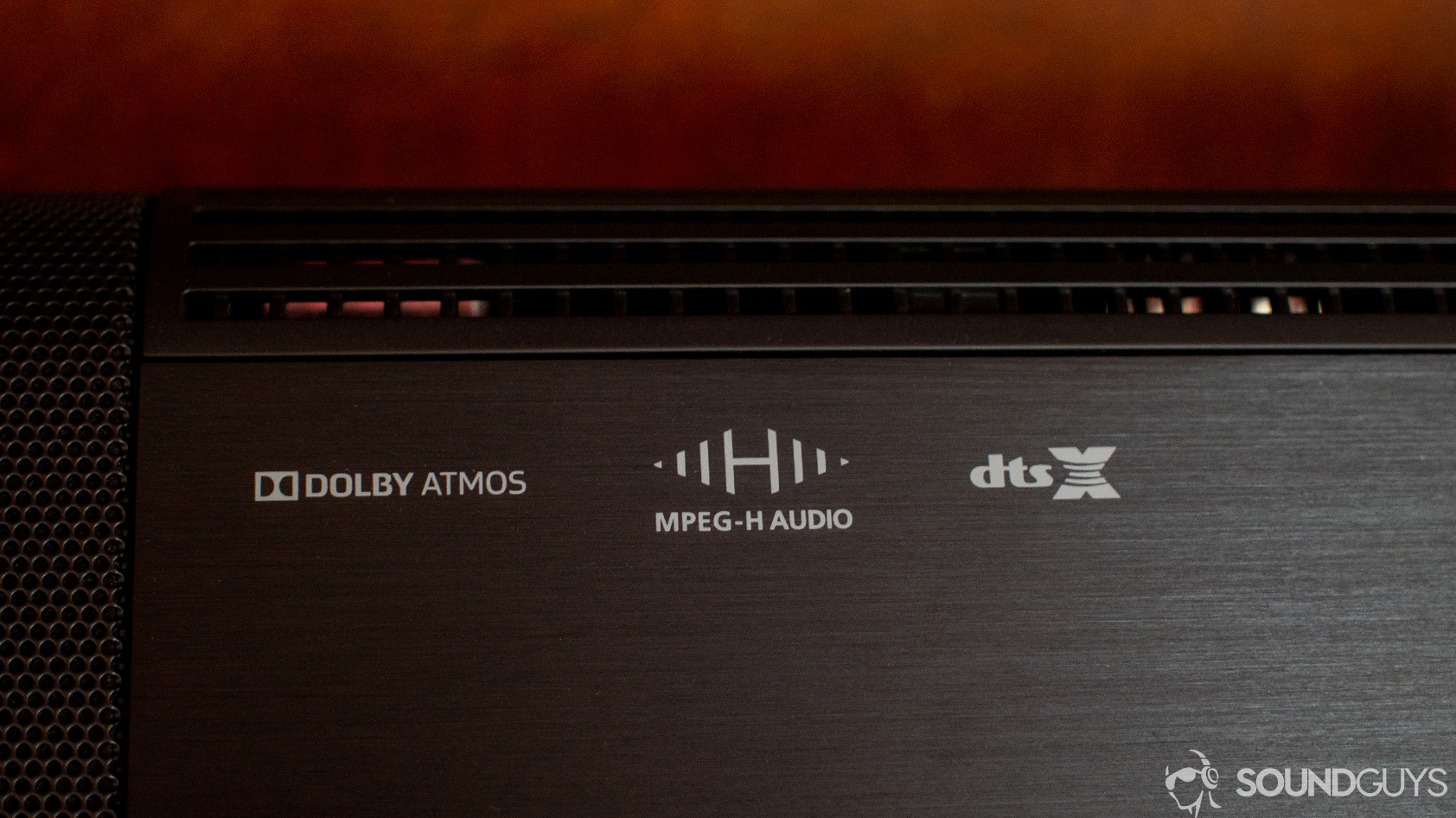 The Sennheiser Ambeo Soundbar supports the latest audio file formats.
While MPEG-H might not hit the US anytime soon, it's likely that streaming services might not wait around for broadcast television to set the tone on this change. Consequently, paid subscription services may end up using this to capture cinephiles and audiophiles alike because the applications are so amazing. Sony debuted a truly flooring 3D audio platform at CES 2019, and as they have one of the largest music libraries in the world: it's not too far-fetched to assume that this is something that will actually make it soon. If MPEG-H does come to a living room near you, you're going to need hardware that can handle the surround sound effect to make the most of it.
That's why the Sennheiser Ambeo Soundbar Max is so special: it's futureproof as far as this capability goes.
And not to put too fine a point on it, as of April 22, 2021 this soundbar also now supports Sony's 360 Reality Audio. You can watch the video above to get a better picture about what that means for your music, but users of services like Tidal and Amazon Music HD will be able to enjoy this feature on the Sennheiser Ambeo Soundbar Max. Each song that's streamed with this option enabled is re-mixed so that instruments appear to be played all around you, and in some cases, add to the song by changing the experience. It's a pretty cool feature, but it won't prevent you from listening to more traditional mixes either.
How does the Sennheiser Ambeo Soundbar Max sound?
This is a bittersweet kind of product for me, because the Sennheiser Ambeo Soundbar Max is one of those devices that doesn't really abide by the same rules as other soundbars. Once MPEG-H and the resulting 3D audio platforms reach maturity (Deezer, Sony 3D Audio, etc.), speaker performance won't matter as much as the personalization options. And by that time, those options will be plentiful. That's probably the main headline here too: a revolution in personal audio is coming, and in the soundbar world—currently only the Ambeo Soundbar Max is futureproof enough to last you a long time.
But we tested the output to the best of our ability, anyway. Instead of our normal gated response, we had to move our testing to a typical living room setup. There are a few resonances here and there, but many of those swings in emphasis were done by the soundbar itself to combat room acoustics. Because this unit is meant to be used in a living room, we had no choice but to test it in the same kind of environment.
This is merely one calibrated result—yours will look slightly different based on room acoustics.
First item of note: when calibrated, the Sennheiser Ambeo Soundbar Max has a really good bass response, which allows it to completely assume the role of your subwoofer. Many units struggle here because the soundbar design typically doesn't allow much in the way of powerful sub-channels. Usually, you need a larger chamber and driver for that. Luckily, the Sennheiser Ambeo Soundbar Max uses its size well, making for outstanding audio performance. However, if you want to tinker with the sound, the app allows for a fairly basic 4-band equalizing. There are also several presets to choose from depending on your current use.
When using 3D content like Dolby Atmos or MPEG-H audio, the illusion of surround sound is convincing, but there is a dearth of content available at the moment. For now, you'll be leaning on Atmos-enabled content from Blu-ray movies and streams.
If you'd like an example of how this sounds, put your headphones on and watch the clip above. This was shot using only a Sennheiser Ambeo headset, a mere 2-channel microphone instead of the maximum possible 64-object MPEG-H stream. Now, imagine being able to hear that around you just like in the video, but without any speakers around you: just the soundbar in front of you. That's the kind of thing that the Sennheiser Ambeo Soundbar Max can do.
Should you buy the Sennheiser Ambeo Soundbar Max?
Yes.
If you just read all that, the answer should be abundantly clear to you that the Sennheiser Ambeo Soundbar Max is no ordinary soundbar, and it's something truly special. If you have $2,500 to spend on a home theater system and you don't have the patience to set it up: the Sennheiser Ambeo Soundbar is by far the best option on the market bar none. That being said, every year sees new releases, and new releases build on the successes of their predecessors. It's conceivable that newer models could leapfrog what is very assuredly a halo product and not a value proposition.
Sennheiser Ambeo Soundbar Max
Sennheiser Ambeo Soundbar Max
MPEG-H support • Hard to beat sound quality • Excellent connectivity
Ambeo Max embodies the future of 3D sound
The Ambeo Max is one of the best soundbars on the market, providing a fully functioning surround sound system with built-in MPEG-H support, the next leap in broadcast standards.
However, not everyone has that kind of coin just lying about, and it's definitely worth mentioning that there are other impressive soundbars for a little less money. The Samsung Q910B and Sony HT-A7000 both come in under $2000 USD, and offer decent performance without sacrificing too much in the features department. Additionally, the Sennheiser Ambeo Soundbar Plus comes in at $600 less with comparable features as well.
What about the Sennheiser Ambeo Soundbar Plus?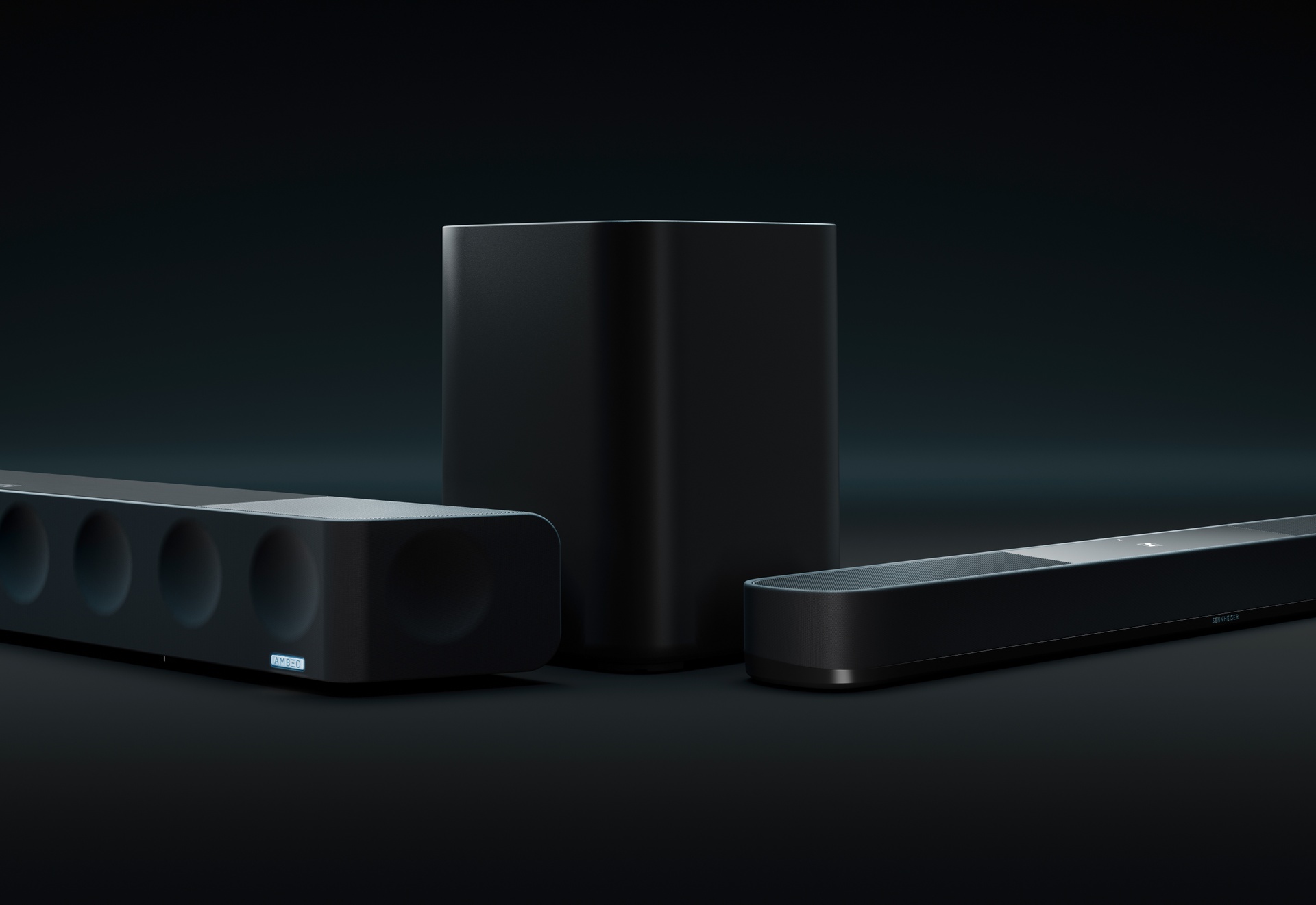 Christian Thomas / SoundGuys
The Sennheiser Ambeo Soundbar Plus is a much smaller unit, but with a decent amount of what makes the Max great tucked within.
To provide a smaller and more affordable option, in 2022 Sennheiser released the Ambeo Soundbar Plus for a hair under $2000 USD—definitely not cheap by any stretch of the imagination. However, this is also a soundbar that packs a lot of hardware into its chassis like its much bigger brother. A 7.1.4-channel system with many of the same features and functions of the Ambeo Soundbar Max, the Ambeo Soundbar Plus has nine drivers (compared to the Max's 13) to achieve its surround effect, which is impressive given its much smaller footprint and weight.
Sure, performance on the smaller soundbar isn't quite on the same level as the Ambeo Soundbar Max, but it's still in the conversation for the top models of its price bracket. We don't yet have a review of this soundbar on the site, but be sure to check back in the future.
Frequently Asked Questions
Yes. In 2022 Sennheiser rebranded the flagship soundbar to differentiate it from the Sennheiser Ambeo Soundbar Plus—which would have been very confusing without some sort of indication that it was the higher-end model.