All products featured are independently chosen by us. However, SoundGuys may receive a commission on orders placed through its retail links. See our ethics statement.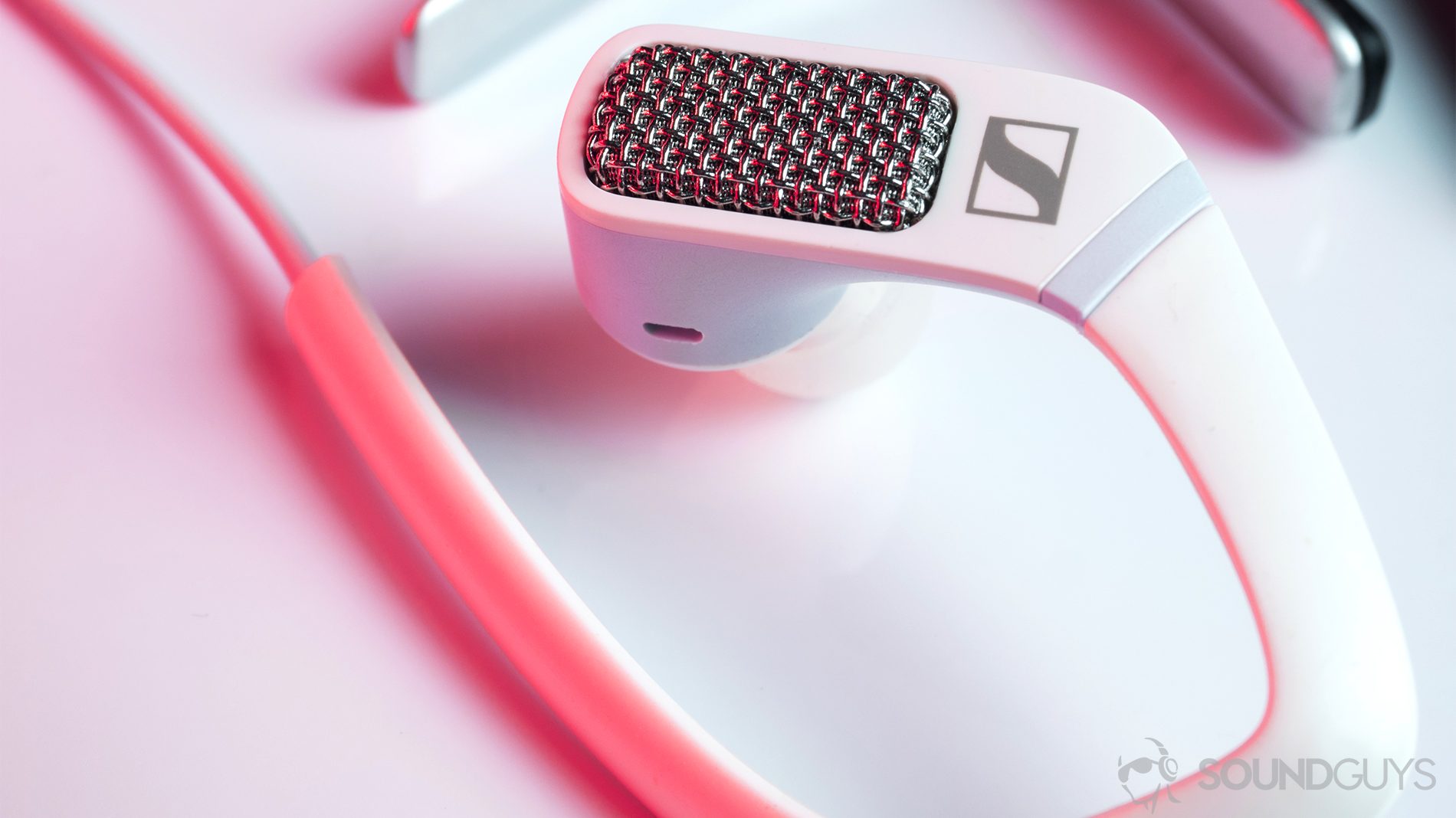 7.8
Sennheiser Ambeo Headset
The bottom line
If your upcoming creative endeavor calls for 3D recording but budgeting in the Ambeo VR Mic is too much, then the Ambeo headset is a great compromise. However, if you're buying these in the hopes that it will completely transform your music, you're better off with a good pair of open-back headphones.
Sennheiser Ambeo Headset
If your upcoming creative endeavor calls for 3D recording but budgeting in the Ambeo VR Mic is too much, then the Ambeo headset is a great compromise. However, if you're buying these in the hopes that it will completely transform your music, you're better off with a good pair of open-back headphones.
Dimensions
130 x 46 x 180 mm
(Cable: 1.16m)
What we like
3D audio recording<br>
Active noise canceling<br>
Ambient noise passthrough<br>
What we don't like
Lightning cable only<br>
Expensive<br>
iOS 10.3 or later<br>
Rating Metric
Sound Quality
7.8
Bass
7.6
Midrange
7.6
Highs
7.8
Durability / Build Quality
7.4
Value
7.8
Design
8.0
Microphone
9.2
Portability
7.3
We often forget how much of the world we experience through our hearing. Many of us take it for granted, assuming that sight is the main informant of our environment. But the Sennheiser Ambeo Headset make a case for storytelling through sound. However, how realistic can audio from a small headset really be?
Who is the Sennheiser Ambeo Headset for?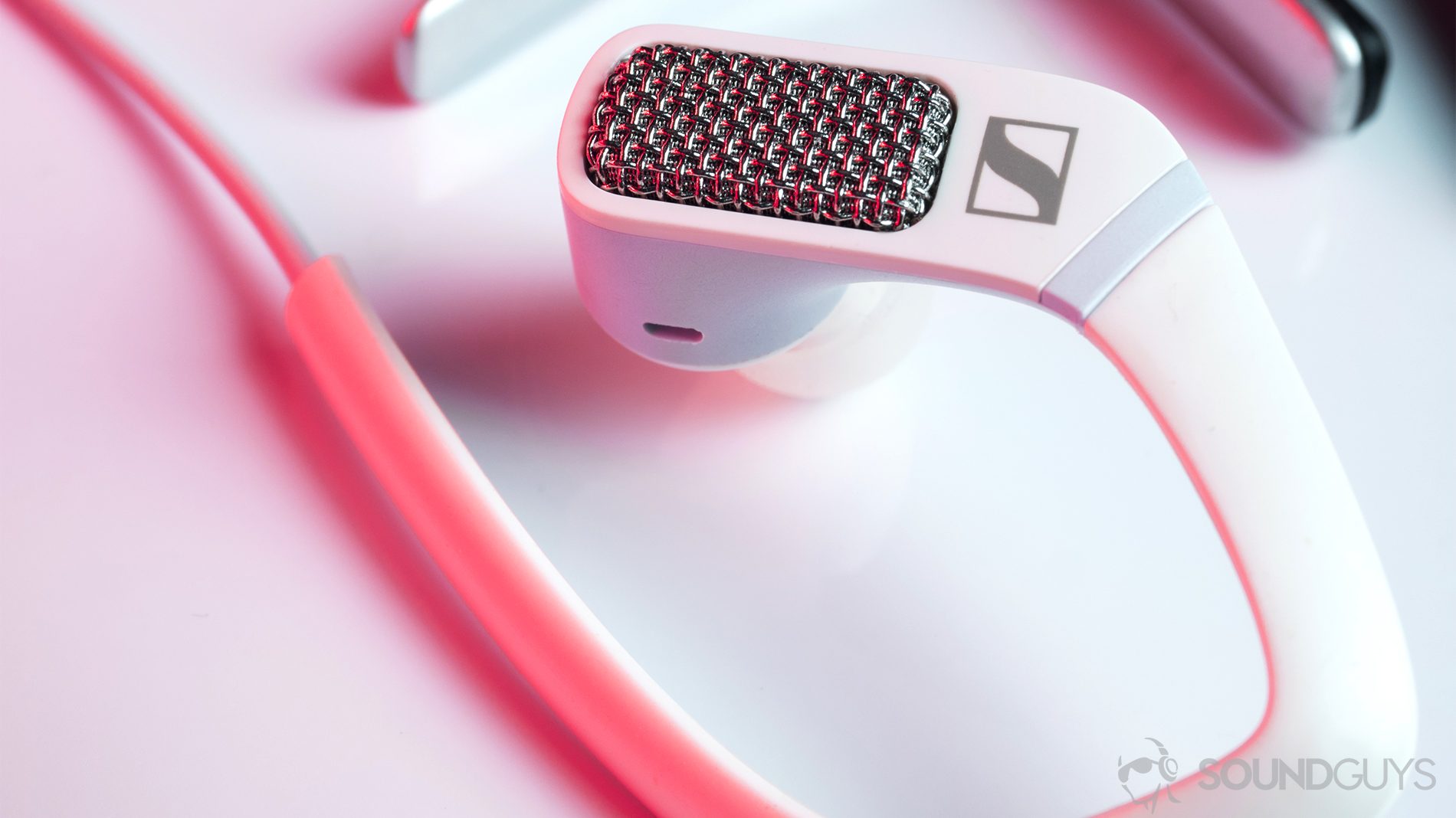 Each earbud on the Sennheiser Ambeo Headset has a microphone covered by a grill for 3D recordings.
Content creators. YouTubers and documentary filmmakers who are looking to switch up the mode of audio production should sit tight. Say you're a travel channel and want your viewers to feel immersed in your adventures, the Ambeo headset is an easy way to make that happen that doesn't call for excess post-production… without dropping 6 grand on another VR microphone.
Horror movie aficionados. If you're awaiting a message from Netflix asking, "Hey, you doing all right?" due to all of the horror movies you've watched, then these may be the upgrade your horror film fascination needs.
Those who need the latest and greatest. Hey, no shame. Sometimes, we just want the newest gadget, because we want it. Even if the need isn't there, if you want to experience your music in a different light but don't want to shell out for a Dolby Atmos system, you've come to the right review.
What's binaural recording?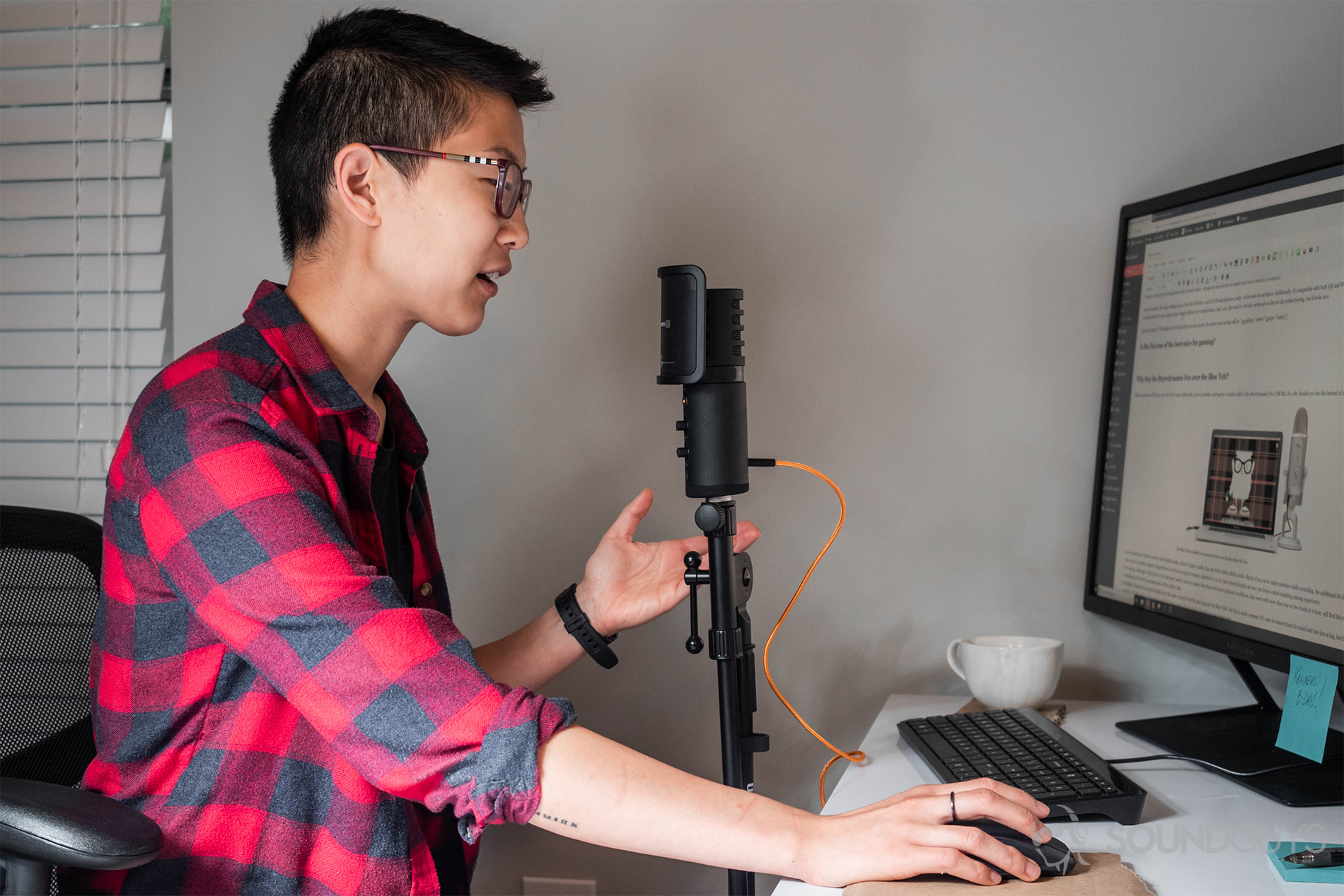 For something like an interview, a binaural recording style may be distracting to listeners.
Binaural recording records sound via two microphones, allowing the user to recreate a 3D environment of sound. It's much more realistic than if you were to record with a single microphone,  and it's useful for virtual reality (VR) content. Instead of perceiving things as clearly left and right, a gamer feels enveloped by sound. They'll want to spin on her heels if she hears something on their six.
What's inside?
For $300, you get the Sennheiser Ambeo Headset, a cloth carrying pouch, and three pairs of ear tips. You also get a quick start guide, which you're going to want to use rather than guessing your way through the controls for the first 24 hours of use. As fun as it was to learn on the fly, I could have watched at least one episode of Better Call Saul in that time.
How is the Sennheiser Ambeo Headset built?
Comprised of predominantly plastic, these don't feel high-end. But, unlike the Master & Dynamic MW50 Wireless, you're not buying the Ambeo because you want something pretty. You're buying them because you want something cool, and maybe functional too.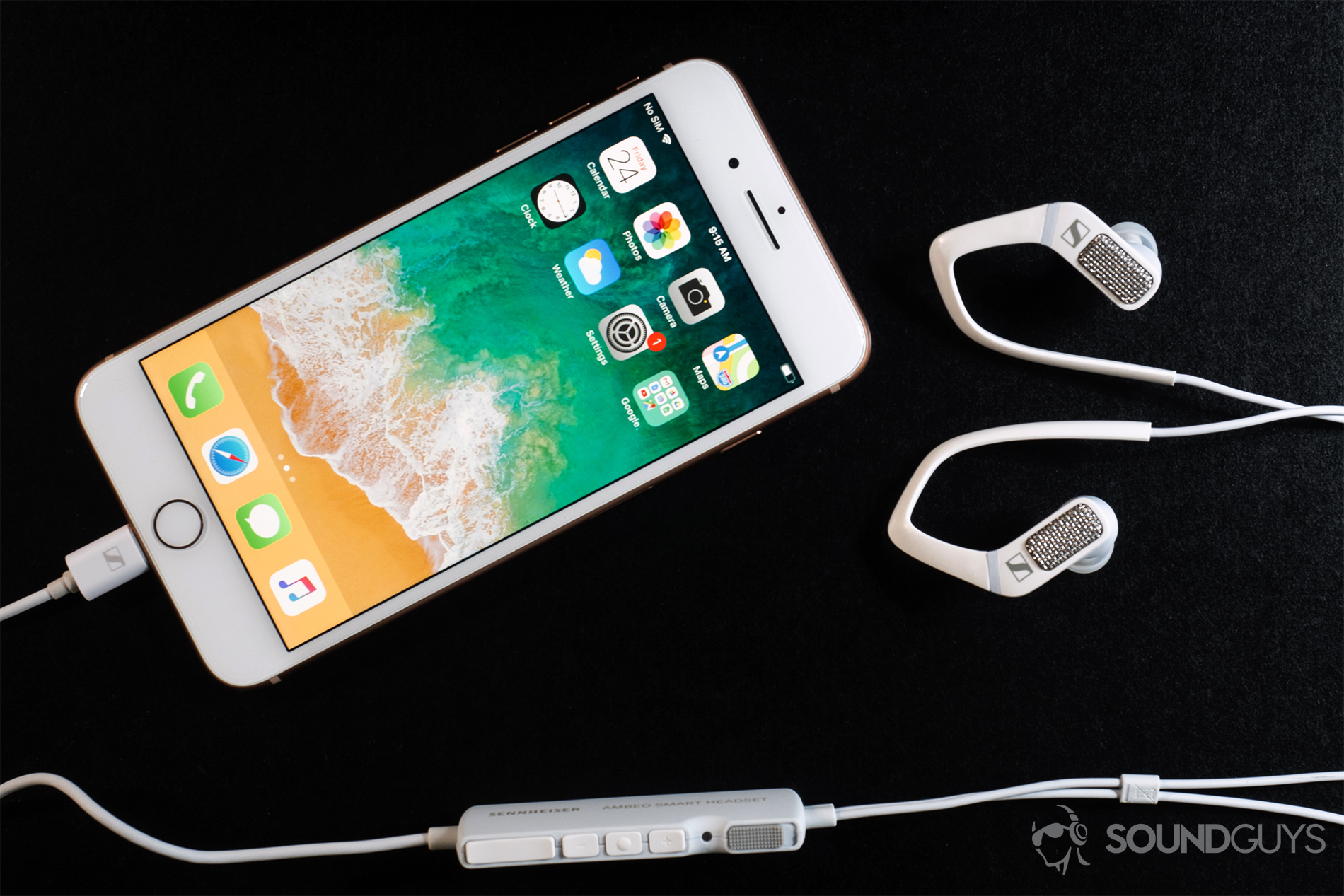 The headset costs just under $300, making it just under half the price of the lowest-tier iPhone 8 Plus.
One of the first things to stand out about the Sennheiser Ambeo Headset are the elven ear hooks. You're going to look a lot like Legolas-meets-Blade-Runner cosplayer when wearing these. It's inevitable.
Ridiculousness aside, the flexible and soft rubberized texture makes these comfortable to wear despite the incommodious control block weighing things down. This would be well and good if the ear hooks weren't made for larger ears. My ears often slipped under the hooks, causing the earbuds to dangle from my ear at the nozzle while the hooks flapped along.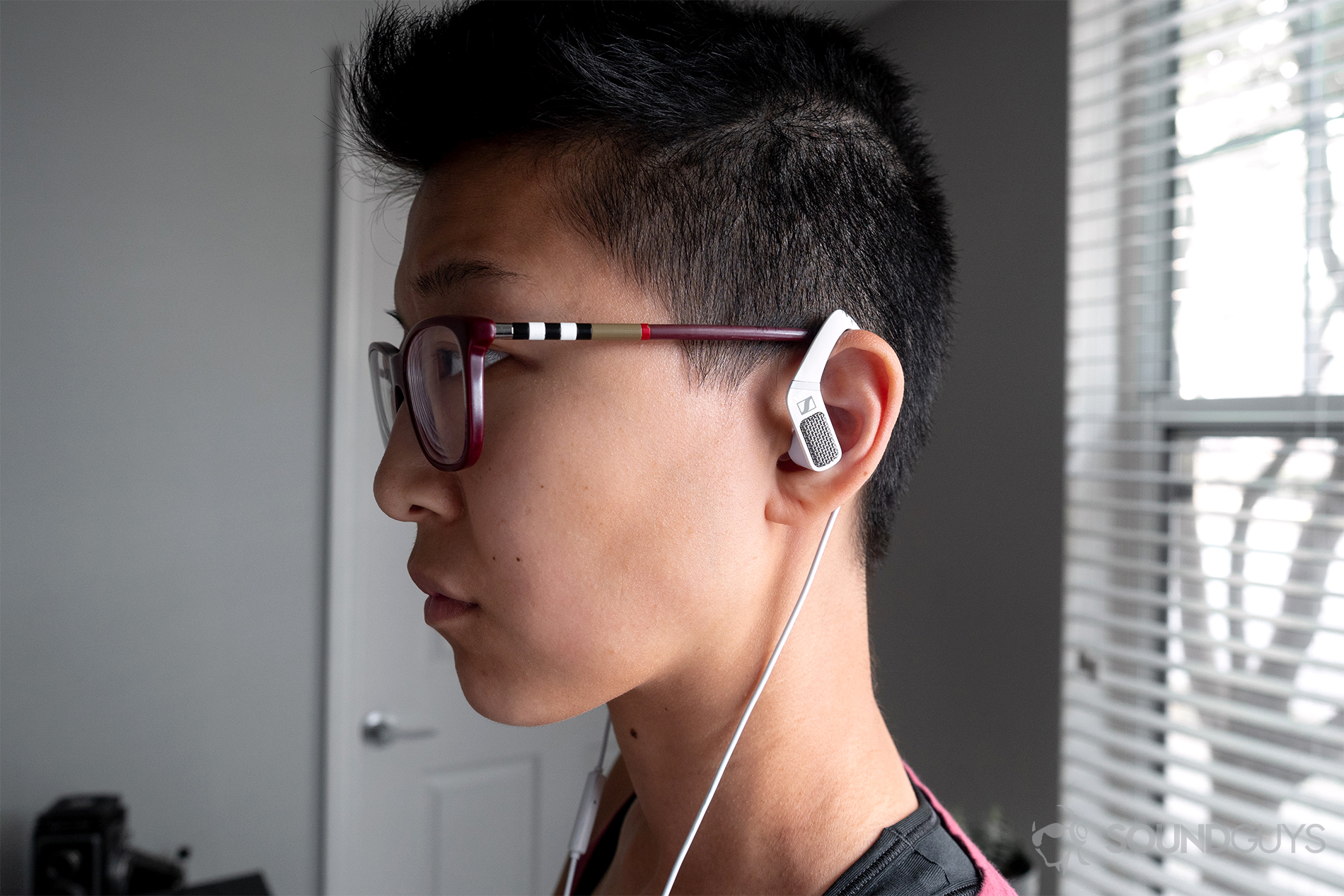 Given the odd shape, the earbuds are surprisingly comfortable to wear with or without glasses.
Facing outwards on the plastic housing of each earbud is a microphone for 3D recording. The placement of each microphone helps to emulate human hearing. As far as the ergonomics of the earbuds go, the angled nozzles encourage a more comfortable fit, so you don't have to jam them in and cause ear canal pain.
So many toggles, so little time
Outfitted with a large in-line control module, these feel like a "mic first, listening second" type of product. This large rectangle houses all of the Sennheiser Ambeo Headset controls which include basic playback and volume toggles, an active noise canceling and transparent hearing button, an LED that turns red when recording, and a slider that lets you alternate between the reduced noise and natural sound modes.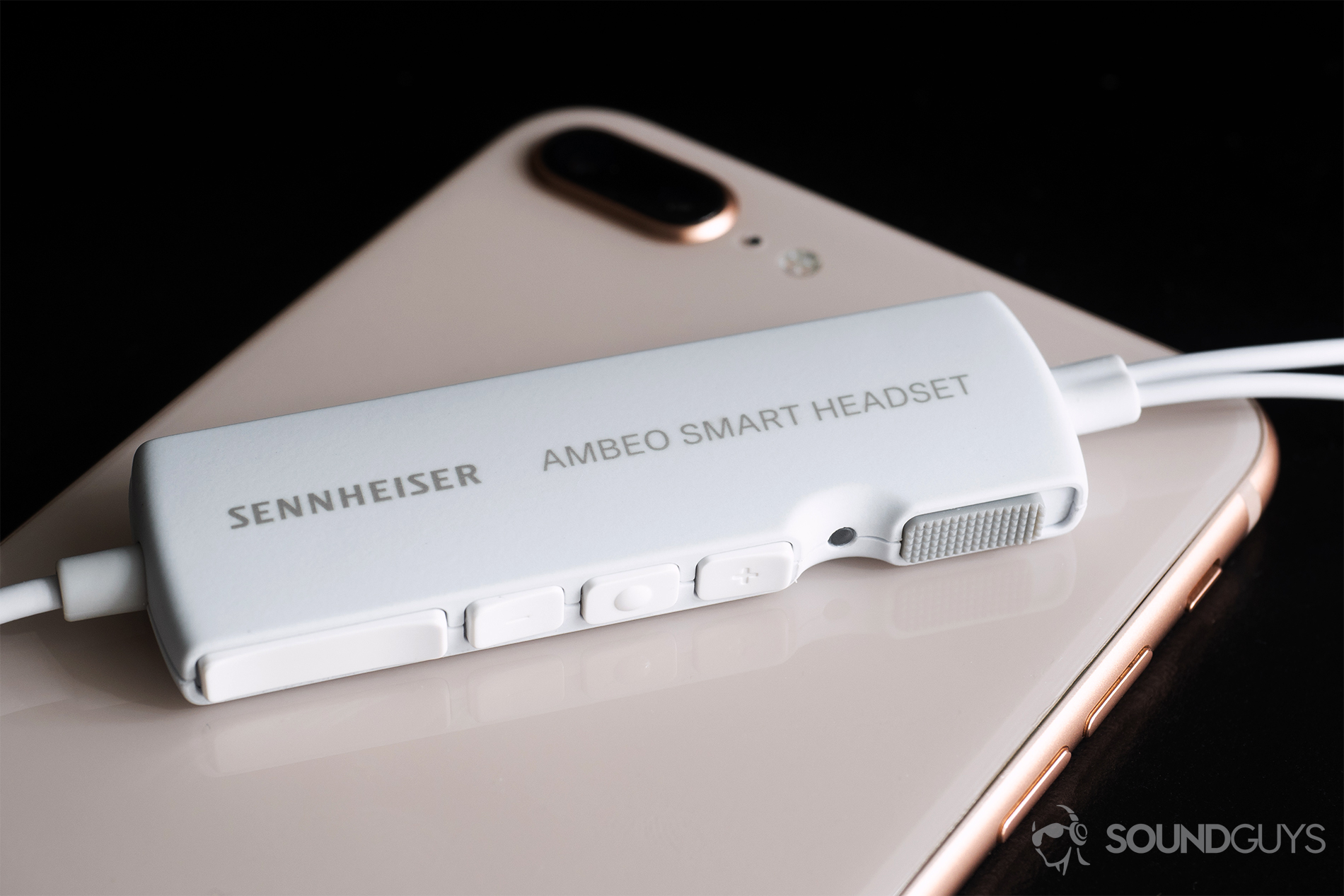 The in-line control module is large and easy to grasp. Everything that you can control here is also available through the Sennheiser Ambeo Headset app.
If you're not fond of using the eyesore of a remote, you can adjust all of these settings in the Ambeo app instead. But it is convenient to make blind changes on the fly—especially if you're just acquainting yourself with the Ambeo headset.
Sennheiser Ambeo Headset vs. Ambeo VR Microphone
Sometimes the best thing for the job is what's easiest to use, and the headset follows the "plug and play" philosophy. Sure, you could invest $1,650 and then some into the Sennheiser Ambeo VR Microphone, but unless you work with a production company that can afford to do so, that's an insane asking price. True, the Ambeo Headset doesn't deliver the same four-channel output as the dedicated microphone. For most of us, though, the built-in mics are more than good enough.
The control module sways quite a bit when walking and weighs down the Sennheiser Ambeo Headset.
Plus, the two products are intended for two completely different target audiences. On the one hand, you have the prosumers and enthusiasts. They may not have the means to fully invest but still want to try their hand at 3D sound. If that's the case, then the Sennheiser Ambeo Headset is the smarter choice.
However, if you know that you're working on a full-scale project that will wallop other films at the box office. Your team best not skimp on the recording method, especially if $1,600 is just a drop in the company bucket.
Limited by the Lightning cable, the Sennheiser Ambeo Headset is not compatible with Android devices.
In short, the Sennheiser Ambeo Headset features what the Ambeo VR Microphone lacks: portability, ease of use, and general convenience. If those factors take precedence over audio quality and greater post-production flexibility, then by all means invest in the Sennheiser Ambeo Headset.
These mics blows all other in-line mics out of the water
… and into the adjacent lake.
Prior to testing these earbuds, I thought of 3D recording as a fun gimmick, but didn't understand its draw beyond that… outside of the dedicated ASMR fanbase, anyway. However, after playing back casual recordings that I've taken with the Sennheiser Ambeo Headset, binaural recording markedly impacts the immersion of videos, audio too.
Inside the mic
For a mic found in a pair of in-ears, this is a real standout product; largely in part due to Sennheiser's use of the Apogee mic preamp. Great, but what is a preamp?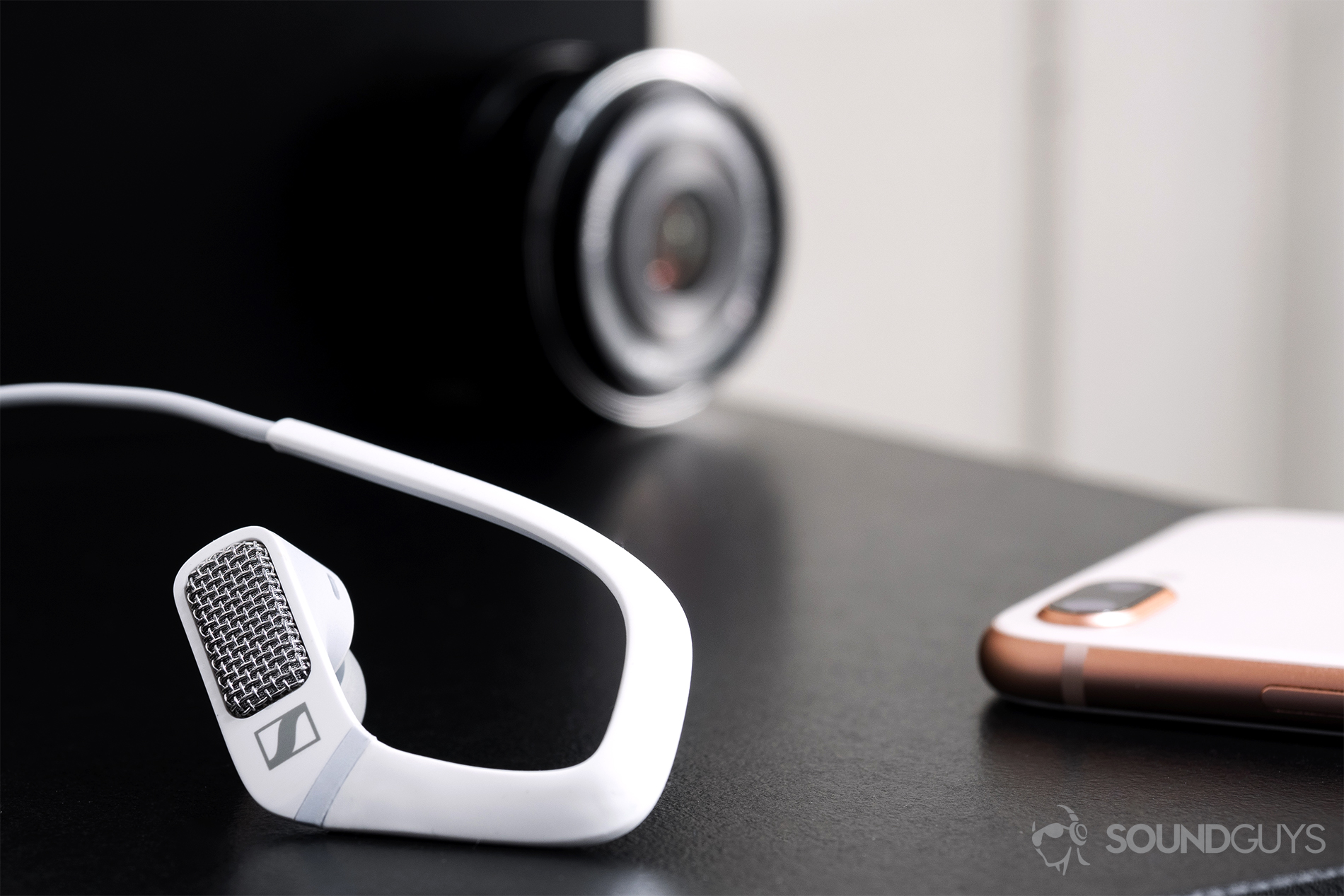 The ear hook is a flexible rubberized material while the lower portion with the mic and earbud nozzle is a stuff plastic.
Think of the mic pre-amp as prepping your ingredients for dinner. Cubing onions and slicing peppers makes it easier to saute them as opposed to throwing in each vegetable whole. Well, a mic preamp does the same thing by applying voltage gain. It prepares the mic signal so that it can be processed by other equipment. Otherwise, just as a whole onion in a pan wouldn't cook correctly, a mic signal that isn't treated by a preamp may not be processed correctly.
Should I use natural or reduced level recording?
If you're recording in a controlled environment, say your apartment or a studio, natural recording is preferred. As the name suggests, it records things, well, naturally. A bit of ambient noise is registered, giving your recordings a more lifelike quality.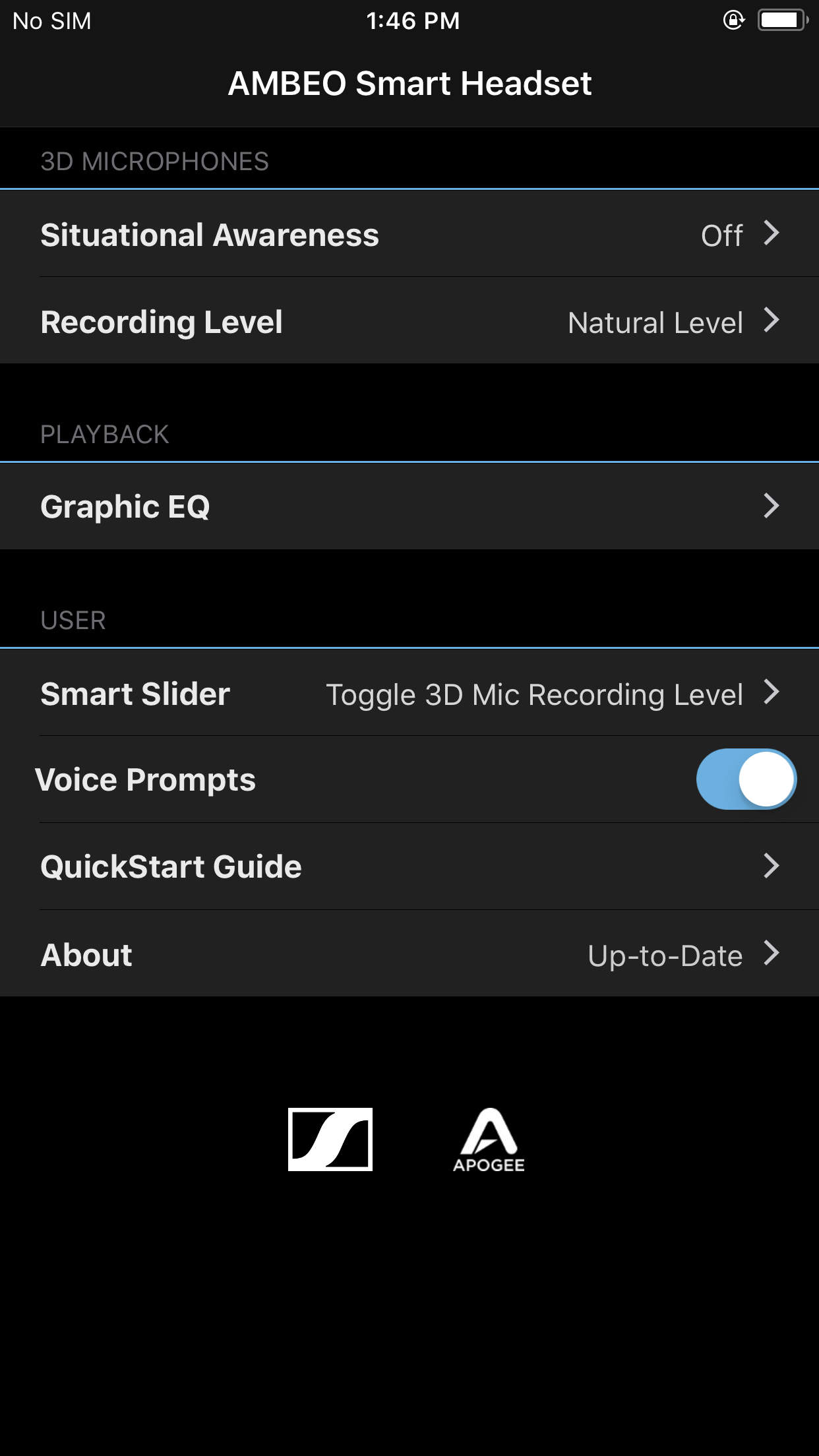 One of the most useful app features is the ability to fine tune your EQ.
If you're recording anything in a city with the headset, reduced level recording is the way to go. Otherwise, you'll find that the natural level seems to amplify the sound of passing cars and wind far too much, which can ultimately place your entire recording in jeopardy.
Connectivity: Lightning-only means limited usability
There isn't much to be said about the lightning connector aside from it being a pain to deal with. I'm truly baffled by the exclusivity of this headset—but who knows? Maybe a USB-C option gets released and makes it into a tiny list of decent USB-C in-ears.
How does the Sennheiser Ambeo Headset sound?
While sound quality likely isn't the draw to the headset, things sound good. And the active noise canceling and transparent hearing options are perks for commuters. That said, if you're familiar with over ear, open-back headphones like the Monoprice Monolith or Beyerdynmaic DT 1990 Pro, then these won't impress you.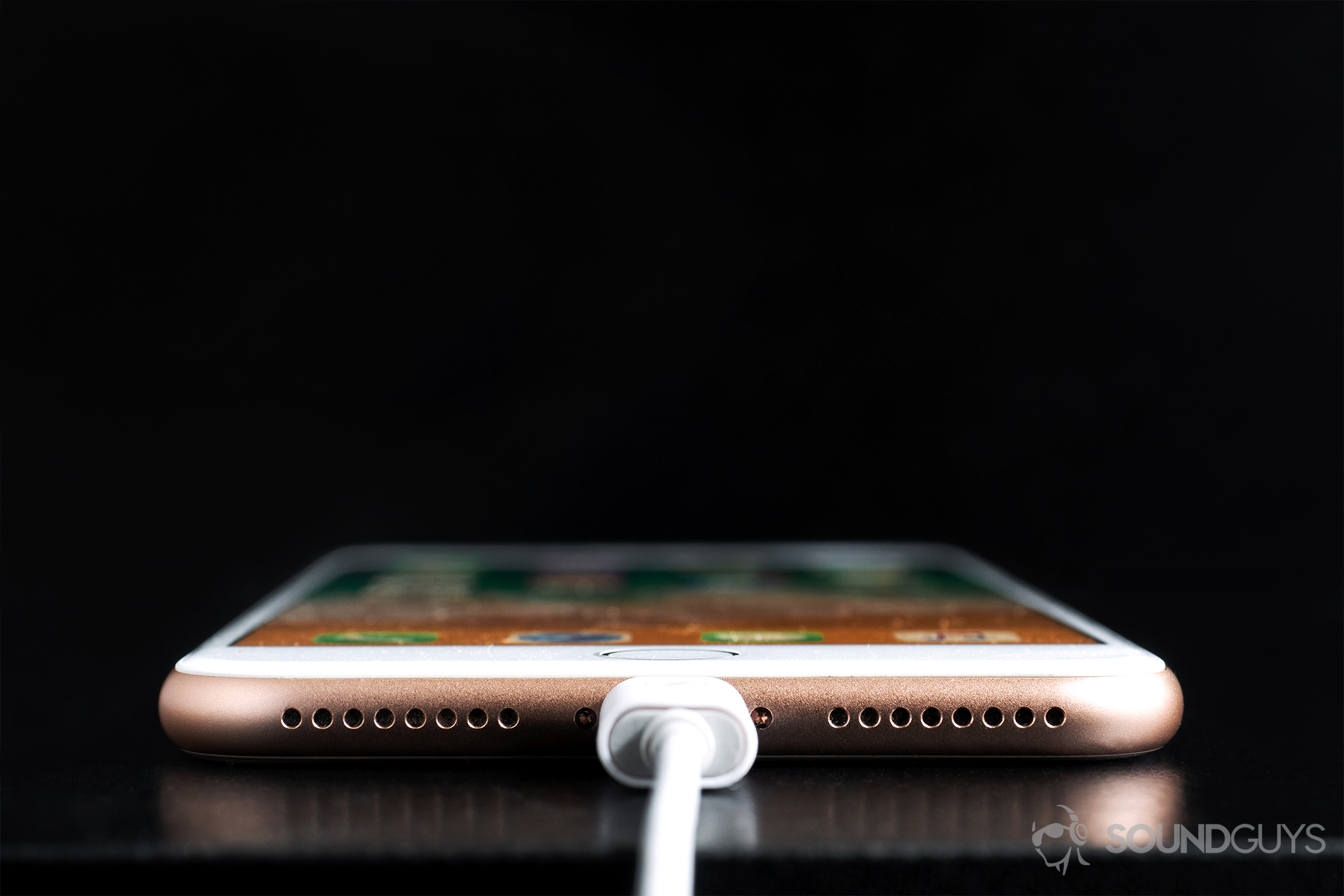 Using the Sennheiser Ambeo Headset is as easy as downloading the app, plugging the headphones in, and recording… but only if you have an iPhone.
Since "soundscape," or soundstage is the main selling point of the Sennheiser Ambeo Headset, you'd think that it would be mind-bogglingly good. While this may be the case if you're coming from gas station earbuds, plenty of in-ears do a fine job at this in the $100-plus price range. If you're working with similar earbuds now, then the Ambeo aren't worth buying for soundstage alone.
Ultimately, these do sound good and you can always adjust the playback via the app by choosing a premade EQ or fine-tuning the response to your liking. For the sake of this review, I'll be listening with active noise canceling on and with the flat EQ, because that's the Ambeo's default.
In The Fool Pt 1 (Get It Got It Good) by Shad, the bass is overemphasized—but that's super common for consumer in-ears, and probably what you're used to. This makes for a more engaging sound and one that's easier to hear in a crowded space, but this exaggerated low-end masks Shad's vocals throughout the entire song. A great example of this masking is at 0:54, when he says, "… that's what the system is built on." At this point, there's a bass drop that makes it difficult to hear the word "built" relative to the rest of the music.
Glad I Tried by Matt and Kim uses bells in the chorus at 0:46, and the harmonic resonance is easy to pick out above the duo's vocals and accompanying synthe sounds. The higher frequencies here are audible and resonate until the next bell is hit.
Should you buy it?
If you're an enthusiast who has wanted to try to add 3D sound to their production, then yes. Though $300 is a lot of money, it isn't much in the grand scheme of recording tools, especially if you plan on making binaural recording a signature part of your style.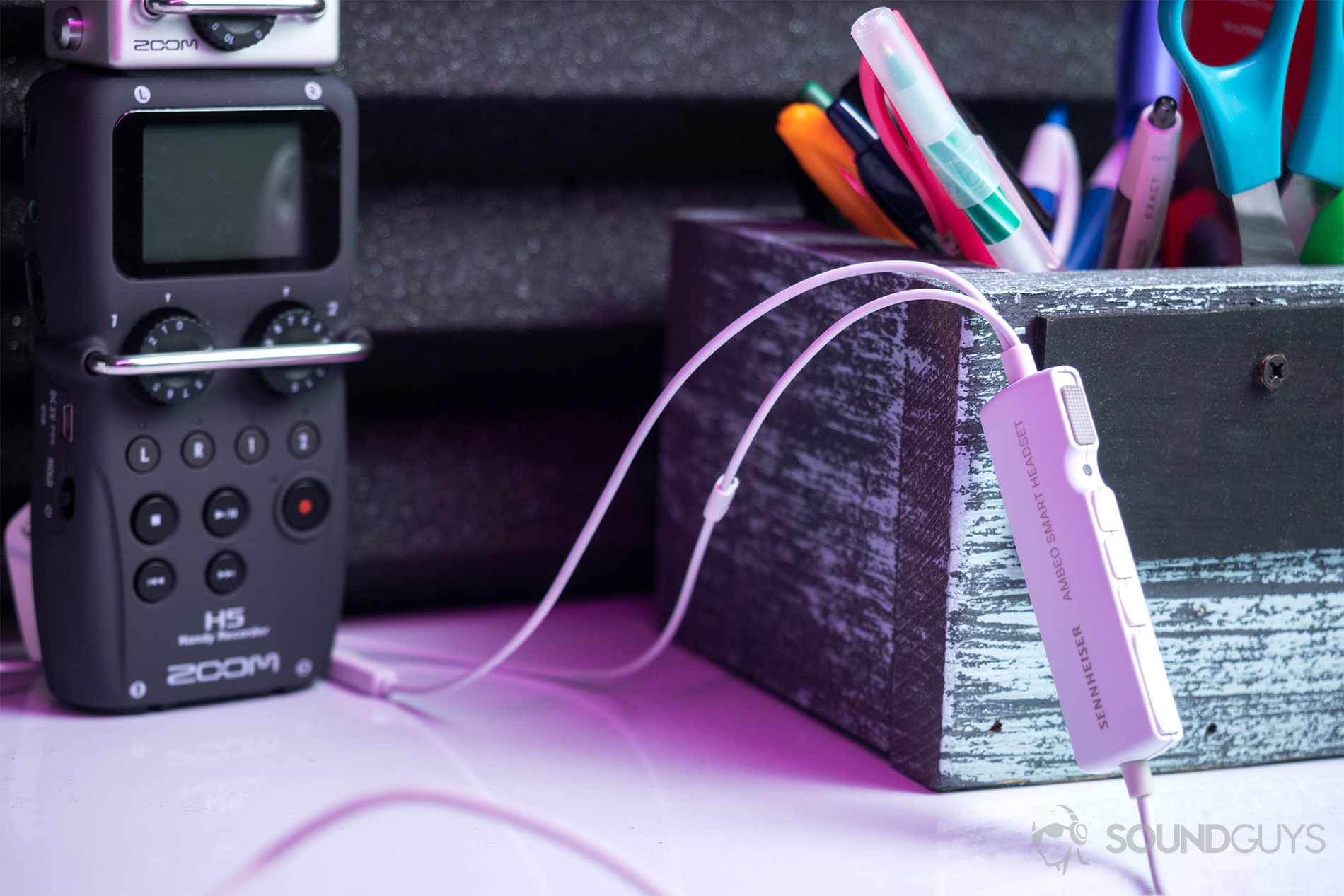 Though the audio quality isn't as clear as recording with the Zoom H5, the Ambeo Headset is much more portable and less intimidating to use for most consumers.
If, however, you're interested in these earbuds because you want your music to somehow sound dramatically different, you'll be in for a disappointing listen. These sound good and the custom EQ option is fantastic, but the sound alone does not warrant a few hundred dollars. Plus, I and others are still put out by the fact that these are iOS only.
Still looking? Read up on our list of the best wireless earbuds