All products featured are independently chosen by us. However, SoundGuys may receive a commission on orders placed through its retail links. See our ethics statement.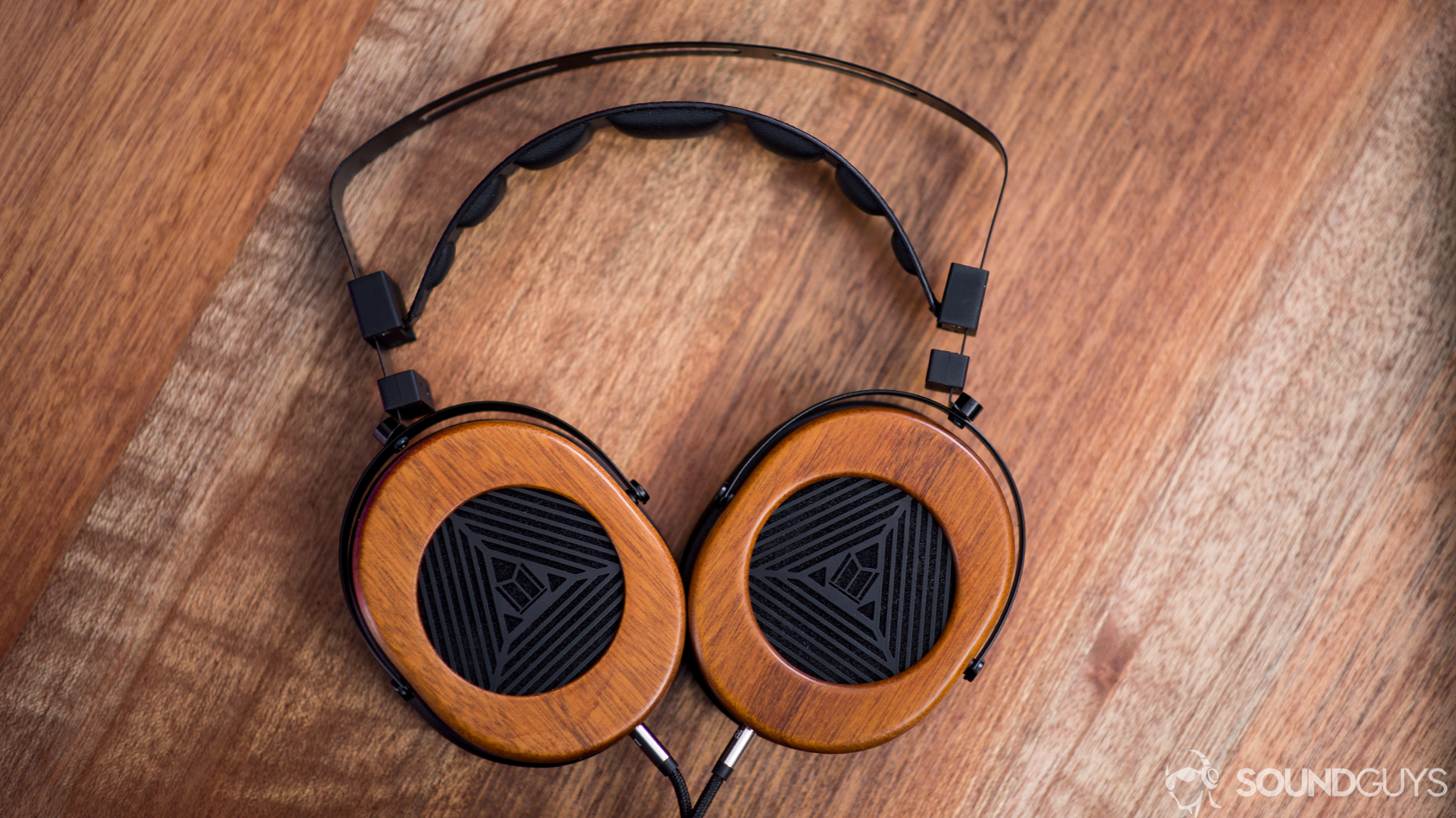 8.9
Monoprice Monolith M565
The bottom line
The Monoprice Monolith M565 planar magnetic headphones are a great "starter set" to get into the world of higher-end audio. Enthusiasts may not like the bass over-emphasis, but consumers will appreciate the sound quite well.
Monoprice Monolith M565
The Monoprice Monolith M565 planar magnetic headphones are a great "starter set" to get into the world of higher-end audio. Enthusiasts may not like the bass over-emphasis, but consumers will appreciate the sound quite well.
What we like
Sound quality
Price
Build quality
Comparatively light
What we don't like
Uncomfortable over long sessions
Ear pads can heat up
Leakage
Rating Metric
Sound Quality
9.3
Bass
9.2
Midrange
8.5
Highs
9.0
Durability / Build Quality
9.0
Value
9.5
Design
8.0
Portability
8.2
You've gotta hand it to Monoprice: they know how to make the most of a limited budget. Their halo product, the Monolith M1060 planar magnetic headphones, really dazzled us with its quality and price, but there are several other products in the Monolith line—how are they? Today we're looking at the M565, baby brother of the M1060. While it does fulfill the promise of a high-end set of cans, it's not perfect for everyone.
Editor's note: This article was updated on January 17, 2021, to match the formatting to SoundGuys' current style.
Who is the Monoprice M565 good for?
Given their price and headphone type, the Monoprice Monolith M565 is best suited to those who:
Want on-ear open-back headphones that sound great at the computer
Are not looking for commuting headphones
Don't plan on using these at the office, or around other people
How is the Monoprice Monolith M565 designed?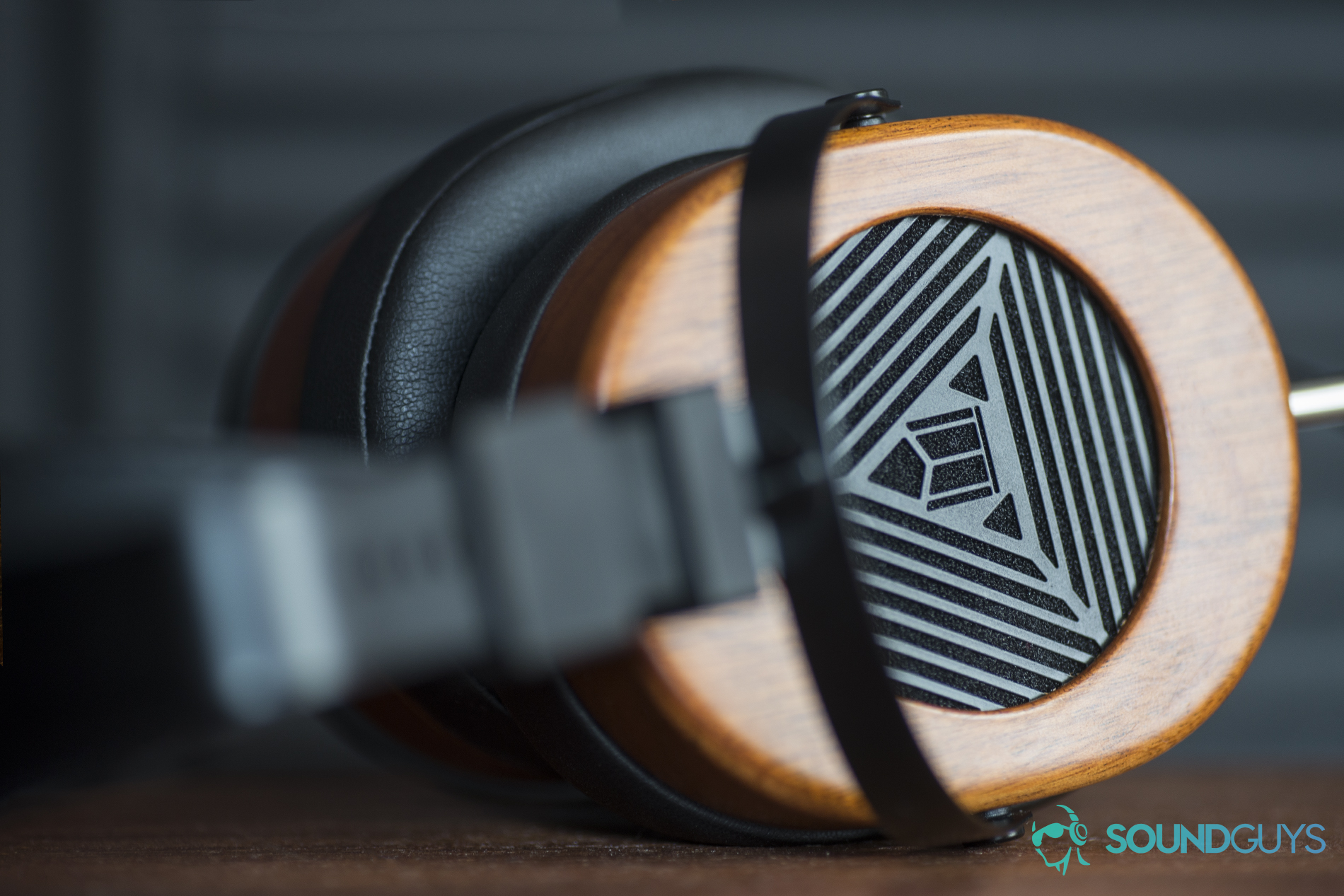 The Monoprice M565's open backs mean no isolation, and a lot of leakage.
The Monoprice Monolith M565 themselves are a very audiophile-oriented model, clad in both black matte metal grills, and well-finished wooden ear cups. As these are open-back headphones, you won't enjoy much isolation from the outside world. Additionally, everyone around you will be able to hear what you're listening to.
The roughly 4-foot cable is a standard Y-shaped affair, protected by a cloth weave and removable from the headphones. There's no microphone or remote on this, so even if you wanted take these on the go, it'd be difficult to use.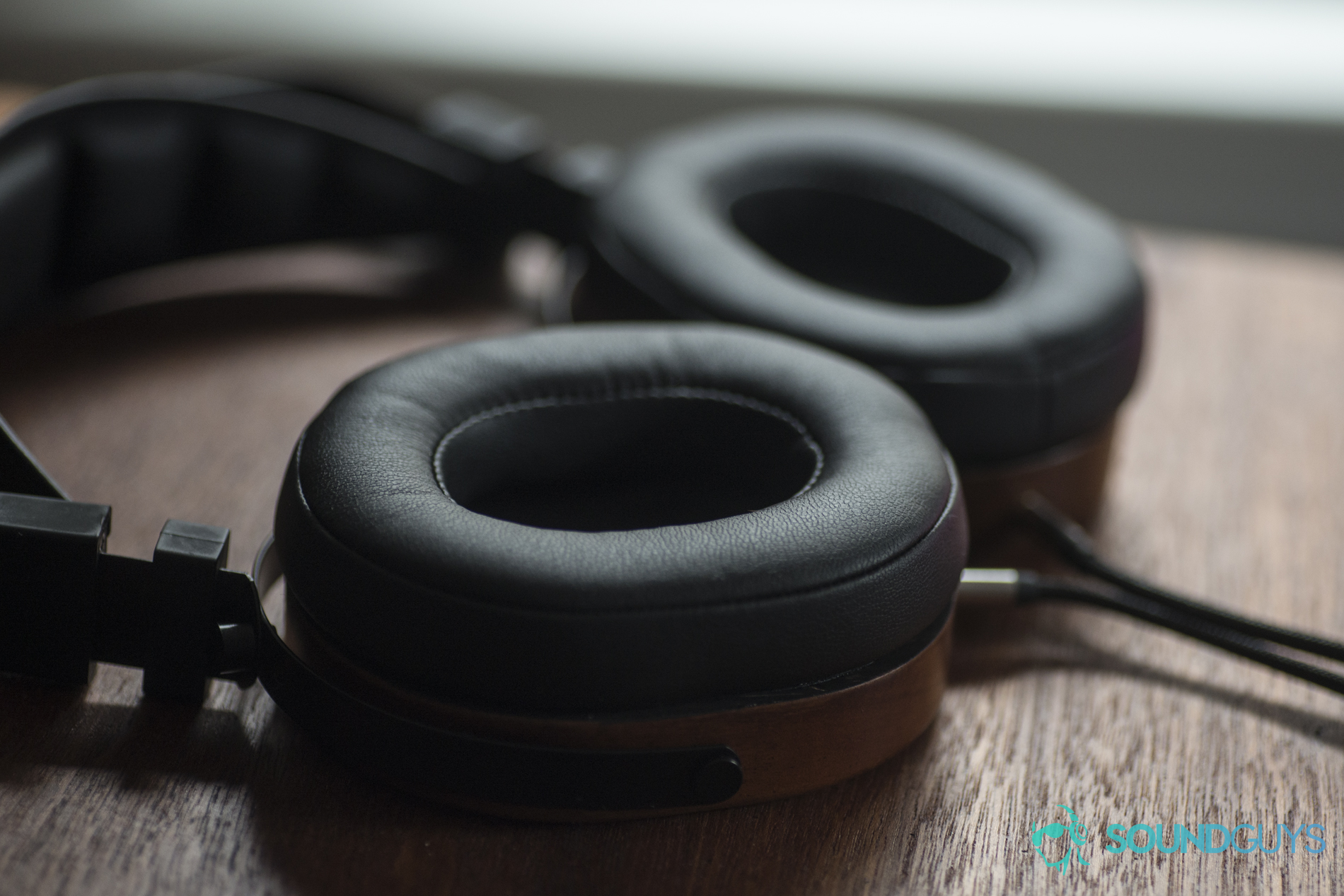 Soft leatherette earpads make for a comfortable experience.
The band of the Monoprice M565 is virtually identical to the one found on the Monolith M1060—a wide, square arch suspends a faux leather band that you can tighten or loosen by sliding chunky black plastic up notches drilled into the sides of the band. While it secures the headphones to your head well, sometimes it can put too much force on your skull. It's a strange sort of band, but torquing it down increases the surface area that the band meets your head, distributing the weight more evenly.
When you first open the box, you'll be greeted by a black carrying case for your headphones that would pretty much never fit in a bag. However, inside that case is a set of wood-ensconced headphones that look the part of a high-end affair.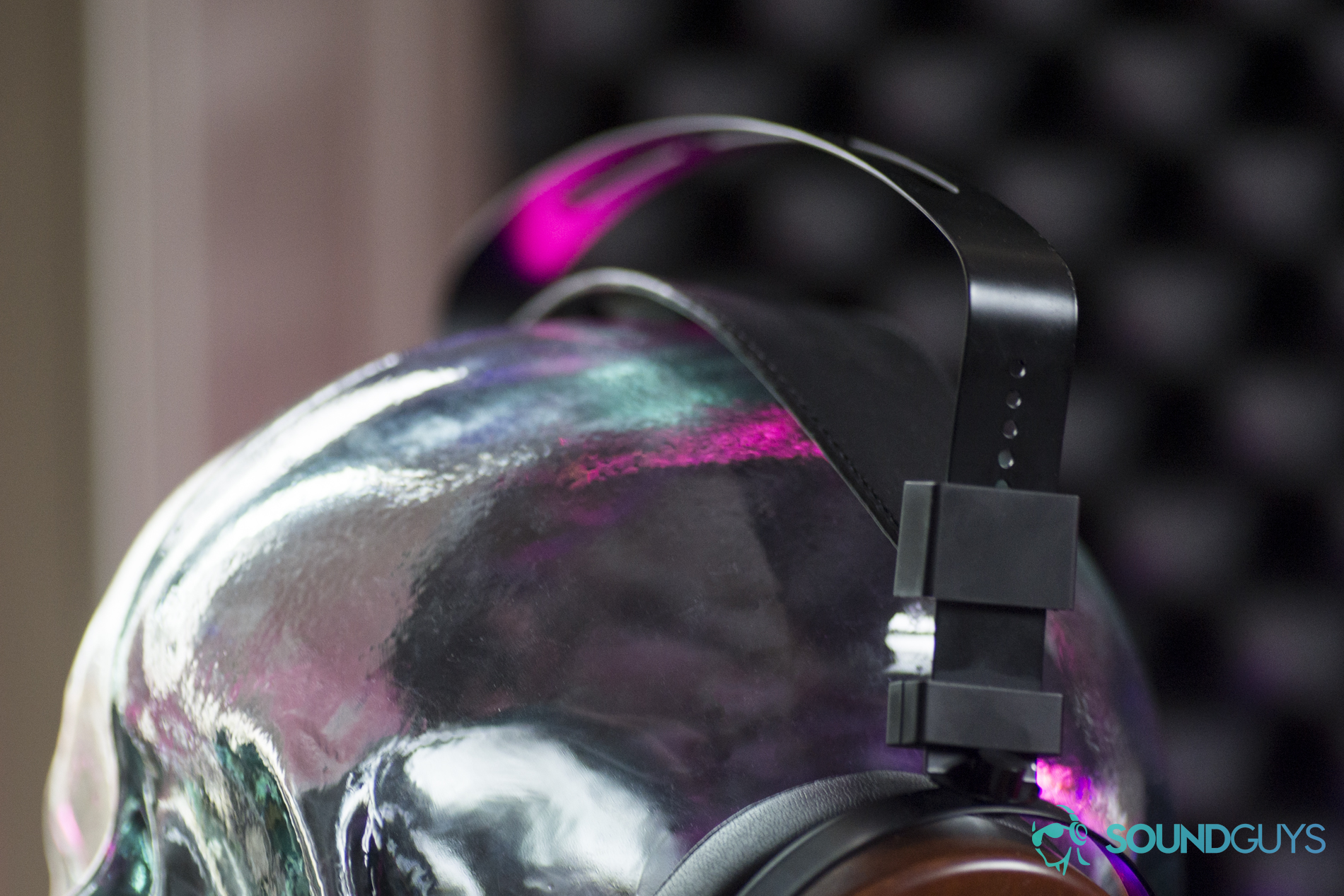 The odd-looking band distributes weight well, but can sometimes put a little too much pressure on your skull if not adjusted correctly.
Where the top-of-the-line Monolith headphones are a half-kilogram, these are a much more svelte weight, with thinner ear cups, lighter band, and smaller magnets. Magnets? You may ask; yes, magnets. You see, planar magnetic headphones like the ones in the M565 use large magnets to move a diaphragm, unlike dynamic or "normal" headphones. Typically, these magnets are massive and use a lot of power, but the ones inside the M565 are fairly light—though they do suck down their share of juice.
The benefit to this is that the overwhelming force applied to a lighter apparatus means the headphones can move _much_ faster, making for far clearer audio than what you're probably used to. While many headphones at the consumer level see some degradation of audio quality when they tune their sound for consumers, planar magnetic headphones don't usually suffer from that problem.
What kind of connections does the M565 have?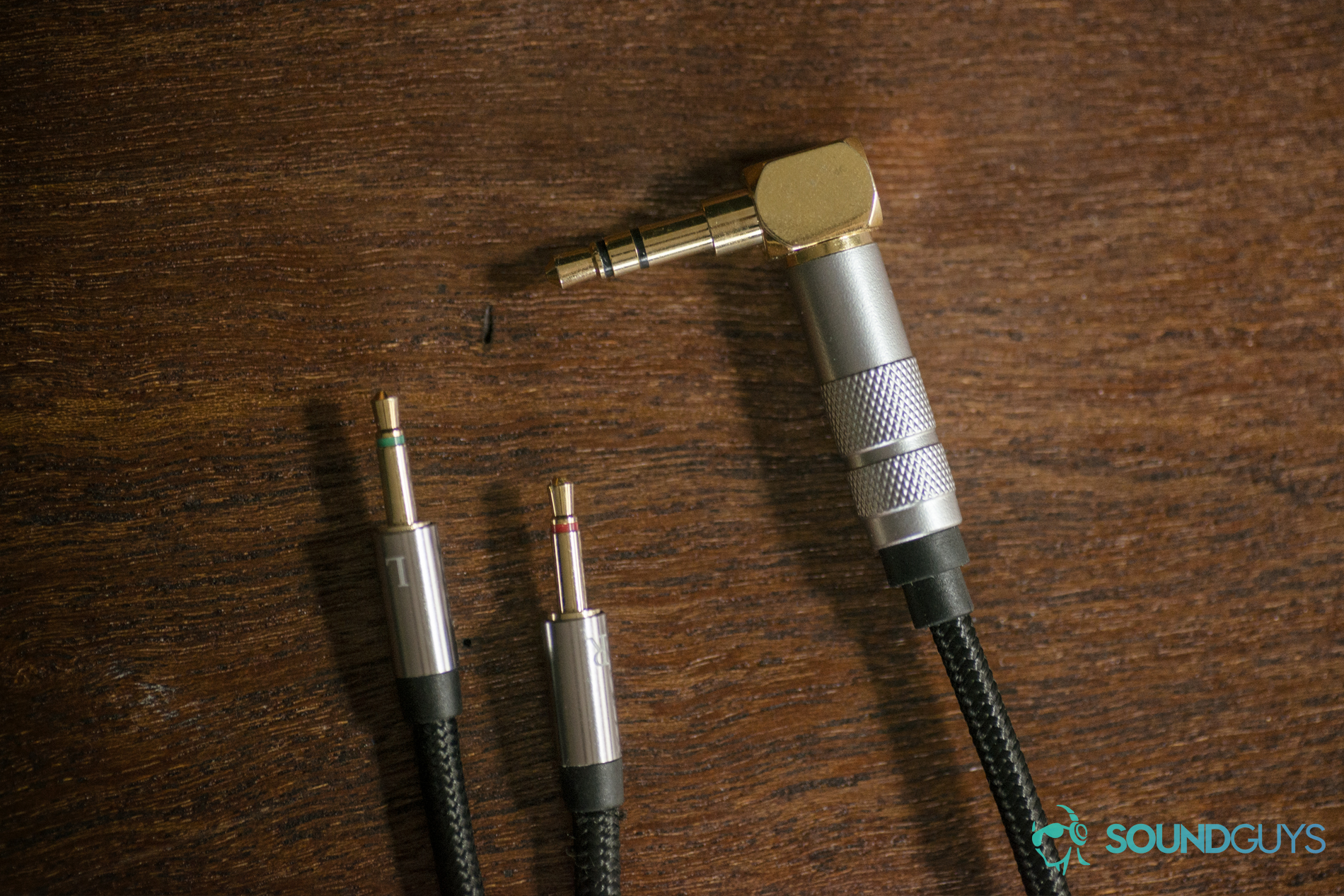 No reason to ditch what works: a removable/replaceable cable with 3.5mm plug works on virtually all amps and computers.
Much like the M1060, the M565 uses a standard 3.5mm plug with 2.5mm TRS plugs to connect each ear cup. Though the packaging says these are 32Ω headphones with a sensitivity of 102dB/mW, I found that these benefit a little from having an amp. Not a ton, but a little. They didn't sound all that great on my phone, but with an absolutely overkill ODAC/O2 amp of my own building, they sang without much gain applied. If you have an amplifier that can output 200mW to 4W, you should be fine.
How does the M565 sound?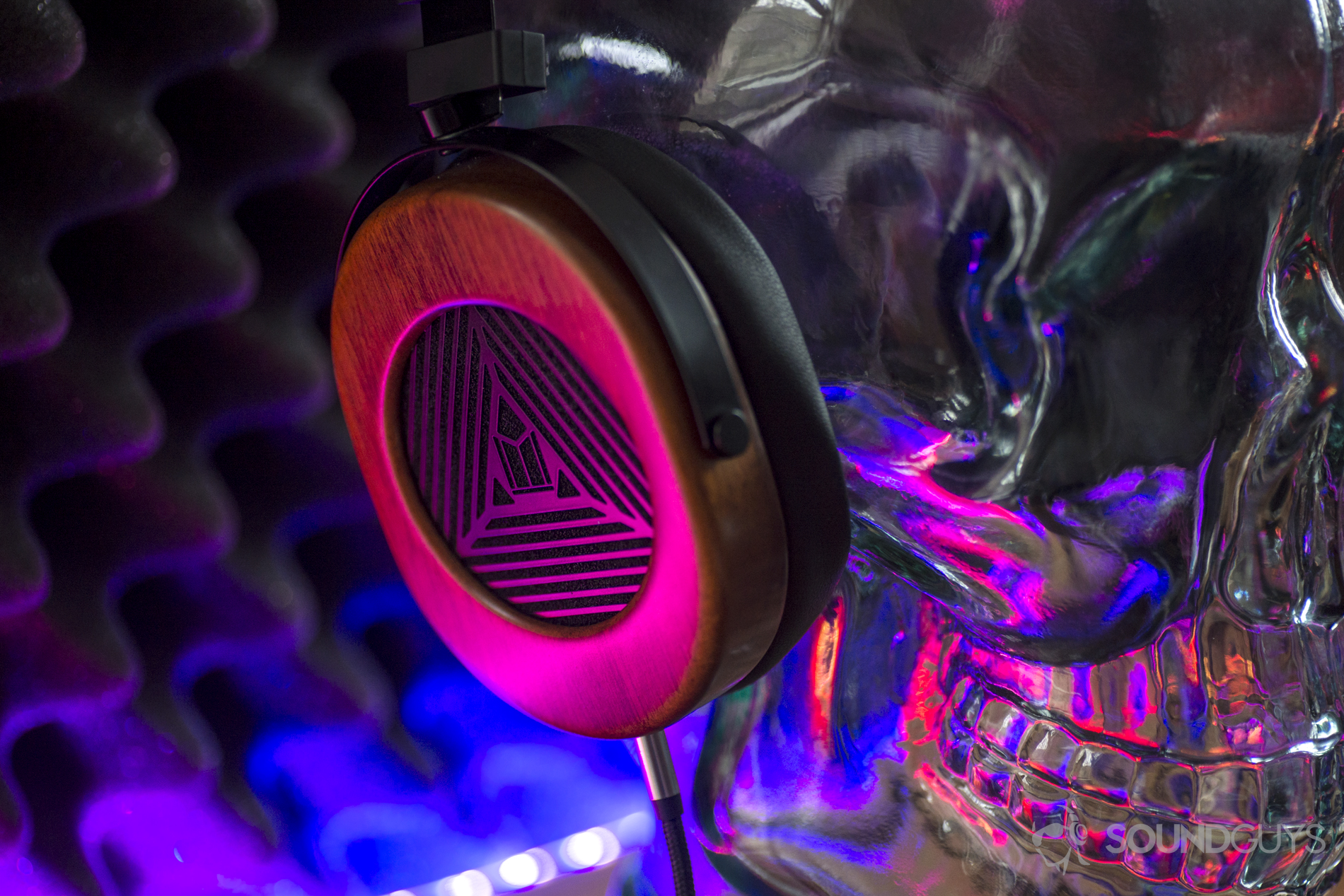 They may scream "classic rock," but the Monoprice Monolith M565 sing "metal" and "electronic" just as well.
This one's tough, because it oddly needs the right kind of fit to sound right. It took me quite a while to figure it out, but even then there are some idiosyncrasies that you should be aware of. Before I even get into the bass, mids, and highs, I should point out that the soundstage—the illusion of 3D space in audio—is a little "narrower" than you might expect at first. If you're only using these for music and calls that's not so bad, but it does make playing videogames a bit of a challenge.
The Monoprice Monolith M565 emphasizes low notes to a somewhat… consumer-friendly degree, and the planar magnetic drivers do a great job of making each note discernible—even when there's a lot going on in the low notes. Songs like Iron Maiden's 2 Minutes to Midnight are great illustrations of this. On most cheaper dynamic headphones the bass guitar can get lost a bit, but that's not a problem with the M565.
Thanks to the planar magnetic drivers, sounds in the mids are clear as can be. However, they're quite a bit quieter than the lows. If you like to crank your music this becomes a problem, as the basslines will overpower the rest of your music, masking the low-mids out in some cases. If you have a way to equalize your music, you may want to tone down the sub-300Hz range a bit to bring the mids out.
Synthwave fans will probably find this emphasis fairly hit or miss, given the way some songs tend to shift priority on the bassline. Songs like Lazerhawk's Overdrive will see the bassline drown out the melody in places, while The Midnight's Vampires will sound perfectly fine.
As it is with most consumer-oriented headphones, there is a bit of a peak at the 7-10kHz range of harmonics, but it's difficult to notice unless you've been trained to look for it. It's such a common feature to headphone tuning that it's built into several standards, including ISO226:2003. At worst, a minor peak here helps you hear the shimmer on some cymbals, or some of the higher harmonics in sounds like a bell, harp, or other super high-pitched sound effects over bass-ier music.
Should you buy the Monoprice Monolith M565?
For under $200 for a planar magnetic set of headphones, it's super tough to argue with the Monoprice Monolith M565. It isn't perfect, but it's a great buy for the money. Planar magnetic headphones are seeing a surge in popularity, and it's no mystery why: that tech is really good for personal audio. However, this is yet another set of headphones that's best used exclusively at home.
Frequently asked questions about the Monoprice Monolith M565
Unlike the HyperX Cloud Orbit S, the Monoprice Monolith M565 wasn't designed for gaming. The Monolith headset is for audio enthusiasts.
The Monoprice headphones lacks certain features that gamers expect from their headsets, such as a built-in microphone system, in-line controls, or software integration. Plus, the Monolith M565 requires an amp in order to function properly, which implies compatibility issues with most, if not all gaming consoles.
If you need a pair of cans for gaming, the HyperX Cloud Orbit S is a much better choice over the Monolith M565. However, we also have a list of the best gaming headsets if you're willing to look beyond HyperX's offering.