All products featured are independently chosen by us. However, SoundGuys may receive a commission on orders placed through its retail links. See our ethics statement.
8.2
Beyerdynamic DT 1990 PRO
The bottom line
The Beyerdynamic DT 1990 Pro are made for professionals, and remains a great choice for audio enthusiasts. Those with cash to burn will get plenty of mileage out of these open-back headphones.
Beyerdynamic DT 1990 PRO
The Beyerdynamic DT 1990 Pro are made for professionals, and remains a great choice for audio enthusiasts. Those with cash to burn will get plenty of mileage out of these open-back headphones.
Dimensions
Straight cable: 3m
Coiled cable: 5m
What we like
Great sound quality
Build quality is top-notch
Comfortable ear pads
What we don't like
Ear pads are hard to swap
Requires an amp to drive properly
Rating Metric
Sound Quality
9.8
Bass
9.8
Midrange
9.9
Highs
9.8
Durability / Build Quality
6.9
Value
7.5
Design
8.0
Connectivity
6.5
Portability
6.0
Feature
7.0
Comfort
8.9
Beyerdynamic is famous for its large, over-ear headphones built for the studio. We've reviewed older products like the DT 990 PRO to newer ones like the DT 700 PRO X, both of which are easy to recommend depending on your needs. But today, we're looking at a years-old product that stands the test of time: the Beyerdynamic DT 1990 PRO. These headphones share some similarities with their predecessors, but for the most part, the DT 1990 PRO are better in every meaningful way.
Editor's note: this Beyerdynamic DT 1990 PRO review was updated on May 19, 2023, to update the formatting and expand the Alternatives section. We also added an FAQ section.
What's it like to use the Beyerdynamic DT 1990 PRO?
At some point in your life, you may have heard about the beauty that is German engineering, and the Beyerdynamic DT 1990 PRO are a prime example of that. This headset is made almost entirely of matte black metal, with only the bare minimum plastic covering the wires. The headphones are also open-back and show off that fact with intricate offset cuts into the side of each ear cup. From a distance, they look shiny and noteworthy, but getting close up, you'll see just a small grill separates the drivers from the air. It's that attention to detail that you'll find all over this headset.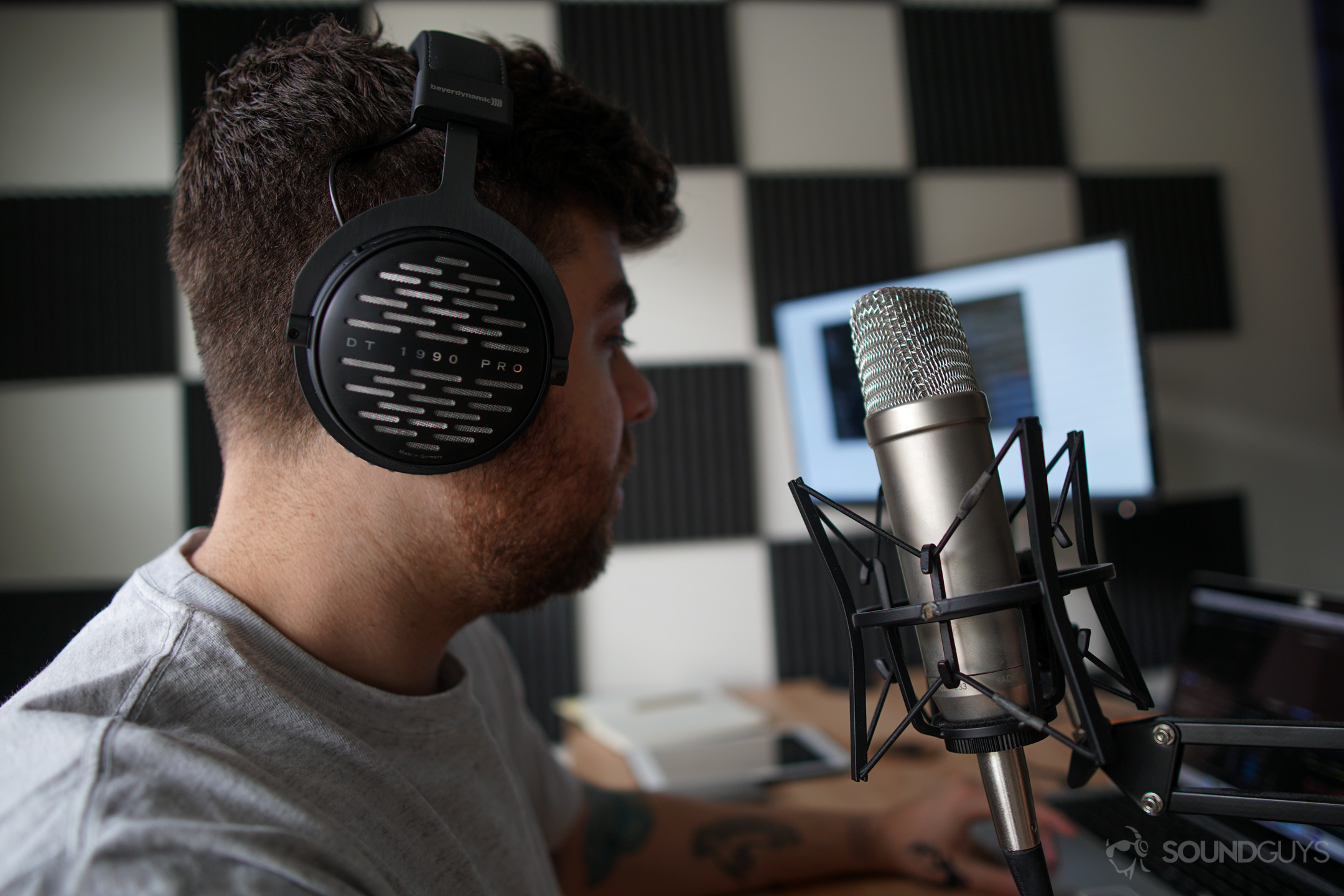 The DT 1990 PRO headphones are for audio production.
The headphones come with two sets of ear pads for what Beyerdynamic says is for "balanced" or analytical listening. The ear pads slightly affect the frequency response (which we'll get into a little later) and are wrapped in a plush velour that makes them as comfortable as they look. They come with the "balanced" ear pads pre-installed, but I recommend switching out to the analytical ear pads for no other reason than comfort.
My one issue is the convoluted method Beyerdynamic expects you to swap them out. Each ear pad has a small flap, which needs to be placed in a small notch on the ear cup. Rotating the ear pad should align the entire thing in place, and it works but takes a long time to get right (in my case, 20 minutes). As clever as it seems at first, there has to be a more straightforward solution to this problem.
Taking a step back, you can fully appreciate the overall build even further thanks to the padded leather headband and removable cable on the bottom of the left ear cup. You'll get a 3-pin mini XLR cable that snaps into place and doesn't budge afterward. Up top is the adjustable headband wrapped almost entirely in soft but firm leather. At 370 grams, these aren't going to float over your head, but they won't hurt either. The ear pads get a little warm after a while—as you might expect from giant velour ear pads like these.
How do you connect the Beyerdynamic DT 1990 PRO?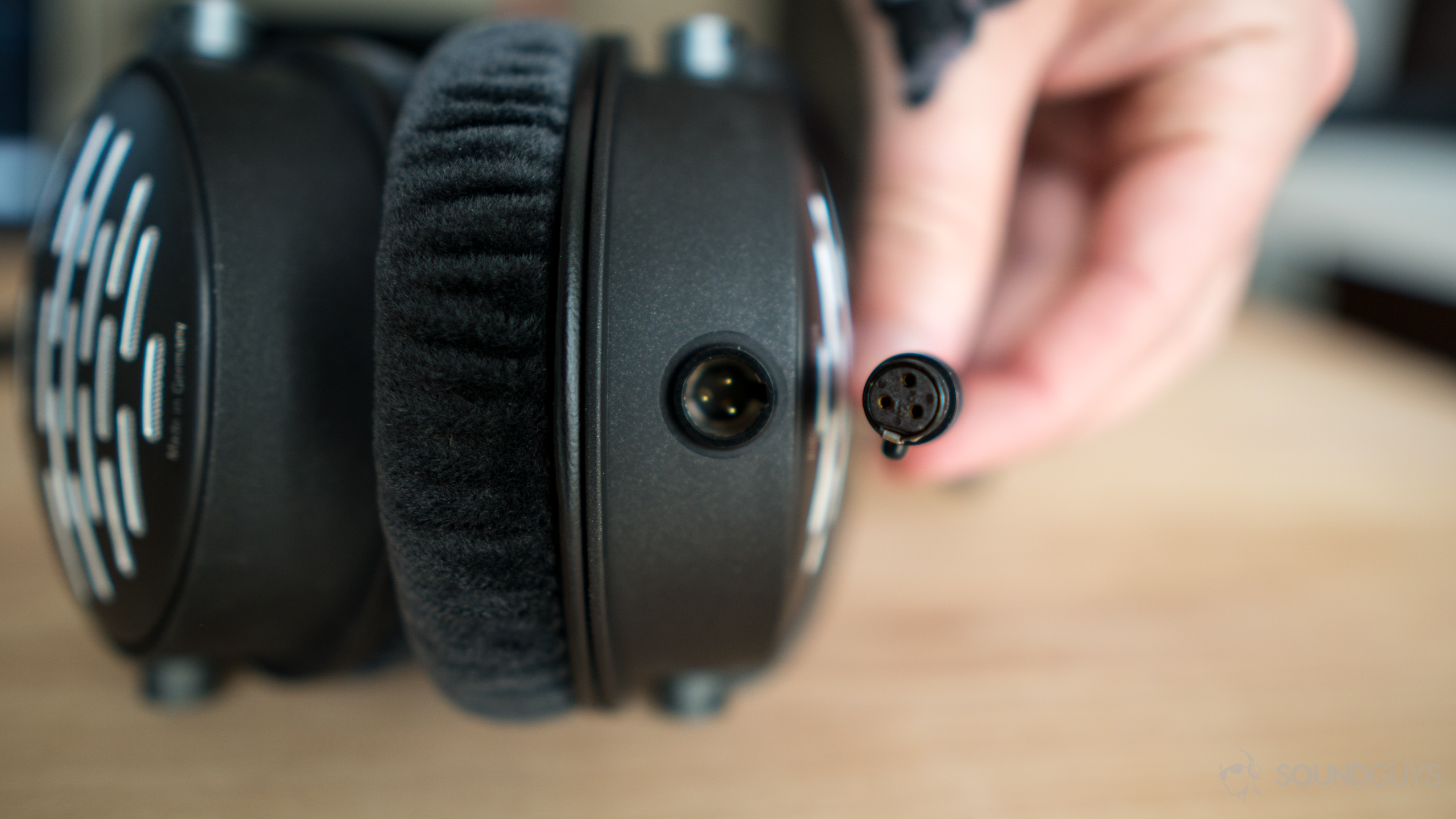 These use a 3-pin mini XLR cable to connect, and come with two cables (coiled and straight).
Now is when we get to the fun stuff. Both cables have an impedance of 250Ω which means you're probably going to need an amp to drive these sufficiently. Plugging the DT 1990 PRO into my laptop (and even iPad) let me hear what was going on just fine, but I had to crank to volume to 100% on those devices just to get to what would normally be around 70%. If you don't want to deal with that annoying issue, picking up a decent amp will do wonders.
You get two cables in the box, one 3-meter straight cable and another coiled cable that can reach 5 meters when stretched out. Both cables have a 3-pin mini XLR on one end and a 3.5mm jack on the other. Each cable also has a screw-on 1/4-inch adapter.
Do the Beyerdynamic DT 1990 PRO block out noise?
Like other open-back headphones, these do virtually nothing to keep sound out.
Since the DT 1990 PRO are open-back headphones, they don't block out any noise. While some people may be surprised by this, it's a headset feature. This allows you to get a better sense of "space" in your music, often described as "soundstage." That said, my perceived sense of auditory space when listening to these headphones wasn't as good as expected. It's only slightly better than the DT 990 Pro headphones. I guess I was expecting more of an upgrade, but as it is with most high-end equipment, you can end up paying a lot for only a small upgrade. It should also go without saying that sound leakage is at a maximum here.
How does the Beyerdynamic DT 1990 PRO sound?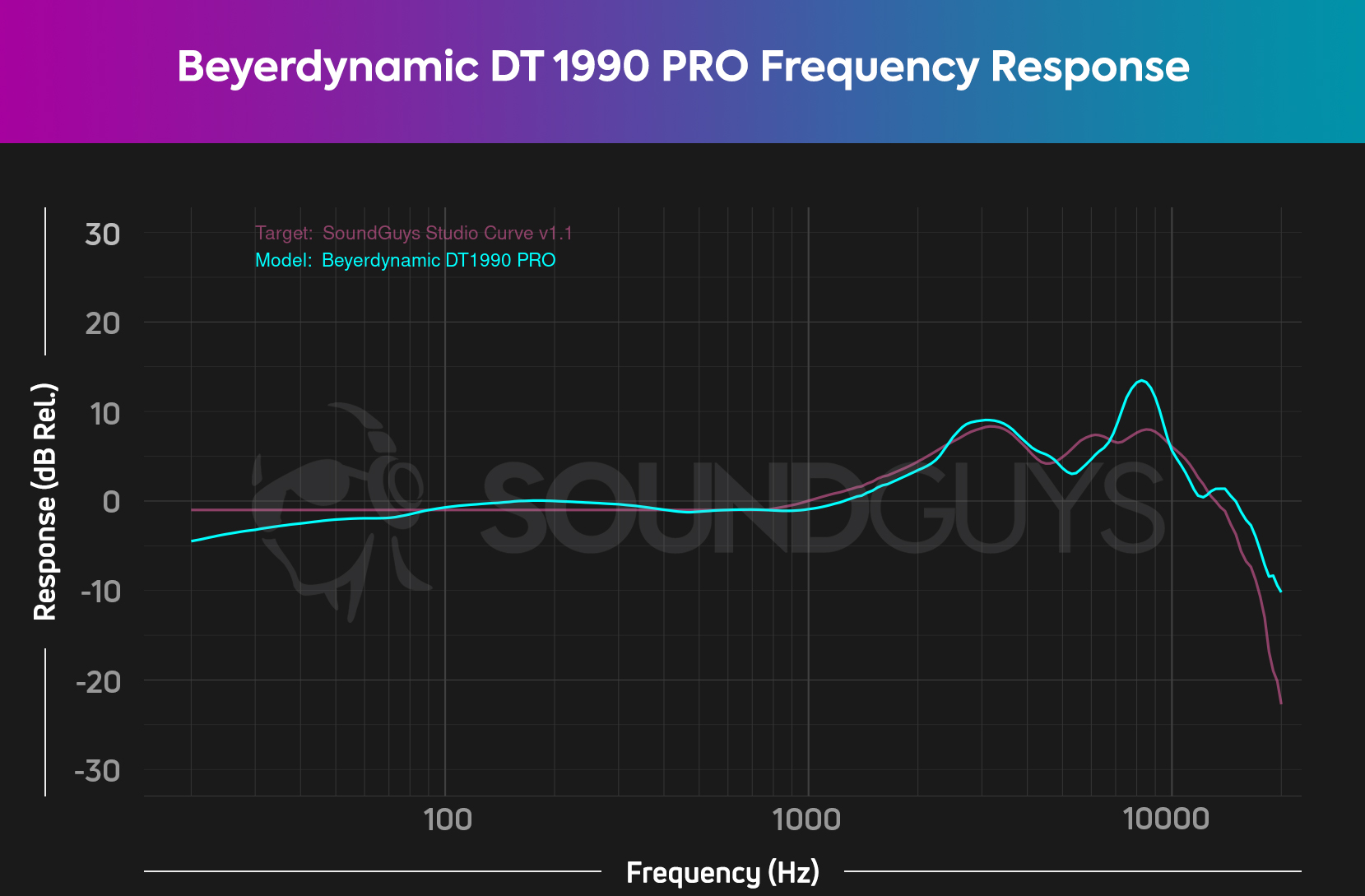 The DT 1990 PRO closely follows our studio target curve, except for a pronounced peak at 8-9kHz.
Depending on what you're looking for, you can get two frequency responses out of the DT 1990 PRO when you switch the ear pads. The differences between them are subtle, but they're there. The ear pads don't change how the drivers sound, but if you opt for the "balanced" pads (the one with a bunch of holes on the back) you will get a slightly more emphasized low end than the analytical ear cups. As I said, it isn't too aggressive a change, but the headphones already have a decent low end without any help (see above).
Lows, mids, and highs
The bass and midrange is about as neutral as headphones get, and you can hear this in the song Moon River by Frank Ocean. Where the bass line never overpowers vocals or other instrumentation. Mids still come through clearly, and vocals in the song Wait by the River by Lord Huron are easy to hear. I think it sounds fantastic. The over emphasis on the higher frequencies make hi-hats and cymbals sound unnaturally present, so many people loathe Beyerdynamic's boosted treble response.
Should you get the Beyerdynamic DT 1990 PRO?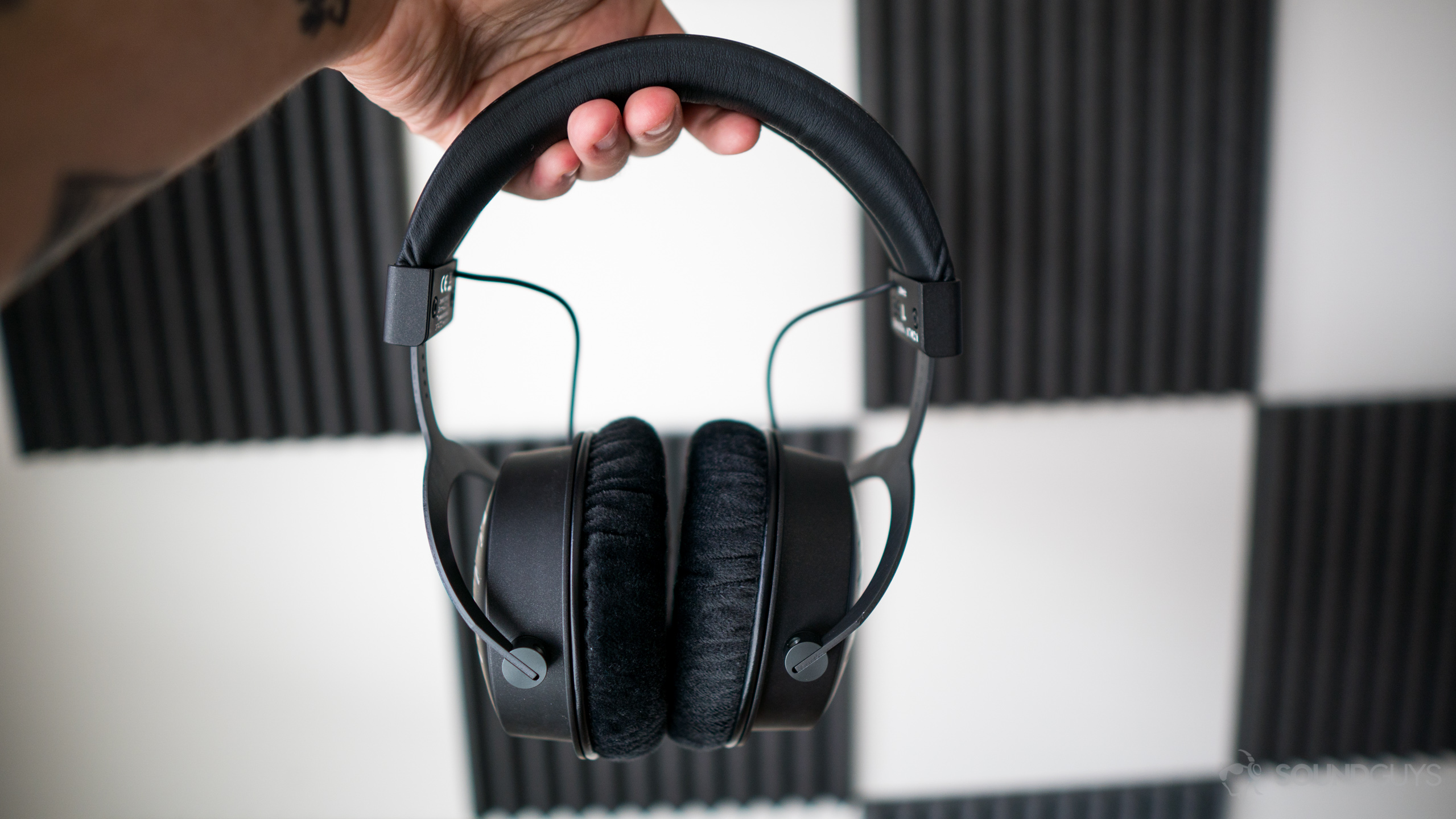 The headphones aren't the most portable and don't fold or have any rotating ear cups.
If you have a budget of around $400-600 for headphones and only care about listening to music, then get these. Beyerdynamic did a great job making the DT 1990 PRO practical for work and a great everyday headset. The build quality is top-notch, and these are comfortable enough to wear for hours. But it should go without saying that these aren't for anyone who wants to go portable.
Though these headphones come with a nice carrying case, it's more a way to get it from one desk to another rather than taking it out for a quick listen on the subway. If you decide to pick the DT 1990 PRO up, you should also have a good amp to drive them.
Beyerdynamic DT 1990 PRO
Beyerdynamic DT 1990 PRO
What should you get instead of the Beyerdynamic DT 1990 PRO?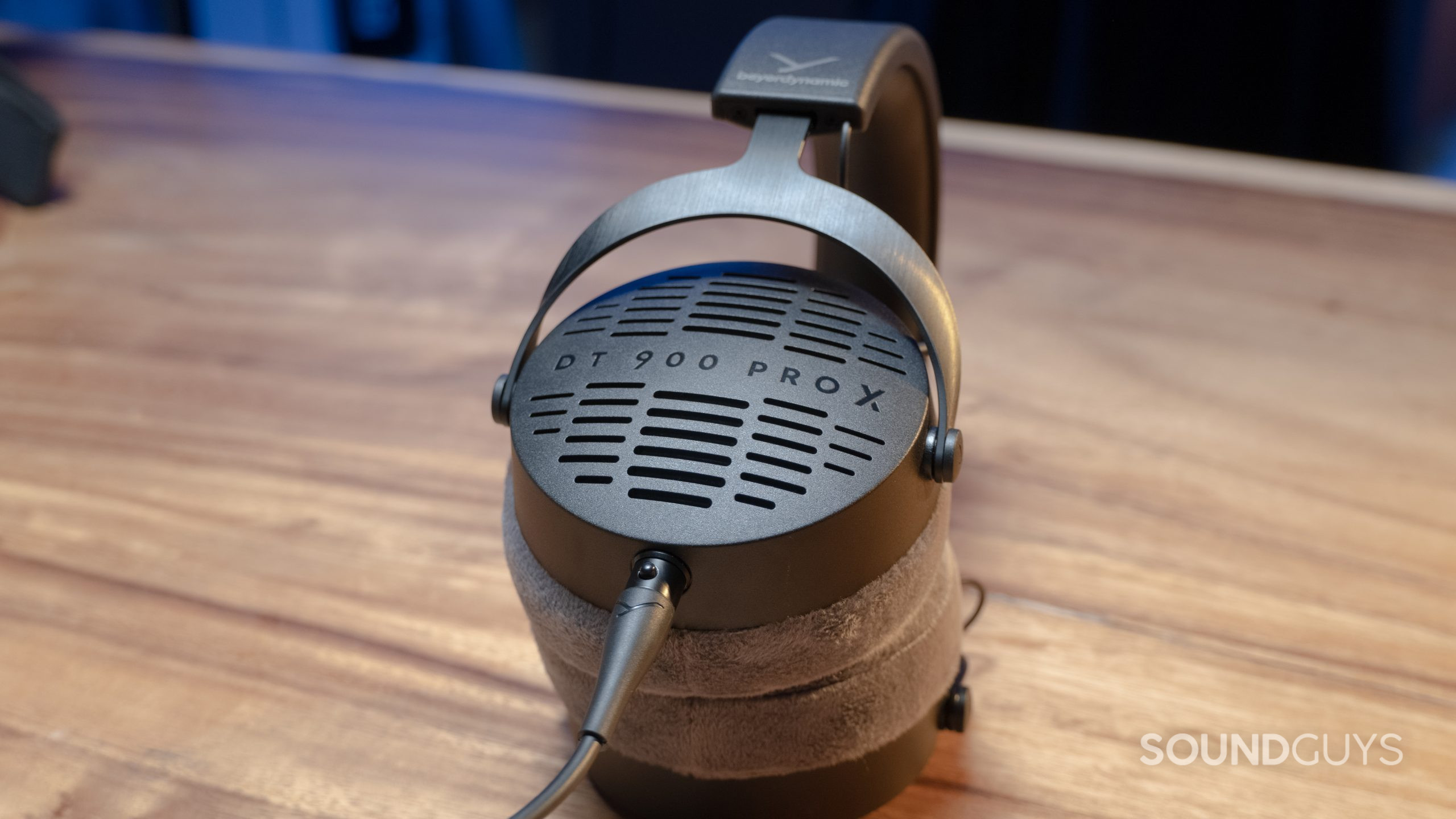 We have to really nitpick to find flaws in the Beyerdynamic DT 900 PRO X.
The Beyerdynamic DT 900 PRO X ($529 at Amazon) are an obvious alternative to the DT 1990 PRO because they share a similar open-back build with lower power requirements. You can just as easily use your iPhone to power this as you would a desktop computer, thanks to the 48Ω impedance. The DT 900 PRO X frequency response is about as perfect as it gets. Listeners who want excellent sound quality in a slightly more portable package that costs less than the DT 1990 PRO should get this. Alternatively, the closed-back DT 700 PRO X ($249 at Sweetwater) are a great option too.
If after realizing this, you don't want to spend a ton of money and want a more portable studio headset, look into the Audio-Technica ATH-M50xBT2 ($198 at Amazon). These explicitly take after the wired Audio-Technica ATH-M50x and include Bluetooth 5.0 with support for the SBC, AAC, and LDAC Bluetooth codecs. The bass and midrange response isn't nearly as accurate as with the DT 900 PRO X, but Audio-Technica's headphones are half the cost.
Frequently asked questions about the Beyerdynamic DT 1990 PRO X
You just need an amp that will sufficiently power the headphones. There's no need to overspend here. The Monolith 133304 Liquid Spark amp will serve you well.
The Sundara have an under-emphasized bass response relative to the DT 1990 PRO.
The DT 1990 PRO have a slightly better bass response than the Sundara, but Beyerdynamic's headphones emphasize the treble more, too. That being said, both headphones sound very good.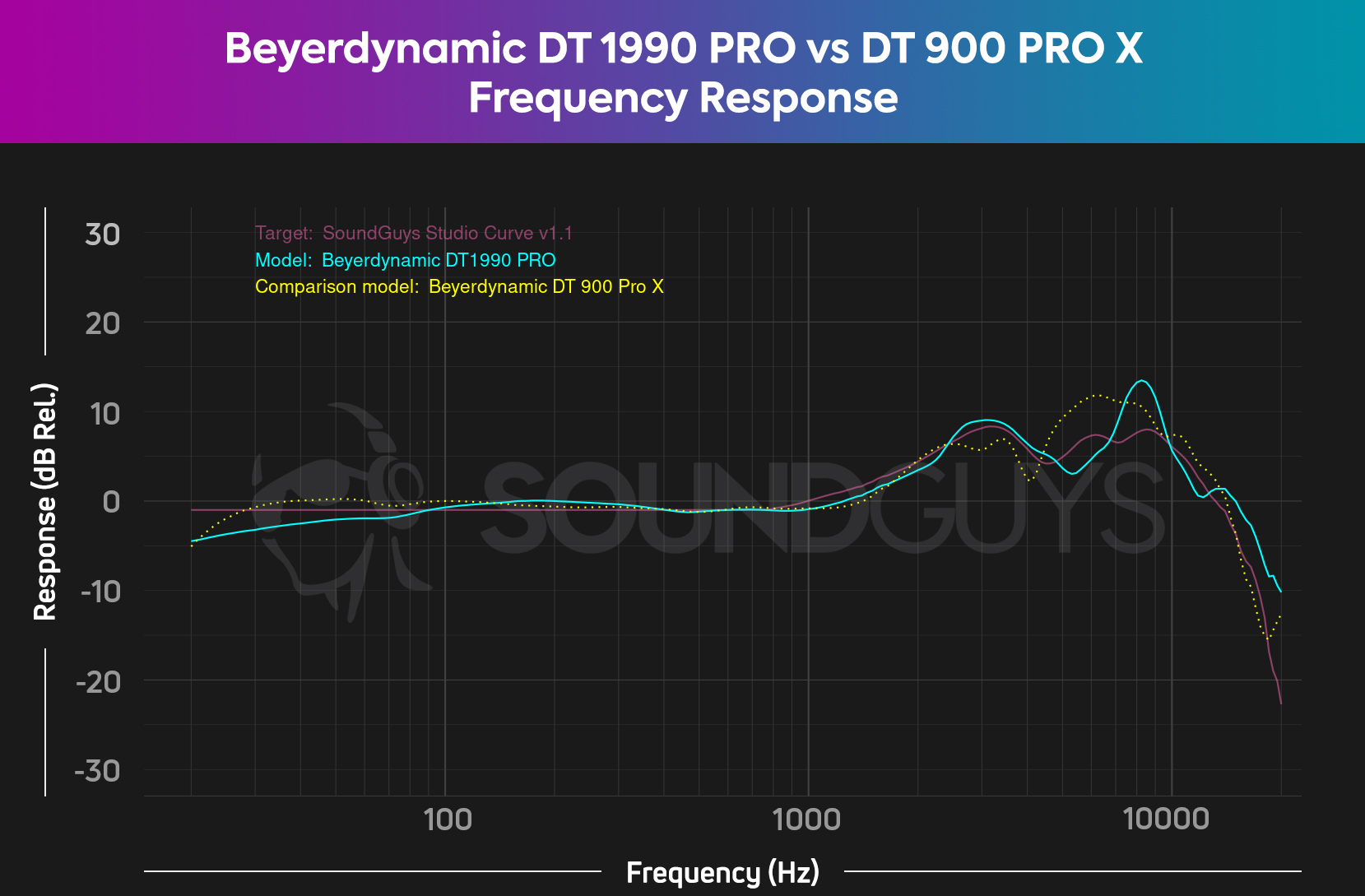 The DT 900 PRO X have a slightly louder sub-bass output, and both headphones boost treble to varying degrees.
You can tell that the headsets have very similar outputs, particularly along the midrange. Things diverge in the treble range where the DT 900 PRO X has a louder output from 5-7kHz.