All products featured are independently chosen by us. However, SoundGuys may receive a commission on orders placed through its retail links. See our ethics statement.
7.5
Thresher Ultimate Xbox
The bottom line
The Thresher Ultimate one of the best gaming headsets on the market, especially if you're bouncing between an Xbox One and PC. This is a solid wireless headset with good battery life and better sound. It keeps all the right things simple.
Thresher Ultimate Xbox
The Thresher Ultimate one of the best gaming headsets on the market, especially if you're bouncing between an Xbox One and PC. This is a solid wireless headset with good battery life and better sound. It keeps all the right things simple.
What we like
Wireless.
Great sound.
Simple to set up.
comfortable.
What we don't like
Takes a while to charge.
Isn't as glasses friendly as advertised.
Rating Metric
Sound Quality
8.2
Bass
9.7
Midrange
9.7
Highs
6.0
Isolation / Attenuation
1.4
Durability / Build Quality
8.5
Value
7.5
Design
8.5
Battery Life
8.4
We live in a multi-platform world, and gaming headsets can' t stay console exclusive to satisfy everyone anymore. More and more gamers revel in multiplayer games over PC, Switch, Xbox and Playstation—and a headset for each just isn't going to cut it. It's these people to which the Razer Thresher Ultimate caters.
The Thresher Ultimate aims to simplify going between console and PC. It's a comfortable wireless gaming headset that can do both beautifully.
Editor's note: This review was updated on October 28, 2021 with a new conclusion to reflect the gaming headset market in 2021 and a section dedicated to alternative buying options.
Who is the Thresher Ultimate for?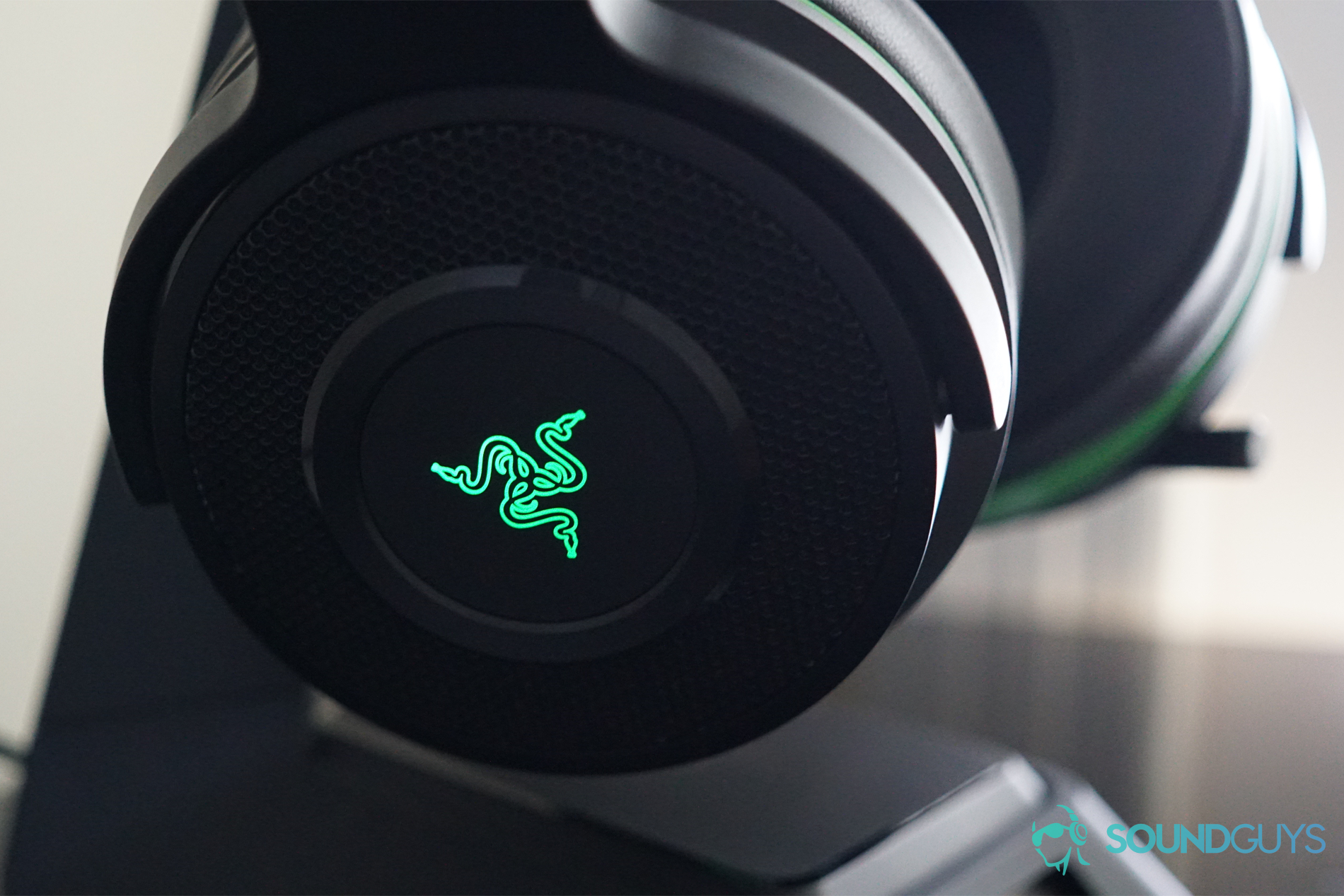 Some things never change, and that Razer logo glows brightly.
Owners of PCs, Xbox, or Switch consoles: Much like every other gaming headset out there, the Razer Thresher Ultimate is meant as a simple audio solution for anyone who needs a headset to handle both console and PC gaming.
Home office warriors in need of a convenient headset that can be used for work or play.
Out of the Box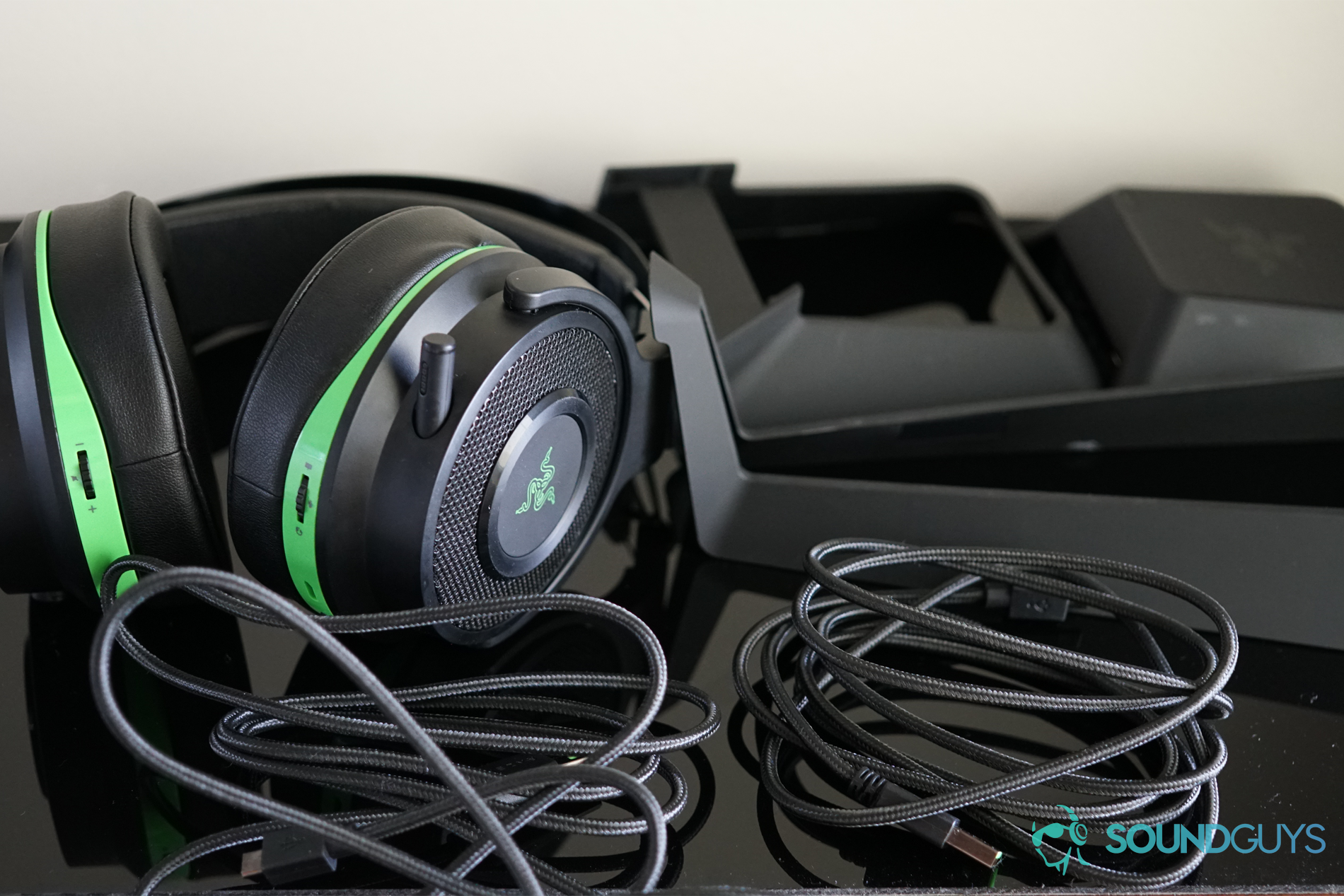 This headset comes with a lot of stuff.
There's actually a decent amount of stuff in the box with the Thresher Ultimate, on top of the headset and quick start guide:
A USB wireless receiver base station to plug into your PC or Xbox One.
Two USB-to-Micro-USB cords—one for connecting the base station and one for charging the headset.
A headset stand that attaches to the base station.
What's the Thresher Ultimate like?
The headphones are, in a word, huge. They're each easily two inches thick.
I'm just going to come out and say it—the Razer Thresher Ultimate is a great gaming headset. It's comfortable to wear for long periods of time, requires very little setup, and sounds better than most gaming headsets (more on that in a bit). It even has lower latency than many Bluetooth headsets, as it uses a 2.4GHz RF transmitter in the base station. While that connection standard isn't everyone's cup of tea, not having a delay from console to your ears is a big advantage.
Built of cushioned foam with a metal frame, The Razer Thresher Ultimate's suspension band makes wearing a headset this large—and it is large—comfortable for hours. A design like this doesn't even really need any adjustment: just put the headphones on, make sure the headphones are comfortably over your ears, and everything will widen to match.
The Razer Thresher Ultimate uses a 2.4GHz RF transmitter in the base station. While it isn't everyone's cup of tea, not having a delay from console to your ears is a big advantage.
Very much in keeping with Razer's rather intense aesthetic hallmarks, the Thresher Ultimate bears the matte black and bright green look. The logos on the headphones glow bright green when in use, with a vibrant green plastic ring around them punctuating the otherwise all black device.
The Razer Thresher Ultimate is huge. It sports comfortable leatherette pads, with additional padding and carved grooves meant to make wearing glasses more comfortable. However, wearing glasses with this isn't that much more comfortable, and velour pads would probably offer more comfort and better isolation. If you don't need glasses, you're in for a treat.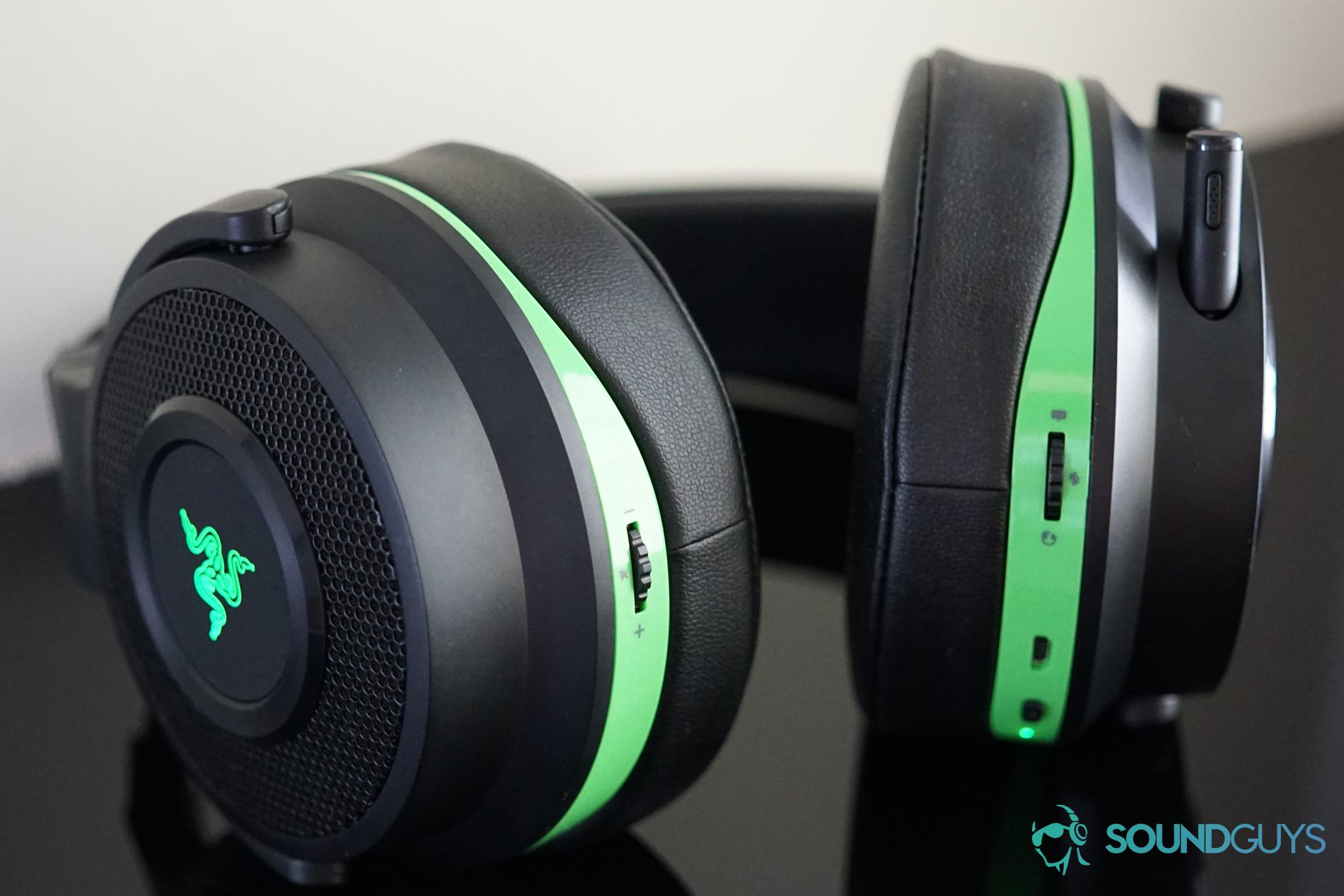 The controls are easy to find and offer a good degree of granularity.
Thankfully, the headset's controls are also all tucked away inside the headphones. On the left earcup, there's a dial controlling the mix between call audio and game audio (along with a power button and Micro-USB charging port). Clicking in that dial will also mute the mic, lighting its tip up red. On the right there's a volume dial, which you can click in to mute the sound.
The mic tip glows red when it's muted.
The headset doesn't support Razer's Chroma LED features or the company's Synapse software. I consider that a positive, but if your gaming setup is riddled with many differently colored LEDs, there's no way to change the Thresher to match, or even turn the LEDs off—you're stuck with green. Razer's gaming software has come a long way in the last few years, as have other gaming headset companion apps, but they're still kind of a pain to use.
The Thresher comes with Dolby 7.1 digital surround sound support, a relatively common feature among gaming headsets. The headset never struggled to offer positional audio in games like Realm Royale, Fortnite, or Overwatch, where that kind of information can be really important. However, as I've said before, this feature probably won't make a big difference in your in-game performance. Games have gotten really good at outputting simulated surround sound even to stereo headsets, and the difference just isn't that big.
How is the battery life?
According to Razer, the Thresher Ultimate should last up to 16 hours on a single charge. Our objective testing landed at 14 hours and 33 minutes. However, you might get more than that, as our testing is set at a louder volume—75dB(SPL)—than most choose. Once drained, the headset takes around four hours to charge.
If you're on PC, battery life like this isn't that big a deal, you can plug the headset in to charge and continue using it as normal. If you're using this on Xbox One, just bear in mind you will probably have to charge this headset around twice as often as you do an Xbox One controller.
Connectivity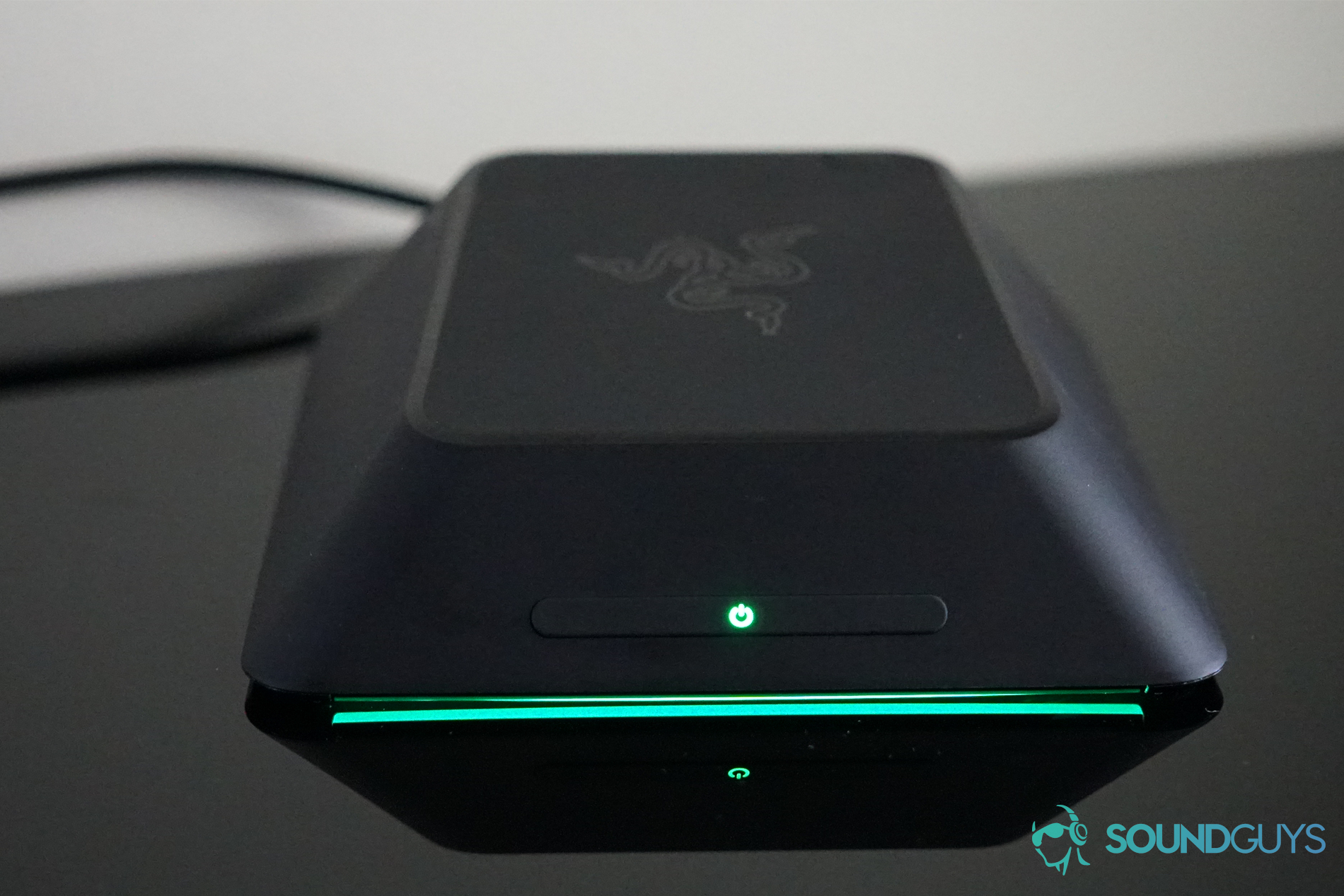 The base station contains all the emitter hardware.
The Thresher uses a USB base station to connect wirelessly to either your PC or Xbox One. According to Razer, the headset has a range of 40 feet, and that squares pretty well with my experience. Connected to my PC I could get up and walk around my whole apartment without experiencing any signal drops whatsoever.
How does the Razer Thresher Ultimate sound?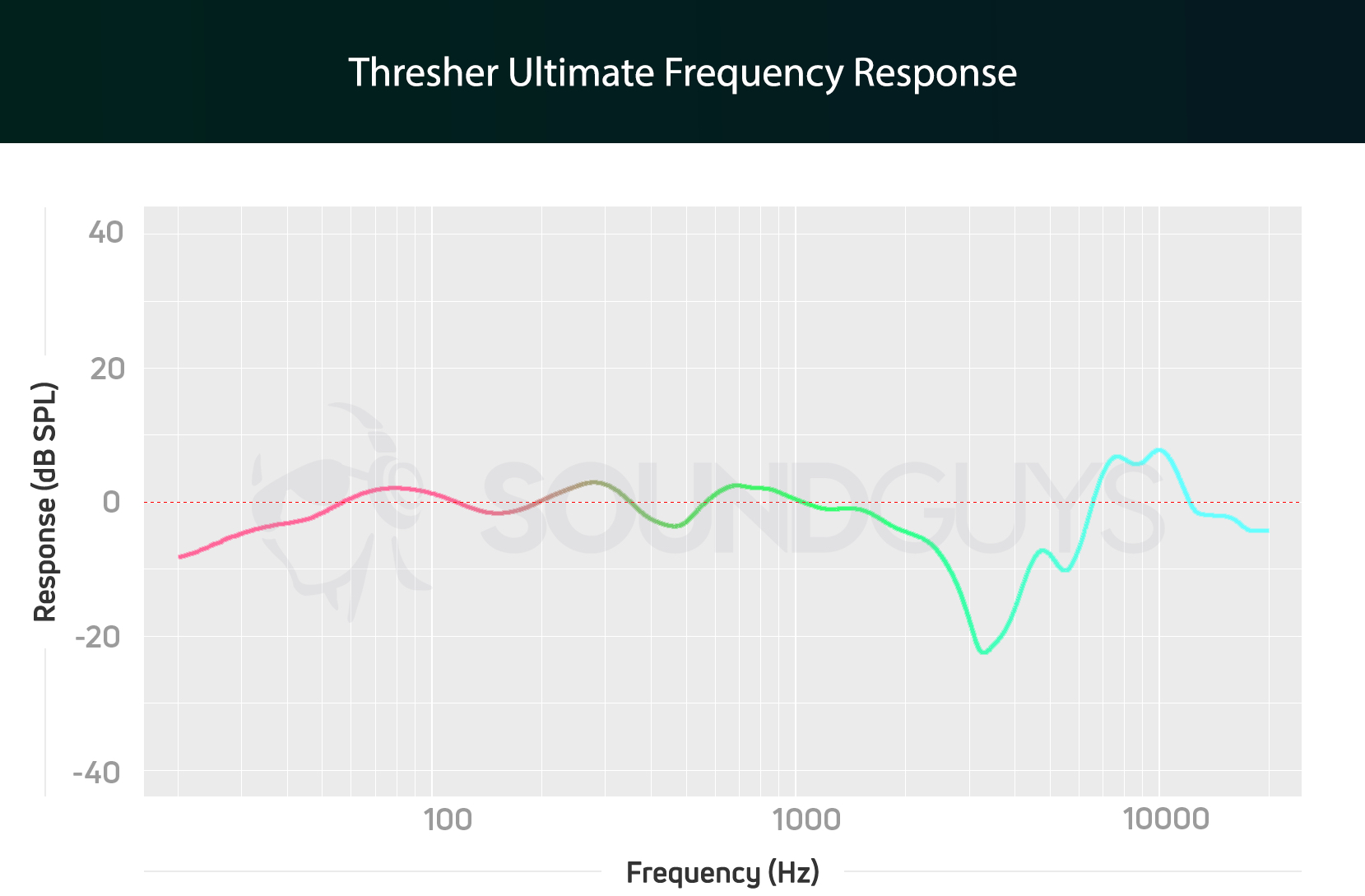 Bass and mids are represented pretty well here, but the dip around 3000Hz means sound edging from mid to high frequencies get de-emphasized.
The Thresher Ultimate handles sound better than most gaming headsets. It's not a HiFi audio powerhouse, but it handles bass, mids, and highs pretty well. However, it dips around 3000Hz, which means some cymbal sounds in music might get lost in more prominent bass and mid sounds.
How to read charts
Guides & How-to's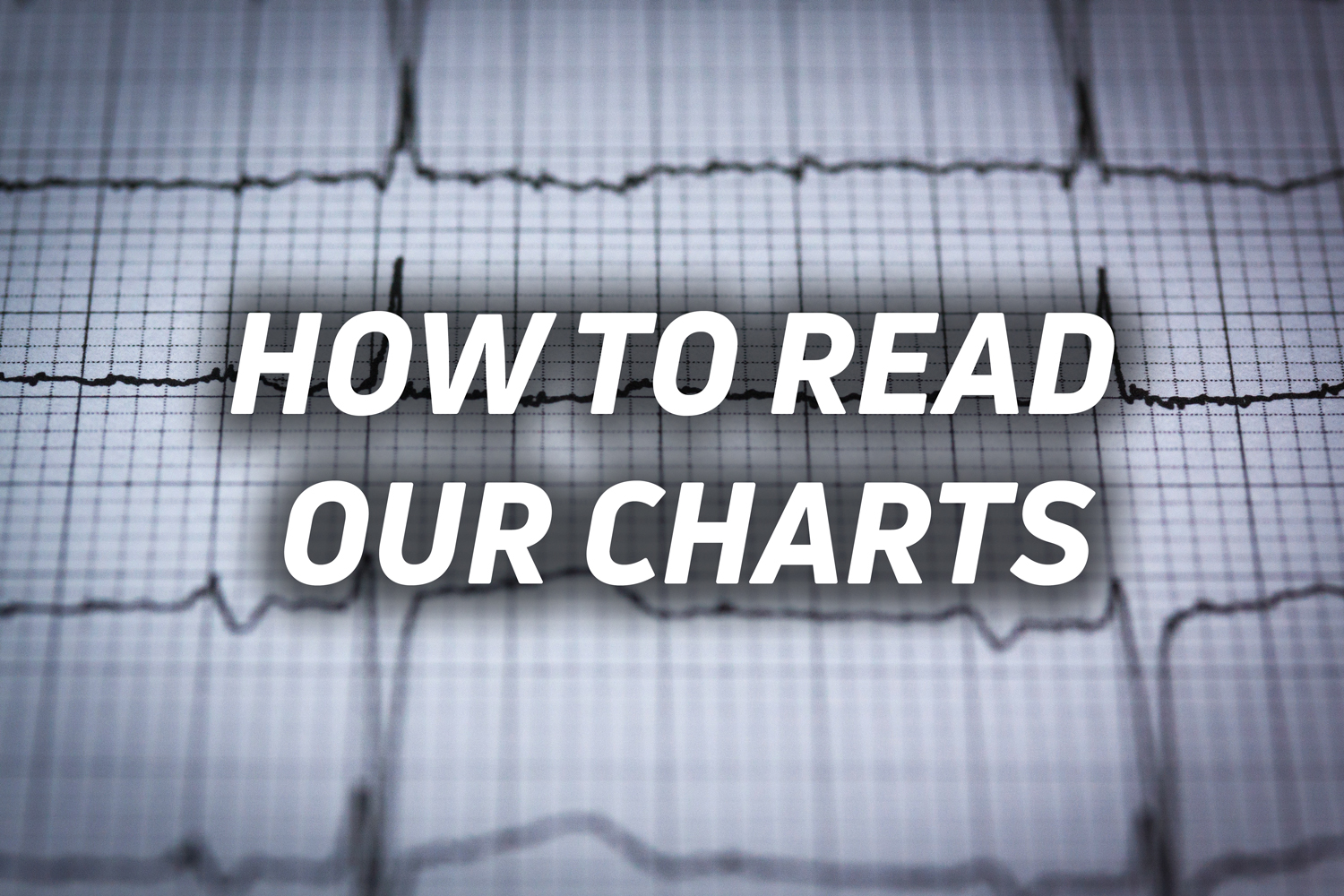 From a gameplay perspective, the Thresher doesn't overwhelmingly favor bass over mids and highs like many other gaming headsets, which means explosions won't drown out other sounds more than they should. Don't worry, they'll still be plenty loud, you just won't lose as many quieter sound effects during heated firefights. This is a great feature to have if you find people sneaking up on you in deathmatches.
The downside is that dip means you might run into some minor issues with voice calls, as a lot of F, S, Sh sounds inhabit that range. I never ran into anything extremely noticeable on this front, and what few call issues popped up could just as easily have been due to minor connection hiccups.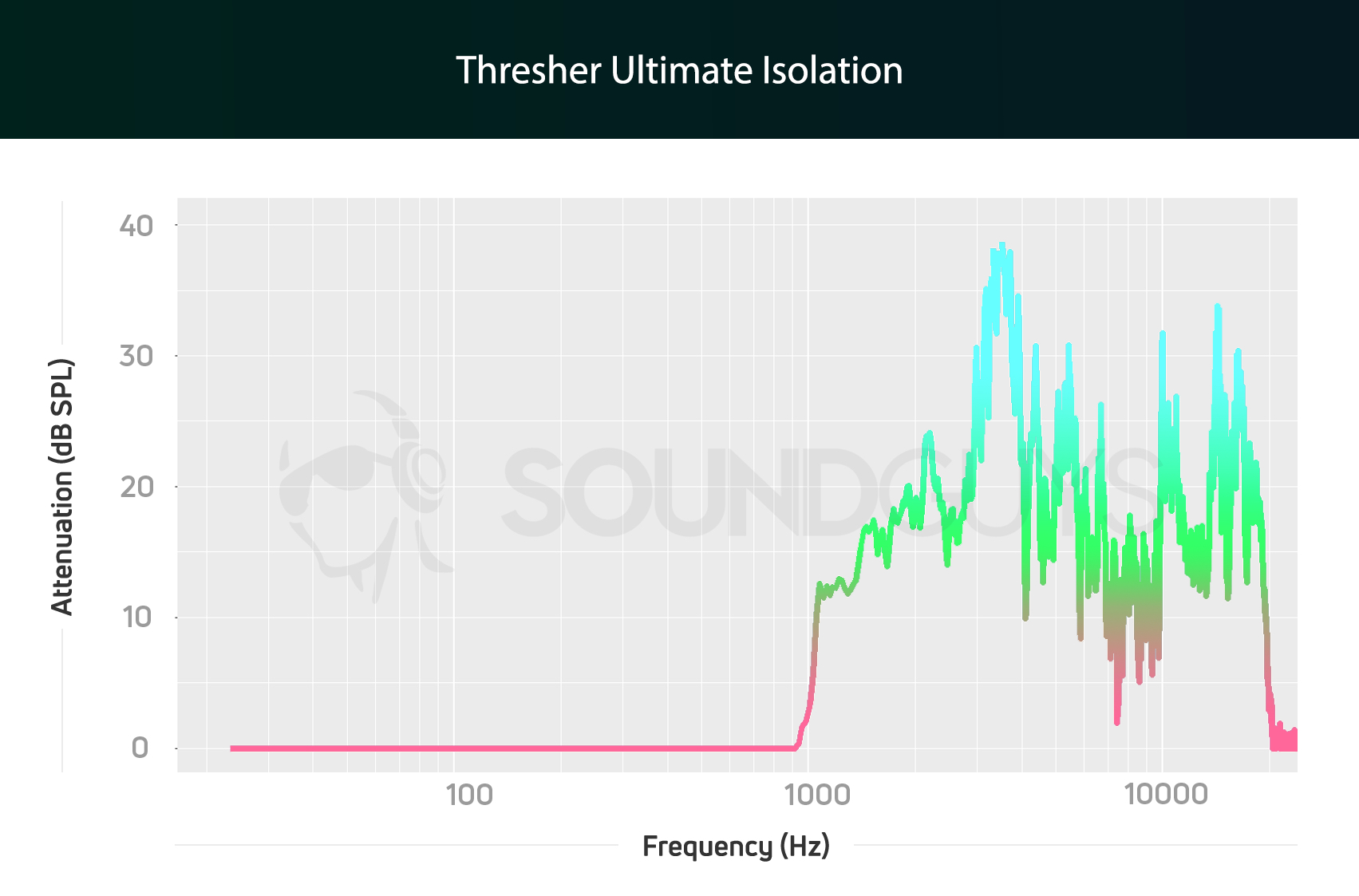 Sounds above 1000Hz are fairly well attenuated with the Razer Thresher Ultimate.
The Thresher Ultimate offers isolation more or less in line with comparable gaming headsets. It has little trouble isolating you from the kinds of sounds you'd hear in the home, from noisy roommates or family watching TV to the sound of traffic out a window. It can't hold up to the the low hums of walking around a city, but you can't really do that with these headphones—so it doesn't need to.
However, the headphones' attempt to accommodate people with glasses poses an issue. Comfort is important when considering what headset will best fit on your bespectacled visage, but headphone isolation typically takes a hit when wearing glasses. It's why we generally recommend velour headphone pads over leatherette ones.
Razer made the Thresher Ultimate more comfortable to wear with glasses, but it didn't really account for how the headphones' seal would be affected. The graph below shows the lower level of isolation you get from wearing glasses with this headset.
An imperfect seal can make a big difference. See here how isolation covers a lower level of attenuation, less consistently, than the previous chart.
Razer sells specific pads for the Thresher, because of its more unique headphone surface—at time of writing they only come in leatherette. That means if you're looking at the Thresher as a glasses-friendly headset, you're in for some notable isolation issues.
How is the microphone?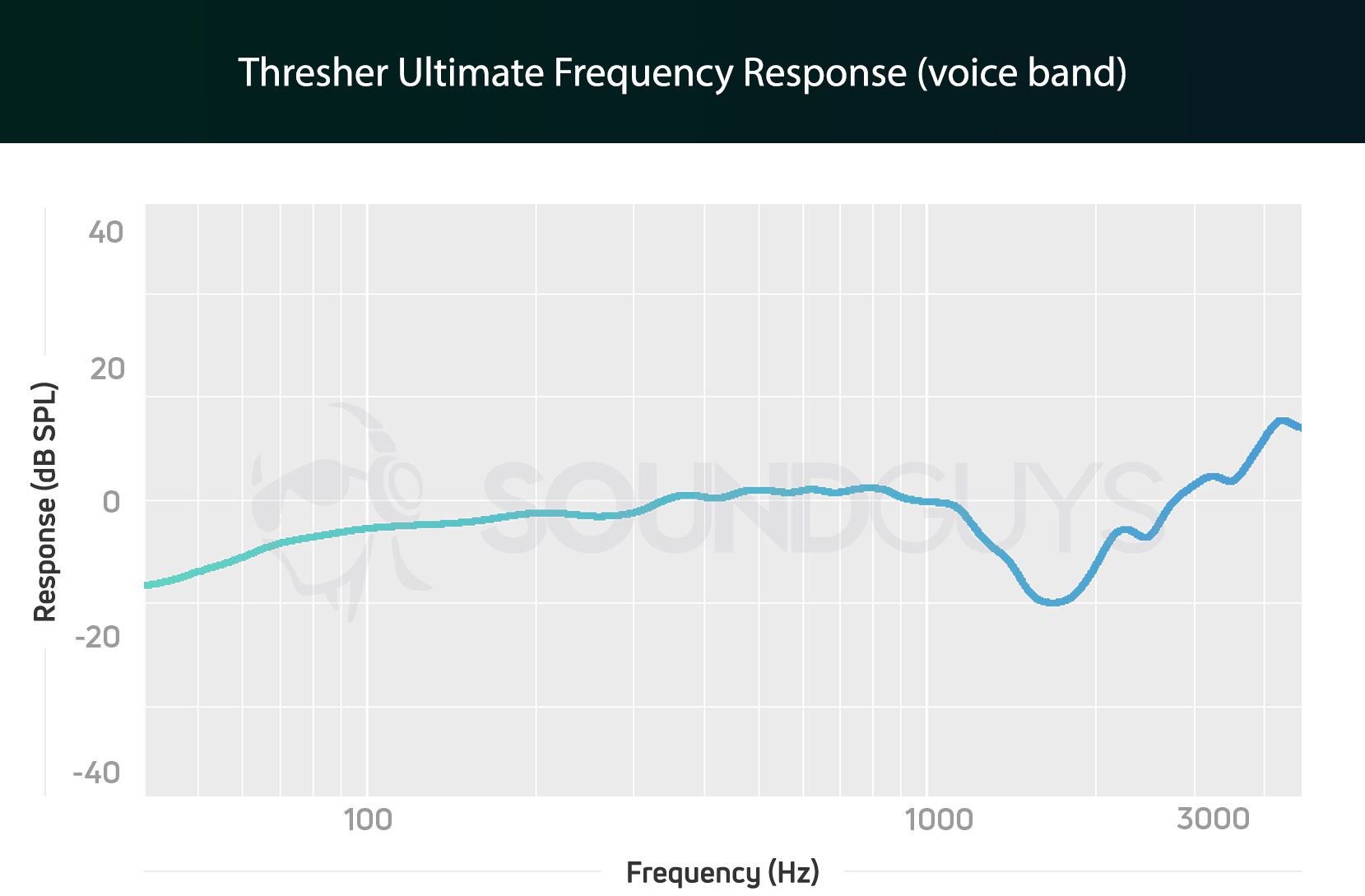 The Razer Thresher Ultimate's microphone is mostly ideal for gaming, save for an extremely minor dip in the high mids.
The Thresher Ultimate's microphone handles audio calls like a champ. It's a breeze to position however you like, and it has no trouble picking up most voice sounds. That dip around 2000Hz shouldn't affect quality all that much—I never ran into any issues. Listen for yourself:
How does the mic sound to you?
604 votes
Should you buy the Thresher Ultimate?
These days, while the Razer Thresher Ultimate isn't a bad buy, it's outperformed by a lot of the best gaming headsets on the market. It's extremely comfortable, it sounds good, and it offers a convenient way to switch back and forth from your Xbox One to your PC, but gaming headsets have come a long way—Razer only sells the headset in its last chance store, after all.
What should you get instead of the Razer Thresher Ultimate?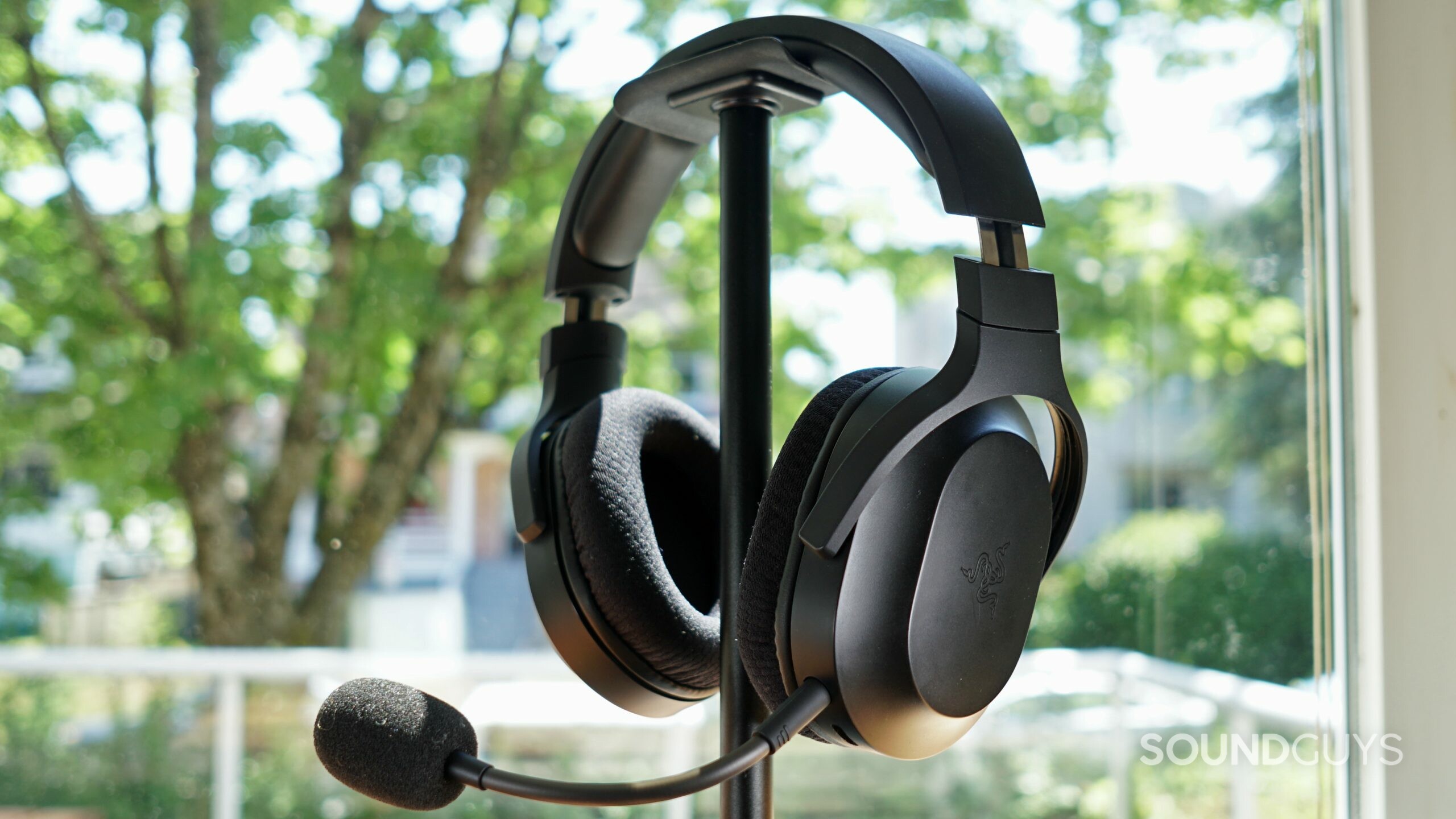 The Barracuda X lacks any colored LEDs, or even any of Razer's characteristic neon green highlights, but it's a great headset.
If you're in the market for a great sounding wireless gaming headset, there are tons of excellent options, and many of them cost less than the Thresher Ultimate. The Razer Barracuda X runs for just $99 USD, and sounds more accurate, features almost double the battery life, and a nicer sounding microphone. It's also considerably smaller and more lightweight. Oh yeah, and the USB-C Dongle means it works equally well on PC, PlayStation 5, Nintendo Switch (it also supports wired over 3.5mm). Similar options also include the SteelSeries Arctis 1 Wireless and HyperX Cloud II Wireless.
If you want something with features to galore, the Logitech G Pro X Wireless and Corsair Virtuoso Wireless SE are both a little on the pricey side, but they do a great job scratching that premium itch. The G Pro X brings a ton of software features, include the microphone suite that makes substantial customization of how you sound possible. The Virtuoso brings a broadcast grade mic that sounds great without any fussing. They both have more accurate audio and better battery performance than the Thresher Ultimate.
Read next: Best Razer gaming headsets
Frequently asked questions about the Razer Thresher Ultimate
While the Nintendo Switch has expanded support for wireless gaming headsets via USB, we can confirm that the Thresher Ultimate doesn't work with it.