All products featured are independently chosen by us. However, SoundGuys may receive a commission on orders placed through its retail links. See our ethics statement.
The bottom line
It's a comfortable headset that will get the job done, but don't expect best-in-class sound.
Razer Tiamat 2.2 V2
It's a comfortable headset that will get the job done, but don't expect best-in-class sound.
What we like
Comfortable.
Can get really loud.
What we don't like
Mic is quiet.
Doesn't handle mids and highs all that well.
Bass boost switch doesn't change sound much.
Rating Metric
Sound Quality
5.7
Bass
6.9
Midrange
7.4
Highs
9.5
Isolation / Attenuation
3.3
Durability / Build Quality
8.0
Value
7.0
Design
8.5
Microphone
1.2
The Razer Tiamat 2.2 V2 headset is Razer's attempt at creating a bass experience intense enough rattle your brain. Featuring extra subwoofers to boost bass output and make every explosion go boom just that much louder—because every gamer worth their salt knows the key to improving is, ah, making it so you can only hear explosions in game?
Is there more to the Razer Tiamat 2.2 V2 than just loud explosions? Let's find out.
Who is the Razer Tiamat 2.2 V2 for?
Like most gaming headsets, the Razer Tiamat 2.2 V2 offers a simple setup for someone who needs to hear things and say things while playing video games. These headphones work for general use—without the splitter extension, the cord is a much more manageable length—but the non-detachable mic makes them rather conspicuous when out and about.
Out of the box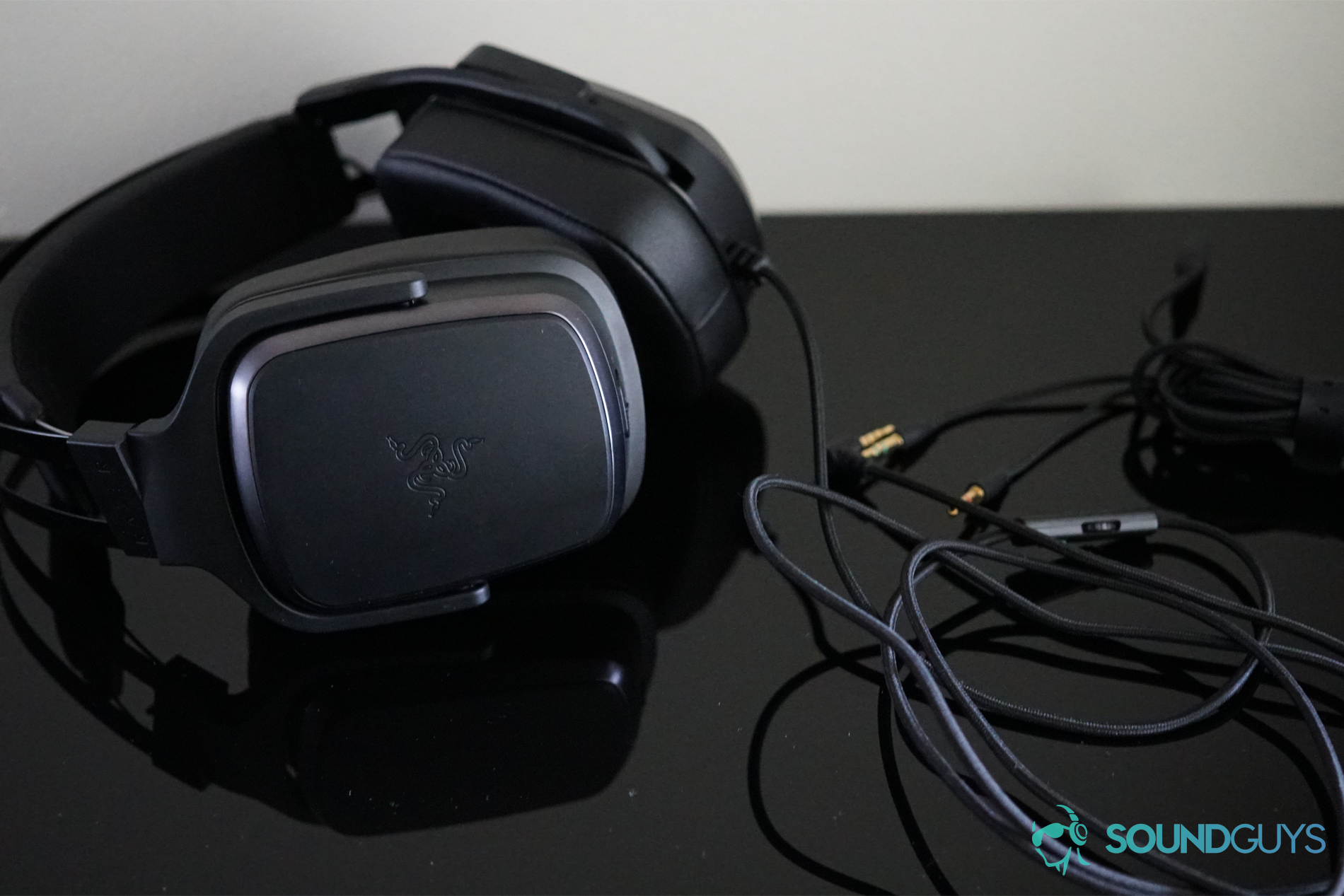 The 3.5mm extension and splitter adds around two meters of cord length.
The Razer Tiamat 2.2 comes with a quick start guide and a 3.5mm audio splitter extension. That's about it.
What is the Razer Tiamat 2.2 V2 like?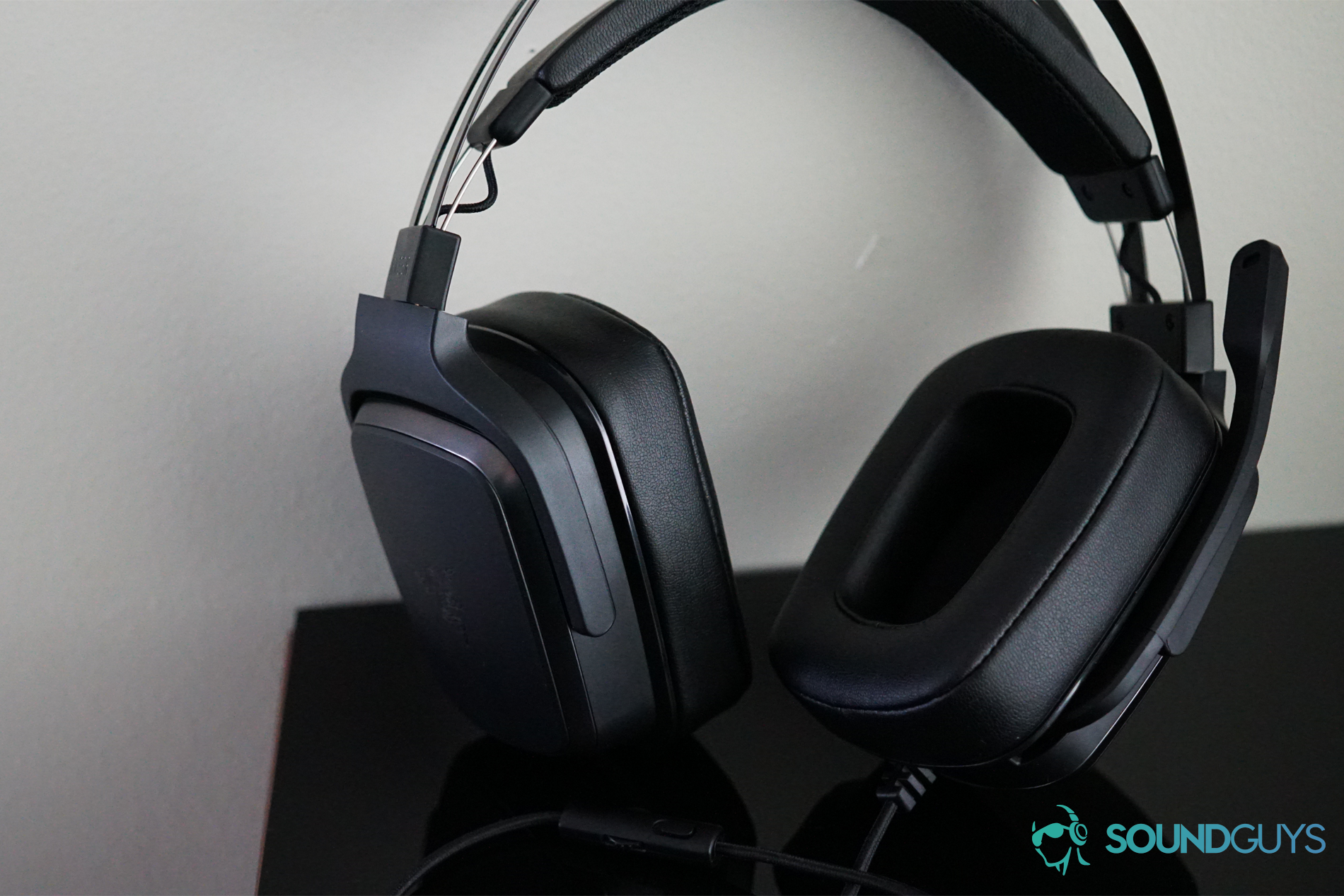 The Tiamat 2.2 V2 has comfortable headphones that easily fit on my head.
With a brushed metal frame, suspension strap, and prominent mic, the Razer Tiamat 2.2 V2 pretty much screams "gaming headset." They lack Razer's typical visual flourishes, like neon green highlights or Chroma LED lighting, but still, these headphones are hardly subtle.
Rather than retracting like many gaming headsets, the mic juts out all the time and you can flip it up when you don't need it. The Razer Tiamat 2.2 V2 sports a braided cord, with in-line controls for muting the mic and raising or lowering the volume.
The headset's suspension style headband is a real highlight.
The highlight of the headphones' design is the band. The suspension strap, paired with soft leatherette pads make for a very comfortable headset. I never had to fidget or fiddle to make them fit right. Even after hours of use, I never had any discomfort.
Actually using the headset is fairly straightforward. You just plug it in and play. There are no customization options or software to go along with it. Oddly enough, even though Razer advertises it, the Tiamat 2.2 V2 headphones are not supported by either Razer Synapse 2 or 3.
This means there's no way to calibrate the software-based 7.1 surround sound Razer advertises. If you saw my review of the Kraken 7.1 V2, that might not worry you so much. Razer's software-based 7.1 surround sound doesn't really bring a lot that surround sound-supporting games haven't already made work with stereo headsets.
Using the Razer Tiamat 2.2 V2 in games like Fortnite and Realm Royale, I never had much issue determining where a sound was coming from. But that's okay: not having a dedicated surround sound feature on your headphones really shouldn't make much difference in your performance in game. I was just as unfortunately average at these games with the Tiamat 2.2 V2 as I am with any other headset.
How does the Razer Tiamat 2.2 V2 sound?
These headphones are really aimed at one thing: bass. As you can see with this chart, these headphones are tuned to make explosions really go boom, and the rest takes a backseat. This is kind of tuning is pretty common in gaming headsets, but the de-emphasis of the mids and highs isn't usually so intense. This definitely looks like everything possible has been done to make the bass seem even more pronounced.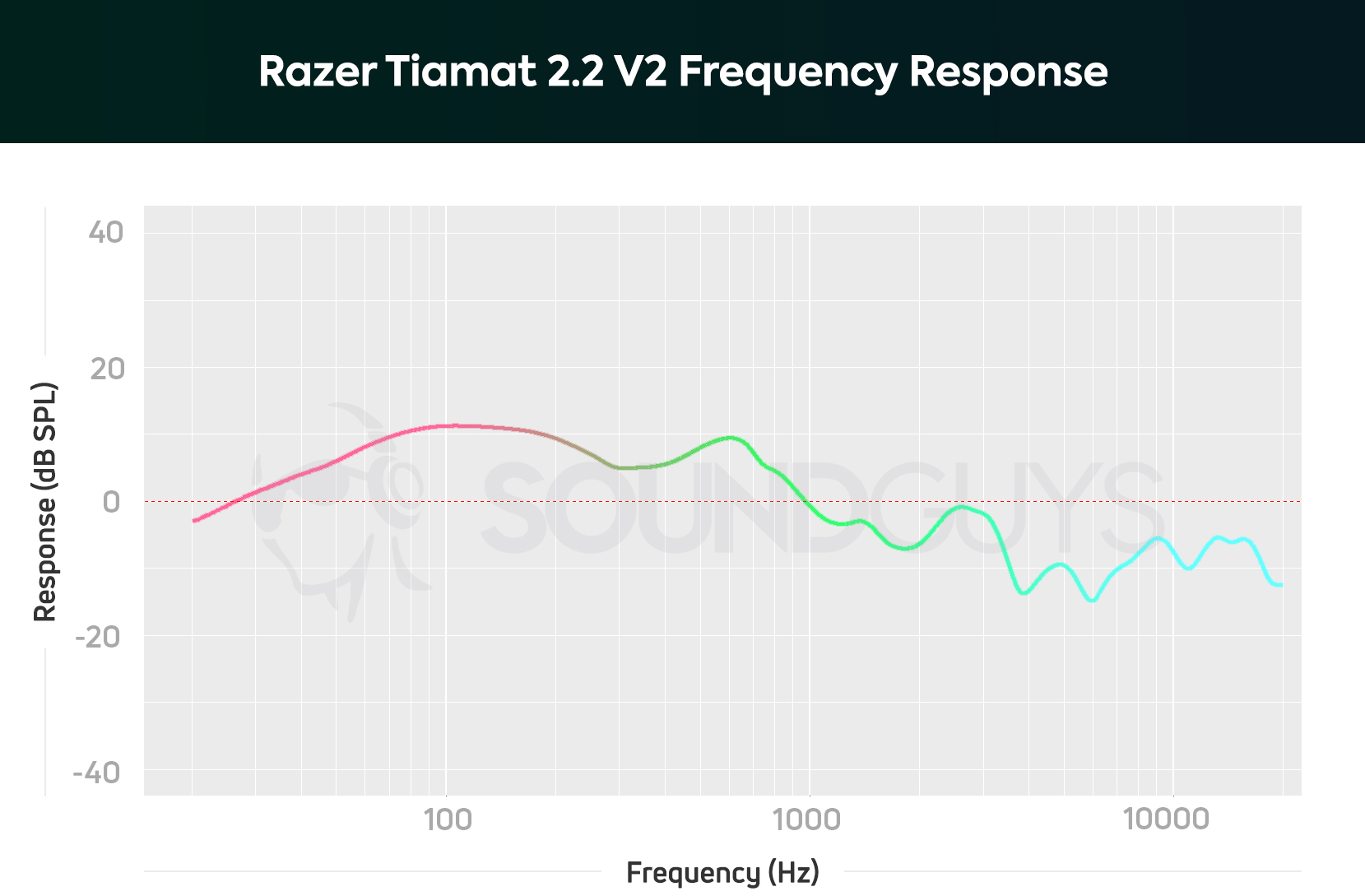 Bass and mids (pink, green) are about twice as loud as highs.
Listening to music isn't necessarily bad here, but sometimes the sounds of strings or cymbals can get drowned out by prominent bass lines.
In The Force by Lettuce, the relatively subtle funky guitar line running throughout gets completely lost in the bass part with the the Tiamat 2.2 V2. It's even worse when the boost is switched on.

The Tiamat 2.2 V2 packs extra audio drivers you can turn on by flicking a switch at the bottom of the right headphone. It's meant to increase the bass for when you want thing to have a little more oomph. According to Razer's store page, turning this on creates a sound that "gut-punches you with every in-game explosion or gunfire."
I'm not so sure about that: not much changes when you flip the switch. You'll immediately notice that the volume is noticeably louder, but that's really it. In our tests, it boosted levels 3dB globally.
In truth, I didn't really get much out of turning it on. Elements like explosions and gunfire were definitely louder, but they hardly felt like "gut-punches" when everything else was louder too.
Mids and highs get blocked out well, though some lower bass frequencies will still make it through.
The Tiamat 2.2 does a decent enough job isolating you from the sounds you'd normally hear in the home. It doesn't do much for the low rumbles of cars you'd normally hear walking around a city, but it's not really aimed at that kind of use, anyway. Noisy roommates or a TV on in the other room shouldn't trouble you with these on.
The mic emphasizes mids and highs to keep voices sounding natural.
The Tiamat 2.2 V2's microphone offers a decently clear signal, boosting mids and highs, and de-emphasizing bass. This is fine for a microphone geared toward gamers, as speech doesn't typically occupy lower bass frequencies, and a lot of little speech sounds—S and T sounds, in particular—occupy higher frequencies. But what isn't fine is how quiet these are.
The microphone flips down when you need it.
Though the mic records things clearly, its output is very low. I sounded quiet using the Tiamat 2.2 V2 in voice calls on both Discord and Slack. In fact on Discord, people had to boost my audio to 200% in order to hear me at acceptable levels. A myriad of factors could affect this, from my friends' own various audio setups to my audio settings, but after boosting everything on my end as much as possible, it's still quieter than it should be.
Additionally, Discord had a habit of losing the Tiamat 2.2 V2 mic as an input option. It sometimes just stopped showing up, and I'd have to restore my audio defaults to find it again. This is almost certainly a quirk of the program, as my computer and other programs had no issue finding the mic when this happened. It's hardly a dealbreaker—it takes just a few moments to fix—but a gaming headset not playing well with the biggest voice client around seemed worth mentioning.
Should you buy the Tiamat 2.2 V2?
I find the Razer Tiamat 2.2 V2 a rather perplexing headset to recommend. It's got very clear positives and negatives.
On one hand, the sound output is pretty middling. Boosting the bass by turning on the extra audio drivers really just makes everything slightly louder, rather than actually meaningfully changing the audio experience. The mic is clear enough, but it's very quiet.
On the other hand, the Razer Tiamat 2.2 V2 is a very comfortable headset. The suspension band and comfortable headphones made for an easy fit that really don't take any getting used to. And, gimmicky though it is, the increased loudness makes some of the more hectic firefights in later stages of games like Fortnite more intense.
If you're looking for something that balances out the nuanced tones of a game or play HiFi music, it's probably best to look elsewhere. If you want something you can comfortably wear for hours on end that can make the sound of a grenade loud enough to rattle your brain, this is might be for you.
Frequently asked questions about the Razer Tiamat 2.2 V2
Like most decent stereo gaming headsets, you shouldn't have any real problems using the Razer Tiamat for shooter games like Call of Duty or Fortnite, but the lack of surround sound might bother you.