Buy at Amazon
So before the Jaybird X2s took over the world, I was using the wired Bose SoundSport headphones for exercise. So when Bose announced that they were making the jump to wireless I have to admit I got excited. Could these the headphones to finally dethrone the X2s, which not even the Freedoms were able to do?
What's inside?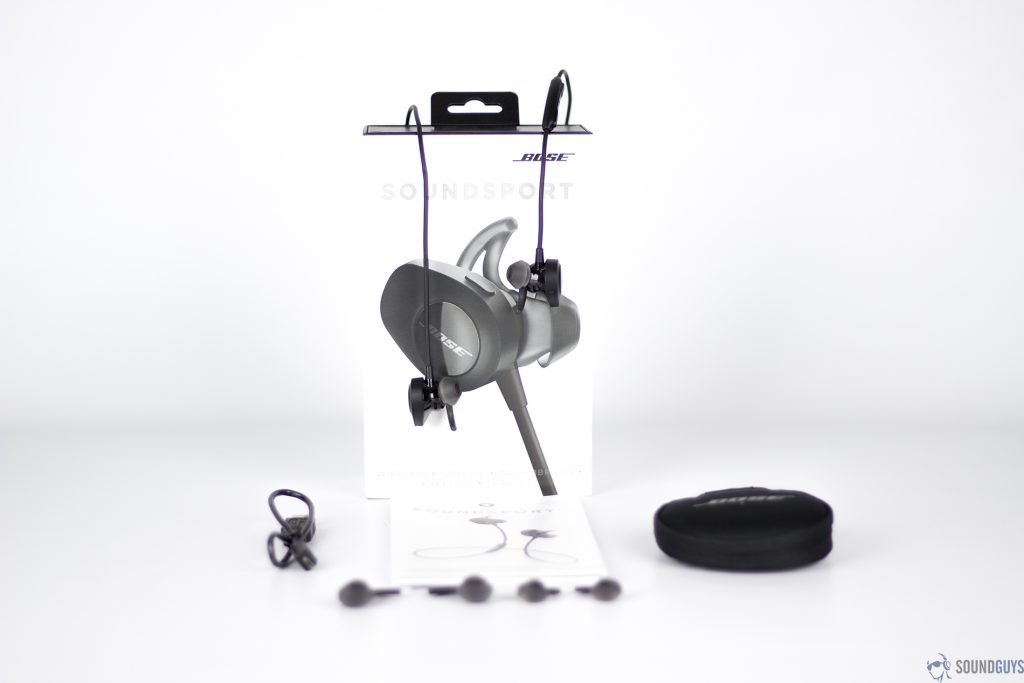 In the box you'll get the headphones, a small carrying case with a carabiner clip incorporated into the design, a micro USB charging cable, two different sized sets of StayHear+ tips, and the instruction booklet.
Build & Design
Taking these out of the box I thought to myself, "There's no way these are going to work." Though the ear tips that go in your ear haven't changed, the housing has. The wired SoundSports were nice and thin, but these are huge and bulky. It makes sense since all of the Bluetooth components had to go somewhere. Not to mention the new battery they stuffed inside that powers it all.
When you put them on, they bulge out of your ears to the point where I was certain they were going to fall out. I even brought a backup pair of headphones for when they inevitably fell out, but they weren't needed. Maybe these aren't as bulky as they look or it could be because of the StayHear+ sports tips, but these didn't fall out at all. In terms of design they're definitely bulky and not too pretty, but they work and that's all that matters. On top of the right earbud is a single button responsible for pairing and powering them on, but you'll still have to use the in-line mic and remote for playback controls. The control module and the wire are also nicely constructed and don't go flying around as I run, which was the main reason why the Jaybird Freedoms kept getting pulled out of my ear.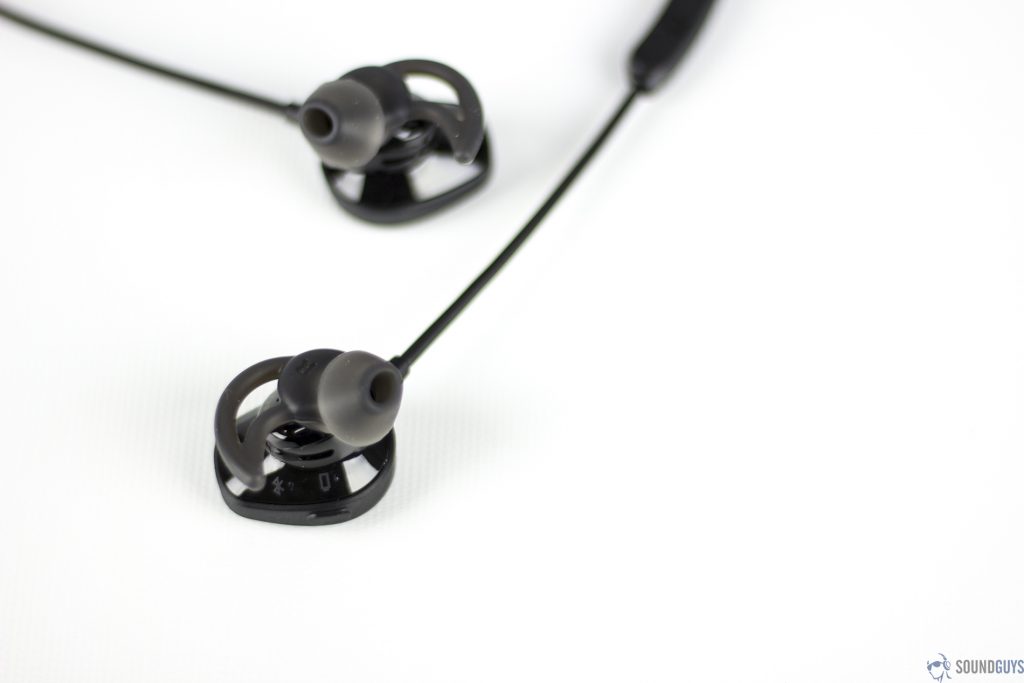 As far as build materials go these are made of a hard plastic, which is expected considering they're water and sweat resistant. Still, there's been a few reports of people having issues with sweat damaging the headphones. Bose has already stated they've fixed the issue and will have an updated version of the headphones coming in August. If you already bought the SoundSports and they've been damaged Bose will replace them free of charge. But that said, my personal experience with them was great. I didn't have any issues at all. I tested these by running every day for about two weeks and they still function perfectly.
Connection
The SoundSport Wireless connect via Bluetooth to your phone relatively painlessly and also have NFC if you have a compatible device. The range is pretty average at about 30 feet and works well enough. I did notice however that when running there was very minimal skipping when I had my phone strapped to my left arm (four times in a week) and no skipping whatsoever when it was strapped to my right. So if you hate jumpy music, make sure to keep your phone on your right side.
Battery Life
Bose claims that the battery life will get you around 6 hours of constant playback, which isn't anything special if we're being honest about it. Luckily the SoundSport wireless did surprise me and we were able to max out playback time at 6 hours and 45 minutes. It's not too great if you're playing non-stop, but in real world usage this lasted me the entire work week.
Sound Quality
This should probably go without saying, but I did all of the testing while running with the headphones connected to my phone.
Lows
If you're looking for accuracy you shouldn't be looking into Bluetooth sports headphones. That said, the bass isn't overdone here. Though Bose definitely gave it some extra attention, I actually don't think they gave it enough attention. Songs sound great, but I personally would've liked to see a slightly more powerful low end with these. One of my favorite songs to run to is "Gosh" by Jamie xx and although it sounds good for everyday listening, I was missing that more intense bass that pushes you while running.
Mids
Unlike many of other Bose products, the mids aren't given prominence here. As we already mentioned, all of that attention went to the low end. That's not to say that the mids aren't good, but they're not anything amazing. They're exactly what they need to be which is great in my opinion.
Highs
Highs were also not harsh at all, with the hi-hats and cymbals in "Tighten Up" by The Black Keys never sounding piercing at all.
Conclusion
If it's not clear by now then here it is: these are my new favorite pair of exercise headphones. The sound is better than most fitness headphones and most importantly they stay in my ears no matter what I do. But my favorite thing about these headphones hands down has to be the price. Though $150 isn't cheap, it's a super competitive price when you consider how much premium fitness headphones usually cost, the fact that Bose never competitively prices anything, and also how good these headphones actually are. If you're really concerned about sweat damage, I would say hold out on these until the new model is released in August, but then scoop these up ASAP.
Frequently Asked Questions