All products featured are independently chosen by us. However, SoundGuys may receive a commission on orders placed through its retail links. See our ethics statement.
The bottom line
Though they're not leaps and bounds better than originals and still fail in many of the same ways, the Freedom 2 earbuds sound better and are definitely a step in the right direction for the Freedom line.
Freedom 2
Though they're not leaps and bounds better than originals and still fail in many of the same ways, the Freedom 2 earbuds sound better and are definitely a step in the right direction for the Freedom line.
What we like
Sound quality<br>
Build quality<br>
Sweatproof<br>
Great app experience<br>
New cable management is way better<br>
Good connection strength<br>
What we don't like
Battery life<br>
Fit<br>
Same bulky control module<br>
Rating Metric
Sound Quality
8.0
Bass
8.8
Midrange
8.5
Highs
6.8
Durability / Build Quality
8.5
Value
7.0
Design
7.0
Microphone
8.0
Portability
8.5
Battery Life
6.5
You know that friend who's in a bad relationship, but keeps finding reasons to stay with the other person? That accurately describes my experience using the new Jaybird Freedom 2 earbuds over the past two weeks. I know I should be using something else every time I pick them up, but there's something about them that keeps me coming back. If you've been reading Sound Guys for a while, you know that I wasn't the biggest fan of the original Freedom headphones. And although I'd like to say that these are better in every way, they're just not. They're still plagued by many of the same issues, save for one improvement that, in my opinion, keeps bringing me back.
If you're someone that makes short, daily commutes and wants a good-sounding pair of Bluetooth earbuds but don't mind charging them often the Jaybird Freedom 2 headphones might be for you. Especially if that commute is on a bike since these were designed to fit nicely in your ears even while wearing a helmet. If you were hoping to make these your next gym 'buds you might want to keep looking. Despite their sweatproof nano-coating I personally had a really hard time keeping them in my ear while exercising.
What's Inside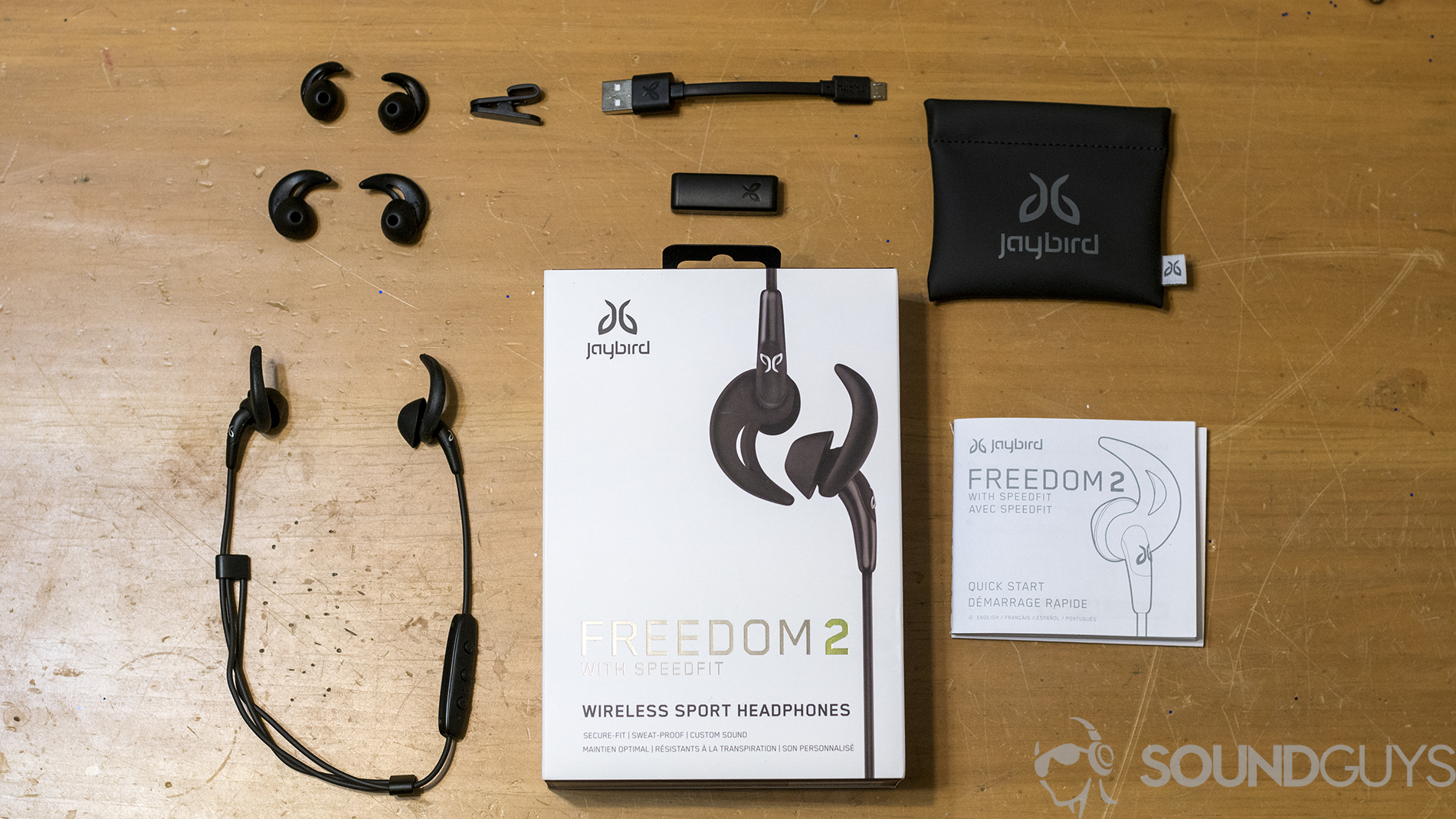 In the box you'll get the earbuds, with three extra pairs of ear/wing tips (as well as the one already attached), a small carrying case, a charging clip, a small micro USB charging cable, a cable clip, and of course the warranty information and instruction booklet.
Build & Design
The whole selling point of the original Freedom earbuds its slick design. Not that the X line of 'buds are bulky and large, but the Freedoms were even sleeker and the Freedom 2 stick to that same design language. They were designed with slimmer housings to not only fit in your ear more comfortably, but also to be worn with helmets with no problem. The ear tips are also new and improved. Where you used to have two pieces to attach to each earbuds (an ear tip and a wing tip), the newly designed ear tip is an all-in-one solution. Unfortunately, they slip off a little too easily and more than once I found myself adjusting the headphones only to have them slip out of the ear tip.
I still had issues getting these to stay in.
You get three differently sized ear/wing tips so you can choose between them for the best fit. I was hoping for my fit woes of the previous generation to be solved by this, but they weren't. Despite the new tips and the convenient cable management sliders along the back (which I actually do like), I still had issues getting these to stay in. Forget about using these to go running, at least for me. Though they have a double-nano coating to protect against sweat for you gym rats, I personally found myself adjusting them far more often than I would've liked. The Jaybird Run true wireless earbuds stayed in my ears way better than these, which is kind of counter-intuitive. I appreciate that Jaybird tried to make the fit better but, at least for me, they still don't. At least not for the activities where I'd want a pair of wireless 'buds. While using them casually just walking around I didn't have too many issues, but the gym was almost impossible.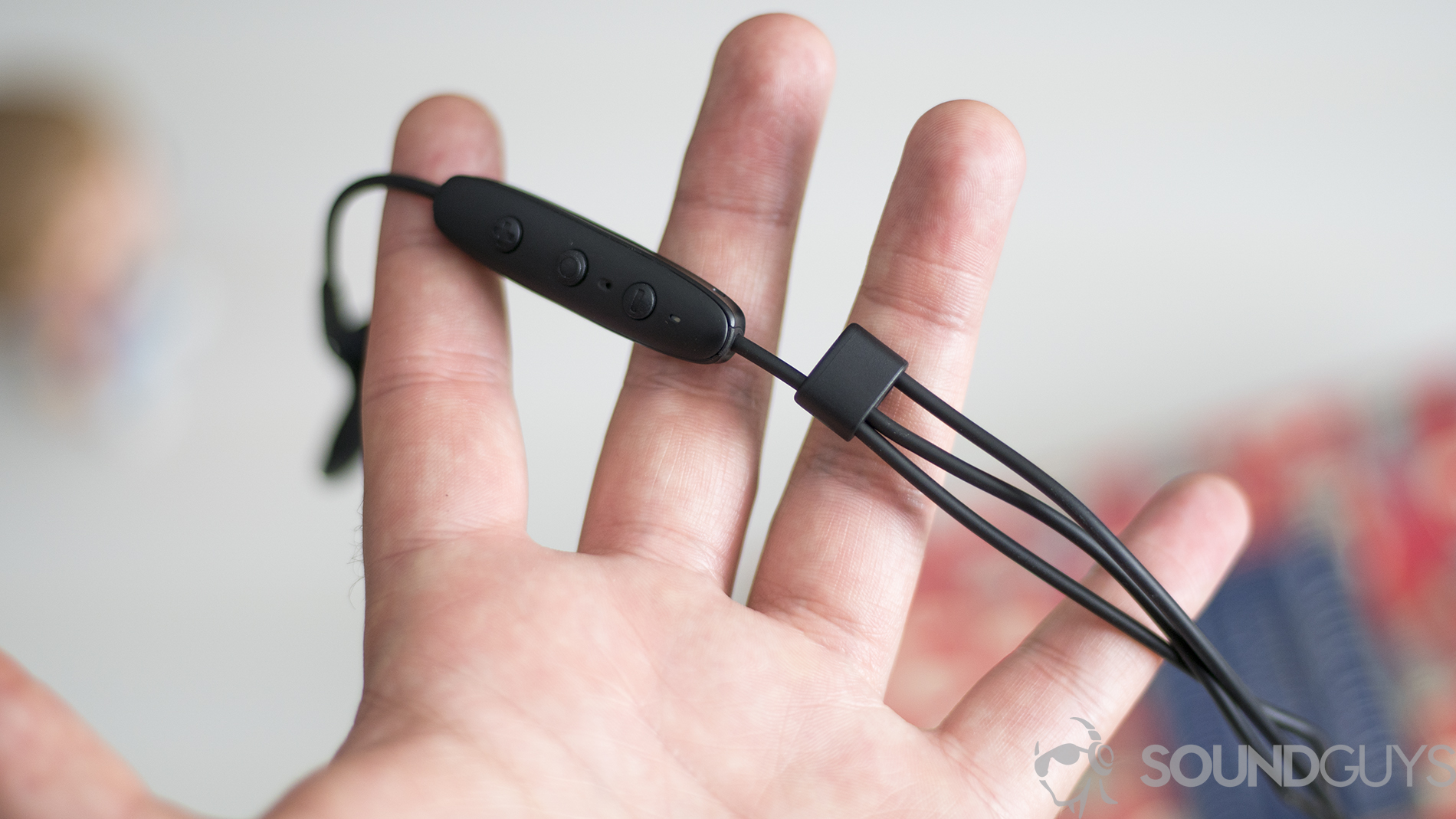 If you can't tell I'm not thrilled about the design, but build quality is top notch. It's mostly plastic, but I honestly can't tell if the actual earbuds themselves are made of metal or not. So if it is plastic, I couldn't tell. That said, the control module is 100% plastic and seems to be the exact same one from the first Freedom 'buds. So it's just as bulky and heavy, but the new cable management clips thankfully keep it in check so they shouldn't pull out the headphones while you're running. The buttons are nice and clicky and I had no problem accessing the controls while wearing them so that's a plus. We got the all-black review unit but they also come in a white color option with golden accents if that's something you're interested in.
Connectivity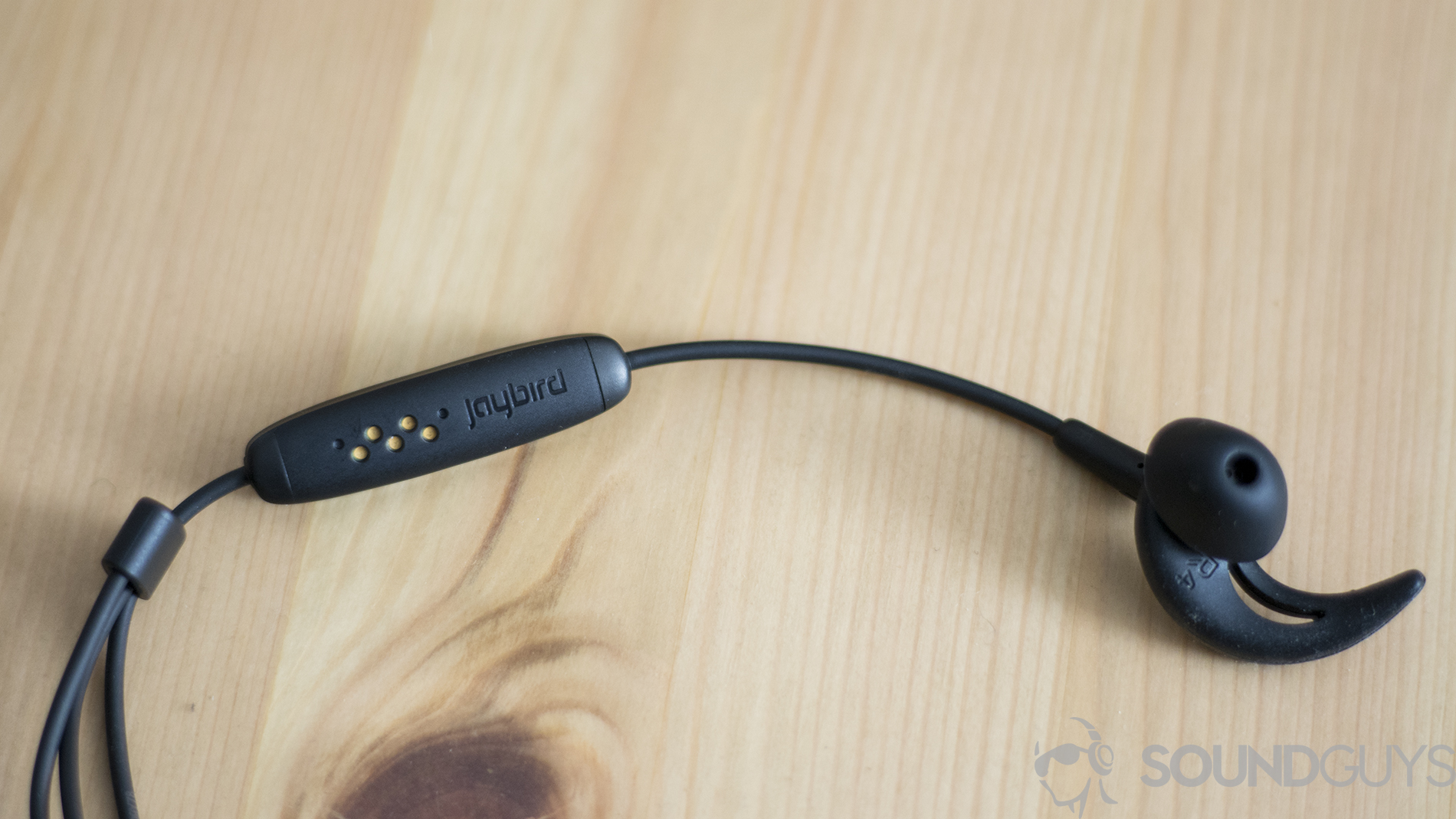 I couldn't find any details on what Bluetooth version these use, but judging by the 30 foot range I would say they're Bluetooth 4.x so if you were hoping for Bluetooth 5 you're out of luck. That said, it isn't really a big deal. The connection between these and my source devices were rock solid. During testing I didn't have a single issue. The connection was strong anywhere within average range (15-30 feet) and I even got a little beyond that before some skipping occured. If my phone was in my pocket I didn't have any issues which is good news if you plan on using these while riding a bike or exercising.
Controls were also pretty easy to use as the control module ends up right behind your right ear if you're wearing them correctly. It has three buttons that let you pause/play music, adjust volume, and skip between tracks with a varying number of clicks and holds. They aren't too hard to memorize and are pretty standard across Bluetooth headphones so it shouldn't take too long to get used to. You can also access Siri or Google by just holding down the middle multifunction button. on top of that you can also answer any phone calls or even make phone calls thanks to a built-in microphone that has surprisingly good quality. Using them to make a few phone calls I didn't have anyone complaining about me sounding like I was underwater or far away, the way that I do with other Bluetooth headphones.
Battery Life
As far as battery life is concerned these aren't much better than the original Freedom headphones. Jaybird claims that you can get a solid 8 hours out of these but that's only with the included carrying case / charging clip. Without attaching the charging clip you'll get around 3 hours and 20 minutes of constant playback time on 100% volume.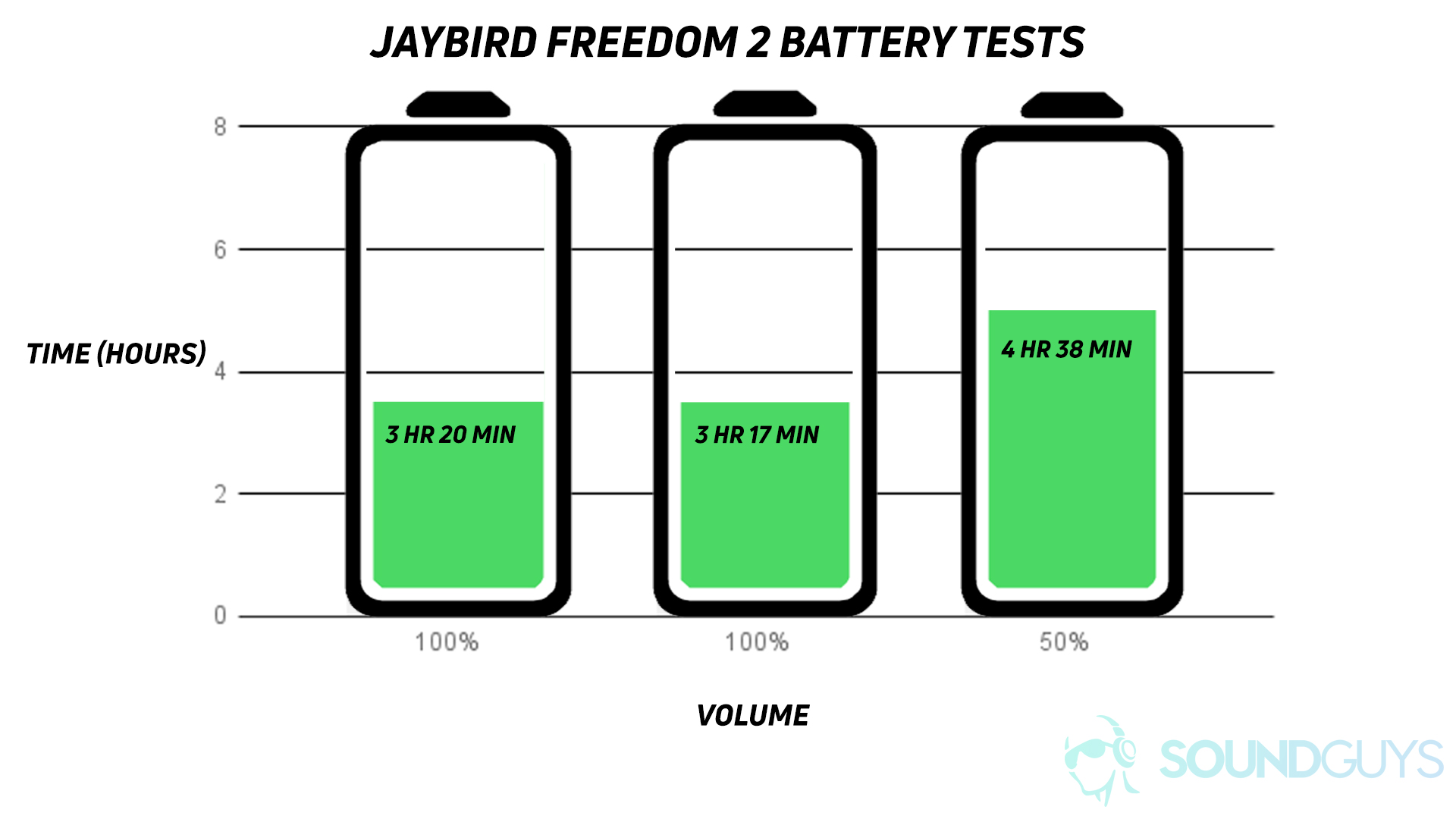 When you dip that down to 50% volume you can extend playback time to 4 hours and 38 minutes, which isn't too bad if you're looking to use these for the gym. You can extend each by 4 hours if you want, but the problem is that requires you leaving the charging clip attached. I already thought the control module was bulky as it is, but if you want that extra 4 hours of music you're going to have to deal with it being even bulkier.
Sound Quality
Dating back to the Jaybird Freedom, Jaybird's app has offered a custom EQ option.
At the beginning of the review I said that something about the Jaybird Freedom 2 earbuds kept pulling me back. And if it isn't the design, connectivity, or battery life then you might've guessed by process of elimination that it's because of the sound quality. Now don't get me wrong, these aren't going to rival any of your favorite over-ear headphones in a sound quality throwdown. But for a pair of lightweight earbuds meant for the gym or casual use, I certainly was not expecting these to impress me. But impress me they did.
Bass is kicking but not overwhelming, which comes in handy when you're trying to push yourself that extra mile or get that last rep in. even if you're just using these for casual use, the detail in low end had me listening to "Home Again" by Michael Kiwanuka over and over again just because you can almost feel the vibrations of the low-E string as he plucked it.
That said, things do get a little crowded at 1:07 when the rest of the instruments come in but it does a pretty good job at spacing. Though they're not accurate by any means, you do get a good sense of how the song is mixed. For example, when the strings come in right behind his leading vocals the guitar picking fades nicely into the background (as it should). You obviously shouldn't be using these to master your next mixtape, but the fact that I'm talking about distinguishing the different layers in a song is something that I'm not used to discussing in a Bluetooth earbud review.
As far as highs these definitely distorted a little at higher volumes, which can be heard in the song "Nikes" by Frank Ocean where the snare/hi-hat clips off towards the top. Now all that said, you can take further control of the music with the Jaybird MySound app which lets you further EQ the way your music sounds and saves that preset to the headphones so it'll sound the same on any source device.
Conclusion
One thing I'm not too happy with regarding the Jaybird Freedom 2 earbuds is the price. At $119 they're not cheap enough that people who buy them are going to overlook their faults. The fit is just as bad as the originals and so is the battery life. They pretty much fail in the same ways that the first one did, despite their improved ear tips and cable management clips. Of course they also sound way better than the originals, which is enough to make me reach for them for everything except going to the gym. But are the cons something you're going to put up with just for better sound? That's for you to decide.
If you think the X3's are way too bulky and are really looking for a slimmer pair of 'buds, then the original Jaybird Freedom earbuds are also looking kind of good right now since their price has dropped significantly. If you found the original Freedoms perfect, then upgrading to the Freedom 2 earbuds is no brainer if for nothing else than the better sound quality. But if you didn't like those, you probably won't enjoy these for the same reasons.