All products featured are independently chosen by us. However, SoundGuys may receive a commission on orders placed through its retail links. See our ethics statement.
The bottom line
The Jaybird Freedoms look way nicer now, but at the expense of their battery life and fit.
The Jaybird Freedoms look way nicer now, but at the expense of their battery life and fit.
What we like
Loud sound
Strong bass
App experience
What we don't like
Battery life
Bad fit
Highs are piercing
Rating Metric
Sound Quality
7.8
Bass
8.4
Midrange
7.6
Highs
7.3
Durability / Build Quality
8.6
Value
7.9
Design
7.0
Microphone
7.6
Portability
9.2
Battery Life
6.8
UPDATE [February 2022]: This product has been superseded by the Jaybird Freedom F5, which we haven't reviewed yet. We did review the Jaybird X4, another wireless earbud model. If you're looking for workout earphones, we mainly recommend true wireless earbuds now, including the Jaybird Vista 2.
After being announced at CES, the Jaybird Freedom wireless headphones are finally here. They have a new design, a new way of charging, and Jaybird even released a new app to go along with them. But are they everything we hoped for?
What's inside?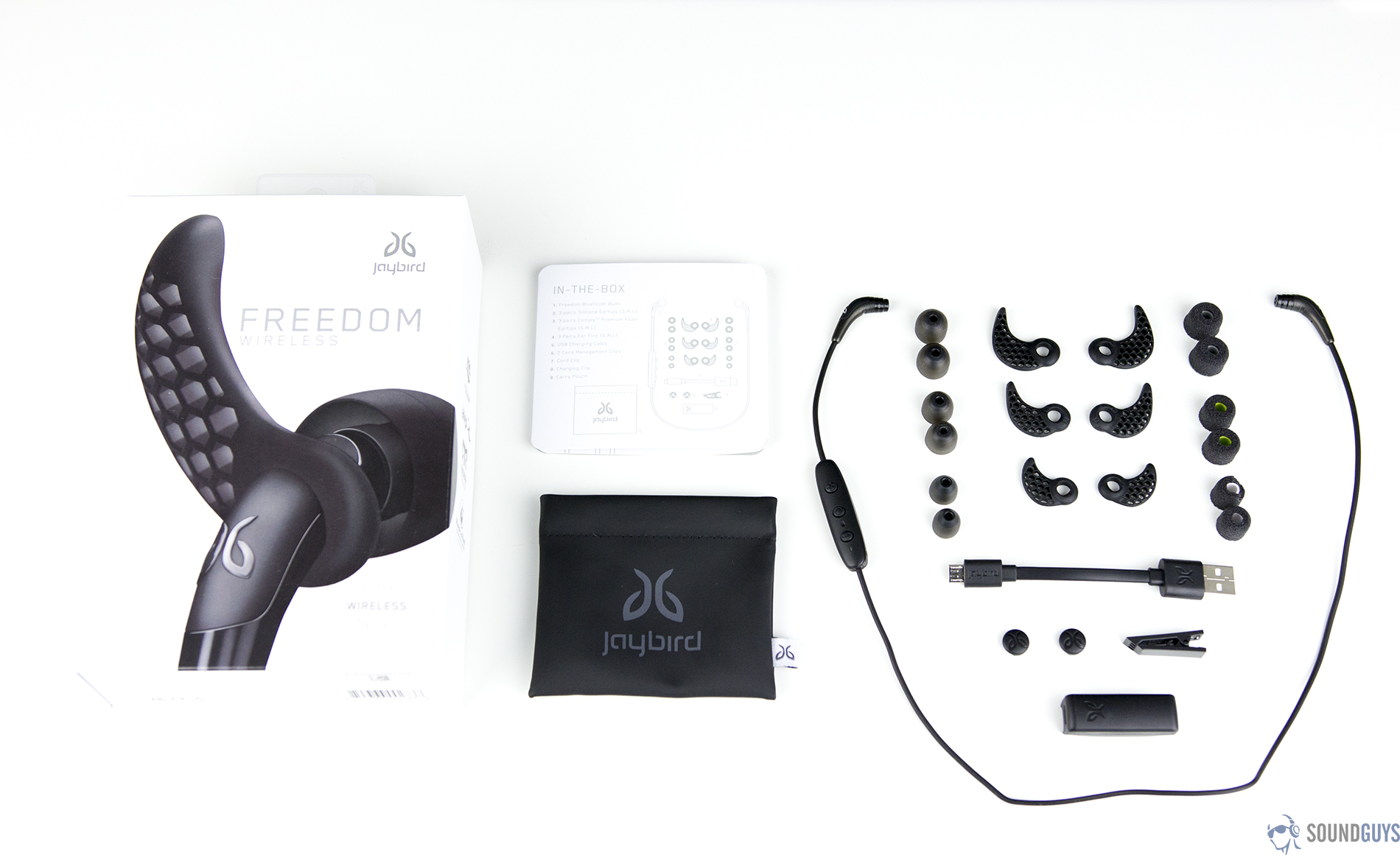 In the box you'll get a soft carrying pouch, instruction manual, the headphones, 3 sets of wings tips (L, M, S), and 6 pairs of ear tips as well in either silicone or comply memory coming in small, medium, and large. Then you'll get a short charging cable, 2 wire clips for cable management (super important), and a small clip to secure it to your shirt. Not so important. Finally you'll get the charging cradle that you'll need to recharge the headphones.
Build & Design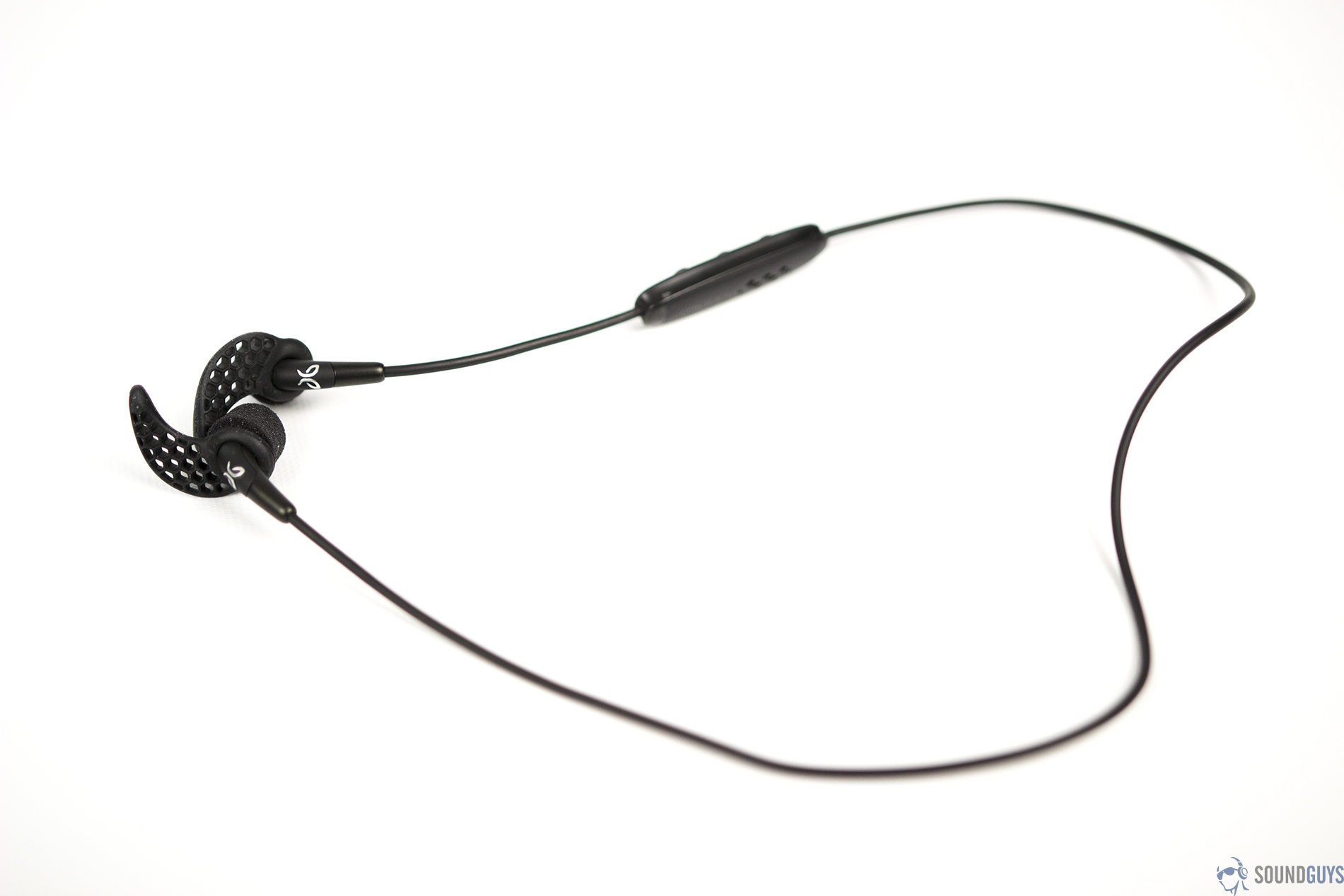 Right off the bat you'll notice that these look pretty different from the originals. The earbuds are way slimmer now and have a rounded off design that looks really sleek. If you're not familiar with the X2s, the earbuds used to house the battery which made them big and bulky. And since the earbuds are slim now, the battery had to go somewhere. Which means that the control module is now big, bulky, and not too pretty.
When I first saw the new Freedoms I thought ,"Man, that's bulky", and now that I have them I can confirm: it's big. So big that if you don't use the wire clips, the extra slack in the cable will definitely force them to fall out of your ear while running. These also don't have a micro-USB input on the headphones themselves. Instead Jaybird opted for a charging cradle that you need to connect to the headphones in order to plug them in. They also can clip to the control module while you're wearing them for a boost in battery life.
When you attach the cradle it gets even bulkier, but I still think that it is a good idea. After going for a run I just came back to the car, snapped on the charging cradle, and let them charge back up. Overall, the biggest issue that I had with the Freedoms was the fit. I had a really hard time getting these to stay in my ear and I actually had to rewrite this entire review because when I finally found the right combination of tips and cord length to get them to fit decently, it changed the experience. Still, no combination helped during running. The bulky control module easily gets pulled out of my ear due to its weight and only the wire clips were able to help after a lot of adjusting. If I need to use two clips for the wire and a third to keep it clipped to my shirt just to go on a quick run, maybe the design needs a little rethinking. On the bright side these do feel pretty tough and don't seem like they'd snap under stress.
Connection
One aspect of the headphones that were never an issue during testing was Bluetooth strength. Regardless of where my phone was during my runs I experienced no skipping at all. Even around my house the connection was easily reliable up to 30 feet. Fresh out of the box I wasn't too impressed with sound quality, but the new Jaybird MySound app is pretty handy. Not only does it keep you up-to-date with how much battery is left, but it also lets you fine tune the EQ settings to your liking. You can also browse through presets and preview how they sound, including ones made by athletes. The presets then get synced to the Freedoms themselves and not to the source device. So if you switch between devices as often as I do, at least you can count on your music to sound the same. Unlike wired headphones, Bluetooth headphone controls aren't switched or disable depending on your operating system. So whether you use Android or iOS the playback controls work the same. You can pause and play music, skip between tracks.
Battery Life
The battery life on the Freedoms are really only about 3 to 4 hours, but you could technically use them with the charging to cradle to get up to 8 hours. However, in my usage that was really unrealistic unless I was sitting at a desk. As I alluded to before, I preferred to use the cradle as a portable battery to charge the Freedoms up while I'm not using them instead of a charging case that needs to be attached at all times.
Sound Quality
When it comes to sound quality, one thing that I noticed that really made a difference was the volume. These get really loud which is great for fitness, but not so much for sound quality. For testing I created a flat EQ profile in the app just so I can see how the headphones sound without any enhancements.
Even with a flat EQ profile the Freedoms still have a good emphasis on bass, which is expected considering they're intended for fitness. That said, they weren't overdone and even though they're stronger than I prefer, they were contained to the low end.
Mids really seemed to take a hit this time around. Vocals and instruments don't have a huge amount of detail and almost sounds like they have a sheen over them. Especially in songs like "Life is Wonderful" by Jason Mraz where it starts off acoustic and brings in more instruments halfway throuhg.
Again, these get loud. And purely because of that the highs tend to be somewhat piercing unless you dramatically lower the volume. There's a bell synth in "Ember" by WhoMadeWho that is almost painful at some points.
Conclusion
Overall, the Jaybird Freedom do look way sleeker than the X2s, but they also don't fit as well. The bigger 'buds of the X2s wedged themselves in your ears and even though it was bulky and looked weird, they fit great. With the Freedoms you have to rely completely on the little accessories like the cable clips and wing tips. It's not impossible to find a great fit (and maybe it's just me) but it's definitely way harder than something like the UA Headphones Wireless which just stay in your ears no matter what you do. The sound quality is okay even with the help of the app, but lets be honest — you're not getting these for the audiophile quality. You're getting them for fitness. But unless you can get them to fit perfectly they're not too great in that aspect either. After getting the right fit I really like the Freedom Wireless, but I think I'm just going to wait for the X3s and hope that they're easier to use.