All products featured are independently chosen by us. However, SoundGuys may receive a commission on orders placed through its retail links. See our ethics statement.
The bottom line
The Beyerdynamic MMX 150 is a solidly made, if a little pricey, gaming headset with tons of replaceable parts and great fundamentals. It has a couple of nice extra touches, but only over a wired USB connection.
Beyerdynamic MMX 150
The Beyerdynamic MMX 150 is a solidly made, if a little pricey, gaming headset with tons of replaceable parts and great fundamentals. It has a couple of nice extra touches, but only over a wired USB connection.
Dimensions
2.4m (USB-C to USB-A cable)
1.2m (USB-C to 3.5mm cable)
What we like
Comfortable
Good sound
Great microphone
Replaceable parts
What we don't like
A little expensive, given the features
Limited button function with 3.5mm adapter
Rating Metric
Sound Quality
9.4
Bass
9.2
Midrange
9.8
Highs
9.2
Isolation / Attenuation
4.7
Durability / Build Quality
6.9
Value
7.0
Design
7.7
Connectivity
6.5
Microphone
8.2
Portability
7.0
Feature
7.0
Comfort
8.5
Beyerdynamic makes a habit of putting out reliable, comfortable wired gaming headsets. Whether you're in the market for the customizable bass of the Custom Game or the more stream-oriented setup of the Team Tygr bundle, the company's gaming headsets generally feel great to use and sound good enough for just about any kind of media. That's all still true with the Beyerdynamic MMX 150.
However, is sounding good and feeling good enough to stand out in a market full of software features and flashing lights? We spent two weeks with the Beyerdynamic MMX 150 and found out all that you need to know before buying.
Editor's note: this Beyerdynamic MMX 150 review was updated on October 18, 2022, to add another microphone demo and to add an additional question to the FAQ section.

PC gamers who want something they can plug in and reliably use can get started with this wired headset.
At-home workers who need something comfortable with a good microphone will enjoy the MMX 150 for its subdued look.
Anyone who just wants a decent pair of wired headphones can rely on Beyerdynamic.
What is it like to use the Beyerdynamic MMX 150?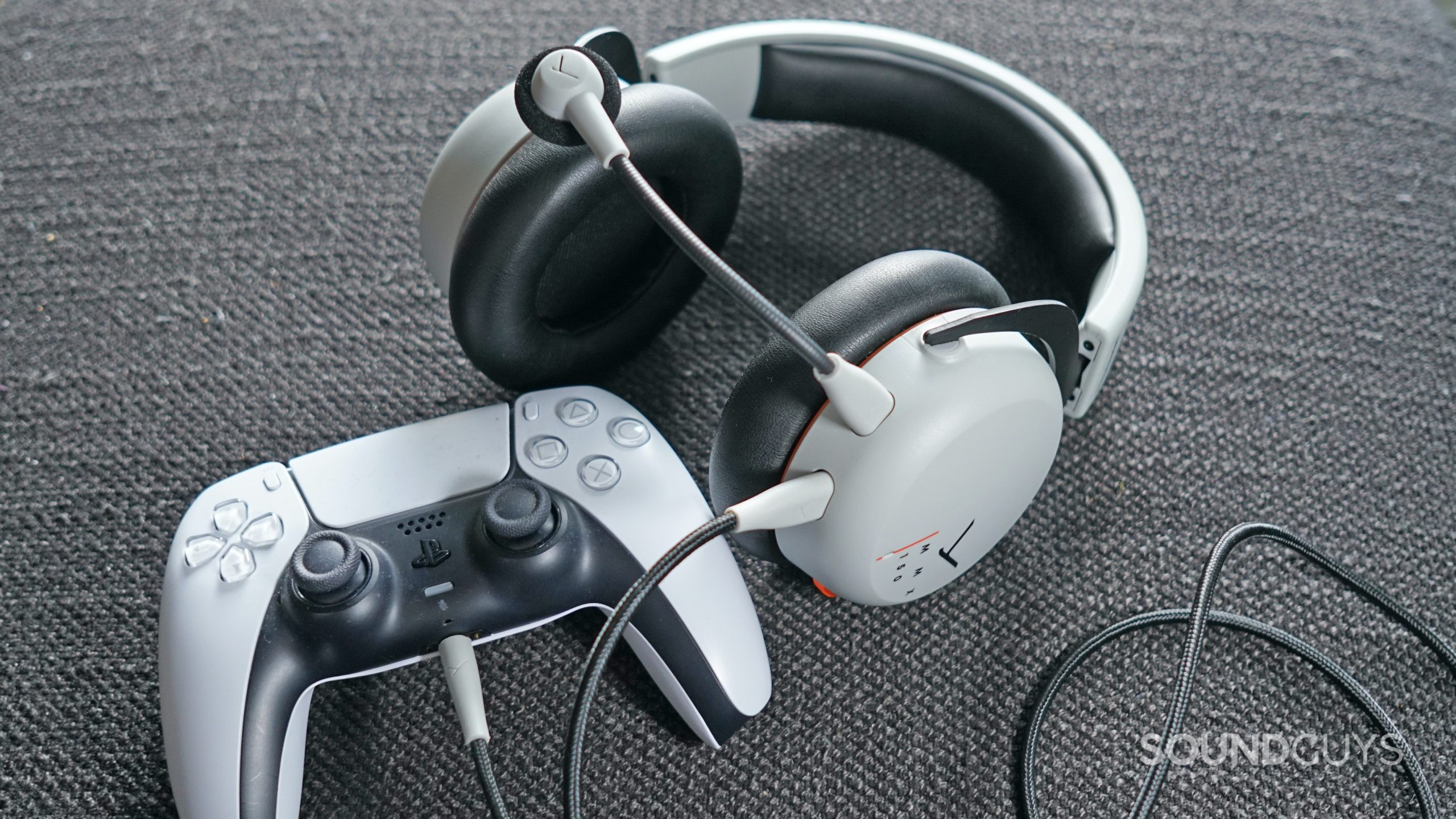 Both included cords are detachable and terminate with a USB-C connection on one end to plug into the headset.
Much like other gaming headsets the company has released over the years, ease of use and solid construction equally define the Beyerdynamic MMX 150. This gaming headset is simple, hardy, and easy to use with replaceable parts and a straightforward design. The MMX 150 connects to your platform of choice via either a USB cable or 3.5mm cable, which means it's compatible with PC, PlayStation 5, Xbox Series X/S, Nintendo Switch, and just about anything else (provided it has a headphone jack).
The Beyerdynamic MMX 150 has a plastic and steel frame, with cushions on the headband and ear pads made of memory foam covered in soft leatherette. It's comfortable, and the pads are thick enough that establishing a decent seal is easy, especially given tiltable headphone hinges. Despite all the metal, this isn't a terribly heavy gaming headset at 320g, no doubt due in large part to the lack of a battery. There's no software component of any kind, so what you see really is what you get.
How do you control the Beyerdynamic MMX150?
The clamping force of the headband feels just right.
The headset is very straightforward to control. It sports a detachable cable, with included USB and 3.5mm options, and when you're plugged in via USB, the volume dial lights up and offers a few additional functions. On top of turning up and down the audio, the dial works as a button. You can tap the button to toggle mic muting or hold it down to enter augmented mode, which amplifies some environmental noise through the headset to keep you aware of your surroundings. When you're plugged in with 3.5mm, even these button options don't exist.
How is gaming with the Beyerdynamic MMX 150?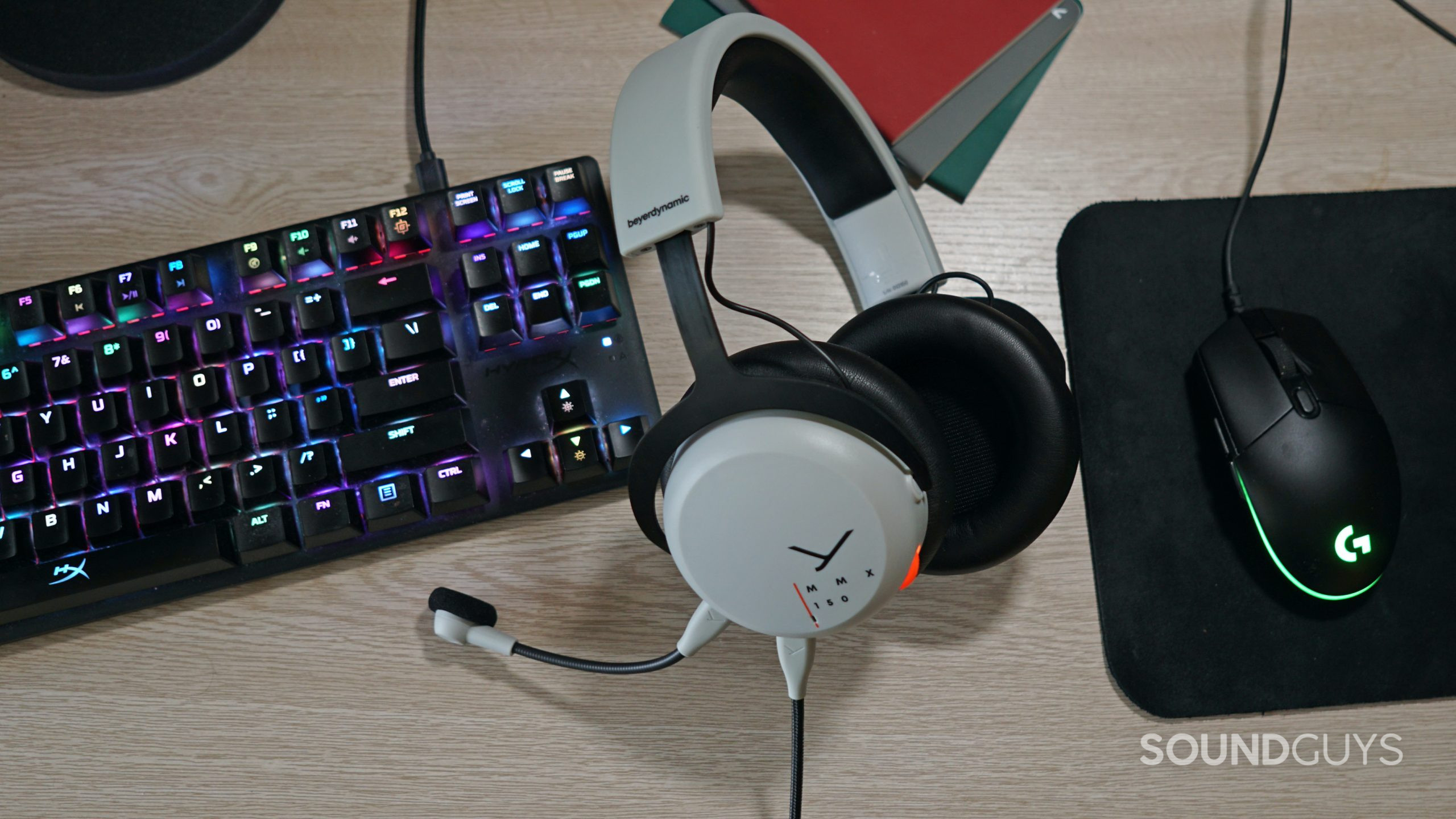 You can connect it just about anywhere, but the USB connection is definitely the primary option.
Gaming with the Beyerdynamic MMX 150 is an easy and enjoyable experience. The headset never runs out of battery power, and it's comfortable enough to wear for hours on end. The USB cable is 2.4 meters, or 8 feet, long which is perfect for stringing from a desktop PC if your tower is stowed under a desk. It's a little short to stretch across a living room if you're intent on plugging directly into your console, but the 1.2-meter 3.5mm cable is much better suited to plugging into a controller.
The headset does a good job handling the audio demands of games like Final Fantasy XIV and Halo Infinite on PC, rendering spatial sound queues and balancing hectic combat scenarios with background music very well. The more subdued, atmospheric score of Inscryption sounds nice coming out of the MMX 150, too.
Does the Beyerdynamic MMX 150 gaming headset block out background noise?
A decent seal and thick ear pads can go a long way in reducing environmental noise.
The Beyerdynamic MMX 150 features pretty good isolation for a gaming headset. It doesn't match up to options with active noise canceling (ANC) very well, but there are scant few of those in the gaming headset space anyway.
Isolation performance like this will go a long way to partially quiet incidental noises, like people speaking in another room or a knock at the door. However, the headset doesn't do much to block out droning noises like the sounds of a car engine or the whirr of a fridge. This could be an alright option to take to a cafe, though it's clearly meant more for at-home use.
How does the Beyerdynamic MMX 150 sound?
This MMX 150 (cyan) response is pretty close to our target curve (pink), though it diverges in a few areas.
The Beyerdynamic MMX 150 will sound very nice if you're looking for something with a more neutral leaning frequency response, especially in the lows and mids. If you're expecting a more consumer-oriented sound profile with boosted bass, you may find some sounds come through with a little less oomph than you'd like.
Lows, mids, and highs
The layered distorted guitars in Lava Lamp Pisco by the Psychedelic Porn Crumpets come through clearly and distinctly with the Beyerdynamic MMX 150. However, that under-emphasis in the low end really shows itself, as the bass guitar occasionally gets lost in the mix—it's mostly audible, but certainly doesn't feel like a central part of the ensemble with this headset.
In game, a sound profile like this should be totally fine for just about any genre. The lack of substantial bass range emphasis means the rumbling, reverberant parts of the sounds of explosions and gunfire probably won't sound quite as noticeable. However, games generally don't layer sounds in the same way that music does, so it's pretty likely that the sound of a grenade going off will still be the loudest thing you hear in a given moment. It might be a little less distracting during heated firefights, but that could be a good thing in a competitive setting.
How is the Beyerdynamic MMX 150 microphone?
This microphone is clear to make for a decent D&D option.
The Beyerdynamic MMX 150 microphone sounds very good for a gaming headset. This detachable microphone sits on a flexible wire, so it's easy to make sure it's in the right position for your needs. The mic sounds accurate, with only a little of the typical lack of bass range output, and it's plenty loud. This isn't suitable for most recording needs, but it'll do in a pinch, and it's a great option if you're stuck on Zoom calls all day for work. Listen for yourself:
Beyerdynamic MMX 150 microphone demo (Ideal):
Beyerdynamic MMX 150 microphone demo (Office):
How does the microphone sound to you?
1673 votes
As of April 21, 2022, nearly 46% of respondents have rated the sample as "Good" and 44% of respondents have rated it as "perfect," which is far better than most headsets.
Should you buy the Beyerdynamic MMX 150?
If you're in the market for a reliable wired gaming headset, and you're more concerned with fundamentals than bells and whistles, you should consider the Beyerdynamic MMX 150.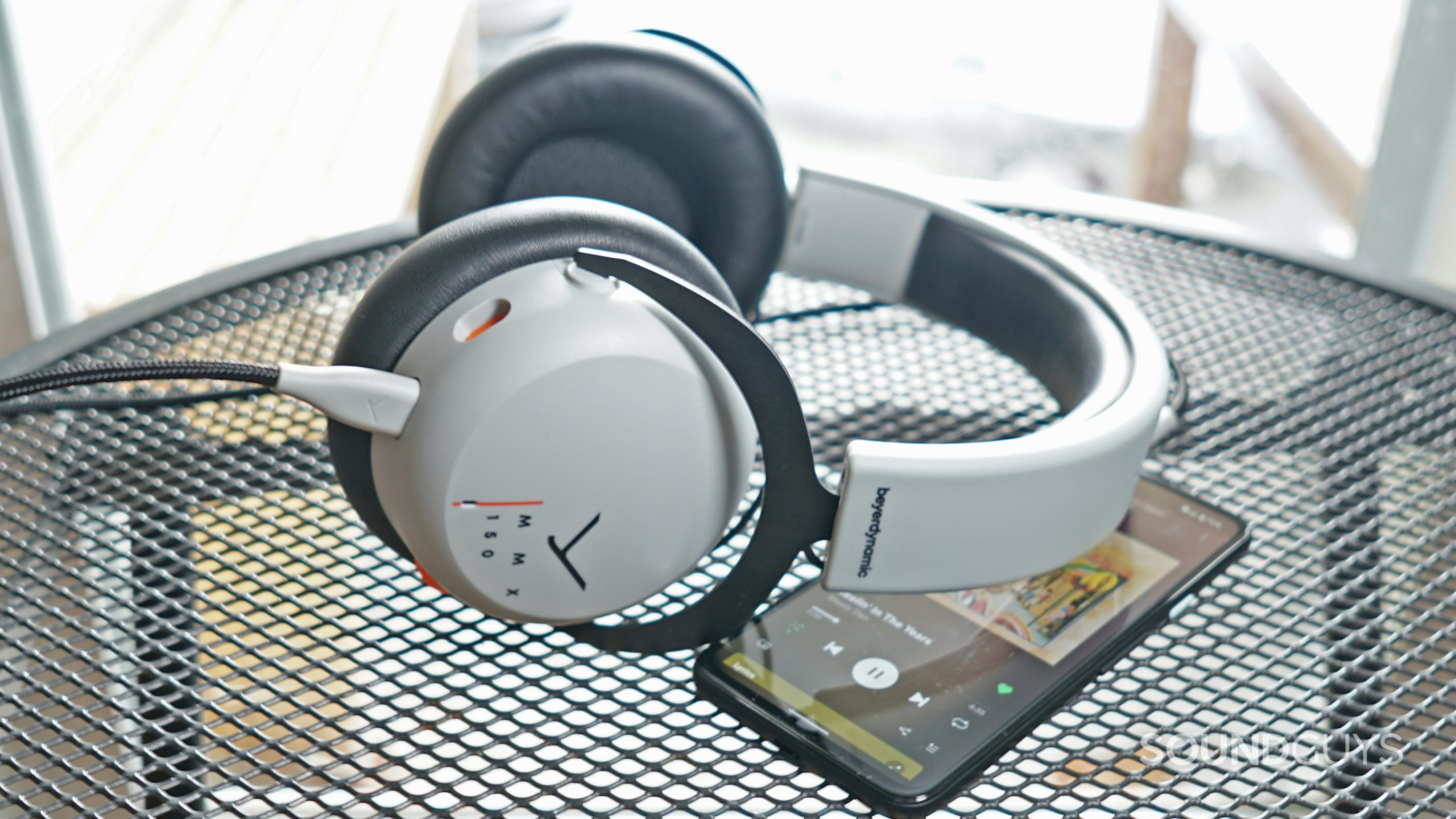 This is definitely a gaming headset that can pull double-duty as a regular pair of headphones.
At $149 USD, this is a little pricey for a wired gaming headset without a full suite of software features. However, the MMX 150 features quality construction, good sound, and a great microphone—plus its mic, cords, and ear pads are all replaceable. Having one dial to control volume, mic muting, and sidetone all in one is a nice touch too, though it's too bad none of that works over 3.5mm. The lack of any EQ option via software is too bad, given the lack of bass emphasis, but that's not a huge drawback.
Beyerdynamic MMX 150
All prices listed in USD unless otherwise specified. Prices may change over time, and vary by region. Unfortunately, we cannot list Amazon prices on the site, as they vary greatly by currency.
Basically, if you're in the market for a gaming headset that's subtle and reliable enough to double as a regular pair of wired headphones, the Beyerdynamic MMX 150 could be the product for you. If you like the sound of all those replaceable parts, this could also be a great option. However, if you want a ton of software features, you're going to have to look elsewhere. Then again, if you want to save $50 USD and don't care for the mic mute LED on the boom mic or for augmented mode, you should get the Beyerdynamic MMX 100 instead.
At first glance, the Beyerdynamic MMX 100 and MMX 150 are nearly indistinguishable, but there are some subtle hardware differences here. The MMX 100 houses an analog 3.5mm connector, which is a bit outdated compared to the USB-C connector on the MMX 150. Outdated doesn't necessarily mean bad, however, since it's easy and cheaper to relax a 3.5mm cable than a USB-C one.
The MMX 100 is 8g lighter than the MMX 150 and lacks the more advanced mute function on the boom mic. With the MMX 150, an LED lights up at the end as a visual cue to alert you that you're muted. Augmented mode is another feature exclusive to the MMX 150, which functions similarly to passthrough audio on Bluetooth headsets and wireless earbuds by amplifying background noise through the headset. This can be good if you want to tune into your surroundings quickly without removing the headset.
(Click the image to expand.)
---
What should you get instead of the Beyerdynamic MMX 150?
If you're looking for something with more software features, options like the Razer BlackShark V2 and the Logitech G Pro X both cost less and offer tons of features through the Synapse 3 and G Hub apps, respectively. They're also very good headsets in their own right, with comfortable builds, and good sound and microphones—the G Pro X even has just as many replaceable parts as the MMX 150.
If you're in the market for something wireless, options like SteelSeries Arctis 7P brings nearly the same level of multiplatform compatibility as the MMX 150, using a USB-C 2.4GHz RF dongle. Similarly, the Razer Barracuda X offers a similar range of compatibility, in a super lightweight frame. Both of these wireless gaming headsets are also cheaper than the MMX 150.
Frequently asked questions about the Beyerdynamic MMX 150
Good question! The Logitech G435 Lightspeed has a very different design from the MMX 150 with its vibrant blue and purple hues. It also has a more impressive feature set since it supports Bluetooth connectivity and lag-free wireless connectivity thanks to the USB dongle There is no wired listening option on the Logitech G435 Lightspeed, however, so you'll want to make sure you charge it every now and then. You won't have to reach for that USB-C cable too often though, as the headset's battery lasts more than 24 hours.
While the treble response deviates quite a bit from our house curve, the G435 Lightspeed has a greater bass output than the MMX 150 which will appeal to many gamers. Isolation isn't quite as good with Logitech's headset compared to Beyerdynamic's but it's pretty close and neither has noise canceling.
(Click the image to expand.)
Yes it should. As long as the USB-C cable you're trying to use fits the size of the slot on the headset then you should be able to use it. However it may be harder to find a compatible USB-C to 3.5mm adapter like the one included with the headset.