All products featured are independently chosen by us. However, SoundGuys may receive a commission on orders placed through its retail links. See our ethics statement.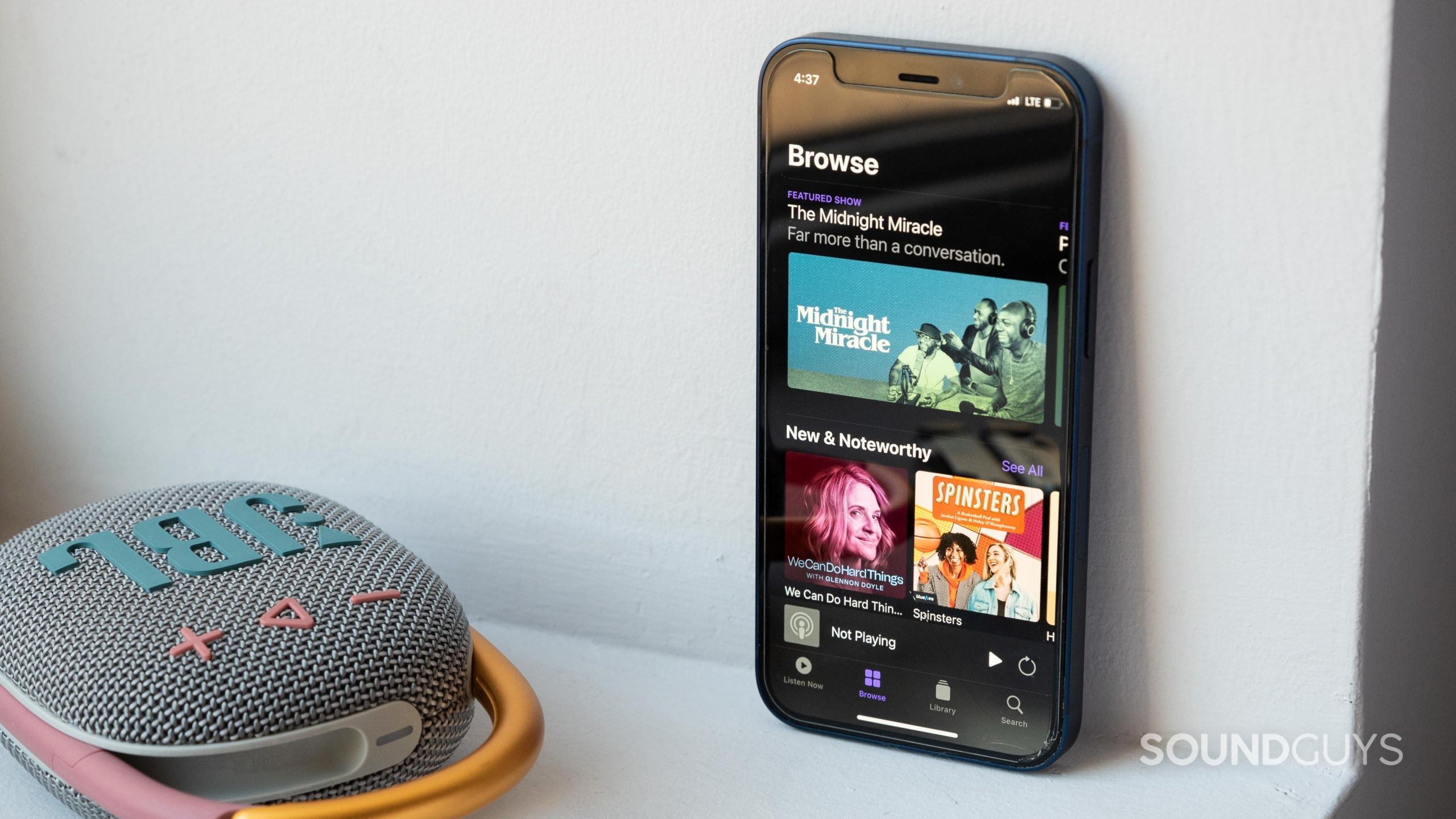 The bottom line
Apple Podcasts is a no-frills podcast streaming service well-suited to anyone knee-deep in the Apple ecosystem. Though its not the best place to go to discover indie podcasts, its ratings widget makes it great to sus out which podcasts are worth your time before you dedicate yourself to listening to them.
Apple Podcasts
Apple Podcasts is a no-frills podcast streaming service well-suited to anyone knee-deep in the Apple ecosystem. Though its not the best place to go to discover indie podcasts, its ratings widget makes it great to sus out which podcasts are worth your time before you dedicate yourself to listening to them.
What we like
Convenient for iPhone owners
Can save and download specific episodes
Can search by keywords mentioned in audio
Can subscribe to shows not available on iTunes
Ratings widget
AirPlay
What we don't like
Doesn't promote discovery
Only available on iOS
No silence trim feature or listener statistics
Cluttered interface
Rating Metric
Sound Quality
7.5
Value
10.0
Design
7.0
Feature
6.5
Every day I wake up to the news that yet another celebrity has a podcast—when will it end? Okay, maybe it's not every single day that a new star joins the audio media trend, but podcasts have certainly entered the mainstream and won't fade any time soon. While podcasts may not be the entertainment medium for everyone, they have their perks, and they give you more direct access to your favorite celebrities. There are so many podcast services to choose from, but the Apple Podcasts app is the default on iPhones—is this incumbent podcast streaming app any good?
Editor's note: this Apple Podcasts review was updated on February 3, 2022, to address an FAQ about a controversy surrounding the app.
What is Apple Podcasts?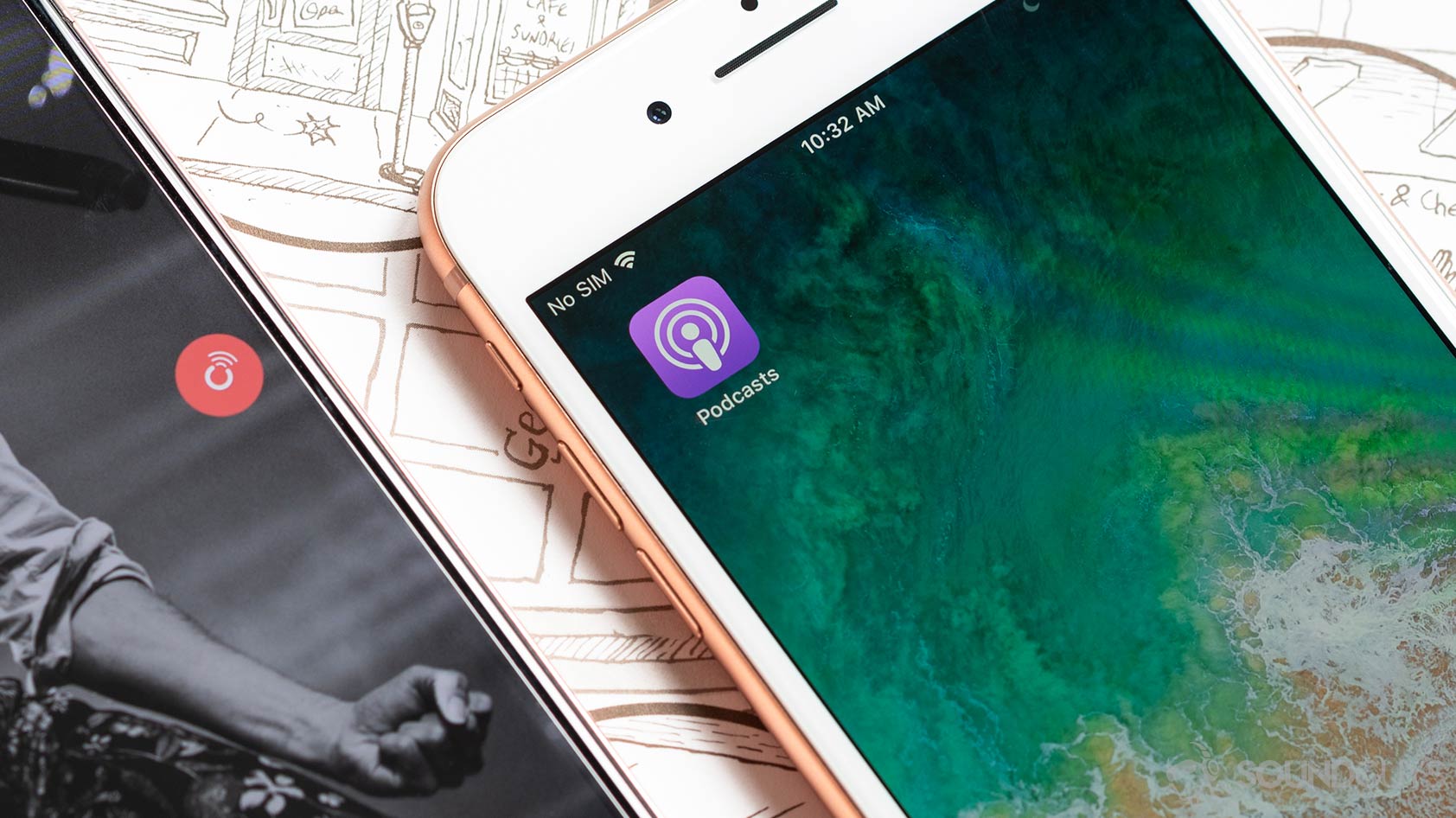 The app comes preinstalled on iOS devices, making it the default for iPhone users.
Apple Podcasts is Apple's proprietary podcast-listening app, and it's pre-installed on every iPhone and iPad (Android smartphones can't download Apple's podcast app). The app lets you discover, stream, download, and rate podcasts, and its interface is highly navigable if you're accustomed to Apple software.
Who is Apple Podcasts for?
iPhone users who use Apple Music will be at home with this app. Though some of the app's playback features might be confusing to someone accustomed to Spotify, it looks and works just like Apple Music.
How do you use Apple Podcasts?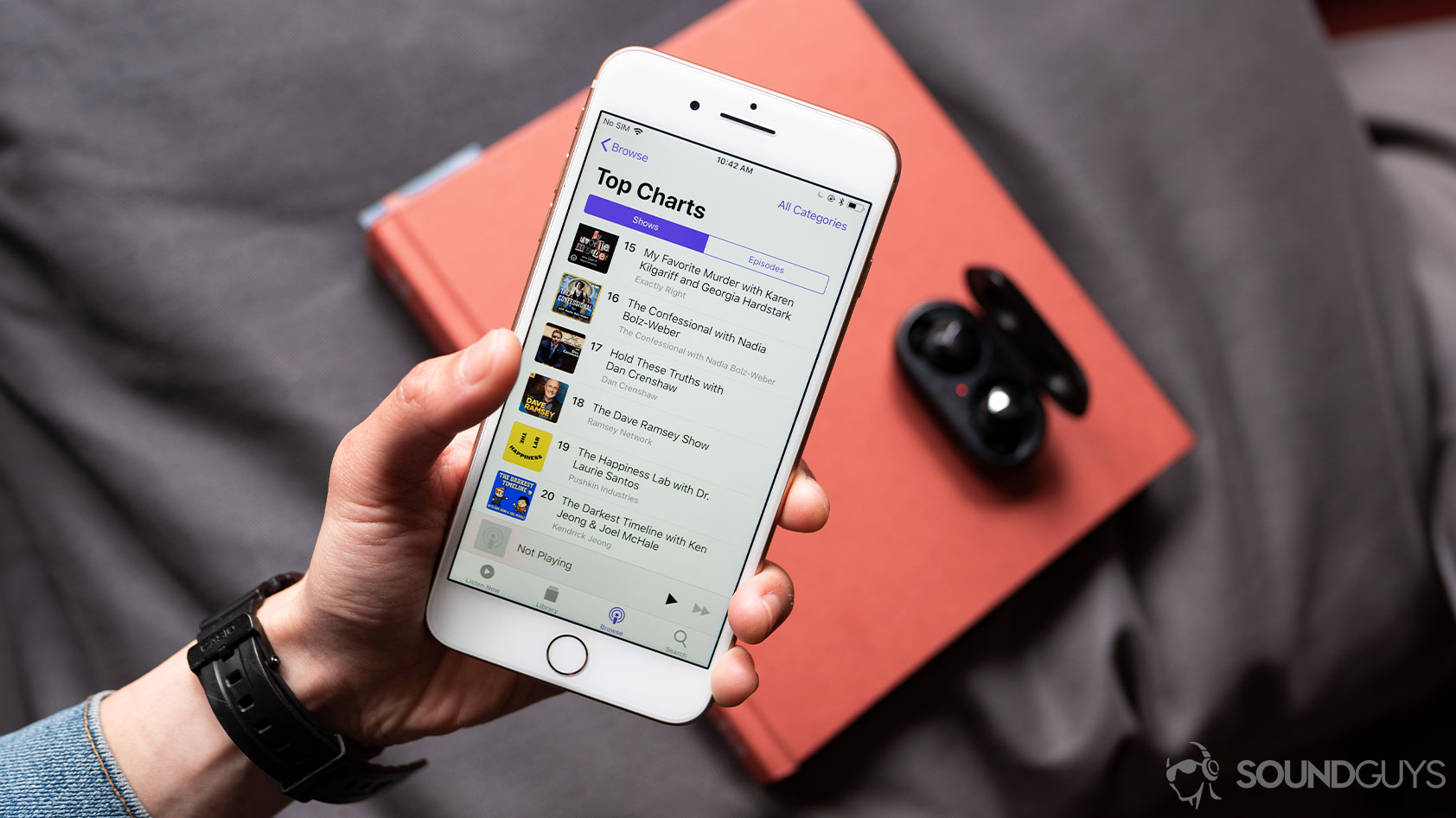 Society and culture shows with "celebrity" hosts are incredibly popular and have staying power on the Apple Top 200 chart.
The first time you open Apple Podcasts, you're presented with a vast selection of shows, organized into countless content categories. When you explore a show, the app leads you to the show's home page where you can press a big button to listen to the latest episode. If you don't want to start listening just yet, you can read the show's description, scroll through the episodes and read their descriptions, and check out its audio trailer if available. The most diligent among us may even scour the reviews section of a given podcast where listeners give their input on their favorite (and least favorite) shows.
Once an episode grabs you, tap on it and Apple's media player will open. The player lets you adjust basic playback features and manually scrub to a specific timestamp. Its additional playback features include a 15-second backward skip, a 30-second forward skip, a speed adjuster, a sleep timer, and a queue function. As you'd expect, this app works with AirPlay, making it easy to cast the audio to a nearby speaker or AppleTV. You can pause a podcast on your iPhone and resume it later on your iPad, so long as both devices are connected to the same iCloud account.
If you really liked an episode of a podcast, you can share a link to any of your fellow iPhone-owning friends, or you can keep the episode all to yourself and download it for offline listening. As with other podcast apps, Apple lets you toggle automatic downloads and push notifications for individual shows. You can also save episodes to listen to later on. Apple offers these tools to keep your podcast library clean and organized.
How can you find good shows on Apple Podcasts?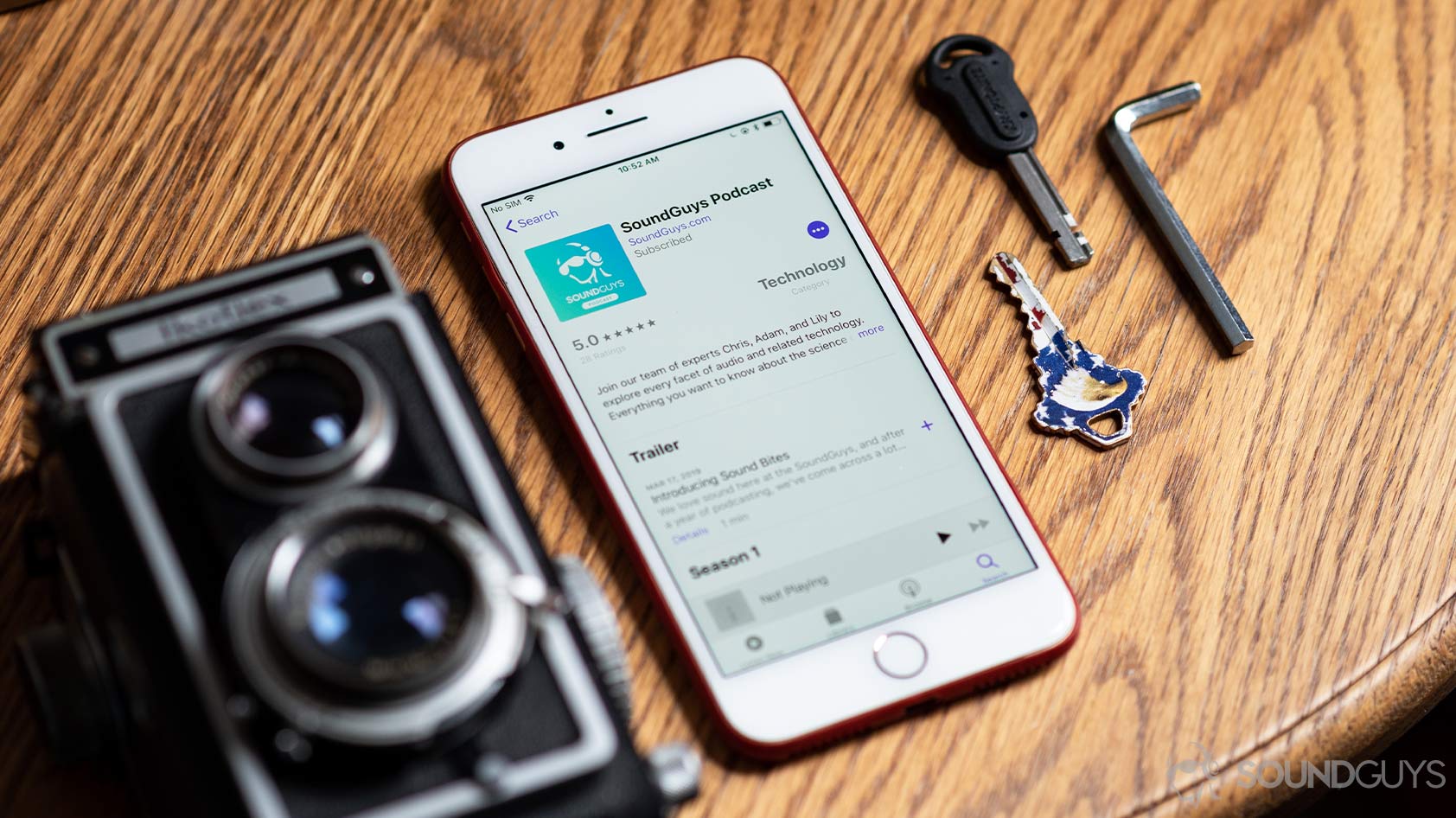 A slew of five-star reviews makes a given podcast more appealing to potential listeners and advertisers alike.
Apple Podcasts offers a wide selection of shows, but a few shows have exclusive deals with Spotify's podcast service. Still, some of Spotify's original podcasts, like The Michelle Obama Podcast, are available on Apple's app, so it's not like Apple is missing out on too much. Even if a show isn't available on iTunes, you can subscribe to it via Apple Podcasts by inputting its RSS feed URL.
The Browse tab of the app features shows based on popularity, relevance to current events, or genre, and it includes some categories specifically for children. The Listen Now tab offers personalized recommendations, and Apple recommends these shows based on your listening history. The Browse and Listen Now pages may be a bit cluttered, but the Search page lets you browse for new shows by category.
Apple's podcast app search functionality is impressive—you can search for podcasts by the keywords mentioned in episodes. Let's say you want to find discussions about the Golden State Warriors basketball team: type in the team name and you'll be met with results that cover any shows where the team is discussed.
How can you get your show on Apple Podcasts?
If you want to submit your podcast to Apple, you can do so through Apple Podcast Connect, where you'll need to create an RSS feed and get your show approved by Apple.
Apple features shows on its Browse page if they are ranked highly in the app's review widget. Unsurprisingly, celebrities host many of the most popular podcasts. While this is great for advertisers who want to partner with successful shows, it can make it harder for amateur podcasters to be heard.
What features are missing from Apple Podcasts?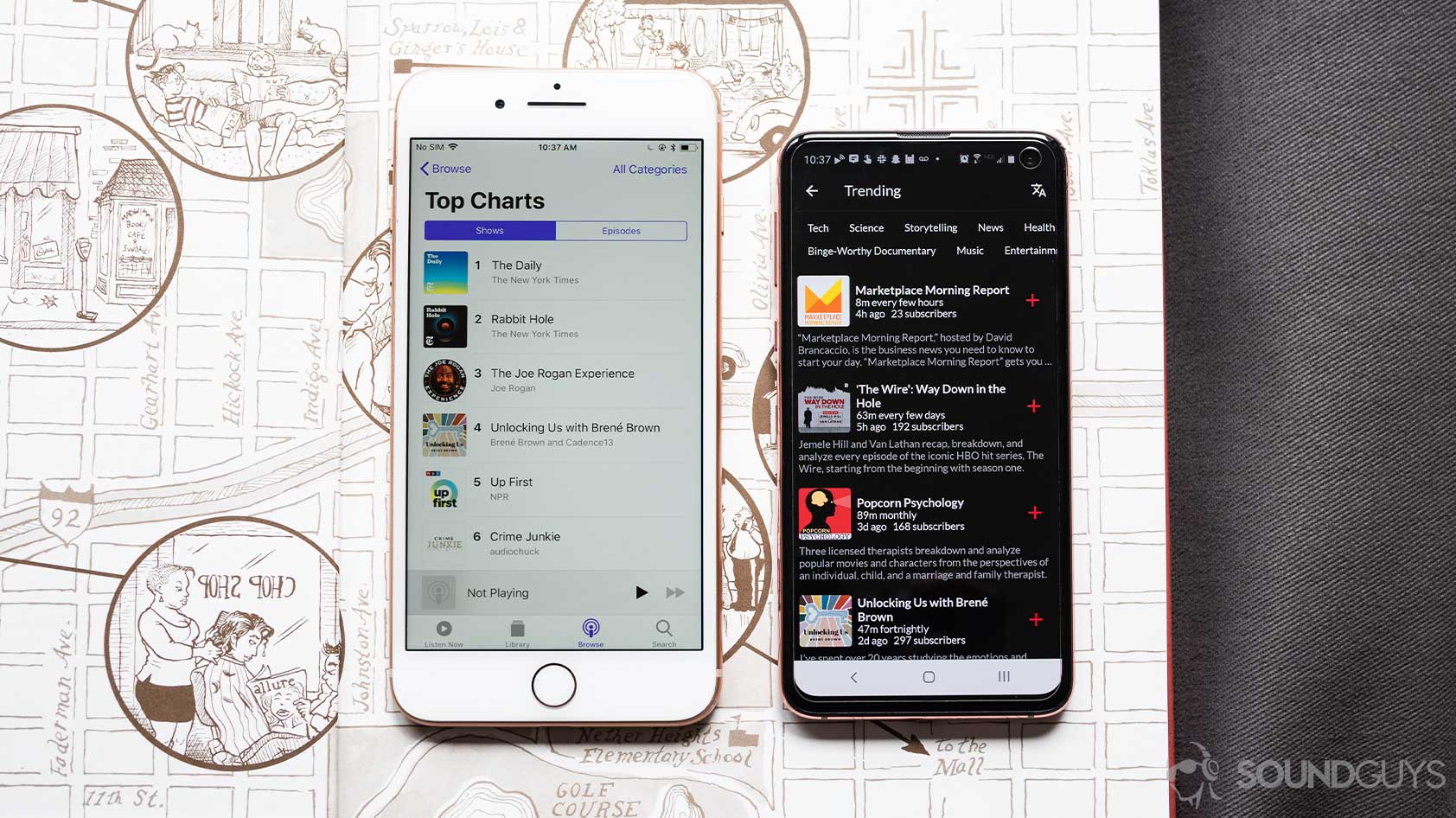 Apple offers a no-frills listening experience, but it would be nice if it offered a few more features.
I wish the app had some kind of silence-trimming feature. Apps like Pocketcasts automatically cut out silence in an episode and let you auto-skip the first few minutes of an episode. Other apps have sections where users can view their listening statistics, like total hours spent listening, or amount of silence trimmed, but Apple doesn't offer any user statistics to listeners.
What audio format does Apple Podcasts use?
Apple Podcasts' streaming quality is dependent on the quality of the original uploaded file and whether or not it was recorded in mono or stereo. The streaming quality depends on a few factors (sample rate, number of channels, and bit rate), and it tops out at 256kbps AAC.
How much does Apple Podcasts cost?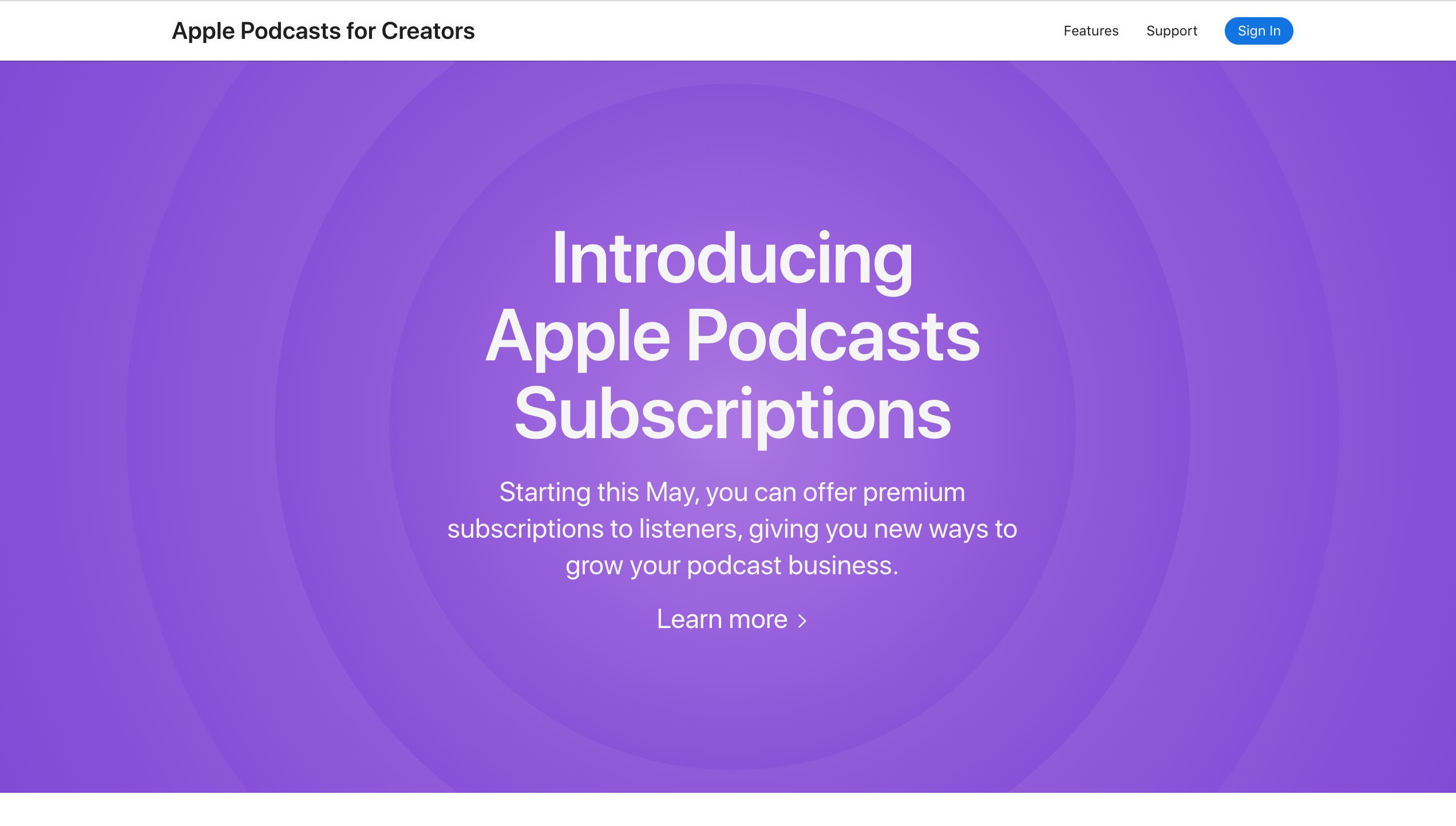 Podcast creators have the option to charge subscription fees for exclusive content, but using Apple's app is free.
Apple Podcasts is free to use if you have an iPhone, Mac, or iPad. You can listen to unlimited episodes of unlimited shows, and download as many episodes for offline listening as you want, all at no charge.
Apple is implementing a subscription service that will allow podcast creators to charge for their content, but the app will remain free. A creator will be able to customize designated subscriptions for their show. Among other things, they will be able to keep unlimited access free, require payment only for additional content, or require a paid subscription to access any episodes of their show.
Perks can include ad-free listening, bonus content, early access to episodes, and shows from"the archives." It's all highly dependent on whether creators choose to participate and at what level of participation. The variability of this model is further complicated by the fact that many podcasters have used platforms like Patreon for years now to offer virtually the same things. Apple has the edge, however, if you already use their app because it streamlines the process.
Should you use Apple Podcasts?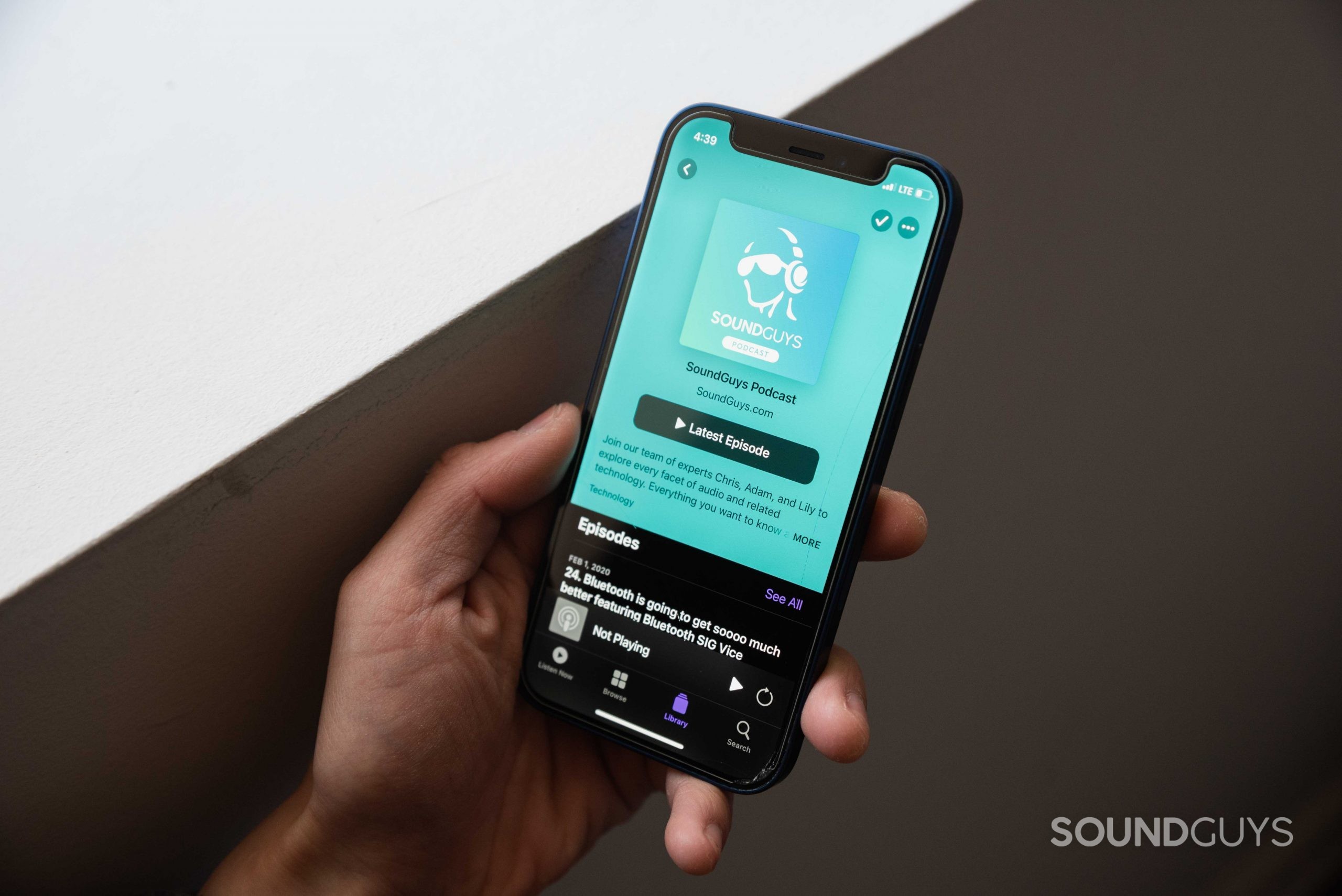 Apple pre-installs many default apps onto its hardware, but its apps aren't as feature-rich as popular alternatives.
If Apple Music is your music streaming service of choice, you should have no problems with Apple Podcasts. It offers a wide library of streamable and downloadable content, and it has all the basic playback features you could ask for. For those who want to AirPlay podcasts to an AppleTV or transition from listening on one Apple device to another, this podcast app is the most convenient pick. It would be nice if it had a silence trimming feature, auto-skip feature, and a hub to look at your listening statistics, but these are more nice-to-haves than need-to-haves. Some of Apple's discovery features are cluttered, and it's no secret that the app promotes shows that are already bringing in ad revenue—but, hey, it does its job.
If you want an app that includes some of the features absent from Apple Podcasts, we recommend Pocketcasts. Avid Spotify listeners can just stay within that green bubble. Apple's app isn't even an option for Android users, but there's always Google Podcasts, which works very well with Google's smart speakers.
Frequently asked questions about the Apple Podcasts app
On February 2, 2022, The Verge reported that some of the recent five-star ratings in the Apple Podcasts app were reviews of individual podcasts on the app, and not the app itself. This means the Apple Podcast app rating is much higher than it should be, skewing positive results for Apple relative to other podcast apps on the App Store.
No, the Apple Podcasts app is specifically for podcasts, while the Apple Music app is for music. Unlike Spotify, which covers both podcasts and music, Apple silos its content into different apps.
Yes, you can stream audio from the podcast app to your Homepod mini. All you need to do is:
Open the app.
Select the episode you want to play.
Click the AirPlay icon (triangle with a speaker).
Click "HomePod mini."