All products featured are independently chosen by us. However, SoundGuys may receive a commission on orders placed through its retail links. See our ethics statement.
The bottom line
The LG Tone Style SL6s differentiates itself from other wireless earbuds by way of an integrated speaker. Retractable earbuds work well even if the cables are a bit thin. Generally, there's little difference between this headset and the more affordable Tone Style SL5 model. If you take plenty of phone calls and don't want to rely on earbuds for audio, the mono speaker is a great selling point.
LG Tone Style SL6s
The LG Tone Style SL6s differentiates itself from other wireless earbuds by way of an integrated speaker. Retractable earbuds work well even if the cables are a bit thin. Generally, there's little difference between this headset and the more affordable Tone Style SL5 model. If you take plenty of phone calls and don't want to rely on earbuds for audio, the mono speaker is a great selling point.
What we like
Retractable earbuds
Battery life and quick charging
Autoconnect
Bluetooth 5.0
Meridian Audio
External speaker
What we don't like
Cables are very thin
Few ear tip options
No multiconnect
Speaker is quiet
Rating Metric
Sound Quality
6.9
Bass
9.8
Midrange
9.2
Highs
1.8
Isolation / Attenuation
3.4
Durability / Build Quality
7.5
Value
7.6
Design
7.7
Connectivity
5.0
Portability
8.7
Battery Life
7.6
Comfort
8.0
LG presents another pair of wireless neckband earbuds in the LG TONE Style SL6s. Unlike its similar sibling, this headset has a mono speaker for easy hands-free calls. It also features retractable earbuds and efficient quick charging, making it a great choice for organized listeners without time to waste.
Editor's note: this review was updated on March 18, 2021, to address LG's true wireless earbuds and other alternatives.
Who is LG TONE Style SL6s for?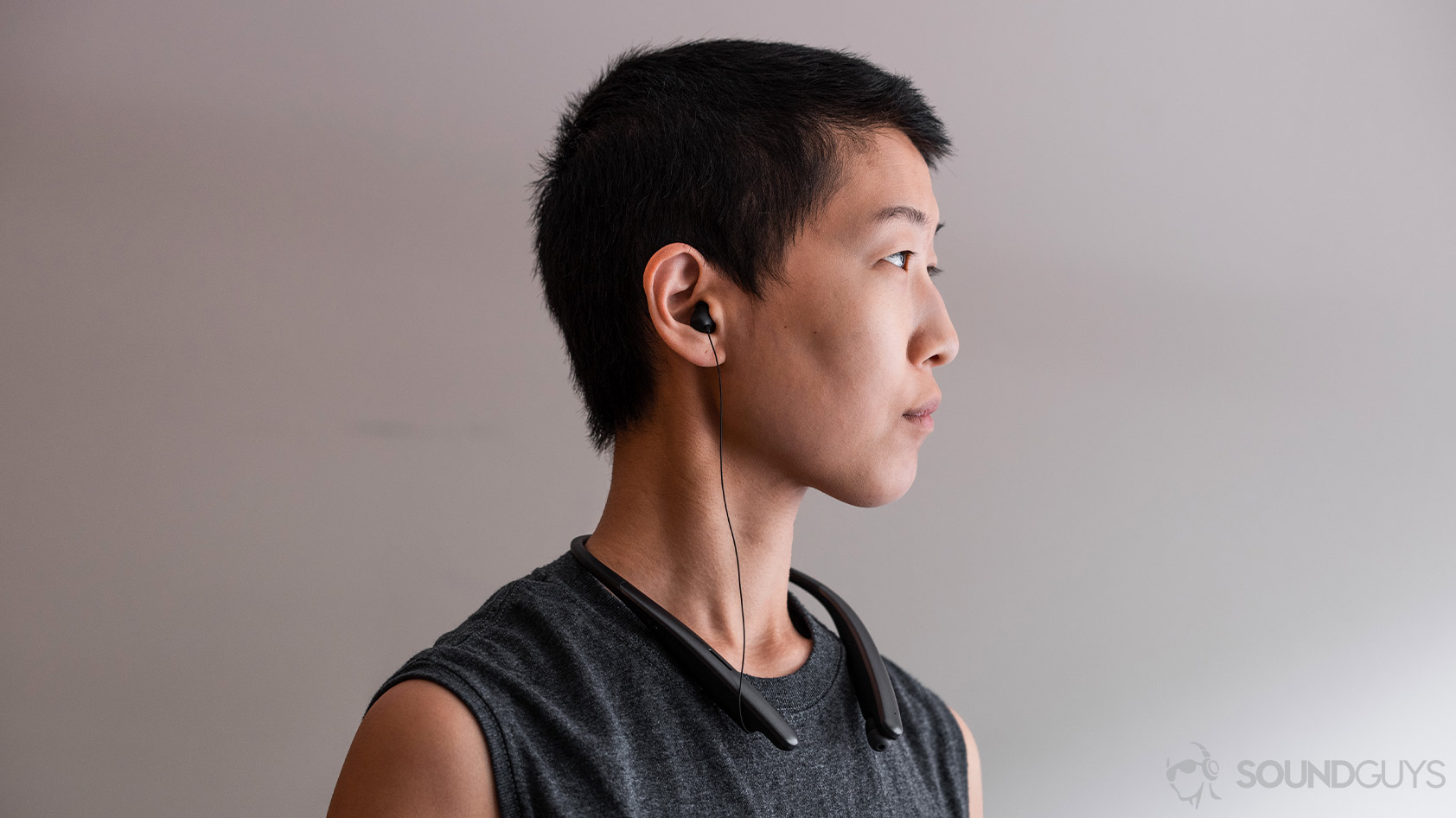 The neckband is flexible but tends to slide around.
Busy listeners who are constantly taking calls will appreciate the TONE Style SL6s' mono speaker. You can easily take calls without fumbling to insert the earbuds, so long as you're in a quiet enough environment. It doesn't offer the best sound quality but does the trick and affords you a few moments to collect yourself at the beginning of a call.
Anyone who has misplaced a pair of true wireless earbuds. You're less likely to lose these thanks to the tethered, retractable earbuds. While the cable would benefit from being beefier, it does as it should by keeping the earbuds organized and unobtrusive.
What's it like to use the LG TONE Style SL6s?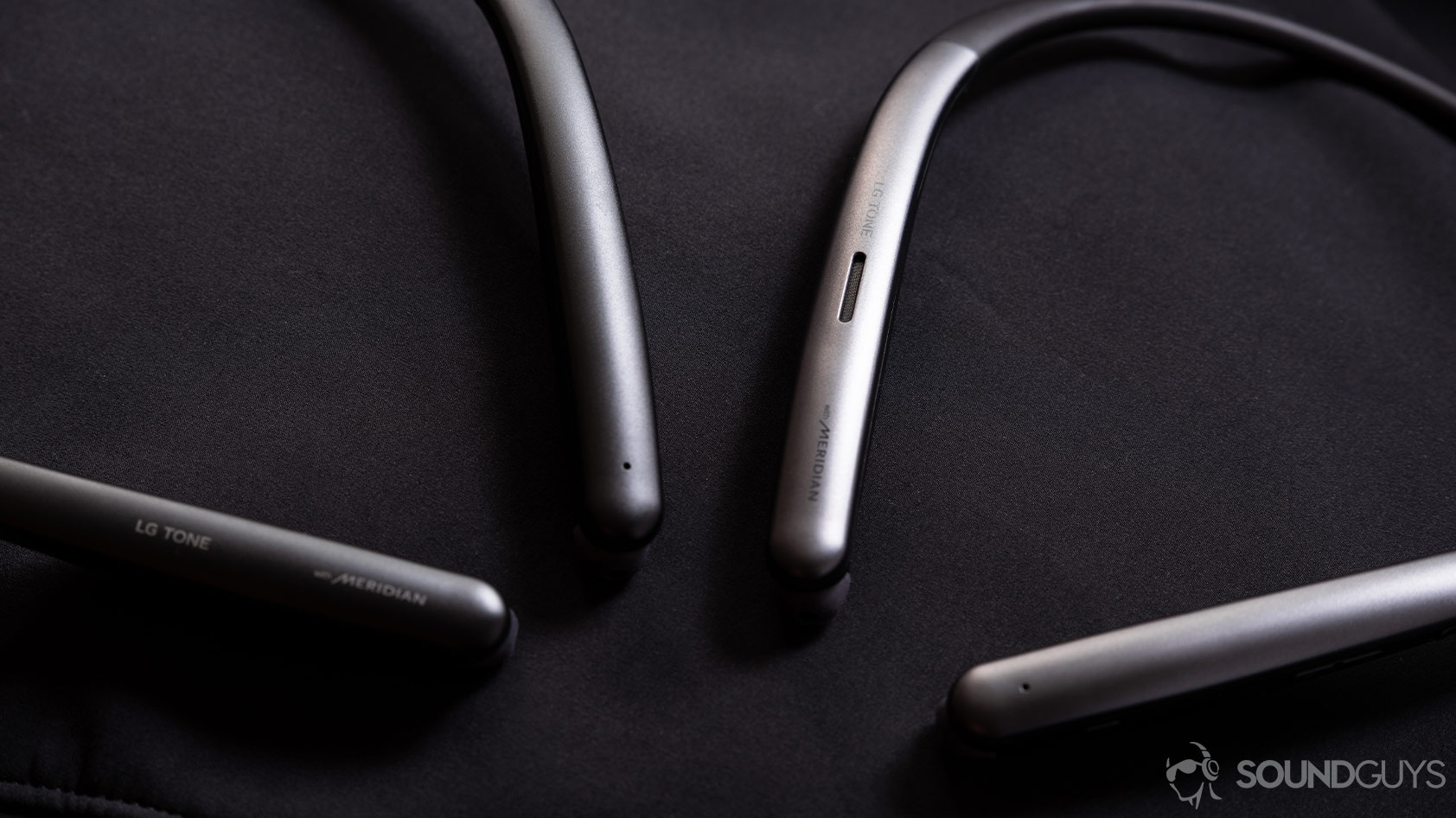 The LG TONE Style SL5 (left) and LG TONE Style SL6s (right) are nearly identical.
The LG TONE Style SL6s is nearly identical to the SL5 model. In fact, they're so similar, I initially thought LG sent me a duplicate headset. Alas, there is one significant difference between the two pairs of earbuds: the SL6s has an onboard mono speaker on the right side of the neckband. While this speaker is meant for phone calls, it can relay music too. However, I advise against using this lieu of a dedicated speaker. It doesn't get loud or sound good.
Related: Headphone buying guide: Everything you need to know
On the outer right side of the neckband is the speaker toggle. Its isolated placement makes it easy to identify and flip. The left side of the neckband houses playback, volume, and Bluetooth pairing controls. Slightly behind the volume rocker, you'll find a covered USB-C input. LG isn't trying to do anything fancy with the control layout, which means nearly anyone will be able to intuit its operation.
The mono speaker is great for answering unexpected calls when the earbuds are retracted.
The earbud design, on the other hand, could use some work. By opting for straight, rather than angled, nozzles, ear canal discomfort becomes apparent after an hour of wear. This was likely done in order for the 'buds to lay flush with the neckband when retracted, but I would have preferred a less streamlined design if it meant greater comfort. The retracting mechanism is fun to use, though. Simply extend the earbud cables as far as is allowed and release. I'm concerned by how thin the cables are, but they've held up thus far.
You're afforded just three pairs of ear tips, which is standard for cheap earbuds. Since you're paying more than $100 for the SL6s, it would have been nice for the company to throw in a few extra sizes or materials. If you have trouble finding a proper fit, throw down a few bucks for some third-party options.
How long does the LG TONE Style SL6s' battery last?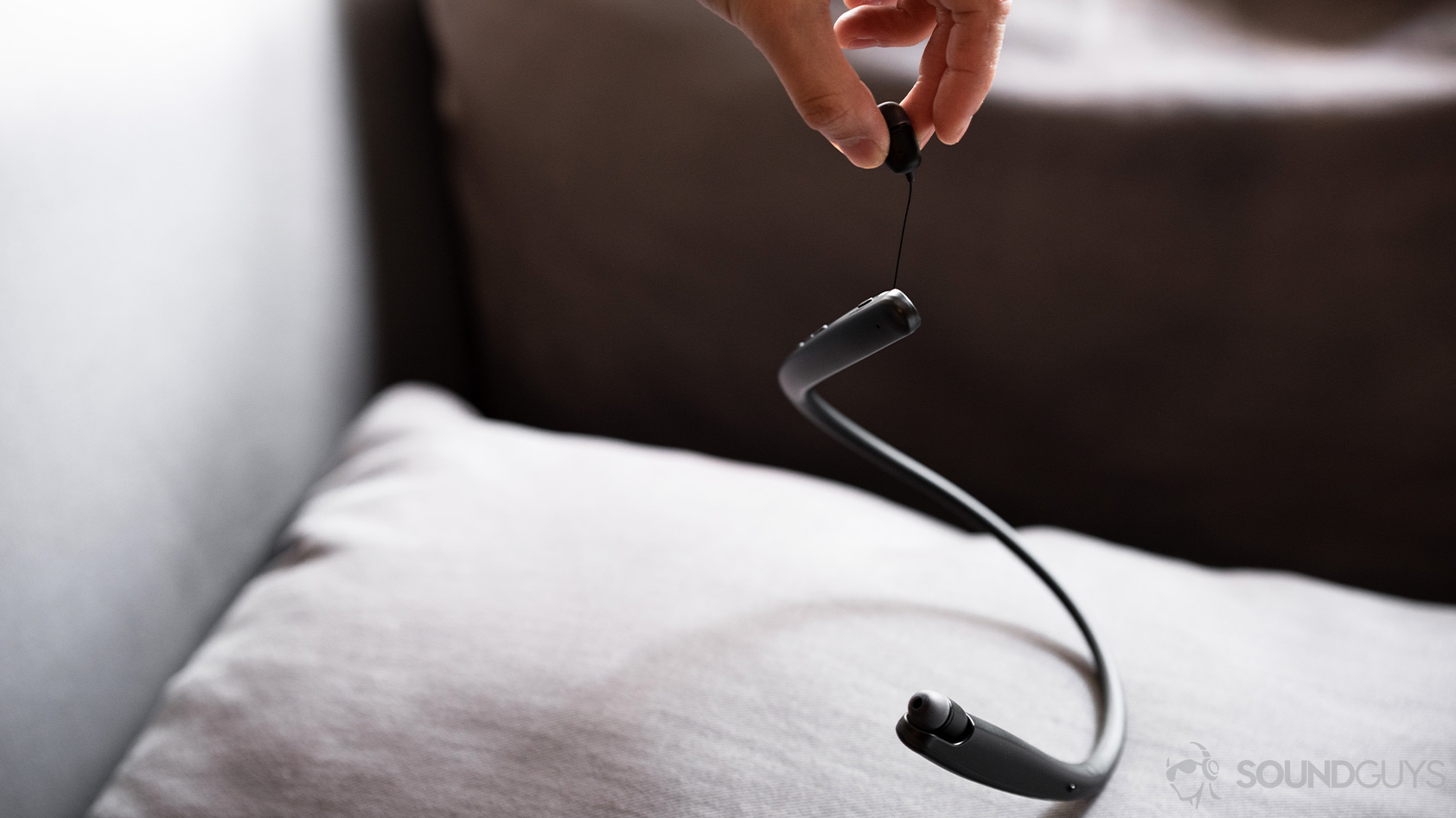 The cables are thin but held up well during testing.
Battery life is great. The earbuds provide just under 10 hours of playback on a single charge. This is nearly two hours more than LG's listed eight-hour battery life. The neckband supports quick charging via USB-C, and its performance doesn't disappoint. Just 10 minutes of charging provides three hours of playback, which will get most of us through a roundtrip commute. Just like the SL5, battery life and quick charging functionality are some of my favorite things about these earbuds.
How do you connect the LG TONE Style SL6s to your phone?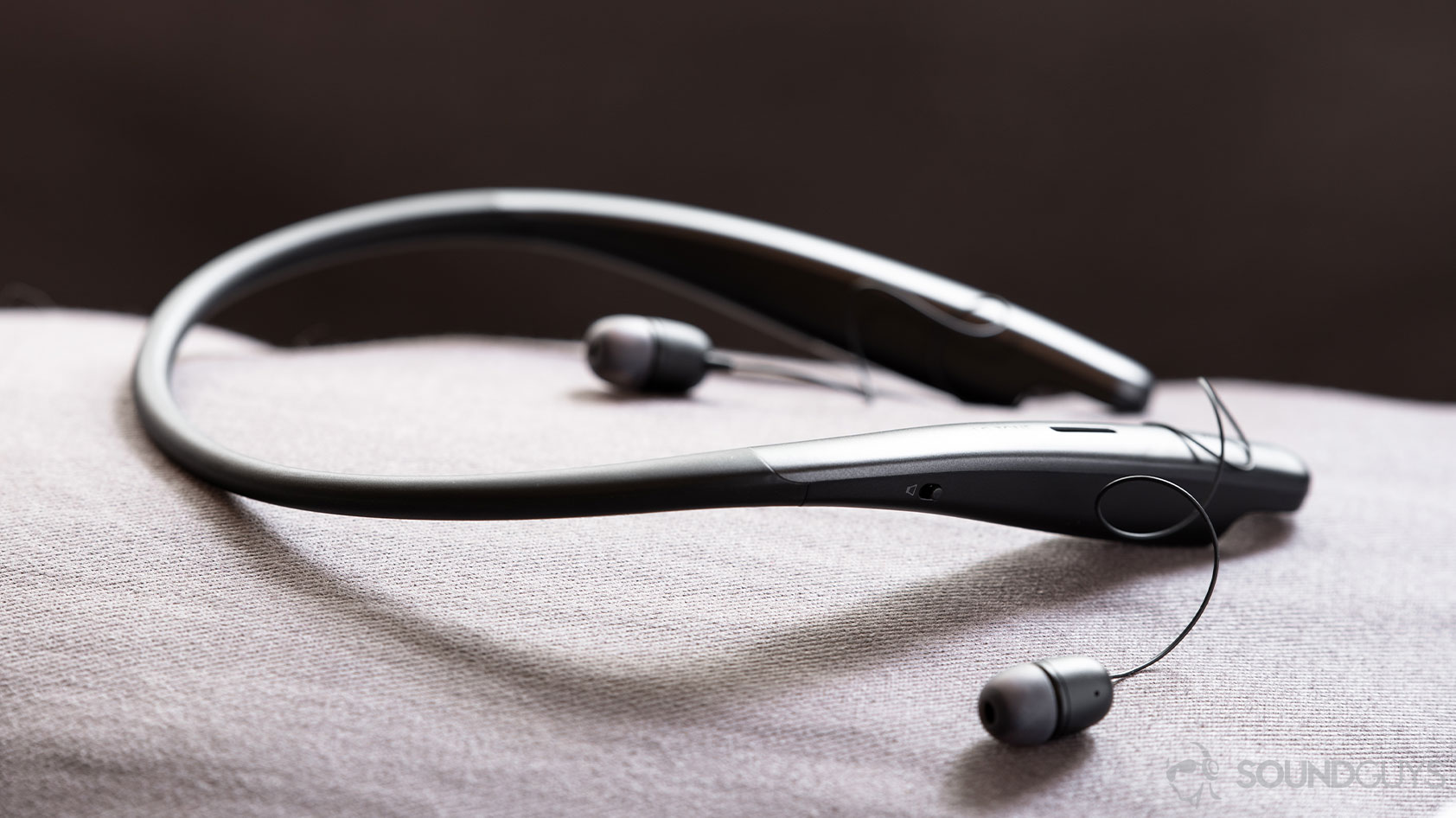 You can toggle the mono speaker on and off from the right side of the neckband.
These use Bluetooth 5.0 firmware and pair to a smartphone in moments. In order to initiate pairing, press and hold the power button. A voice prompt will notify you of pairing mode, and you can then select the LG TONE Style SL6s from your smartphone's Bluetooth menu. You can also use the quick pairing feature, which is different from NFC pairing. To do this, hold the power button down and keep the headset within one meter of the desired smartphone. A dropdown notification will appear on your phone's display asking you to pair to the SL6s.
Unfortunately LG, a company that manufactures some of the best smartphones for audio, doesn't include high-quality Bluetooth codec support in this headset. You benefit from AAC streaming, and it's really only beneficial for iPhone users. Bluetooth multipoint functionality is nonexistent. If you want to switch from your computer to your smartphone, you'll have to do so manually. I sincerely wish LG included aptX support with these earbuds as it seems foolish not to at this price.
What do the LG TONE Style SL6s sound like?
Meridian Audio technology was used to tune the LG TONE Style SL6s. To my dismay, audio reproduction isn't as clear as I'd hoped. Bass and midrange frequencies sound great at moderately low volumes, anything 50% or less. Once you kick up the volume beyond that, though, distortion sets in. No matter what genre you listen to, bass notes will sound the loudest relative to all other sounds. This can be good or bad depending on your music preferences. There isn't a spike in treble response as we're accustomed to hearing from consumer audio products which contributes to the lack of perceived clarity.
Isolation is fine when it comes to high-pitched sounds, but engine rumbles will still be heard and may even mask your music. If this ends up being a notable annoyance to you, it may be worth it to pick up a pair of memory foam ear tips. This will help block out external noise and ensure an optimal bass response.
Lows, mids, and highs
In Raleigh Ritchie's song Cowards, the bass drops 12 seconds in. The frequency response bump from 100-300Hz bodes well for Ritchie's low voice. However, his vocals are occasionally masked by the beat especially once the chorus begins at 1:12. While I have you at the chorus, it doesn't sound great with the LG TONE Style SL6s. Clarity is one of the earbuds' weakest points, and it's difficult to identify detail beyond various instruments' fundamental frequencies. If you're usually one who enjoys the added detail treble emphasis affords, these earbuds won't satisfy you.
Is the LG TONE Style SL6s' microphone any good?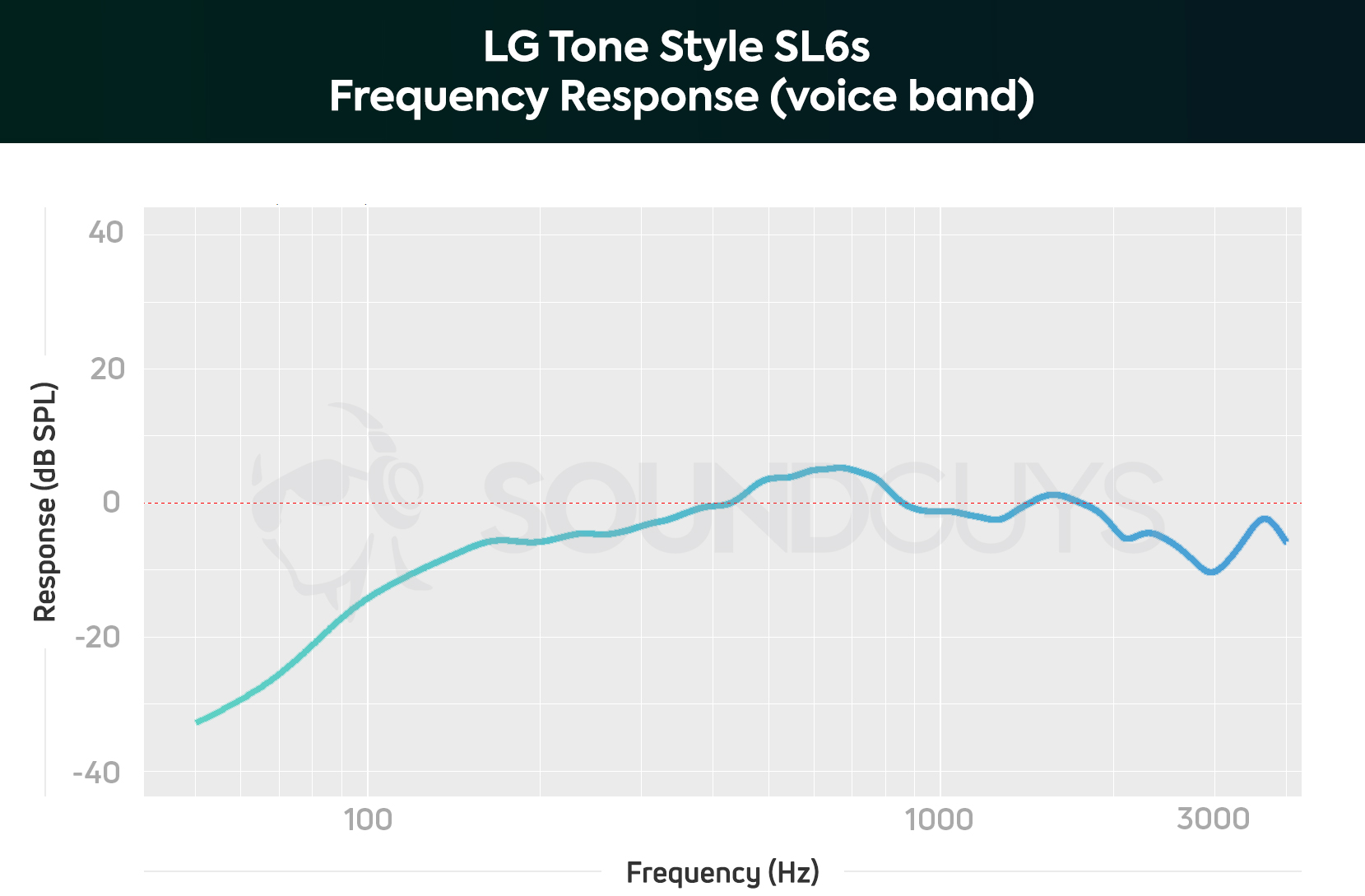 Microphone quality is fine, but those with lower voices will sound notable unnatural to listeners.
Microphone quality is passable but nothing to get jazzed about. Anyone with a low register is bound to sound unnatural or "hollow" due to the low-frequency attenuation. Dual-microphone technology is a great selling point on paper but just doesn't impress with real-world use. Additionally, cable noise is relayed through the microphone setup. During a few calls, my voice cut out a few times a minute. This happened during test recordings, too, so it wasn't a matter of poor network coverage.
LG TONE Style SL6s microphone demo:
How does the microphone sound to you?
47 votes
Should you buy the LG TONE Style SL6s?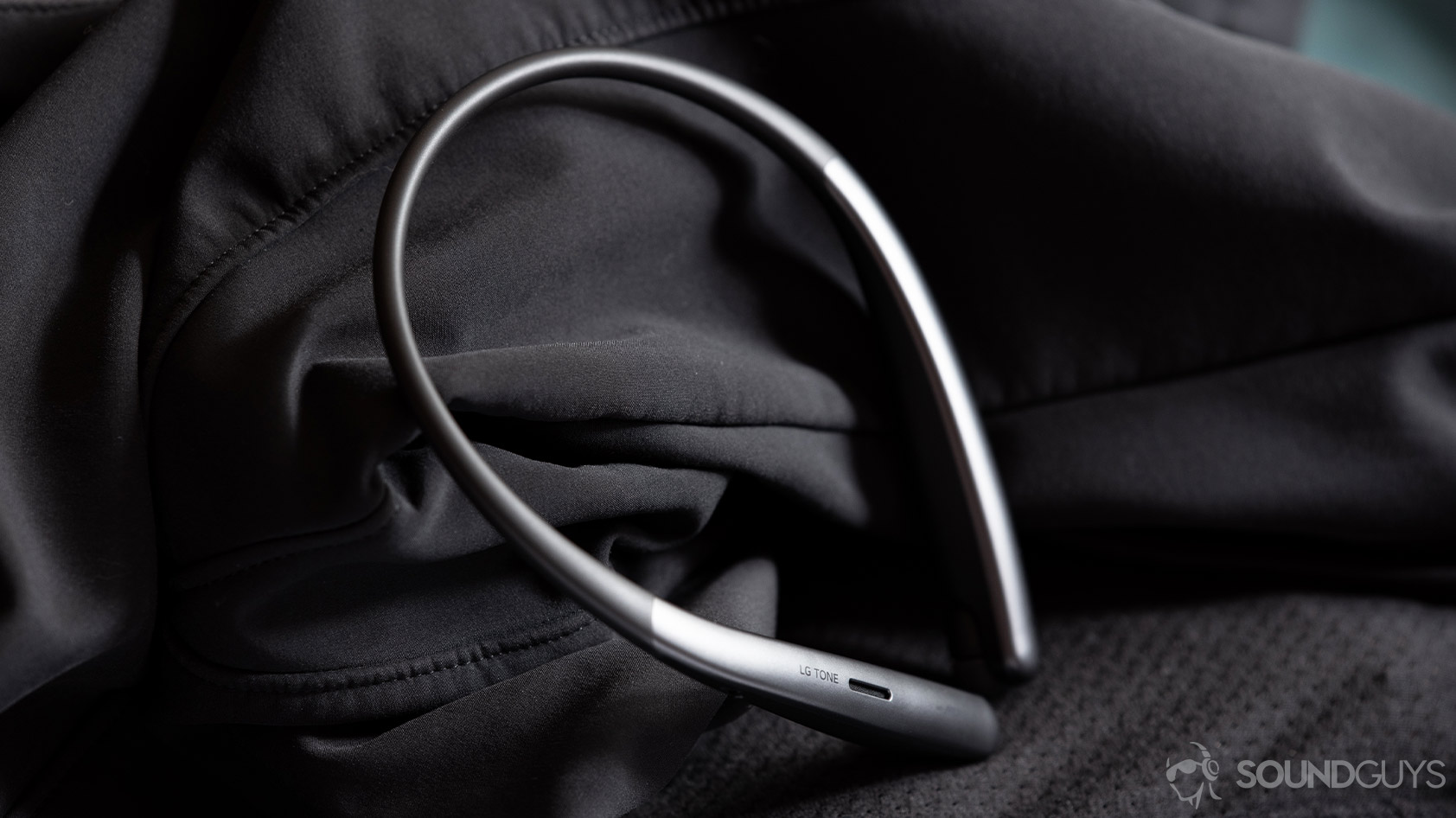 The TONE Style SL6s is a slim and sleek neckband headset.
If you don't fancy true wireless technology but want to remain somewhat untethered, then the LG TONE Style SL6s is a great compromise. The neckband design is a smart way to keep cables hidden and organized when not in use, while the speaker is handy for unexpected calls. Again, I would much prefer angled earbud nozzles over a svelte silhouette, but it's a minor complaint.