Any Bluetooth speaker under $100 is hard to shop for. Most people don't mind if a speaker that costs less than $20 breaks, because it was "good enough" while it lasted. You might even be able to afford replacing it. But the point of no return is when you spend $100. It starts to become more of an investment, rather than a mere accessory for your phone. Bluetooth speakers under $100 need to be more than good enough; they need to be great.
As you should expect for this price-point, there needs to be a certain level of durability and quality to the product. These aren't cheap, and though they're not the most expensive or best sounding speakers you'll ever hear, you still want to get your money's worth. This list has a speaker for everyone, including a few staples and some you might not have heard of. But if it made this list, it deserves to be here.
You might also like: Best Bluetooth Speakers Under $50
Let's talk water-resistance
Plenty of listed speakers here are water-resistant, so here's a quick rundown of Ingress Protection (IP) ratings and what they mean to your specific model.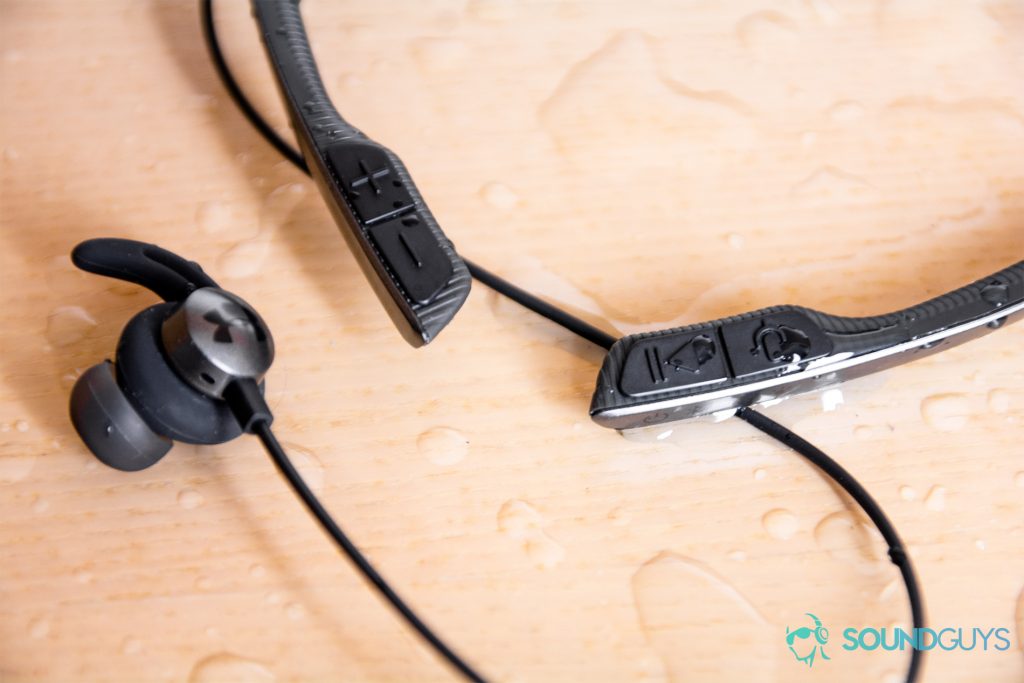 Though the Flex lack an official IP certification, the nano coating does a good job.Here's the important split seen in the listed headphones:
| | |
| --- | --- |
| Water-Resistant | Waterproof |
| IPX4 | IP67 |
| IPX5 | IPX7 |
|  IPX6 | IPX8 |
Full charts are available here if you're so inclined.
The best Bluetooth speaker under $100 is the JBL Flip 4
JBL has remained consistent with their Flip series, offering the best Bluetooth speaker under $100. The Flip 4 is very similar to the previous model (the JBL Flip 3), but it makes some improvements in a few key areas, hence why it's the best Bluetooth speaker under $100. For one it's now IPX7 waterproof where the previous model was only splash-resistant. This means that you can now submerge it completely in up to 3 feet of water for 30 minutes, though we're not sure why you'd want to. Still it's good to know that if you drop it in the pool you have some time before you have to go rescue it.
Another positive is that the new Connect+ button lets you connect this speaker with up to 100 others to play music in sync, but on the downside this feature isn't backwards compatible with previous versions. So if you have a JBL Flip 3 and was going to double up with the new Flip 4 you're out of luck. Battery life is also spec'd at around 12 hours when you leave the volume at around 50 percent, but if you play music on max volume you shouldn't expect to get more than four, maybe five hours out of it. Even with those caveats, this is still our pick for the best Bluetooth speaker under $100 you can get. If you're looking for an all-around speaker that sounds good and is durable enough to go with you wherever you go, go with the JBL Flip 4.
Like to roughhouse? Toss the CB3 Armor XL around
If you like to listen to your music outdoors then you should give the CB3 Armor XL a look. For a Bluetooth speaker under $100, the Armor XL can handle the toughest of conditions: mud, dirt, water, drops, this waterproof speaker can handle it all. Durability aside, this speaker sounds great; its deep, rich beats are sure to be a crowd pleaser. Though it doesn't have as sleek of a design as some of the other speakers listed, it's durable and sounds good. This little cube also has Bluetooth 4.0, and it can play music for a straight 10 hours. As you would expect from a speaker that's meant to be durable, it does have a few basic playback controls built-in, since you're probably not going to want to bring your $600 phone near water.
Better to deal with the $50 speaker while standing in a pool than a phone. It has a power button, dedicated phone button for answering and ending phone calls, a mute button, track skipping buttons, and volume buttons. The buttons are made of a soft plastic and embedded into the rubber of the speaker on top. Bass and kick drums come through loud and clear, thanks to the dual, 50mm drivers. If you enjoy a strong low-end, you'll like this durable, Bluetooth speaker under $100. The speaker also comes with a rubber strap that you can attach to the speaker, so you can dangle it from a shower head or a backpack. While a shower or a beach might not seem like a hostile environment for you, it is for electronics, so a solid build is essential.
The UE Roll 2 is the best Bluetooth speaker under $100 for modern-day vagabonds
UE might not be too into high-end audio, but they seem to have a thing for high-value audio. Case in point: the UE Roll 2. It's not a huge improvement over the original (so if you can find the original for cheap it's still a really good deal), but there Roll 2 is  $63, and you get some added benefits as well. It gets roughly 15 percent louder than the original, which isn't much, but it's enough to make some songs sound just a little bit cleaner and more enjoyable. It also has a range of roughly 100 feet, up from about 65 feet of the original.
Besides that, it hasn't changed much. It's still IPX7-certified, so you can submerge it in water. For something a little different, it has a handy bungee cord on the back for hanging it. On the downside, playback controls are limited to only volume adjustments, but you can connect up to eight other UE speakers via the free app. So if you're looking for party speakers for you and your friends, getting a few of these might be a good idea.
Still looking for the best Bluetooth speaker under $100 for you?
Though they get plenty of acknowledgment for their headphones, Sony also has some really good speakers that sometimes slip under the radar, such as the SRSXB2. This is a compact speaker that doesn't aim to be the most durable, like some others on this list. Instead, Sony decided to focus on two aspects of the speaker: sound and design, and they succeeded in both. The "XB" in the name stands for "Extra Bass" and while this does have a little more of a punch in the low end, it doesn't negatively effect the sound. As far as bass goes, it's our pick for the best Bluetooth speaker under $100.
But because you can usually find it around $50 now, it's a great option. Design-wise Sony went with a rounded pill-like design that makes it looks kind of like an alarm clock. The speakers are also aimed slightly upwards which makes it perfect for setting down at a desk or bedside table, and you'll get roughly 12 hours of battery life out of it. Sony also threw in a few nifty features. You can easily connect to it via NFC as long as you have a compatible device and if you want to step it up a notch, you can sync it with another SBSXB2 using "Double mode." If a modern design and a good sound are your top priorities, this speaker might be the one for you.
The SoundCore Sport is a great speaker, but if you don't mind spending just a few more dollars you can get the Anker SoundCore Sport XL which is definitely what we'd consider to be a bang for your buck. You can usually find it for about $69, and it's plenty more speaker than you're probably used, making it worthy of one of our best picks as a Bluetooth speaker under $100. It's a tough and durable speaker with an IP67 certification that lets it withstand submersion up to 1 meter. Anker also touts that it's shock resistant, and though you probably shouldn't go testing this extensively, it's good to know that it can at least survive a drop or two.
Up top are a few playback controls so you can adjust volume, pause or resume music, and also skip to the next track. On the back you'll find a small, exposed passive-bass radiator that adds some extra power to the low-end, and at average volume, you can squeeze out about 15 hours of constant playback, which isn't too bad. Overall, this is one of the best values that you'll find in the durable speaker category.
---
There are tons of Bluetooth speakers in the world so we'll update this list whenever one deserving the title of "Best" reaches our ears. If you have any suggestions or feel we missed a quality Bluetooth speaker under $100, be sure to let us know. Who knows, your recommendation might pop up on the updated list.
Didn't find what you were looking for checkout these best lists:
Disclosure: We may receive affiliate compensation in connection with your purchase of products via links on this page. Even though we may receive compensation, we always give our honest opinions, findings, beliefs, or experiences on each product. See our ethics policy for more details.