All products featured are independently chosen by us. However, SoundGuys may receive a commission on orders placed through its retail links. See our ethics statement.
The bottom line
For listeners who simply want something to facilitate their private concerts-for-one, then the Jam Hang Up is a great buy and affordable gift. Although the buttons are hard to press, the durable IP67-certified build makes up for it. Additionally, the adhesive back makes it easy to stick onto any flat surface.
Jam Hang Up
For listeners who simply want something to facilitate their private concerts-for-one, then the Jam Hang Up is a great buy and affordable gift. Although the buttons are hard to press, the durable IP67-certified build makes up for it. Additionally, the adhesive back makes it easy to stick onto any flat surface.
What we like
IP67 certification<br>
100-foot Bluetooth range<br>
Price<br>
Sticks to flat surfaces<br>
Integrated mic<br>
Aux input<br>
What we don't like
Sound quality<br>
Difficult to press buttons<br>
Rating Metric
Sound Quality
7.0
Bass
7.2
Midrange
6.8
Highs
6.6
Durability / Build Quality
8.9
Value
9.0
Design
8.0
Microphone
7.0
Portability
8.5
Battery Life
8.8
The art of singing in the shower is an under-appreciated one, but the Jam Hang Up stands as an affordable shower speaker for bathroom vocalists. It comes in an array of fun designs and is outfitted with an adhesive pad that easily sticks to tiled surfaces. For ~$20, it's hard to find any real faults with this compact speaker.
Editor's note: This review was updated on January 26, 2021, to adjust formatting to match SoundGuys' current style.=
Who is the Jam Hang Up for?
The Hang Up features a cutout for the included micro-USB cable.
Shower concertos

.

Since you can easily hang up the Hang Up on a damp tiled wall, this is the perfect shower speaker. It may not sound great, but it's a means to an end—the end being your concert for one, of course.

Budget listeners.

With a sub-$20 price tag, the Jam Hang Up stands as an affordable portable and durable speaker. With all cheap products, there are some cut corners; here audio quality takes a hit.

General consumers.

We know that not everyone is as audio product-crazed as we are, so for the typical consumer, this speaker is a great, affordable pick that can go from the shower to a hike in an instant.
What's in the box?
Included with the Jam Hang Up is a micro-USB charging cable and the waterproof speaker. Users can use a 3.5mm cable for wired listening, but one isn't provided with the Hang Up.
How is Jam Hang Up built?
The Jam Hang Up's adhesive pad allows it to stick to shower walls.
Its plastic body feels and is durable: the Hang Up is shock-resistant and received an IP67 dust- and water-resistance certification, meaning it is both dust and waterproof. The front-facing speaker grill is covered in a fabric wrap, while the speaker's edges are a hard rubberized plastic. One edge houses three buttons for playback and volume. The center button, a vertical line, appears to be a separator for the "X" and "O" volume controls but serves as a multifunction button.
If you happen to receive a call while showering, feel free to take it since the Hang Up includes an integrated microphone. That said, don't expect anything exceptional or even great from the mic's quality, especially if you're taking calls while showering. Its presumably omnidirectional design can't attenuate background noise while isolating a human voice, so any rushing water garbles the vocal clarity.
Listeners can take calls from the shower, but that doesn't mean voices are relayed clearly with water running in the background.
One edge of the speaker features a neat inlet design that houses the included microUSB cable, eliminating frustrating periods of searching for a microUSB cable in an increasingly USB-C world. A removable rubberized piece covers the micro-USB and auxiliary inputs, which you'll want to keep covered when near water.
On the back of the speaker rests a pliable silicone flap that may be pulled back to reveal the adhesive pad, which sticks onto virtually any flat surface sans issue. The directions show that the silicone flap can be used to remove any dirt or crumbs that collect on the sticky pad, but I've yet to run into that issue.
Related: Best shower speakers
How's the battery life?
Battery life is solid: the speaker has a listed eight-hour playback time and requires about two hours to complete a full charge cycle. Be aware, when inactive for two minutes, the speaker automatically shuts off to conserve battery, which can be frustrating when it happens repeatedly.
Does the Jam Hang Up stay connected?
Volume up and down buttons flank a raised vertical button, that doesn't feature the speaker's accent color. This makes it hard to see relative to the other two.
The Jam Hang Up maintains a strong connection within an ~80-foot radius—it has a stated 100-foot Bluetooth range. Beyond that, though, it begins to struggle; in all fairness, that was with two walls separating the speaker from my phone.
Unlike many cheap Bluetooth speakers, this includes an integrated auxiliary input for wired listening if Bluetooth connectivity is too finicky. Granted, for listeners who will use this as a shower speaker, an aux cable may not be a great connectivity option as far as durability is concerned.
How does it sound?
The Bose SoundLink Micro is a great companion for small outdoor gatherings from grill to the table; it's also ~$80 more than the Hang Up.
Although it looks similar to the Bose SoundLink Micro, the Hang Up's sound quality isn't comparable. That said, it's also 80-percent less expensive, so that's forgivable. Plus, we're talking about a designated shower speaker, which means it's there to facilitate your solo shower-singing sessions. Generally, the frequency response leans toward a mid-centric sound. Once water rushes from the showerhead, all detail is masked and clarity falls to the wayside.
Lows, mids, and highs
Lows lack clarity, which is easy to pick out from Phoebe Bridgers' song Smoke Signals. At 3:40, picking of the bass guitar underscores Bridgers' vocals and resonates poorly. The detail is completely lost, nearly impossible to separate from the violin and Bridgers' voice. Mids prove more emphasized as Bridgers' lower register remains salient throughout the patient ballad. Her voice is ever so masked as the major bass guitar picking coincides with the beginning of each chorus as she sings the word "you."
The Jam Hang Up doesn't have the best audio quality, and the rushing water of your shower may hinder it further.
In Regina Spektor's song The Calculation, the beat is dependent upon a repeated cymbal beat that remains constant until the chorus, which begins at 1:07. Here, Spektor breaks out into the powerfully sung phrase, "Hey this fire it's burnin' burnin' us up," and the cymbal hits are even more difficult to register above her vocals. As things calm down during the ensuing verse, it's easier to hear the drum-cymbal-hit pattern. However, the next chorus at 2:06 experiences the same problem of masked treble frequencies and a general lack of clarity.
Should you buy the Jam Hang Up?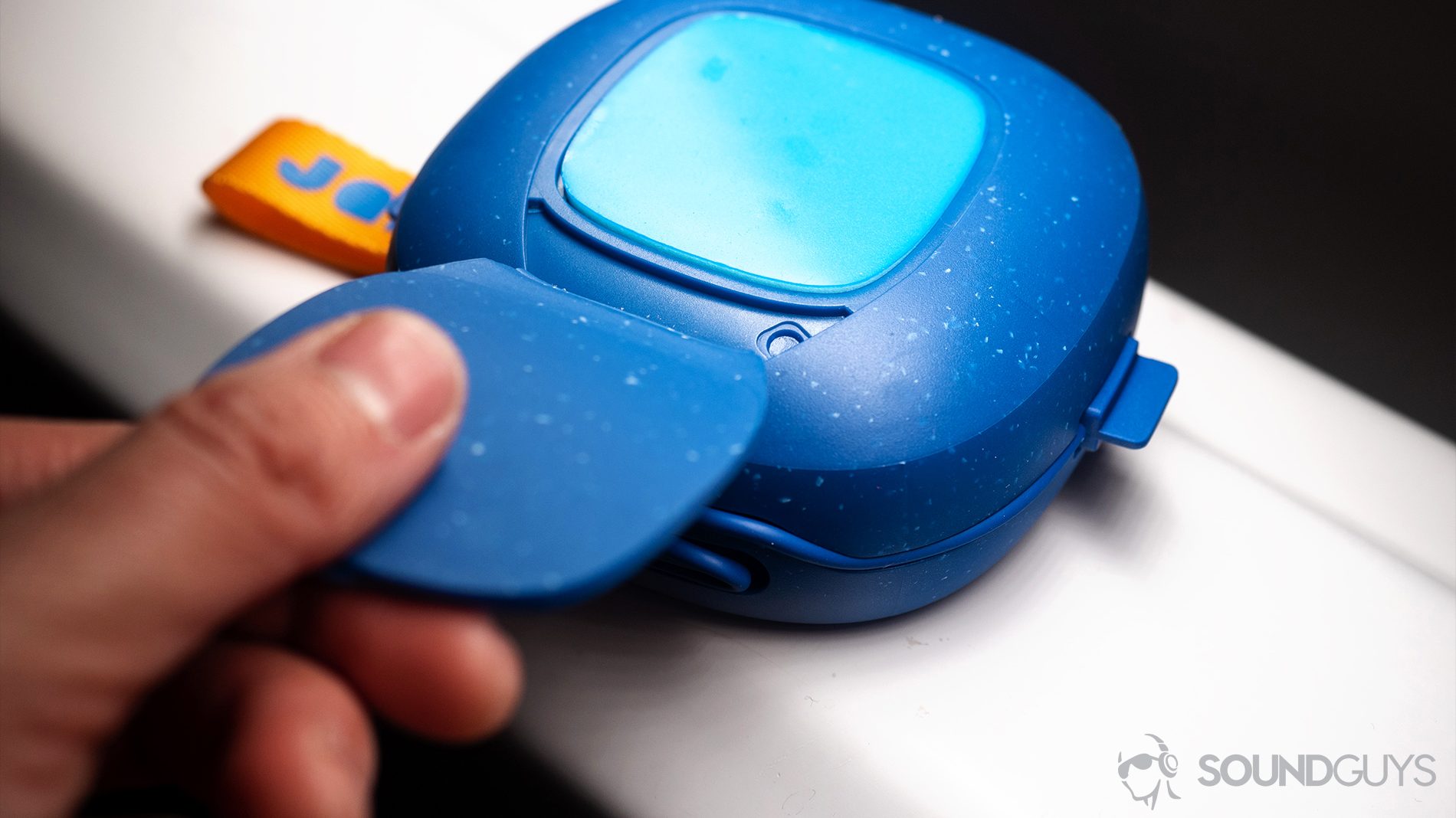 Beneath a pliable rubber flap is an adhesive pad that lets the Jam Hang Up stick to any flat surface.
Yes. If all you need is a basic shower speaker that works and can withstand dust, drops, and water, the Jam Hang Up is one of the cheapest, well-built options. If you do end up investing in this shower speaker, keep expectations realistic as it sounds like a $20 speaker. When in the shower though, the sound of water blasting through your showerhead is likely to mask the frequencies anyway, which makes audio quality one of the least important aspects of a shower speaker. On the whole, this is a fine pick for listeners looking to save a buck on something functional.
Next: Best workout earbuds