All products featured are independently chosen by us. However, SoundGuys may receive a commission on orders placed through its retail links. See our ethics statement.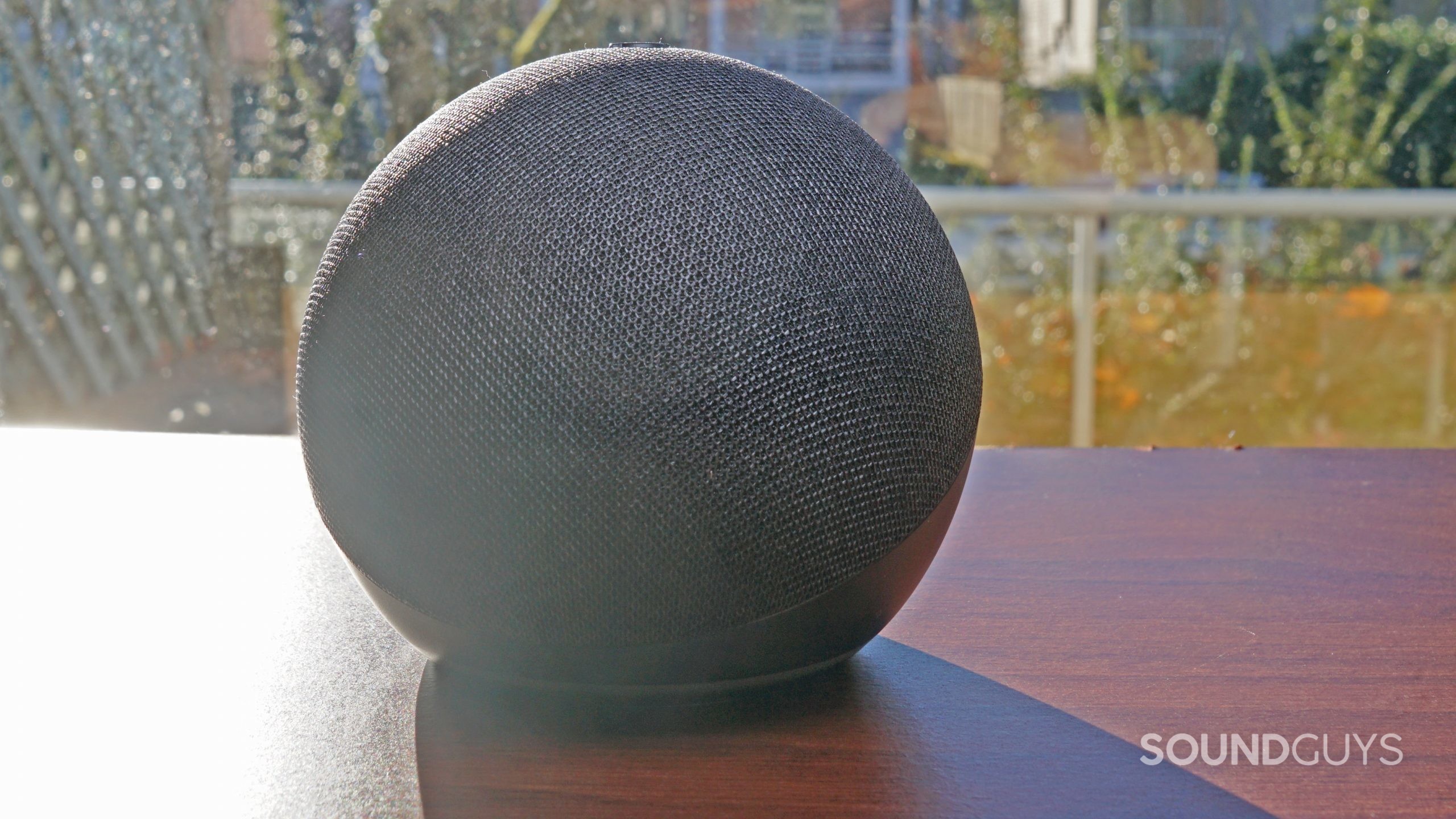 Amazon Echo Dot (5th Gen)
The bottom line
The Amazon Echo Dot (5th Gen) targets the same group as every other generation has: People curious about getting into smart home stuff. It's a good option if you're looking to dip a toe in that world, but it's hardly a must buy for the skeptical or the already invested.
Amazon Echo Dot (5th Gen)
The Amazon Echo Dot (5th Gen) targets the same group as every other generation has: People curious about getting into smart home stuff. It's a good option if you're looking to dip a toe in that world, but it's hardly a must buy for the skeptical or the already invested.
What we like
Small footprint is easy to fit on a shelf or table
Price
Alexa voice recognition is good
Sound at low volume
Alexa Skills
What we don't like
High volume distortion
Data collection/privacy concerns
Poor additional connection options
No battery, short power cord
Amazon Echo devices have been on the market for years, and while Alexa is the main draw for all of them (and works pretty much the same on all of them), there are always a few new quirks and updates to look at. The Amazon Echo Dot (5th Gen) seems to pare back a little of the hardware niceties of its predecessor—is there more to it under the hood?
About this Amazon Echo Dot (5th Gen) review: We tested the Amazon Echo Dot (5th gen) over a period of a week. It was running firmware version 8087719556, and the Amazon Alexa app ran version 2022.21.  SoundGuys purchased the unit for this review.
This is a speaker for people who want to try smart home stuff, or at least start out on the cheap. This is your music speaker/kitchen timer/trivia searcher, all in one.
Editor's note: this article was updated on July 7, 2023, to update style, and correct minor points.
What you need to know about the Amazon Echo Dot (5th Gen)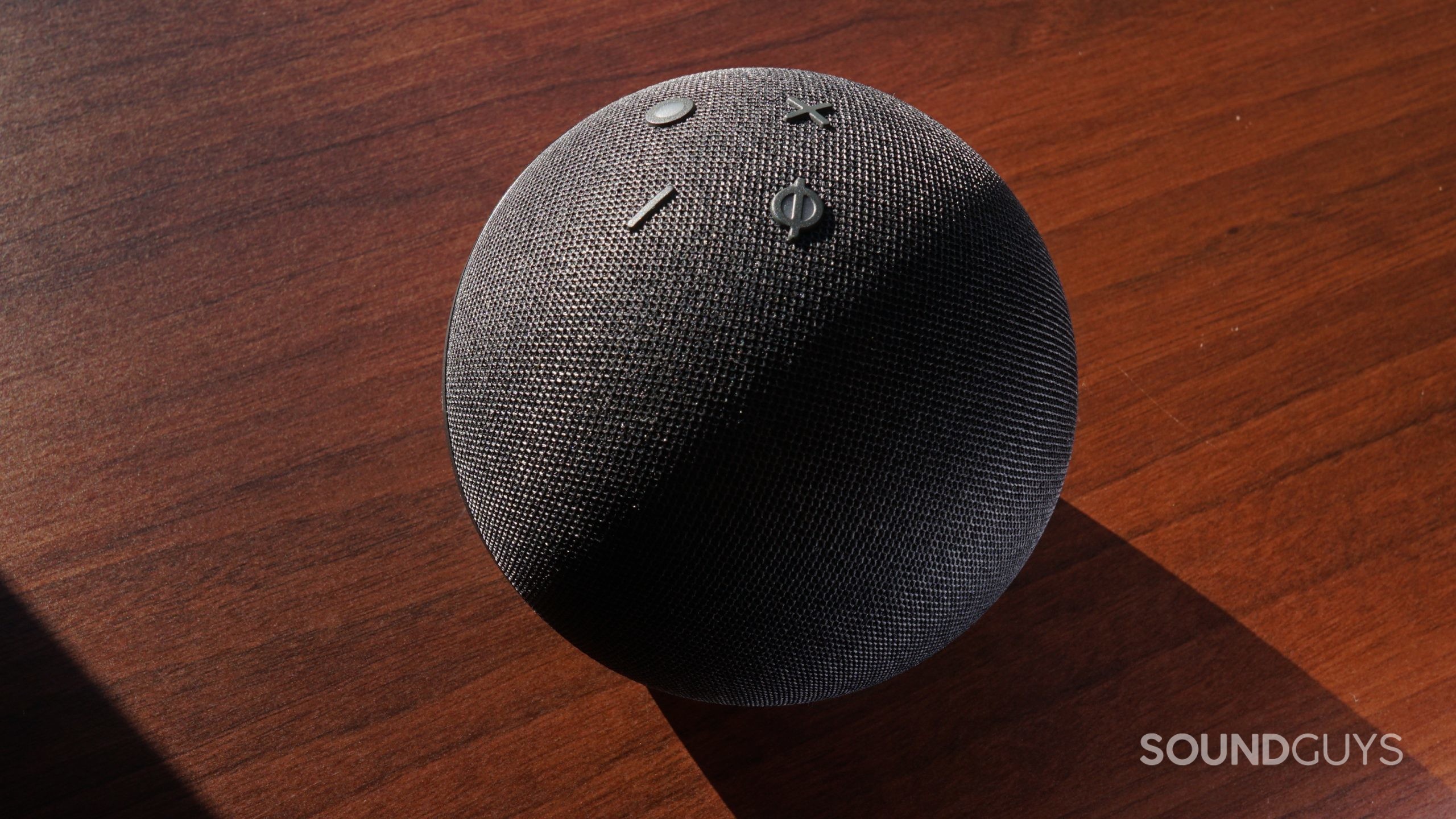 The 5th generation model features the same softball shaped design as its predecessor.
Amazon Echo Dot (5th Gen): $49.99 USD / £54.99 / €59.99
The Amazon Echo Dot (5th Gen) is a lot like every other generation of Dot and most Echo models, in that there's really not much to it. This smart speaker meant to be your entry point into the Alexa ecosystem and all the virtual assistant can bring. As such, it's a fairly sparse product in isolation. This generation features the same look as the fourth generation, with a mostly spherical shape (there's a flat base so it doesn't roll around) half covered in a mesh fabric.
As most of the special functionality of the Echo Dot comes from software, it features pretty limited hardware. There's a single speaker on the front (it's underneath the fabric), and a power port on the back for the included AC adapter. This is a stationary smart speaker without a battery, so it's definitely meant to sit on a shelf or countertop and stay there forever.
There are four buttons on the top of the device, for volume control, prompting Alexa, or muting the microphone. However, it should be obvious that the primary way of controlling this is with your voice. Setting up the Echo Dot (5th Gen) requires installing the Amazon Alexa app (iOS/Android) and linking it to your account. After that, it's a matter of setting up features in the app and asking Alexa to make it so. You can install plug-ins — called Skills in Alexa parlance — for whatever features you could want: Spotify integration, news headlines, trivia games, and more—heck, you can even install a Skill that tracks when you go to the bathroom (it's called Poop Detective).
Now all these different skills can mean that your experience with the Echo Dot will probably vary quite a bit from mine, or anyone else you know with an Alexa speaker—so just know that if there's something you want Alexa to be able to do, it may take a little digging in the mobile app to find.
What's good about the Amazon Echo Dot (5th Gen)?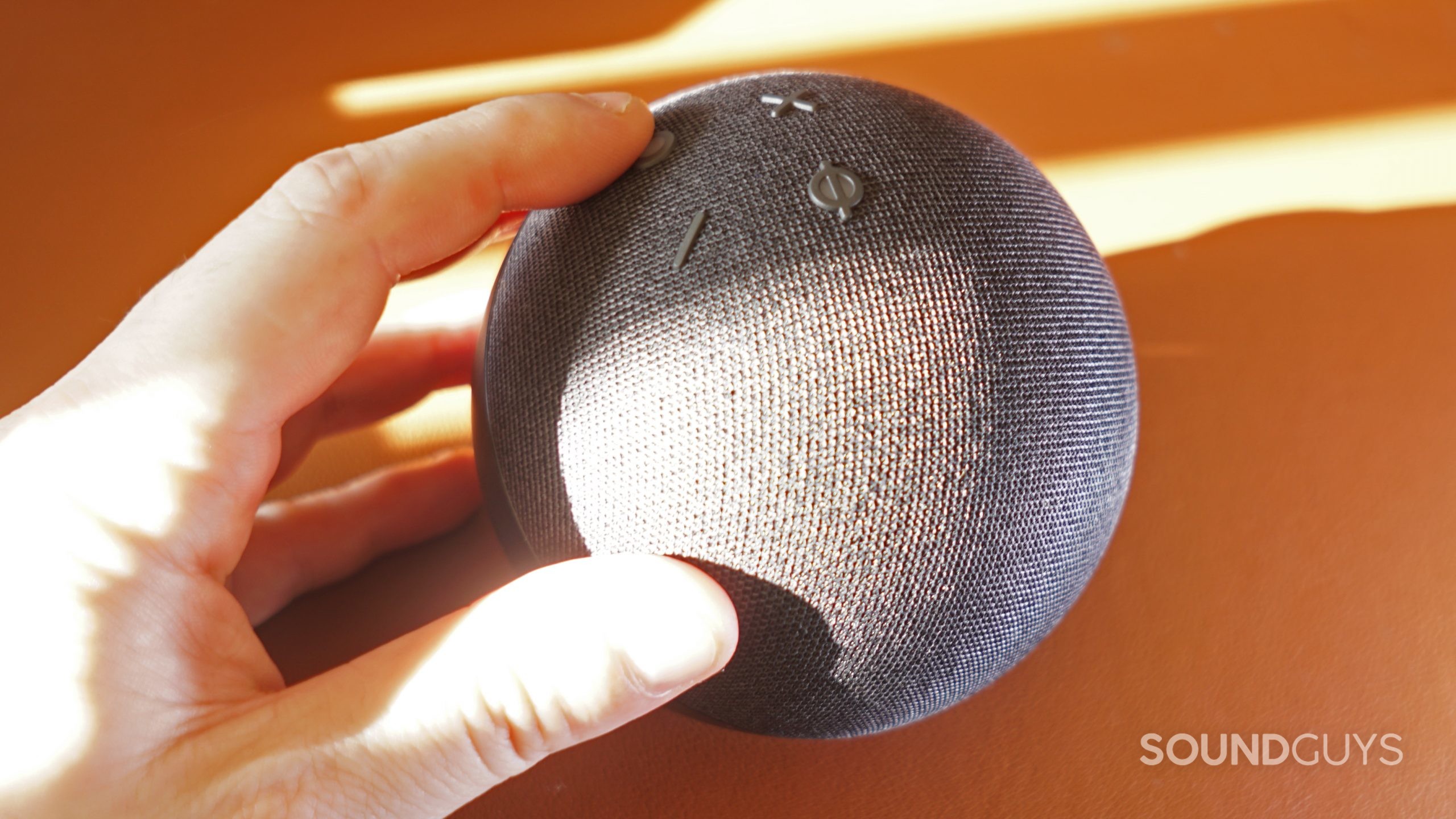 This is a comfortable speaker to palm—shame it's got to be plugged in all the time.
The number one thing that's nice about the Amazon Echo Dot (5th Gen) is probably the most important thing: Alexa is responsive and the voice-activated features work well. Once you get the skills you want loaded up, all it takes is uttering "Alexa…" followed by a song or playlist title on Spotify, or a search request on Google, or whatever random question pops into your head, and you're off to the races. I have yet to run into a single instance of the speaker not picking up and me saying "Alexa." It even notices when I whisper it while music is playing.
The virtual assistant can get a little tripped up if you start asking for more elaborately worded requests, but it's still pretty permissive. If you get whatever canned phrase you're supposed to say slightly wrong (each Skill you install in the app will have a list of commands you can say) it usually ends up working anyway.
The speaker also sounds pretty good at low-medium levels. It's fairly directional, so you can't just put it anywhere and expect to get good sound, but in most rooms, it doesn't sound half bad. There's definitely some added emphasis in the bass range, but not to the extent that you'd struggle with other kinds of sounds indoors—this isn't an outdoor speaker, so no need for an outdoor frequency response. Listening to The New Sincerity by Shotgun Jimmy, the boomy sound of the bass drum comes through with a satisfying amount of oomph without drowning out the quieter strumming of the rhythm guitar.
What's not so good about the Amazon Echo Dot (5th Gen)?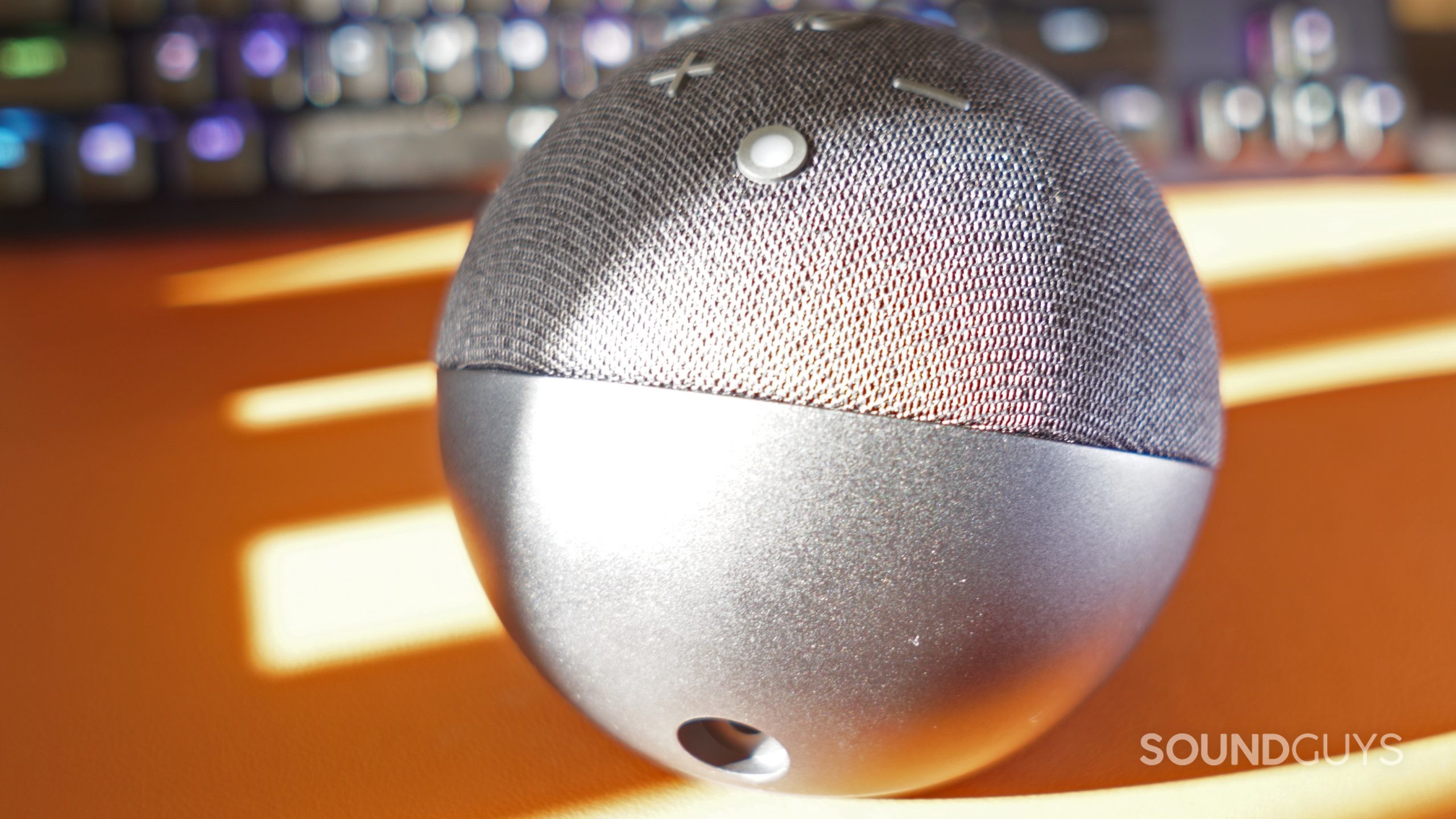 Unfortunately, this drops the 3.5mm output option of its predecessor.
While this is certainly the entry-level speaker to get for the Alexa-curious, there are a handful of drawbacks to consider. For starters, the connectivity options leave a little to be desired. The Echo Dot primarily functions over Wi-Fi, but it also supports Bluetooth audio streaming if you feel like playing something directly from your phone. It's not entirely clear what Bluetooth version the speaker uses, as it only supports the SBC audio codec. Then there's also the absence of a wired connection option—the previous generation of Echo Dot featured a 3.5mm output jack right next to the power port, so you could plug in another speaker and spread the audio love a little more without needing to share a network, and this one doesn't have it.
The other hardware quibble I have is with the sound. While at low-medium volumes, it sounds pretty good, the Echo Dot sounds like a blown-out mess pretty quickly if you crank it up. And you don't have to turn things up much before the bass starts to distort—this means the Echo Dot is suitable for an office or a kitchen, but it's certainly not a reliable part of a serious audio system, nor is it going to be much help at parties.
It's also worth highlighting that the Amazon Alexa app kind of sucks to use. It's responsive, and has no trouble communicating with the Echo Dot, but it's badly laid out. To EQ the speaker (there's a minimal three-band option), you have to navigate through four discreet menu pages, each with a lot of other options and no indication in the app of which to pick. Skills are strangely hard to find, despite being a cornerstone of the Alexa experience—they're an option far down a list in the More page, though there's a way to look for smart home Skills from the devices page (it only lists those kinds though). It's hard to find what you need in this app, and that's a problem.
Privacy-minded folks will also almost certainly hesitate to pick this up, and for good reason. Amazon's smart speaker depends on data collection to function—everything you ask, announce, or demand of Alexa is recorded and saved to a server somewhere for the company to use as fodder for tweaking its language recognition algorithms, and for building its advertising profile of you. It's a veritable gold mine for user data, and Amazon makes a lot of money off that, in one way or another. If you're squeamish about a corporation recording your every mumble and utterance, there's a microphone mute button on the speaker, but it's still going to save everything you ask it when that's not enabled.
The final drawback is a little more conditional, and revolves around a question: Does Alexa do anything necessary for you? If it doesn't fill an obvious gap, I find it's pretty easy to forget there's even an Alexa speaker in the room. Remember, this is meant to be the entry point for people interested in smart home stuff, so the fact that it doesn't feel like it does anything I can already do with my phone (hands-free, even), is a bit of an issue.
Amazon Echo Dot (5th Gen) specs
Most of what the Amazon Echo Dot (5th Gen) does is software-based, but there's still a whole spec sheet to be aware of.
Amazon Echo Dot (5th Gen)

Size


100 x 100 x 80mm


Weight


0.3KG


Channels


mono


Audio specs


Single directional speaker


Audio inputs


None


Wireless audio connection


Bluetooth 4.2
Wi-Fi 2.4/5GHz


Streaming services


Amazon Music
Pandora
SiriusXM
Spotify
TuneIn


App


Amazon Alexa app (iOS/Android)


Controls


Buttons
Voice


Price


$49.99 USD

Amazon Echo Dot (5th Gen) review: Should you buy it?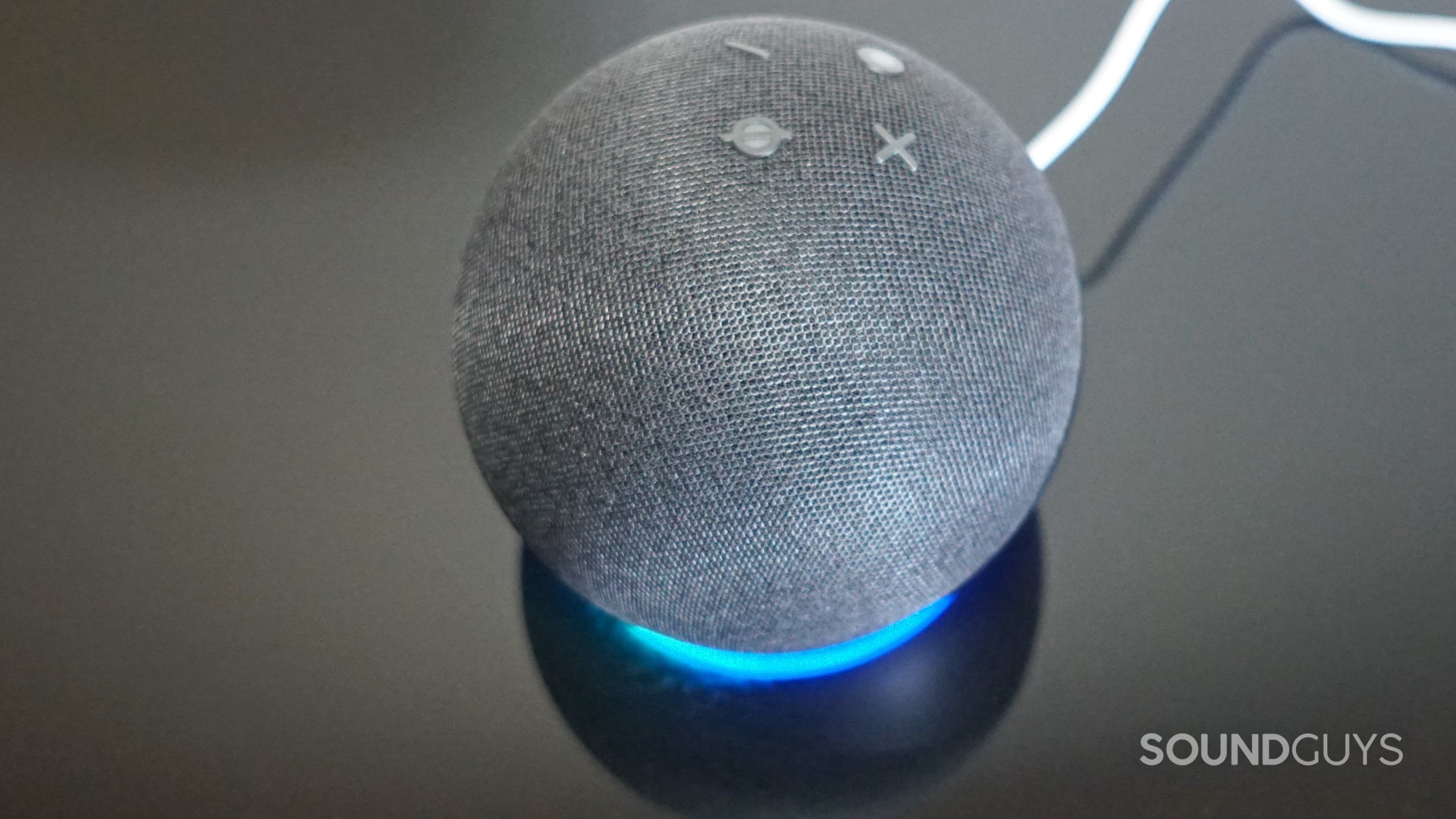 The LED light will pulse as Alexa awaits your commands.
Deciding whether to buy an Amazon Echo Dot (5th Gen) should be a pretty simple thing to figure out. If you're comfortable with the panoptic reality of introducing a virtual assistant into your home, and you haven't done it yet, this is a better place to start than most. It sounds fine, it's relatively inexpensive, and the breadth of Skills Alexa supports is pretty impressive. If your privacy concerns run a little deeper, it's probably best to look elsewhere.
Similarly, if you've already got a smart home setup (that also uses Alexa) you're invested in heavily, the Echo Dot will probably fit in just fine, though there are tons of more specialized Echo products that suit you better if you already have a particular use in mind.
Basically, this is the smart home beginner pick. If you're not a beginner, or you don't want to begin at all, this probably isn't the pick for you.
Amazon Echo Dot (5th Gen)
Amazon Echo Dot (5th Gen)
Affordable • Alexa voice assistant • Decent sound quality
Alexa and voice controlled audio, for cheap.
However, this isn't the only beginner pick for smart home speakers—there are other options for other virtual assistants. If you're already hooked into Apple's ecosystem, the Apple HomePod Mini is a decent bet. It looks a lot like the Echo Dot, but it sounds better and features Siri integration—unfortunately, it's also twice the price, running for $99.99 at Best Buy.
People leaning more toward the Google end of the spectrum should check out Google Nest Audio. It's a little more expensive than the Echo Dot too, but it sounds better, and it can make and receive calls over Google Duo, which is neat. You can find it for $99.99 at Best Buy.
Frequently asked questions about the Amazon Echo Dot (5th Gen)
Yes, the baseline Echo Dot is available in Charcoal (which we reviewed here), Glacier White, and Deep Sea Blue.
There are also two slightly different additional models. The Echo Dot (5th Gen) with Clock features a visual digital clock display, and you can get it in Glacier White or Cloud Blue. The Echo Dot Kids comes with fun animal-themed designs like "Owl" and "Dragon." the Echo Dot Kids also features a slew of expanded parental controls.