Updated on September 6, 2018, with the addition of the Thinksound ts03+mic
When it comes to earbuds you can use every day on your commute or at work, the sweet spot seems to be around $100. All of the best earbuds under $100 strike a balance between sound and build quality. So whether you're looking for a go-to pair of 'buds for the daily grind or something to keep in your bag as a backup, you can't go wrong with any of these.
The best earbuds under $100 are the 1More Triple-Driver In-Ear
1More isn't a legacy audio maker like some of the other audio companies on this list, but the company made a splash in the in-ear market with the triple driver in-ears. As the name implies, these have three drivers inside the tiny housing—two of which are tiny balanced armature drivers that act as tweeters. Then, there's the third dynamic driver which takes care of the low-end.
They come with a small mic and remote, so you can control your music and answer phone calls. They can even reproduce frequencies up to 40kHz, which means they're hi-res certified if you have a compatible device and source file.
Besides the headphones, you get six sets of silicone ear tips and three sets of foam tips, so chances are you're going to find a good fit to help with noise isolation. The buttons on the control module aren't the best and might take some getting used to, but if you can get past that, this really will serve as the best earbuds under $100.
If you want good isolation, check out the Shure SE-215
Many audiophiles have heard of Shure. After all, the company has been in the audio game since 1925 and has had a lot of practice when it comes to what makes great sound. The Shure SE215 is a prime example of that. Their pedigree can be traced back to professional grade in-ear monitors that are used for live performances. Naturally, you can expect them to sound great, hence why they're some of the best earbuds under $100.
They feature an enhanced bass dynamic micro driver that provides a full sound with a more detailed low-end. This makes sense if you consider the fact that musicians performing live have a tougher time hearing the lows while on stage. Logically, the in-ear monitors they use have to make up for that. It's also a good thing if you enjoy bass-heavy music.
As far as build goes, the cable is Kevlar-reinforced, so even if they do get snagged on something they won't rip. If you're the unlucky person that they do break on (or if you just wear them down), you can always replace the wires as they are completely detachable. Shure included a gold-plated MMCX connector with a lock-snap mechanism so that you can disconnect them from the 'buds if they ever need replacement. This saves you $65 since the replacement cable is only $35.
Bassheads should get the Thinksound ts03+mic
When you look at a pair of wooden earbuds, your first reaction may not be "Wow, I bet those have great bass." And we can't fault you for that assumption. However, the Thinksound ts03+mic not only produce an emphasized low-end, but they're also an impressively well-built pair of in-ears.
If you've been on the lookout for eco-friendly products before, then you know the struggle of checking and rechecking that the manufacturer that you're buying from really does ethically source its materials. And sure, it's all well and good to be environmentally conscious, but you probably want your earbuds to withstand the test of time. That's where the Kevlar-reinforced cable comes in, ensuring that these won't just be a one-off purchase.
As the name denotes, these earbuds include an in-line mic and remote both of which perform well. The microphone does a great job attenuating external noise while relaying your voice to the person on the other end of the phone. And if you need to ask Google or Siri a question, just hold down that multifunction button.
The Focal Sphear provide great sound as one of the best earbuds under $100
Focal is a name you've probably heard if you're looking for high-end audio gear, but they've also been making some noise in audio products for the average consumer. One such product is the Focal Sphear earbuds. Focal is a company that values clear, unmuffled mid-range, so if you find yourself listening to plenty of podcasts as well as music, these might make sense for you as vocal quality is top notch.
That said, a common complaint with these is the lackluster bass. If you're looking for a strong low-end in your headphones, you might want to pass on these. As these were made for portability, they come with a small mic and remote so you can easily control your music, and the sophisticated design looks great in and out of the office.
On a budget? Go with the RHA MA390
These aren't just one of the best earbuds under $100 you can find, they're also one of the best under $50. For a pair of 'buds that are stylish, sound good, and won't break the bank go with the RHA MA390 Universal. If you missed the full review, the "Universal" in its name means that whether you're on an iOS device or an Android phone, you'll be able to control music playback with the built-in mic and remote. Though it's worth mentioning that you won't get volume controls and the microphone quality isn't great. That said, these headphones only cost about $30, so if corners had to be cut somewhere, we're glad it was there.
If you're a fan of a strong low-end you'll like these. The bass emphasis is good while commuting as lower notes tend to be easily masked by outside noises, so having a little extra oomph will help you hear your favorite bass lines better. Build quality is also impressive as the earbuds are made of aluminum, making them difficult to break. If you're on a budget but still want a quality pair of earbuds in your back pocket, these are worth checking out.
If you have a bit more cash to play with, check these out
Sennheiser Ambeo Headset: Whether you're an indie film director or horror film aficionado, the Sennheiser Ambeo Headset has something to offer. Each earbud is decked out with a microphone for 3D recording and they create a more realistic sense of spatial awareness when playing regular media.
Etymotic Research ER3XR: These earbuds use an MMCX connector cable, meaning that if you buy the proper MMCX to USB-C cable, you can listen to them through a device that lacks a headphone jack. Generally speaking, sound isolation and quality is excellent, but they can get uncomfortable after a while.
1More Quad-Driver In-Ear: If you liked what you read about the Triple-Driver earbuds and don't mind shelling out a bit more cash, then you'll enjoy these 'buds.
Why should you get earbuds?
There's really only one area where earbuds excel over any other kind of headphones, and that's portability. Thanks to streaming services, music is more portable now than it has ever been, and the headphones you use should be just as easy to bring with you wherever you go. Large, open-back headphones are great if you're going to be relaxing at home.
What you should know about the best earbuds under $100

Isolation
One of the biggest factors in determining whether or not a pair of 'buds sounds good to you is their fit. If the 'buds don't fit correctly then you're going to have poor isolation, which means that the outside noise you're trying to avoid is just going to end up sneaking into the music you hear making it sound terrible. The way this happens is called auditory masking.
In short, a loud sound from nearby construction might make it harder to hear the bass line in your favorite song. It sounds obvious, but you'd be surprised how much of an effect this has on your music. One way around it is just to make sure you have the right ear tips, which is why all of the best earbuds under $100 include different sizes. Our personal favorite here at SoundGuys is the Comply memory foam tips, which do a great job of blocking outside noise.
Do you need an amp or DAC?
No. Now there are times when you'll need one or the other and to find out what those are you can dig deeper by reading our pieces explaining DACs and amps, but for any of the best earbuds under $100 you'll be fine without either.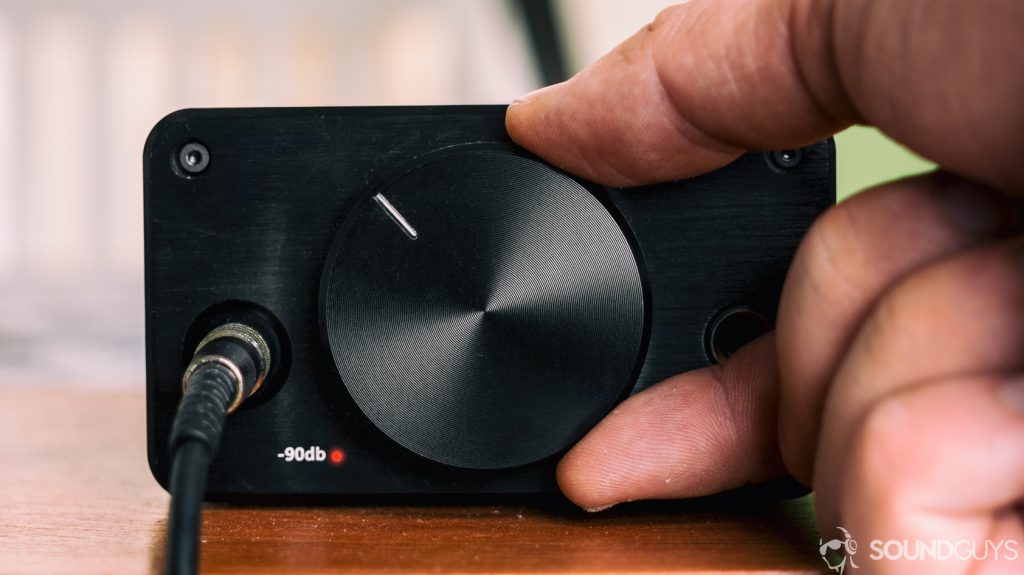 The digital-to-analog converter (DAC) that comes built into your computer or smartphone should be more than good enough to deal with any streaming service you throw at it, and all of these earbuds were made with an impedance that's well within the range of the average smartphone or laptop. So you won't need any extra power to get the most out of them in the same way that you would with some more expensive open-back over-ear headphones.
Frequency Response
Frequency response in the context of audio products is just a measurement of how well your earbuds can reproduce audible frequencies. It also shows the changes that are made to the signal on the way through. So even though almost all humans can hear notes between 20Hz and 20kHz (depending on your age and the damage you've done to your ears), the frequency response of a pair of earbuds doesn't refer to your ability to hear the notes. It only refers to the signal going through the audio components.
Why you should trust us
In addition to the fact that this site is all of our day jobs, Adam, Chris, and Lily have several years of reviewing consumer audio products under their belts individually. Having kept a finger on the pulse of Bluetooth speakers for several years allows us to be able to figure out what's good, and what's best avoided. Considering Chris' burning hatred for all things Bluetooth, if he approves of something, it's damned special. In a similar vein, Adam has reviewed tons of these speakers over the course of almost three years, so he's heard the best (and worst) of what the category has to offer.
These best lists may not always reflect your experiences, but they are our earnest attempt to get the right product onto your best earbuds under $100 wish list. We do this because we genuinely want you to be happy with your purchases—none of our writers see a dime from partnership deals or referral purchases—and nobody here is allowed to benefit from steering you towards one product or another.
While this site does make money from referrals, the individual writers are paid based on their work regardless of whether or not people clicked that "buy" icon. They'll never even know if anyone did, though I suppose the site going under might be a good hint.
Didn't find what you were looking for? Check out these related best lists:
Disclosure: We may receive affiliate compensation in connection with your purchase of products via links on this page. Even though we may receive compensation, we always give our honest opinions, findings, beliefs, or experiences on each product. See our ethics policy for more details.