All products featured are independently chosen by us. However, SoundGuys may receive a commission on orders placed through its retail links. See our ethics statement.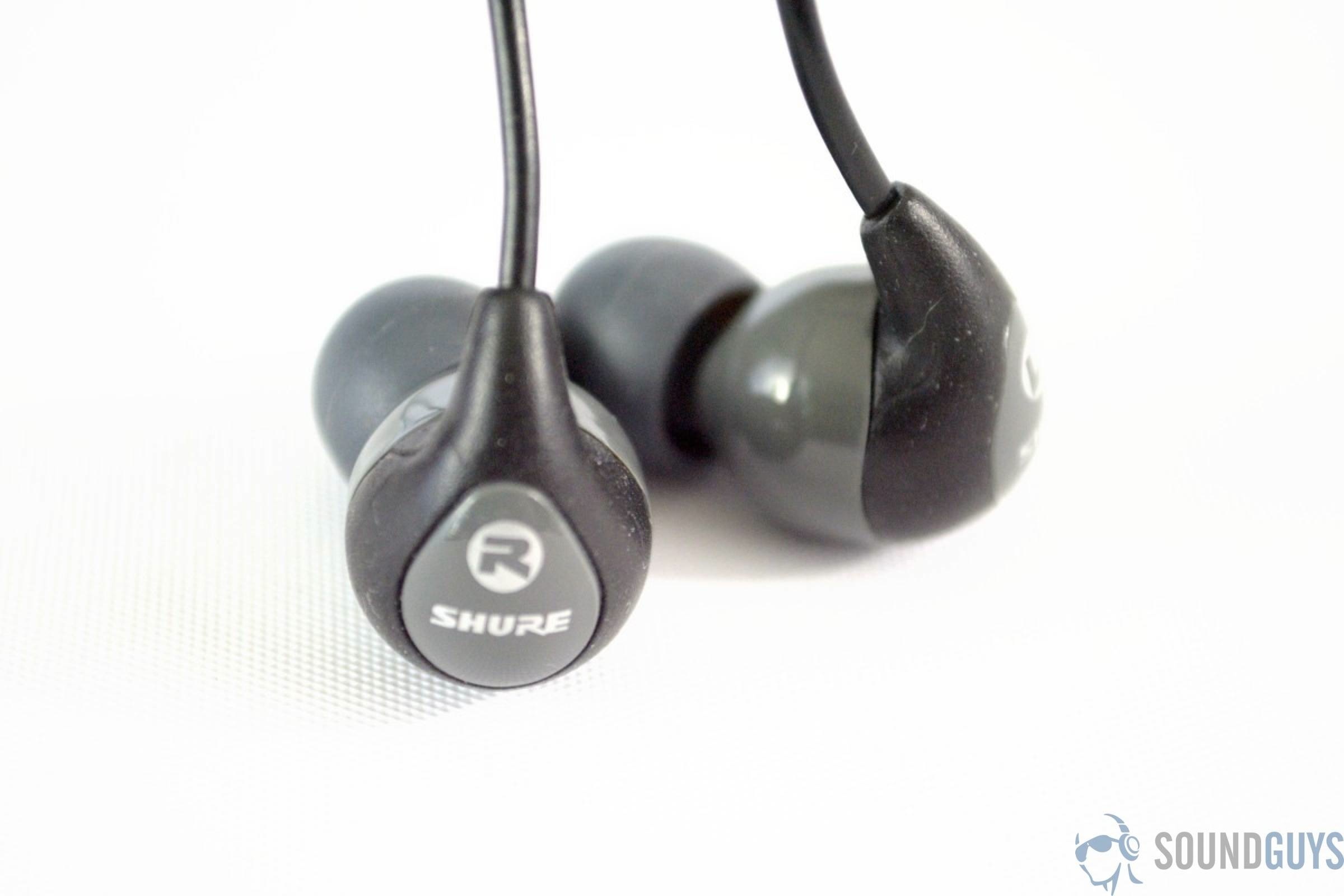 The bottom line
If you're looking for sound quality over features, then the $49 you spend on these will be money well spent, provided you don't have the same issues with comfort that I did
If you're looking for sound quality over features, then the $49 you spend on these will be money well spent, provided you don't have the same issues with comfort that I did
What we like
Great sound for the price
Included cleaning tool is a nice touch
What we don't like
You may have issues finding a good fit
Not the most comfortable earbuds we've tried
Rating Metric
Sound Quality
8.9
Bass
8.7
Midrange
9.0
Highs
8.9
Durability / Build Quality
8.0
Value
8.5
Design
7.2
UPDATE (January 2022): Shure has upgraded this product, now selling as Shure SE112 GR on Amazon. For more best wired and wireless earphones, consult our best earbuds roundup and our budget earbud picks.
Shure has been in business for nearly 90 years, and for most of that time, the company has had a reputation for providing great sounding, rock solid audio gear. Until recently however, that reputation was mainly only among audio professionals; most average music listeners might not even know that the company existed. More recently, the company has started selling headphones and earbuds that promise consumer-focused features but maintain Shure's high standards for audio.
The Shure SE112 earbuds are an example of that new focus. You're probably not going to see recording engineers passing these out around the studio, but that's fine since that's not really the point. Now that we know who these headphones are meant for, let's find out what they have got to offer.
What's In The Box?
You'll see the earbuds tucked into their form-fitting compartments before you even open up the box. Once you open up the top of the box, everything else is tucked behind the earbuds. You'll find a plastic bag containing additional tips and a cleaning tool, a carrying bag, and the various manuals and warranty information.
Build & Design
The official model number for these headphones is Shure SE112-GR, and figuring that the GR stood for gray (which these are), we assumed that there would be other colors available. There aren't. This isn't a problem, but it seems that perhaps other colors might be available in the future.
When I first tried these headphones on, they didn't feel very comfortable and the weight of the cable made it feel like they were constantly about to fall out of my ears. I had a feeling I was doing something wrong, and one quick look at the manual proved my suspicion correct. These are meant to be worn with the cable that comes out of each earbud pointing up and going over the top of your ear.
Once I got things right and was wearing the headphones correctly they were more comfortable, but I still had some trouble. This is likely just an issue with me, but none of the tips provided with the earbuds fit my ears well enough to provide a tight, consistent seal, and the Shure SE112 don't have a standard setup, so my personal tips that I usually use wouldn't fit. Again, this isn't likely to be an issue for everyone, but it is worth mentioning.
One handy thing regarding fit is the adjustable slider to tighten up the cables that run to each ear. This, combined with the over-the-ear method of wearing these headphones keeps them more secure on your head than other similar earbuds.
Connectivity
The Shure SE112 earbuds are pretty barebones when it comes to features. You'll find no mic or built in remote here, just a cable to run to the device of your choice. The cable is 50" long, which makes things easy if you're the type who likes to keep their phone or iPod somewhere other than a pocket. The cable is fitted with a 1/8" (3.5 mm) jack, and no 1/4″ adapter is included, though for earbuds, we didn't really expect to see one.
Sound Quality
With any earbuds a decent fit is paramount for sound quality, and as I mentioned above, I had some trouble with getting a decent fit with the Shure SE112s, but I based all my listening notes on only the times when I was hearing these headphones as they are intended to be heard. For testing fidelity, I played CDs and lossless audio file from a computer through a Focusrite Saffire Pro 40 audio interface. I also played streaming audio through a Motorola Moto X.
The lows in the SE112 are solid, though not particularly emphasized. They extend fairly low, though they fall toward the more accurate side of the spectrum, so you won't hear any boosted bass frequencies.
The mids are slightly forward, though not overly so, just enough to give vocals a slight emphasis. There is no mud in the lower mids and no harshness in the higher mids.
The highs are crisp with plenty of detail, adding a nice shimmer without any harshness.
Soundstage is fairly decent, and certainly impressive for earbuds in this price range. Overall, the sonic signature of the Shure SE112 is much more accurate than many earbuds we've tested.
Conclusion
With the Shure SE112 earbuds, it all comes down to what's important to you. They're not packed with features, in fact, they pretty much just have one feature: they make things sound good. If that's what matters the most to you, then the $49 you spend on these will be money well spent, provided you don't have the same issues with comfort that I did. If you're looking for a pair of earbuds to wear to the gym or you need a built-in mic and remote, you'll have to look elsewhere.