All products featured are independently chosen by us. However, SoundGuys may receive a commission on orders placed through its retail links. See our ethics statement.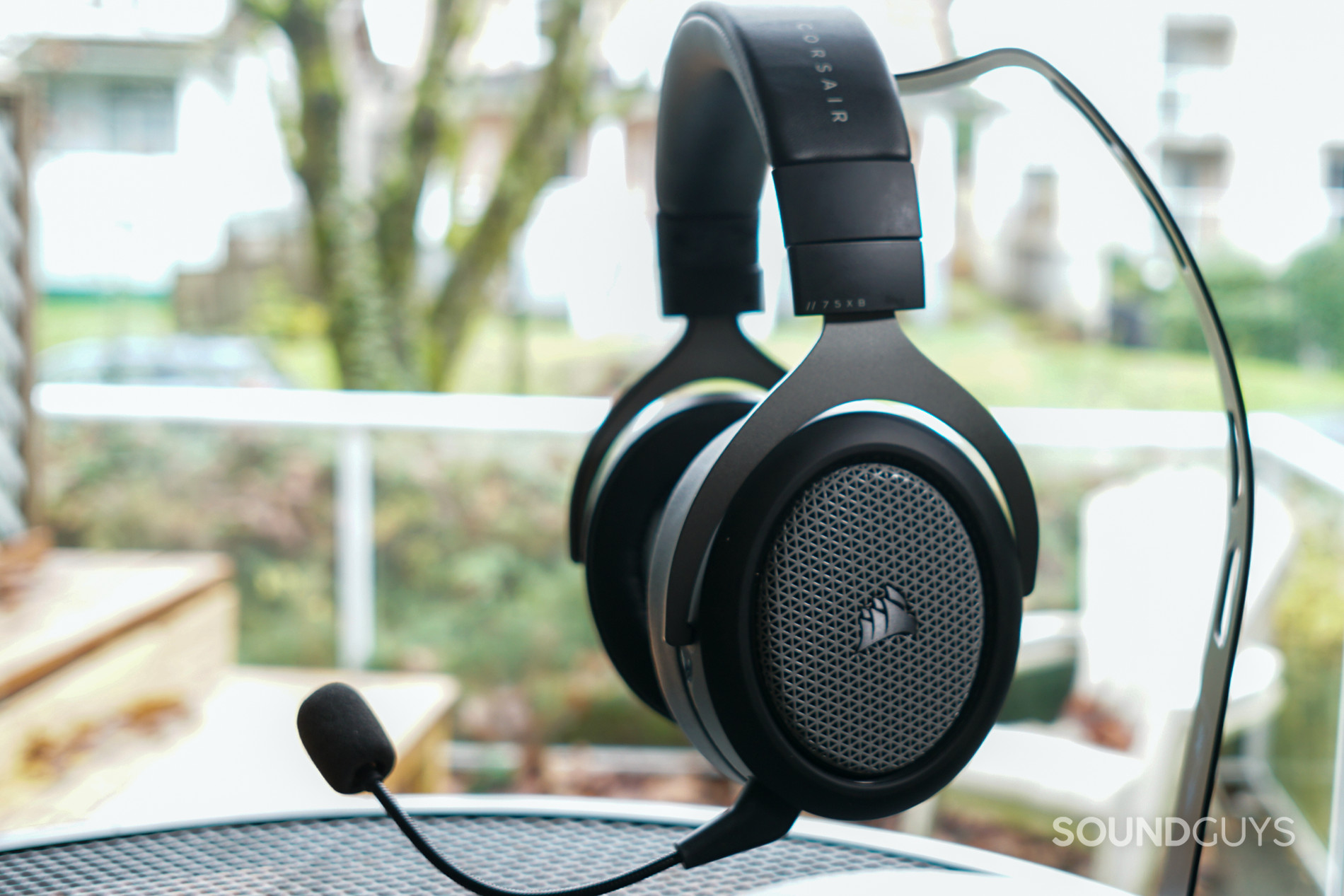 7
Corsair HS75 XB Wireless
The bottom line
The Corsair HS75 XB Wireless is a great gaming headset on Xbox, an okay one on PC, and completely useless everywhere else.
Corsair HS75 XB Wireless
The Corsair HS75 XB Wireless is a great gaming headset on Xbox, an okay one on PC, and completely useless everywhere else.
What we like
Xbox Wireless
Battery life
Sound
What we don't like
Only great on one platform
Mic clipping
Rating Metric
Sound Quality
9.2
Isolation / Attenuation
2.6
Durability / Build Quality
9.0
Value
7.5
Design
8.0
Connectivity
2.0
Portability
7.0
Battery Life
9.1
Feature
7.5
Comfort
8.5
New consoles are out, and even though they're impossible to find right now, new gaming headsets are already available. Corsair gaming headsets have landed in pretty much every corner of the market, from the high-end to the gimmicky, and the company's newest is splitting the difference. The Corsair HS75 XB Wireless is a gaming headset aimed at the Xbox Series X/S, with support for Xbox Wireless.
Is dongle-free wireless audio the key to success?
Editor's note: this Corsair HS75 XB Wireless review was updated on March 30, 2021, to include a contents menu and expand the sound quality section.
Who is the Corsair HS75 XB Wireless for?
Xbox gamers who want something to match their shiny new console.
At-home workers who don't mind having to buy an additional dongle for a wireless headset.
What is the Corsair HS75 XB Wireless like?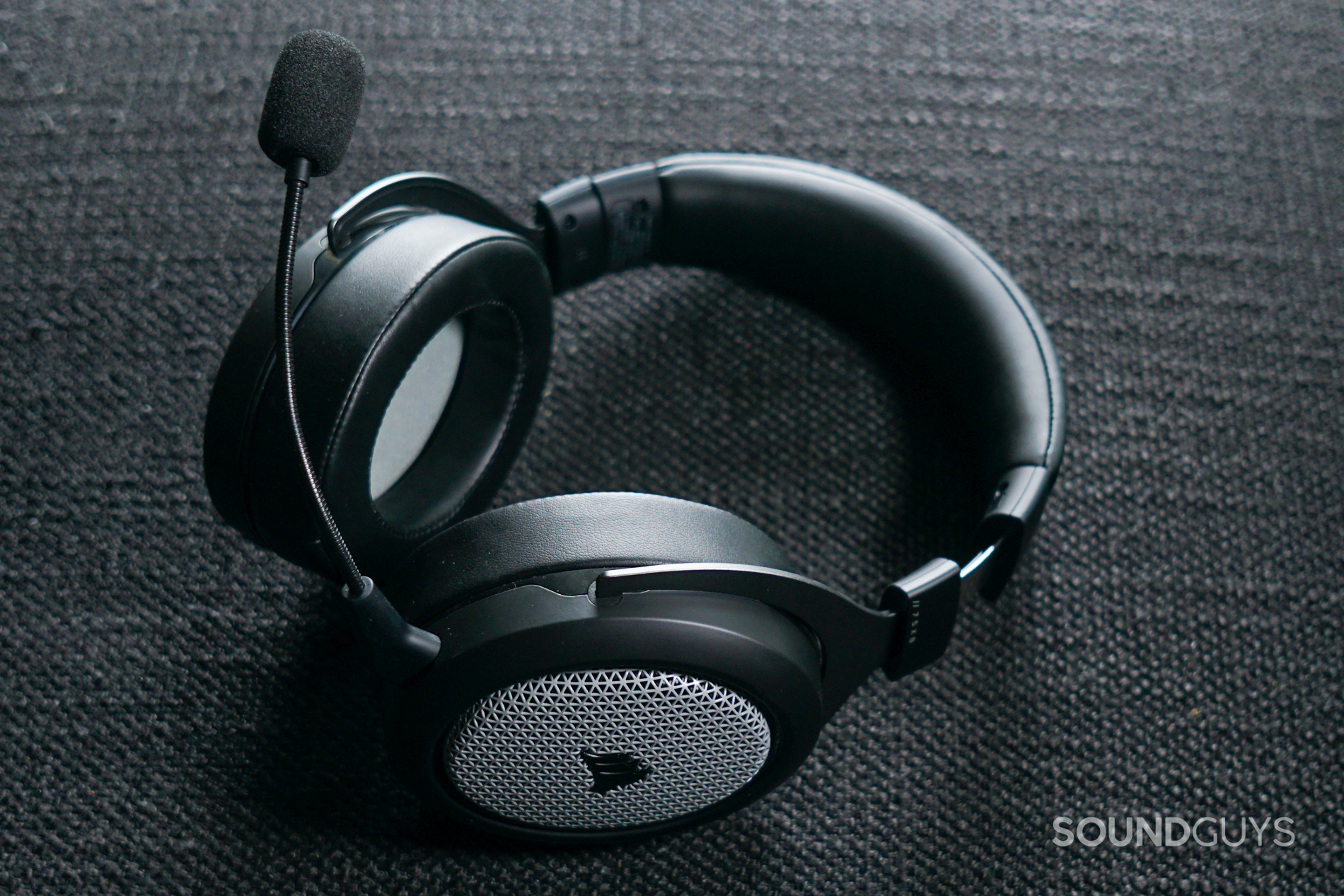 Don't be fooled by the metal on the sides, this is not an open-back headset.
The Corsair HS75 XB Wireless is a brand new gaming headset, but it sure doesn't look it. Aesthetically, this is almost identical to the rest of the company's HS headsets, like HS60 Pro Surround and the recently released HS60 Haptic. The HS series of gaming headsets aren't exactly the most striking options on the market, but they're generally sturdy and well built—that's still true with the HS75 XB Wireless.
Read on: Best wireless gaming headsets
This wireless gaming headset is made primarily out of metal, with a stainless steel headband covered in a leatherette cushion, and brushed metal hinges. The ear cups are made of hard plastic, and actually feel pretty hefty. Basically, the Corsair HS75 XB Wireless feels like you could safely throw it across a room (don't do that, you can't).
People with large ears shouldn't run into any trouble wearing the Corsair HS75 XB Wireless.
The memory foam ear pads are covered in leatherette, and they're quite large. Coupled with the pretty generous tilt range of the hinges, this means the headset can comfortably fit most head shapes. It also means establishing a decent seal is pretty easy, unless you wear glasses—the cushions are pretty soft, but they don't approach the flexibility of something covered in a fabric material like velour.
The Corsair HS75 XB Wireless is largely pretty simple to use. The headset connects over Xbox Wireless, and you can pair it with your console without a dongle. Once it's paired, the headset will automatically connect whenever you turn it on. The only other bit of work to do when setting it up is turning on surround sound, which requires installing the Dolby Atmos app, but it's largely a set-it-and-forget-it kind of thing. The headset is also compatible with PC, if you buy an Xbox Wireless adapter, and Atmos works just as well through that, too.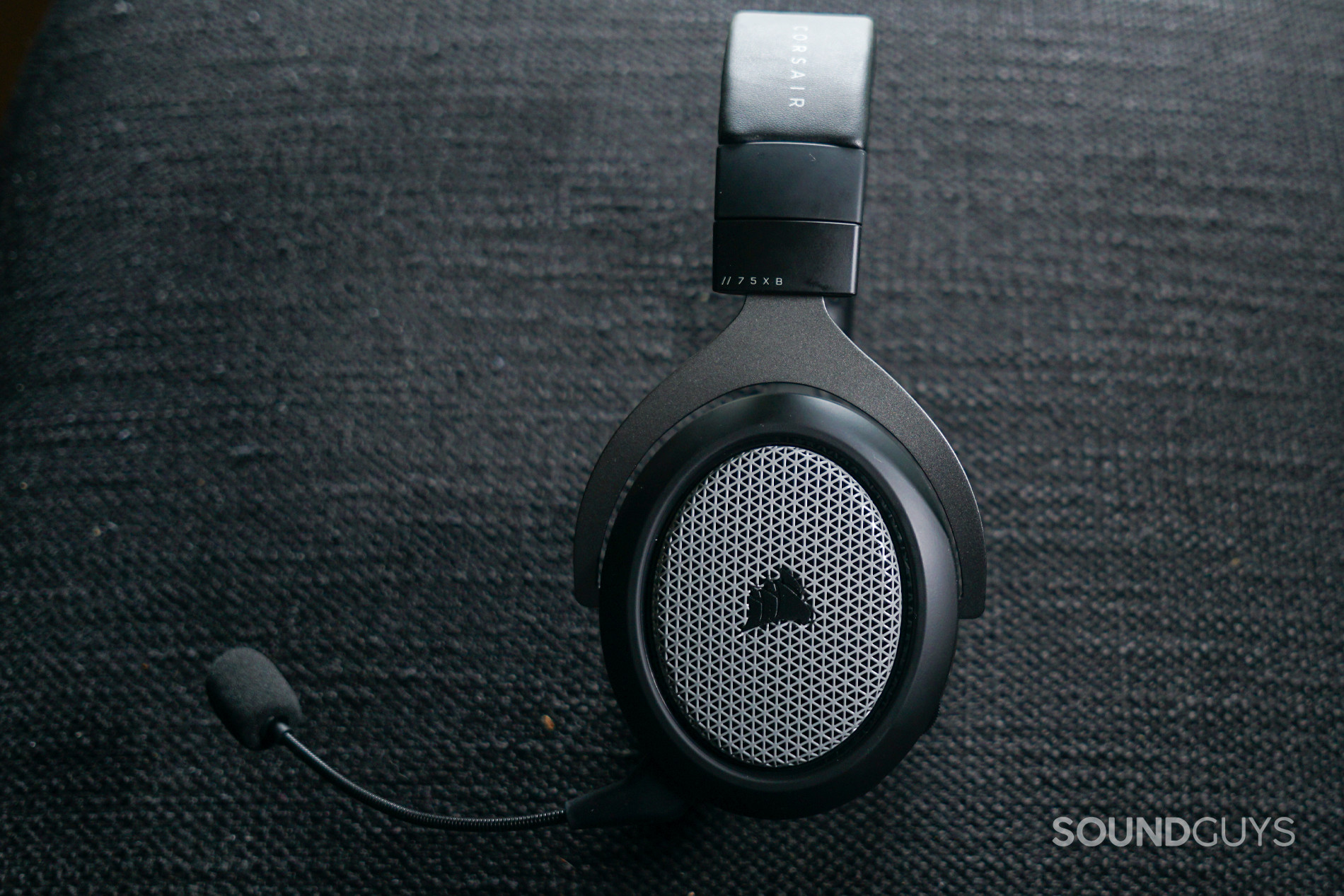 The headset only comes in black, so camo lovers will have to look elsewhere.
Because this is an Xbox Wireless headset, there's no integration with Corsair's iCue app. Instead, all of the headset's settings are controlled by the hardware. The Corsair HS75 XB Wireless has buttons for power and mic muting, and dials for headphone volume (which is the only way to adjust volume on PC) and game/chat balance (which doesn't work on PC). The two buttons and two dials have the same size, shape, and profile, but they're split up on either headphone. As long as you can remember your left and right, keeping things straight is pretty easy.
Become an expert: What is Dolby Atmos?
However, having relatively few buttons requires doubling up on some functions—holding the mic mute button toggles monitoring, and holding the power button turns on pairing. Largely this is totally fine, but it can be a little tricky getting the timing right for turning the headset off, because holding it for too long will turn on pairing mode again.
How is the battery life?
The headset charges using USB-C.
Corsair claims the HS75 XB Wireless will last 20 hours on a single charge and in our testing we found the headset's performance lines up with that, and even exceeds it a little. Running at a consistent ~75dB output, the Corsair HS75 XB Wireless can last a couple minutes shy of 21 and a half hours. This isn't the absolute best battery performance you'll find in a gaming headset, but it's almost there. If you tend to listen at a quieter volume, you may even get better battery life.
Gaming with the Corsair HS75 XB Wireless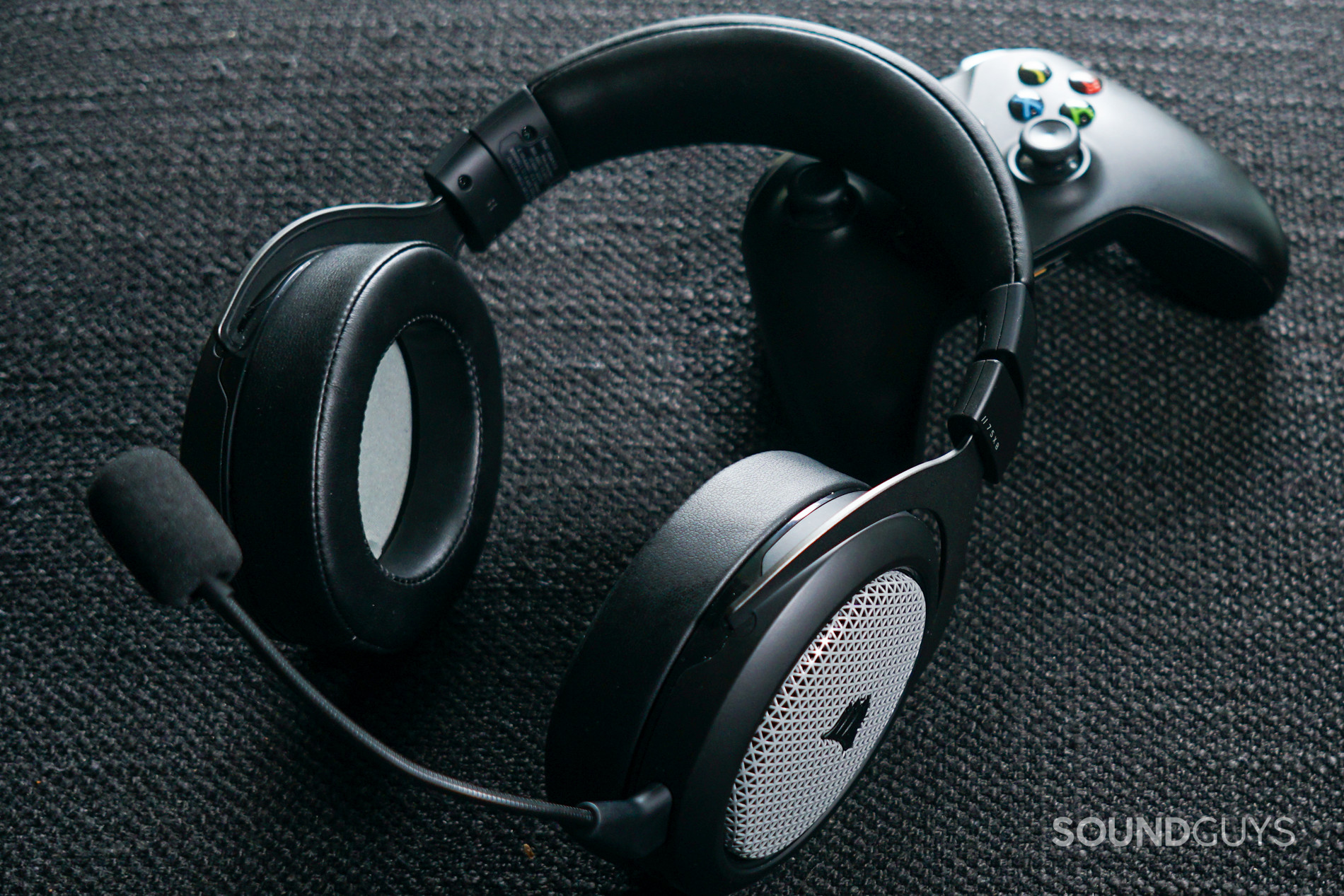 The PC experience is better with this headset than other Xbox Wireless-supporting headsets, but the HS75 XB is definitely an Xbox headset first.
Gaming with the Corsair HS75 XB Wireless is pretty straightforward, and overall it's a pretty good experience. The headset is comfortable enough for multi-hour sessions, and it has the battery performance to back that up. Obviously, this headset is meant primarily for gaming on the Xbox Series X/S, but it's hard to get a hold of those right now, so our time with it was mainly spent on PC.
Learn more: A guide to gaming headset apps
Playing games like Assassin's Creed Valhalla and the recently re-released Halo 4, the Corsair HS75 XB ably handled the mix of orchestral music and in-game audio. Dolby Atmos added a degree of directionality, but as these games don't natively support surround sound, there was still a little wonkiness—sound occasionally clipped in and out. However there weren't any issues with directional audio in Apex Legends, which supports surround sound.
How does the Corsair HS75 XB Wireless sound?
That drop off in the sub bass isn't terribly noticeable.
The Corsair HS75 XB Wireless offers audio output pretty well in line with most gaming headsets on the market. There's a notable boost in the bass range until around 200Hz, and the sporadic drops in emphasis in the high range are, no doubt, partly to avoid natural resonances in the ear. However the boost in bass is pretty tame, and it doesn't get as loud as many other gaming headsets do.
In music, sound like this is great for music where you want the bass to come through really prominently. In The Terrors by Psychedelic Porn Crumpets, the guitar and bass parts are loud and fast, and on a neutral-leaning headset they'd run the risk of blending together a bit—on the Corsair HS75 XB Wireless, the bass never gets lost, even when the guitar is putting out an absolutely massive amount of noise.
The bass bump makes explosions sound louder than they should but it isn't cause for concern.
In game, frequency response like this shouldn't cause any trouble, regardless of the genre. The increased bass will make the din of the battlefield louder, but not so much that it'll run roughshod over subtler sounds any more than it's supposed to. The de-emphasized sub-bass response, shouldn't cause much concern either. Sure, you won't feel the same skull-shaking sensation as you would from other headsets, but it also means you can more clearly hear important sounds like your teammates' voices, and approaching footsteps.
Don't expect much in the way of attenuation here.
The Corsair HS75 XB Wireless is hardly impressive when it comes to isolation, but it's not all that much worse than most gaming headsets. This is hardly on par with the isolation of gaming headsets like the HyperX Cloud Alpha or Razer BlackShark V2, but if you've just got the whir of a fridge or a TV blaring in another room to worry about, it'll do just fine.
How is the microphone?
This is more accurate than most gaming headset microphones.
The Corsair HS75 XB Wireless avoids the pitfalls of the average gaming headset microphone, at least to a degree. While bass is de-emphasized, it's not the precipitous drop-off you typically see. This means people with deep voices won't have to worry as much about coming through quietly or sounding tinny. However, a consistent issue with audio clipping affected clarity, though not enough to really negatively impact in-game chat. Listen for yourself:
How does the microphone sound to you?
573 votes
Should you buy the Corsair HS75 XB Wireless?
If you play games mainly on an Xbox, and occasionally PC, you should consider the Corsair HS75 XB Wireless. Otherwise, look elsewhere.
The mic is pretty flexible, and finding the right position for it is easy.
The Corsair HS75 XB Wireless is a solid entry into the HS line of headsets, and it largely does all the things it needs to quite well. It sounds good, it's comfortable, and it's easy to use. It even works better on PC than competing products like the Raze Kaira Pro, though it doesn't offer the Bluetooth compatibility.
Xbox Wireless as an audio solution has gotten more popular in the last couple of years, but it's still in the phase where adopting it limits the capabilities of a gaming headset. The Corsair HS75XB Wireless is a great example of that—it's great for Xbox, just okay for PC, and useless everywhere else. If you don't mind dropping almost $150 on something locked to one platform, and additional $20-$30 to add another, have at it. Otherwise, you should probably look elsewhere.
Alternatives to the Corsair HS75 XB Wireless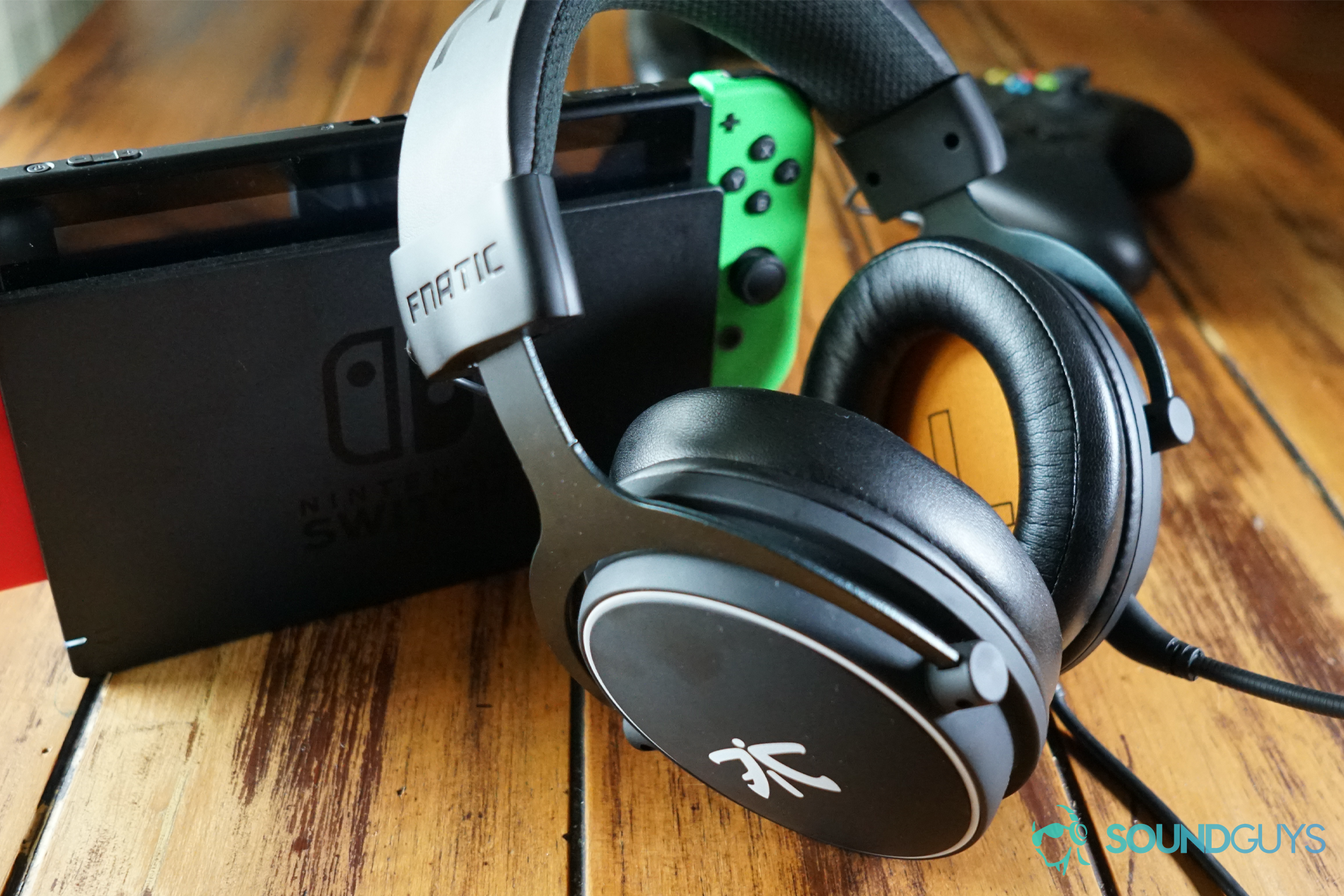 The Fnatic React's lack of surround sound is less of an issue on console, where that's less common.
As cool as dongle-free wireless connections are, if you're not terribly attached to Xbox Wireless, there are plenty of great alternatives to consider. Wired gaming headsets that use 3.5mm are compatible with every generation of Xbox, and options like the Razer BlackShark V2 and Fnatic React are more affordable and offer better microphone experiences.
Additionally, the Xbox-oriented version of the SteelSeries Arctis 7P, the Arctis 7X, brings wireless audio to the Xbox Series X, as well as mobile and Nintendo Switch—as long as you don't mind using a dongle. Given the experience we had with the 7P, the 7X is definitely worth looking out for.