All products featured are independently chosen by us. However, SoundGuys may receive a commission on orders placed through its retail links. See our ethics statement.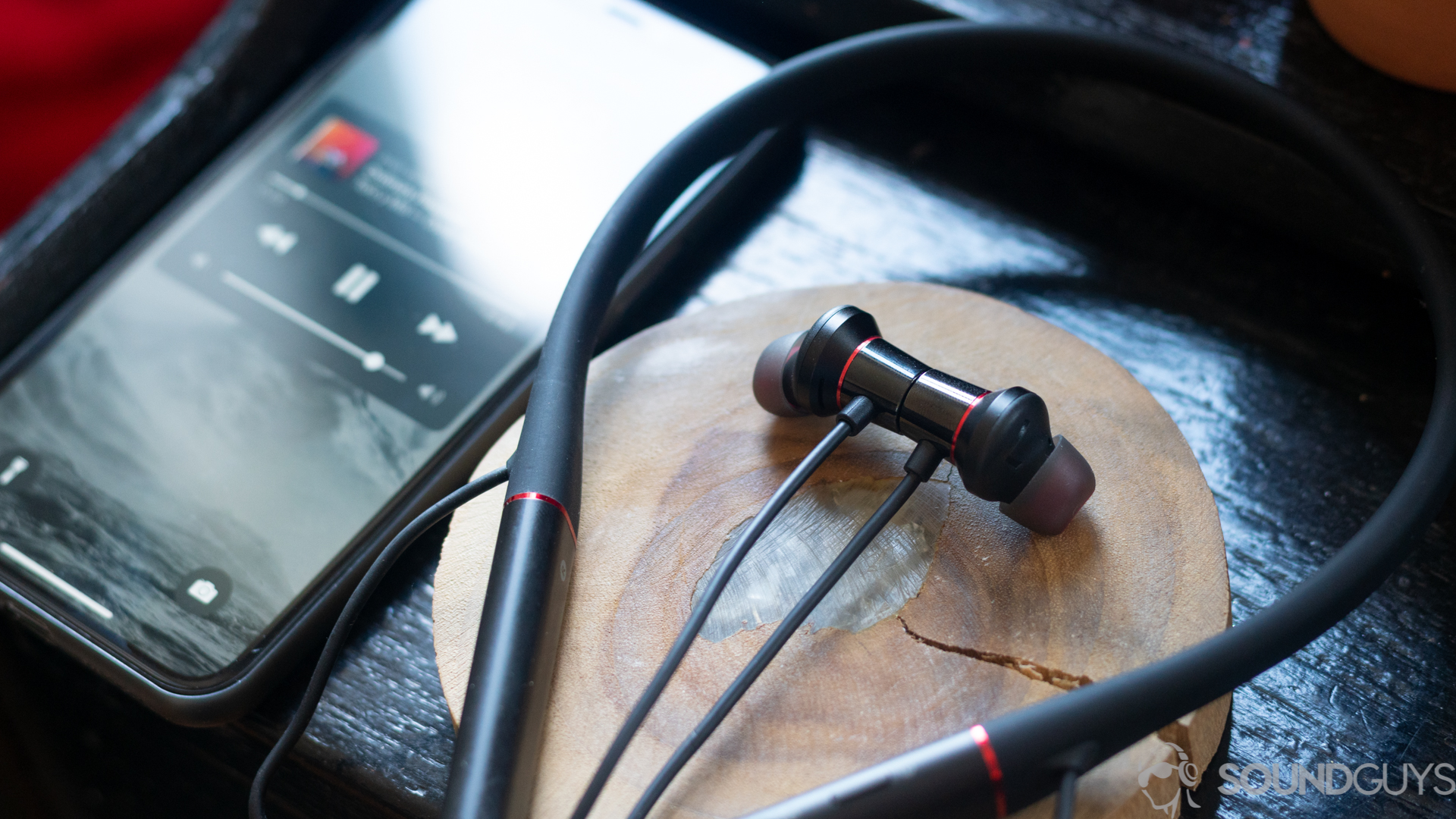 7.3
1MORE Dual Driver ANC Pro
The bottom line
If you don't mind wearing earbuds attached to a neckband, these are a great pair of earbuds for the price. The design might not be for everyone but the combination of the good sound, high quality Bluetooth codec support, active noise canceling, and top-notch microphone make these a great option for just about everyone.
1MORE Dual Driver ANC Pro
If you don't mind wearing earbuds attached to a neckband, these are a great pair of earbuds for the price. The design might not be for everyone but the combination of the good sound, high quality Bluetooth codec support, active noise canceling, and top-notch microphone make these a great option for just about everyone.
What we like
Sound quality
Affordable active noise canceling
LDAC, AAC, SBC, and wired playback
Comfortable
IPX5 rating
Efficient quick charge
What we don't like
Cumbersome controls
Battery life
Design may not be for everyone
Rating Metric
Sound Quality
9.5
Isolation / Attenuation
2.3
Durability / Build Quality
8.0
Value
7.2
Design
7.0
Connectivity
8.5
Microphone
6.8
Portability
7.6
Battery Life
8.0
Feature
7.0
Comfort
8.0
While we're currently living through some very weird times it's easy to forget that most people normally don't sit at home all day. Whether you're headed to the office, going on vacation, or just doing some errands around town, people are always on the move. Over the last few years one of the companies that has been making headphones for people on-the-go is 1MORE. You're probably most familiar with the Triple-Driver earbuds that made basically every best list on the internet for earbuds under $100, but now there's the 1MORE Dual Driver ANC Pro. So how are they?
Editor's note: this 1MORE Dual Driver ANC Pro review was updated on April 13, 2022, to update the score based on results from our reader poll and add context to the sound quality section with a disclosure box.
Office workers will appreciate the active noise canceling (ANC), even though it can't put up much of a fight against the likes of Bose or Sony. Still for a pair of affordable earbuds these are good enough to get rid of the ambient sounds of the office. Plus, the microphone sounds great so taking calls is a breeze.
Commuters should get these lightweight buds because they're easy to stash away in a pinch and are easier to keep track of than a pair of true wireless earbuds like the AirPods Pro or the giant Sony WF-1000XM3, then these should be on your shortlist. Especially since at under $100 USD they're way cheaper than most true wireless alternatives.
---
What's it like to use the 1MORE Dual Driver ANC Pro earbuds?
While everyone is going true wireless, the 1MORE Dual Driver ANC Pro take on a more traditional neckband design.
The 1MORE Dual Driver ANC Pro buds aren't like the true wireless model we previously reviewed. Even though true wireless earbuds are all the rage right now, 1MORE took a step back and tried to make something a little more practical. While the neckband design has always been divisive, I never really minded it. This design isn't for everyone, but sometimes that's a good thing. When you narrow your goals and nail the execution, sometimes you come away with a great product. That's how I feel about these headphones. If you hate neckband-style earbuds then there's nothing I can say here that's going to change your mind.
Start here: Ultimate headphone buying guide
At first glance, there really isn't anything that screams "premium" here in the way that some other models. There's no soft metal or leather to speak of, instead the neckband is made of a flexible rubber that wears super comfortably. It's lightweight, and conforms to the shape of my neck easily. I used these constantly for about three days and it was never uncomfortable. They also never fell off while I was doing things around my apartment thanks to the two metal earbuds snapping together magnetically. Sure, it looks like a weird necklace—but again, it's just a practical feature that keeps the earbuds from flopping all over the place as I go about my day. The one thing that I wish 1MORE did here is add an auto-pause feature when the earbuds magnetically stick to each other. As it is, the music keeps playing even when they're hanging around your neck and clearly not in your ears.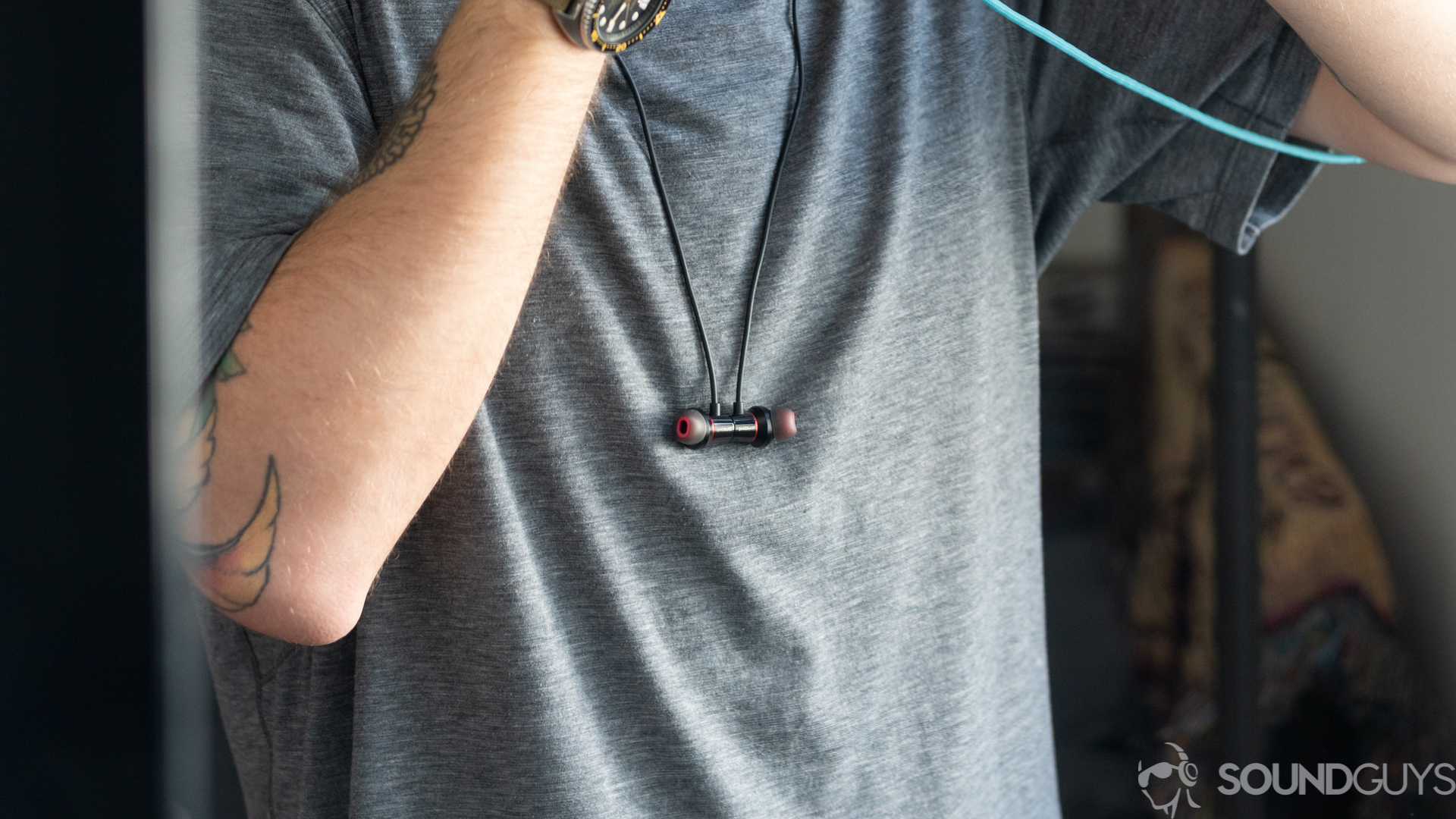 While moving around the earbuds stay in place around the neck which is super convenient.
While I can vouch for their comfort for everyday use, I can't say how they would hold up for running or working out. While these do have an IPX5 rating making them water and sweat-resistant, I haven't had a chance to take them out for a run yet so I can't say how well they hold up in this aspect. What I can say is that regardless of whether you're out for a run or not, there's a bit of a learning curve remembering where exactly the buttons are for controlling playback and some of the extra features. They're all located on the left side of the band so until you memorize which button is where expect to accidentally pause the music every now and then.
The earbuds snap together magnetically which is convenient.
As far as the earbuds themselves go, I found them to be pretty comfortable for long listening sessions once I swapped out the ear tips for one of the other included pairs that fit my ears better. Thankfully, 1MORE includes a few in the packaging—which is good, seeing as these don't have the typical nozzle shape that most earbuds do. Instead of being perfectly circular these are slightly elongated so none of my personal memory foam tips that I have lying around fit them. One of the cooler features here is that the 1MORE Dual Driver ANC Pro earbuds have active noise canceling and wind reduction built in. The microphones are built into the neckband itself, which means the earbuds can stay at a relatively normal size since they don't have all the tech packed inside like you'll find in some true wireless earbuds.
How do you pair to the 1MORE Dual Driver ANC Pro earbuds?
While you won't get the auto-pair functionality of something like a Beats product with Apple phones (or even the Google Pixel Buds), pairing to these isn't difficult at all. You just need to hold down to the power button for a few extra seconds when turning it on. You'll hear a jingle that will let you know the headphones are in pairing mode, and the small LED light will begin blinking. From there, just open up the Bluetooth settings on your device and pair to them as normal.
The playback controls let you easily control your music without ever reaching for your phone.
As far as connection goes these are rocking Bluetooth 5.0 and are compatible with both AAC and LDAC, which I think might be the first pair of headphones I've reviewed with that particular combination of codecs. If you're on iOS then you'll automatically be set to AAC since that's the only codec that Apple supports, but if you're on an Android device you have the option to choose between either AAC or Sony's LDAC. Of course, if your device features neither of these codecs it'll resort back to the SBC codec which is the base standard for all Bluetooth audio devices. The SBC codec prioritizes a stable connection but doesn't have the same level of sound quality as the other two.
You might like: 1MORE Color Buds review
While LDAC also isn't perfect, it does have a higher bitrate, meaning that more data is transferred over Bluetooth resulting in slightly better sound quality. Fair warning though, because the more data you transfer the less stable the connection gets. Still, in my testing the connection was solid, and I didn't experience any noticeable skips and stutters. On top of that, I didn't have any issues while watching videos either so you won't feel like you're watching a badly dubbed kung-fu movie the next time you watch a YouTube video.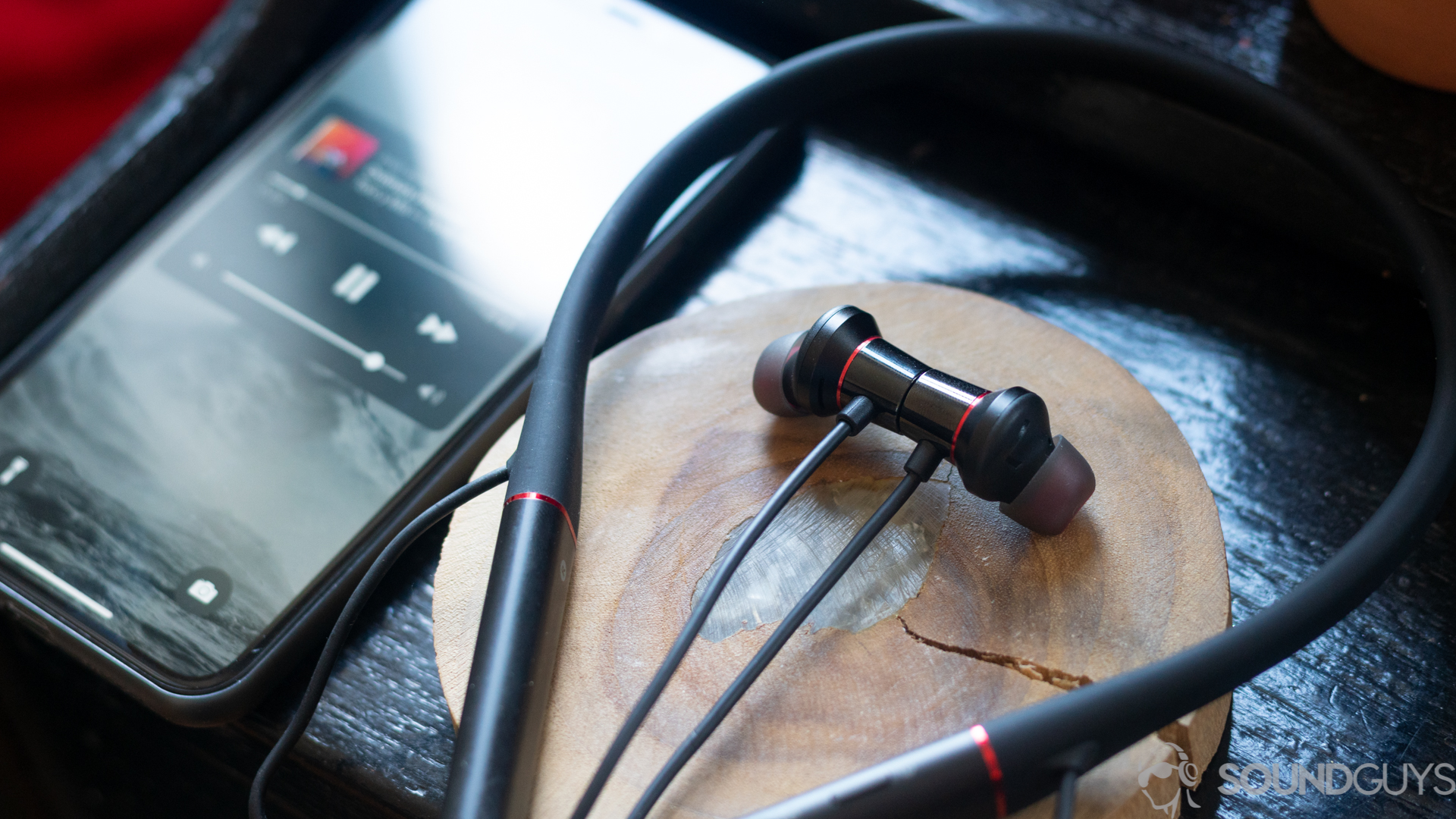 The earbuds have Bluetooth 5.0 and AAC or LDAC compatibility.
One of the coolest things about these headphones is that it really takes advantage of the USB-C port on the end of the neckband. Not only is it the input for the charging cable when you need to juice them up again, but you can also use it to hard-wire in the headphones to devices that don't support Bluetooth thanks to the included USB-C to 3.5mm cable. Does it look a little ridiculous? Sure, maybe a little, but who cares? I think it's a pretty great feature that lets you use these even when you don't have Bluetooth available. Plus, these are high-res certified so if have high-quality files that you want to enjoy you can enjoy them with these thanks to the wired aspect.
How is the battery life on the 1MORE Dual Driver ANC Pro?
1MORE claims that at 50% volume these will give you about 20 hours of constant playback, but in my battery test I only managed to squeeze out 11 hours and 38 minutes at a constant playback of 75dB. That said, I did have both the active noise canceling and the wind reduction turned on, so I'm sure if you're not outside and don't need to turn on wind reduction: you can get a bit more battery out of this. As I mentioned earlier, there's also a USB-C input on the end of the neckband for charging and these also offer quick charging. Just 10 minutes on the charger will get you another three hours of playback time.
How good is the active noise canceling and isolation?
One of the most important factors when it comes to earbuds is the fit, and thankfully: these do a good job at blocking out the outside world. The active noise canceling does a good job at keeping sounds in the lower frequencies from reaching your ears meaning that you can easily hear the lows without anything getting in the way. I will say though that I only achieved this good seal after swapping out the ear tips like I mentioned earlier, so I would highly recommend doing so when you get these.
While I haven't been able to test these with some of the more egregious sounds like plane engines and trucks on the streets thanks to quarantine, I did use these while my AC was turned on high in my room and it significantly cut out the low drone. It wasn't completely gone, but it was still impressive.
Hold up! Something's different:
Our frequency response and isolation charts were measured with our old testing system. We have since purchased a Bruel & Kjaer 5128 test fixture (and the appropriate support equipment) to update our testing and data collection. It will take a while to update our backlog of old test results, but we will update this article (and many others!) once we're able with improved sound quality measurements and isolation performance plots. These will be made obvious with our new chart aesthetic (black background instead of white). The same goes for our standardized microphone demos, the new one will begin with the phrase, "This is a SoundGuys standardized microphone demonstration …"
Thank you for bearing with us, and we hope to see you again once we've sorted everything out.
How do the 1MORE Dual Driver ANC Pro sound?
The 1MORE Dual Driver ANC Pro have an almost perfectly neutral response that gives a nice representation of music in most cases.
I listened to these earbuds mainly via Bluetooth (since that's how I feel most people will use them) and sound quality was very good. The lows are nice and neutral just how I like it (meaning they don't overemphasize any of the bass notes). Even if you're a basshead, that accurate frequency response is good because it let's you play around with an EQ to add low end emphasis to your music.
Lows, mids, and highs
The bass throughout the song Cafe Amarillo – Jonathan Wilson Remix was strong enough to keep my head thumping without masking of the vocals, which aren't masked or overpowered by other nearby notes. The somewhat quiet guitar that plays in the background of the chorus during the song Omaha by Toro y Moi is clear and easy to distinguish, even with all the other instrumentation going on.
The earbuds reproduce accurate lows and mids, which is great for all genres of music.
The one thing that I wasn't a huge fan of with these earbuds was the highs which have a bit of emphasis to them which I feel might have been to make up for the lack of clarity in the highs. Hi-hats and cymbals consistently came in and out depending on what else was going on in the song. While they're audible they weren't super easy to pick out among a lot of instruments.
Is the 1MORE Dual Driver ANC Pro good for phone calls?
The 1MORE Pro ANC earbuds have a good microphone that picks up a lot of lower notes that other earbuds often struggle with.
The 1MORE Pro ANC has a really good mic too seeing as the microphones are on the neckband and much closer to your mouth then the earbuds are. I spoke on the phone constantly with these and even did a Zoom video conference with them and I didn't have any complaints with them at all. They do a good job at picking up some of the lower frequencies around 100Hz that other earbuds usually struggle with, however, that's not a great thing for everyone. Especially low-voiced folks will find that the microphone can suffer from what's called the proximity effect, making a strange sort of bassy sound overpowering some of your speech when you talk.
1MORE Dual Driver ANC Pro microphone demo:
How do these sound to you?
603 votes
Should you buy the 1MORE Dual Driver ANC Pro earbuds?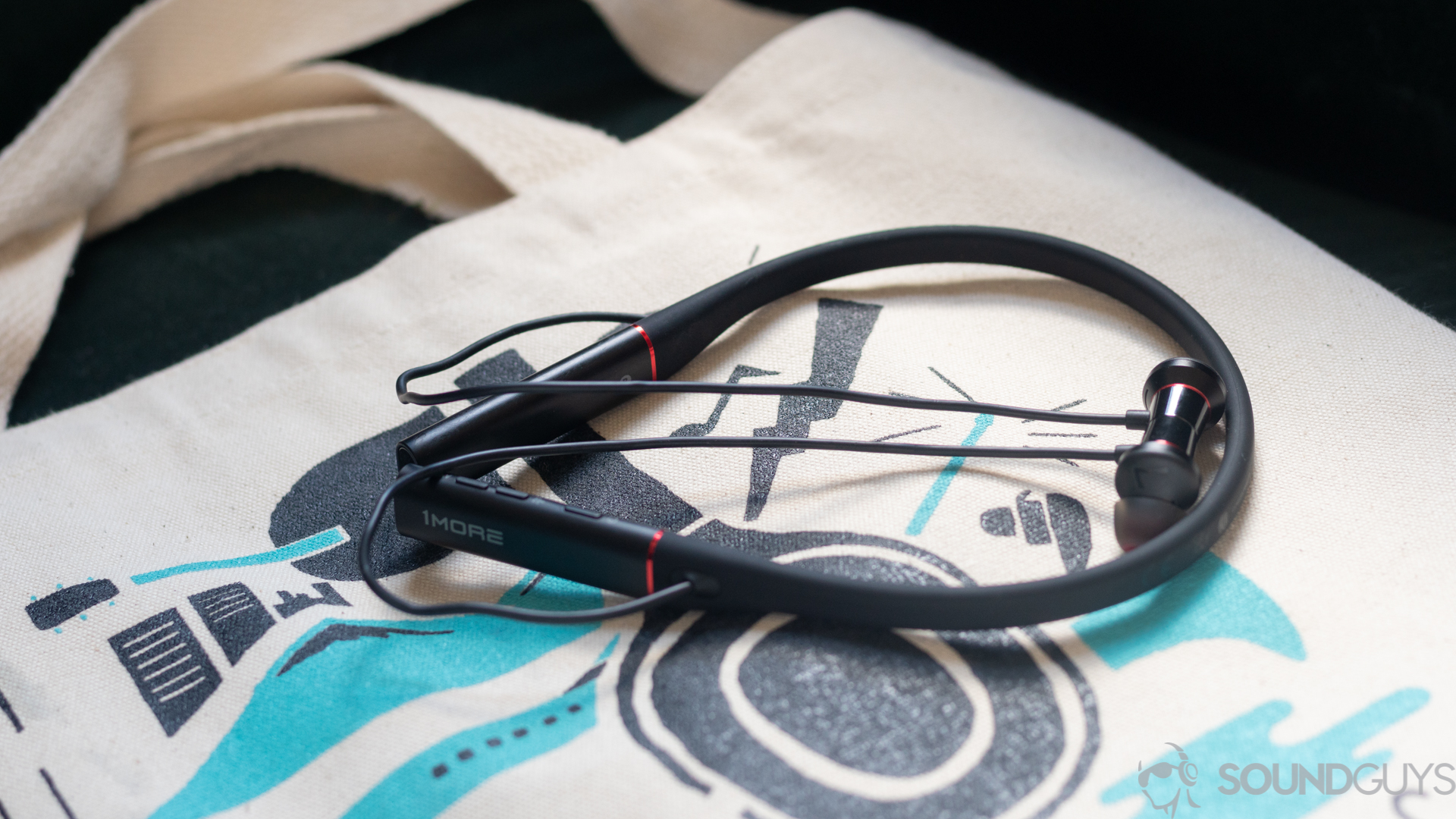 The 1MORE Dual Driver ANC Pro earbuds are easy to take with you anywhere, and if you don't want to wear them they come with a nifty carrying case too.
If you're in the market for an affordable pair of active noise canceling earbuds, these should definitely be on your shortlist. They're comfortable, have decent battery life, sound great, and have some solid active noise canceling for when you're in a noisy environment. If you're not a fan of true wireless earbuds but want something a little more portable than some of the more popular over-ear headphones I think the 1MORE Dual Driver ANC Pro earbuds are for you.
Frequently asked questions about the 1MORE Dual Driver ANC Pro