All products featured are independently chosen by us. However, SoundGuys may receive a commission on orders placed through its retail links. See our ethics statement.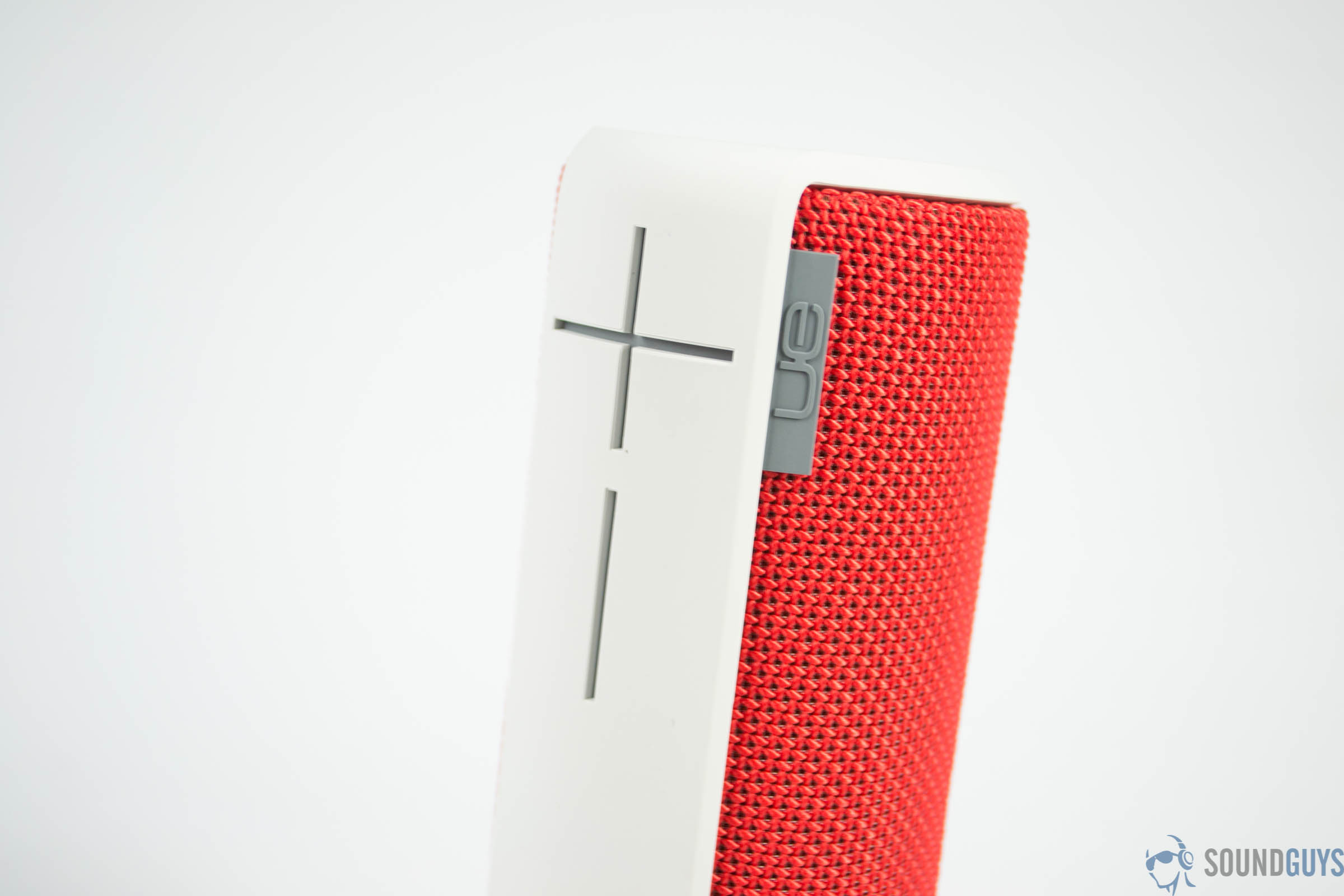 The bottom line
The features are good and so is the battery life, but the sound is below average.
UE Boom
The features are good and so is the battery life, but the sound is below average.
What we like
360 degree sound
Decent battery life
Water and stain-resistant coating
What we don't like
Sound quality isn't great
Charges via micro-USB
No playback controls
Rating Metric
Sound Quality
6.0
Bass
5.5
Midrange
6.0
Highs
5.8
Durability / Build Quality
8.0
Value
6.0
Design
8.0
Microphone
8.5
Portability
8.5
The UE Boom was one of the first Bluetooth speakers to go mainstream, helped by the fact that it was one of the first to have water-resistance. Though it has been quite a few years since the initial release and there are newer versions of the UE Boom speaker, let's take a look back at the original and see how it holds up. Is it worth your cash today?
Editor's note: This post was updated on July 20th, 2020 to include links to helpful information and to update formatting of the review.
Who's it for?
People who want a portable speaker. While there are now more portable options, the original UE Boom is still not a bad size and can easily fit in a bag.
Anyone that listens to music outdoors. Whether you forget it out on the rain or accidentally spill a drink on it, the water and spill resistance of the UE Boom means you won't have to worry about it getting destroyed. Hopefully, since there is no official IP rating.
What's in the box?
The UE Boom and all of its accessories come in a cylindrical box.
In a fun twist, the box is cylindrical, just like the speaker. Open it up and you'll find everything tucked inside a piece of plastic that is either a lightweight carrying case or overly-sturdy packaging. Inside you'll find the speaker, USB wall charger, a micro-USB cable, and the manual.
How's the build quality of the UE Boom?
This isn't the first cylindrical speaker we've looked at. The JBL Flip 2 which came out more or less at the same time of the UE Boom also has a cylindrical shape and it made a pretty good impression when we initially reviewed it. While the speakers are obviously quite similar in shape and size, the UE Boom is definitely the flashier looking of the two. Part of this is the sheer amount of colors it comes in: Red, White, Aqua, Blue Steel, Citrus and Night Blue represent only roughly half of the options available. If you have a favorite color, chances are there's a UE Boom to match.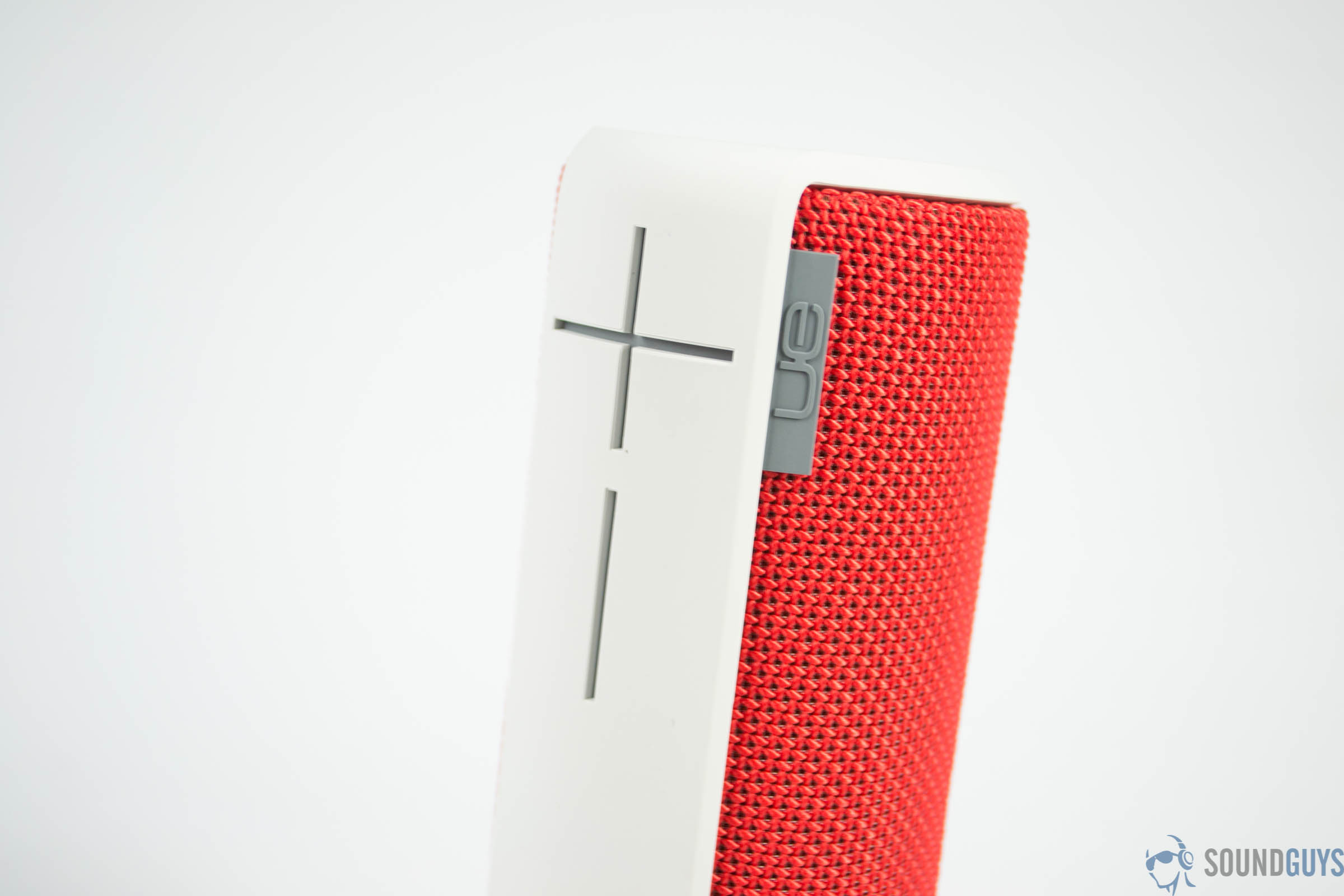 The UE Boom is wrapped in a soft plastic and fabric covering.
The UE Boom is on the upper side of portable, measuring just over 17cm tall and weighing in at 538 grams. It's basically the size of a large water bottle, and if you've ever tried to fit one of those in your pocket, you'll know that isn't an easy option here. Still, it should fit in a backpack easily enough and bringing it with you on your next excursion outside shouldn't be too much of a hassle.
Logitech claims that the skin is coated, giving it water and stain resistance, though as far as we can tell, it hasn't received any sort of certification. The speaker itself has giant plus and minus signs on the front and there's also two buttons up top for power and Bluetooth pairing.
How to connect to the UE Boom?
Pairing to the UE Boom is simple as it thankfully has NFC capabilities. While it isn't as easy as the pairing process with Apple products and their built-in H1 chips, NFC is definitely the next best thing. If your device doesn't support NFC then all you have to do is hold down the Bluetooth pairing button in order to enter pairing mode. Then you just find the speaker in your Bluetooth settings as you normally would. One other nice thing is that the original UE Boom has a 3.5mm input so you can hardwire in non-Bluetooth devices which isn't a thing you can do on the newer UE Boom 3.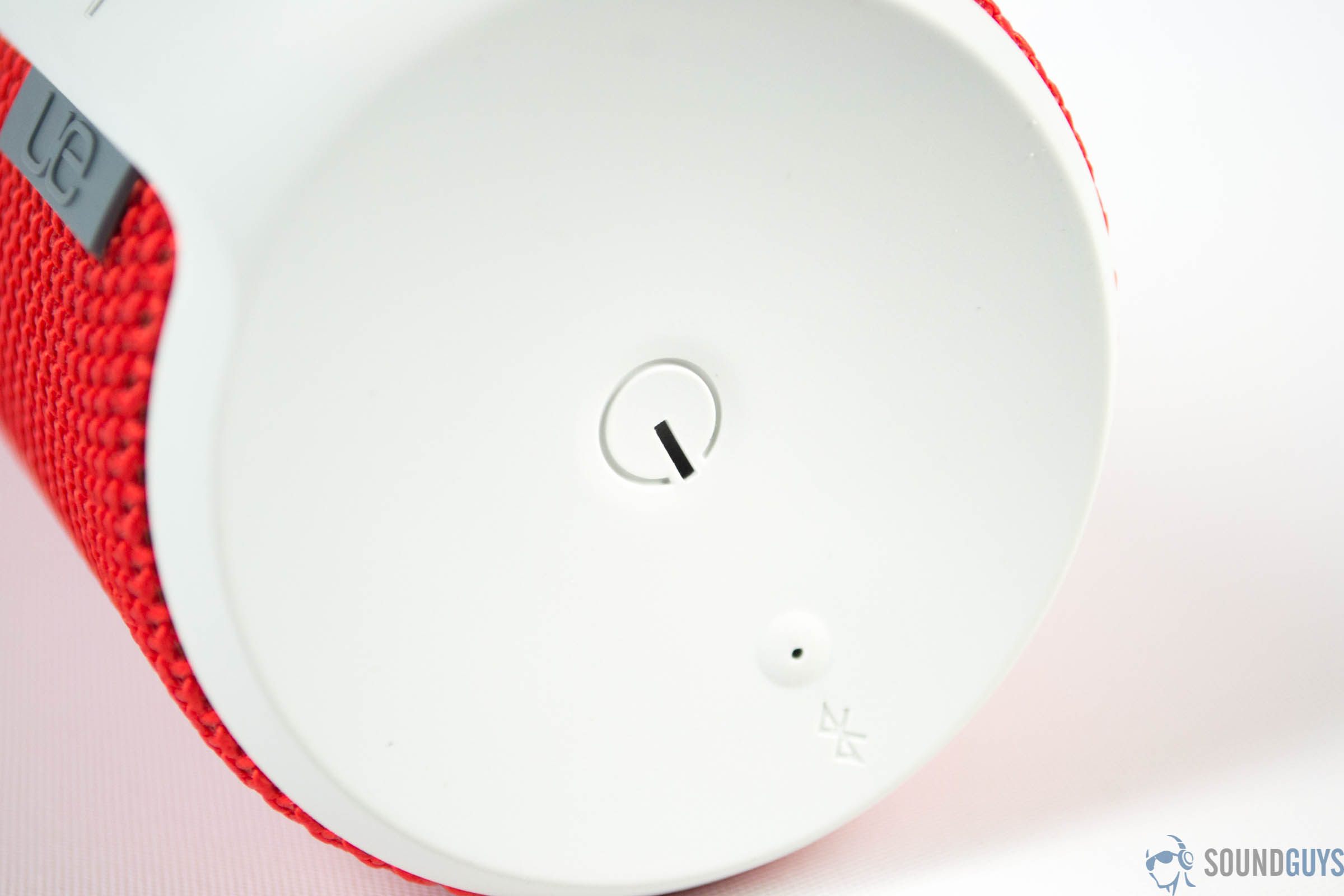 Up top are two buttons: a power button and a smaller Bluetooth pairing button.
As far as range goes during testing, we got around 40 feet away from the speaker with no issues at all, but anywhere beyond that the music began to stutter. In a nice touch, Logitech allows you to pair two separate UE Boom's for stereo sound using the UE Boom app. The app also allows you to change the EQ using either presets or a five-band equalizer.
Looking at the buttons, you get a total of four: the power and Bluetooth buttons are on top, while you'll find the + and – buttons on the side. These only control volume, and can't be used to skip tracks as no playback controls are present.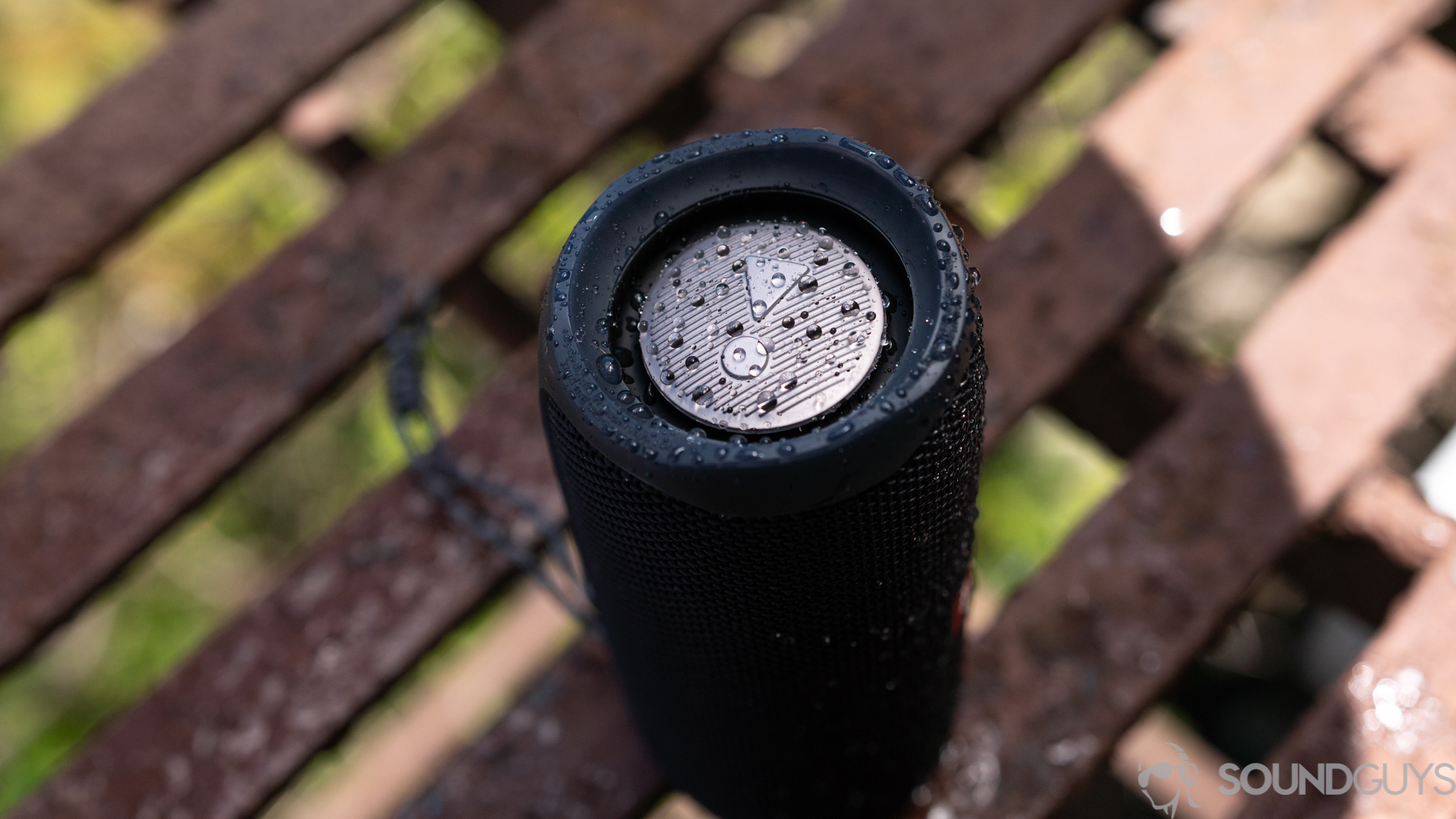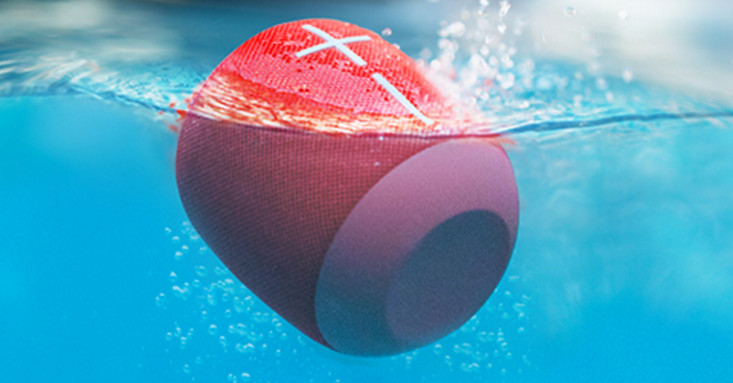 How's the battery life on the UE Boom?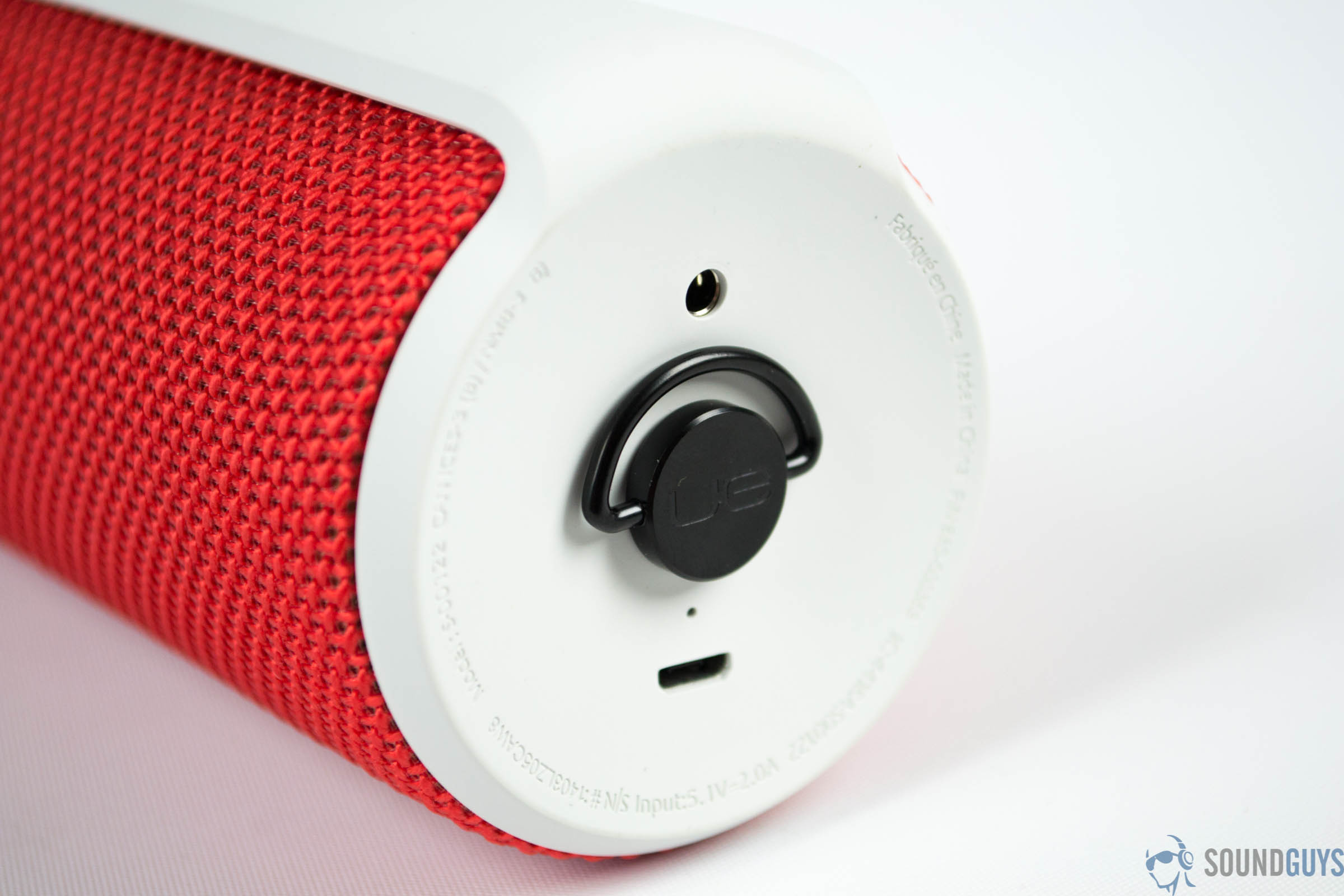 The Ue Boom speaker has a 3.5mm input on the bottom as well as a micro-USB for charging and a small hook.
Logitech claims up to 15 hours of constant playback for the UE Boom, which is impressive. In our testing, we consistently got closer to 11, which is pretty far off from the claim, but still good nonetheless especially if you just want this to last you a day at the beach. Battery life can be checked either by using the UE Boom app or by holding the + and – buttons down. Charge time was roughly 2.5 hours using the included charger.
How does the UE Boom sound?
While wired headphones are usually tested with the best signal possible, when it comes to wireless devices we do the majority of testing in the manner the speaker will be used most of the time. In this case it means Bluetooth, though we did try the 3.5 mm jack during testing as well.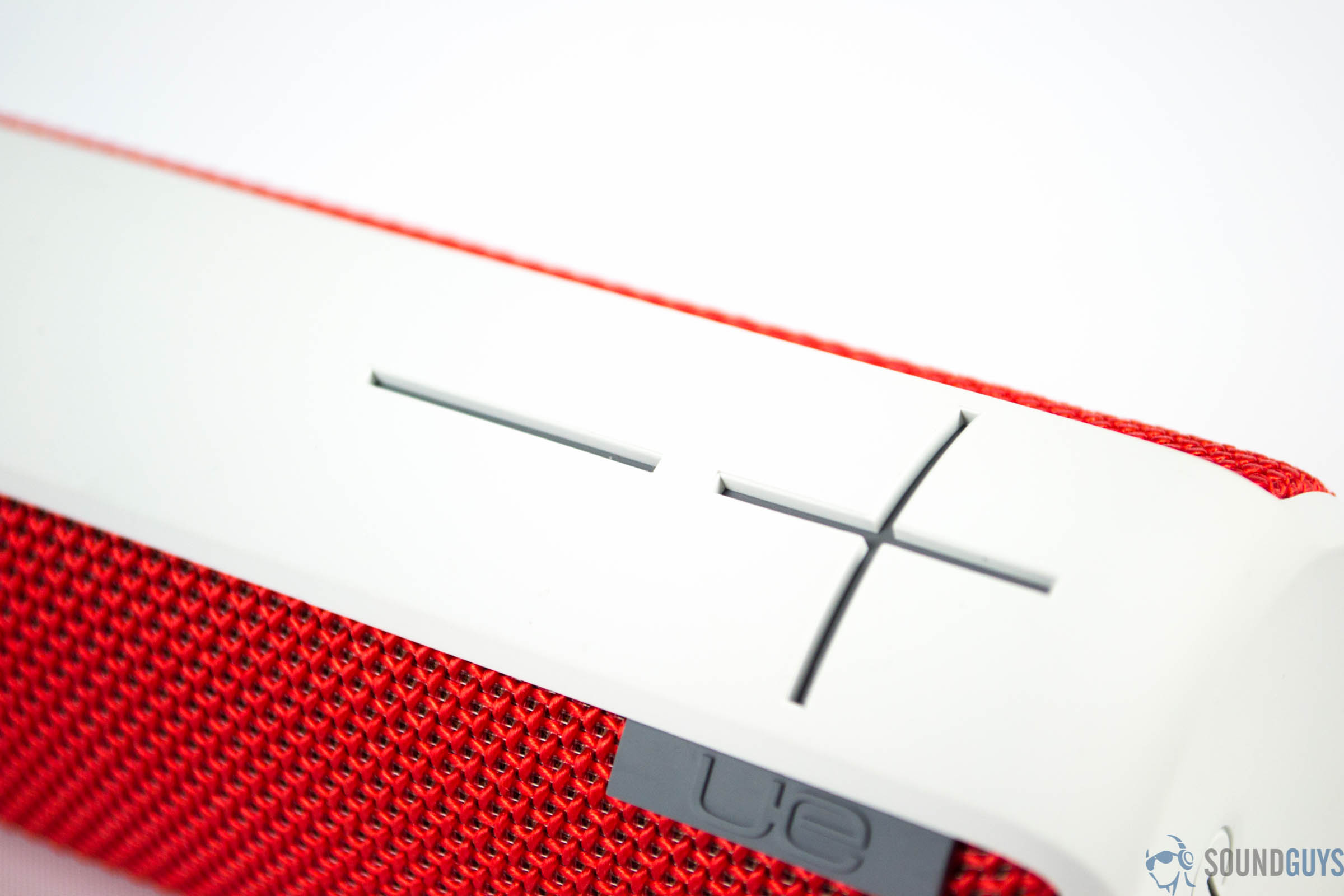 The UE Boom only has volume controls, but it does get pretty loud thankfully.
Logitech is honest, stating the UE Boom's frequency range as 90 Hz to 20 kHz instead of claiming more range than is possible in this size. That honestly doesn't help when it comes to the lows though, which are simultaneously weak and lacking in clarity.
Lower mids tend to be underemphasized, making it difficult to hear guitars in some songs. Higher mids are a bit better, but not much and snare drums sound uniformly weak.
On most material, the highs come through as harsh, though they don't hide details. Cymbal bells cut through nicely as well there just isn't a strong enough dropoff in the high frequencies to stop these from becoming piercing at times.
One thing the UE Boom does well is telegraphed by it's name: it gets loud. This speaker pumps out much more volume than many speakers its size, though I found something about the sound to be fatiguing, even at lower volumes.
Should you buy the original UE Boom?
The Logitech UE Boom does a lot of things right. The battery life is decent, 360 sound is a plus, and it has got a ton of extra features. Unfortunately, the sound just doesn't hold up to many other speakers out there, especially for the price. If you're in the market for a speaker this size, there are plenty of other options now available and for the price, the original UE Boom does not stand up to the test of time.
What other options are there?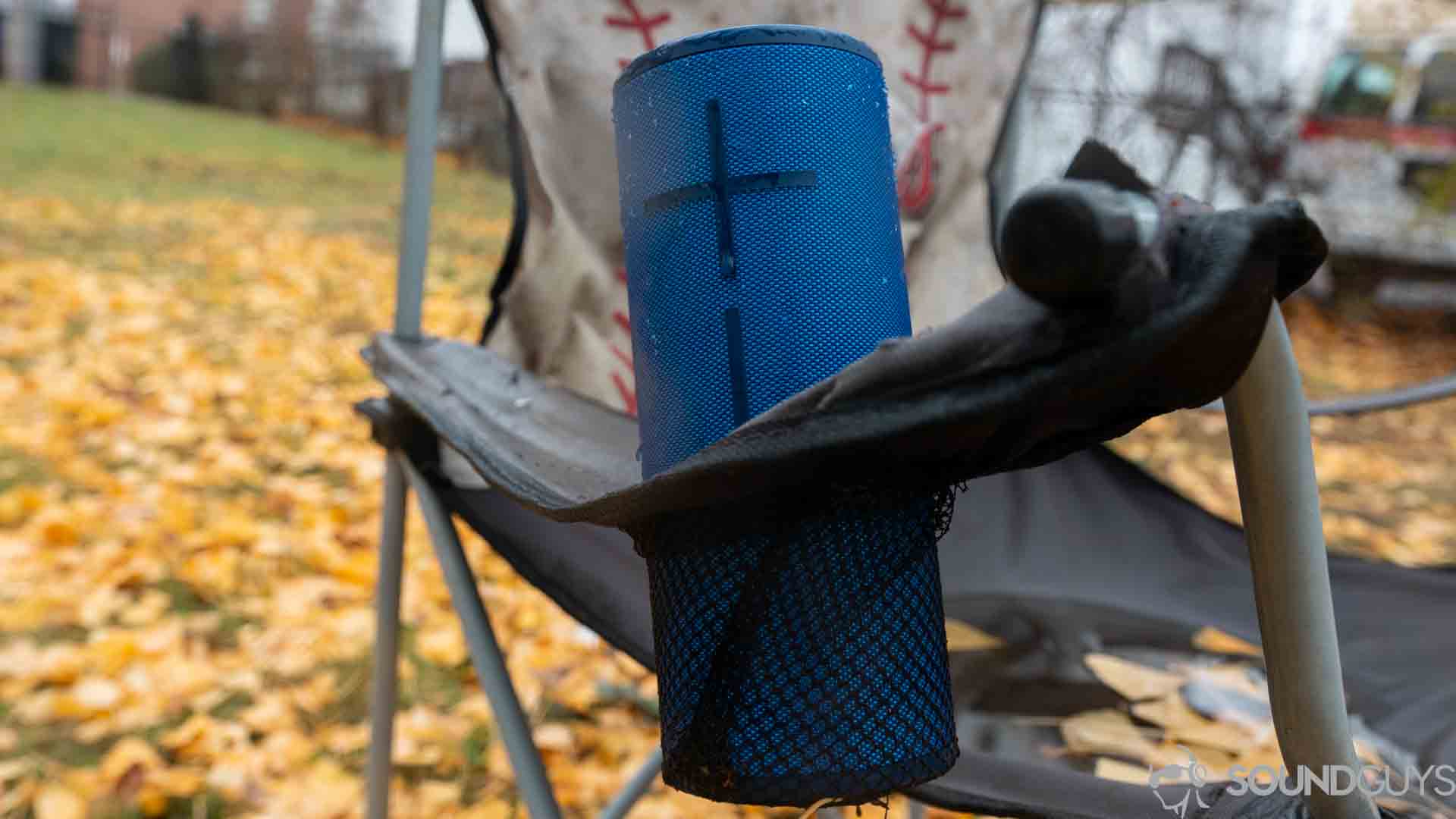 It's new shape is roughly the size of a water bottle, so you can take it wherever you go.
Since the release of the original UE Boom, there have been numerous other speakers. Many of them a far better choice than the UE Boom. If you're a fan of the original and are looking to upgrade or just want something similar, then just get the newest option, which is the UE Boom 3. This speaker is in the shape of a typical water bottle and can be stashed in all the same places such as cup holders and water bottle mounts on a bike. Plus, it's actually waterproof and sounds way better as well.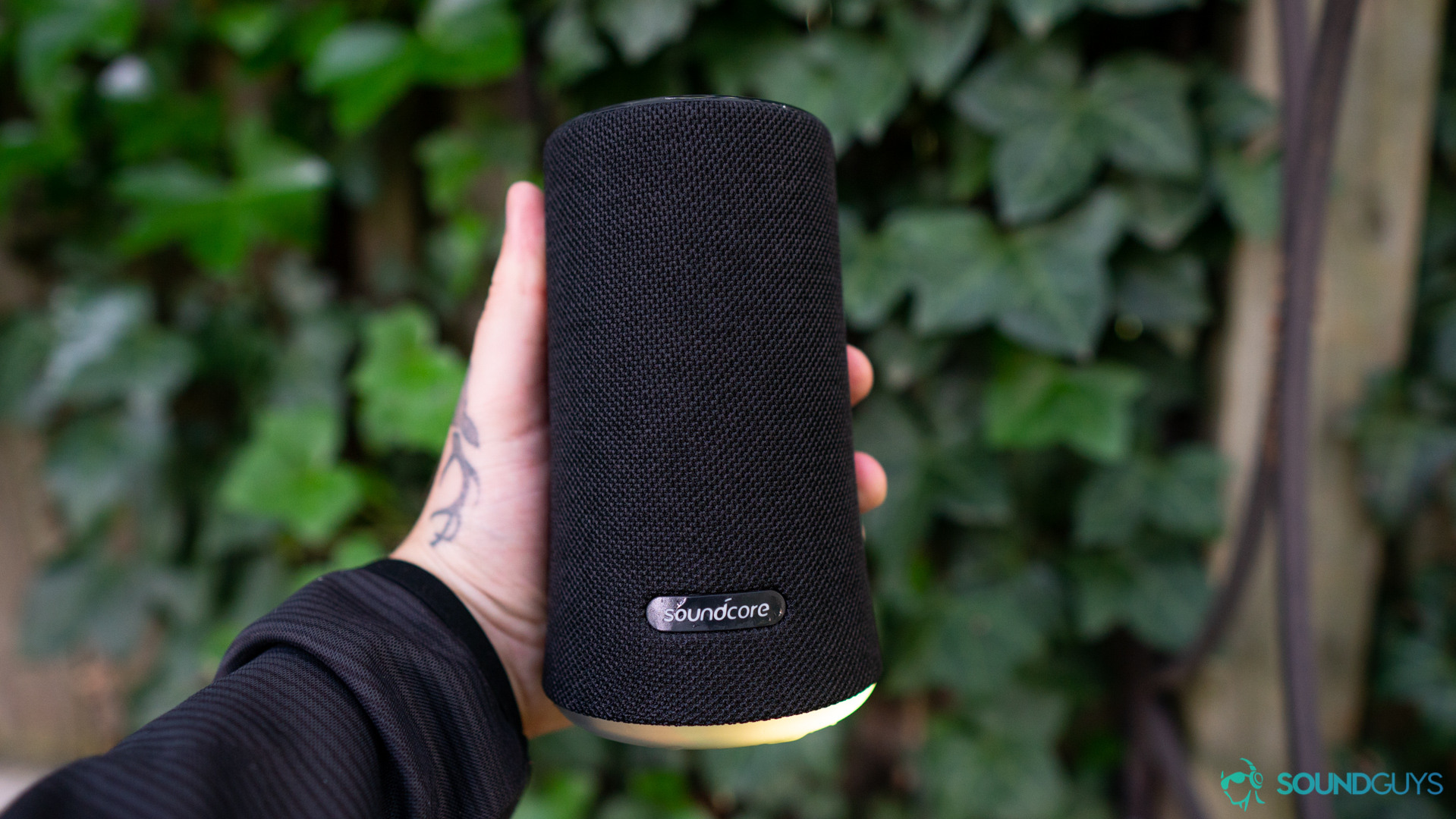 The Anker Soundcore Flare isn't too big and can be easily carried around.
For something a little less expensive but just as good, you should take a look at the JBL Flip 4 or even the Flip 5. Both are IPX7 waterproof so you won't have to worry about water damage and for the money, you're paying you get a really good sounding speaker that you can toss around without too much worry. For the wallet-conscious, one of the best bang for your buck options is the Anker Soundcore Flare which is one of our favorites seeing as it sounds good, is small and portable, has an IPX7 rating, and also has a colorful ring of LED lights that just make it fun to look at. If you want to stick with UE they also have the ultra-portable Wonderboom 2 or the giant party-pleaser Hyperboom which is a massive speaker built for your next get together.
While the UE Boom was definitely a trailblazer, it can't contend with some of the newer Bluetooth speakers out right now. Even Sony started making tough outdoor speakers and it's better than the original UE Boom in every way. Unless you find this somewhere for less than $50, I wouldn't recommend picking one up without first checking out some other options.
Still looking? Best Bluetooth speakers