All products featured are independently chosen by us. However, SoundGuys may receive a commission on orders placed through its retail links. See our ethics statement.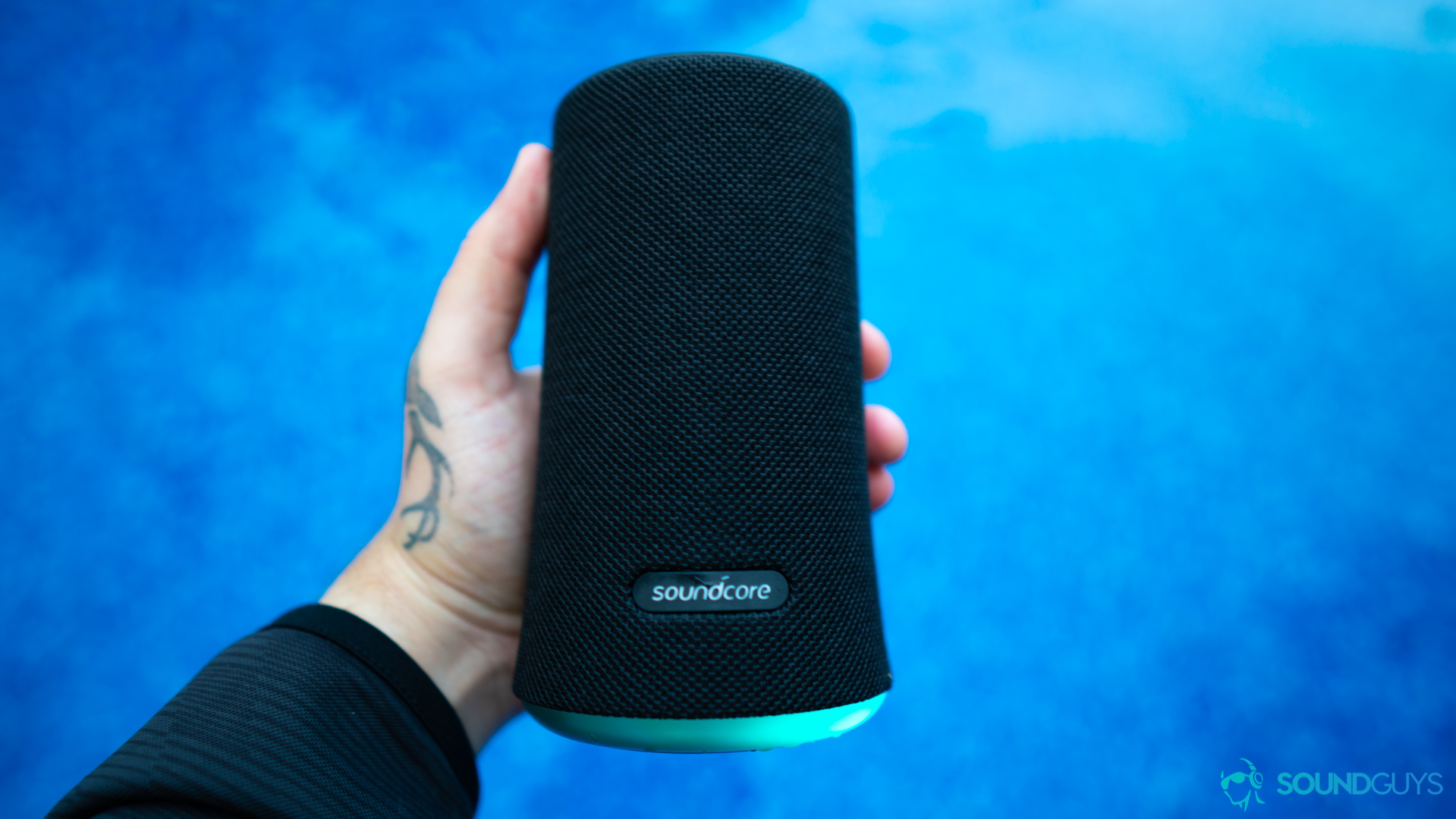 The bottom line
The Anker Soundcore Flare might be the speaker to beat this summer. It's waterproof, inexpensive, and has a much better design than any of the previous Soundcore speakers.
Soundcore Flare
The Anker Soundcore Flare might be the speaker to beat this summer. It's waterproof, inexpensive, and has a much better design than any of the previous Soundcore speakers.
What we like
Design
IPX7 waterproof
Lightweight and portable
Decent sound for the price
What we don't like
Corresponding app needs work
The highs can be harsh
Plastic flap on the back
Battery life isn't great
Rating Metric
Sound Quality
7.5
Bass
7.5
Midrange
8.0
Highs
7.0
Durability / Build Quality
8.0
Value
9.0
Design
9.0
Microphone
7.0
Portability
8.0
Battery Life
7.0
Anker isn't the company you think of if you want a new speaker to add to your home listening station, and that's fine. The company has carved out a niche for itself by making its products as inexpensive as possible, resulting in a few of the most reliable "cheap" audio products you can get. If you didn't want to spend the cash on a pair of Beats earbuds for the gym, Anker was there to give you 80 percent of the experience at a fraction of the cost. And the company stuck with that approach for one of their newest Bluetooth speakers dubbed the Soundcore Flare.
The original Soundcore was good, but it was made almost entirely of plastic and never quite managed the more premium feel that speakers like the JBL Flip or UE Boom had. That changes with the Soundcore Flare. This speaker brings better build quality to the lineup, but this results in a slightly more expensive Bluetooth speaker. At about $60 is this worth getting over something like the JBL Flip 6?
Editor's note: this Anker Soundcore Flare review was updated on June 11, 2022, to update formatting, add the Alternatives section, FAQ, and mention the newer, Anker Soundcore Flare 2.
Who is it for?
Anyone who's on the go. Like the Flip series and even the UE Boom speakers, this isn't a speaker for the living room. Its IPX7 waterproof build and portable size makes it perfect for anyone who wants to bring some music with them wherever they go. I wouldn't call this speaker rugged, but if you want something that you can throw in your bag and bring to the beach or the park, then this is perfect.
Students. Cheap, portable, and flashing colors. What more could you want?
People who can't have nice things. If you're the type of person to lose or break your nice things, then the Soundcore Flare might be perfect for you. It isn't super expensive, so if you break it, you won't be super bummed. Plus, it sounds as good as speakers significantly more expensive, so you get the best of both worlds.
Finally, a Soundcore speaker that looks good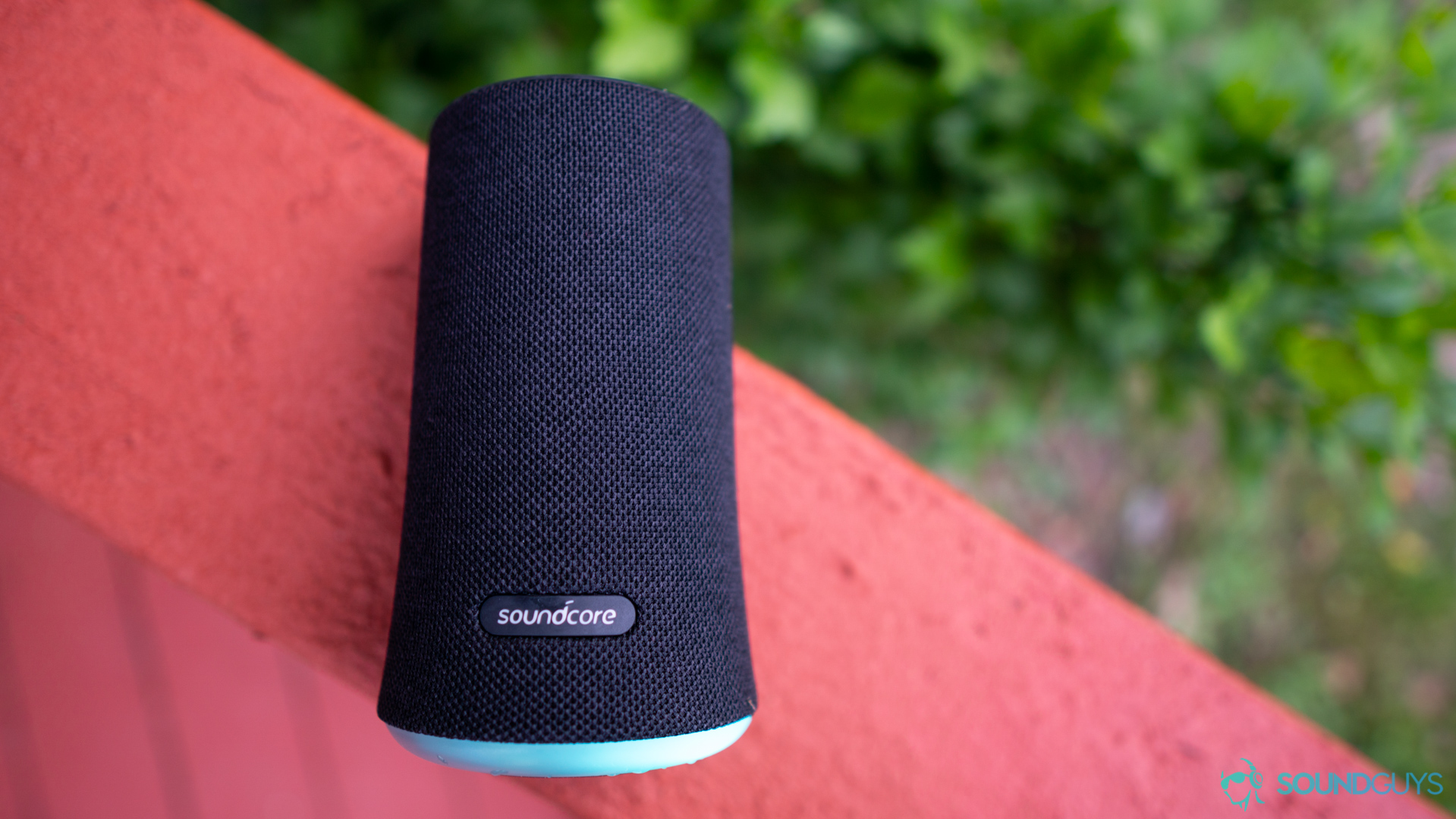 It has a curved, cylindrical shape that sets it apart from other Bluetooth speakers.
Previous Anker speakers were always decent enough, but I don't think anyone would've considered them to be good looking. But I can say without a doubt that the Soundcore Flare is one of the better looking Bluetooth speakers I've seen in a long time. I'm not entirely sure who designed it, but I definitely get some Swedish vibes. It's a slick cylinder that looks like something I might pass while searching for inspiration at IKEA. The speaker tapers off towards the top so it isn't as cylindrical as something like the JBL Flip 4, and the LED ring around the bottom adds just enough color to accent to gray fabric that wraps around the speaker. You can cycle through the colors by pressing the button up top, and if you cycle through, you can turn off the lights altogether which will save you some battery life in the long run.
A button up top lets you change the color of the lights.
The bottom of the speaker has a grippy, textured rubber that keeps it in place while the top is made of a smooth plastic. To me, the Soundcore Flare feels like what you'd get if you combined the JBL Flip 4 with the JBL Pulse, and then stripped it down the bare essentials. It just gets everything right when it comes to design. The only qualms I have make me feel like a spoiled brat for mentioning it given $59 price tag, but here goes. The controls up top are more-or-less flush with the speaker, and it doesn't help that they're made of the same color plastic. So if you're trying to adjust volume in the dark and aren't too familiar with identifying shapes just by touch, it might be annoying. On more than one occasion I had to pick up the speaker and look to make sure that I was pressing the right buttons.
Another small issue I had with it was the rubber flap on the back that protects the inputs. I'm all for being extra careful and making sure that the rubber tab is secure, but pulling it open was a hassle. As someone who doesn't have long nails, I was forced to reach for a knife or multi-tool every time I wanted to reveal the inputs. Granted, this probably isn't an issue for anyone with nails that are even slightly longer than mine but I still wish there was a more accessible way to pull that tab open. On a positive note at least you know that you won't have to worry about water or sand getting in there and ruining the speaker. If you want to learn more about IP ratings just read this explainer article.
How do you connect the Anker Soundcore Flare?
The Soundcore Flare is rocking Bluetooth 4.2 and while it may not easy pairing features like NFC, it isn't hard to connect to it. All you have to do is press the Bluetooth pairing button the back and search for it in the settings like you would any other device. Connection strength is also good, though it isn't going to blow you away. A range of about 30 feet is pretty standard at this point and while dropouts and stutters were rare, they did happen when at the max distance. Under the small flap that I previously mentioned you'll find the micro USB input as well as a 3.5mm input for hardwiring in devices like an Amazon Echo. There's also a lack of any high-quality streaming codecs, so don't expect to get FLAC quality out of this thing. More annoying is the lack of any kind of low-latency codec for watching videos, so if you do happen to pull up a YouTube video, there's going to be a pretty hard lag.
At 569g it's also light enough to bring out for a hike or camping.
As far as playback the controls up top work perfectly despite being hard to see in low light. There's play/pause button, volume up button, volume down button, a BassUP button, and also a toggle for changing the color of the LED halo without the app. You can also switch between songs by double or triple clicking the play button. And then there's the app. From what I've seen and read it's actually quite useful and lets you do a number of cool things like control the color of the lights, pair a second speaker for stereo sound and even gives you some basic EQ settings. Unfortunately, I was never able to get past the first screen which prompted me to update the firmware and then froze on the installation screen at zero percent. I'm not sure if this was just a fluke on my end but even uninstalling and reinstalling the app did nothing to help the situation.
How long does the Anker Soundcore Flare battery last?
On the bottom is an LED light that changes colors and bumps to the beat.
Anker claims a battery life of 12 hours, but with on 100 percent, volume and the LED lights putting on a show the entire time it only lasted 5.5 hours in our testing. You can always turn off the LED lights to save some battery but that's half the fun. It charges via micro-USB and you can play music while it's plugged in. However, doing so will obviously take a little longer to charge completely that way.
Does the Anker Soundcore Flare sound good?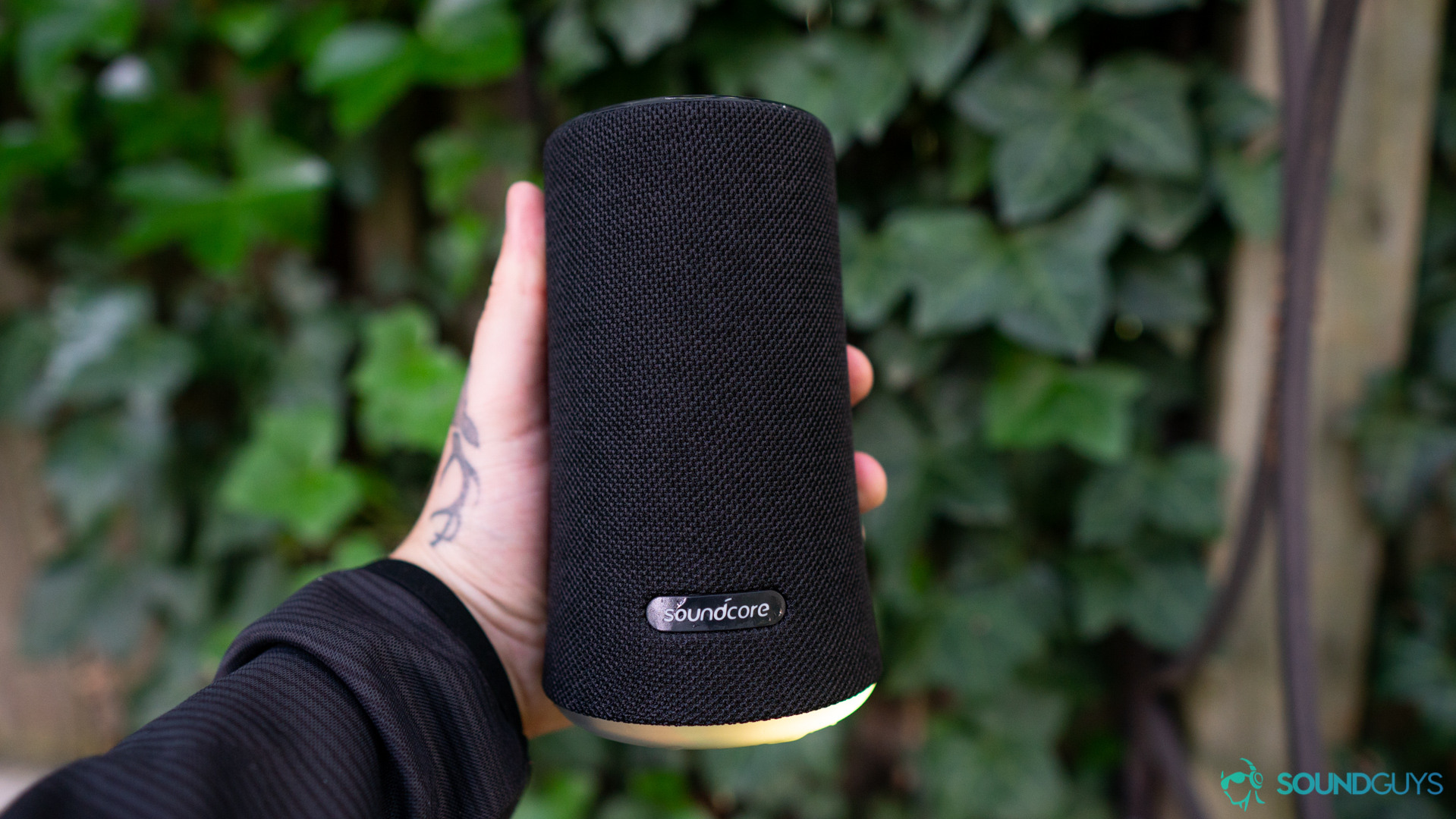 The Anker Soundcore Flare isn't too big and can be easily carried around.
While Anker products usually won't go toe-to-toe with some of the bigger names in the industry, they're consistently good for the price and the Soundcore Flare is no different. It's not great, but it's impressive for the price. My only real issue with it was in the highs. On max volume there's a hefty amount of distortion and instruments can be piercing at times.
To be fair, this isn't an issue on regular volume but it's still worth mentioning because if you're outdoors chances are you're going to want the speaker on a fairly high volume. But the sound quality critiques stop there. Vocals in the mids have a good emphasis on them and stand out from the background without overlaying them. A good example of this is the song The Mother We Share by CHVRCHES, where Lauren's vocals cut through the synth-heavy track loud and clear.
Despite the small size, this speaker also did a surprisingly good job with the lower notes as well. The bassline throughout the song Motiv8 by J.Cole keeps the rhythm of the song going even when the bass kicks come in. Those bass kicks also don't cut into the vocals at any point, though that isn't the case if you hit the BassUp button. It doesn't completely ruin the sound, but I think Soundcore Flare gives the low end the perfect amount of emphasis by default. Turning on the extra bass is just overkill, but I suppose bass-lovers will love it.
Hold up! Something's missing:
This section is typically where we display a frequency response chart to show you exactly where the audio output shines and where its deficiencies lie. We're still ironing out our standardized speaker tests with the appropriate support equipment to update our testing and data collection. It will take a bit to get everything fleshed out, but we will update this review (and many others!) once we're able with improved sound quality measurements and performance plots. These will be made obvious by a new chart aesthetic.
Thank you for bearing with us, and we hope to see you again once we've sorted everything out.
Should you get the Soundcore Flare?
I'd say this is an easy yes. If you were in the market for a speaker in the sub-$100 range I have no problem recommending this over basically any other speaker. The only other speaker that might be a better option is the UE Wonderboom because it floats, which could be extremely handy if you're going to be near the ocean. Besides that niche use case, the Soundcore Flare is a far better value than most of its competitors. It's durable, it looks good, has a fun LED halo around the bottom, and in typical Anker fashion doesn't skimp out on sound either. I love me a great sounding speaker that costs hundreds of dollars and has pristine audio but bang for your buck Bluetooth speakers like the Soundcore Flare will always have a place in my heart. And my backpack.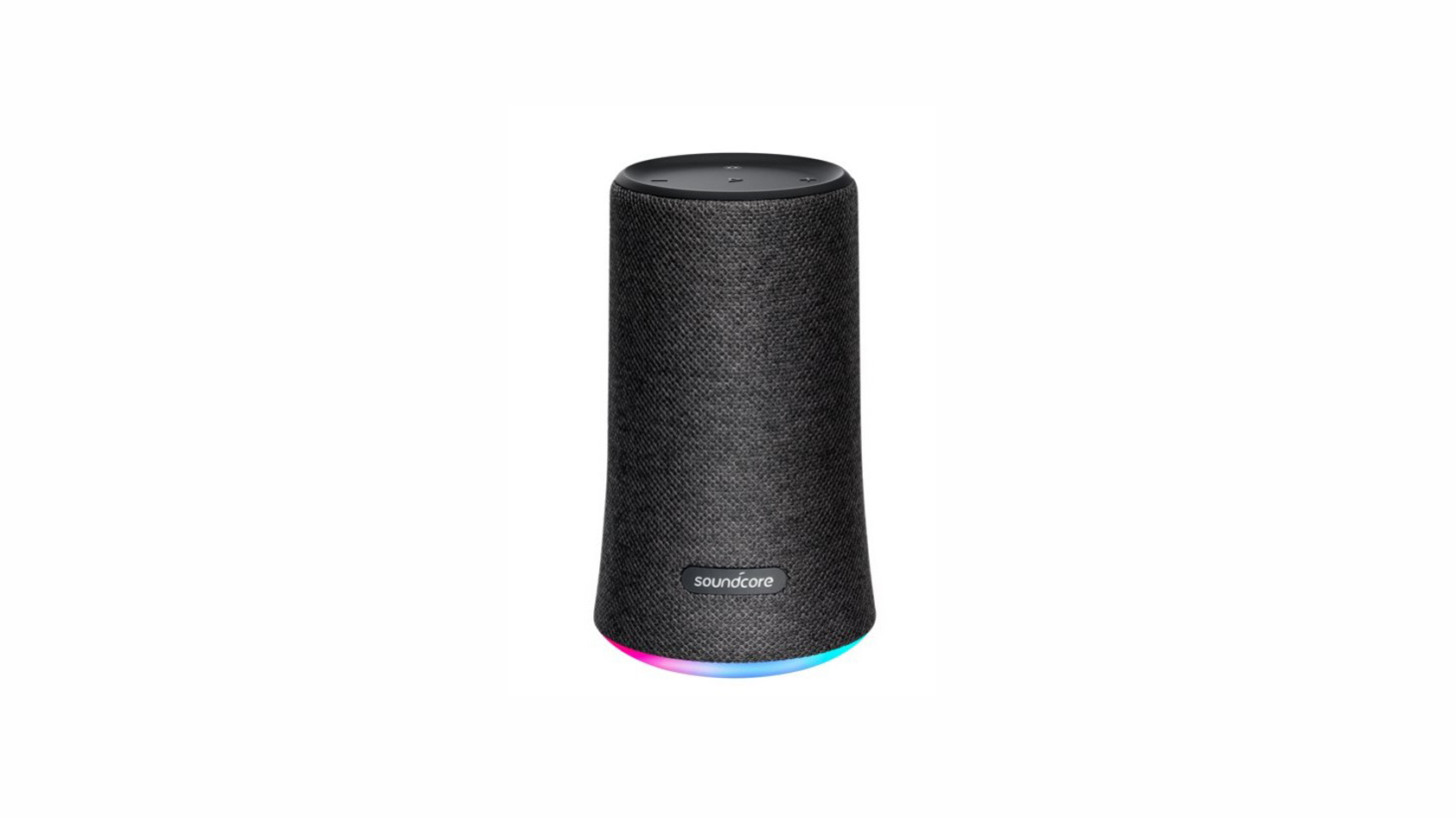 Anker Soundcore Flare
All prices listed in USD unless otherwise specified. Prices may change over time, and vary by region. Unfortunately, we cannot list Amazon prices on the site, as they vary greatly by currency.
What should you get instead of the Anker Soundcore Flare?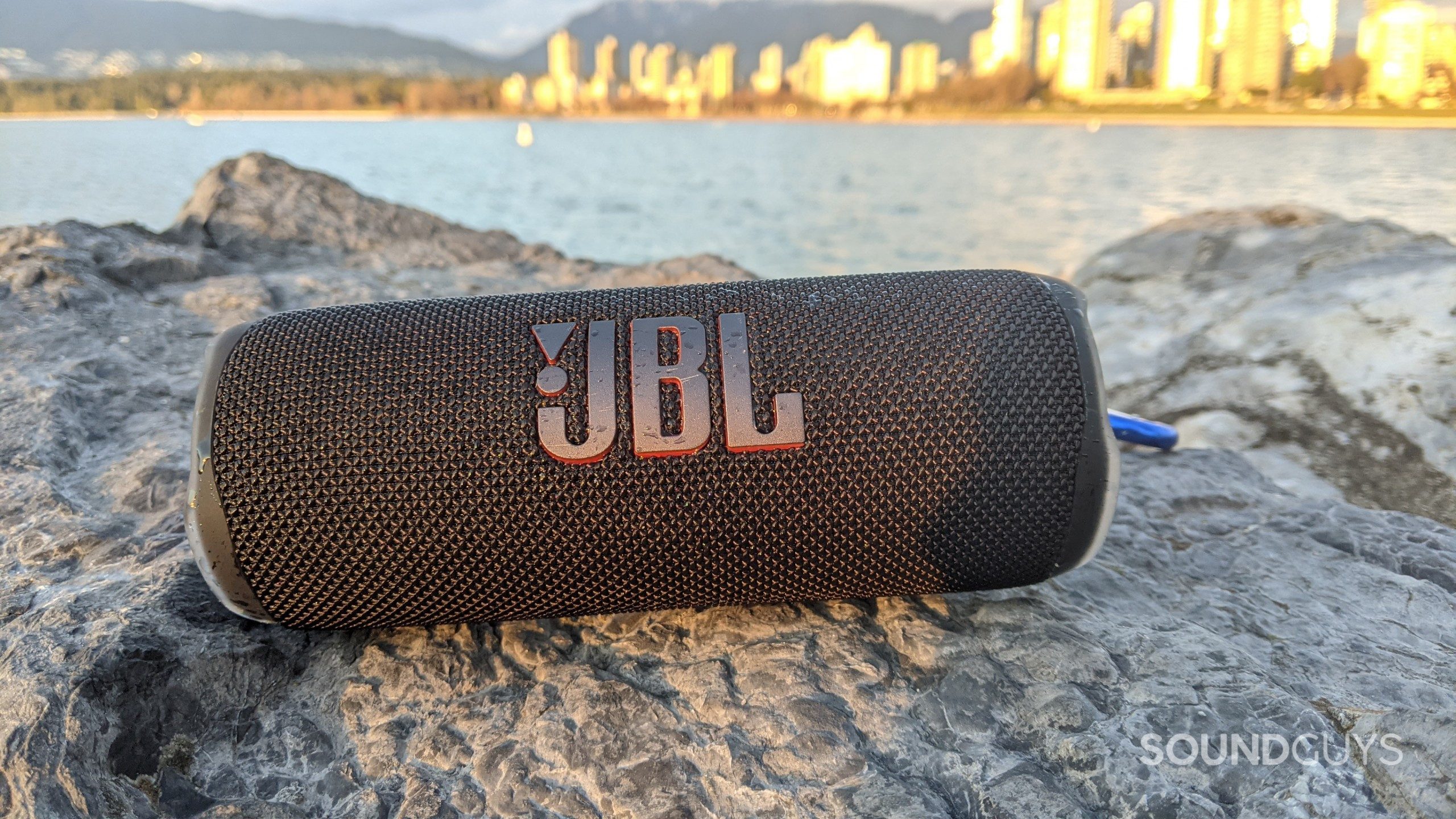 The JBL Flip 6 is loud enough for hikes, parties, and gatherings both indoors and out.
For a bit more money, you can grab the JBL Flip 5 or JBL Flip 6. Both are quite similar, but boast good sound, outdoor friendly form factor, and IP ratings. If you have other JBL speakers they may connect via the Partyboost feature as well to create a stereo or surround sound situation.
Of course, you can always check out the newer version, the Anker Soundcore Flare 2. It has most of the same features as the original, but with updated USB-C connectivity.
Frequently asked questions about the Anker Soundcore Flare
Unfortunately, in our review the test unit did not play nice with the iPhone used for the review. That's not necessarily representative of everybody's experience, so you'll basically equalize the Soundcore Flare as you would any other speaker using its app. Based on the initial review's impressions of the speaker, you'll want to turn down the bass a bit and turn up the treble frequencies.
---