All products featured are independently chosen by us. However, SoundGuys may receive a commission on orders placed through its retail links. See our ethics statement.
JBL Flip 2 Review
The JBL Flip 2 looks a lot like the original Flip. Does this speaker improve on the original, or should you stick to the original?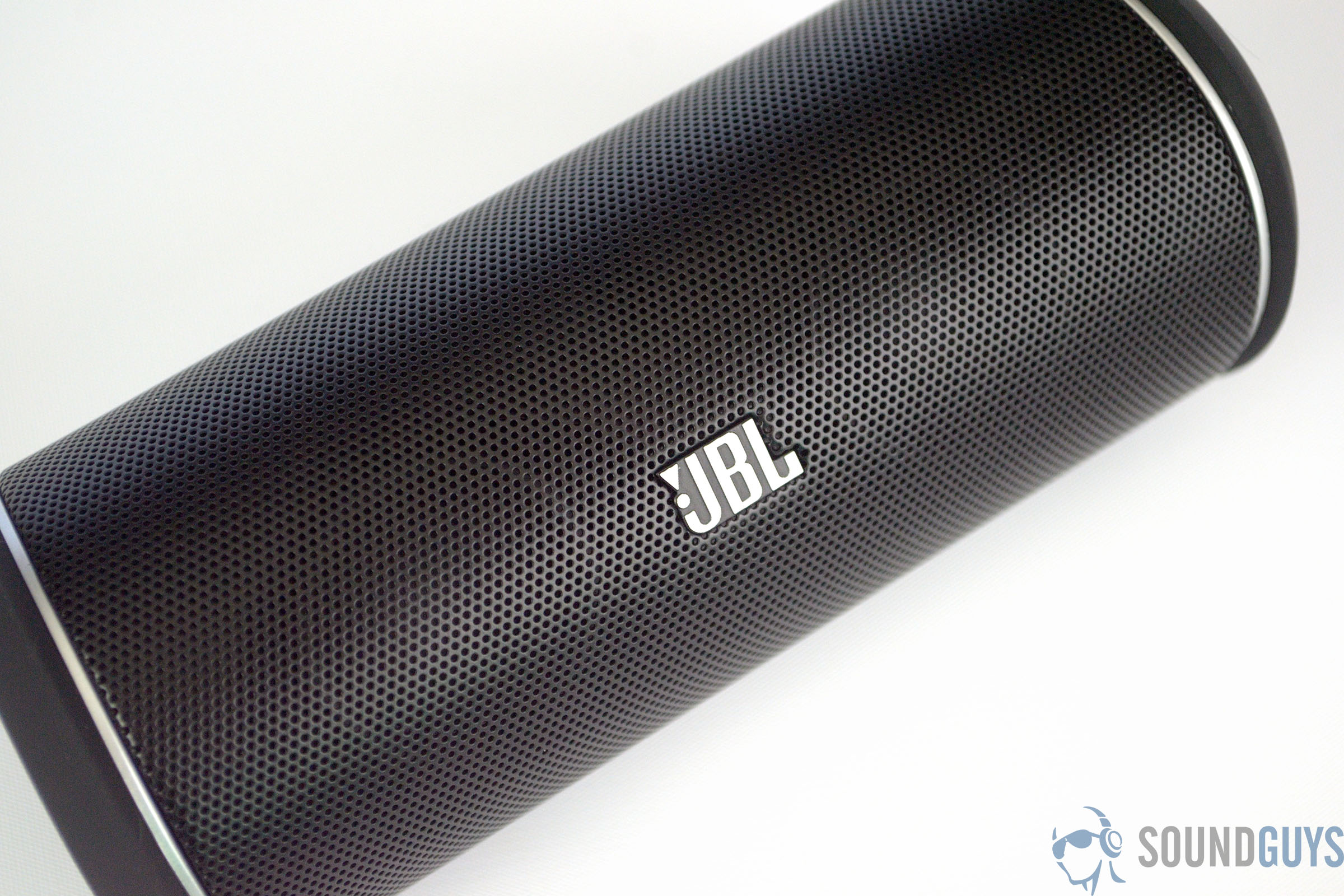 When it was released back in 2012, the JBL Flip took people by surprise. It wasn't the first compact Bluetooth speaker, but it was one of the first that actually sounded good enough to not be regarded as a simple novelty. Sure, its interesting shape might have given it some help too.
Now JBL has released a sequel, so to speak. The JBL Flip 2 looks very similar to its predecessor, but promises to be a new and improved take on the Flip. So, how does the new kid on the block hold up?
What's In The Box?
Opening up the box, you'll immediately be greeted by two plastic-wrapped cylinders. One cylinder is the JBL Flip 2 itself, while the other is the included carrying case. If you're wondering where everything else is, open up the case. Inside you'll find the quick start guide as well as a USB power adapter with a removable cable. All in all, it's a sparse but nicely put together package.
Build & Design
While the model we're looking at in this review is black, the JBL Flip is available in a wide variety of colors. White, blue, yellow and red are listed on the JBL website. That isn't quite as many colors as the original Flip, but it's still a nice range. For those of you who like your colors coordinated, don't worry, the carrying case is the same color as the speaker.
Unlike a lot of compact Bluetooth speakers, the JBL Flip 2 isn't just small, it's actually easy to carry around. The cylindrical shape and resulting lack of edges helps this immensely, in addition to its weight of less than one pound. Basically, you can carry this around in your pocket, as long as your pants aren't too tight. Whether or not you want to, on the other hand, is up to you.
One of the most interesting things about how the Flip 2 is built is how it can be oriented either horizontally or vertically. The way its designed causes the speakers to tilt upward slightly, no matter which orientation you prefer. The footprint is fairly small when placed either way, though the vertical placement is obviously the smaller of the two.
Connectivity
Bluetooth connectivity is a breeze with the JBL Flip 2. When you turn the speaker on for the first time, it automatically begins broadcasting its presence, so all you have to do is select it and pair from the device of your choice. Sound too difficult? Providing you have an NFC-capable device, you can just use NFC tap-to-pair. If you'd like the Flip 2 to broadcast again, simple tap the Bluetooth icon on the speaker. An auxiliary jack on the back of the speaker allows you to use devices that don't support Bluetooth, though you'll need to provide your own cable.
The JBL Flip 2 features dedicated volume buttons, though it lacks buttons to control playback. Luckily, it does feature a call answer / end button for speakerphone functionality. Bluetooth range easily surpasses 30 feet. I made it as far as 40 feet before I began to hear stutters and dropouts. As long as you remain within this range, you should be fine.
The quality of both outgoing and incoming voice are good when using the JBL Flip 2. This speaker uses SoundClear echo and noise cancellation, which did seem to lead to overall good call quality in our testing.
Battery
Everything has a downside (most of the time, anyway) and in the case of the JBL Flip 2, its battery life. At just over 5 hours, it just doesn't hold up to many of the other speakers we've tested. Playing at higher volumes pushed this down to under 5 hours at times, though this was after pushing the speaker fairly hard.
One upside here is that the speaker can be charged via USB. The AC adapter that ships with the unit is just a USB wall plug and cable, so you can also plug the Flip 2 into your computer while at work to keep your charge up throughout the day.
Sound Quality
After a quick look at the JBL Flip 2, you might not be expecting it to sound very good. Nobody would blame you. I had never heard the original Flip, and though I had heard good things about it, I still wasn't expecting much when I first opened up the Flip 2. It turns out I was pleasantly surprised.
The JBL Flip 2 isn't going to rattle your windows with its bass, but there is a respectable amount of low end here, especially given the size. I threw a few bass heavy artists at it and was impressed with how well it held up. Lows were not only present, but well defined and punchy as well.
The midrange is very clear, with a solid "woody" sound to it. There is no boxiness or the trademark tinny sound of so many speakers of this size. Vocals were loud and present, but the midrange was not overly emphasized.
The sound quality stays high as we move into the high end. Plenty of high end detail was audible on every song I played through the JBL Flip 2, and I was surprised that the highs never became harsh or overly bright.
There is some very slight stereo separation here, but it's only noticeable when you're close to the speaker, as it effectively sums to mono once you're more than a few feet away. At this size, this was to be expected. What wasn't expected is how loud the Flip 2 can get. As you push to the highest volumes, it begins to sound more harsh, but you can push it to probably 70–80% without adversely affecting the sound.
Conclusion
At a price of just $99, it's easy to recommend the JBL Flip 2 to anyone looking for a compact Bluetooth speaker. I had heard good things about this speaker and the original Flip, and I was still surprised at how good this speaker sounds, especially given its small size. The only downside is the relatively short battery life, but if you can manage with around 5 hours, this speaker provides fantastic value.