Buy at Amazon
The JBL Flip series has consistently received great reviews and the Flip 2 even made our list for the Best Bluetooth speakers under $100, but now it's time for a refreshment. The company recently announced the JBL Flip 3 with a similar shape but unfamiliar build materials and design. The new Flip 3 is also $100 so is there a new king in town or should JBL never have tried to fix what wasn't broken?
Related: JBL Flip 2 Review/ Best Bluetooth speakers under $50
What's in the box?
JBL has a fairly standard boxing process and that hasn't changed between the Flip 3 and the previous version, or any other JBL product for that matter. In the orange and white box you'll get the Flip 3, a bright orange micro USB cable, and the warranty and information booklets.
Build & Design
JBL really outdid themselves with both the build and the design of the new Flip 3. The Flip 2 was basically a big hunk of plastic that sounded good and even though the new Flip 3 keeps the same cylindrical design the similarities stop there.
Instead of being wrapped in plastic JBL decided to wrap the Flip 3 in a splashproof fabric material that not only looks better but also gives it a better grip. Needless to say it's way easier to hold which is a good thing if you're going to be taking this anywhere near water now that it can survive a splash or two. What would've made it slip out of your hand in the previous generation is now a non-issue. To drill home the point that the Flip 3 is more portable than ever before, it also has a string attached so you can hang it in your bathroom or from your backpack on a hike. I've done both and it worked perfectly.
The button placement has also changed. Where the Flip 2 had all of its buttons on top (or the side depending on how you orient it), the Flip 3 has them embedded into the fabric of the speaker and also on the hard plastic portion on the back. The Bluetooth pairing button, volume controls, and call answer/end button are all found along the side of the speaker blending into the fabric. Along the spine is the power button and the new JBL connect button which allows you to connect multiple JBL speakers together. Under that are 5 small LED lights that let you know how much juice you have left and further down you'll find the AUX input and micro usb charging port hidden under a sealed flap.
So what did JBL do to the ends? They made them into dual passive external radiators of course? It definitely adds to the clarity in the low end and, if nothing else, they're really fun to look at it. We're checking out the Flip 3 in black but it's also available in 7 other colors.
Connectivity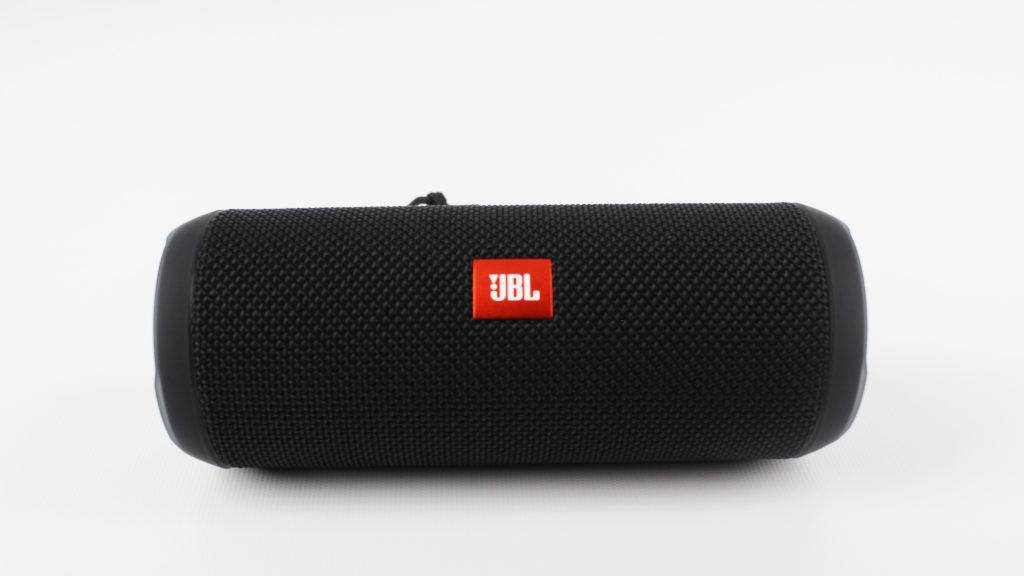 Using Bluetooth version 4.1, the JBL has a range of about 30 feet and in all honesty we found this to be on the lower end of the spectrum. I was able to get to about 50 feet before any serious sputtering began to interrupt playback. The on-board controls work flawlessly and people couldn't even tell that I was talking to them via the microphone built into the speaker instead of a phone. One thing that's still missing are the complete playback controls like pause and play functionality along with skip and repeating tracks, but I guess beggars can't be choosers. Still, what JBL does offer in terms of on-board controls works great.
Battery Life
JBL must've heard some of out complaints with the Flip 2 because they decided to pack a 3000 mAh battery that gives you about 10 hours of constant playback and charges fully in 3.5 hours. In our testing we got closer to 9.5 hours which is still a big improvement over the Flip 2, but not anything to go crazy over. However even though charging time is about 3.5 hours I found that leaving it on the charger for only about 10 minutes gave me enough juice for another hour and a half of playback which is useful when you don't have all day to leave it charging.
Sound Quality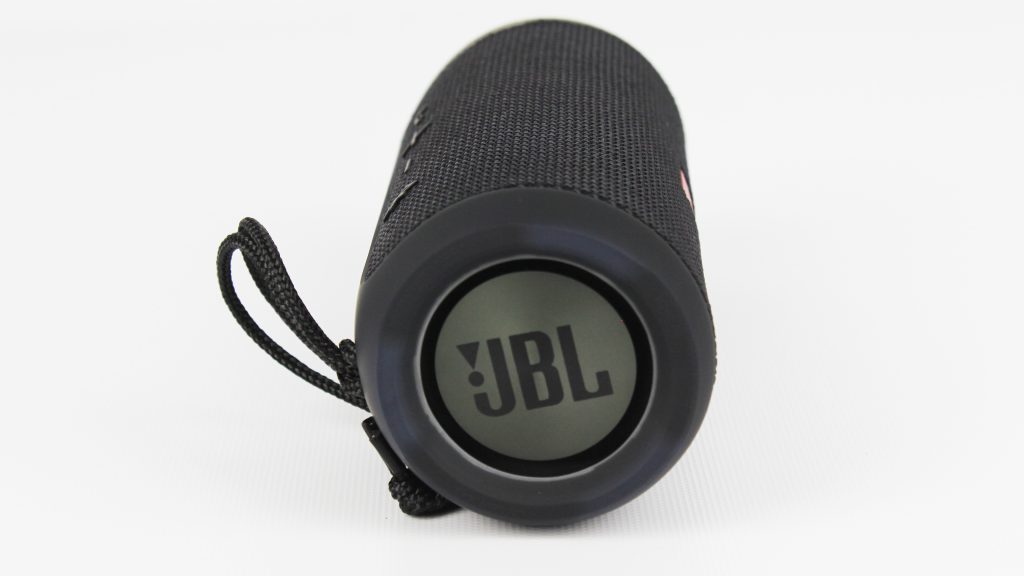 The JBL Flip 2 was one of our favorite speakers for a long time not just because of the low price, but also because of the sound quality. We were curious how the Flip 3 would hold up to its predecessor and weren't surprised at all that it also sounds very good.
Lows
The lows are nice and full sounding for a speaker of this size (and even some that are a little bigger). It can definitely be felt if you place it down on a table and let the external bass radiators to go to work. The bass in 'Baby Blue' by Action Bronson can be easily distinguished but isn't overpowering at all.
Mids
The mids were a little bit forward but just enough to make vocals and guitars a little bit easier to hear and doesn't ruin the experience at all. Even background synths weren't annoyingly muddy. Granted they were a little muddy, but not enough to be an issue and that's only if I'm being nit-picky.
Highs
Highs get a little harsh when maxed out, but if you keep it slightly under max volume it's perfect. In 'Cinder and Smoke ' by Iron & Wine the screechy slides of the guitar will make your ears perk up a bit but if you lower the volume a little it's barely noticeable.
Conclusion
JBL always had a good thing on its hands with the Flip series, but it seems like they rethought a couple of things that made the Flip 3 their best one yet. It was always small and portable, but the splashproofing and carrying string takes that to another level. It always looked nice, but now it's rugged and gorgeous. It always sounded good, but now it has external bass radiators that really add depth to the low end without sacrificing anything else. Basically, it's a better Flip in every way and seeing as the Flip 2 was one of the best speakers you can get for the price it makes sense that the Flip 3 is the new holder of that title.