Bluetooth speakers are a great option for beach-goers and urban cyclists alike, but there's a whole host of speakers beyond these two markets. Whether you want something for your dorm, your new home, or in that old car with its broken stereo system, there's a wireless speaker out there for you. In this Bluetooth speaker guide, we'll break down the different use-cases, important features, and technical jargon.
Editor's note: this article was updated on June 1, 2021, to include technical information and a reader poll at the end of the article.
What is a Bluetooth speaker?
A Bluetooth speaker is just a wireless audio peripheral, and its dominant means of communication is over, well, Bluetooth. Some Bluetooth speakers can connect to Wi-Fi systems or by wire too, but the big appeal of this kind of speaker is its portability.
Learn more: Bluetooth speaker tips and tricks
What kind of Bluetooth speaker do you want?
Wireless speakers are a bit more complicated than meets the eye, and how you intend to use the speaker will be the first step in determining what to buy. No matter which speaker you buy, you should pay attention to battery life. A good rule of thumb is the larger the speaker, the longer the battery life. But this isn't always true, things like more updated Bluetooth firmware versions can greatly impact power efficiency, and a large Bluetooth 4.0 speaker might not last as long as you'd expect relative to a medium-sized Bluetooth 5.1 speaker.
Waterproof Bluetooth speakers
Technically no electronic is fully waterproof, with enough time and depth any speaker will fail, but some Bluetooth speakers are built more durable than others. Durability is usually indicated by an official Ingress Protection (IP) rating. IP ratings are important as they show you that the product in question passed enough rigors to warrant an official dust or water-resistance rating. The standard water-resistant rating is IPX4, and anything IPX7 or above can withstand varying degrees of submersion. If a speaker has an IP44 rating, it's both dust- and water-resistant.
Related: Best Bluetooth speakers
Water-resistant speakers are typically best for outdoor use, but not always. Plenty of us love to sing in the shower, in which case you should definitely invest in a properly treated product. If you're an avid hiker, pool-partier, or beach-goer, this variant of speaker should also be on your radar.
Check out these articles on our favorite waterproof Bluetooth speakers:
Portable Bluetooth speakers
Sure, any Bluetooth speaker is portable—that's the whole point—but some are more portable than others. One of our favorite portable Bluetooth speakers is the JBL Clip 3, or anything from the JBL Clip series. This speaker has its own integrated carabiner, and plenty of city bikers clip these around their bags as they commute to and from work. You'll find that many portable speakers are also somewhat water-resistant because companies expect you to use them in unpredictable weather conditions.
Portable Bluetooth speakers can be a bit larger too like the UE BOOM line of cylindrical speakers that look similar to the JBL Flip series. This gives you a good middle ground of loud output, emphasized bass notes, all in a travel-friendly package. This size of Bluetooth speaker usually does well in college dorms or shared apartments. It's even a great option to use in the car if you stereo system is sputtering out.
Portable Bluetooth speakers are a great balance of compact size and serviceable sound quality.
Let's say you don't care to own the most compact speaker on the market. Portability still plays a part in products like the Monster Solara, a monster speaker meant for outdoor use with built-in handles. If it weren't for the handles, the Solara would be a herculean effort to lift or even shift around.
Check out these articles on our favorite portable speakers:
Smart Bluetooth Speakers with Wi-Fi
Typically, this kind of Bluetooth speaker is billed as a smart speaker with Bluetooth capabilities. A smart Bluetooth speaker is usually relegated to the home, with the option of untethered listening. Smart speakers are a different beast from their simpler Bluetooth counterparts and connect to your Wi-Fi network for high-resolution audio playback. A Wi-Fi connected smart speaker delivers better audio quality than a standalone Bluetooth speaker because it supports lossless playback.
Smart Bluetooth speakers also tend to support hands-free access to a given smart assistant, be it Siri, Alexa, or Google Assistant. This can be great when you're cooking or doing chores, and need to make an inquiry or check the weather before stepping out. Smart speakers are usually the most expensive of the bunch here, because of all the added hardware and software. If you own a smart home, a smart speaker is a good buy and worth the expense.
Check out these lists of our favorite smart speakers:
Party Bluetooth speakers
Backyard barbecues or pool party hosts need a Bluetooth speaker that can power the party. Oftentimes, this may mean you purchase multiples of the same speaker and sync them together for stereo or just amplified output. For some speakers like the JBL PartyBox 310, partying is its whole purpose. Other speakers like the JBL Flip 5 can connect to 100 other compatible JBL speakers via JBL Connect+. While you may never take this feature to the extreme, it's a good option to have if you and a handful of friends all own JBL speakers.
Check out these articles on our favorite party speakers:
Bluetooth speaker buying guide: Technical jargon
Whenever you're shopping for a new piece of tech, there are a few specifications that you should have a basic understanding of in order to make the smartest purchase for your needs.
What is a frequency response?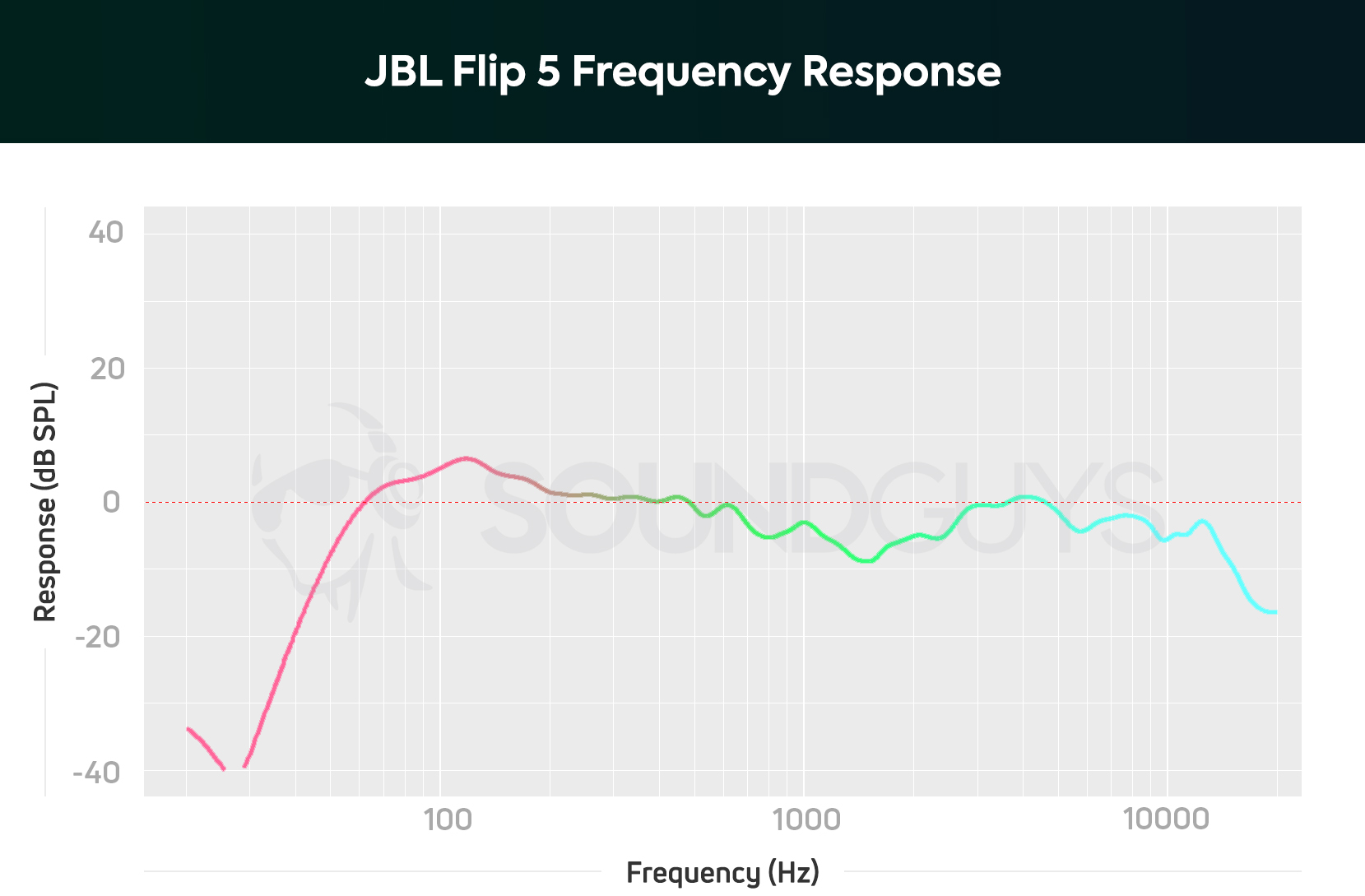 The JBL Flip 5 can't quite handle sub-bass reproduction.
Frequency response specifications appear on the boxes of nearly audio products from headphones, speakers, and even microphones. Most frequency responses range from 20Hz-20kHz, because that range happens to be the lower and upper limit of human hearing sensitivity. A speaker's ability to reproduce these frequencies doesn't ensure accuracy because, like headphones, speakers are tuned differently. Some speakers amplify bass notes far too much, while others seem to lack bass altogether.
In an objectively perfect audio world, all frequency responses would appear as flat lines with zero deviations within the frequency range. However, we don't live in a perfect world, and physical limitations constrain speaker output. A technically inaccurate speaker isn't inherently bad, though. The opposite is true for most listeners since many of us strongly prefer amplified bass and treble notes.
When considering a standalone speaker like the ones in question today, you'll usually notice some sub-bass attenuation. This means that really low notes don't sound as loud as they should through the respective speaker. Standalone speakers have this issue because the relatively small, and few, driver units can't push air hard, fast, and consistently enough to handle these sub-bass frequencies.
Many companies tout passive bass radiators which are powered by the air pressure within the container (speaker housing). This technology is a favorite among portable Bluetooth speaker manufacturers because it's an energy-efficient, and space-efficient, way to amplify bass notes. Because passive radiators don't have their own dedicated electrical power supply, they can't get as loud as separate woofers can.
What is stereo sound?
Most music tracks are mixed in stereo, which means different parts of a song (e.g., vocals, strings, percussion) come through either the left or right channel. The ability to perceive an auditory difference between the left and right sides makes up stereo sound. It's a lot easier to do with a pair of headphones or earbuds than it is with a single Bluetooth speaker.
You need more than one driver for this to be able to work, which is difficult to find in economical Bluetooth speakers. What's more, the drivers need to be far enough apart so that your brain can actually perceive a difference in space. Even if a Bluetooth speaker has two drivers, the actual size of the speaker is likely too small to produce true stereo sound.
In order to get around this, many companies offer you the ability to link up multiple speakers for stereo playback. This means you have to download the company's respective application though, which may not appeal to everyone.
What are Bluetooth codecs?
A Bluetooth codec determines how Bluetooth media gets transmitted from your smartphone to the speaker. High-quality Bluetooth codecs support greater streaming rates, which yields better audio quality. Not all Bluetooth speakers support the same menu of codecs, but every Bluetooth speaker will support SBC. The SBC Bluetooth codec is the lowest-common denominator of Bluetooth audio, but it's come a long way since its inception. It isn't power-hungry, and it's easy for virtually all Bluetooth source devices to encode.
If you own an Android smartphone, you should pick up a speaker with aptX support for a high-quality Bluetooth streaming experience. Android does support AAC, but its performance varies across the board depending on the hardware. iPhone owners' only option for high-quality Bluetooth audio, however, is AAC.
What other features should you consider before buying a Bluetooth speaker?
Aside from tech specs, you may want to consider these other useful features.
Adventurers should keep an eye out for long battery life
Weekend outings call for a speaker with extended battery life. Modern speakers typically provide at least eight hours of playtime on a single charge, but even that might not be enough to power your campsite evenings.
Bluetooth speaker battery life varies wildly depending on what kind of speaker you get. A good rule of thumb: the larger the speaker, the longer the battery life. But this isn't always true; you also have to account for certain features that could drain the power quickly. Per our testing, the unassuming JBL Clip 3 lasts longer than the much larger JBL Pulse 3. The Pulse 3 is a light show, and its battery has to pump out enough energy to create air pressure capable of moving the passive radiators. On the other hand, the Clip 3 only has to worry about powering a single 40mm driver. The workload is quite a bit different between these two speakers.
Do you want more ways to connect your speaker than Bluetooth?
Bluetooth speakers all connect to a source device via Bluetooth, but that isn't the only audio connection available to you. Some Bluetooth speakers still have a dear headphone jack, so you can tether the speaker to your phone by wire. Others, mainly smart speakers, connect via Wi-Fi. Each connection type has its pros and cons, with Bluetooth being the best for travel.
Do you plan to take calls from your speaker? Make sure it has a microphone
A speaker isn't the best way to take conference calls, but if you're in a pinch, it's nice to have the option. A surprisingly few number of Bluetooth speakers include microphone systems though. Bose's SoundLink Color II and SoundLink Micro speakers both have mics, as do many of JBL's speakers, while the popular UE WONDERBOOM series lack integrated mics.
Software features can add a lot of value to your wireless speaker
As with wireless headphones, a mobile companion app typically props up a wireless speaker's feature set. Most big-name manufacturers have a free mobile app that lets you update the firmware, which can give you access to advanced features down the line, EQ the sound, and connect the speaker to other speakers. Some apps have a "find my speaker" function that helps you locate the last place the speaker was used, or sends out a loud beep to notify you if the speaker is in proximity.
But mobile apps might collect data from you
All of these features are nice to have, and some might even be mandatory for your needs, but everything comes at a cost. If a speaker includes a free app, there's a good chance that the app collects data from you and sends it to third parties. Most all companies seem to enjoy tangoing with data collection to some extent, but not every company is out to get you. Some really do want to use the data to improve their services and products. Still, it's important to read the terms of service or if you have an iPhone, at least investigate the nutrition label-like privacy disclosure that comes with each App Store app.
This isn't said to scare you: nearly every company lets you control your data through opt-out options. Worst case, the company holds the information in aggregate and it's decoupled from you, the individual. Anyone who resides in the EU has a higher chance of success when it comes to deleting data than someone in the USA.
Loading poll
Frequently Asked Questions