All products featured are independently chosen by us. However, SoundGuys may receive a commission on orders placed through its retail links. See our ethics statement.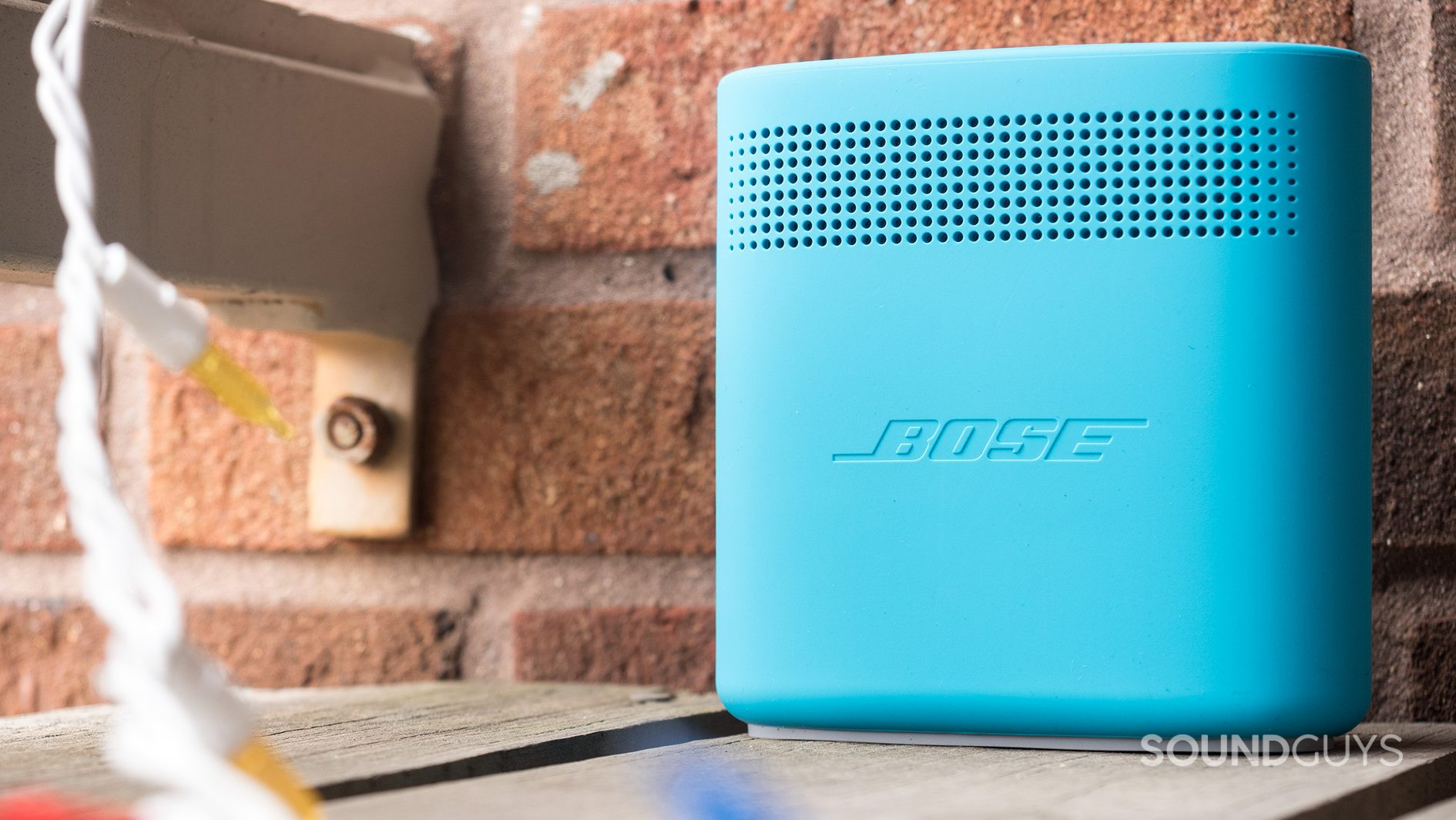 7.6
Bose SoundLink Color II
The bottom line
For those who like to host events and are already knee-deep in the Bose ecosystem, the SoundLink Color II makes for a great addition to the collection. It's water-resistant, compact, and gets surprisingly loud.
Bose SoundLink Color II
For those who like to host events and are already knee-deep in the Bose ecosystem, the SoundLink Color II makes for a great addition to the collection. It's water-resistant, compact, and gets surprisingly loud.
What we like
IPX4 rating
Portable and durable
Loud, good sound
Microphone
Multipoint connectivity
What we don't like
Battery life
Virtual assistant is nearly inaudible
Rating Metric
Sound Quality
8.3
Durability / Build Quality
8.0
Value
7.7
Design
7.5
Connectivity
4.0
Portability
7.5
Battery Life
7.1
Feature
7.7
The shift in seasons is nature's way of ringing in neighborhood block parties. Whether they're a mere social obligation or something that you earnestly enjoy, you're going to want some sort of musical ambiance. The Bose SoundLink Color II has an on-the-nose address for this need with "Party Mode," but is it good enough to make your gathering the talk of the town?
Editor's note: this Bose SoundLink Color II review was updated on December 6, 2021, to add context to the sound quality section, include a contents menu, expand the list of buying options, and make note of the Bose SoundLink Flex as an alternative.
Who is the Bose SoundLink Color II for?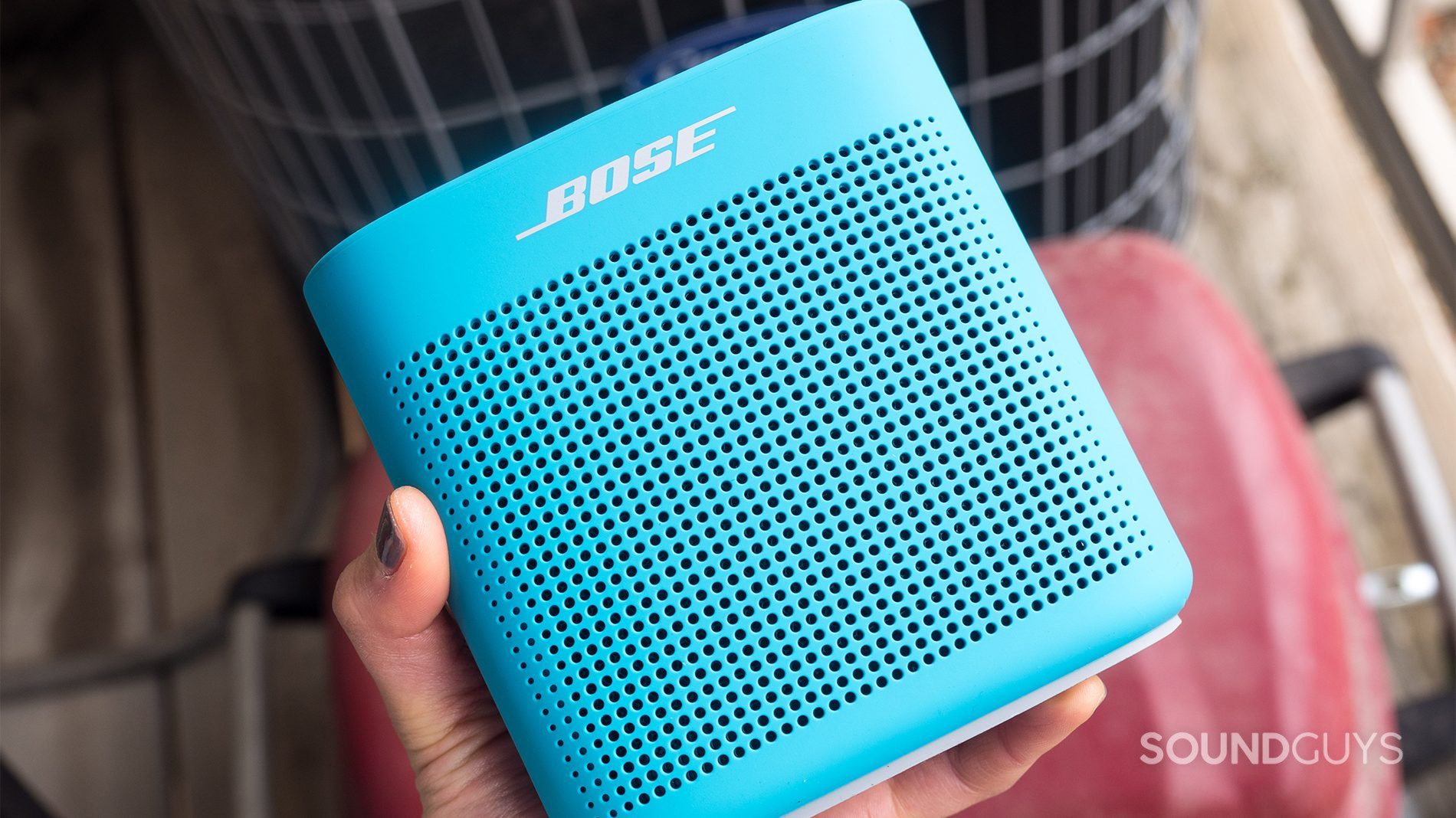 The Bose SoundLink Color II can fit one hand due to its compact size.
Party hosts will appreciate the speaker's "Party Mode," which lets you synchronize two speakers for louder playback. Plus, no need to worry about spills and splashes since the speaker is IPX4-rated.
Students should consider the SoundLink Color II because it outputs plenty of volume for its Napoleonic size.
What is the Bose SoundLink Color II like?
Like a little teapot, this speaker is short and stout. It takes up less space than the Bose QuietComfort 45 or Sony WH-1000XM4 noise canceling headphones when they're balled up. A silicone covering makes the speaker easy to hold, and dual passive radiators rest beneath the silicone exterior to amplify bass notes.
The Bose SoundLink Color II comes in four bold colors: teal, black, red, and white.
Users can alternate between source devices, access virtual assistants, and control playback functions from the six-button panel. Oddly enough, Google Assistant relays responses almost inaudibly.
The Bose SoundLink Color II has an optional "Party Mode" which lets you pair two SoundLink Color II speakers together for double the doubles volume output. Additionally, the Bose Connect app automatically updates the unit's firmware as it does with other Bose products like the Bose QuietComfort 35 II.
Does the SoundLink Color II stay connected?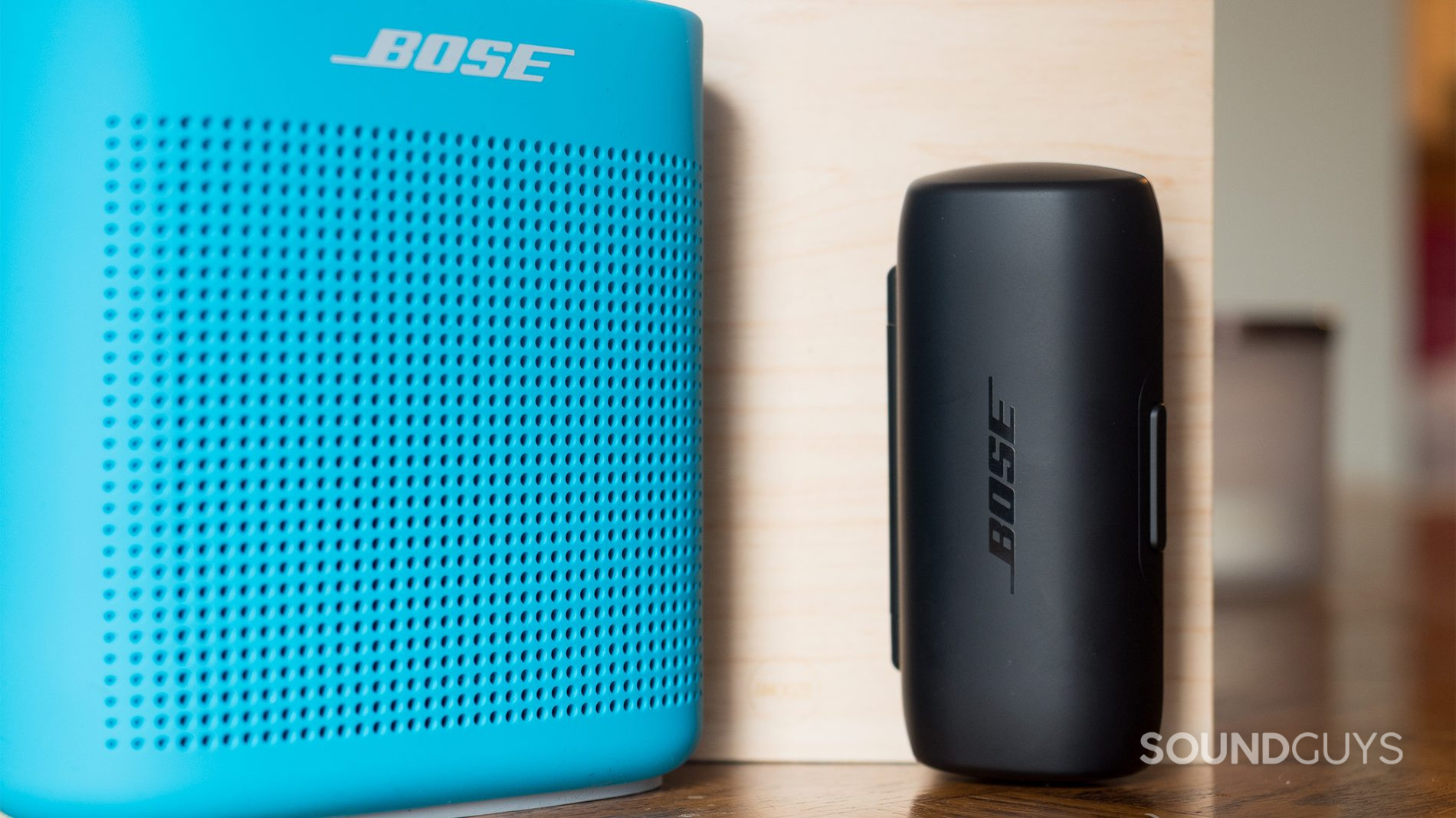 Both the SoundLink Color II and SoundSport Free struggle to maintain a reliable connection within normal parameters.
Bose's vibrant speaker stays connected to a smartphone or tablet well, so long as the devices are within nine meters of each other. If you don't feel like doing the Bluetooth pairing song and dance, you can always connect via the 3.5mm headphone jack located at the speaker's base.
Both the SoundLink Color II struggles to maintain a reliable connection within normal parameters. The Bose SoundLink Color II is a rare breed of Bluetooth speaker because it supports multipoint connectivity. You can pair two devices to the speaker at a time, which is great if you want to keep an ear on incoming calls while streaming music. Bose is a great company for listeners who value multipoint connectivity as its other products support it too, like the Bose Noise Canceling Headphones 700.
Does the Bose SoundLink Color II have good battery life?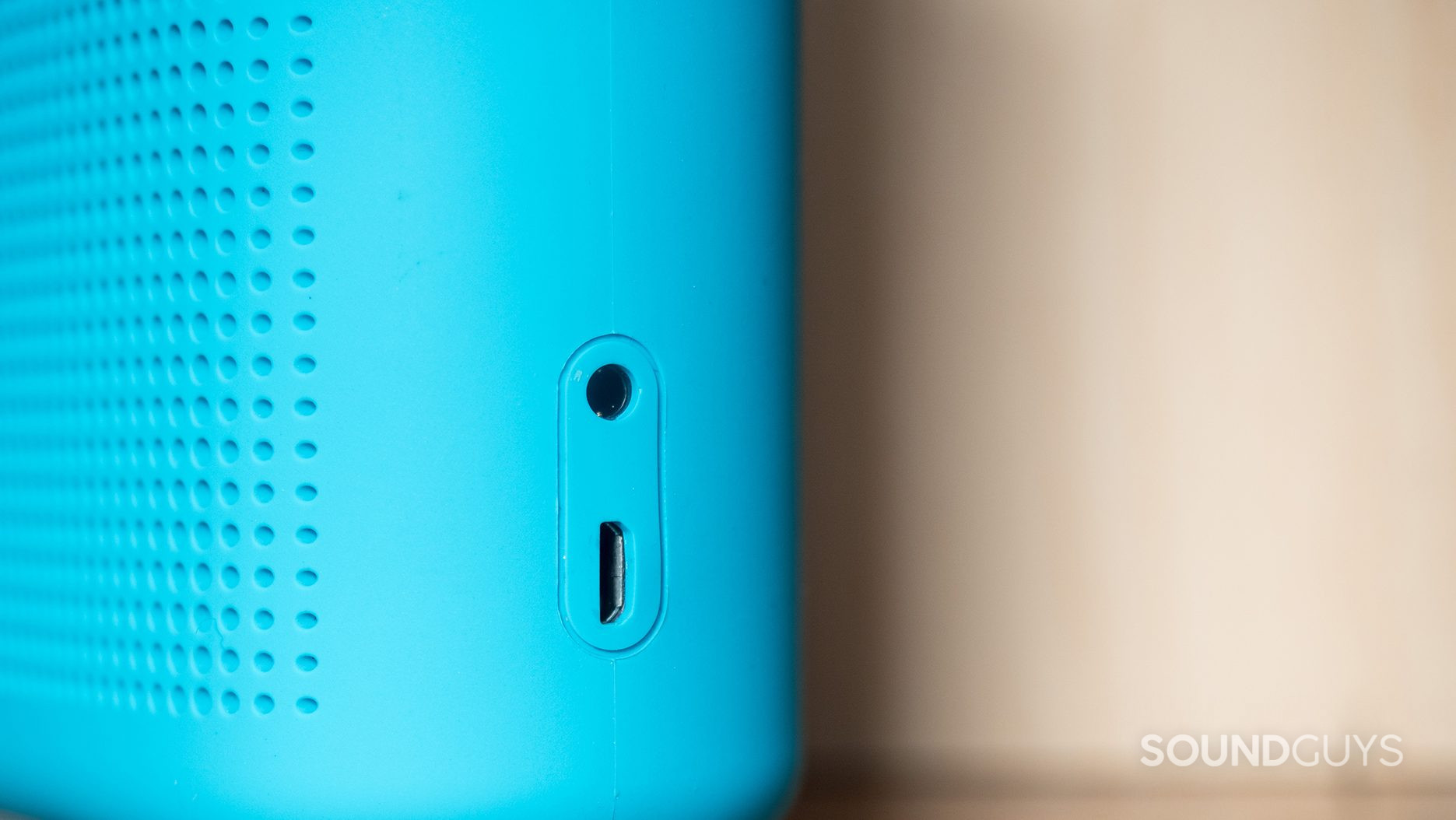 Battery life is underwhelming and falls short of the stated eight-hour battery life.
It takes just under three hours to complete a full charge cycle with the provided microUSB charging cable. When we subjected the speaker to a constant output at 50% volume, it lasted just 7 hours, 15 minutes. For parties and outdoor activities, the volume will likely be cranked to 60%, if not more, resulting in a greater dip in battery life.
How does the Bose SoundLink Color II sound?
The speaker does a fine job of reproducing audio accurately enough, except when it comes to sub-bass frequencies. Most small standalone speakers struggle with low notes. Bose tries to sneak around this shortcoming with the SoundLink Color II's passive radiators, which is clever, but results in unclear audio when the volume exceeds 60% or so. Even still, the sound quality is very impressive given the speaker's diminutive size.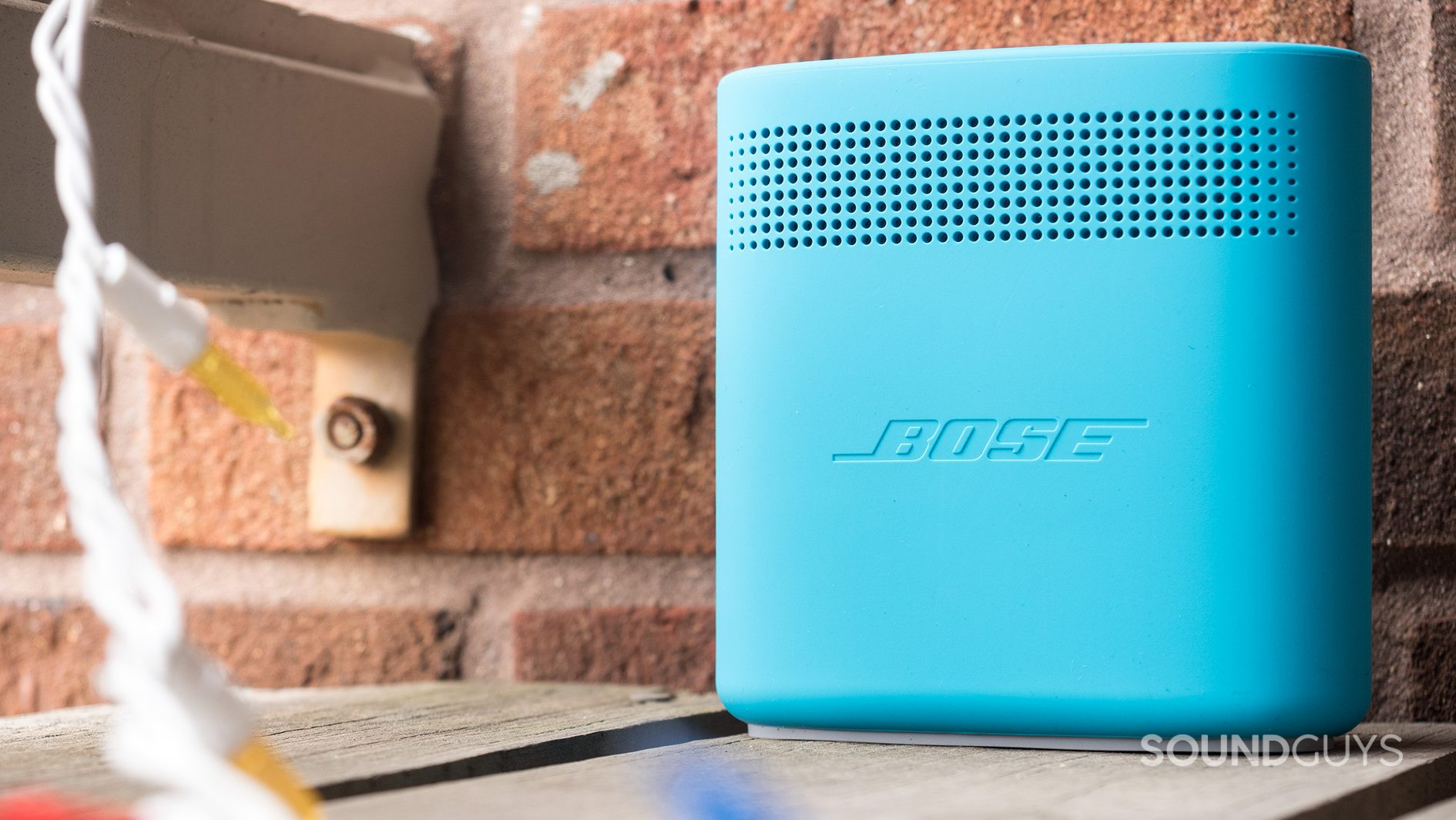 Dual-opposing, passive radiators are housed inside the Bose SoundLink Color II speaker. This minimizes surface vibrations while maximizing volume output.
When taking the speaker outside, the mids get lost due to auditory masking. Environmental noises skew our perception of sound. Since the human brain has limited auditory bandwidth, it lops off seemingly imperceptible information. Though this is important for survival reasons, it's not great for the speaker's perceived sound quality.
Lows, mids, highs
Him & I, an autobiographical radio hit by G-Eazy and Halsey relies on loud sub-bass production to keep the bassline of the song. However, the SoundLink Color II doesn't reproduce these notes loudly enough. The end result is a quiet sub-bass with amplified bass notes that mask the mids.
Despite how the inaccurate bass response affects the midrange notes, Halsey's vocal fry is audible during her parts. This is especially apparent when Halsey sings the hook of chorus, "in the end, it's him and I." Her pitch lowers ever so slightly as she sings, "I," and the speaker conveys this subtle change.
Switching gears to the song Tell Me In The Morning by Cold War Kids, the boosted treble is pretty easy to hear when it comes to the tambourine that's surprisingly loud over the instrumental din of the song. Although this isn't extremely accurate, it tricks our brain into thinking we're perceiving all treble detail and makes sense why many listeners like this kind of sound.
Should you buy the Bose SoundLink Color II?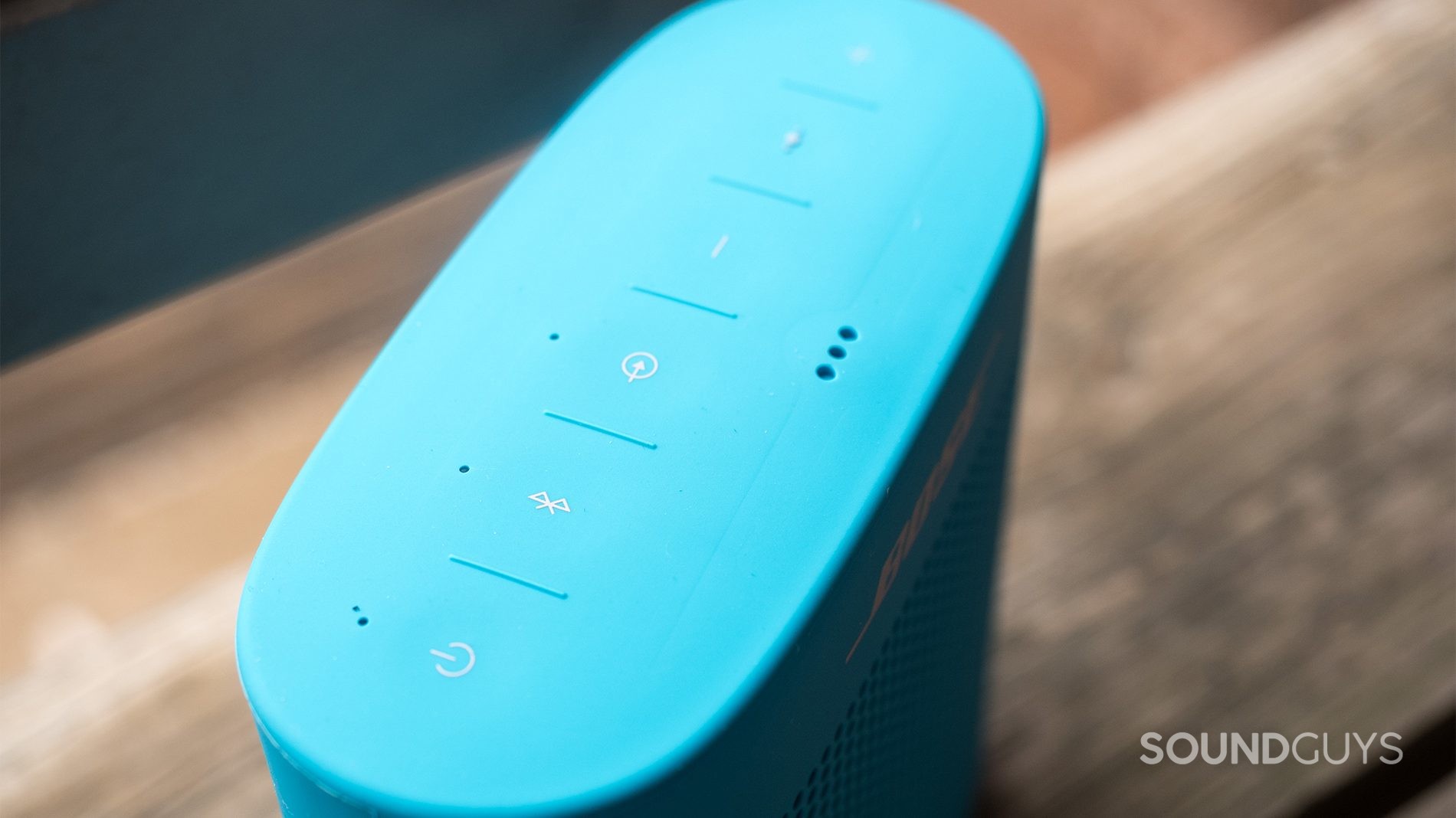 Located on the top panel, the microphone is good at picking up voices for phone calls or virtual assistant commands.
Although the Bose SoundLink Color II is a few years old, it's still a great buy for listeners already enmeshed in the Bose ecosystem.
The ability to sync up two speakers is great for small to medium gatherings and it gives hosts flexibility when it comes to sound placement. Though still costly, the $129 isn't going to break the bank like the Sonos Move. This little speaker has great functionality; plus, being able to update the firmware via the app, gives me hope that connection issues will be resolved.
Related: The best Bose speakers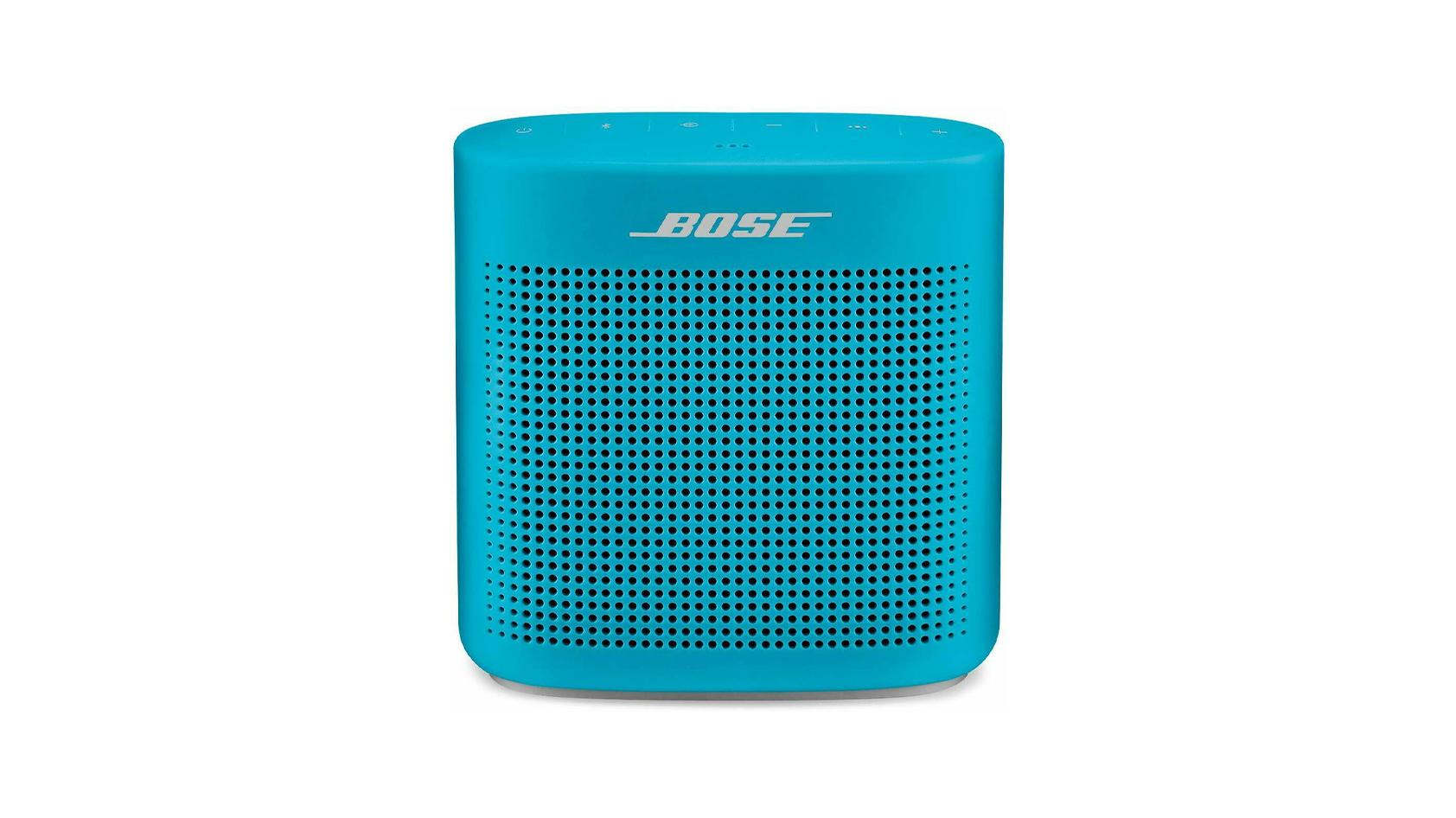 Bose SoundLink Color II
All prices listed in USD unless otherwise specified. Prices may change over time, and vary by region. Unfortunately, we cannot list Amazon prices on the site, as they vary greatly by currency.
What should you get instead of the Bose SoundLink Color II?
The UE WONDERBOOM 2 is great little speaker for cyclists and hikers alike. You can clip it onto any backpack and take it all over the world. One of the most unique things about this speaker series is that it floats. That's right, this makes it easy to hear music during a pool party, or retrieve the speaker if you accidentally dropped it.
The Bose SoundLink Flex fits into the home as well as it does attached to your bag.
Another great option is the Bose SoundLink Micro: this speaker is about as compact as the WONDERBOOM series but takes on a squared-off design. Rather than a loop at the top of the speaker, the SoundLink Micro has a strong elastic strap that fits over bike handlebars or a shower bar. If you want more modern hardware like a USB-C input, the Bose SoundLink Flex might be more your speed. It's a bit larger than the SoundLink Micro but has a small loop that you can quickly attach to a carabiner for portable playback.
Now, if you want to save a couple of bucks on a comparable speaker, mosey on over to our review of the JBL Flip 5. This speaker fits into your backpack's water bottle holster, is IPX7-rated, and lasts 9.5 hours. It's meant to accompany you on all of your adventures.
Next: The best JBL speakers