Affiliate links on SoundGuys may earn us a commission. Learn more.
The bottom line
The Bose SoundLink Flex makes for a good hiking or shower companion and delivers playback that distinguishes vocals and instruments well. However, it has its drawbacks like the difficult-to-distinguish buttons and missing headphone jack. Still, this is a solid pick for adventures who want something rugged and loud.
Bose SoundLink Flex
The Bose SoundLink Flex makes for a good hiking or shower companion and delivers playback that distinguishes vocals and instruments well. However, it has its drawbacks like the difficult-to-distinguish buttons and missing headphone jack. Still, this is a solid pick for adventures who want something rugged and loud.
What we like
Rugged IP67 rating
USB-C charging
Clear playback
Portable
Includes a microphone
What we don't like
Bluetooth 4.2, SBC only
Buttons are hard to distinguish by feel
Unstable app
No aux input
Bose might be well-known for its noise canceling headphones and home audio products, but the brand's outdoor-focused Bose SoundLink Flex Bluetooth speaker aims to bring similar quality to the trails. With a robust exterior and the ability to survive drops into water, this speaker seems to have the perfect set of features for adventurers.
Does it sound good enough to earn a spot on your carabiner?
Editor's note: this Bose SoundLink Flex review was updated on December 22, 2022 to update formatting.
The Bose SoundLink Flex is ideal for outdoor enthusiasts who want an IP67 dust- and water-resistant speaker for hiking, off-roading, and summer beach picnics. It's also a good choice for shower singers who will take advantage of the SoundLink Flex's waterproof rating to belt out their favorite tunes while in the tub, and keep easy access to virtual assistants.
What's it like to use the Bose SoundLink Flex?
The Bose SoundLink Flex can survive a dunk in salt water, but sand can also get through the front grille.
The design and build of the Bose SoundLink Flex reflect its intended outdoor use cases. Bose boasts its grille is steel and powder-coated, and it is indeed sturdy. Dropping it on the pavement will give it a few scuffs, though. Overall, the speaker feels solid, with no odd shapes or extra bits sticking out to snag on your clothes or vegetation while hiking.
Bose claims this Bluetooth speaker floats—that's a stretch. If you were to drop it in a lake or accidentally kick it into a pool, you could quickly grab it again, but you can't exactly play music in the middle of the deep end like you can with the UE WONDERBOOM 2. However, the ability to survive a quick plunge in water is useful because this speaker gets dirty rather quickly. It picks up smudges and fingerprints, and dust can get through the front grille—all things a quick dunk can wash off. However, once sand or other non-dissolvable debris makes it behind the grille, removing it is difficult—I still hear a little sand rattling around this unit whenever I shake it.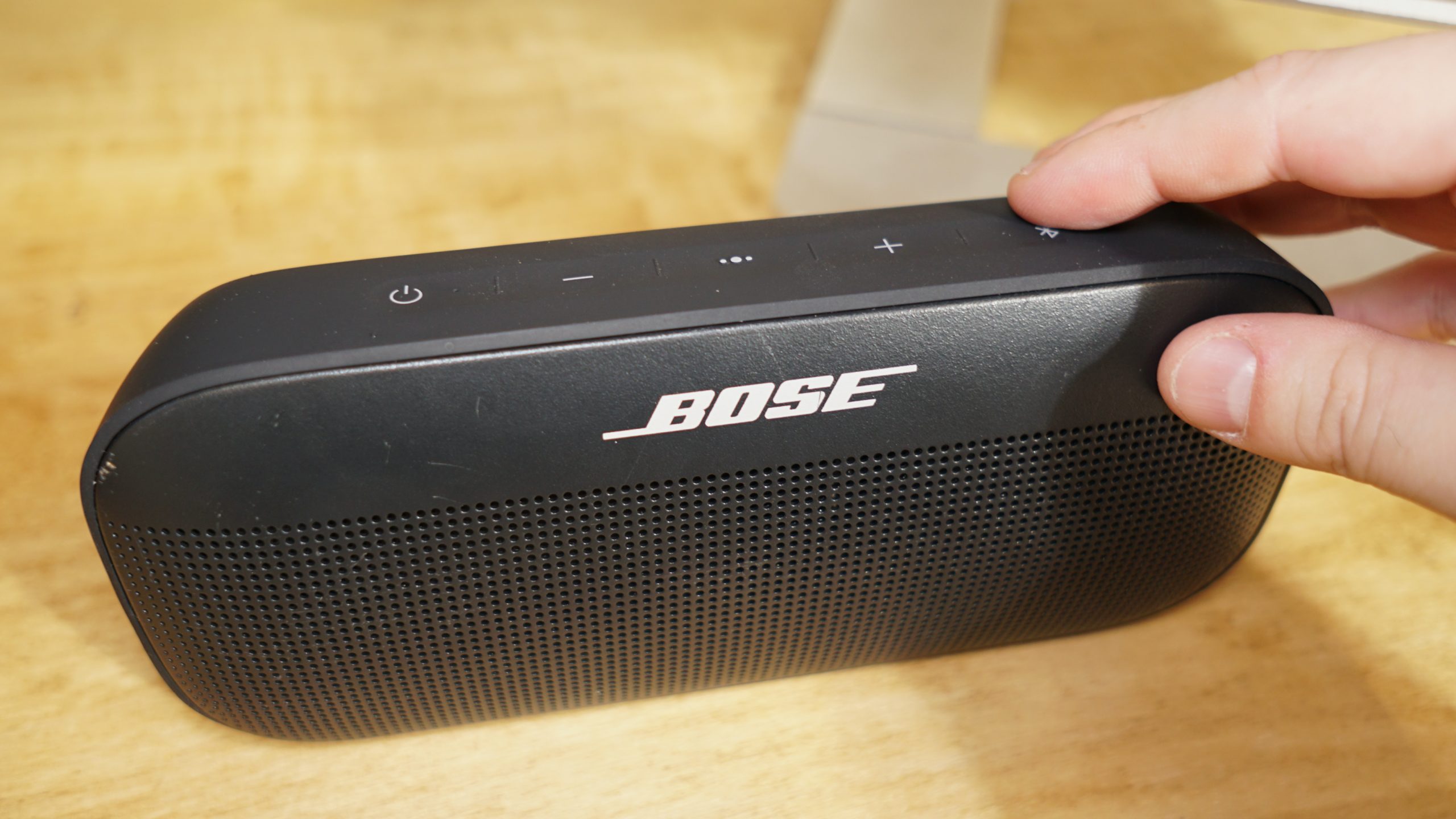 The Bose SoundLink Flex puts all its buttons on top, but there is no clear physical distinction between each one.
The Bose SoundLink Flex weighs only 589g despite the solid build, but it might add more bulk than you want for intense mountaineering. For leisurely treks and beach trips, however, it certainly won't get in the way. A carrying strap on the right side of the speaker lets you attach the SoundLink Flex to a backpack, jacket, and many other items. You'll have to supply your own carabiner or clip, though. It can also twist around and end up facing backwards, a position that muffles the sound. An integrated clip would avoid this problem, but also remove some flexibility. You can't replace the loop yourself if it breaks or frays, either. Finally, you'll find the USB-C charging input on the left side.
How do you control the Bose SoundLink Flex?
The control buttons go across the center of the top of the speaker. They're mushy, and no backlights illuminate them, but the power and Bluetooth sync buttons have small white LEDs to indicate that the speaker is on and connected. The multi-function center button lets you play, pause, and skip content, while volume down and up flank it to either side. This looks sleek, but there is no physical distinction between the buttons. I'd appreciate more distinct controls—as it stands, it's possible to accidentally tap the multi-function button when looking for something else.
How do you pair the Bose SoundLink Flex and use the Bose Connect app?
The Bose SoundLink Flex distinguishes between instruments and vocals well, which is good for listening to tunes at home with the speaker nearby.
The Bose Connect app (iOS/Android) syncs the Bose SoundLink Flex with your phone and other devices. It's pretty easy to use. When you tap the "Bluetooth" icon, it lists your currently connected devices, other devices the app remembers, and a button to edit the list. Note, too, that the Bose Connect app is not the same as the Bose Music app that some of its other products require.
You can use the app to enable Party Mode, which allows two compatible Bose Bluetooth speakers to connect and play the same content. It's not strictly necessary, though, as pressing the Bluetooth and volume up buttons simultaneously also allows you to connect to other Party Mode devices. You need to enter Party Mode before enabling stereo mode.
Within the app's settings, there's a product tour feature, which is useful for studying the controls. An auto-off timer is sure to be helpful for those who like to fall asleep listening to music. Plus, you can enable or disable voice prompts here. Pressing and holding the center button activates your phone's assistant, but it's not that useful, especially if you're closer to your phone than the speaker. You could just say "OK Google" or "Hey Siri" to your phone instead. If you tend to stream content from a device farther away than your phone and don't want to leave your seat, it could be useful (as long as that device has its own virtual assistant). There is no EQ in the app, so if you want to adjust your tunes, you'll have to choose a third-party option.
What Bluetooth codecs does the Bose SoundLink Flex support?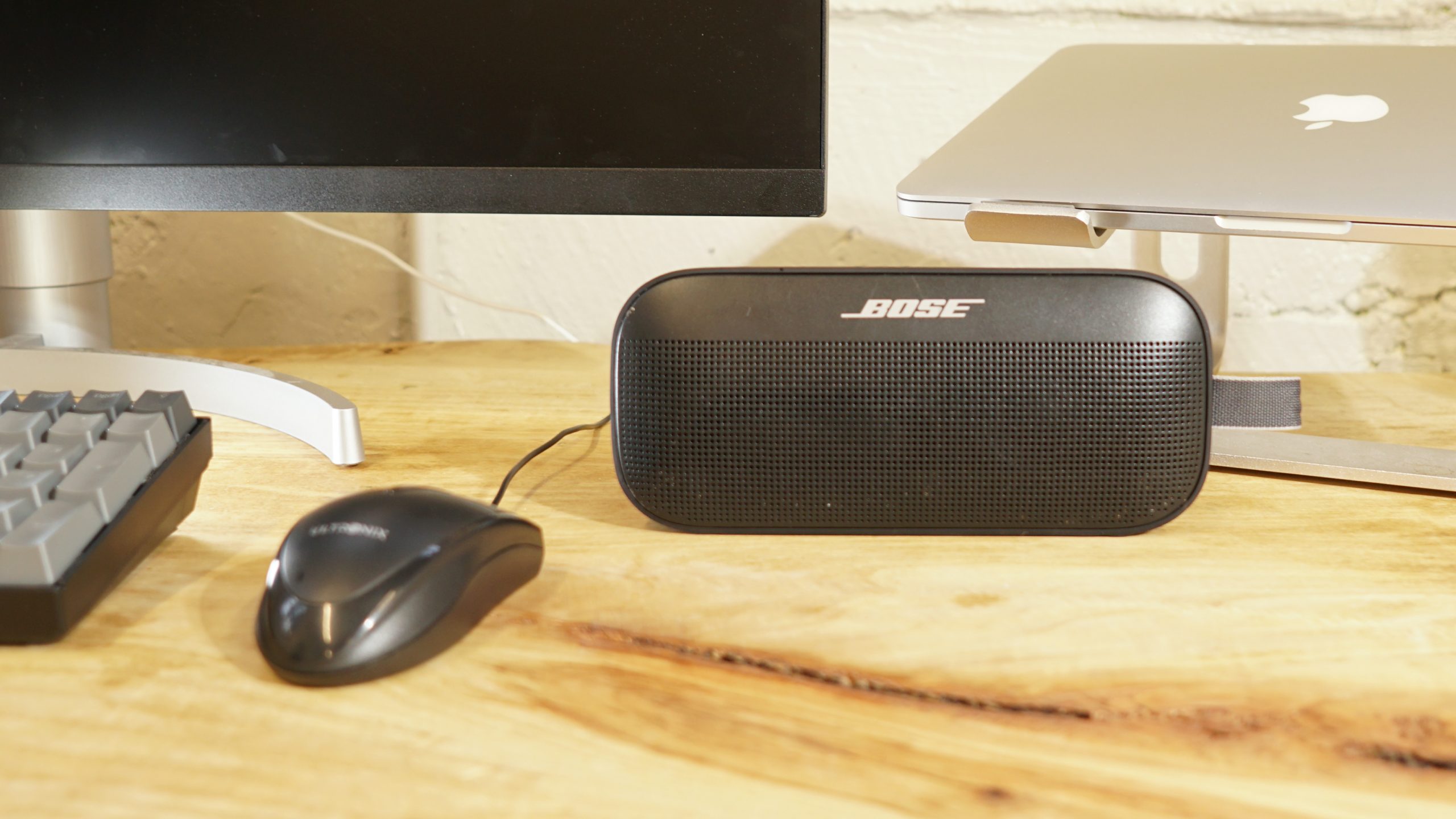 The Bose SoundLink Flex supports Bluetooth multipoint, but it does not reliably switch between devices.
The Bose SoundLink Flex uses Bluetooth 4.2 and supports only the standard SBC Bluetooth codec. The maximum range according to Bose is up to 9 meters. While the speaker itself retains a reliable Bluetooth connection, the Bose Connect app is flakey. Sometimes it says there's no connection even though music is playing through the speaker. Additionally, there is no aux input available if you want to overcome the shortcomings of codecs in general.
The speaker also struggles to switch between devices over Bluetooth multipoint. Like many other speakers and headphones, you must manually pause and play content; there is no automatic switching. As a result, sometimes the speaker never realized content had paused on one device and did not switch over to another.
No. The Bose SoundLink Flex only works via Bluetooth and there is no aux port.
How long does the battery last on the Bose SoundLink Flex?
The Bose SoundLink Flex supports USB-C charging, but there is no aux input.
Bose claims that the SoundLink Flex can last for up to 12 hours on a fully charged battery. There is a USB-C to USB-A charging cable inside the box, but you have to supply a power adapter. Our standard battery test uses music played back continuously with a 75dB (SPL) maximum output level measured 1 meter from the front of the speaker—the Bose SoundLink Flex lasted 11 hours, 59 minutes. That means Bose's claimed battery life is quite accurate and the speaker will last a day at the beach or through a long hike in the mountains.
How does the Bose SoundLink Flex sound?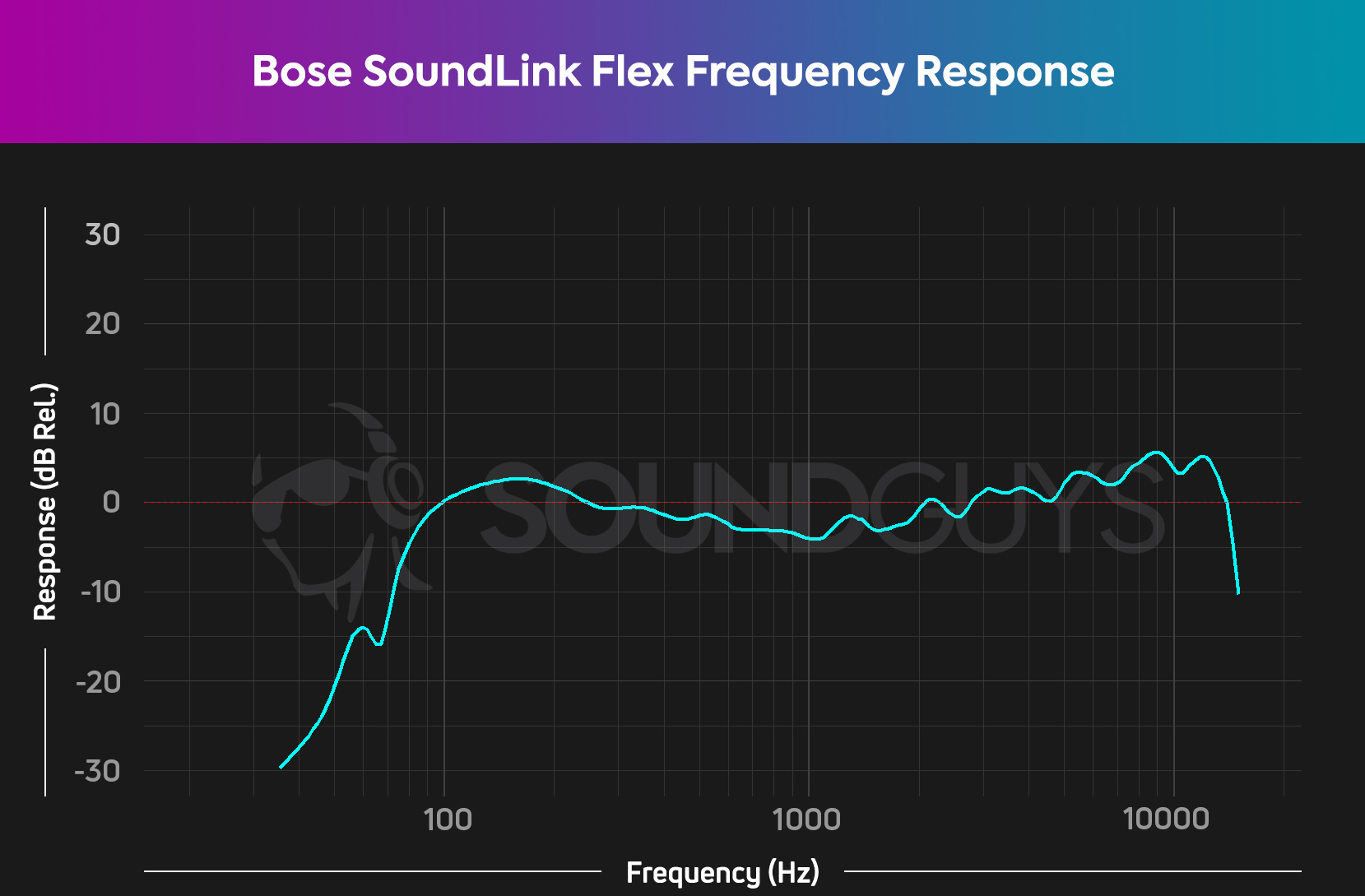 The SoundLink Flex struggles to produce any sub-bass notes, like all portable speakers of this size.
The Bose SoundLink Flex sounds fine for what it is: an outdoor speaker meant for the trail with a small group of friends. I also have a JBL Flip 5, and the Bose speaker reproduces all frequencies with relatively the same volume level compared to JBL's speaker. This kind of frequency response makes it easy to hear all instruments on a track.
The main drivers are on top of the speaker, and the bass driver sits at the bottom of its backside. So be careful not to let this speaker sink into soft surfaces, or you may lose out on some low notes. Bose claims its "PositionIQ technology" helps the speaker detect its orientation to adjust the sound accordingly. Whether that's a marketing spin or not, like any speaker moving through space, the sound will change slightly as it swings from your backpack, for example.
As long as you remember that most Bluetooth speakers aren't for audiophiles with studio monitors, you'll enjoy how the SoundLink Flex sounds.
Lows, mids, and highs
The Bose SoundLink Flex's volume levels and design fit the use case of a hiking speaker well.
The South Asian-style violins in Duniya Te Pyar Mile come through without sounding too quiet or even distorted, which happens with many other speakers. Noor Jehan's vocals stand out, and the bass drum does not mask the clapping. The strings of the sitar come through distinctly from the beats of Alla Rakha's tabla and Prodyot Sen and Kamala's tanpuras in Ravi Shankar's Raga Khamaj. You might notice the lack of sub-bass notes at a party, however, because people tend to expect these when they think of dance tunes.
On the other hand, in the orchestral qawwali Man Kunto Maula as sung by Abi Sampa, Sampa's vocals are easy to hear, but the handclaps that keep the time of another concurrent rhythm get lost. In fairness to the Bose SoundLink Flex, these claps usually only come through particularly clearly with an accurate pair of headphones, like the AudioTechnica ATH-M50x.
The Bose SoundLink Flex's output is loud enough for hiking or cycling. That's because you won't be that person on a trail playing music and drowning out the sounds of nature with the volume at around 50%. However, don't expect this speaker to fill a room full of partygoers. It works well enough for a beach picnic or small gathering at home, but you'll either need to use the Party Mode feature or choose a louder option to conquer a dance floor.
Can you use the Bose SoundLink Flex for phone calls?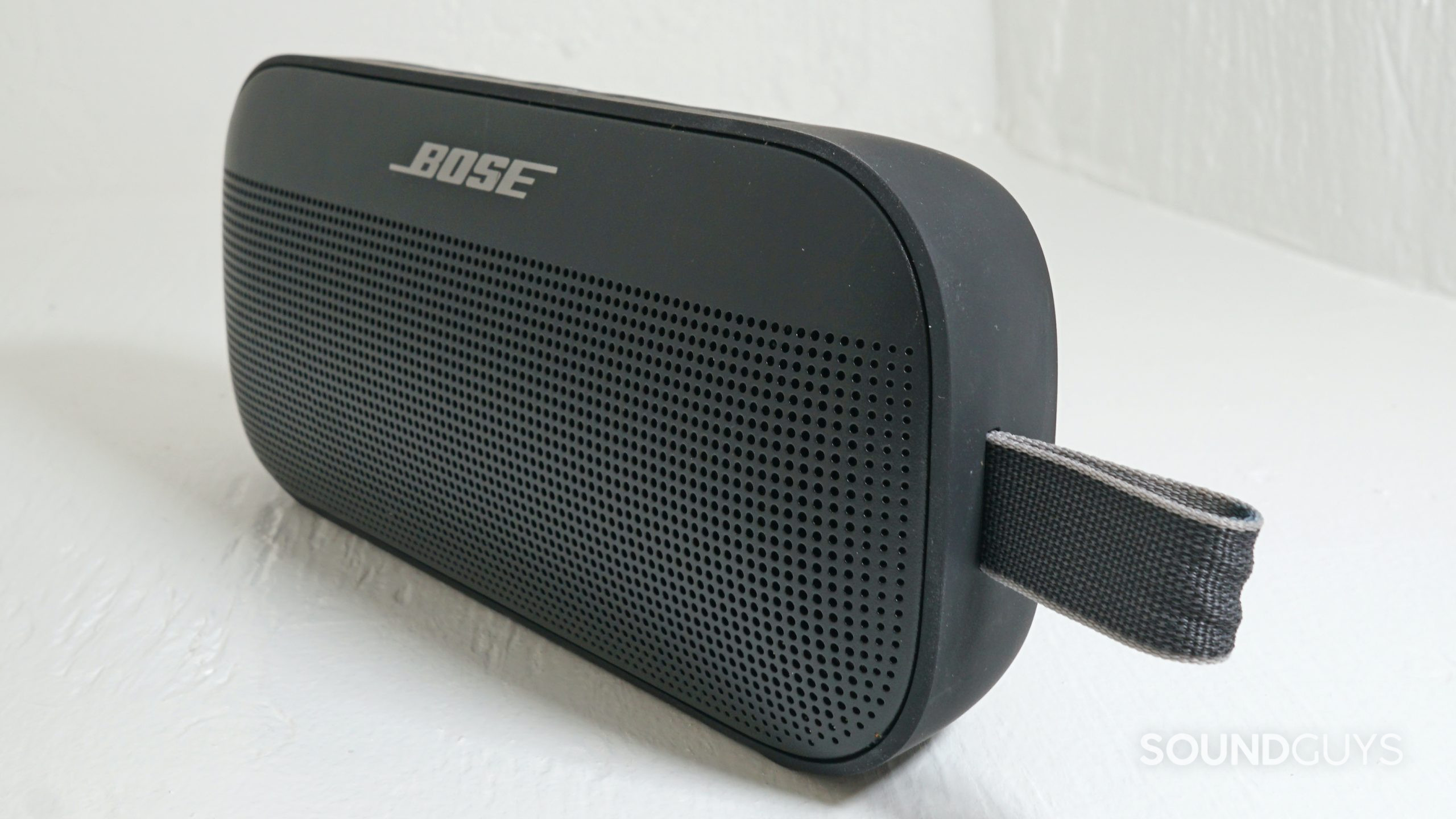 The Bose SoundLink Flex does its best if it's close to you, but it won't energize a loud indoor party or big outdoor gathering.
Yes, the Bose SoundLink Flex works for voice calls. The microphone lets you leave intelligible voicemails, but it transmits pretty much all background noise. You can press the center button during ringing to answer the phone or hold it to reject the call. Pressing it during conversation ends the call. The microphone also works to contact your voice assistant when you press and hold the middle multi-function on the Bose SoundLink Flex.
There is no dedicated "place a call" button, however. Bose claims the SoundLink Flex can be a "speakerphone," but to do that, you'll still have to dial using your phone or ask your voice assistant via the center button.
Bose SoundLink Flex microphone sample (Wind):
How does the microphone sound to you?
1432 votes
As of December 21, 2022, nearly 75% of votes fell into either the "OK" or "Good" categories with almost 1000 votes total. That's pretty standard for most Bluetooth speakers.
Should you buy the Bose SoundLink Flex?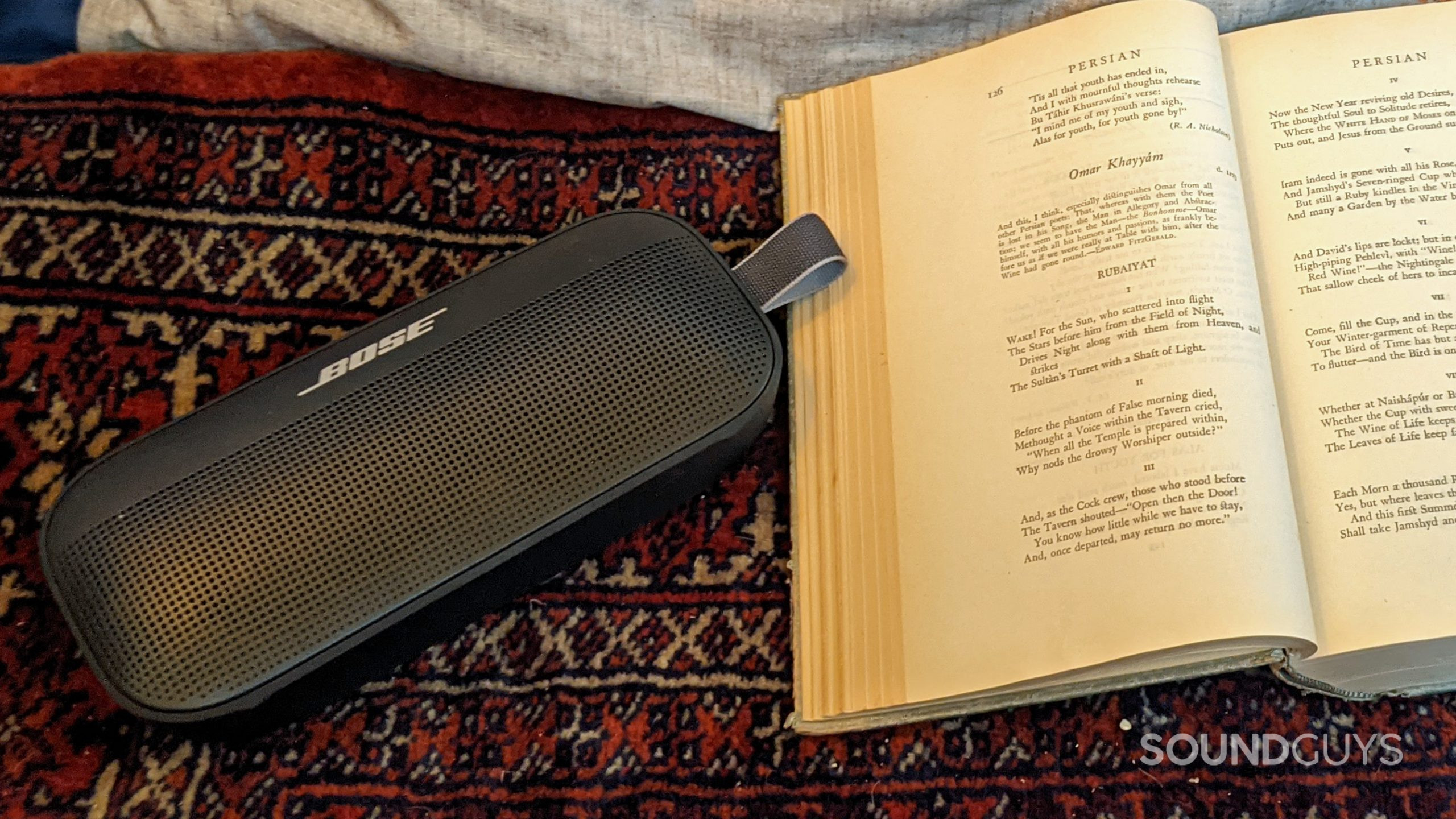 The SoundLink Flex is a durable speaker and a fine adventure buddy.
If you enjoy outdoor adventuring, throwing small parties, or singing in the shower the Bose SoundLink Flex makes for a good companion. It distinguishes between instruments and vocals quite well, and its loudness levels suit hikes in nature. Furthermore, the microphone and ability to pull up your voice assistant via pushing and holding a button are both handy. However, don't expect this speaker to pump out enough oomph for a big party.
Bose SoundLink Flex Bluetooth Speaker
Bose SoundLink Flex Bluetooth Speaker
IP67 rating • Powerful Bass • Highly portable
A bluetooth speaker that can be a great adventure buddy
The Bose SounLink Flex is a sturdy Bluetooth speaker with IP67 rating for water and dust protection. It can travel well in your backpack and is loud enough for a mimi party and provides powerful bass to pump up your tunes. Bose is also using a feature called PositionIQ to ensure the speaker can be used in all sorts of positions.
What should you get instead of the Bose SoundLink Flex?
The JBL Flip 5 is a similarly rugged and outdoorsy Bluetooth speaker, but note that it does not sound as clear as the Bose SoundLink Flex. You don't get a microphone, but it is cheaper than the Bose. Heck, you can even get the newer JBL Flip 6 for less than the SoundLink Flex and you get the same IP67 rating.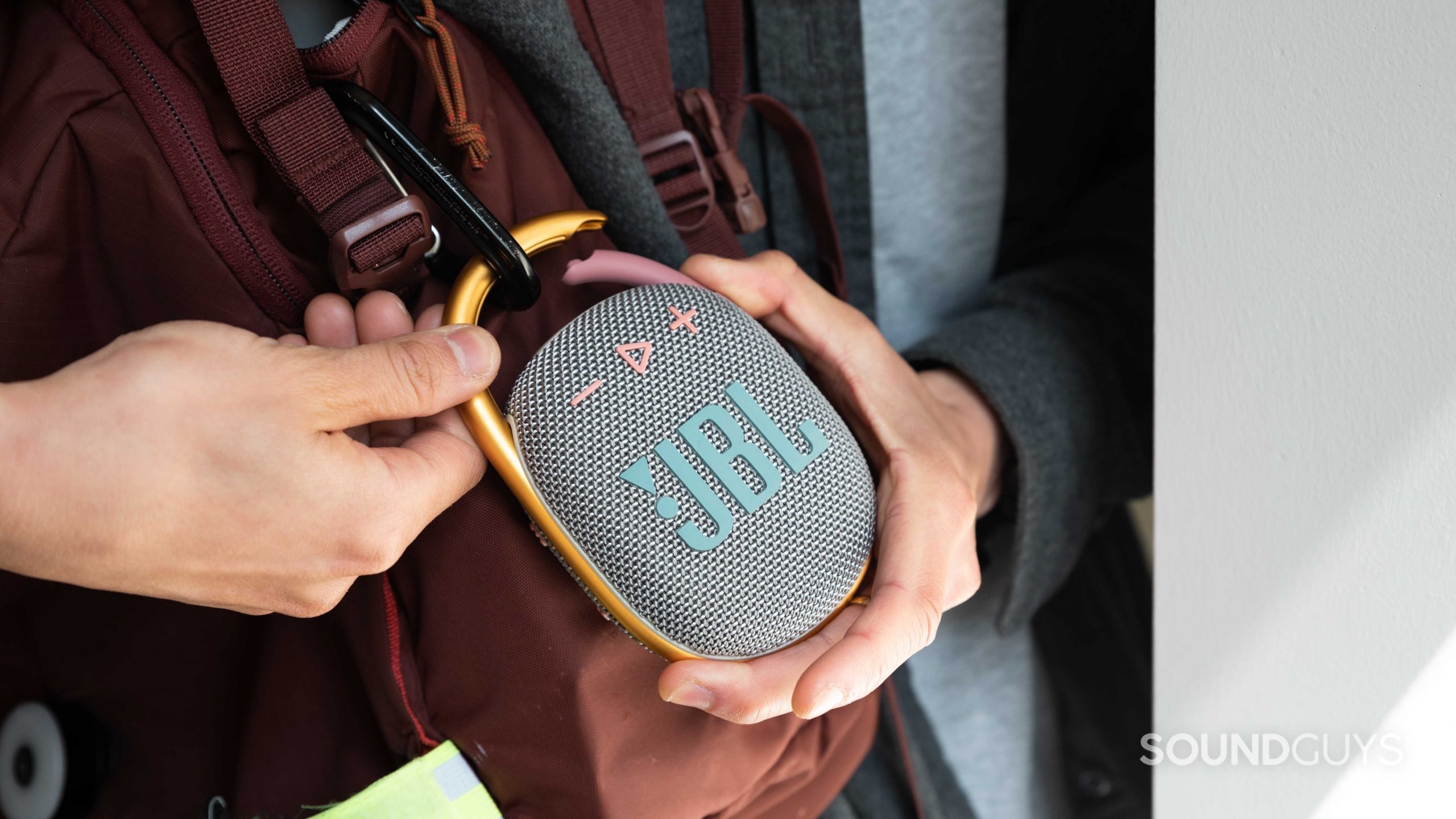 The Clip 4 doesn't include many features but it's a rugged everyday speaker.
Similarly, the JLB Clip 4 is designed for outdoor adventures and boasts an IP67 waterproof rating. It's smaller than the Bose and does not have a microphone, either, but it fits the niche of hiking speaker and shower buddy quite well. Be aware that it cannot pair together two speakers as the Bose does. Bose also offers the SoundLink Micro, which has a microphone and a similar form factor to the Clip 4.
Frequently asked questions about the Bose SoundLink Flex
Yes. You can have the app installed on two different devices and connect the Bose SoundLink Flex to either one. It would be easiest to turn off Bluetooth on the device you don't want to use, just so that the speaker automatically connects to the one you do want to use.
The Bose SoundLink Flex supports Bluetooth multipoint, so it can connect up to two devices at the same time. However, in our testing we found it could be a bit unreliable at switching between devices. You have to manually start and start playback on whatever device you wish to use (as with most Bluetooth speakers with multipoint support), but sometimes the speaker doesn't seem to realize this.