Everyone has a different outlook on how much is too much when it comes to audio. What some people consider a steal, others consider expensive. Here at Sound Guys we're very aware of this, and try to make it easier for anyone looking for new audio products by having best lists for different price ranges. We've already done the best speakers you can get for under $50 and under $100, so now it's time to up the ante. If you have a bit more to spend or are ready to make an investment in sound, these are the best bluetooth speakers under $200 available now.
Bose SoundLink Mini II
by Bose – ($199.00) Amazon.com
The original SoundLink Mini was a very popular speaker (and for good reason), but the newer SoundLink Mini II is here to take that spot. At $199, it's the same price that the first model was when it came out and the similarities don't stop there. Bose took everything we didn't like about the original and fixed it, while keeping the things we did.
The SoundLink Mini 2 has some much needed upgrades from the original.
The first thing you'll notice is the build quality. You wouldn't be crazy for thinking it looks a lot like the original, and that's because it does. It has the same design with a few changes, but at first glance it'd be hard to tell. The buttons up top are where you'll notice the first difference. Bose removed the aux and mute buttons in favor of a multifunction button. This new multifunction button lets you pause/play tracks, skip tracks by double tapping, and returning to previous tracks by triple tapping. But don't worry iPod classic users they didn't get rid of the aux input, just the button. You can still plug in with a 3.5mm audio cable to enjoy your tunes.
Another upgrade from the original is that now when the speaker dies, you can recharge it via a standard micro USB instead of needing to put it back on the dock. The SoundLink Mini II still comes with a dock, but it's good to have the option to recharge the speaker without it so you can leave the dock at home. Pair that with the fact that the speaker now has a 10-hour battery life instead of a measly 7 hours, and the SoundLink II is more portable than ever. The speaker sounds fairly similar to the original, but the sound on that was pretty good too so that's not really an issue. You'll still get crispy highs and a solid bass regardless of what genre you throw at it.
The SoundLink Mini II isn't the best speaker at any one thing, but it's really good at everything which is why it made this list. It has a nice design and solid build quality, good battery life, and still has an impressive sound. If you're looking for a speaker that's worth the money, the Bose SoundLink Mini II is a great option with over 1,200 reviews on Amazon and a 4.7 out of 5 star rating.  You can also check out our full review for complete details.
Buy from Amazon ($199)
---
Scosche Boombottle+
by Scosche – ($179.99) Amazon.com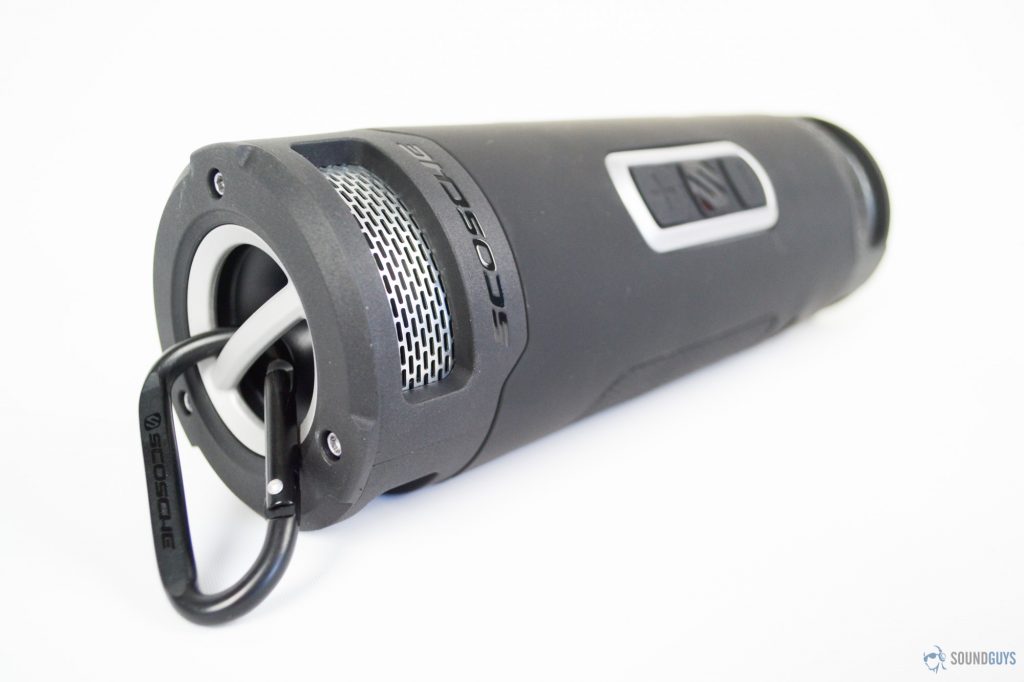 If you need something a little more durable then the Boombottle+ is another great option for under $200. Not only is it literally in the shape of a water bottle, but it's completely waterproof as well. A major selling point of the Scosche is that you can put it anywhere that a water bottle could go. This includes the cup holders in your car and even the bottle holder on your bike.
For waterproof portability, the Boombottle+ is hard to beat.
The speaker has an IP67 rating and has Bluetooth 4.0 giving it a range of about 30 feet. Considering the use case of this speaker, that should be more than enough for most situations. Inside is a large 6000 mAh battery that'll power tohespeaker for about 15 hours (we got closer to 13 in the full review). If you're looking for a speaker to take on hikes you might want to consider this because not only will it fit in the cup holder of your backpack, but you can also charge your devices with the built-in 2.1A USB output. As is the case with most speakers, there's also an aux input to hardwire a non-Bluetooth device if you still use one.
Being a waterproof speaker, the 50mm drivers are completely sealed which means that the sound quality will be somewhat lacking, but that's to be expected if you want the IP67 rating. On the bright side the Boombottle+ does have an indoor/outdoor switch which gives a boost to the mids and highs.
There are plenty of companies with plenty of speakers in the same rugged speaker market as the Boombottle+ but that doesn't make this any less of a good buy. Anyone looking to invest in a speaker that they can take with them while on-the-go should definitely give it a chance.
Buy from Amazon ($179)
---
Fluance Fi50
by Fluance – ($149.91) Amazon.com
If portability isn't your main focus, then you must be looking for good sound and the Fluance Fi50 will give you that. Again,it's worth stressing that this speaker isn't really portable at all. It has no built-in battery meaning that once you plug it in, it's pretty much there to stay unless you move the entire thing somewhere else. At almost 14 .lbs, this isn't something you'll want to use "on-the-go" but if you want something for around the house it's worth it.
It's not portable, but it sure does sound good.
The speaker is fairly large and is about the same size as an old boombox so you'll need to make space on your dresser for this one. On the speaker you'll find two coaxial tweeters and dual 5" woofers powered by a 40W amp. The combination of these things provide great sound throughout the entire frequency range. The large size of the speaker also allows for an impressive soundstage that's hard to find in smaller speakers. Spatial cues will actually sound like they're coming from different places in the room (read the full review).
The speaker only uses Bluetooth 2.1, but it does have aptX compatibility for higher quality streaming. The Fi50 is also made of solid wood which helps with the acoustics of the music. Overall, everything about this speaker is designed for optimizing sound quality. On the flip side that makes it less than portable, but if you're fine with that trade-off this is the way to go.
The Fluance Fi50 got a good score in our full review and has a 4.8 out of 5 stars on Amazon. It comes in three finishes: white/bamboo, black ash, and natural walnut so you can pick whichever one fits your style.
Buy from Amazon ($149)
---
Creative Sound Blaster Roar 2
by Creative – ($144.99) Amazon.com
We began this list with a sequel, so it's only right that we end it with one. You may remember the original Sound Blaster by Creative. It was one of our favorite Bluetooth speakers not only because of the sheer number of things that it could do, but also because it had good sound quality. So when the Creative Sound Blaster Roar 2 was announced we held our breath. "Could Creative get it right twice?", we wondered. Well they did.
If you're looking for the swiss army knife of Bluetooth speakers, this is it.
The Sound Blaster 2 kept a lot of its versatility and features without skimping on sound. Creative also didn't bump up the price to anything ridiculous which is often what we see when a product finds success. The Roar 2 is a slightly smaller version of the Roar (20% smaller to be exact) and has a very similar design. The front of the speaker is simply a grille, with power, volume, and multifunction buttons adorning the top along with some switches. If you're looking for minimalism you might need to look somewhere else, but if you want every piece of tech that Creative could fit in a speaker this is for you. As far as specs go the Roar 2 has Bluetooth 3.0 with aptX, NFC, an aux input, and a 6000 mAh battery that'll get you around 8 hours. But the features don't stop there. There's also a microSD card reader, built-in MP3 player, USB output for charging devices, a voice recorder (can even be used to record phone calls), and it can even act as an external sound card for your Mac/PC/PS4 if you plug it in via USB.
It may seem like Creative put all of their time and money into making this speaker a hub of cool features, but they also put a lot of effort into making it sound as good as possible. It has two internal amps powering everything needed for good sound: 2 tweeters, a woofer, and 2 passive radiators. One of said drivers powers only the low-end and the mids while the second is dedicated to the higher frequencies for a balanced sound. The bass is slightly lacking at first but pressing the TeraBass button up top fixes that, adding a nice "boom" to the low end. The drivers are placed in such a way that you can play it standing up or laying flat and still get the same quality sound.
The Creative Sound Blaster Roar 2 comes in two color options: black or white for well under $200. It has a 4.5 out of 5 star rating on Amazon and you can check out our full review for more information.
Buy from Amazon ($144)
---
As always we'll be sure to keep this list updated as time goes on and new products come out. Let us know what your favorite speakers are for under $200 and it might end up in this list when we update it.
Didn't find what you were looking for checkout these best lists: