All products featured are independently chosen by us. However, SoundGuys may receive a commission on orders placed through its retail links. See our ethics statement.
The bottom line
The JBL Xtreme 3 makes for a good stationary speaker at patio or pool parties thanks to its volume, sound quality, and IP67 rating. You may not want to take this anywhere due to its cumbersome shape and weight, but JBL gives you the option anyway with metal loops. For the person who just wants a durable, loud speaker, the Xtreme 3 is it.
JBL Xtreme 3
The JBL Xtreme 3 makes for a good stationary speaker at patio or pool parties thanks to its volume, sound quality, and IP67 rating. You may not want to take this anywhere due to its cumbersome shape and weight, but JBL gives you the option anyway with metal loops. For the person who just wants a durable, loud speaker, the Xtreme 3 is it.
Price
Original: $379 USD
March 2022: $319 USD
What we like
Sound quality
Loud volume
Aux port
Charges other devices
IP67 rating
Battery life
What we don't like
Heavy
Bulky shape
Expensive
Rating Metric
Sound Quality
8.2
Durability / Build Quality
9.0
Value
7.7
Design
8.0
Connectivity
8.0
Portability
6.0
Feature
8.0
JBL's signature Bluetooth speaker design is a cylinder, and the JBL Xtreme 3 doesn't stray from that proven formula. It aims to lie in the liminal space between ultra-portable speakers and powerful party companions, much like its predecessor the JBL Xtreme 2. It still looks and feels a lot like the previous iteration at the end of the day, though.
Does the JBL Xtreme 3 make a successful follow-up?
Editor's note: this JBL Xtreme 3 review was updated on September 12, 2023, to update formatting, grammar.
Partiers are sure to enjoy the IP67 rating that the JBL Xtreme 3 merits, along with its loud output, stable connection, and aux port.
Gadget enthusiasts will appreciate how this speaker can charge other devices.
Anyone who listens to music primarily in one area won't mind the bulky build of the Xtreme 3.
What's it like to use the JBL Xtreme 3?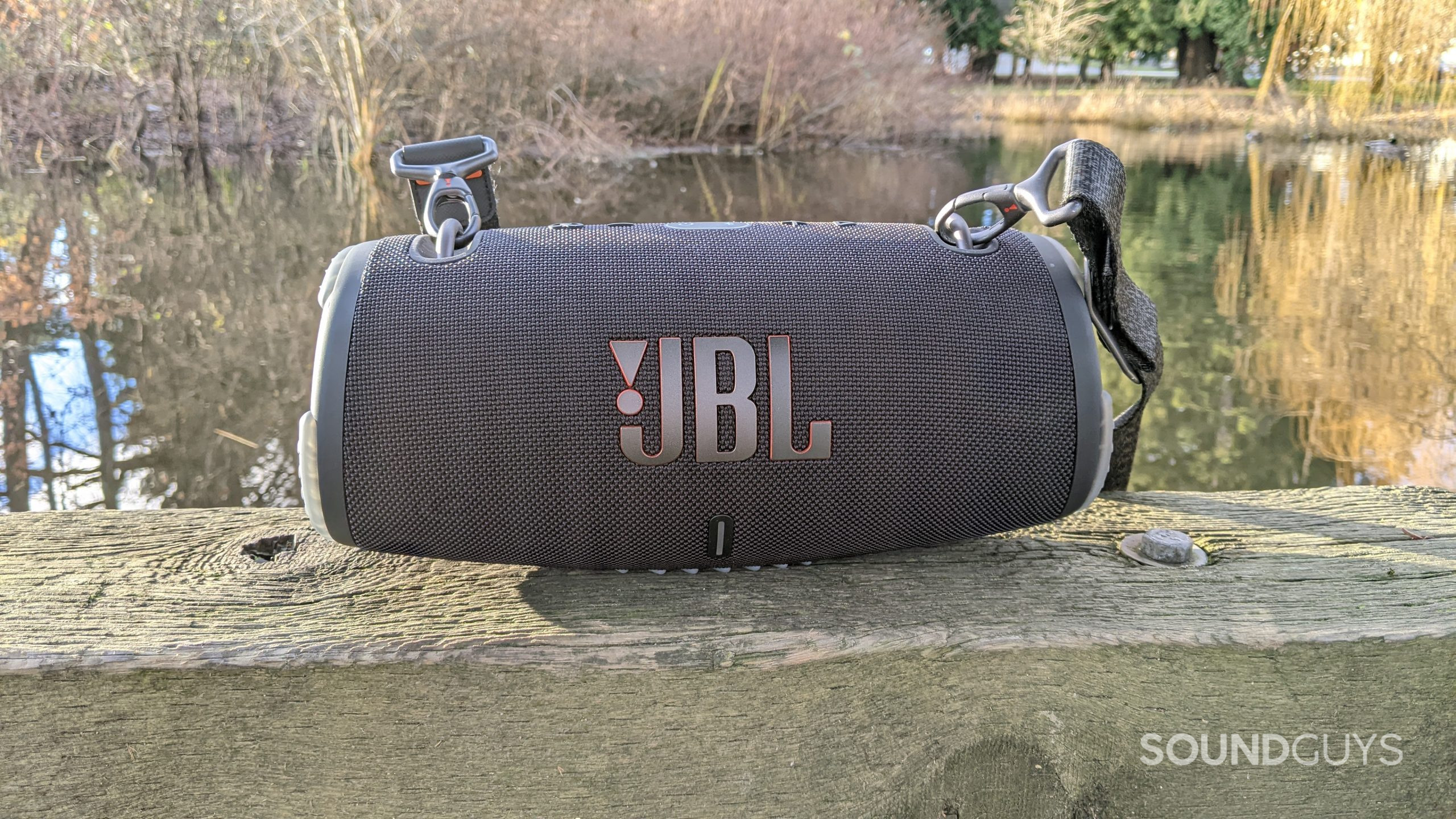 The JBL Xtreme 3 survives a plunge into water, making it a good companion for trips to the park.
Much like the JBL Flip 6 and some of our other favorite JBL speakers, the JBL Xtreme 3 is a large cylinder with passive bass radiators at each end. The main drivers in the center are still a solid and reliable configuration. The Xtreme 3 has a more rugged IP67 rating than its predecessor's IPX7 rating. That means the third-generation speaker is both dust- and water-resistant. The Xtreme 3 can survive a plunge into a pond, plus dirt and sand don't get behind the grille.
But most of the similarities between the second and third-gen Xtreme speakers end there. The Xtreme 3 is large for a "portable" Bluetooth speaker and weighs 2.68kg with its carrying strap. That means it's portable in the way a folding chair or bags of groceries are portable. You can sling it over your shoulder, but expect to notice the weight. After a while, you will feel the strap digging in, too. It would certainly add a burden if you went up mountains, or even a relaxing trail, with this speaker.
Instead, the intent of the strap seems to be getting the speaker from point A to B while leaving your hands free to carry beach supplies or party beverages. Speaking of beverages, there is a handy bottle opener on the carrying strap in case you forget to bring one.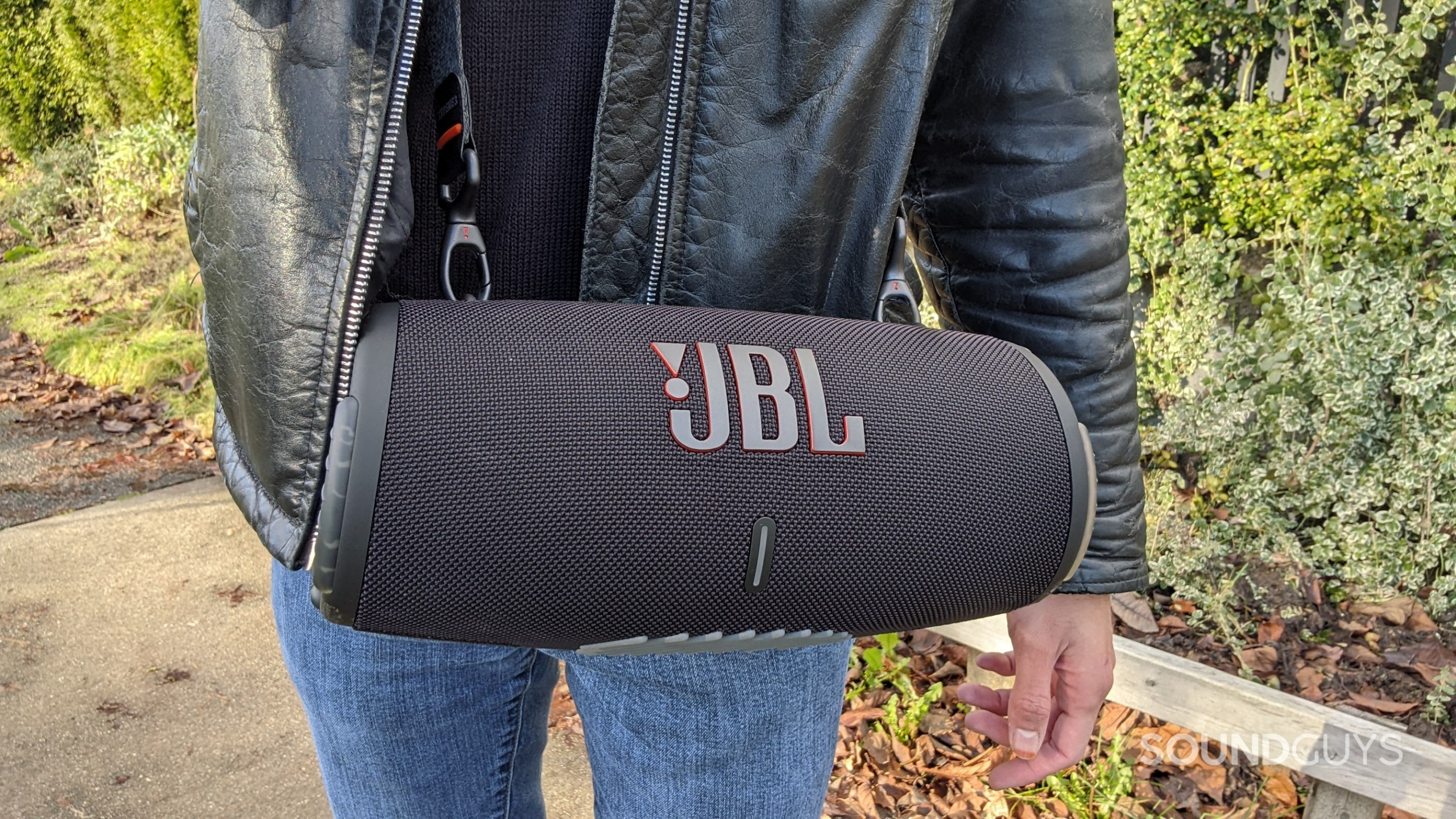 The JBL Xtreme 3 is a "portable" Bluetooth speaker in the sense that it includes a carrying strap, but it's heavy and bulky.
The JBL Xtreme 3 trades out the small feet of the Xtreme 2 for a textured area on the bottom—similar to that of the JBL Clip 4. This seems less stable than two clear places to rest the speaker, which I prefer. As a result, it stays stable on flat surfaces but requires more finesse on slopes or curves. Plastic bumpers on its ends allow the speaker to bounce, especially if you drop it bass radiator-side down. Bumpers prevent dents and damage, but it also means these areas quickly collect scuffs and marks.
Two USB ports sit around back, including one input/output USB-C port and a power-out Type-A port. You also get a 3.5mm aux input here for wired playback. These are all behind a small door, which protects them from dust and debris.
How to control the JBL Xtreme 3
The JBL Xtreme 3 has buttons that are easy to extinguish by feel, except the power and Bluetooth buttons which are illuminated but not shaped differently.
On top of the JBL Xtreme 3, you'll find the same control buttons as on many other speakers from the brand. These include volume adjustments, PartyBoost, and a combined play, pause, and skip track button. JBL doesn't backlight these buttons, but they are shaped differently from each other. The power and Bluetooth buttons are illuminated, but not distinguished by shape or feel. A battery indicator is right below the now larger and more minimalist "JBL" logo compared to the small red badge adorning the Xtreme 2.
Should you download the JBL Portable app?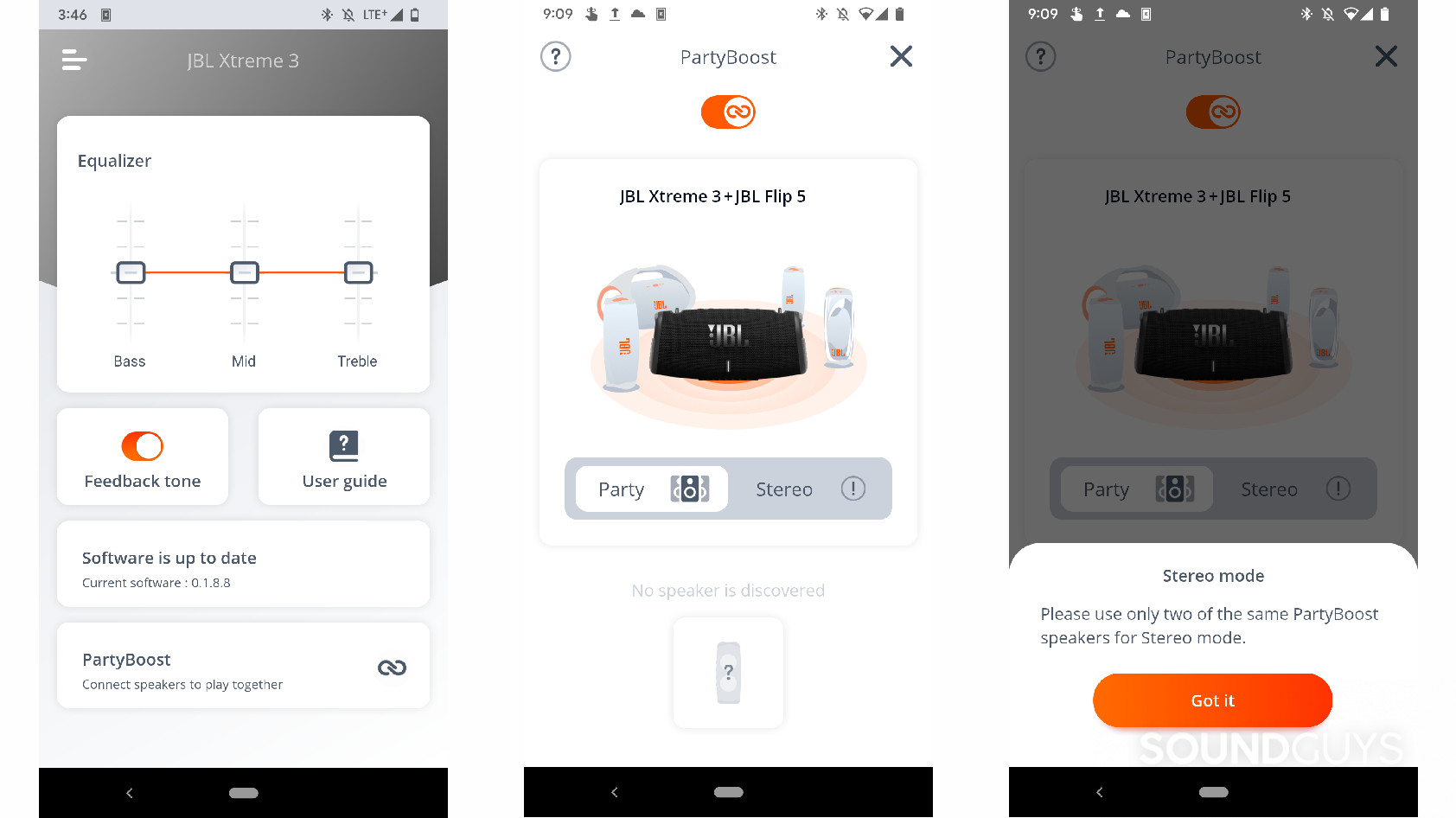 The JBL Xtreme 3 supports PartyBoost with many other JBL speakers, but stereo mode only works with another JBL Xtreme 3.
The JBL Xtreme 3 uses the JBL Portable app (iOS and Android), formerly "JBL Connect," to install firmware updates and provide another place to access the user guide.
In the app, you can toggle the feedback tones from the speaker on or off and enable PartyBoost without pressing the dedicated button on the speaker. But as with other speakers from the brand, stereo mode only works with two JBL Xtreme 3 speakers. So, my JBL Flip 5 can do PartyBoost with the Xtreme 3, but I can't use the Flip 5 in tandem with the Xtreme 3 for stereo mode. A basic equalizer rounds out the app's features and lets you adjust highs, mids, and lows.
What Bluetooth codecs does the JBL Xtreme 3 support?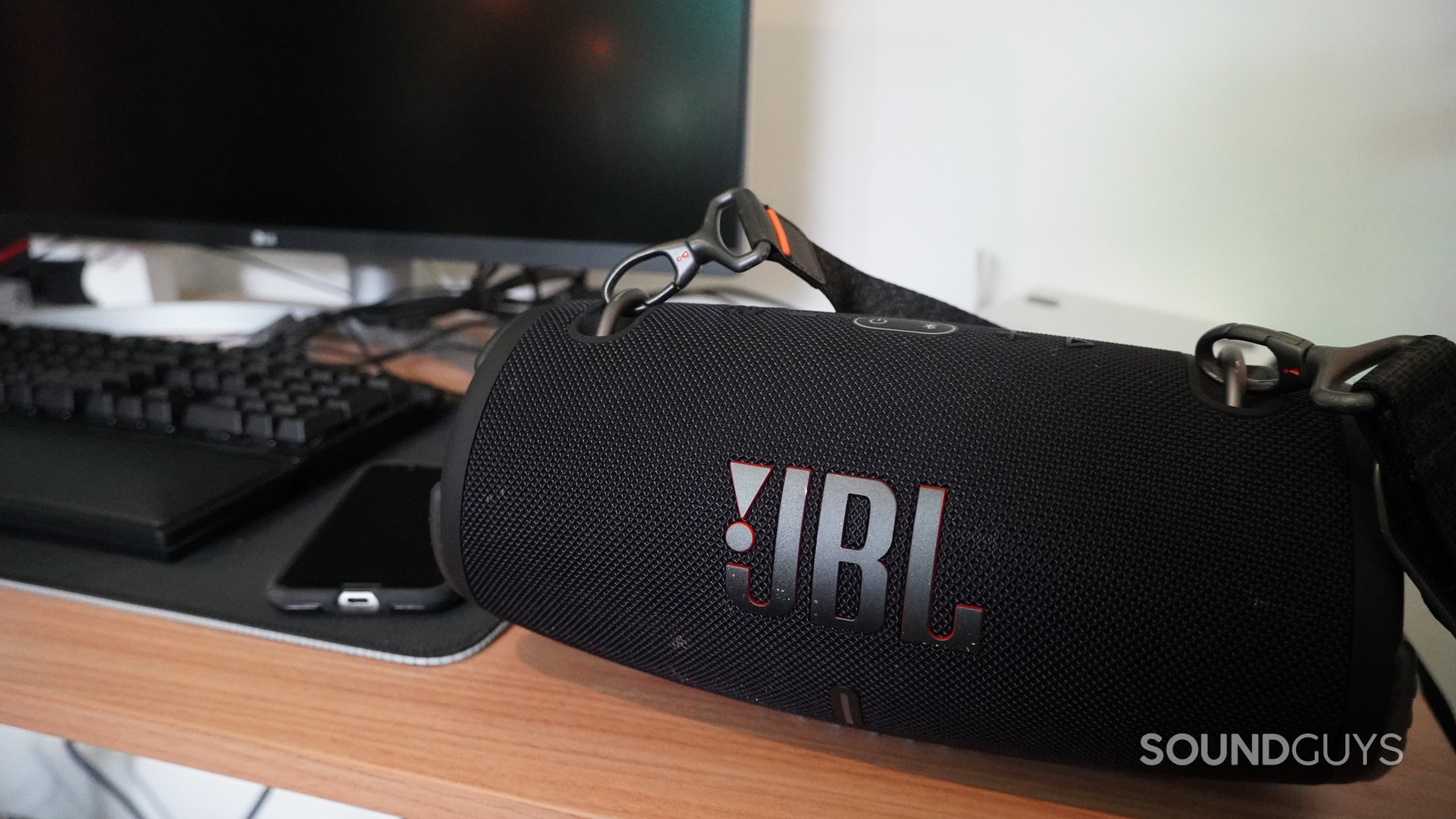 The JBL Xtreme 3 supports Bluetooth multipoint but mostly leaves the syncing process up to your devices.
The JBL Xtreme 3 uses Bluetooth 5.1 and only supports the SBC Bluetooth codec. Unlike many other portable speakers, however, this one has an aux port. That means you can overcome some of the Bluetooth quality limitations. It makes sense to include one, too, because as mentioned earlier "portable" is a broad term here for such a large speaker.
You get Bluetooth multipoint with this speaker to connect up to two devices simultaneously. But it doesn't remember a list of them. Instead, you must connect to one and then another. Then, you can manually play and pause content on each. Attempting to add a third erases these two and connects the speaker solely to that device.
How long does the battery last on the JBL Xtreme 3?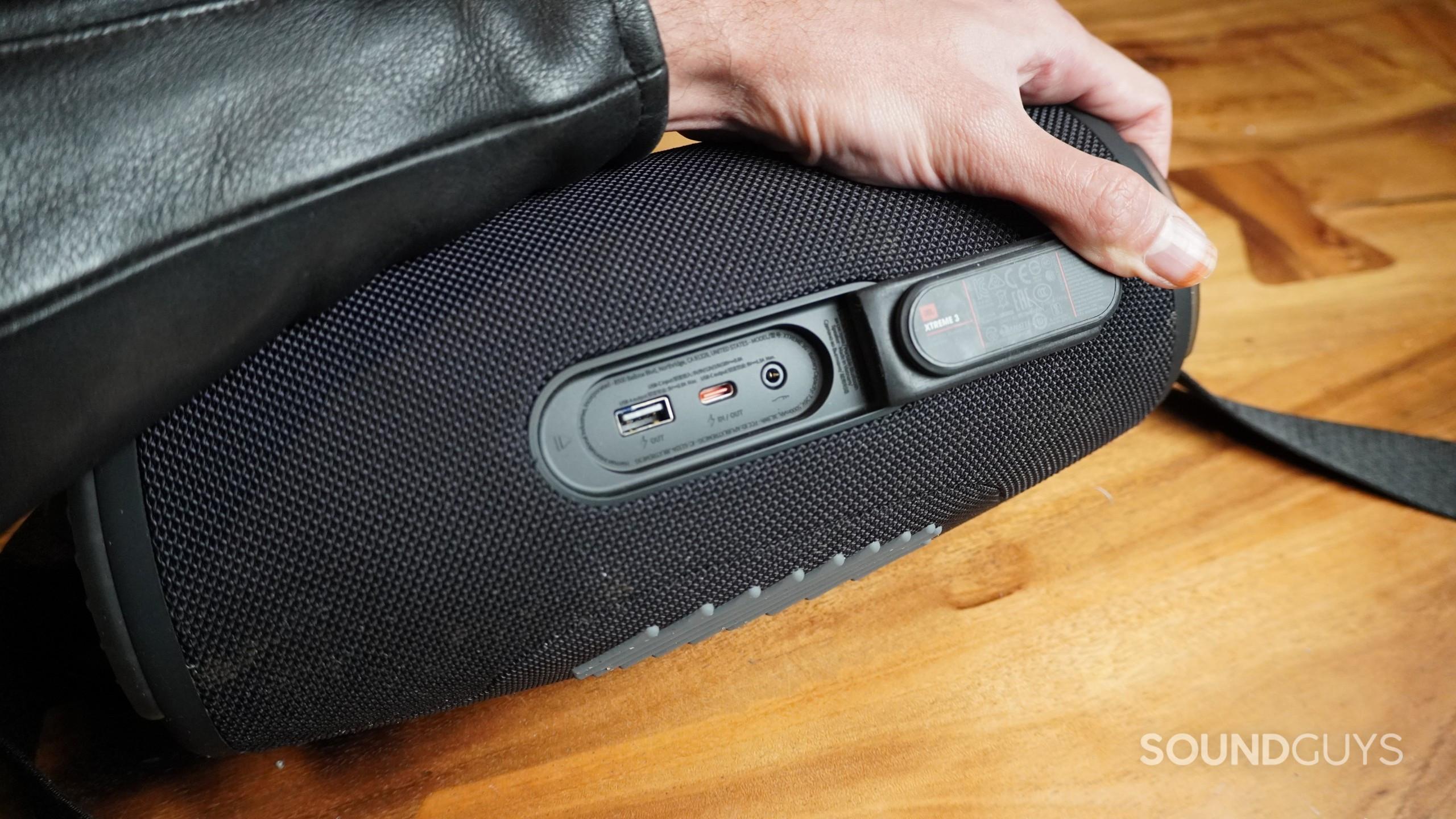 The JBL Xtreme 3 has 3.5mm aux and USB ports hidden behind a flap, which helps keep out dust and dirt.
JBL claims that the Xtreme 3 can last up to 15 hours on a fully charged battery. This speaker is power-hungry during charging, and as such it requires the USB-C adapter included in the box. This is a welcome upgrade from the proprietary port found on the Xtreme 2. It also means you can use the two USB ports (one Type C and one Type A) to charge your phone or other devices while listening to music. You can even leave the speaker plugged in, attach another device to the USB Type-A port to charge, and listen to music all at once.
Our standard battery test uses music played back continuously with a 75dB(SPL) maximum output level measured 1 meter from the front of the speaker. The JBL Xtreme 3 lasted 19 hours, 38 minutes, beating the manufacturer's estimate. That means this speaker will keep playing all through your parties and camping sessions while you remain worry-free, too.
How does the JBL Xtreme 3 sound?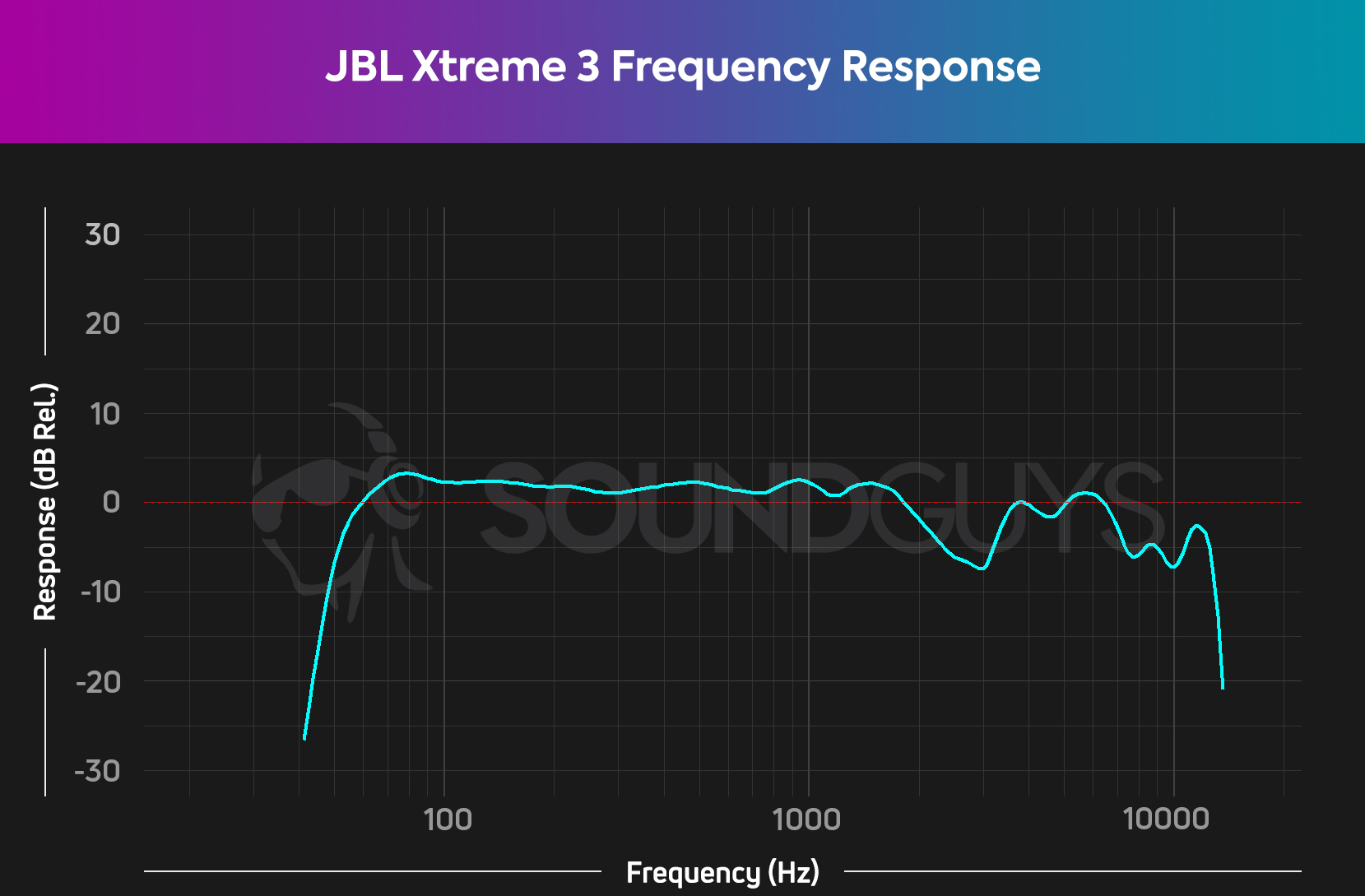 The JBL Xtreme 3 has a relatively standard response for Bluetooth speakers, with its drop in the sub-bass notes found in many other models, too.
The JBL Xtreme 3 might look a bit like the Flip 5 or Flip 6 after it's been scaled up in Photoshop, but it sounds different. You still get some of that characteristic frequency response, or "JBL signature sound," that defines the brand though (i.e., boosted bass). This speaker can reproduce frequencies between 53.5Hz-20kHz. While the aux port ensures lossless playback, this is not a speaker for picking apart your tunes. If you remember that it's a party speaker, you'll likely have a great time listening to it.
Lows, mids, and highs
Party music, dance songs, and power ballads play quite well through the Xtreme 3, such as Can't Take My Eyes off You as sung by the disco and hi-NRG band Boys Town Gang. This speaker loudly reproduces drums while the vocals and higher-pitched instruments like cymbals still come through. (You'll technically get even better transfer rates with a wired connection.) Similarly, Shirley Bassey's singing is audible over surging crescendos and bass notes in This Is My Life.
Fortunately, JBL's updated four-driver system and dual-passive radiators work better than before. As a result, the Xtreme 3 handles more intimate listening experiences like Laage Re Nain as sung by Ayesha Omer very well. It's easy to hear vocals, strings, drums, and other instruments in concert. This sets the JBL Xtreme 3 apart from the brand's Flip series speakers. While you likely won't listen to tunes like Laage Re Nain at a dance party, it's good to know that you can share the unique nuances of these types of songs with friends.
Still, this is a party speaker so it likely won't match the best bookshelf speakers. Our testing setup is currently undergoing a revamp. We'll update this section once we have complete testing data for a more complete picture.
Does the JBL Xtreme 3 get loud?
Yes, it gets quite loud thanks to the two 25W woofers and two 25W tweeters inside. It suits listening in parks, at the beach, and indoors. You'll likely hear your tunes over the hum of conversation, too.
Can you use the JBL Xtreme 3 for phone calls?
No, the JBL Xtreme 3 does not include a microphone.
Should you buy the JBL Xtreme 3?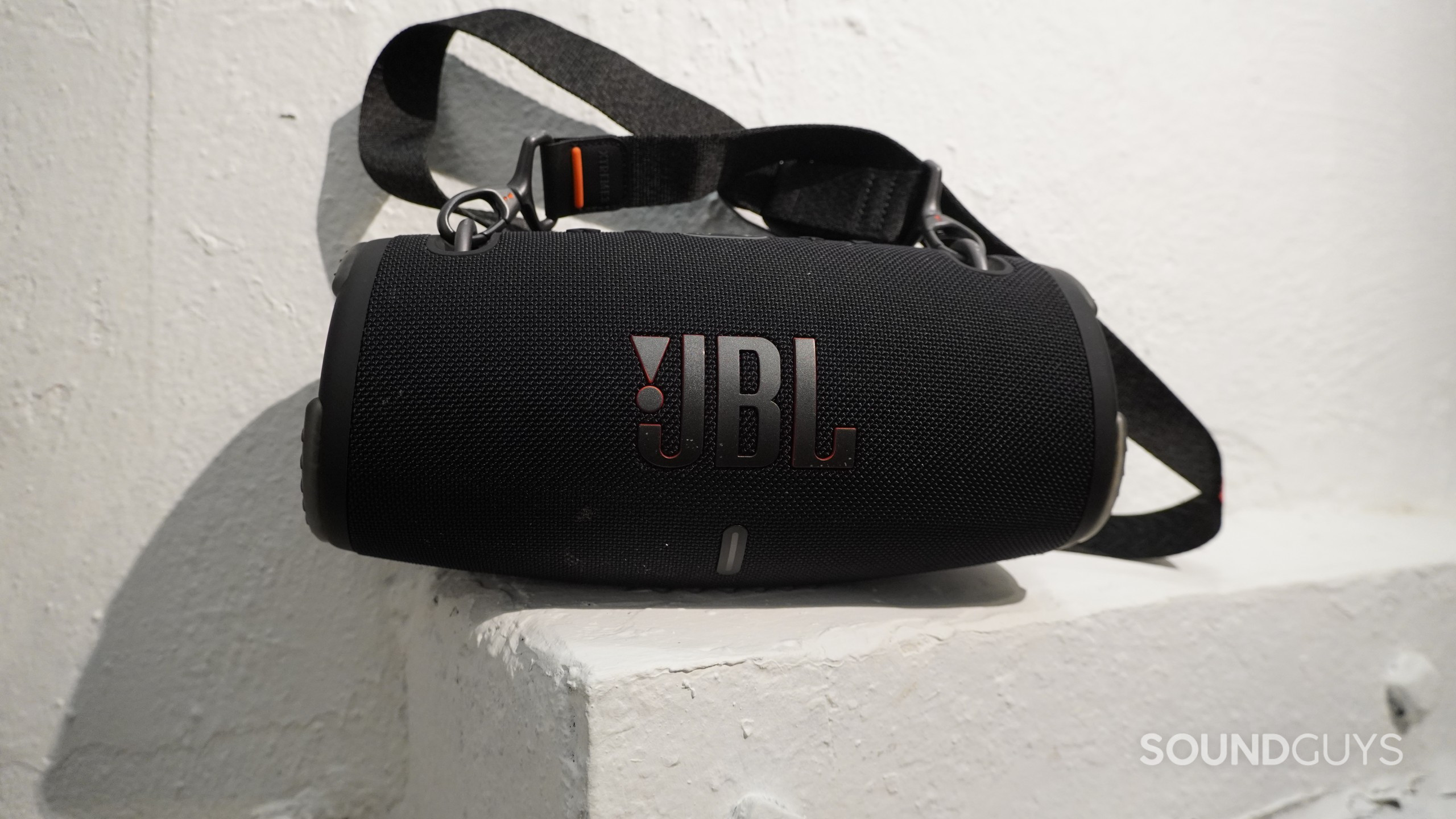 The JBL Xtreme 3 has no feet, so setting it on narrow ledges or sloped surfaces can get tricky, but it's not impossible.
If you tend to host indoor or outdoor parties and curate playlists for each of them, then the JBL Xtreme 3 makes for a good choice. The new rubberized grips at the bottom of the speaker may not please everyone, but that's hardly a reason to avoid it. The speaker's ability to charge other devices is handy for both you and your guests. Plus, the IP67 rating will bring you more peace of mind at the beach or by a pool.
JBL Xtreme 3
JBL Xtreme 3
IP67 water resistance • Four drivers with dual-passive radiators • Can charge other devices
Take your parties to the beach with JBL's water resistant speaker
The third edition of JBL's water resistant speaker packs an IP67 rating, four drivers for loud but accurate sound reproduction, and an aux port for those who prefer wired control of their music. The JBL Xtreme 3 doubles as a power bank, making it a great off-grid gadget for your next camping adventure or backyard party.
What about the JBL Xtreme 2?
The Xtreme 2 is likely to be on sale due to the new iteration's release. It sounds good, too. However, the one sticking point that the speaker has is a lack of a USB-C port and its use of a proprietary charger
What should you get instead of the JBL Xtreme 3?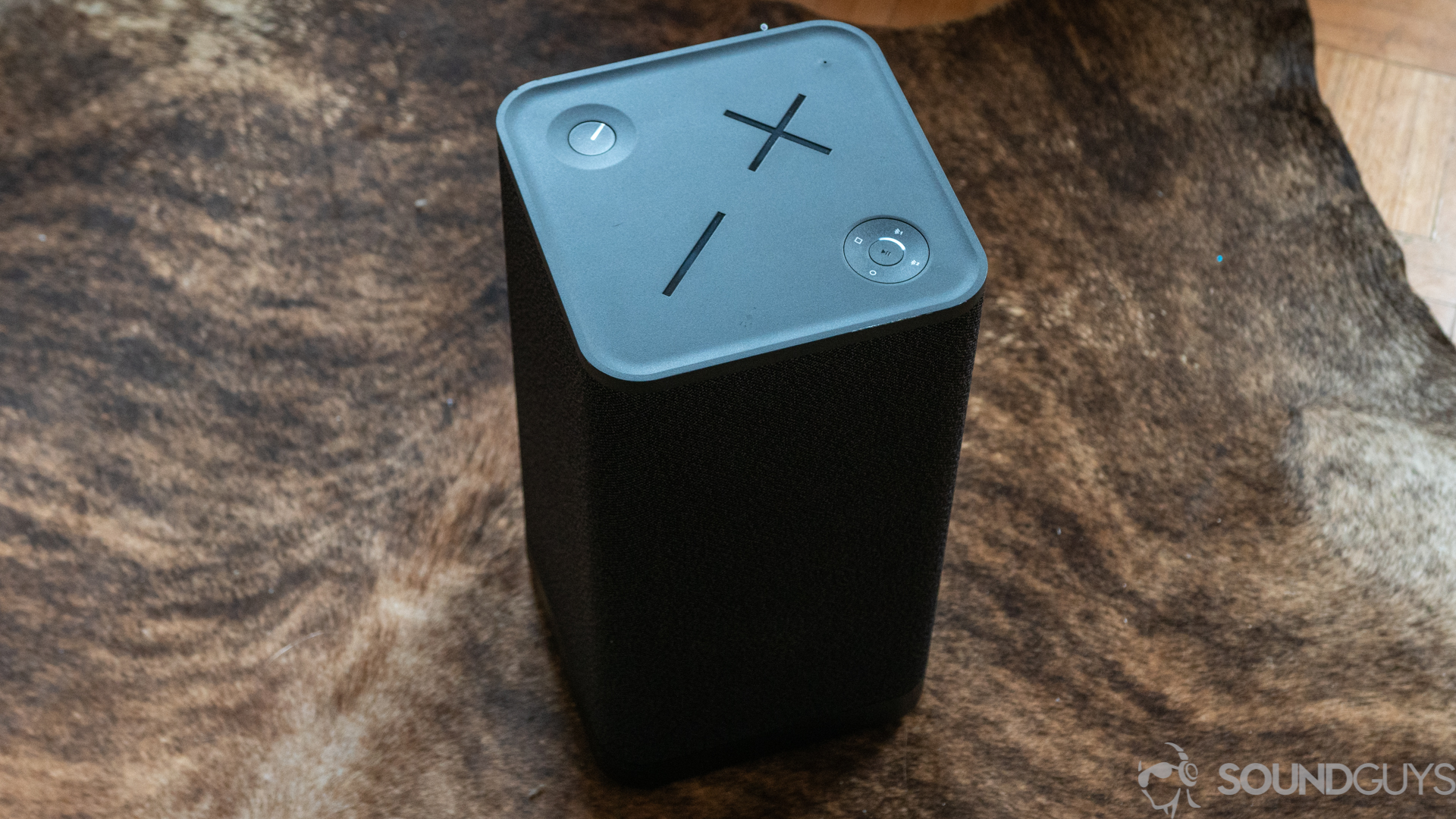 The UE HYPERBOOM isn't small at around 5.9kg, but it does have a handy handle, just like the Xtreme 3 does.
The UE HYPERBOOM is a similarly loud Bluetooth speaker and is just as big and bulky, too. There is also the JBL Charge 5, which is IP67-rated and loud but a bit more portable. If you want something truly portable, the JBL Flip 5 or Flip 6 don't distinguish instruments quite as well, but they can go practically anywhere with you.
Frequently asked questions about the JBL Xtreme 3
No, you have to use two JBL speakers of the same model and generation for stereo mode. They will work together for party mode in case you want more volume, however.
No, it does not float, exactly. It survives a plunge into the water but make sure you grab it before it sinks too far down into the deep end of a pool.