All products featured are independently chosen by us. However, SoundGuys may receive a commission on orders placed through its retail links. See our ethics statement.
LG XBOOM 360 review
This speaker looks out of this world, but is its performance out of this world?
There are so many Bluetooth speakers out there nowadays that it can be hard to tell them apart. That's not an issue with the LG XBOOM 360 though. This massive speaker looks like a lighthouse and its mood light has literally millions of colors to choose from. The XBOOM 360's unique design may be eye catching, but let's find out if it's actually worth your money.
Editor's note: This review of the LG XBOOM 360 was updated on August 9, 2022, to update formatting, add FAQ submissions, and link to our Bluetooth speaker guide.
Party hosts won't have to worry about whether the LG XBOOM 360 can get loud enough to fill the corners of their house with music; it gets plenty loud.
Anyone who wants to add some mood lighting to their bedroom can customize the colors of the lantern on the LG XBOOM 360.
How is the LG XBOOM 360 built?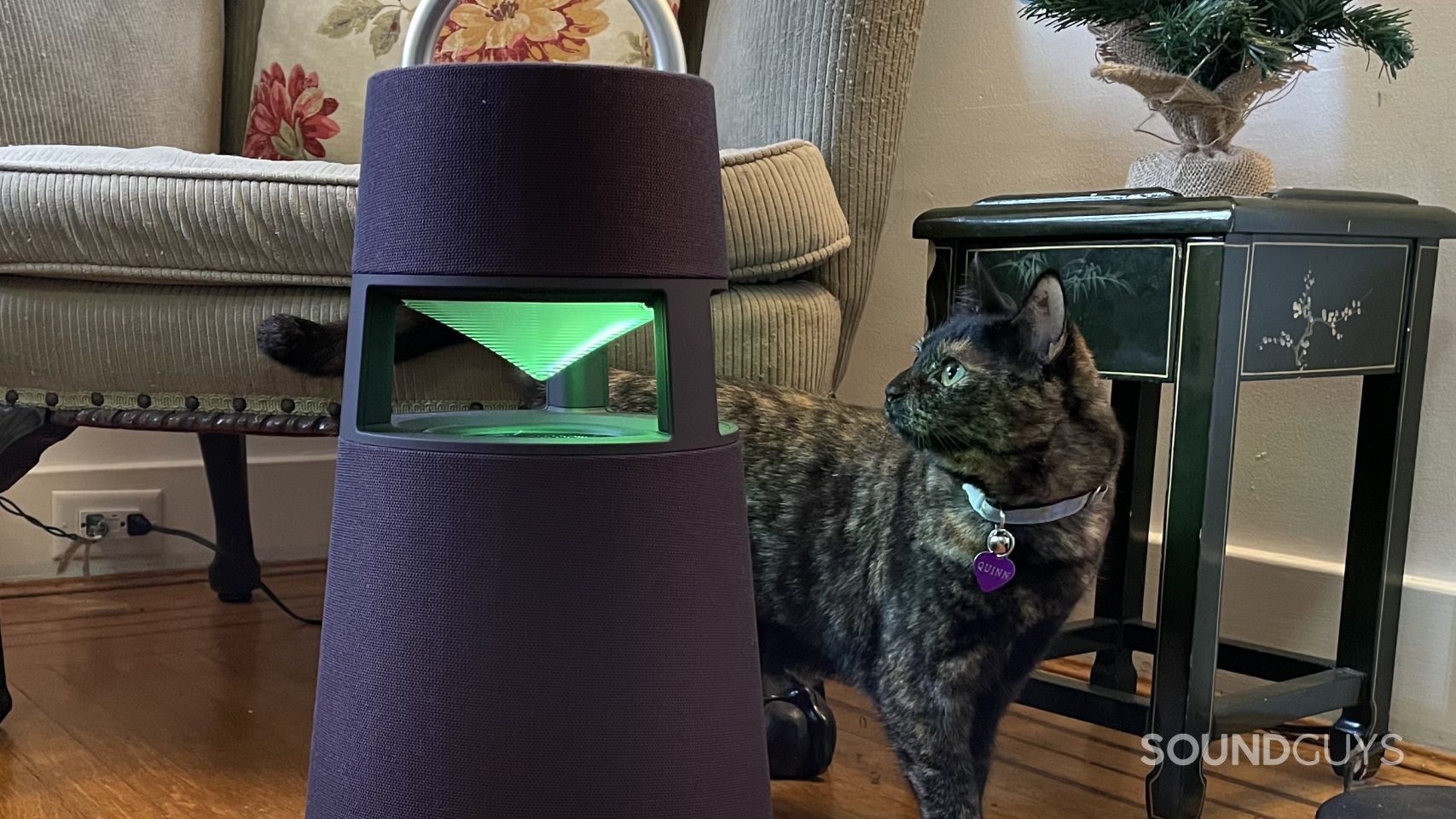 With 16.8 million colors to choose from and different flashing options, the LG XBOOM 360 produces captivating light shows.
The first thing you need to know about the LG XBOOM 360 is that it's freaking huge. It weighs in at 5.8kg and is 51.3cm tall. LG considers this speaker portable, which is a bit of a stretch. While you can move it around with the metal handle, and take it out of the house thanks to the large battery, I can't imagine anyone happily lugging it around. The speaker's design looks extraterrestrial, with a conical shape I quite like, though not everyone will. Its lantern looks nice and sits directly above the speaker's woofer. The LG XBOOM 360 is sturdy and has a low center of gravity, you're unlikely to knock it over.
Despite its cumbersome weight and size, the LG XBOOM 360 is pretty easy to use. When you first turn on the speaker it makes a pleasant startup sound and the mood light starts to glow. Playback controls can be administered via the buttons on the top of the speaker. The buttons are easy to identify visually, but difficult to do so by feel since they all sit flush against the top panel. The volume control and power buttons have braille and the battery and function buttons have LED indicator lights. You can control the mood light settings via the button on the top of the speaker (lightbulb icon), but for more customized controls, you'll want to head into the speaker's companion app.
While the XBOOM 360 is technically portable, you have plenty of lighter on-the-go options.
A panel on the side of the speaker near its base opens and has inputs for USB-A and aux cables. It also has a reset button and a twin button for the Wireless Party Link-Twin mode, enabling you to connect two LG XBOOM 360 speakers together for simultaneous, amplified playback. With Party Link-Twin mode, you need to designate one speaker as the "main" and the secondary as "other." When you mute the main speaker, it mutes the other speaker, but you can change the volume of the speakers independent of one another.
Does the LG XBOOM 360 have a good companion app?
Like all good modern audio tech products, the LG XBOOM 360 has a companion app, called LG XBOOM. Download the LG XBOOM app (iOS, Android) to control power-saving mode and update the device's software. The XBOOM app also informs you of the battery percentage and presents EQ options. It includes genre-specific presets as well as a custom EQ. You can also use DJ mode that lets you play with sound effects like delay and insert drum noises as you stream music. In the Sampler Creator tab, you can record samples up to 5 seconds and play them back in DJ mode.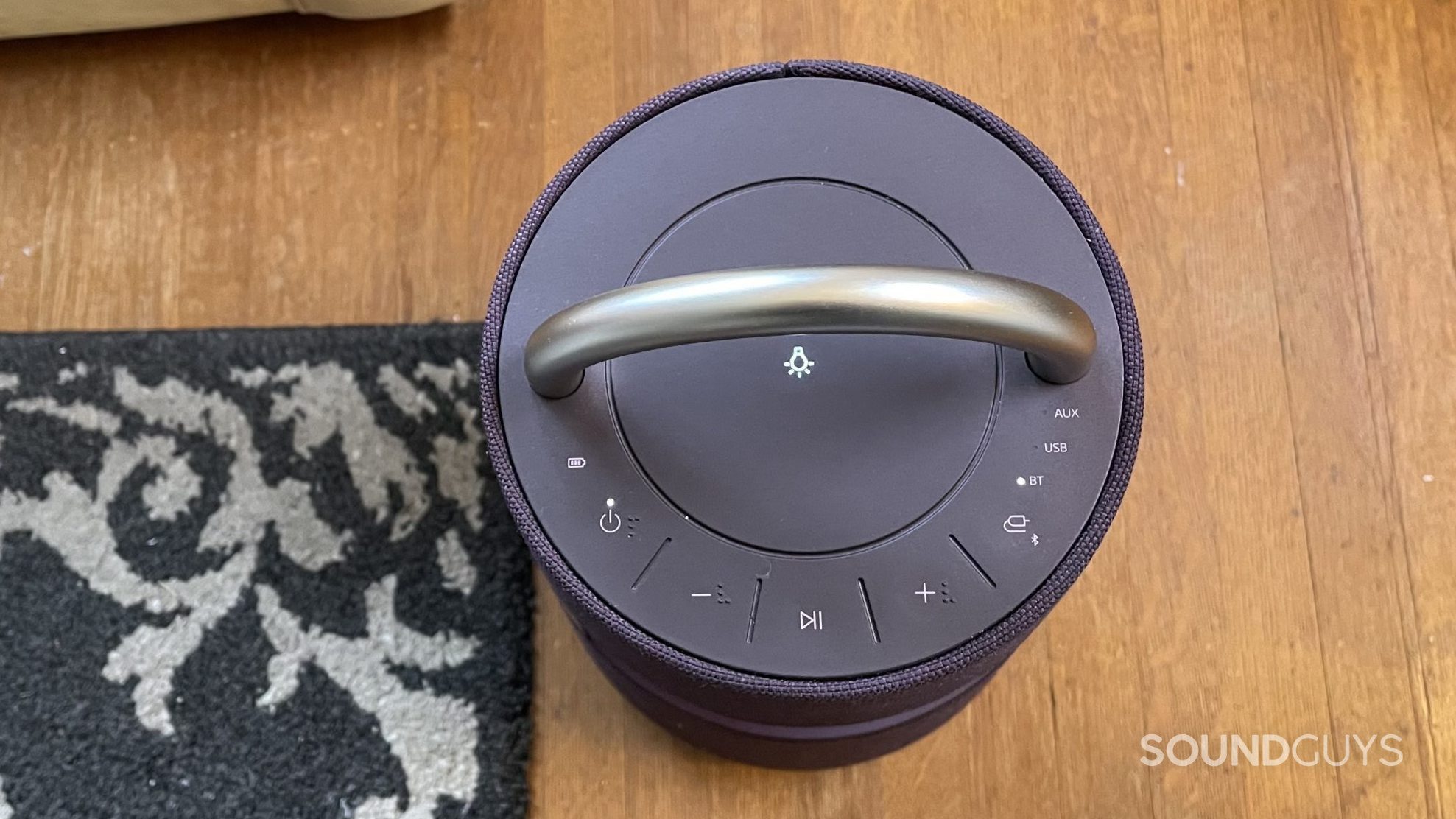 When Bluetooth multipoint is in use, you can use the app to toggle whether or not both phones are allowed control over the XBOOM 360.
The LG XBOOM 360's mood lighting feature is very fun. To fully customize the colors of the lights, go into the app and select from 16.8 million colors on a color spectrum and several different flashing modes. If you're having a Christmas party, for example, you can select red, green, and gold lights and have them flash in quick succession or fade into one another more slowly.
There's one quirk with the app and that's its auto power-on setting, which should automatically turn the speaker on when you connect your smartphone to it via Bluetooth. My phone won't connect to the speaker unless it is already powered on.
How do you connect to the LG XBOOM 360?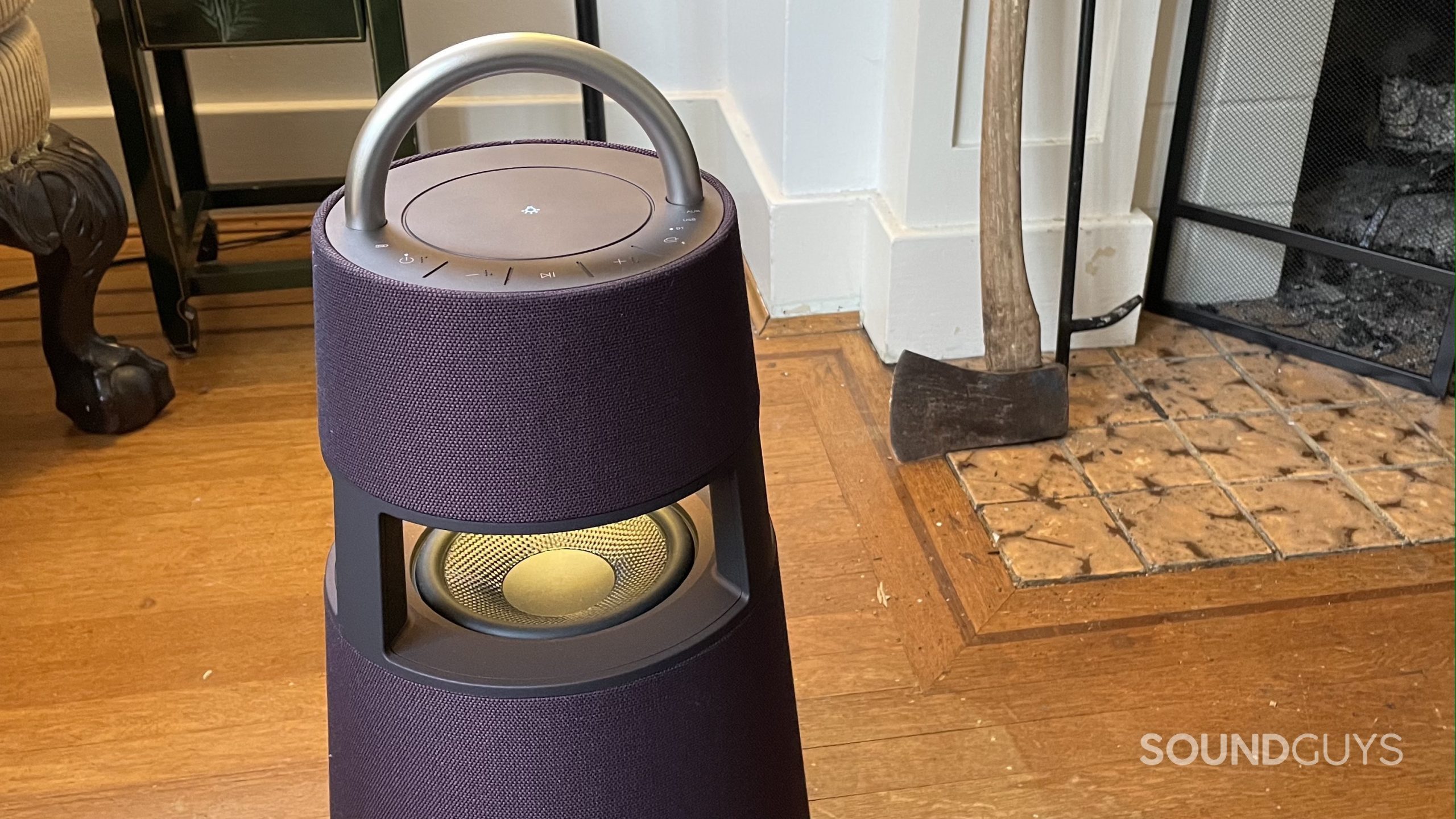 The LG XBOOM 360 has a dedicated woofer that produces lush and powerful bass sounds.
The LG XBOOM 360 has three ways to connect: USB, aux, and Bluetooth. To pair to Bluetooth:
Press and hold the Function button
Wait until the speaker emits the startup sound and the Bluetooth LED begins to blink
Open your phone's Bluetooth settings and connect to the speaker
The Bluetooth LED will glow steadily, indicating that you are connected.
The speaker supports the SBC and AAC Bluetooth codecs and has good connection strength—even when I took my phone two rooms over with multiple walls separating it from the speaker, the audio didn't skip at all. The LG XBOOM 360 also has Bluetooth multipoint which means you can connect two smartphones to the speaker at once.
If you want to play music from a USB or aux cable, press the Function button until it selects the input source type you want. The speaker does not come with a USB or aux cable, so you'll need to provide your own. When playing music via USB or Bluetooth you can control playback with the play/pause button on the speaker, but with an aux cable, you must make adjustments from the source device.
Does the LG XBOOM 360 have long battery life?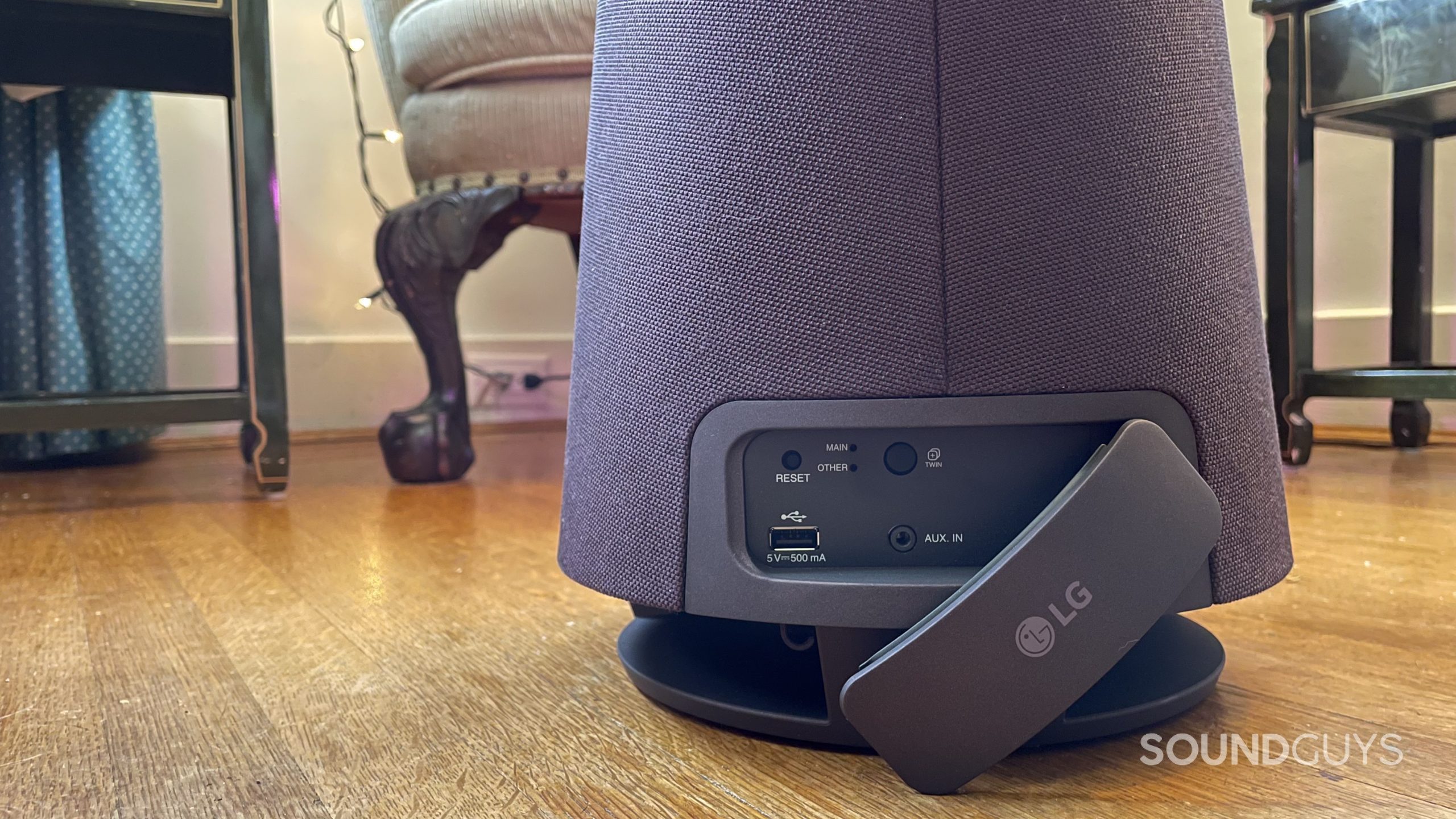 You can play media through the speaker via Bluetooth, USB, or aux cable.
According to LG, the XBOOM 360 lasts up to 10 hours on a single charge when the mood light is off and takes 5 hours to fully charge. We are currently sorting out our standardized speaker battery testing and will update this review with the results once available.
When you plug in the power cord, a little LED light next to the battery symbol will shine red. As long as you don't disable the power saving feature in the app, the XBOOM 360 will shut off automatically if there is no playback or button interaction for 15 minutes, so don't worry about it draining power overnight.
How does the LG XBOOM 360 sound?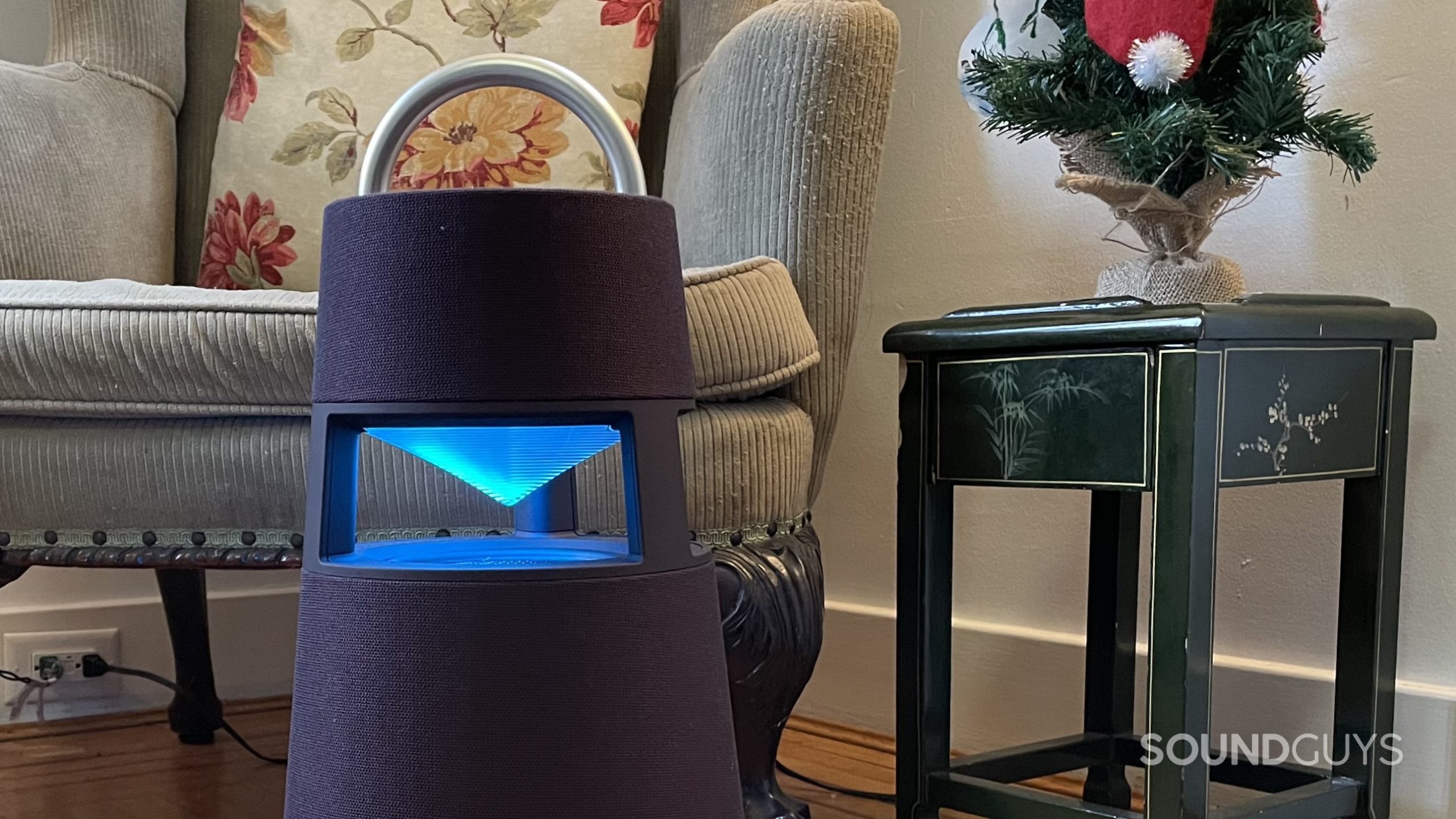 Download the LG XBOOM for full control over your speaker.
The LG XBOOM 360 gets really loud, which is to be expected considering its size. Unlike a lot of Bluetooth speakers, this one sounds great at all volumes. The speaker houses a 1-inch titanium tweeter and a 5.25-inch glass fiber woofer. A multi-driver system like this can produce different frequency ranges with similar relative loudness (which makes your music sound good).
Lows, mids, and highs
Even in an instrumentally busy song like Baby Jade by Slightest Clue, the different instruments are easy to hear because of how the woofer handles the bass and mids, leaving the tweeter responsible for the treble. The bass is definitely loud, but you can still make out the guitar licks, and the bassline doesn't mask the vocals.
The XBOOM 360 may look funky but it sounds really good.
This speaker is omnidirectional, which means it evenly outputs sound in a 360-degree field. The bass synth in erase me by Lizzy McAlpine sounds lush and full from all sides of the room.
Hold up! Something's missing:
This section is typically where we display a frequency response chart to show you exactly where the audio output shines and where its deficiencies lie. We're still ironing out our standardized speaker tests with the appropriate support equipment to update our testing and data collection. It will take a bit to get everything fleshed out, but we will update this review (and many others!) once we're able with improved sound quality measurements and performance plots. These will be made obvious by an announcement explaining the change, and a new chart aesthetic.
Thank you for bearing with us, and we hope to see you again once we've sorted everything out.
If you wish the XBOOM 360 had more bass, you can make it so from the LG XBOOM app. The app's EQ presets are set up for different music genres and, of course, there's a bass boost setting as well. The app also includes a setting for listening to music outdoors that boosts the volume to make it more audible over background noise, though be wary of taking the speaker outside since it doesn't have any water-resistant rating.
Should you buy the LG XBOOM 360?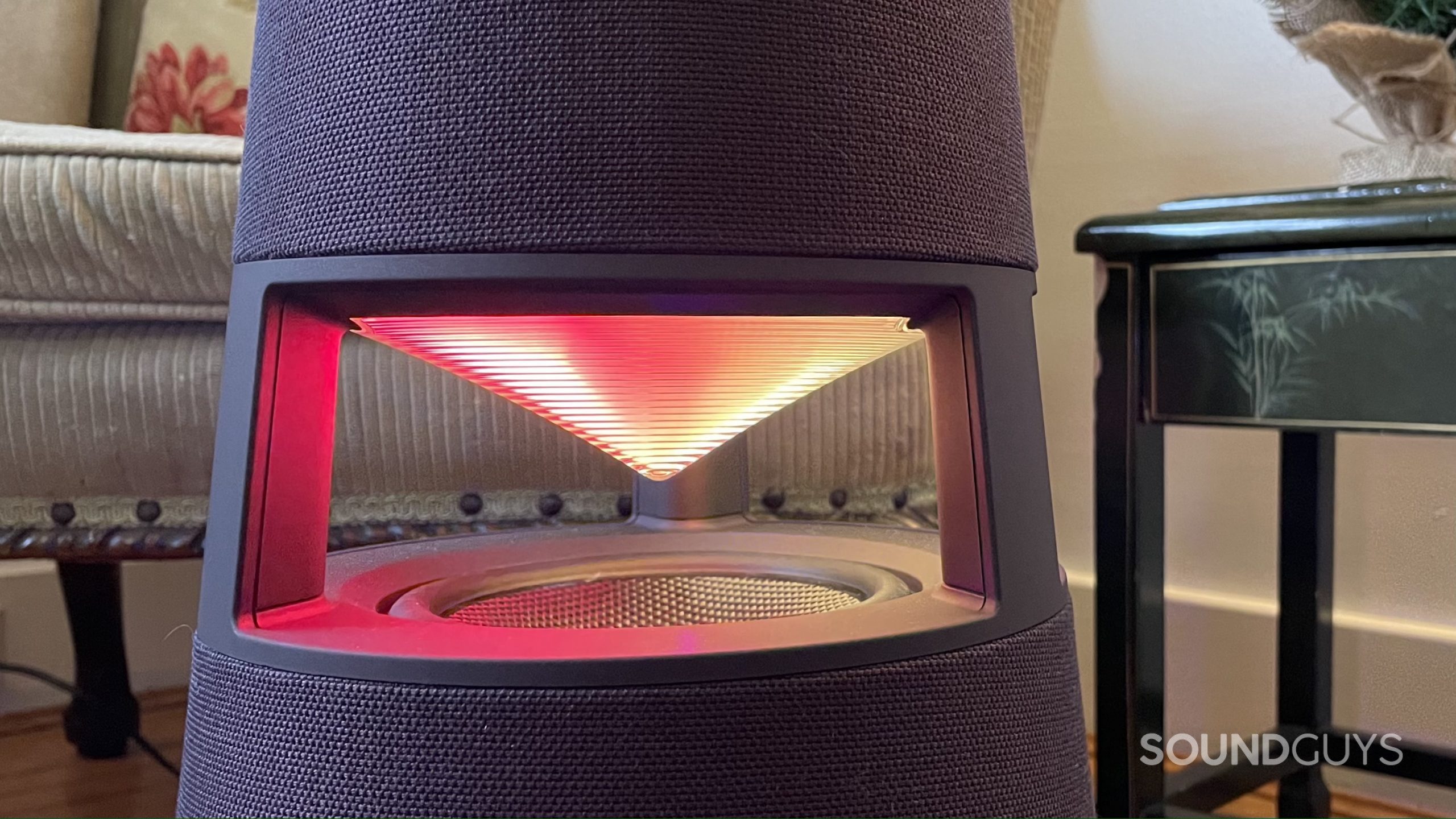 Add mood lighting to any room with the LG XBOOM 360.
If you have $300 USD to spend, the LG XBOOM 360 is definitely a good, well-rounded Bluetooth speaker. It has a pretty unusual but nice design that blends well into most rooms, and the customizability of its mood lantern is nifty. The speaker sounds great whether you're blasting pump-up music or quietly listening to classical piano, and it's intuitive to use with both the onboard controls and the companion app.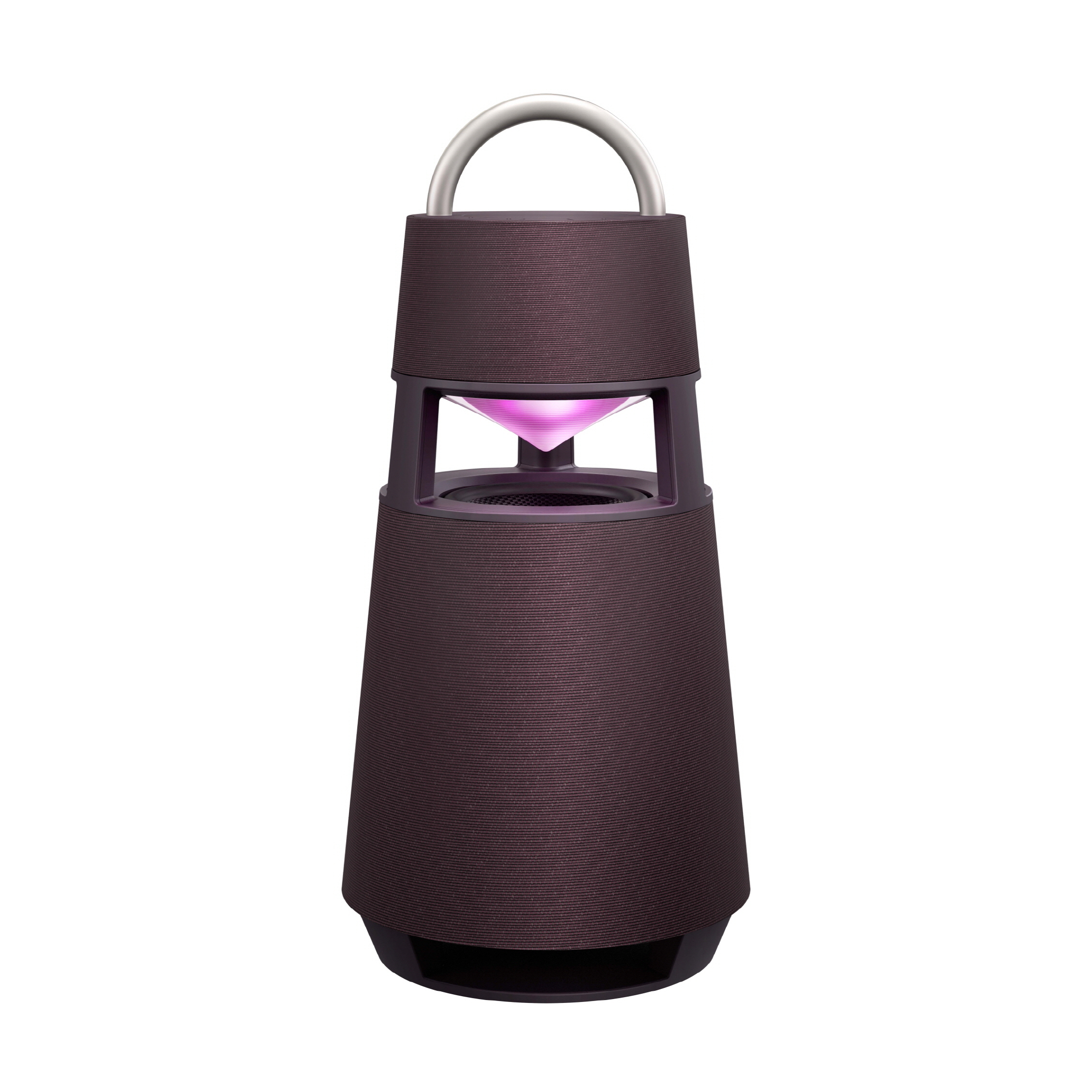 LG XBOOM 360
All prices listed in USD unless otherwise specified. Prices may change over time, and vary by region. Unfortunately, we cannot list Amazon prices on the site, as they vary greatly by currency.
It's too bad the LG XBOOM 360 doesn't sport an IP rating of some kind, especially considering it has the volume capabilities of an outdoor speaker. However, the speaker is too bulky to comfortably take around outside anyway. If you're looking for something portable, check out these alternatives.
What should you get instead of the LG XBOOM 360?
If you want to spend less and are looking for something more portable and weatherproof, check out the JBL Charge 5. Though it doesn't come with any fun light displays, the Charge 5 has great sound quality and bass response for such a little speaker. It is IP67 rated, so you can drop it in the pool and it shouldn't cause any changes to its performance or sound quality. The Charge 5 retails for roughly $179, but you can also look into JBL's refurbished program for cheaper options.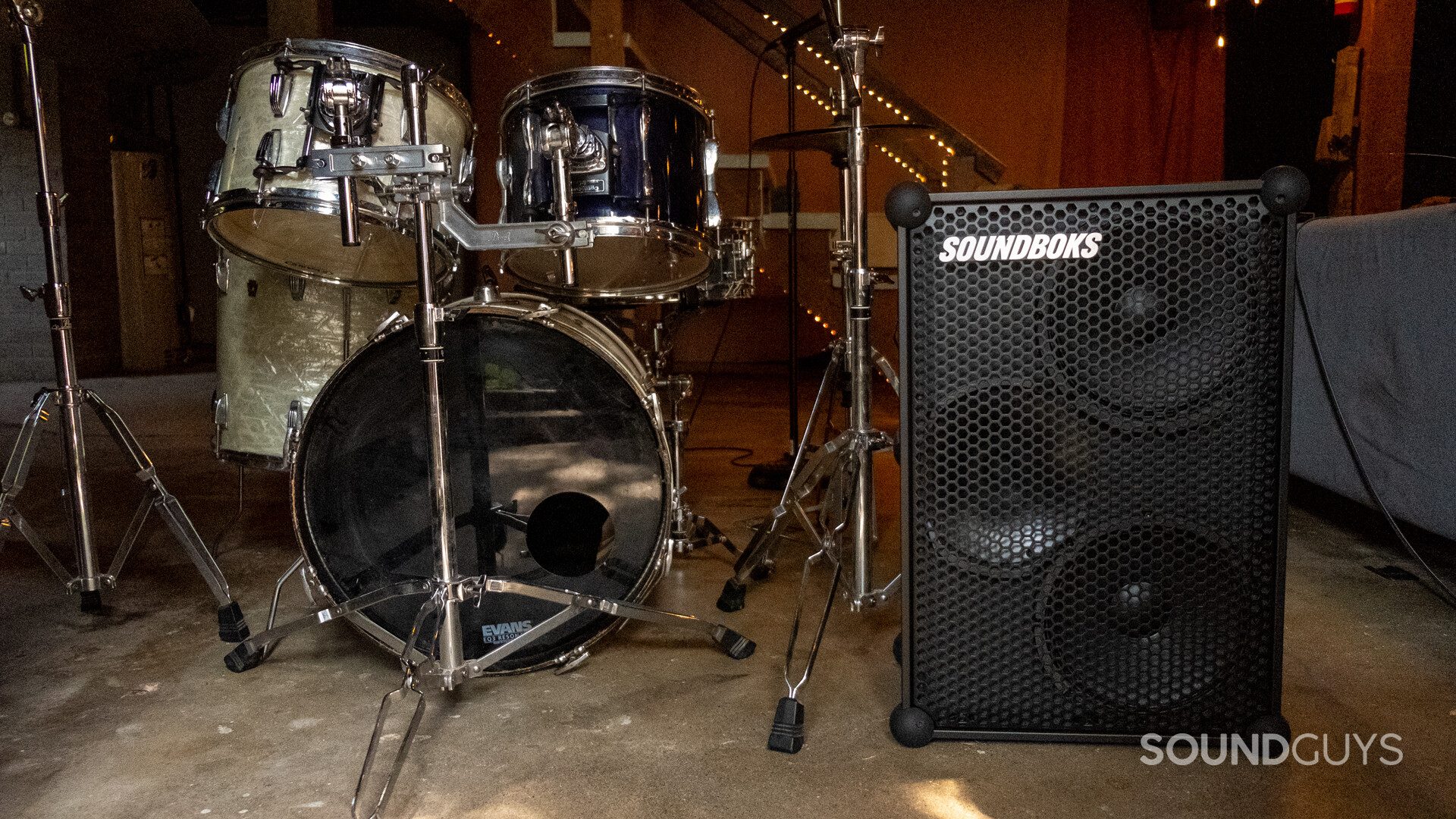 The SoundBoks (Gen. 3) has two bass drivers and one tweeter.
If you're looking for something a bit more versatile, albeit very large, check out the SOUNDBOKS (Gen. 3). This thing is basically a portable PA system that doubles as a Bluetooth speaker. It also works as a microphone amplifier or a direct input for an instrument thanks to its two combination XLR and 1/4-inch inputs. Like the LG XBOOM 360, the SOUNDBOKS (Gen. 3) can connect wirelessly to other speakers of its kind for simultaneous playback. The SOUNDBOKS (Gen. 3) is more than $700 USD more expensive than the LG XBOOM 360, though, so make sure you really do want those extra features before dropping your next paycheck on it.
Another large speaker alternative is the UE Hyperboom, an IPX4-rated Bluetooth monster. The speaker has plenty of convenient features like dual Bluetooth, auxiliary, and optical inputs, Adaptive EQ, and a One-Touch Music Control feature that makes it easy to seamlessly play your favorite playlist. You can get the UE Hyperboom on Amazon for about $450.
Frequently asked questions about the LG XBOOM 360
No, the LG XBOOM 360 does not have a microphone and you cannot take phone calls through the speaker.
To turn the LG XBOOM 360 on, simply press the power button on the top of the speaker. Once you do this, you will need to pair the speaker to your source device via Bluetooth, USB, or auxiliary cable.