All products featured are independently chosen by us. However, SoundGuys may receive a commission on orders placed through its retail links. See our ethics statement.
SOUNDBOKS (Gen. 3) review
A monster speaker with many functions.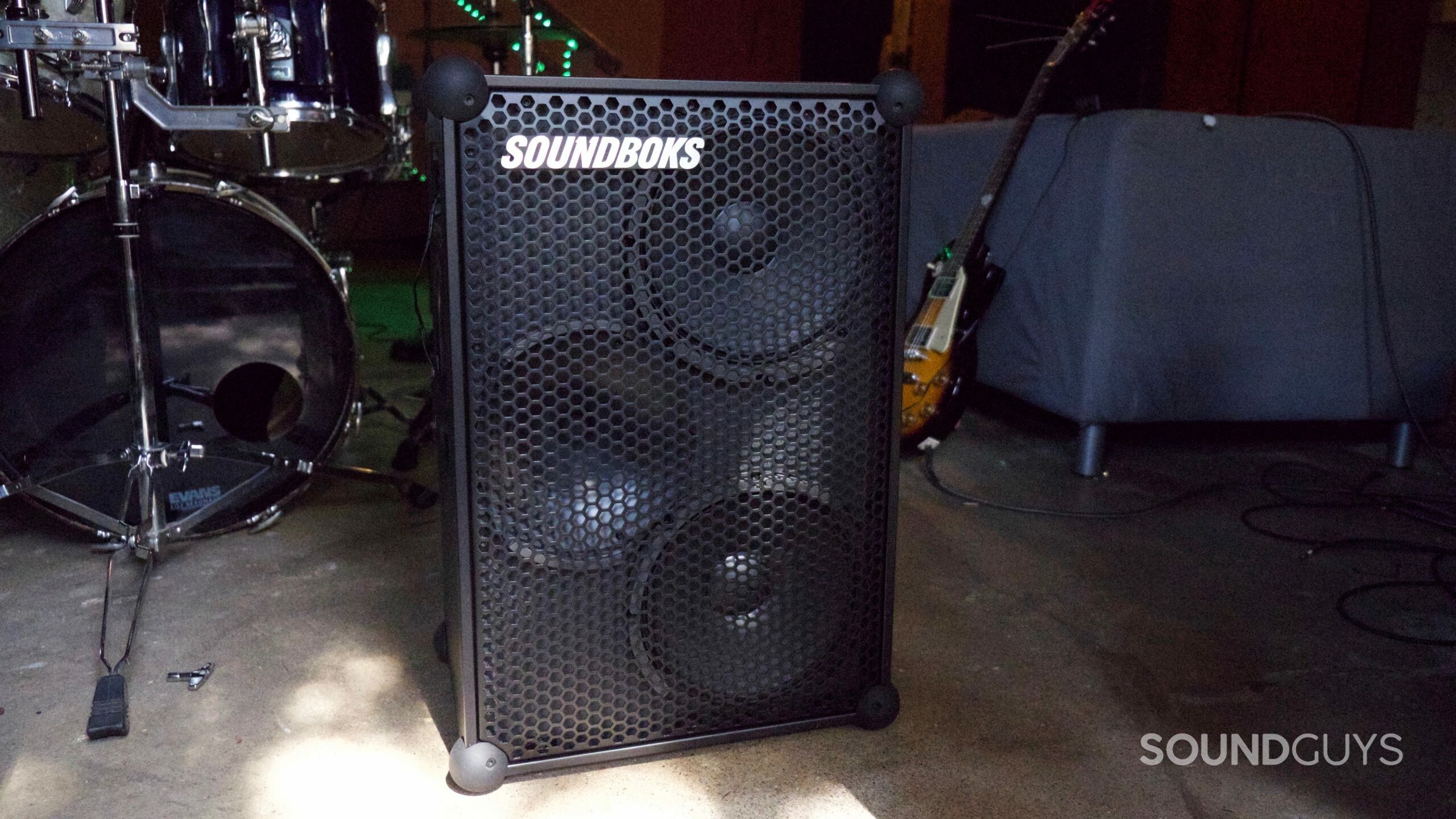 A device that functions as a PA, amplifier, and Bluetooth speaker all in one sounds like a pipe dream, but that's where the SOUNDBOKS (Gen. 3) steps in. This monster speaker works with or without a power outlet and can pair with other speakers of its kind for multi-speaker playback. Its companion app offers free reign over its frequency response and further customization options, too. Let's see if it performs as advertised and if it's worth its $1,000 USD price tag.
Editor's note: This review was updated on February 5, 2022, to include an FAQ section.
Who is the SOUNDBOKS (Gen. 3) for?
Party hosts can provide the soundtrack to their ragers with the SOUNDBOKS (Gen. 3) thanks to its 126dB SPL maximum volume output.
Live music hosts will appreciate the multiple functions of the SOUNDBOKS (Gen. 3). You can use it as a PA as the band plays, and then as a Bluetooth speaker to blast the post-show playlist.
How is the SOUNDBOKS (Gen. 3) built?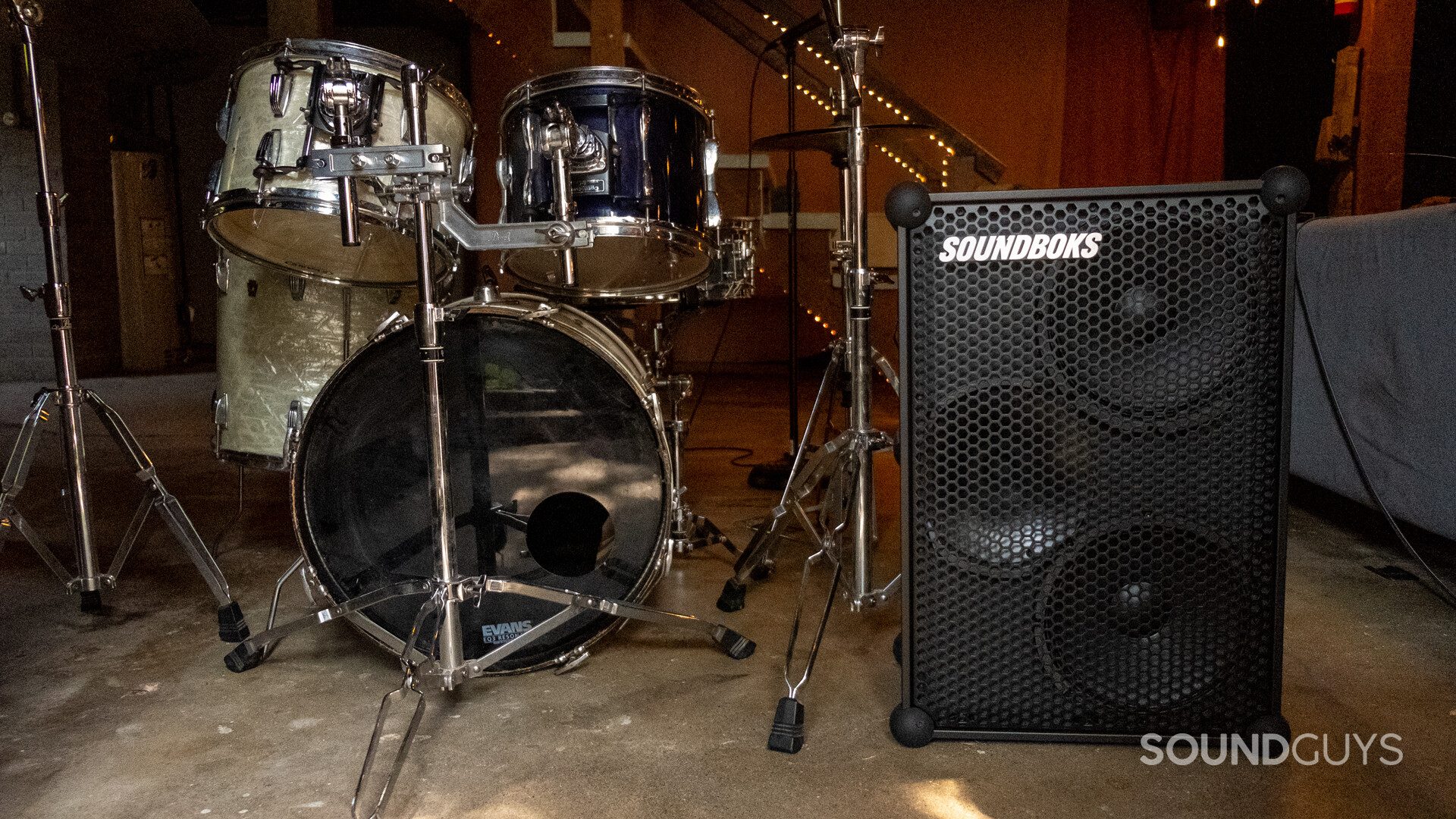 The SOUNDBOKS (Gen. 3) has two bass drivers and one tweeter.
The SOUNDBOKS (Gen. 3) is pretty bulky, but surprisingly light, weighing in at 15.4kg. The company provides a battery pack, a charging/power cable, some documentation, and some SOUNDBOKS stickers. The SOUNDBOKS comes with a swappable steel grille and the user guide encourages you to paint the grille to customize your speaker. You can bring the SOUNDBOKS to an outdoor event and won't need to worry too much about its durability—it can withstand temperatures from 14 to 104°F and has an IP65 rating, meaning it can handle water and dust (perfect for an outdoor show).
Start here: What makes a good Bluetooth speaker?
The speaker is compatible with any standard PA stand, and all of its corners have silicone feet so it can also sit directly on the ground too. The SOUNDBOKS (Gen. 3) has two 10-inch bass drivers, one 1-inch tweeter, and a Pulse Reflex Port, which is a perforated mesh tube running through the middle of the speaker that extends the bass response.
How do you connect the SOUNDBOKS (Gen. 3)?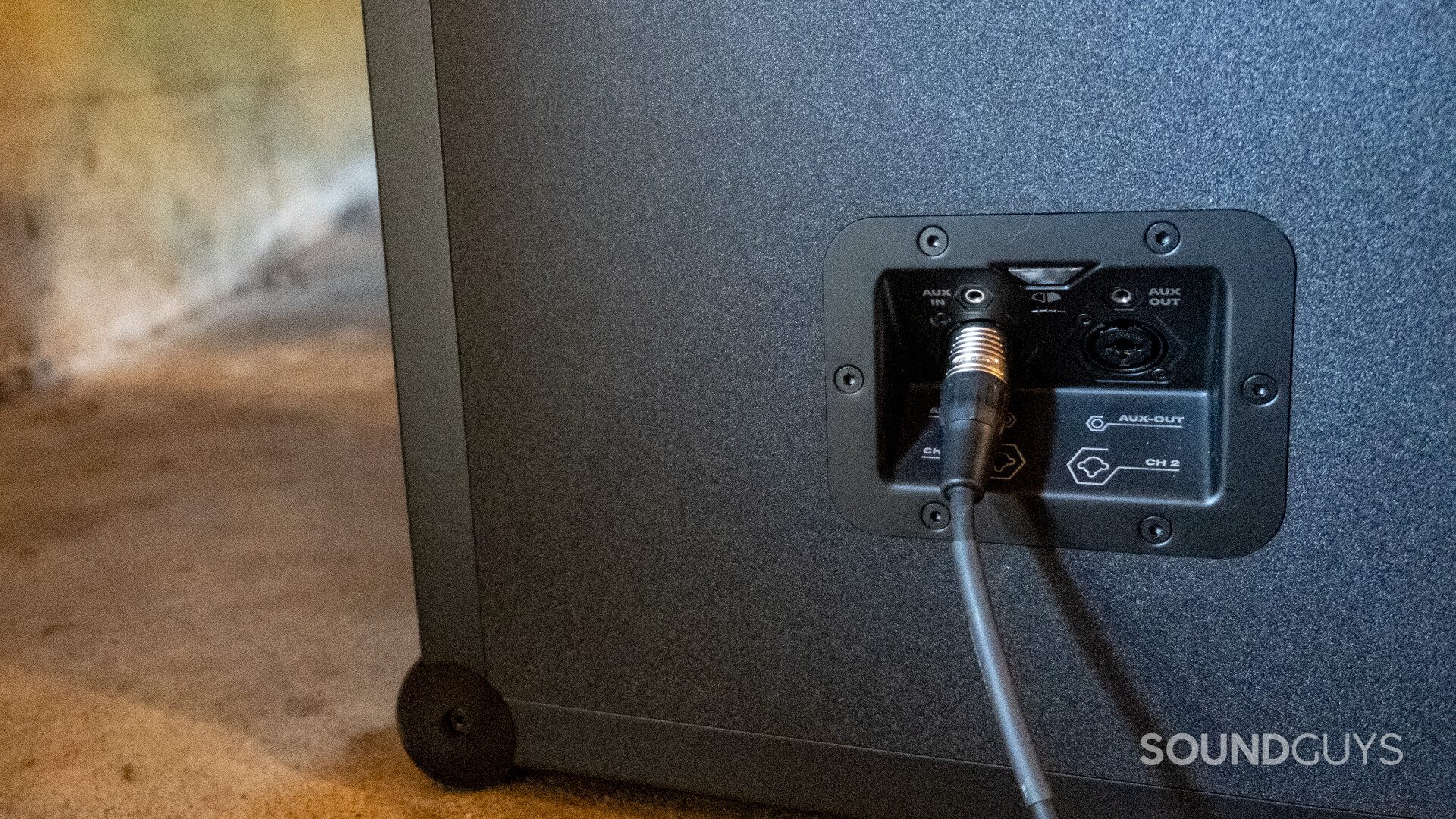 Whether you want to connect an XLR, quarter-inch, or aux cable, the SOUNDBOKS (Gen. 3) is there for you.
What makes the SOUNDBOKS (Gen. 3) so unique is that there are many ways to connect an audio source to it. It supports Bluetooth 5.0 for wireless playback, and has a set of inputs called a Pro Panel that houses two combination XLR and quarter-inch ports. These ports work with microphones, instruments, sound mixers, or any other audio source with compatible connections. The Pro Panel also houses a 3.5mm aux input and output.
When you plug an audio source into the Pro Panel you have to activate it manually in the SOUNDBOKS app; if you don't do this, the speaker won't channel the signal. Once activated, you can use multiple audio inputs at the same time—you could sing into a microphone connected to channel 1 (Ch. 1) as you play guitar into channel 2 (Ch. 2), and your phone streams audio over Bluetooth. In the SOUNDBOKS app, you can toggle whether or not you want the speaker to automatically connect to the last used Bluetooth device each time you start it up.
How do you power the SOUNDBOKS (Gen. 3)?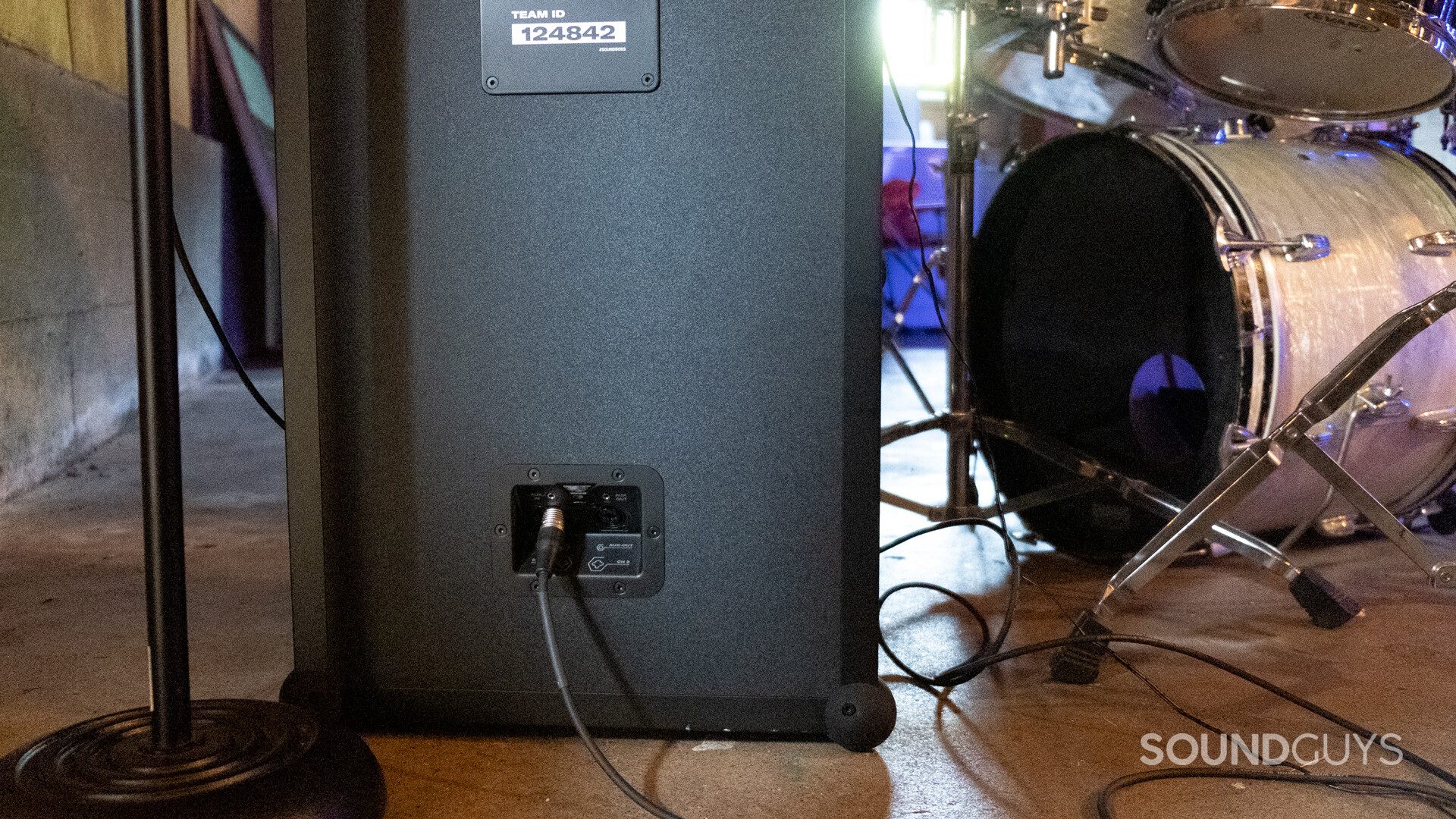 You can plug a microphone directly into the SOUNDBOKS (Gen. 3).
There are three ways to power the SOUNDBOKS (Gen. 3) speaker. You can use the speaker wirelessly with the charged battery pack, use it with just the charging cable plugged directly into the speaker, or plug the cable into the battery pack while it is inside the speaker to charge it as it powers the speaker. Depending on the level of input power you plan to pump through the speaker, you'll likely want to double-whammy it with the battery pack and the cable so you can avoid what I experienced when I used just the power cable:
I plugged a microphone directly into the Ch. 1 input on the SOUNDBOKS so I could sing over an electric guitar (connected to a separate amp) and a full acoustic drum kit. With the SOUNDBOKS' volume turned all the way up to 11, the microphone was hardly audible over the instruments. One way to boost a mic's volume is to add a preamp, so I routed a Focusrite Scarlett 2i2 audio interface between the microphone and the SOUNDBOKS. Upon connecting the interface, the SOUNDBOKS produced a very loud, disturbing scream-like sound. This scream only ceased when I disconnected the power cord. The power cable didn't supply enough juice to handle the level of electrical signal input I was running through it. The problem resolved once I used the battery pack and cord in tandem, and the output volume became much louder as well.
How long does the SOUNBOKS (Gen. 3) battery last?
The battery lasts up to 40 hours on mid-range volume and 5 hours on maximum volume. In the SOUNDBOKS app, you can select different sound profiles for the speaker that cause its average battery life to vary because they use different levels of power. The battery pack takes three and a half hours to recharge, and you should not leave it charging for over 6 hours lest you damage the battery. The battery features a button that, when pressed, causes LED indicator lights to shine, telling you how much juice the battery has in it.
What are the SOUNDBOKS (Gen. 3)'s TeamUP settings?
With TeamUP, you can wirelessly pair up to five SOUNDBOKS (Gen. 3) speakers together.
Once you get the speaker powered on, you can use the orange TeamUP button to select which mode to use. TeamUP lets you wirelessly pair up to five speakers together for simultaneous playback in mono or stereo. "Solo" mode works as expected—it plays audio from one SOUNDBOKS (Gen. 3) speaker via Bluetooth or aux cable.
How to use multi-speaker playback
To use multi-speaker playback, set one SOUNDBOKS (Gen. 3) speaker to "Host" mode and all others to "Join" mode. The speakers will automatically connect to one another. Via the SOUNDBOKS app, you can set each of the connected speakers' volume levels independently of the others or control them all together. To channel a microphone or mixing board through the multi-speaker configuration, make sure you connect it to the Host speaker and not one of the Join speakers.
What is "Join" mode?
When you first pair a SOUNDBOKS (Gen. 3) in "Join" mode to a Host, its BOND button, which is located in the Pro Panel, will glow orange. After the two speakers have been connected for 30 minutes, the BOND button on the Join mode speaker will shine green, indicating that it will remember that Host speaker. Next time you put the speaker in "Join" mode it will automatically search for speakers on its "Green List," which can include up to 10 hosts. If you don't want the speaker to remember its Host speaker, double-press the BOND button and it will automatically try to connect with other Host speakers nearby. To reset all the Green List speakers, click the BOND button six times in quick succession.
What can you do with the SOUNDBOKS app?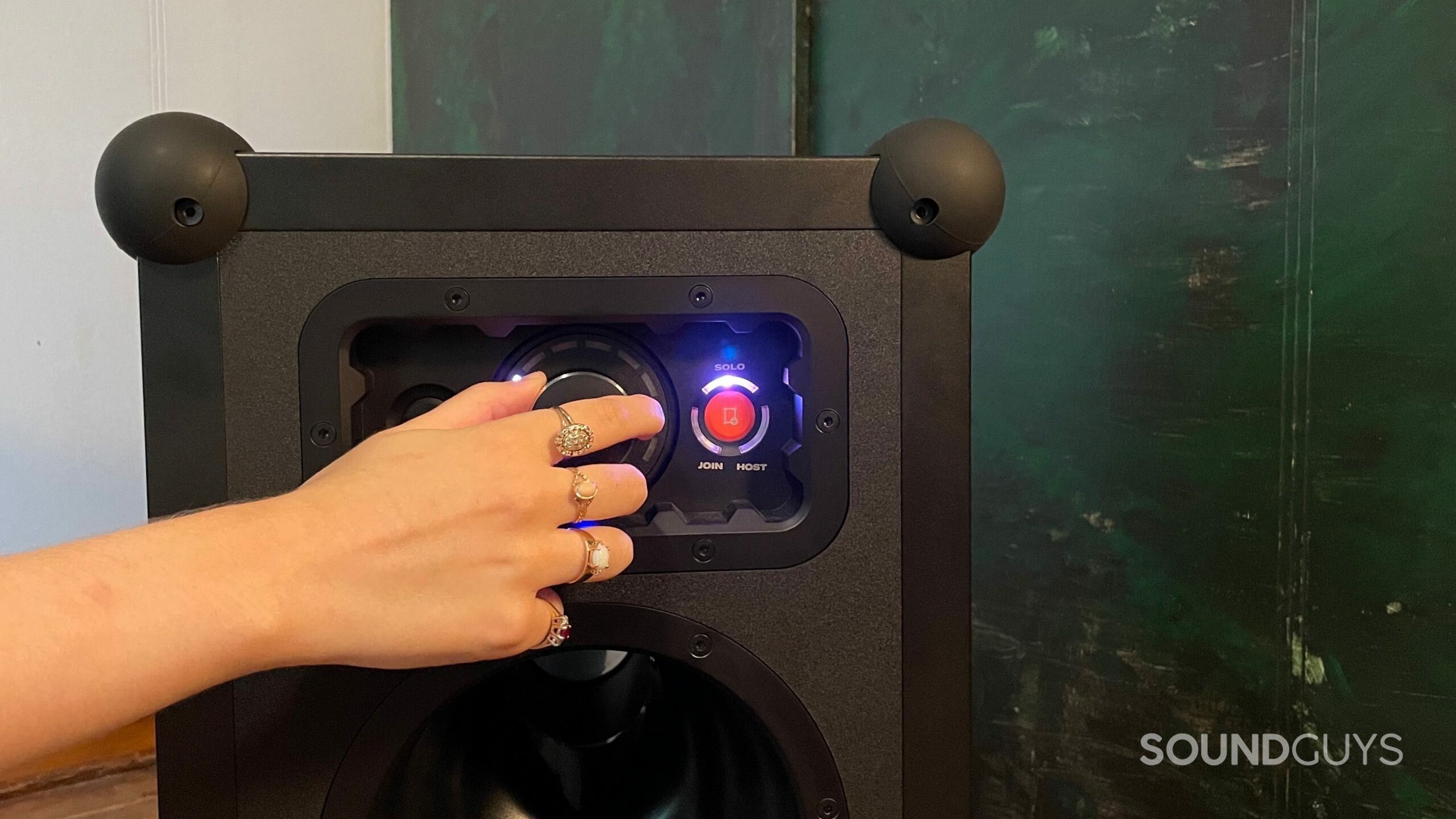 You can control the speaker via the onboard controls or the SOUNDBOKS app.
The SOUNDBOKS app is where a lot of the magic of this product lies, though it has its flaws. Within the app, you can remotely control the speaker, including its volume level and TeamUP mode. It provides access to a few preset sound profiles—Bass+, Power, and Indoor—which have varying volume levels, frequency responses, and battery usage levels. In addition to the EQ presets is a customizable six-band equalizer.
One of my biggest complaints about the SOUNDBOKS app is that it doesn't reliably connect to the speaker—sometimes it fails to completely load and re-prompts for a connection. When this occurs, shut down the SOUNDBOKS, wait a few minutes, and try again.
In the Pro Panel page of the app, you can set configurations for mixers, microphones, guitars, and active instruments for each of the two-channel inputs. For mixers, this means just setting the volume output, but for microphones, guitars, and active instruments, it also means setting equalizer bands.
The app is valuable and has worthwhile features, but it's a little convoluted. If you want to access all the premium features, you need to upgrade to App LevelUp 2 and register your SOUNDBOKS with SoundKlub. While it makes sense to register the device manually, the App LevelUp 2 upgrade should already be installed when you download the app. Getting the app to even recognize that it needs an upgrade takes a little work, and once it does, the upgrade takes about 30 minutes.
Benefits of App LevelUp 2
After the app is upgraded, you have access to special features like SKAA PRO mode which limits your TeamUP connections to two and decreases the connection distance—this may sound bad, but the benefit is that it significantly lowers the latency. On the home screen of the app, you can drag and drop your connected SOUNDBOKS speakers to easily hook them up together. What's more, you'll be able to name and save multiple custom EQ settings.
Why should you register the (Gen. 3) speaker with SoundKlub?
Once you upgraded the app, you can register the speaker to SoundKlub for an extra one-year limited warranty on top of the included two-year warranty. Unfortunately, if you purchase your SOUNDBOKS (Gen. 3) from a retailer other than SOUNDBOKS.com, you have to join a waitlist before you can register. Registering the device also includes an Anti-Theft Lock feature. This will prevent anyone besides you from using your SOUNDBOKS via Bluetooth connection. You can enable and disable the lock feature no matter how far away you are from the speaker. However, locking the Bluetooth functionality won't prevent someone from stealing the physical product.
How does the SOUNDBOKS (Gen. 3) sound?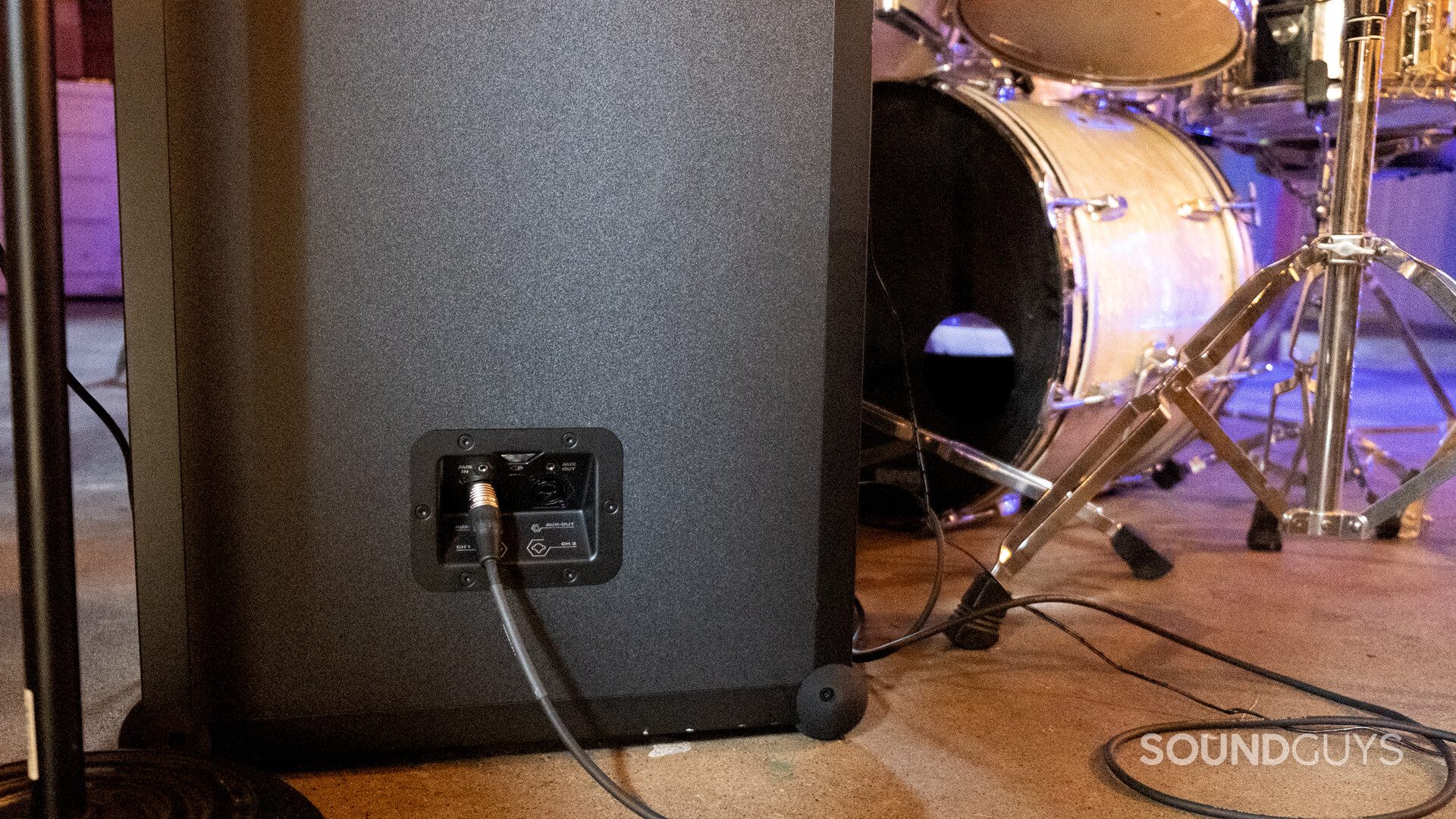 The SOUNDBOKS app is a little overwhelming to use because of how many features it includes.
When properly powered, the SOUNDBOKS (Gen. 3) gets plenty loud—it can play up to 126dB SPL, which is roughly the volume of the front row of a concert. (Wear your earplugs!)
When streaming music from my phone over Bluetooth into the SOUNDBOKS (Gen. 3), the audio quality is best when I turn my phone's volume all the way up and control the output volume via the speaker itself. On the Power sound setting, bass notes come through loudly while still keeping midrange and treble notes audible.
Learn more: How do speakers work?
Lows, mids, and highs
Thanks to the designated woofers and tweeter, the bassline in Frankenstein by Claire Rosinkranz comes through clearly, without making her vocals difficult to hear. With the Bass+ sound profile enabled, the bass response masks her vocals a bit. The Indoor mode reduces the loudness differential of all frequencies relative to one another, but the lowered bass frequencies are particularly quiet. This is a good frequency response for mellow songs, like Blouse by Clairo, that don't have a lot of bass to begin with.
When you buy the SOUNDBOKS (Gen. 3), you're buying it for loudness, not hi-fi sound quality.
The SOUNDBOKS sounds decent with an XLR microphone, but with the volume turned up the speaker produces a faint "fuzz" feedback sound that makes its sound quality less pleasant. It still works for amplifying the voice, but once you notice this, it can be difficult to ignore. I wouldn't recommend you use the SOUNDBOKS (Gen. 3) to amplify an electric guitar because that's what guitar amps are for. For fun, I plugged my acoustic-electric guitar into the quarter-inch input and it sounded just as good as any PA.
Hold up! Something's missing:
This section is typically where we display a frequency response chart to show you exactly where the audio output shines and where its deficiencies lie. Unfortunately, we've hit a technical snag in our testing, but we will update this review (and many others!) once we're able with improved sound quality measurements and performance plots.
Thank you for bearing with us, and we hope to see you again once we've sorted everything out.
Should you buy the SOUNDBOKS (Gen. 3)?
The SOUNDBOKS (Gen. 3) is a great tool for folks who like to entertain, whether that means hosting parties, music events, or family reunions. If you need a speaker system to fill up a house with sound or a PA that amplifies speeches across a backyard, the SOUNDBOKS (Gen. 3) can do that and more. Remember: this is is PA/sound system first, and Bluetooth speaker second.
The SOUNDBOKS (Gen. 3) attempts to claim the title of the only speaker you'll ever need, and it has enough features and functions to merit this title. However, all those features—particularly those within the SOUNDBOKS app—make using the speaker a little confusing at times. The upgrade and registration processes are complicated, and all the different customization options are overwhelming. That being said, once you get the hang of everything, you may appreciate the level of personalization here. All in all, the SOUNDBOKS (Gen. 3) offers excellent value for its price and we recommend the product for the applications described.
Frequently asked questions about the SOUNDBOKS (Gen. 3)
Yes, the SOUNDBOKS (Gen. 3) can be used as an amp with a guitar modeler.